Brussel Sprouts Poriyal - South Indian Style | Kelakose Poriyal recipe | Sprouts stir fry with coconut | south Indian poriyal recipe | Indian vegan side recipe, healthy poriyal with step-by-step pictures, and video recipe. Check out the Brussel Sprouts Poriyal and if you like the video pls SUBSCRIBE to my channel.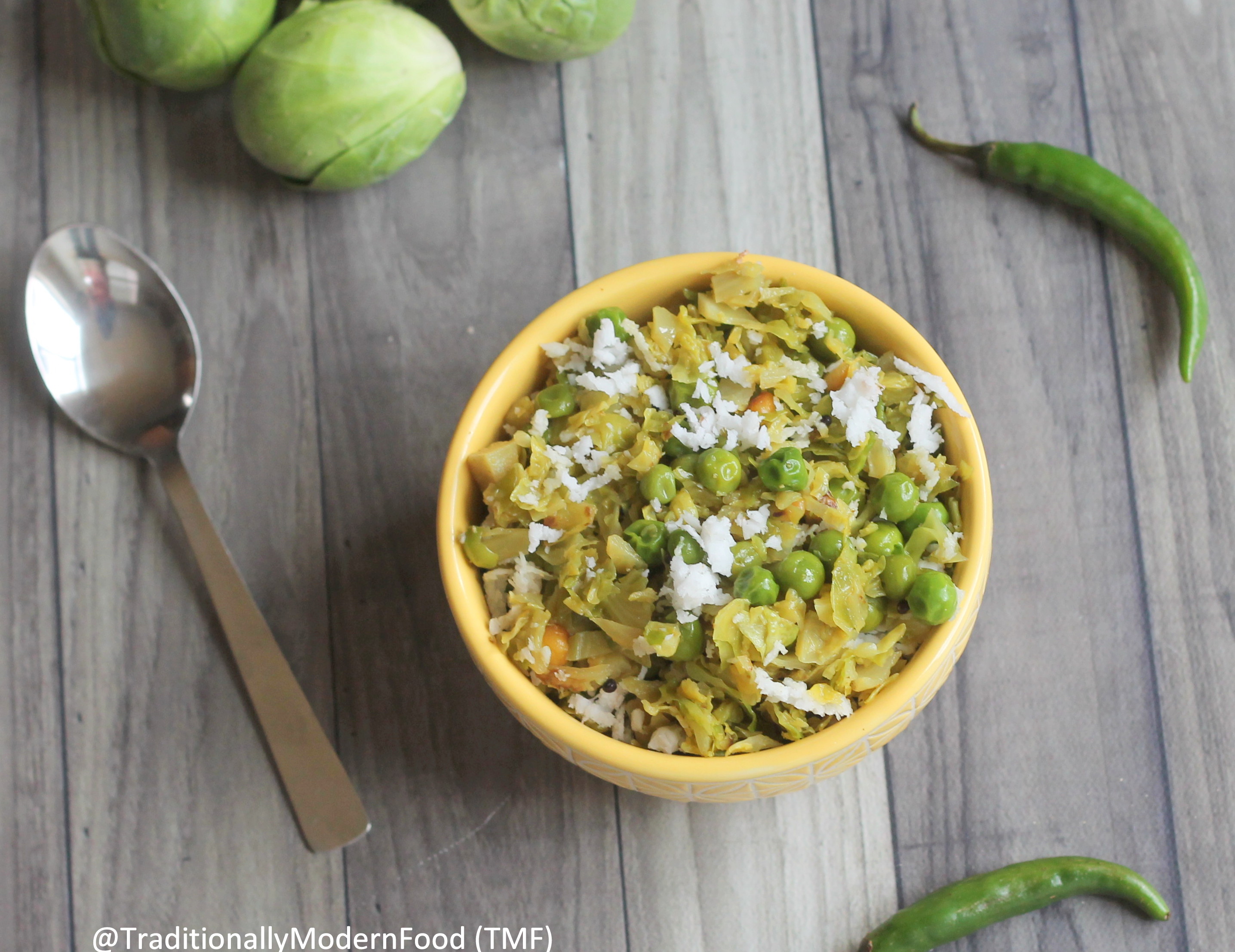 Brussel sprouts thengai curry is a flavorful dry curry prepared with Brussel sprouts, Peas, and coconut. Poriya tastes great with rice and any rice accompaniment. South Indian style fusion curry with Brussel sprouts makes any meal extra special.
Two years back, I had Brussel sprouts for the first time. When we stayed in the UK One of my friends invited us for dinner, and she prepared an amazing south Indian spread. Everything tastes delicious.
When I saw Brussel sprouts, I told my friend that I have never seen small cabbage like this. She told me it's called 'Brussel sprouts. That was the first time I heard about it. She said it is healthy too.
She had prepared them with cumin and pepper powder, I loved that flavor. That week when we went to buy veggies, I was searching for this and got a pack. Knowing all its healthy benefits, started cooking them regularly, vitamin A, vitamin C, folic acid, and dietary fiber – so many good things about this vegetable.
I have already posted a version of Brussel Sprouts Masala. Here is yet another variation with coconut and peas. Usually, I cook cabbage in this preparation, here is my favorite south Indian take with Brussel Sprouts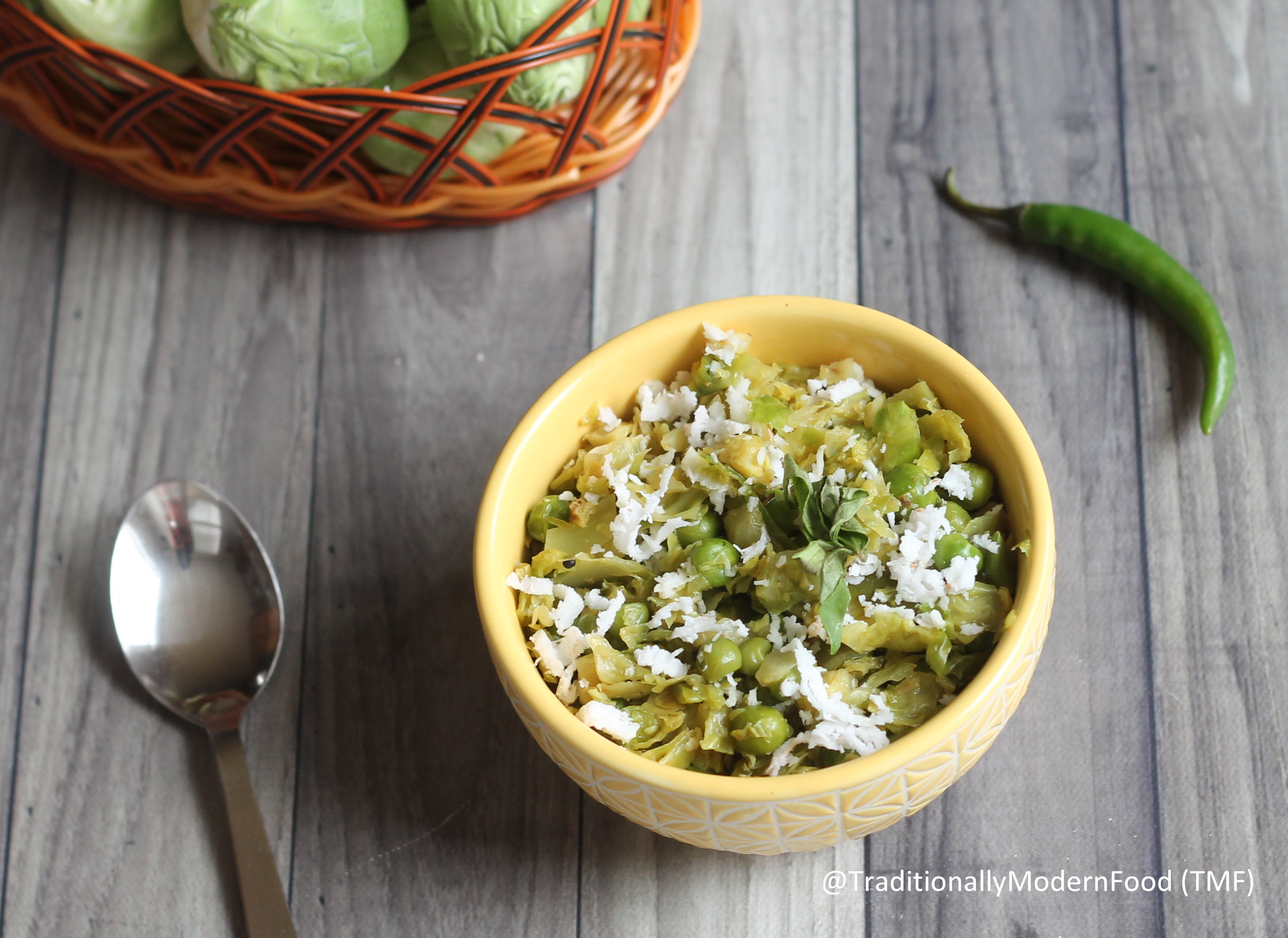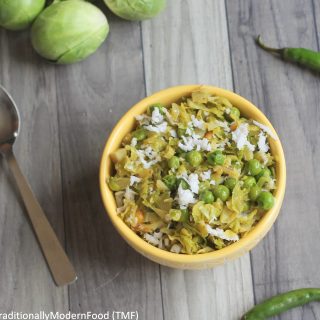 Brussel Sprouts Curry | Brussel Sporuts Pattani Poriyal (Indian Style)
Print
Pin
Comment
Ingredients
Brussels sprouts - 2 cups

finely chopped

frozen / fresh green peas - 1/4 cup

Water - 3 tbsp

Shredded coconut - 3 tbsp

Turmeric powder - 1/8 tsp

Coriander powder - 1/4 tsp

Asafoetida - generous pinch

Salt - as needed
For Seasoning:
Coconut oil - 1/2 tbsp

Mustard seeds - 1/8 tsp

Urad dal - 1/2 tsp

Channa dal - 1/2 tsp

Green chilli - 1

slit

Curry leaves - 1 sprig
Instructions
Heat oil in a pan. Once the oil becomes hot, add mustard seeds, urad dal, channa dal, and curry leaves; allow it to splutter

Add  Brussels sprouts, turmeric powder, coriander powder, salt, asafoetida, and water; close the lid. Cook till the water evaporates and  Brussels sprouts are fully cooked. Sprinkle some water if required

Add peas and saute for 2-3 minutes. Switch off and add coconut
Notes
1. Instead of Brussel Sprout cabbage can be used
2. Can cook the Brussel Sprouts in the microwave and do steps 1 and 4
3. Instead of peas, soaked moong dal can be used. Cook moong dal with Brussel Sprouts in that case
4. If you are using dry Peas, soak and cook them separately and add them to the curry
Ingredients:
Brussels sprouts - 2 cups, finely chopped
frozen / fresh green peas - 1/4 cup
Water - 3 tbsp
Shredded coconut - 3 tbsp
Turmeric powder - 1/8 tsp
Coriander powder - 1/4 tsp
Asafoetida - generous pinch
Salt - as needed
For Seasoning:
Coconut oil - 1/2 tbsp
Mustard seeds - 1/8 tsp
Urad dal - 1/2 tsp
Channa dal - 1/2 tsp
Green chilli - 1, slit
Curry leaves - 1 sprig
How to make Brussel sprouts poriyal with step-by-step pictures:
Heat oil in a pan. Once the oil becomes hot, add mustard seeds, urad dal, channa dal, and curry leaves; allow it to splutter
Add Brussels sprouts, turmeric powder, coriander powder, salt, asafoetida, and water; close the lid. Cook till the water evaporates and Brussels sprouts are fully cooked. Sprinkle some water if required

Add peas and saute for 2-3 minutes. Switch off and add coconut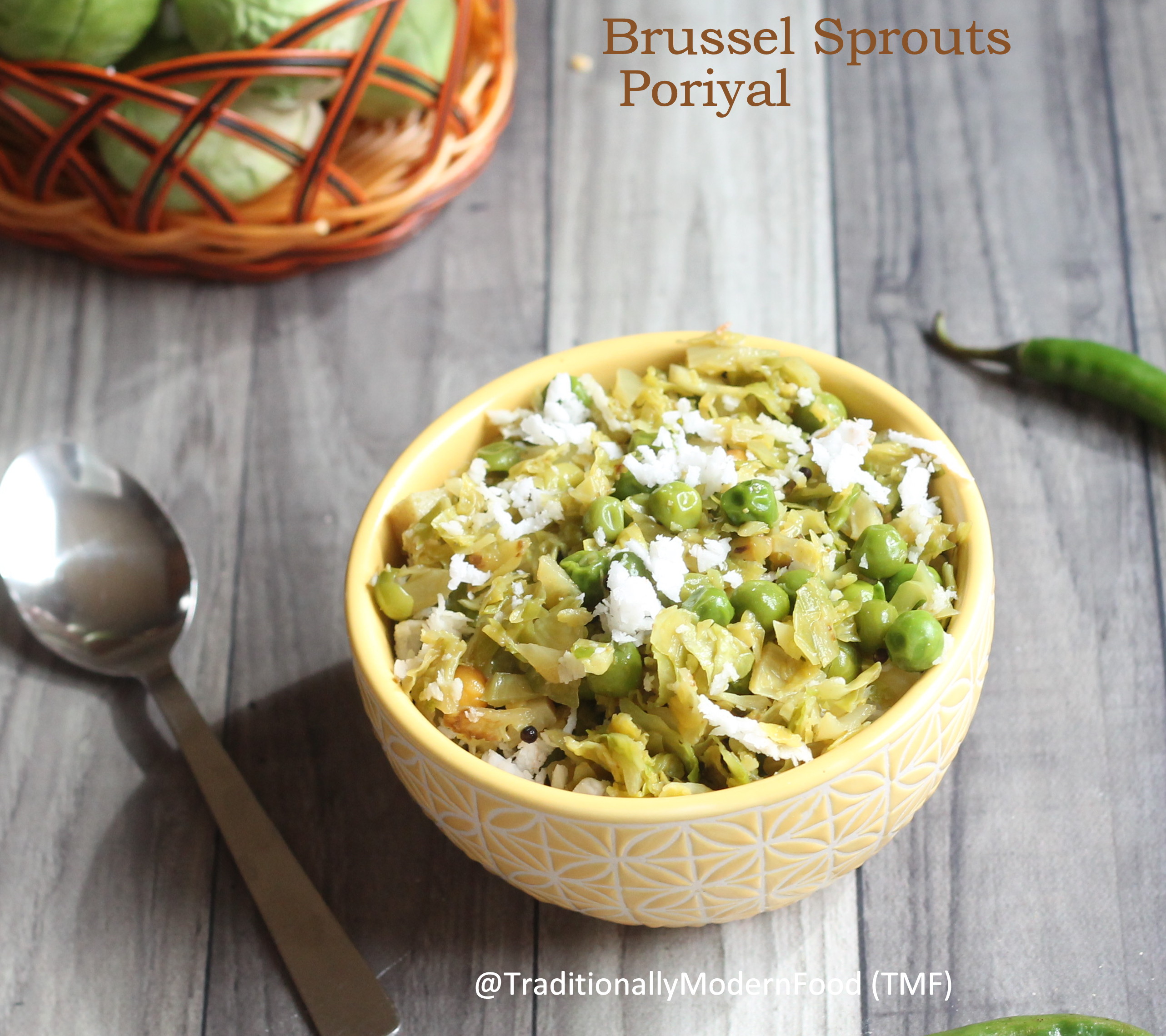 Pls. Follow TMF social media for recipes updates,