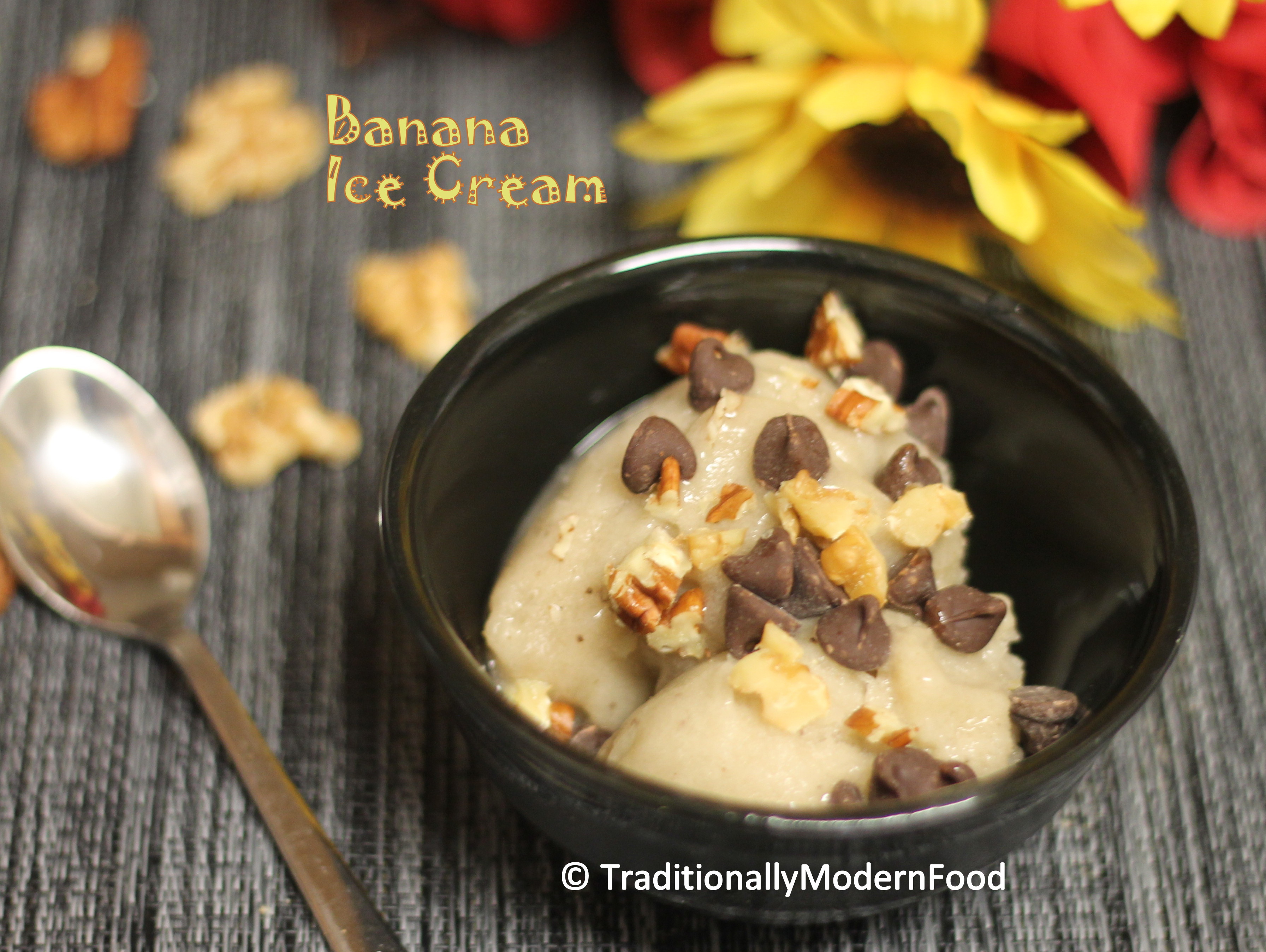 One ingredient banana ice cream is a treat for all ice cream lovers. Without any milk this ice cream is a delight. Few grinding, freezing tada creamy, yummy - ice cream treat is ready. Perfect way to make kids enjoy banana in the form of a tasty frozen dessert.
Summer was at its peak this year but I escaped (may be should I say escaped US summer). Two weeks back my husband got a box of ice cream from "Braums" thats when I realized I didn't prepare Ice cream this time. I was thinking with what I should make ice cream and as always my friend Google helped me. I found Banana Ice Cream here.
This one-Ingredient ice cream pulled my attention and as I had Banana in my pantry, I wanted to give it a try. After pulsing the ice cream I tasted it and I couldn't believe how (just) Banana can give such texture and taste.
I gave a spoon to my Son and after finishing it, he opened his mouth for a second serving, happy mom:-) freezed it for 3 hours and we all finshed it, and I decided that I should go for 4-5 bananas next time.
Perfect potassium-rich tasty ice cream without ice cream maker. Did I forget to mention, its an easy ice cream with minimal ingredients. Play with the flavours you like. You can add any of your kids favorite topping and make them eat banana. Believe me even before they realize it's banana they would have started enjoying second scoop.
Other frozen dessert in TMF,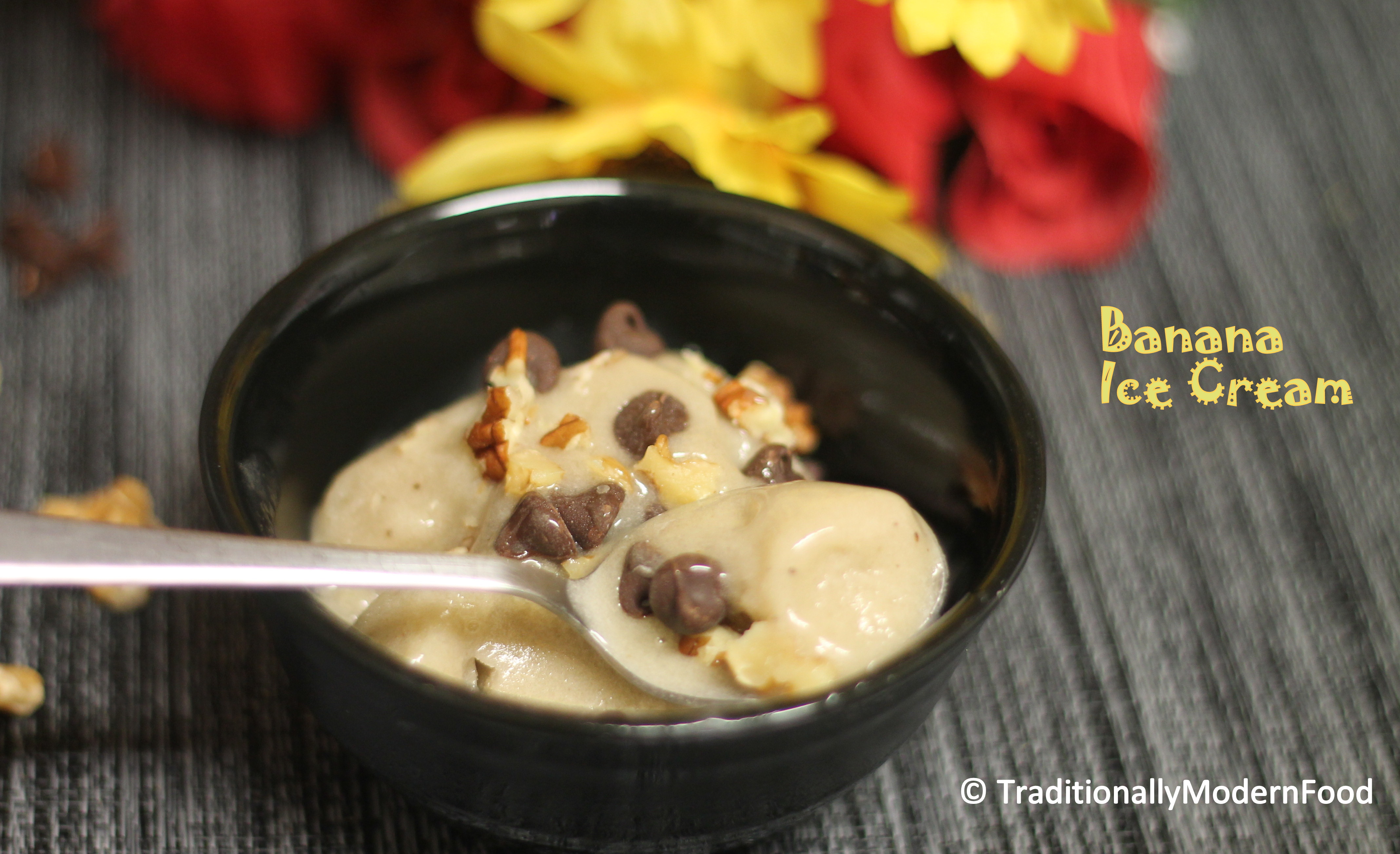 Ingredients:
Banana – 2, big – peeled & sliced
Chocolate chips, walnut and pecans – few
Method:
Transfer the sliced bananas into a freezer safe container/ freezer bag and leave them for atleast 3 hours or overnight ( I left overnight)
Put them in the mixie jar/powerful blender/ food processor and blend them. I used mixie, so I gave intervals between each grinding and scrapped the sides everytime. Icy texture will turn into a creamy goodness after some grinding. Grind once after getting the creamy texture for aerating the ice cream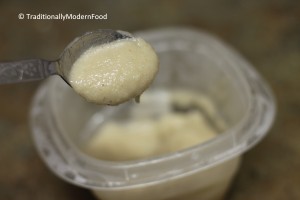 Serve it immeditely or freeze for 2-3 hours and serve. Topped my son's ice cream with chocalate chip, some pecans and walnut for us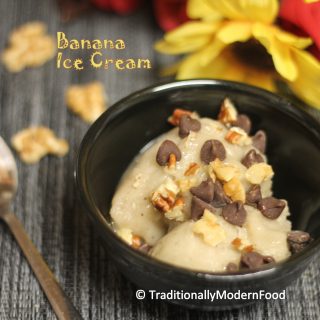 Ingredients
Banana – 2

big – peeled & sliced

Chocolate chips

walnut and pecans – few
Instructions
Transfer the sliced bananas into a freezer safe container/ freezer bag and leave them for atleast 3 hours or overnight ( I left overnight)

Put them in the mixie jar/powerful blender/ food processor and blend them. I used mixie, so I gave intervals between each grinding and scrapped the sides everytime. Icy texture will turn into a creamy goodness after some grinding. Grind once after getting the creamy texture for aerating the ice cream

Serve it immeditely or freeze for 2-3 hours and serve. Topped my son's ice cream with chocalate chip, some pecans and walnut for us
Notes
Can add white/ brown sugar/ honey/ molasses/ original syrup/ corn syrup/ maple syrup for extra Sweetness
Can add toppoing like almonds, walnut pumpkin seeds, shaved chocolates etc.
Peanut butter, almond butter can be added for additional flavour
Vanilla, almond extract etc. can be added
choco Powder / nutella can be added for chocolate Banana Ice Cream
Cinnamon, cardamom powder, ginger Powder etc. can be added for extra flavour
Ice cream becomes Icy after 4 hours. Have the ice cream immediately (after 2-3 hours) or pulse once to break the ice crystal, freeze and consume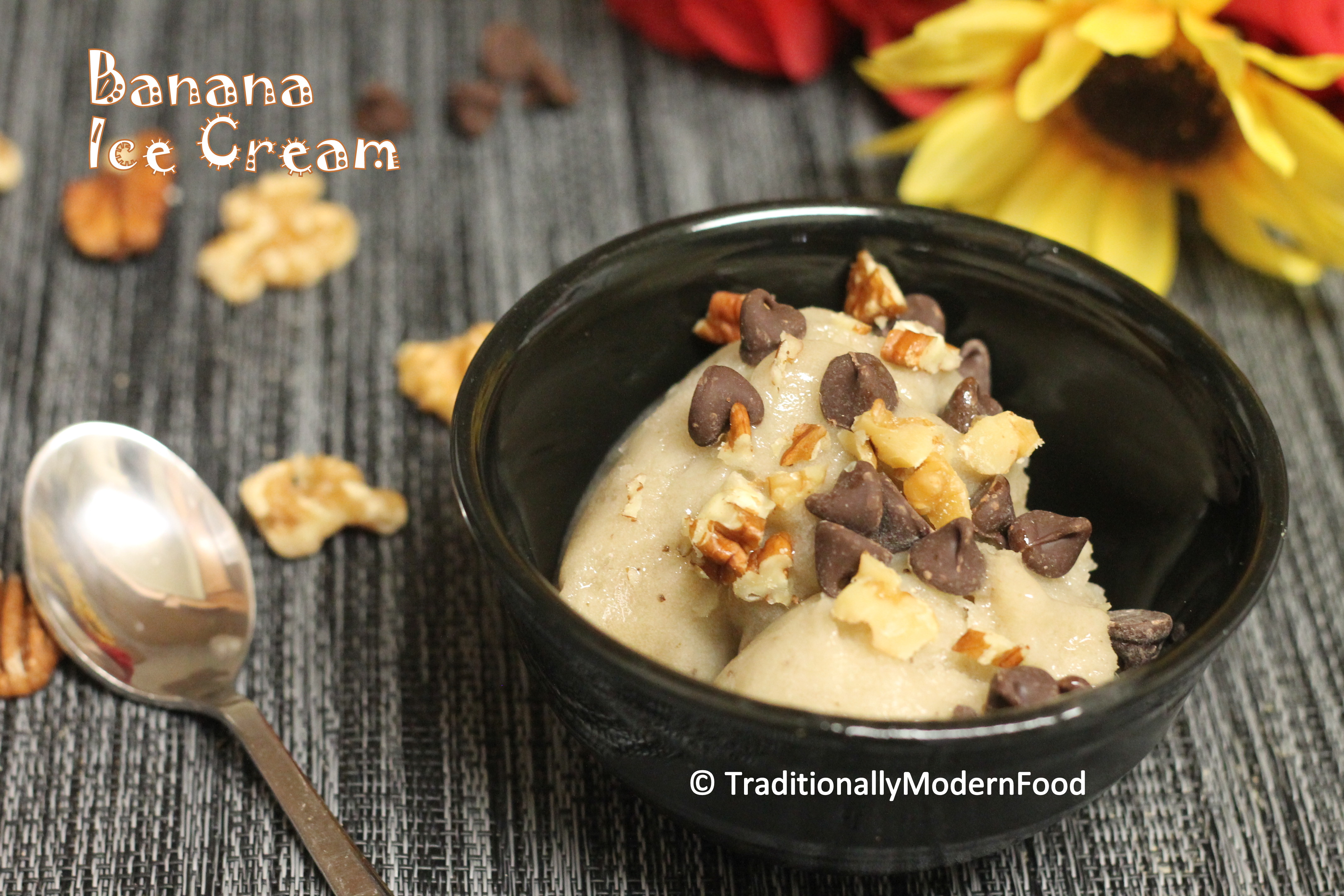 Pls. Follow TMF social media for recipes updates,