Cabbage Poriyal recipe | Muttaikose poriyal | Cabbage curry | Cabbage thoran | Cabbage palya | Cabbage stir fry with coconut | south Indian poriyal recipe | cabbage dry curry | Indian vegan side recipe, healthy poriyal with step-by-step pictures, and video recipe. Check out the Cabbage Poriyal recipe and if you like the video pls SUBSCRIBE to my channel.
Cabbage Poriyal recipe | Muttaikose poriyal | Cabbage curry is a tasty South Indian style poriyal variety. it takes less than 10 minutes to prepare this healthy poriyal. Tips & tricks to make non-mushy cabbage curry.
Cabbage curry - Tamil brahmin style
Light spiced no onion no garlic cabbage poriyal with lots of coconuts is a traditional Tamil brahmin curry (poriyal variety). Coconut-based poriyal prepared in coconut oil gives the best taste.
Can I skip washing the cabbage in a colander?
I would recommend washing the cabbage in a colander as it helps to drain all the water. Drain the water completely then prepare the no mushy cabbage curry. Press the cabbage to make sure is completely drained.
How to make sure cabbage is with the right amount of moisture?
Water shouldn't drip out from the colander, but cabbage should have moisture. When you touch the cabbage you can feel it but water shouldn't drip when you try to squeeze.
Can I cover and cook poriyal?
No, I recommend cooking cabbage in an open pot on medium flame. Covering the pan might make cabbage soggy.
Will cabbage get burnt/ dry without adding water?
Moisture in the washed cabbage and salt is enough to cook cabbage just right. If you added a thick stem you might have to sprinkle a few drops of water but avoid adding water.
cooking oil for poriyal?
I would recommend coconut oil for coconut-based poriyal. You can add any oil of your choice.
Few variations for Kose poriyal
You can use,
red chilli instead of green chilli
Chana dal for tempering
Saute onion and garlic; prepare poriyal
Temper ginger instead of using ginger powder
Almond flour instead of coconut
Ingredients
To temper
coconut oil 1/2 tbsp

mustard seeds 1/2 tsp

Urad dal 1/2 tbsp

green chilli 2

Curry leaves few

Asafoetida generous portion
Poriyal
cabbage 250 grams

Required salt

Turmeric powder 1/8 tsp

ginger powder 1/8 tsp

Coconut 2 tbsp
Instructions
Wash cabbage in a colander and drain the water completely

Add oil to the pan when oil is hot add mustard seeds, urad dal, and let them splutter

Furthermore, add green chilli and curry leaves; mix well

Add asafoetida and give a quick mix

Furthermore, add cabbage and mix well

Add salt, turmeric powder; mix well and cook for 2 minutes

Moisture in the cabbage and salt is enough for cabbage cooking. I didn't add water but if you have added a thick layer of cabbage sprinkle little water

After cooking for 2 minutes, add ginger powder and cook

Takes around 5 minutes for cabbage to cook

after cooking cabbage add coconut; mix well and cook for a minute turn off the stove
Video
Notes
Wash cabbage in a colander
I would recommend washing the cabbage in a colander as it helps to drain all the water.  Press the cabbage to make sure is completely drained
Water shouldn't drip out from the colander, but cabbage should have moisture. When you touch the cabbage you can feel it but water shouldn't drip when you try to squeeze
Cooking cabbage
Cook cabbage in an open pot on medium flame. Covering the pan might make cabbage soggy
Moisture in the washed cabbage and salt is enough to cook cabbage just right. If you added a thick stem you might have to sprinkle a few drops of water but avoid adding water
Variations for Cabbage curry. Use
red chilli instead of green chilli
Chana dal for tempering
Saute onion and garlic; prepare poriyal
Temper ginger instead of using ginger powder
Almond flour instead of coconut
Peanut oil/ sunflower oil etc. instead of coconut oil
Ingredients
To temper
coconut oil 1/2 tbsp
mustard seeds 1/2 tsp
Urad dal 1/2 tbsp
green chilli 2
Curry leaves few
Asafoetida generous portion
Poriyal
cabbage 250 grams
Required salt
Turmeric powder 1/8 tsp
ginger powder 1/8 tsp
Coconut 2 tbsp
How to make Cabbage poriyal with step by step pictures
Wash cabbage in a colander and drain the water completely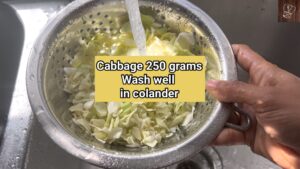 Add oil to the pan when oil is hot add mustard seeds, urad dal, and let them splutter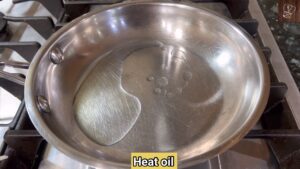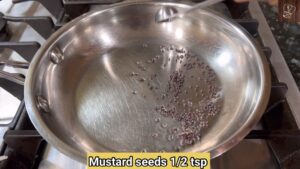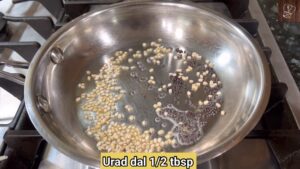 Furthermore, add green chilli and curry leaves; mix well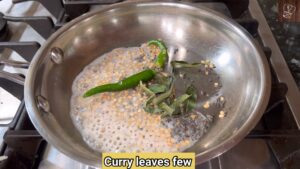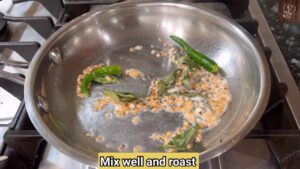 Add asafoetida and give a quick mix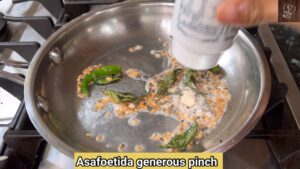 Furthermore, add cabbage and mix well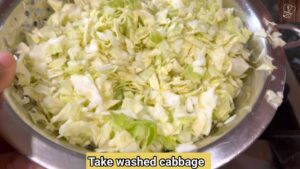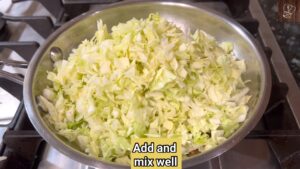 Add salt, turmeric powder; mix well and cook for 2 minutes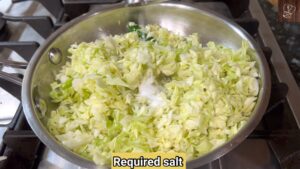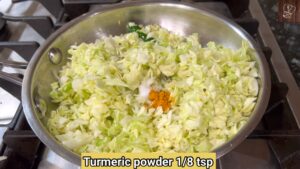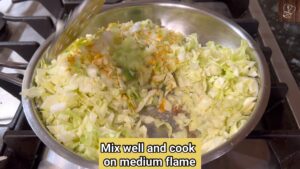 Moisture in the cabbage and salt is enough for cabbage cooking. I didn't add water but if you have added a thick layer of cabbage sprinkle little water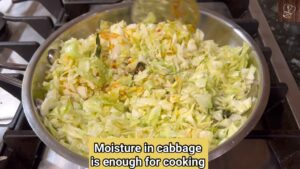 After cooking for 2 minutes, add ginger powder and cook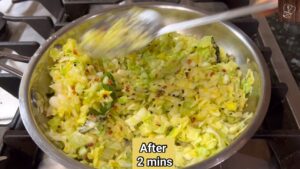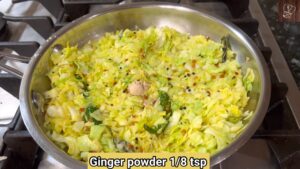 Takes around 5 minutes for cabbage to cook
after cooking cabbage add coconut; mix well and cook for a minute turn off the stove