Instant pot Sabudana Kheer | Tapioca pudding | Indian sweet pudding | sago payasam | Javvarisi payasam | Payasam recipes | kheer variety with step by step pictures and video. Check out the Instant pot Sabudana Kheer video recipe and If you like the video pls SUBSCRIBE to my channel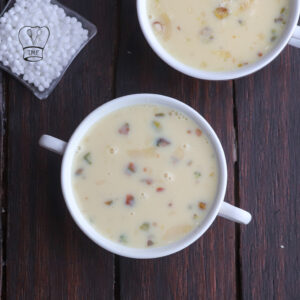 Instant pot Sabudana kheer is a flavorful Indian pudding. We can prepare tasty one-pot kheer with soaked Tapioca.
What variety of sago should I use for payasam?
Use small tapioca pearl as it soaks and cooks fast.
Can I skip soaking
Soaking helps for perfect cooking. Payasam in this method needs proper "soft press" shocking else sabudana won't cook well.
Should I rinse javvarisi multiple times?
Yes always wash sabudana well till the water turns clear else starch in sabudana will turn payasam gooey.
CAN I COOK Tapioca pudding in PORRIDGE MODE?
if you have not soaked sabudana you can cook in "porridge" mode in that case skip sugar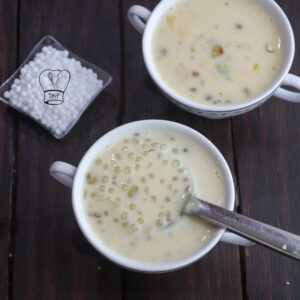 CAN I USE brown SUGAR FOR PAAL PAYASAM?
Yes, you can use any sugar of your choice. I sometimes prepare the payasam with a combination of white and demerara sugar or with white sugar alone. Also, adjust the quantity of sugar according to your taste.
CAN I USE LOW-FAT MILK FOR PAYASAM?
For best Rice kheer always use whole fat milk. You can use 2% milk but avoid 1% milk.
SHOULD I USE HOT MILK FOR PREPARING kheer?
I have used cold milk right from the fridge. Since we are going to cook well-soaked sabudana and milk, we can use chilled milk for preparing payasam
CAN I SKIP BOILING javvarisi PAYASAM?
After cooking Instant pot paal kheer in " Steam mode" Milk kheer gets cooked but for the best rice kheer don't skip boiling the payasam for 5 more minutes. If you feel payasam is thick add milk and boil payasam.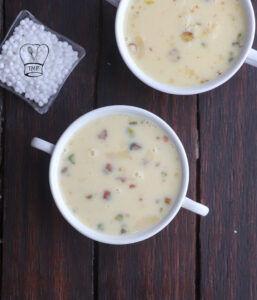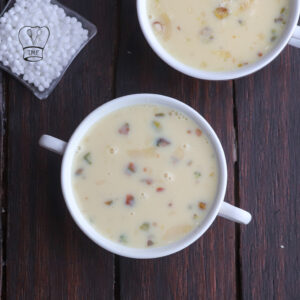 Ingredients
Soak tapioca pearls
1/4

cup

Tapico pearls | Javvarisi | Sabudana

small

1/2

cup

water
Payasam
2

cups

milk

1/2

cup

sugar

Pinch

of saffron

1/8

teaspoon

cardamom powder
Instructions
Firstly add tapioca pearls to a colander and wash well 3-4 times until water turns clear

Transfer them to a wide vessel and add 1/2 cup of water

Soak for 5-6 hours until sabudana turns soft press

Transfer the soaked javvarisi to a colander

Furthermore, wash once to make sure water is clear

Add sabudana, milk, sugar, cardamom powder, and saffron; mix well

Close IP. Make sure Vent is in the "sealing" position

Cook in "steam" mode in low pressure for 15 minutes. Do natural pressure release

Carefully Open the IP and mix well

Turn on Instant pot in "saute" mode and cook for 5 minutes

Press "cancel"

Finally, sprinkle nuts of your choice and Serve hot/cold
Video
Notes
Soak Sabudana
Use small tapioca pearl as it soaks and cooks fast

Soaking helps for perfect cooking. Payasam in this method needs proper "soft press" shocking else sabudana won't cook well
Always wash sabudana well till the water turns clear else starch in sabudana will turn payasam gooey
Payasam
you can use any sugar of your choice
For best kheer always use whole fat milk. You can use 2% milk but avoid 1% milk
I have used cold milk right from the fridge. Since we are going to cook well-soaked sabudana and milk, we can use chilled milk for preparing payasam
After cooking Instant pot paal kheer in " Steam mode" Milk kheer gets cooked but for the best sabudana kheer don't skip boiling the payasam for 5

 

more minutes. If you feel payasam is thick add milk and boil payasam
Ingredients
Soak tapioca pearls
1/4 cup Tapico pearls | Javvarisi | Sabudana, small
1/2 cup water
Payasam
2 cups milk
1/2 cup sugar
Pinch of saffron
1/8 teaspoon cardamom powder
How to make instant pot sabudana kheer with step by step pictures
Firstly add tapioca pearls to a colander and wash well 3-4 times until water turns clear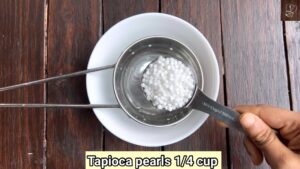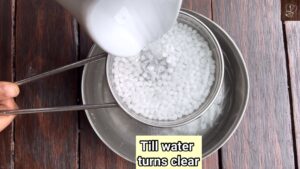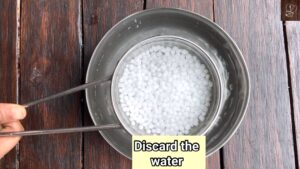 Transfer them to a wide vessel and add 1/2 cup of water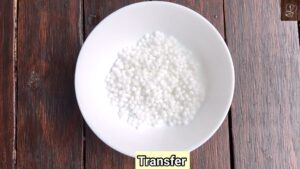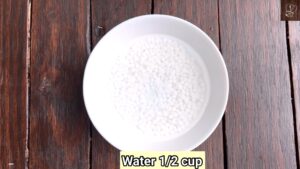 Soak for 5-6 hours until sabudana turns soft press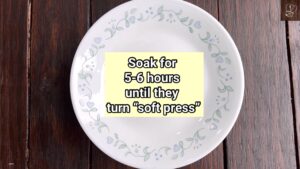 Transfer the soaked javvarisi to a colander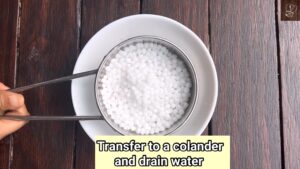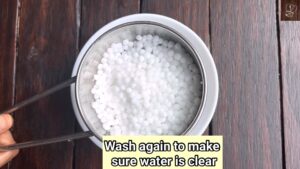 Furthermore, wash once to make sure water is clear
Add sabudana, milk, sugar, cardamom powder, and saffron; mix well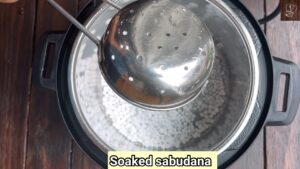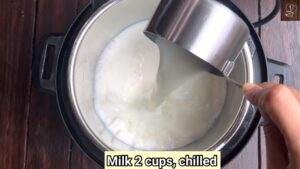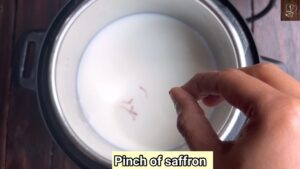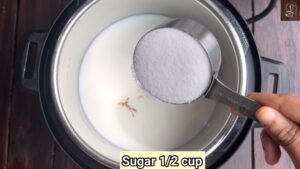 Close IP. Make sure Vent is in the "sealing" position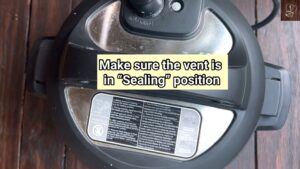 Cook in "steam" mode in low pressure for 15 minutes. Do natural pressure release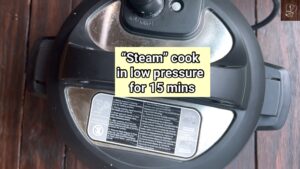 Carefully Open the IP and mix well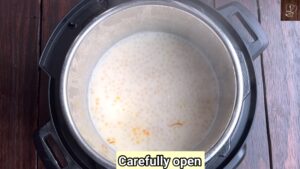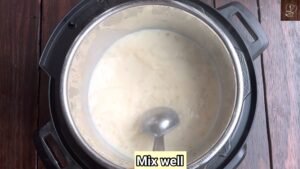 Turn on Instant pot in "saute" mode and cook for 5 minutes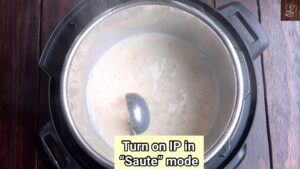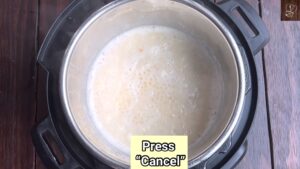 Finally, sprinkle nuts of your choice and Serve hot/cold