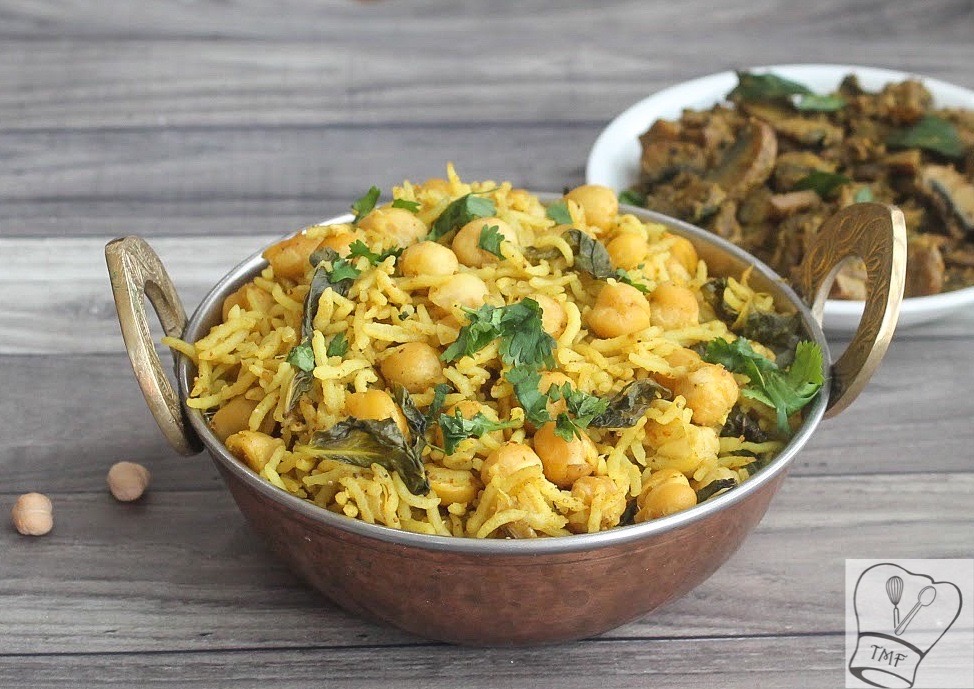 Channa pulav is a flavorful protein rich one pot recipe that is perfect for kids and adults lunch box. Channa pulav can be prepared within 30 minutes, it is perfect for busy days.
A post after a longtime. Mommy time took some priorities and I took a break for TMF but now my Amma is here so she is giving me lot of break and yes hopefully I should be active more in TMF.😊 If you are following me in Instagram you would have noticed tmfhealthyeating recipes these days.
Yes all my lunch plates these days comprises of carbs + protein + veggies.
I generally try to make a common meal in home so that I can pack the same for my son's lunch.
My son loves Chickpea. Thanks to his preschool he started liking Channa a lot. I usually either make Channa masala or Punjabi dry chole with chickpea. Few weeks back when I soaked some Channa for gravy. My son asked what I am going to make. I was planning Channa chawal (Channa masala and ghee rice) but instead of telling that I told Channa rice. He got excited hearing it and said ok Amma pack it for lunch.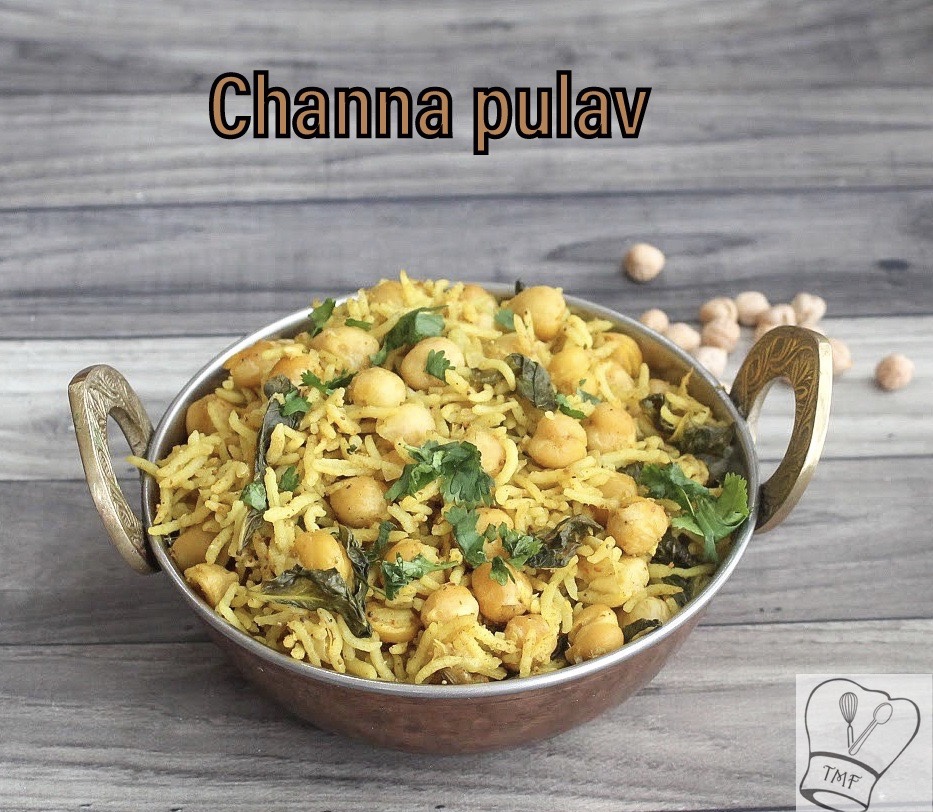 Since he loves variety rice like Sweet corn pulav, peas pulav, vegetable rice. I thought of adding all my usual flavours for this Channa pulav.
Channa needs overnight soaking so this pulav takes little planning before. If planned this is one perfect healthy kids lunch box recipe. One biggest concern on variety rice day is protein intake. Flavorful Channa pulav with all the tasty flavour is one healthy recipe. Like my green lentil rice this is yet another protein rice variety rice.
Rajma cutlet, Moong dal dosa, Moong dal panniyaram, quinoa Adai are other protein rich options in TMF.
Mint is optional for Channa pulav, but I added for g flavour and to add some healthy greens for the Channa pulav.
Channa pulav is a complete meal on itself. Easy tomato raita or spinach raita complements the Channa pulav well😊
Channa pulav is perfect for get together, party etc.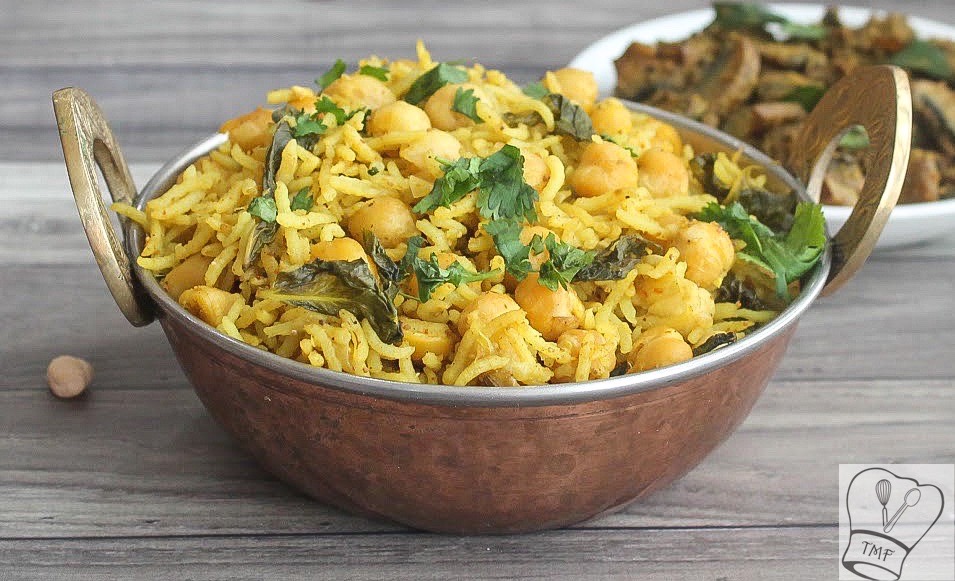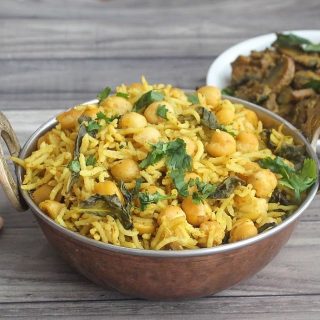 Ingredients
Channa - 50 grams

Mint - 15 grams

Onion - 1/4 cup

Garlic - 2

finely chopped

Green Chilli - 1

Bay leaf - 1

Clove

- 1

Poppy seeds - 1/4 tsp

Fennel seeds - 1/4 tsp

Turmeric powder - 1/4 tsp

Kitchen king masala- 1/2 tsp

Ghee - 5 grams

Basmati rice - 50 grams

Water 80 ml

Salt - as needed
Instructions
Soak chickpea overnight and pressure cook for 5-6 whistles till it turns soft. Save the Channa cooked water

Soak basmati rice in hot water for 30 minutes

In a pressure cooker add 1 tsp of ghee and when ghee is hot add poppy seeds, feenel seeds, bay leaf and clove; let it splutter

Add onion, garlic and pinch of salt; cook for a minute

Add cooked Channa, turmeric powder, kitchen king masala and remaining salt; sauté for a minute

Add rice and mint; mix well

Add water and let it boil

Add a drop of ghee and close the lid. Pressure cook for 2 whistles. Simmer for a minute and switch off

Fluff the rice with fork and enjoy with raita
Notes
Rice can be cooked in oil. I used ghee for extra flavor. Ghee is optional
Tomatoes can added for extra tanginess
Garam masala can be used instead of kitchen king masala
Water measurement may vary based on the basmati rice
Cook Channa well before making the rice. Cooking rice with uncooked Channa will not work
Coriander leaves can be added instead of mint
For cooking Channa pulav in instant pot- Avoid soaking the rice. Follow the other steps. Add 90 ml of water and cook in manual temperature, high - 4 mins. Natural release. Fluffy rice is ready
Ingredients:
Channa – 50 grams
Mint – 15 grams
Onion – 1/4 cup
Garlic – 2, finely chopped/grated
Green Chilli – 1
Bay leaf – 1
Clove – 1
Cardamom powder – 1/4 tsp
Cumin seeds – 1/2 tsp
Poppy seeds – 1/4 tsp
Fennel seeds – 1/4 tsp
Turmeric powder – 1/4 tsp
Kitchen king masala- 1/2 tsp
Ghee – 5 grams
Basmati rice – 50 grams
water – 80 ml
Salt – as needed
How to make Channa pulav with step by step pictures
Soak chickpea overnight and pressure cook for 5-6 whistles till it turns soft. Save the Channa cooked water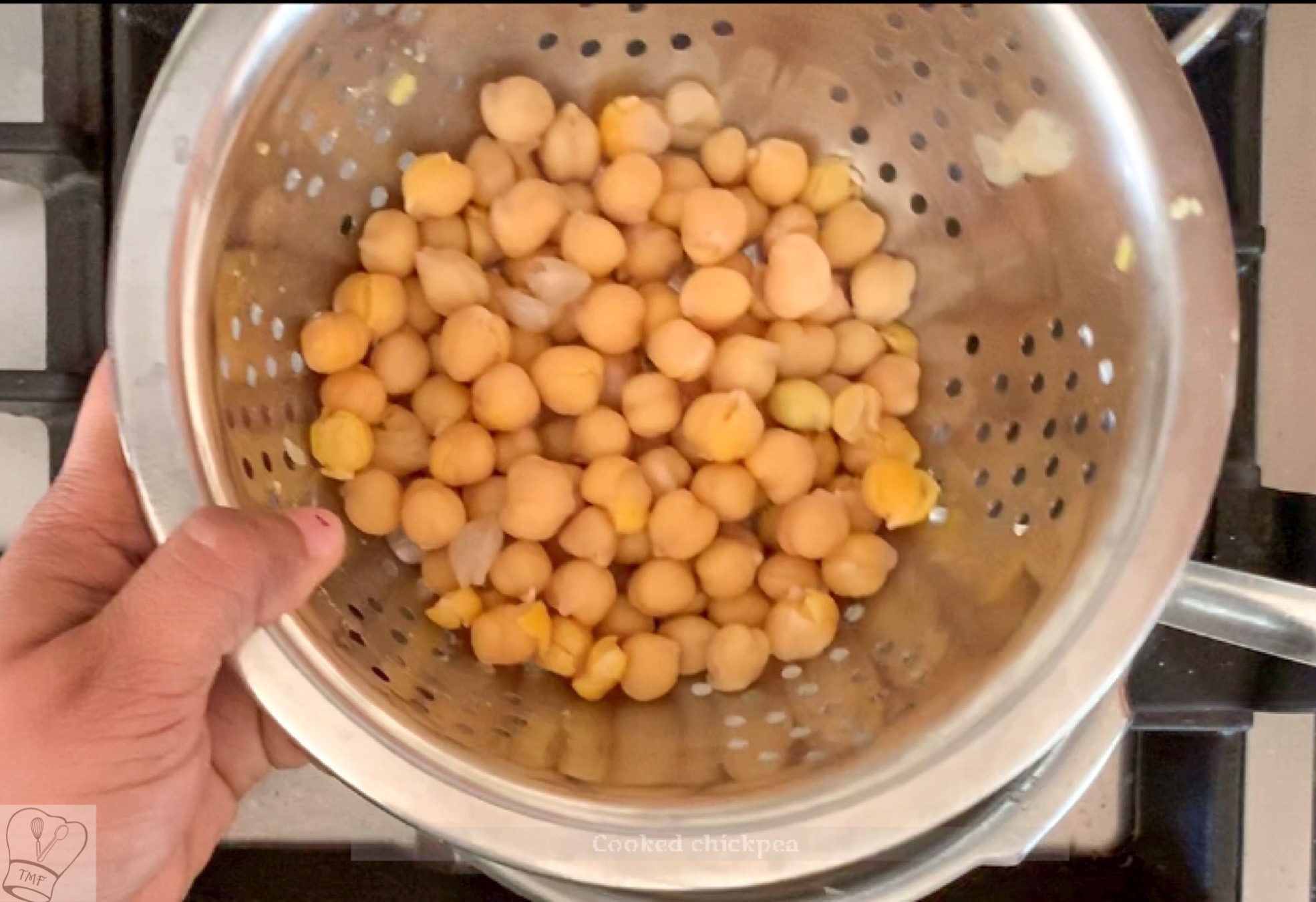 Soak basmati rice in hot water for 30 minutes

In a pressure cooker add 1 tsp of ghee and when ghee is hot add poppy seeds, feenel seeds, bay leaf and clove; let it splutter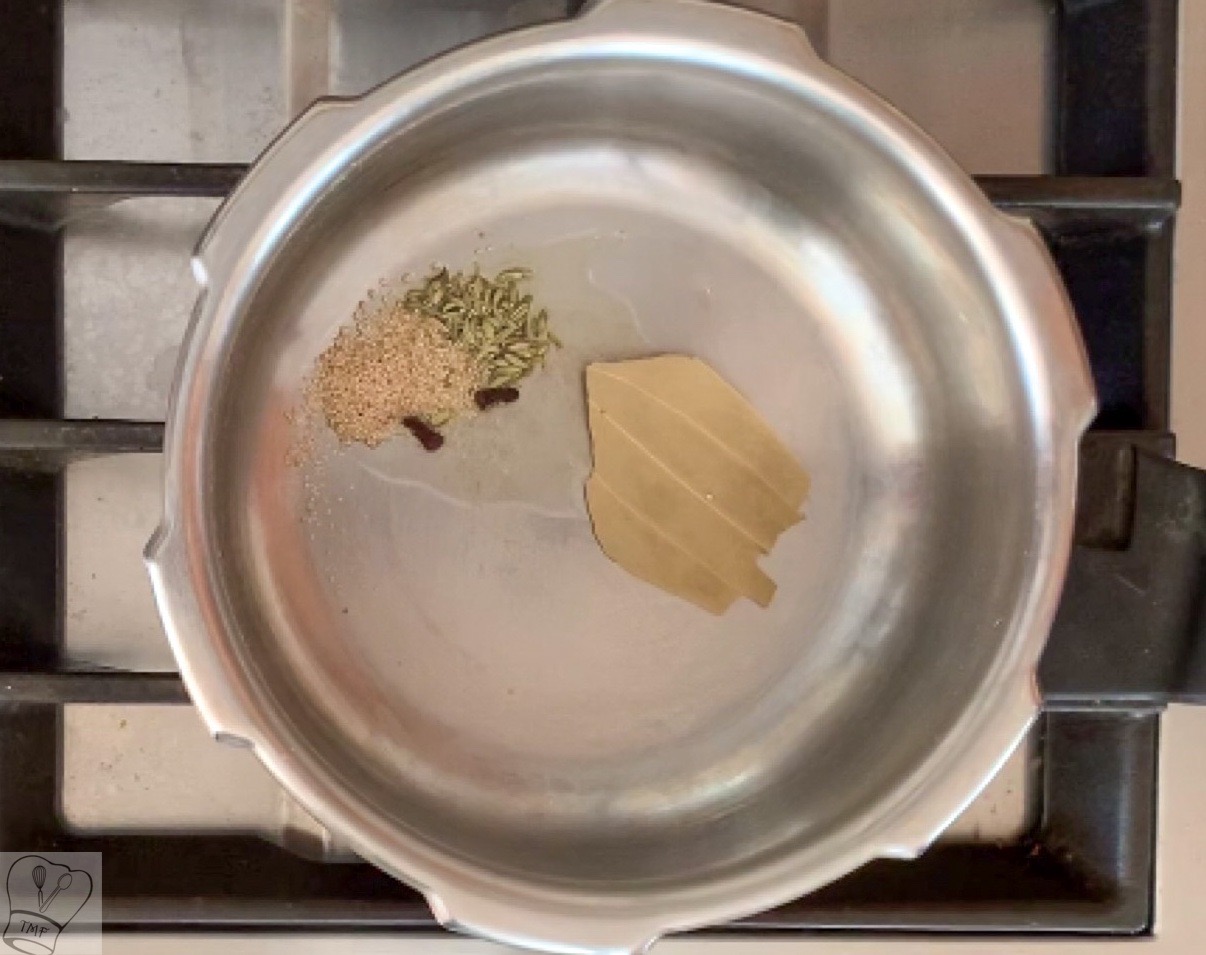 Add onion, garlic and pinch of salt; cook for a minute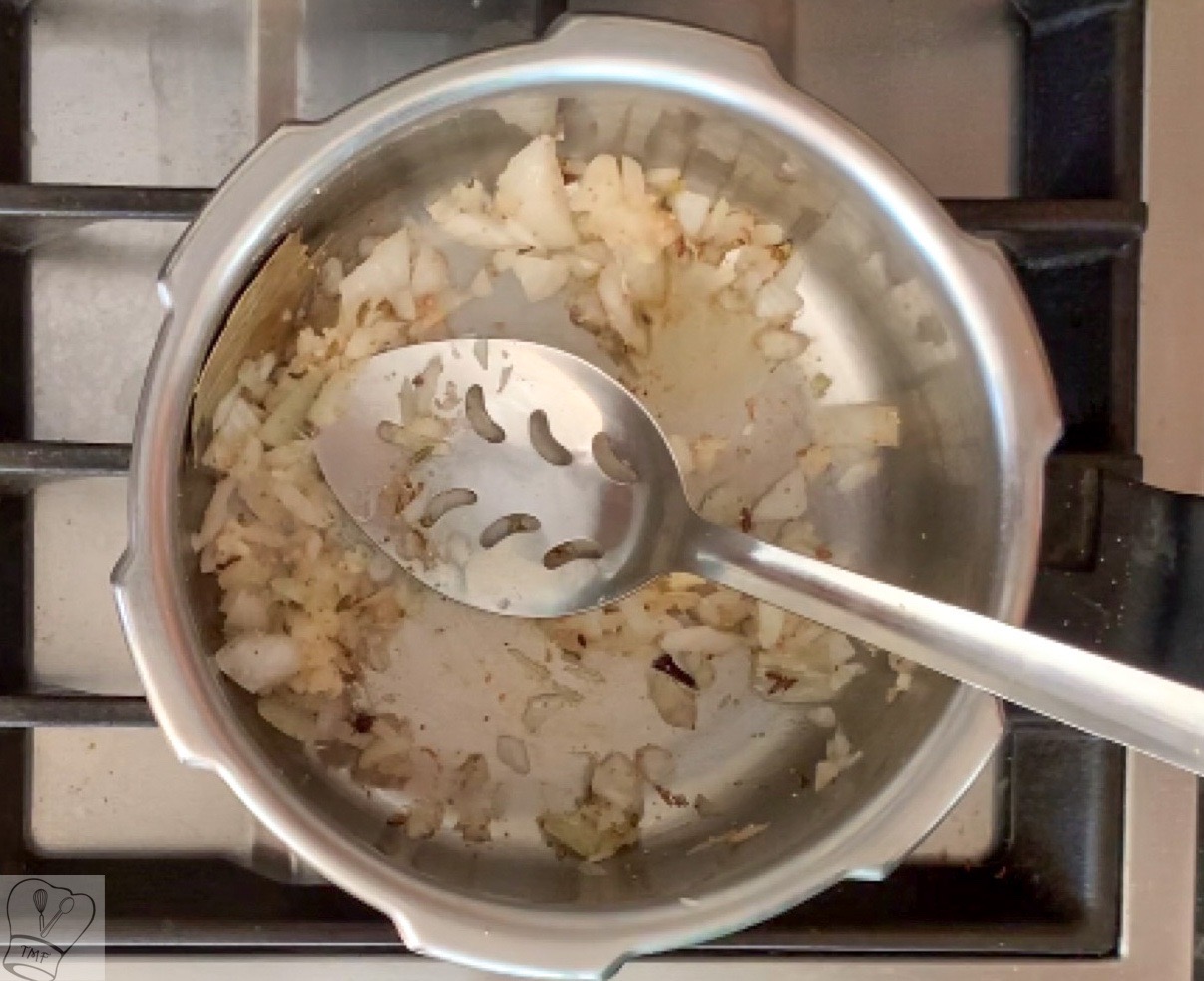 Add cooked Channa, turmeric powder, kitchen king masala and remaining salt; sauté for a minute

Add mint and give a quich sauté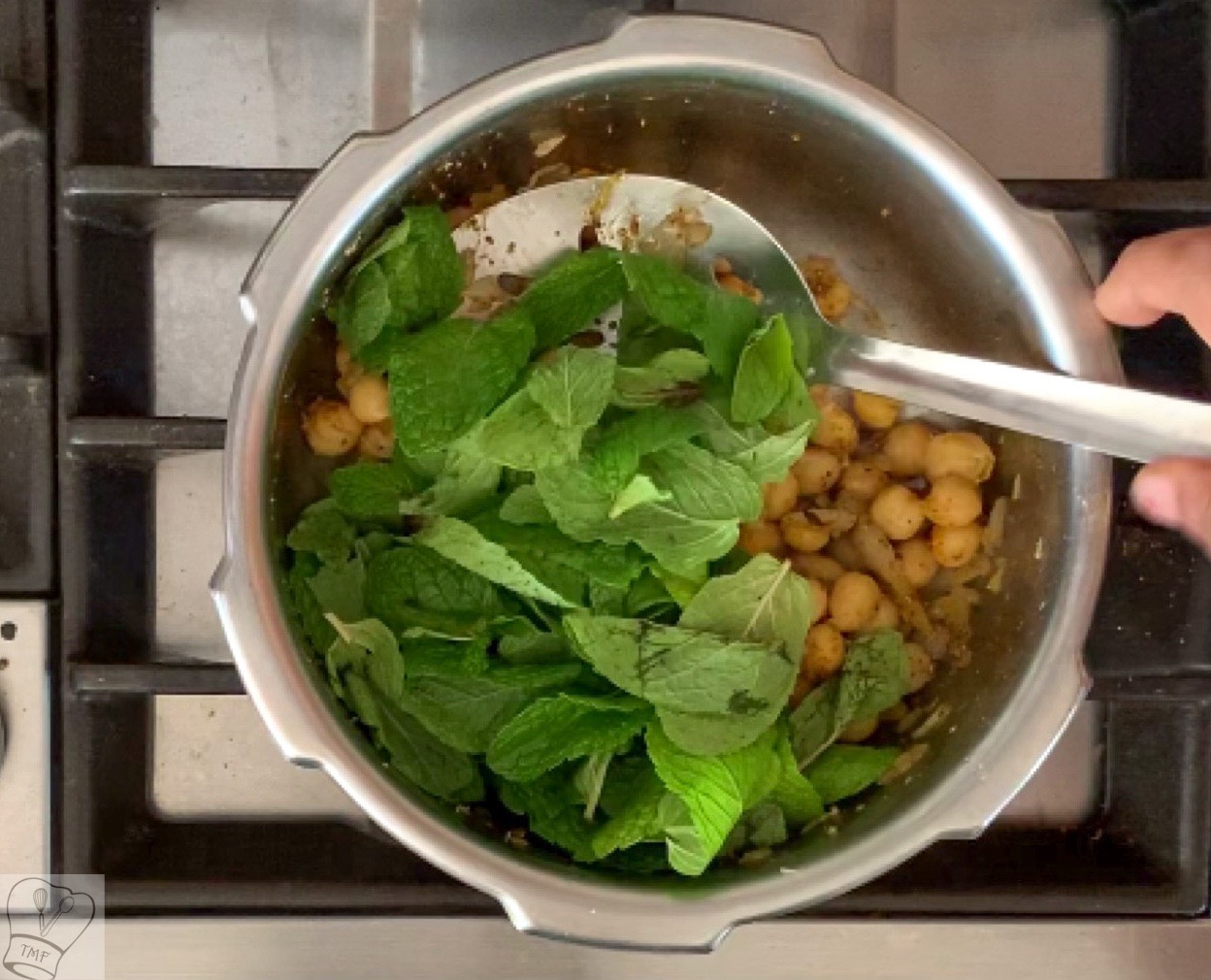 Add rice and mix everything well
Add water and let it boil

Add a drop of ghee and close the lid
Pressure cook for 2 whistles. Simmer for a minute and switch off

Fluff the rice with fork and enjoy with raita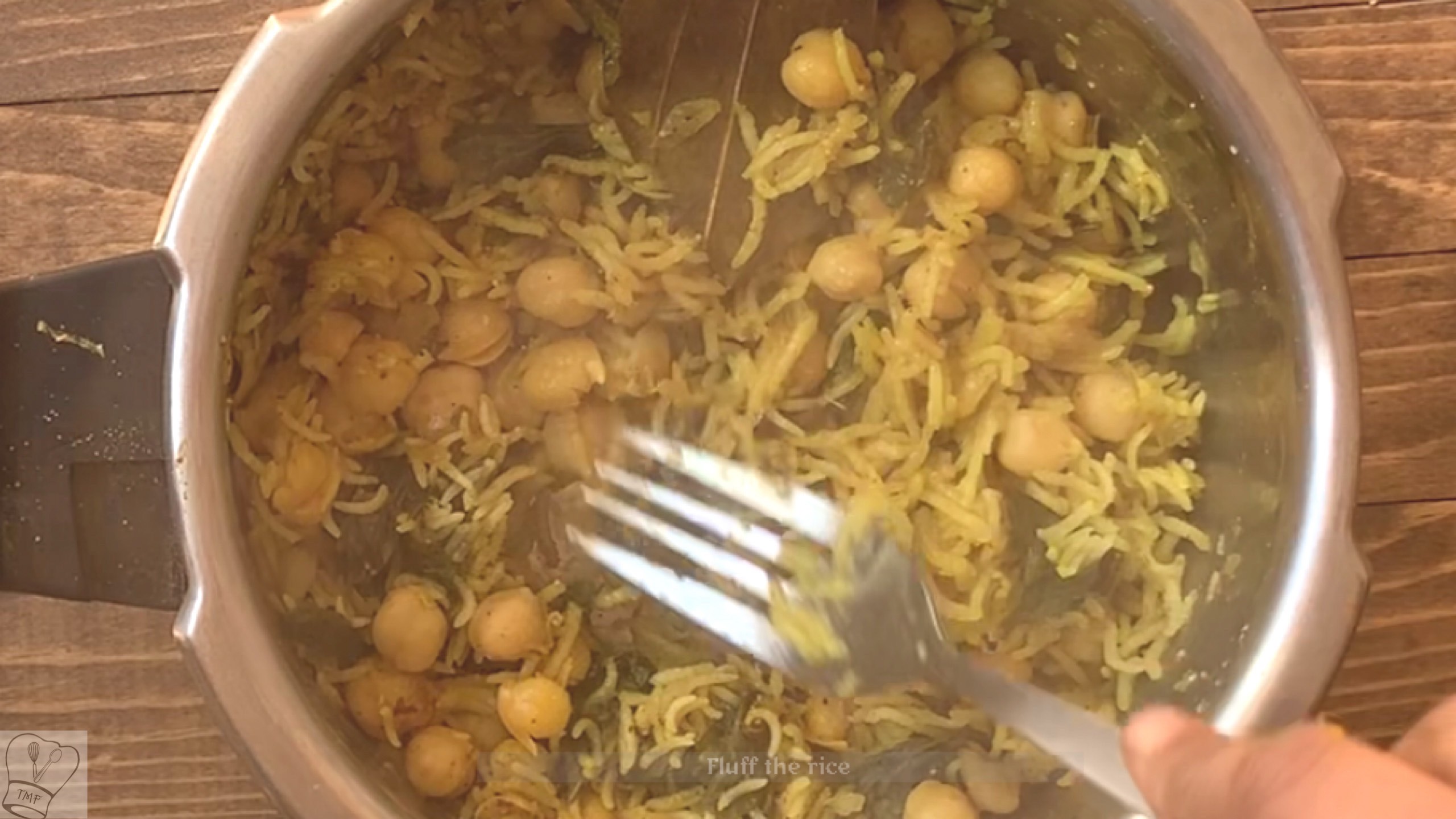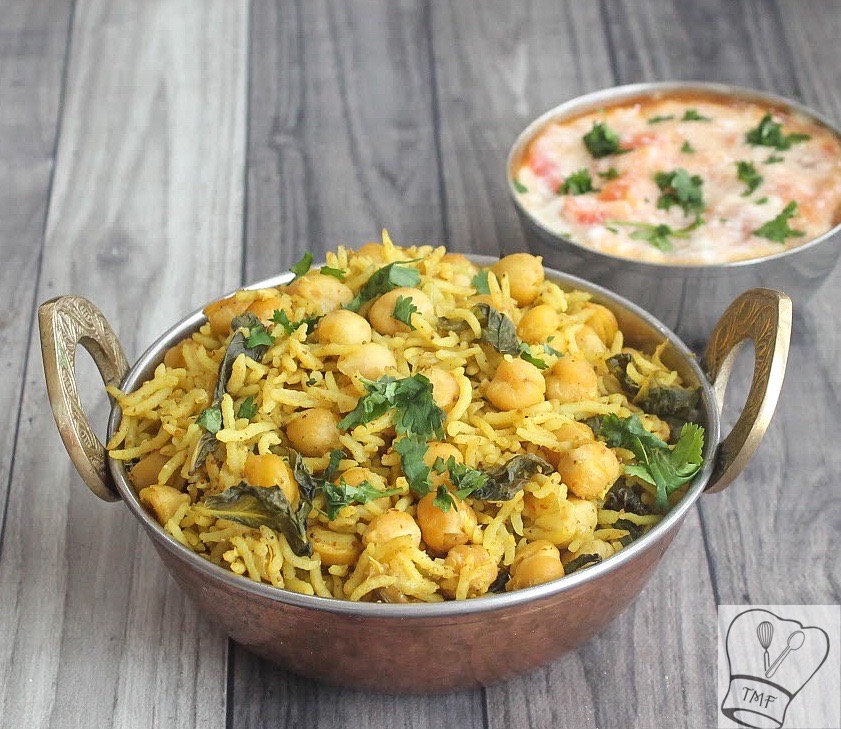 For regular recipe updates pls follow TMF social media links