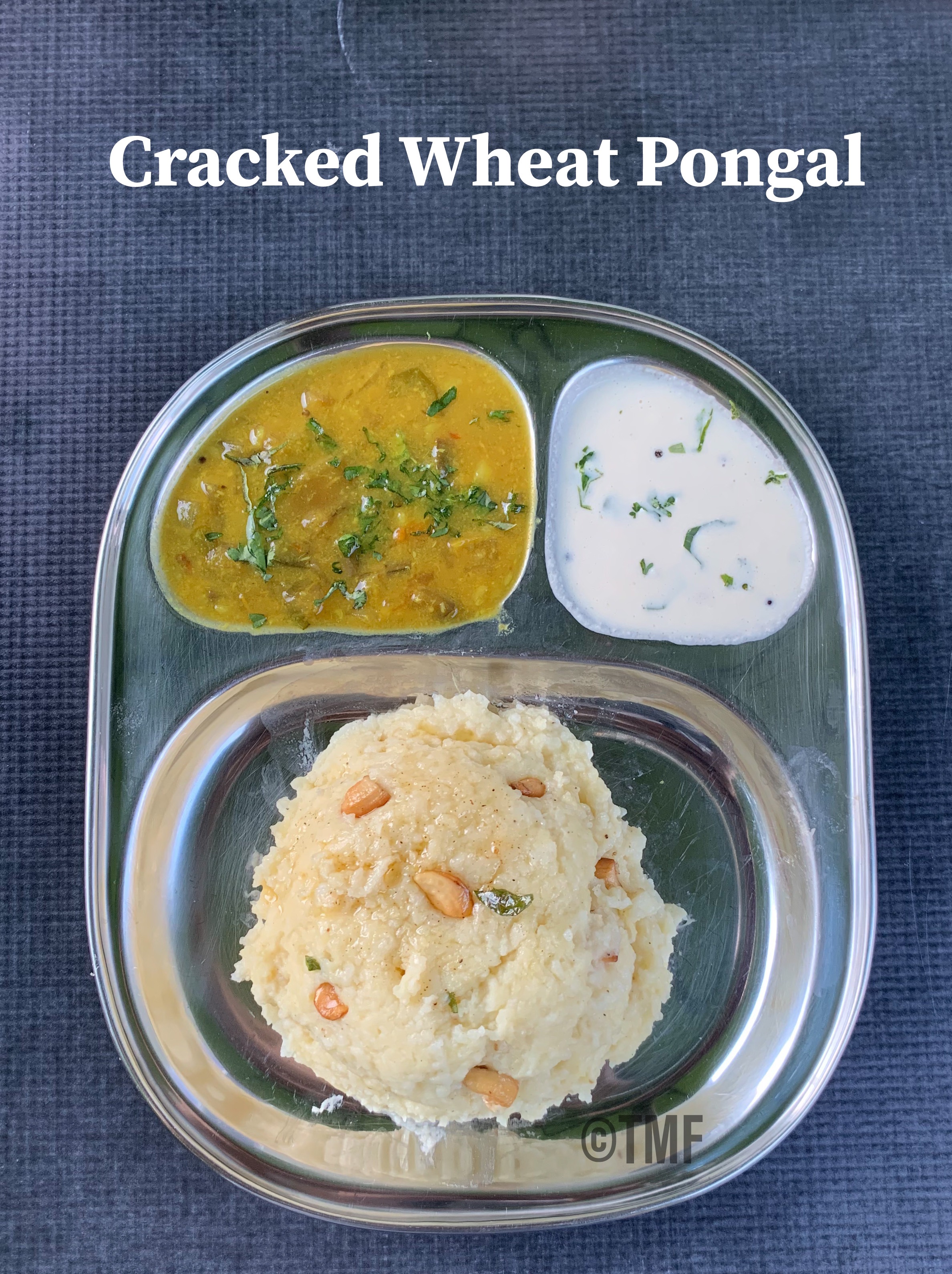 Godhumai Rava Pongal is a healthy and protein-rich one-pot recipe. Broken wheat Pongal is a great gluten-free tiffin. South Indian style Pongal Variety can be eaten for breakfast/dinner.
As I mentioned in Cracked Wheat Pulao, Godhumai Rava Pongal is a recipe from my Amma's cookbook. Amma makes rava Pongal with regular rava. Inspired from that I tried Godhumai Rava Pongal.
Checkout other Pongal varieties in TMF,
I like to prepare Pongal as it doesn't require much effort. Filling one-pot recipes is not only perfect for busy days but also healthy food for kids.
Pongal can be prepared with any type of Gothumai rava like samba rava or cracked wheat. Pongal is served with onion, tomato thokku, gotsu, Sambar, and chutney varieties.
Check my other Cracked wheat recipes,
Cracked Wheat and Oats Kozhukattai
Pongal recipes | bhogi recipes | kannum Pongal recipes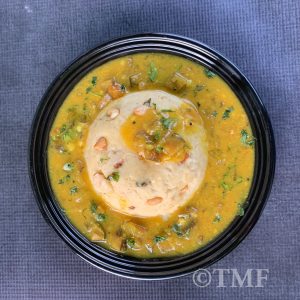 Ingredients
Cracked Wheat/Samba Rava/Dalia/Bulgar - 1/2 cup

Split yellow moong dal - 1/2 cup

Ginger - 1 teaspoon

chopped

Water - 3 cups

Salt - as needed

To temper:

Ghee - 1 tablespoon

Cumin seeds - 1 teaspoon

Peppercorns - 1/2 teaspoon

Fresh curry leaves - 1 spring

Cashew nuts - as needed

Hing - generous pinch

Ginger - 1/2 teaspoon

peeled and chopped
Instructions
Wash and soak moong dal, set it aside (I soaked in hot water for 30 minutes)

Add ghee to the pressure cooker, saute Cracked wheat and soaked moong dal for 2 mins

Pressure cook cracked wheat and moong dal, along with chopped ginger and salt in 4 cups of water for 3 whistles. Switch off and Keep it aside

Image

Add ghee to the pan, when it is hot add Cumin seeds, peppercorns, ginger, asofetida, curry leaves and hing. Once it splutters, add this seasoning to the cooked pongal and mix well

Image

Garnish with some roasted cashew before serving. Serve hot with any chutney/sambar

Image
Notes
1. Fine wheat rava ican also be used instead cracked wheat, in that case adjust water accordingly
2. Pepper - cumin powder can also be used
Cracked Wheat Pongal
Preparation Time : 5 mins | Soaking Time : 30 mins | Cooking Time : 25 mins | Serves : 3
Recipe Category: Breakfast
Ingredients:
Cracked Wheat/Samba Rava/Dalia/Bulgar - 1/2 cup
Split yellow moong dal - 1/2 cup
Ginger - 1 teaspoon, chopped
Water - 3 cups
Salt - as needed
To temper:
Ghee - 1 tablespoon
Cumin seeds - 1 teaspoon
Peppercorns - 1/2 teaspoon
Fresh curry leaves - 1 spring
Cashew nuts - as needed
Hing - generous pinch
Ginger - 1/2 teaspoon, peeled and chopped
Method:
Wash and soak moong dal, set it aside (I soaked in hot water for 30 minutes)
Add ghee to the pressure cooker, saute Cracked wheat and soaked moong dal for 2 mins
Pressure cook cracked wheat and moong dal, along with chopped ginger and salt in 4 cups of water for 3 whistles. Switch off and Keep it aside
Add ghee to the pan, when it is hot add Cumin seeds, peppercorns, ginger, asofetida, curry leaves and hing. Once it splutters, add this seasoning to the cooked pongal and mix well
Garnish with some roasted cashew before serving. Serve hot with any chutney/sambar