Godhumai rava Pongal | Ven Pongal | wheat rava Pongal | Samba rava Pongal | how to make broken wheat Pongal | Daliya Pongal | Bulgur Pongal | cracked wheat pongal | healthy Pongal recipe with step-by-step pictures and video recipe. Check out the Godhumai rava Pongal recipe and If you like the video pls SUBSCRIBE to my channel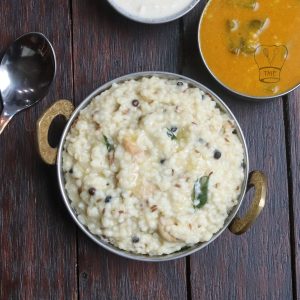 Godhumai Rava Pongal is a healthy and protein-rich one-pot recipe. if you skip Asafoetida, Broken wheat Pongal is a great gluten-free tiffin. Healthy South Indian style Pongal Variety can be eaten for breakfast/brunch/ dinner.
What kind of broken wheat should I use for Pongal?
I use medium-coarse Bulgur for this Pongal. Depending on the type of broken wheat you use the texture of the Pongal might vary. broken wheat Grits don't have after taste and Pongal tastes like temple style Ven Pongal.
Do I need this much water for the Pongal?
The amount of water totally depends on the variety of broken wheat. I use Indian fine godhumai rava you need not add this much water.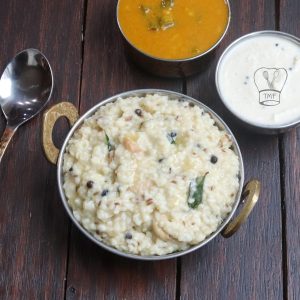 Healthy one-pot meal
Easy to cook Pongal is a filling meal option. If you are thinking to reduce the carbs Broken wheat Pongal is perfect.
What tastes best with Pongal
Pongal tastes best with gotsu, Sambar, and chutney varieties and onion, tomato thokku,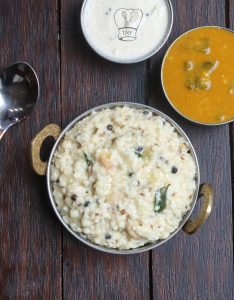 Pongal recipes | bhogi recipes | kannum Pongal recipes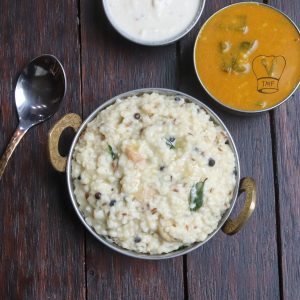 Godhumai Rava Pongal | Broken Wheat Pongal
healthy protien rich tasty pongal recipe
Print
Pin
Comment
Ingredients
To soak and cook
1/2

cup

Cracked Wheat | Samba Rava | Dalia | Bulgar | godhumai rava

2

tablespoon

Split yellow moong dal

1/2

tablespoon

ghee

2

cups

Water
To temper:
1

tablespoon

ghee

1/2

tablespoon

pepper

8

cashews

1/2

tablespoon

Cumin seeds

Few Fresh curry leaves

1/2

tablespoon

Ginger peeled and finely chopped

Asafoetida generous portion
Pongal
1

cup

Hot water

Salt - as needed

Asafoetida generous portion
Instructions
Firstly add  cracked wheat and moong dal to a wide vessel

Wash and soak them with 1 + 1/2 water for 15 minutes

Add ghee to the pressure cooker

When ghee turns hot add pepper, cashews, and curry leaves; mix well

Saute till Cashew starts to change color

Add  cumin seeds and mix well

When cashew turns brown and cumin seeds splitter; add ginger. Mix well and turn off the stove

Finally, add asafoetida and give a good mix. transfer  the tempering  to a small bowl

Add soaked cracked wheat and dal and mix well

Furthermore, add ghee and saute  for a minute

Add water and mix well

Bring to a frothy boil. Make sure nothing is stuck to the pan

Furthermore, drizzle two drops of  sesame oil

Close the cooker and pressure cook for 4 whistles. Simmer to low flame for 2 mins; turn off the stove

After natural pressure release

Open the open and mash the Pongal

Add required salt and 1 cup of hot water; mix well

Furthermore, add the roasted ingredients and mix well

Cook for 3 minutes or until Pongal comes together

Finally, add asafoetida; mix well and turn off the stove
Video
Notes
1. Fine wheat rava can also be used instead cracked wheat, in that case adjust water accordingly
2. Pepper - cumin powder can also be used
Ingredients:
To soak and cook
1/2 cup Cracked Wheat | Samba Rava | Dalia | Bulgar | godhumai rava
2 tablespoon Split yellow moong dal
1/2 tablespoon ghee
2 cups Water
To temper:
1 tablespoon ghee
1/2 tablespoon pepper
8 cashews
1/2 tablespoon Cumin seeds
Few Fresh curry leaves
1/2 tablespoon Ginger peeled and finely chopped
Asafoetida generous portion
Pongal
1 cup Hot water
Salt - as needed
Asafoetida generous portion
How to make Godhumai Rava Pongal with step by step pictures :
Firstly add cracked wheat and moong dal to a wide vessel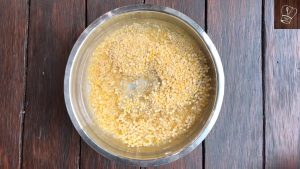 Wash and soak them with 1 + 1/2 water for 15 minutes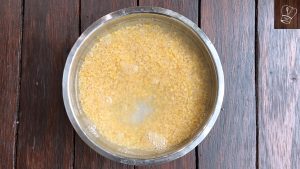 Add ghee to the pressure cooker
When ghee turns hot add pepper, cashews, and curry leaves; mix well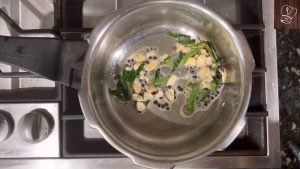 Saute till Cashew starts to change color
Add cumin seeds and mix well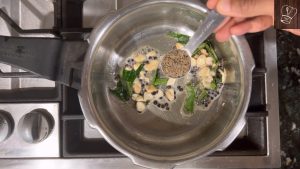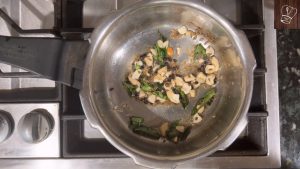 When cashew turns brown and cumin seeds splitter; add ginger. Mix well and turn off the stove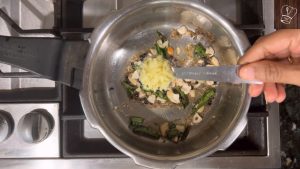 Finally, add asafoetida and give a good mix. transfer the tempering to a small bowl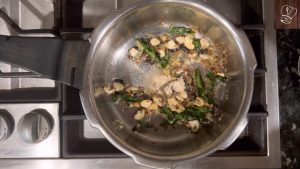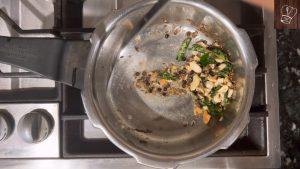 Add soaked cracked wheat and dal and mix well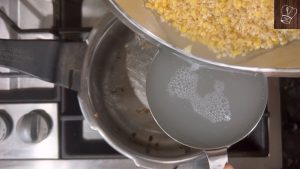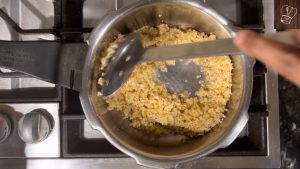 Furthermore, add ghee and saute for a minute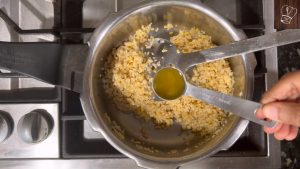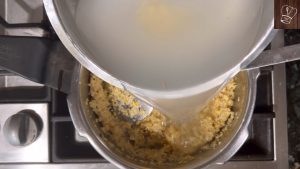 Bring to a frothy boil. Make sure nothing is stuck to the pan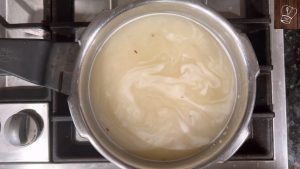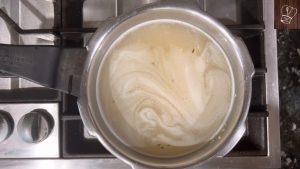 Furthermore, drizzle two drops of sesame oil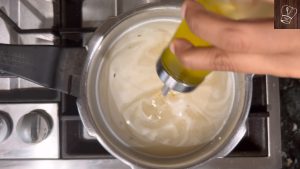 Close the cooker and pressure cook for 4 whistles. Simmer to low flame for 2 mins; turn off the stove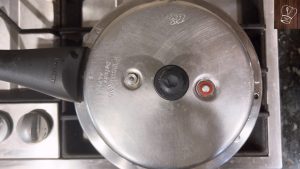 After natural pressure release
Open the open and mash the Pongal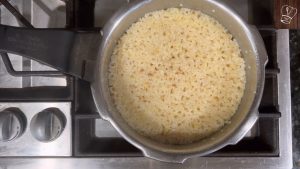 Add required salt and 1 cup of hot water; mix well
Furthermore, add the roasted ingredients and mix well
Cook for 3 minutes or until Pongal comes together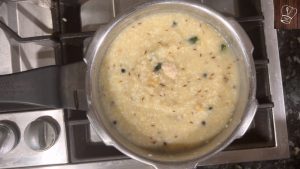 Finally, add asafoetida; mix well and turn off the stove