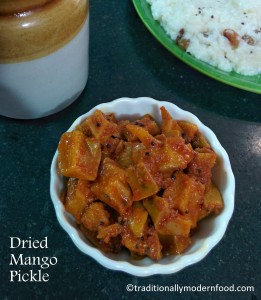 Manga Oorugai | Mangai urugai | Manga pickle recipe | south Indian pickle recipe is made by drying raw mango and cooked with spice mix. Cut manga oorugai stays good for a months. Nothing can beat mango pickle and curd rice combo.
Pickles are something which I relish. Ever since childhood days I am not a big fan of lemon pickle so when it comes to pickles manga oorugai is my personal choice. During summer for almost every meal my plate will have one among these pickles; maavadu, Mango Thokku, Dried Mango Pickle, Instant Mango Pickle.
Luckily this time I visited India during summer vacation and I am enjoying all homemade summer special recipes. My father like mixing manga oorugai pickle with rice and have it for one course. I got that habit from him. Irrespective of whatever rice accompaniment Amma makes , I loves mix pickle with rice first then eat the prepared dish.
Growing up I never had a intention to learn how to make pickles. All I do is eating eating eating. Now that I started cooking, I am interested. This time I was behind my Amma and was asking her to teach me manga oorugai.
Grandmother's recipes are always best and this manga oorugai is perfect example:-) It stays good for more than a month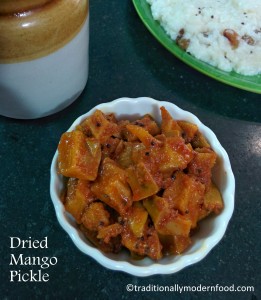 Ingredients
Raw Mango - 4

washed, dried, peeled and cut

Turmeric powder- 1/8 tsp

Red Chilli powder - 2 tbsp

Salt - as needed

Asofetida - generous pinch

Fenugreek powder/ vendhayam

dry roasted and powdered - 3/4 tsp

Sesame seed oil/ gingerly oil - 3 tbsp

Mustard seeds - 1 tsp
Instructions
Add salt to the cut mangoes and keep in a container with a lid for 24 hours. Shake the container in between for 3-4 times

Next day there will be salt - mango water in the container. Keep the water aside and dry the mango in a sheet without touching each other for 8-9 hours in a sunny place

In medium flame add oil to the pan. when oil is hot add mustard seeds and asofetida and let it splutter. Add turmeric powder and salt - mango water and let it boil. When the water is boiling add the dried mangoes and add chilli powder, continue cooking in a medium flame till the water absorbs and oil separates

Add fenugreek powder, mix well and switch it off
Notes
Let the pickle cool completely and store it in a airtight container and refrigerate. It will stay good for more than a month if clean dry spoon is used
Can dry mangoes for 2-3 days and prepare urugai in that case avoid step 1 and add salt while cooking urugai
Ingredients:
Raw Mango - 4, washed, dried, peeled and cut
Turmeric powder- 1/8 tsp
Red Chilli powder - 2 tbsp
Salt - as needed
Asofetida - generous pinch
Fenugreek powder/ vendhayam (dry roasted and powdered) - 3/4 tsp
Sesame seed oil/ gingerly oil - 3 tbsp
Mustard seeds - 1 tsp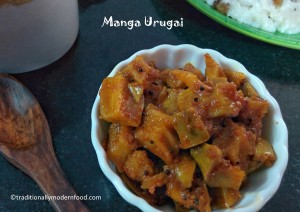 Method:
Add salt to the cut mangoes and keep in a container with a lid for 24 hours. Shake the container in between for 3-4 times

Next day there will be salt - mango water in the container. Keep the water aside and dry the mango in a sheet without touching each other for 8-9 hours in a sunny place

In medium flame add oil to the pan. when oil is hot add mustard seeds and asofetida and let it splutter. Add turmeric powder and salt - mango water and let it boil. When the water is boiling add the dried mangoes and add chilli powder, continue cooking in a medium flame till the water absorbs and oil separates
Add fenugreek powder, mix well and switch it off