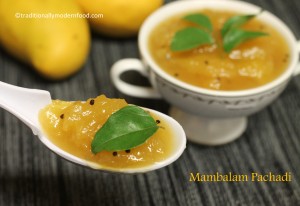 Manga pachadi is a sweet dish prepared with raw mango and jaggery. It's usually prepared during Tamil new year to add some sourness to the food. Pachadi can be prepared within 15 minutes.
I love festival for one main reason, yes yes it's the food. Wide spread of the dishes make it so special. Any festival I remember is all about cooking variety of recipes. I miss one thing after coming to US, food on banana leaves. In our chennai house, banana leaves vendor was so close and just because I like having food in banana leaves. Amma gets it even during weekends. Here it's not common and it's very expensive.
Tamil new year is on April 14 th. According to Tamil calendar that's is first day of the year. Farmers celebrate it so special. In our home on Tamil new year Amma makes wide spread of dishes. In pachadi category Manga and Vepambo pachadi will be there. She explains me that we might faces lot of ups and down in the coming new year to take everything positively we have Sourness, bitterness, sweet flavour.
Raw mango pachadi can be prepared within 15 minutes. Pressure cook the manga and soaking the jaggery parallely saves lot of time.
Ever since childhood, whenever I see mangoes at home I ask Amma to prepare Pachadi. Though it's a great side, I always prefer having it as dessert:-)
Traditional Mango Pachadi with have Chilli Powder/Chilli for the hotness, but since I prefer the Pachadi to be fully I skip it.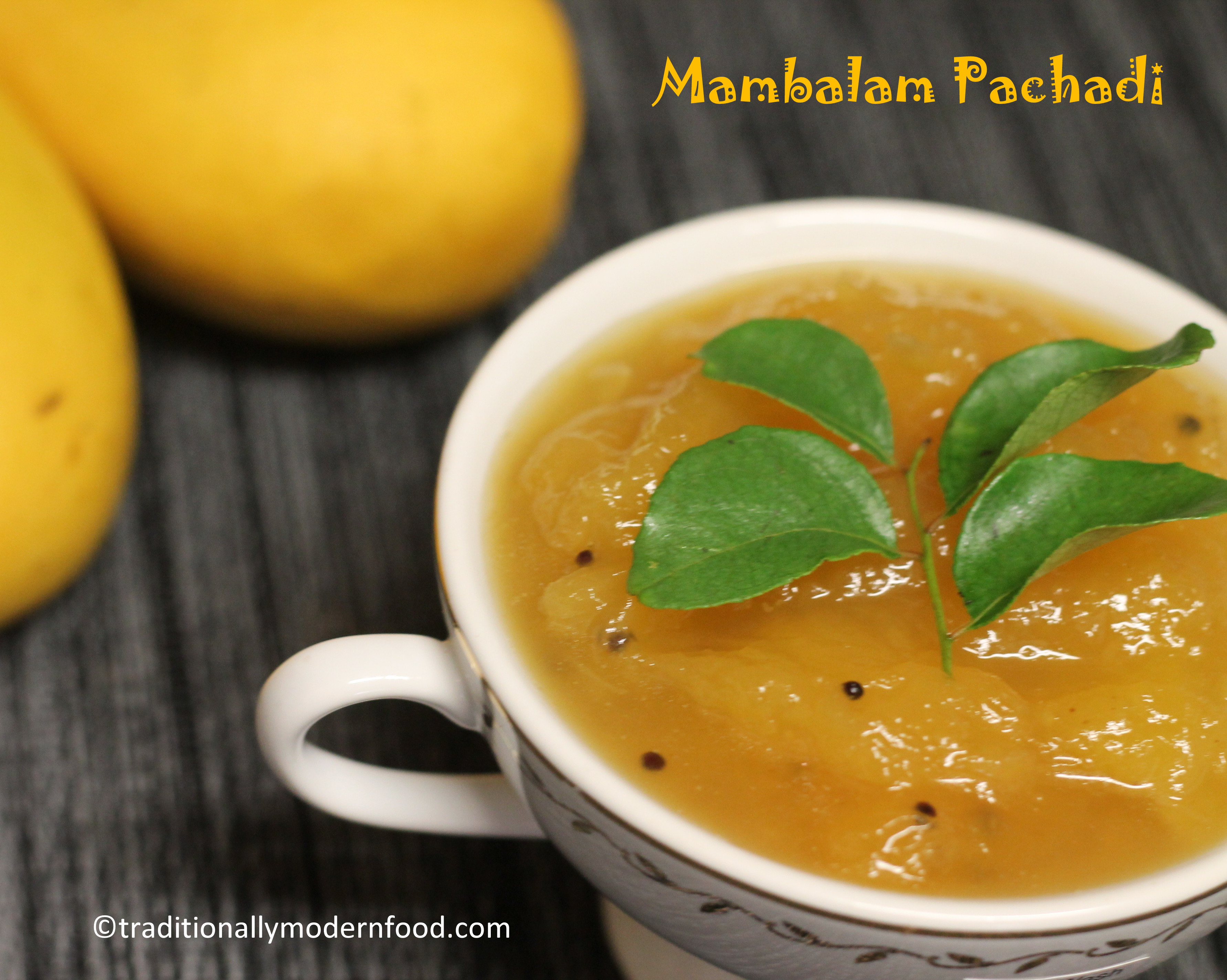 Ingredients
Raw mango - 1

peeled, chopped bit sized

Powdered Jaggery - 1/2 cup heaped

Tamrind pulp - 1/8 tsp

Optional

Rice flour - 1/4 tsp

Turmeric powder - 1/4 tsp

Salt - a pinch

Ghee/Oil- 1 tsp

I used Ghee

Mustard seeds - 1/4 tsp
Instructions
Soak jaggery in 1 cup + 1/4 cup of hot water, After the jaggery completely melts in water, strain the impurities

In a pan, add jaggery syrup and bring to boil. Add the cardamom powder; mix well and cook for 2- 3 minutes

Pressure cook the chopped Mango with water till immersing level and cook for 1 whistle

In a pan add ghee and after it is hot add muatard seeds and temper. Add the cooked mangoes, jaggery syrup, cardamom Powder, salt and tamrind pulp and boil; cook for 5 - 7 minutes

In a small bowl add rice flour and 2 tsp of water; mix well without lump add it to the Pachadi and boil for 2-3 minutes and swtich off
Notes
The raw Mango I used was not sour, so I added little tamrind extract for sourness, can skip it according to the taste
Rice flour addition helps in thickening the Pachadi, can skip it
Instead of using pressure cooker can also cook mangoes directly in the pan
Can add Chilli Powder while boiling or red/green Chilli while tempering for hotness
Usually the Pachadi is prepared with raw Mango but ripe mangoes can be used if desired
Ingredients:
Raw mango – 1, peeled, chopped bit sized
Powdered Jaggery – 1/2 cup heaped
Tamrind pulp – 1/8 tsp (Optional)
Turmeric powder – 1/4 tsp
Salt – a pinch
Ghee/Oil- 1 tsp ( I used Ghee)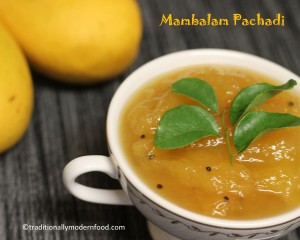 How to make Mambazha Pachadi with step by step pictures:
Soak jaggery in 1 cup + 1/4 cup of hot water, After the jaggery completely melts in water, strain the impurities
In a pan, add jaggery syrup and bring to boil. Add the cardamom powder; mix well and cook for 2- 3 minutes
Pressure cook the chopped Mango with water till immersing level and cook for 1 whistle

In a pan add ghee and after it is hot add muatard seeds and temper. Add the cooked mangoes, jaggery syrup, cardamom Powder, salt and tamrind pulp and boil; cook for 5 – 7 minutes

In a small bowl add rice flour and 2 tsp of water; mix well without lump add it to the Pachadi and boil for 2-3 minutes and swtich off