Mambazha Pulissery | Kerala style mango curry | Kerala style sweet and sour mango curry | mambazha kalan | moru kootan | ripe mango in yogurt curry with step by step pictures and video recipe. Check out the video recipes for the Mambazha Pulissery recipe. If you like the video pls SUBSCRIBE to my channel.
Mambazha Pulissery is a quick rice accompaniment prepared with Mango and curd. Sweetness from mango makes this mor kuzhambu super yum. This is a quick 10 mins tasty South Indian Kuzhambu variety.
Growing up in chennai, summer was always hot can't step out during noon, but I always longed for summer for two reasons. One is of course long summer vacation. We go to my uncle's house in hosur. Aunt makes special food for us, outing, card games all night - lots and lots of memories.
One more thing about summer is Mango. I love anything and everything about mangoes. When it comes to mangoes hubby is also addicted like me. There won't be a grocery trip during summer without mangoes in our cart.
My Aunt stayed in Trivandrum for 20+ years in Kerala and I learnt lot of tasty authentic traditional Kerala based recipes from her. I have posted some recipes in my blog.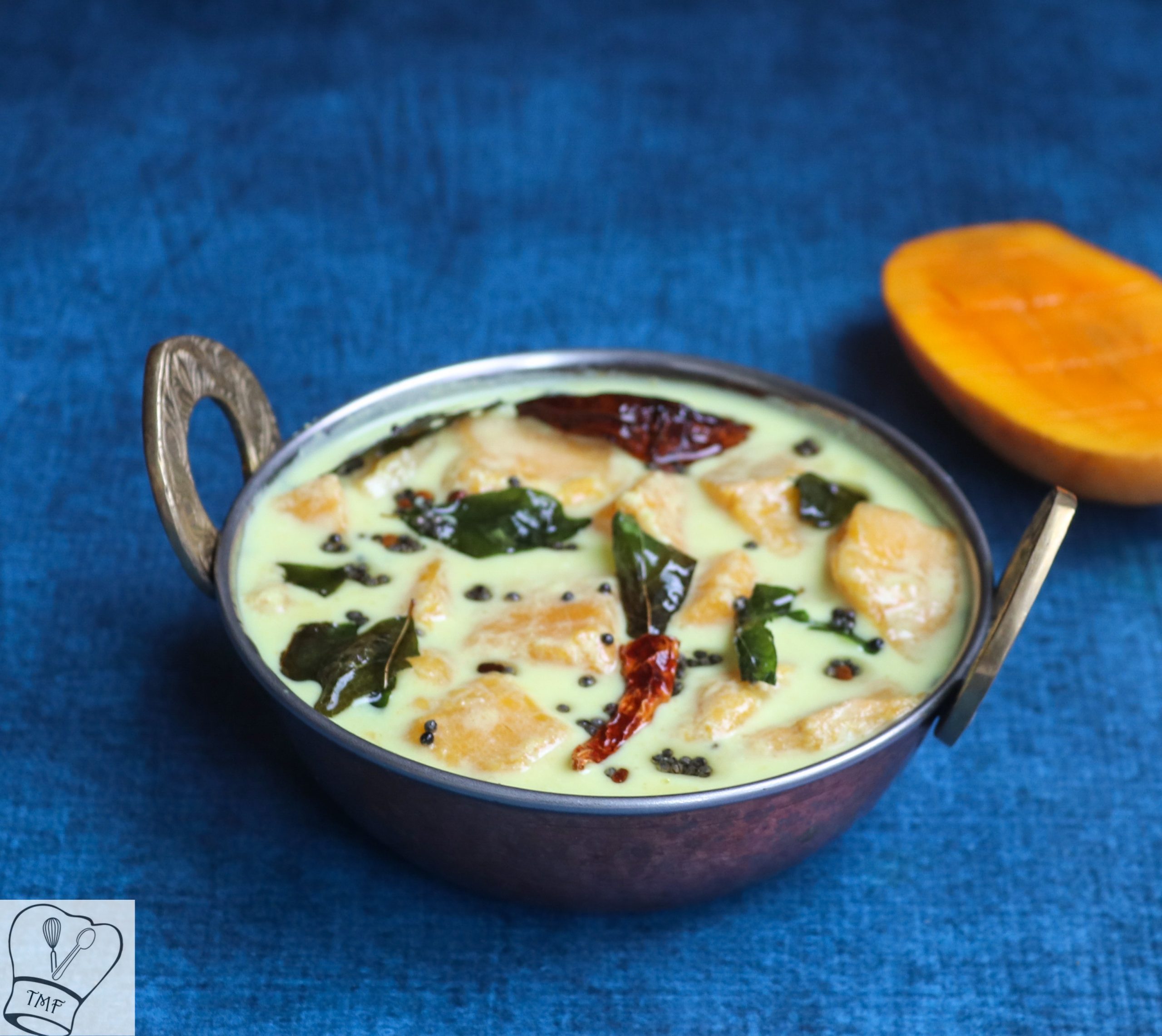 One more reason for my strong desire to all Kerala based dishes is my friends. I had a close mallu friend in college. Aunty prepares tasty Kerala based dishes and I loved them. Now I have a close friend from palakkad and she is a amazing cook. I love her recipes too.
I learnt Mambazha pulissery recipe from my friend's mom. When I visited her house Aunty prepared this for lunch. Hearing the dish name I was imagining how it will be, but after seeing how it looked, it resembled the Moor Kuzhambu we do at home. Sweetness from mangoes with sourness in kuzhambu was my favorite part .
After I started cooking I have been doing this frequently. Here in Seattle I love a Kerala based restaurant called "Kathakkali" and I love the restaurant's version of Mambazha pulissery too.
With a mild sweetness, restaurant's mango mor Kuzhambu was without any sourness. I first got confused if they added coconut milk, but then realized it is fresh curd and lots of coconut, pinch of sugar and coconut oil which gave the flavor.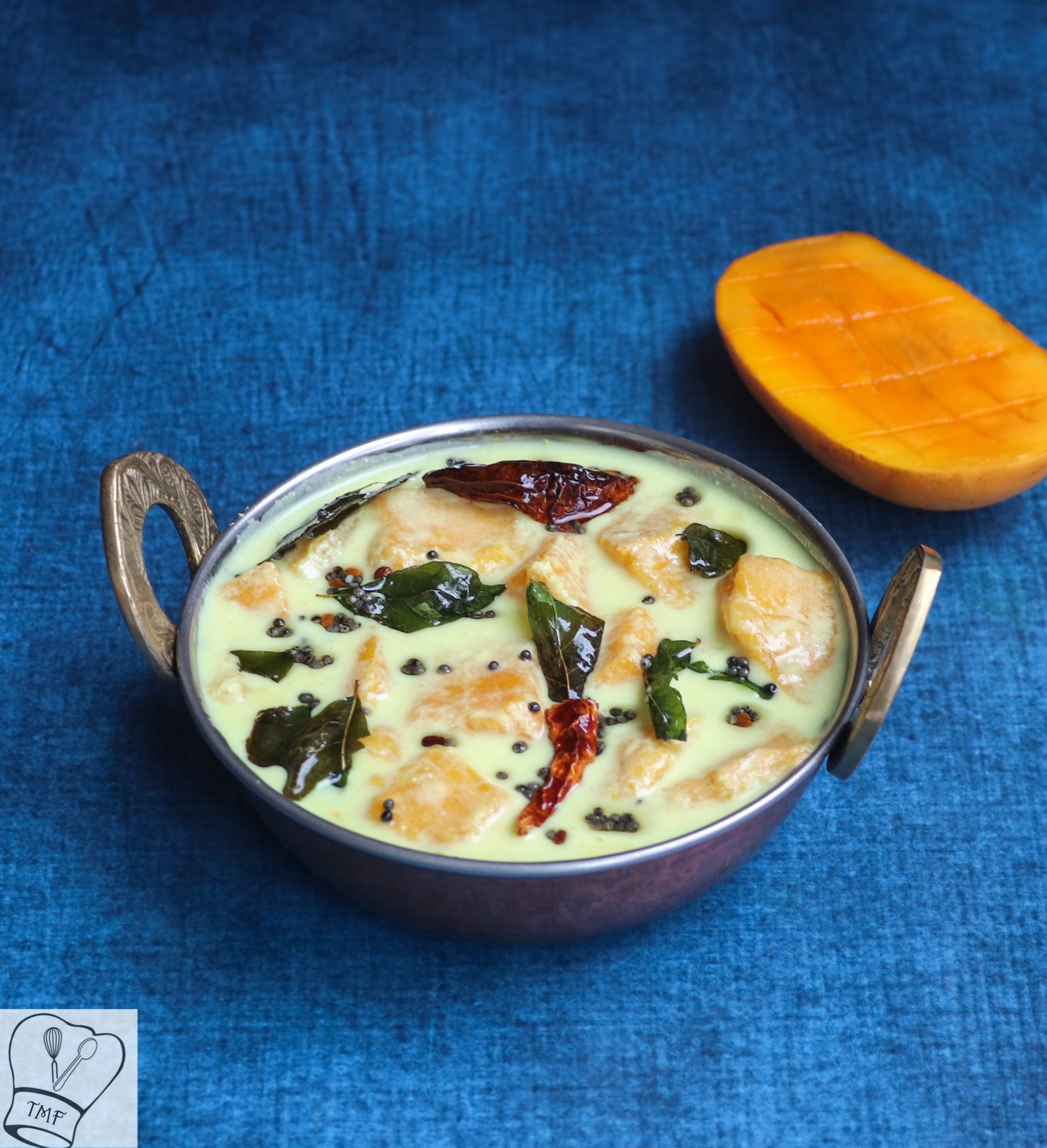 If you are interested in some tasty South Indian kuzhambu varieties in TMF:
Kuzhambu varieties with tamarind
Kuzhambu varieties without tamarind
After seeing my Mango Thokku post my sister was asking me why I didn't post any Mango based recipes this year. That's when I realized its true and started checking my draft. Had Mango pulissery and Mango Pachadi pics so here is the post 🙂
If you have prefer sour kulambu use 2 or 3 days old buttermilk. Some likes sweet mangoes with Sour buttermilk mambazha pulissery. My personal favorite is fresh curd mango Mor Kuzhambu .
If you like Mor Kuzhambu check out Paruppu Urundai Mor Kuzhambu and vendakkai Mor Kuzhambu
Checkout my other Mango based recipes,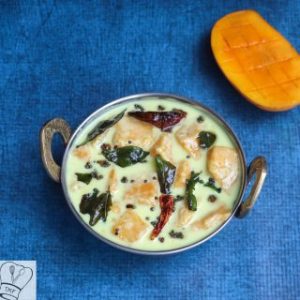 Mambazha Pulissery | Mango Mor Kuzhambu
Mambazha Pulissery is a quick 10 mins rice accompaniment
Print
Pin
Comment
Ingredients
Ripe Mango - 300 grams

Thick Curd /Plain Yogurt - 350 grams

Coconut - 75 grams

Water - 3/4 cup + 1/2 cup

Cumin Seeds - 1/2 tsp

Green Chilli - 1 or 2

according to your taste

Turmeric Powder - 1/4 tsp

Salt - as needed

Sugar - 1/4 tsp

optional

Coconut oil - 1 tbsp

Mustard Seed - 1/4 tsp

fenugreek seed - few

Dry red Chilli - 3

Curry leaves - few
Instructions
Add cut mangoes to the pan

Add salt and cook them in low flame for about 2-4 minutes ; turn off the stove

Let the cooked mangoes cool down a bit

Add little water and grind the coconut with cumin seeds and green chilli

In a wide vessel add ground paste, thick curd, 3/4 cup of water, turmeric powder, salt and sugar

Mix well with a whisk or electric beater; till everything blends well

Meanwhile cooked mangoes would have cooled

Add the curd mixture to cooked mangoes and turn on the stove in the lowest flame

Cook for 2-3 minutes in low flame and switch off

In a separate pan add oil and when the oil becomes hot add the ingredients under "To temper" and let it splutter. Add the seasoning to the kuzhambu and mix well. Serve with rice
Video
Notes
Adjust the Chilli according you your taste
If you use unripe mangoes cook them for longer time. If required pressure cook for 1 whistle
whisk the curd/ground mixture well before adding it to the Kuzhambu
Avoid cooking the Kuzhambu in high speed, Kuzhambu might curdle if cooked in high flame
Avoid over cooking mangoes. Mangoes should be cooked but should hold the shape
If mangoes are sour add sugar for the sweetness
How to make Mambazha pulissery with step by step pictures :
Add cut mangoes to the pan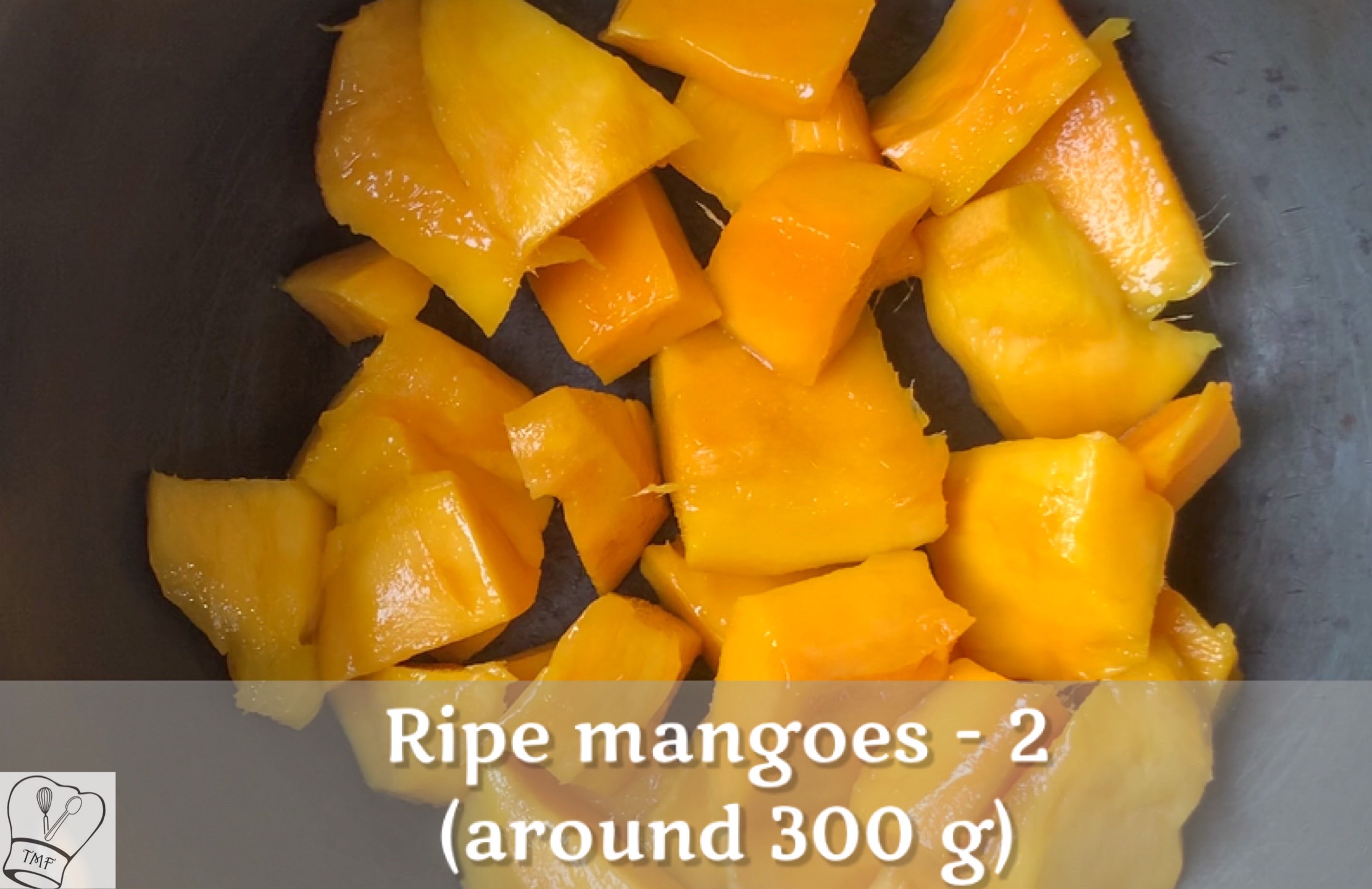 Add salt and cook them in low flame for about 2-4 minutes ; turn off the stove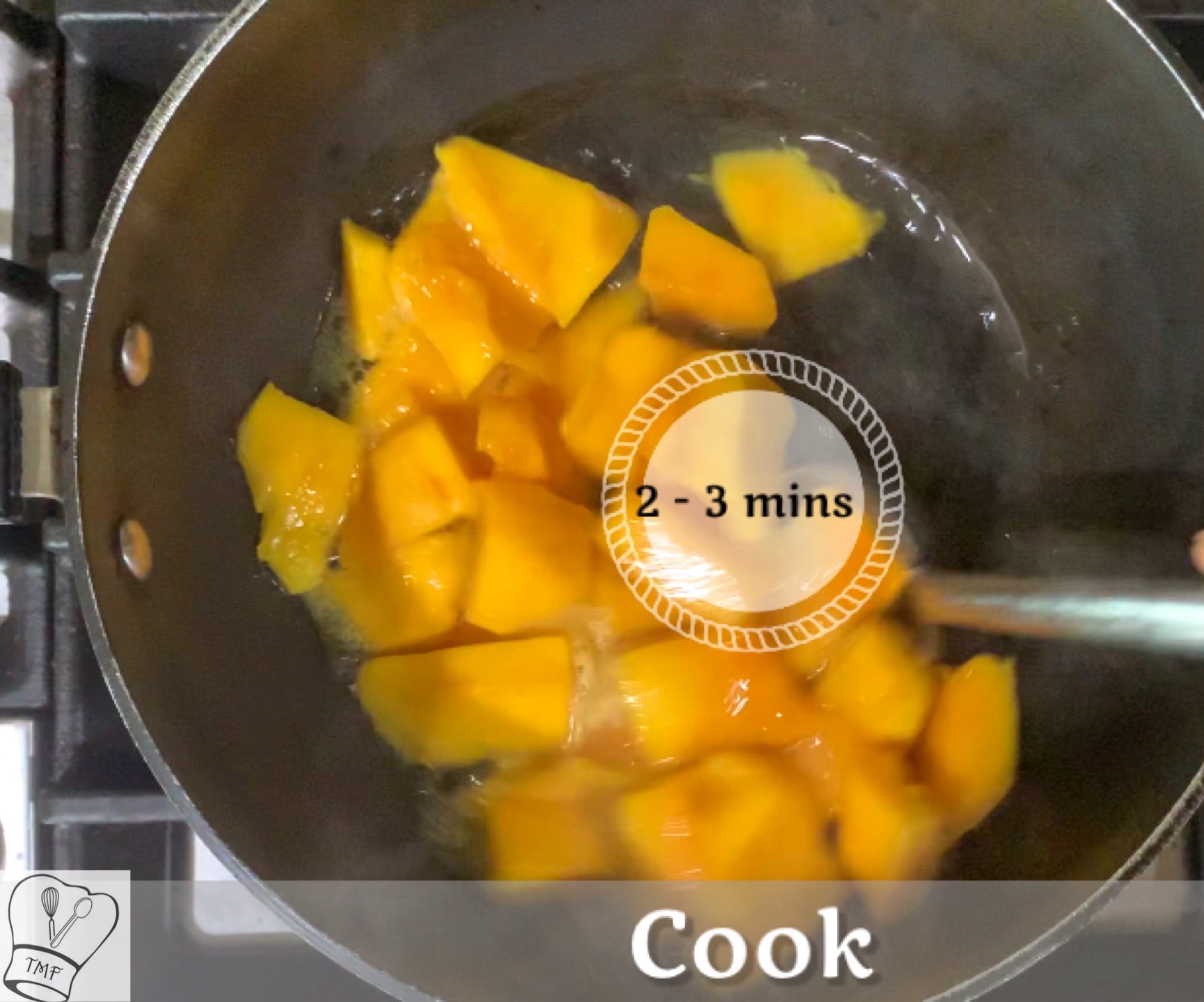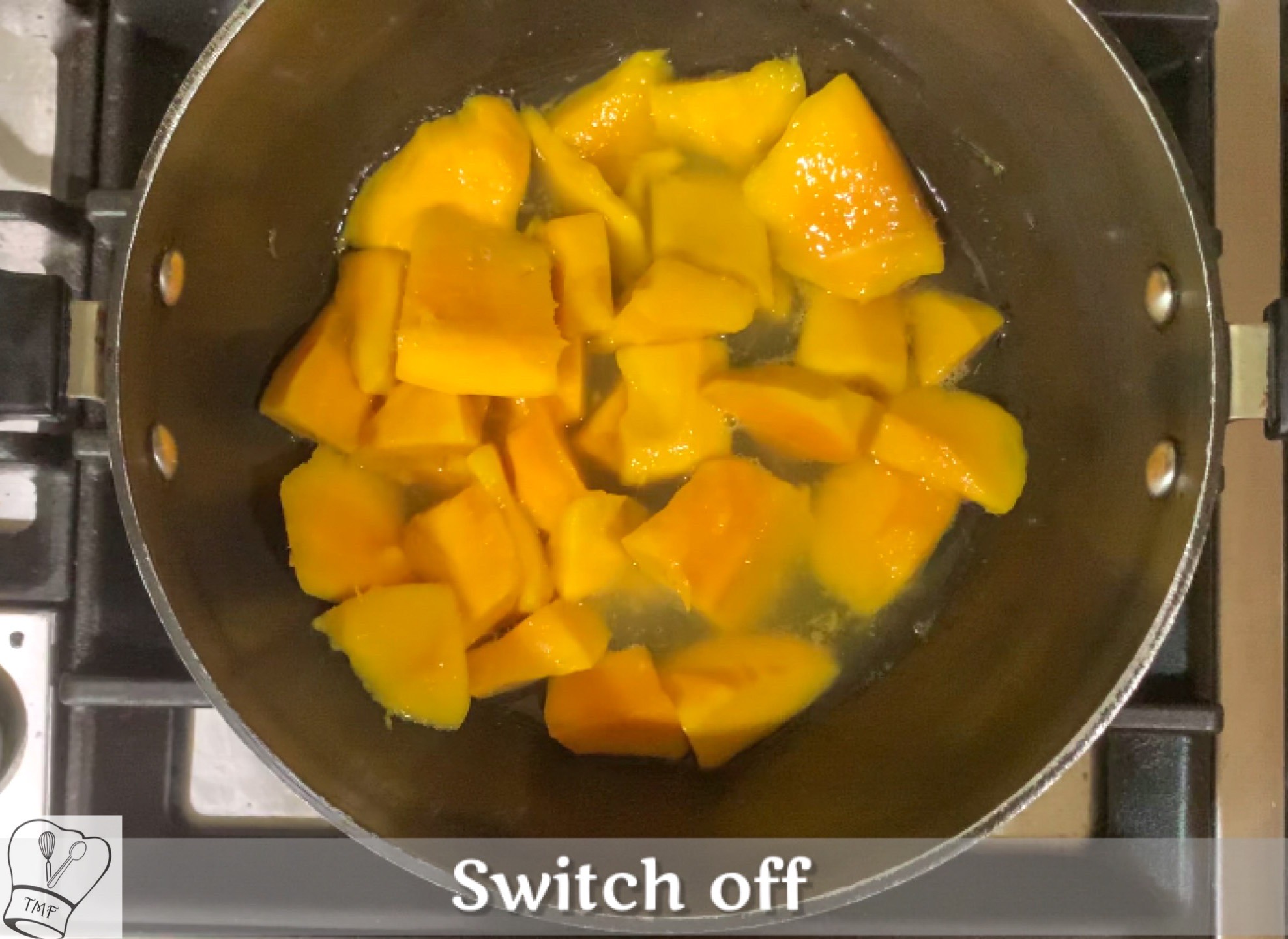 Let the cooked mangoes cool down a bit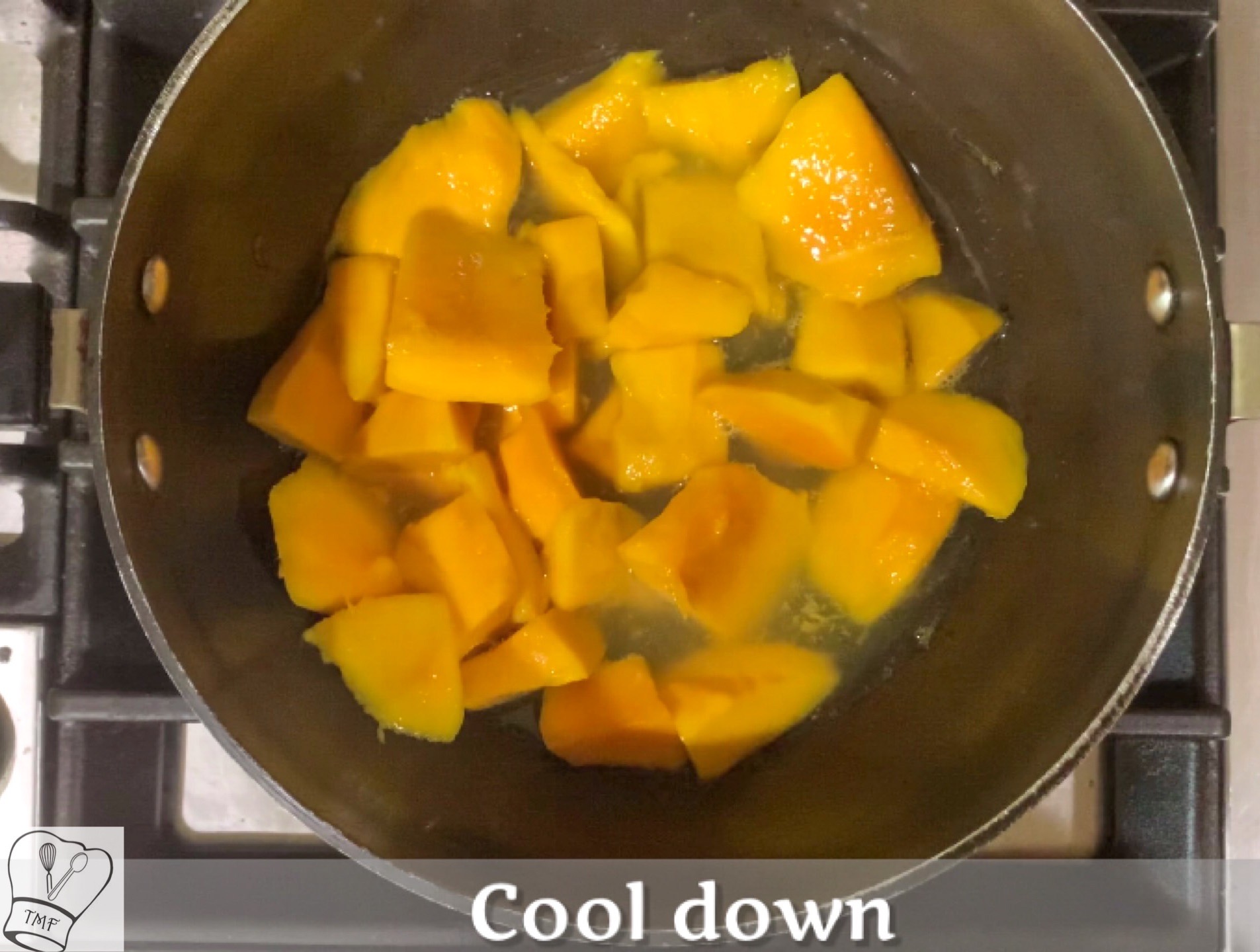 Add little water and Grind the coconut with cumin seeds and green chilli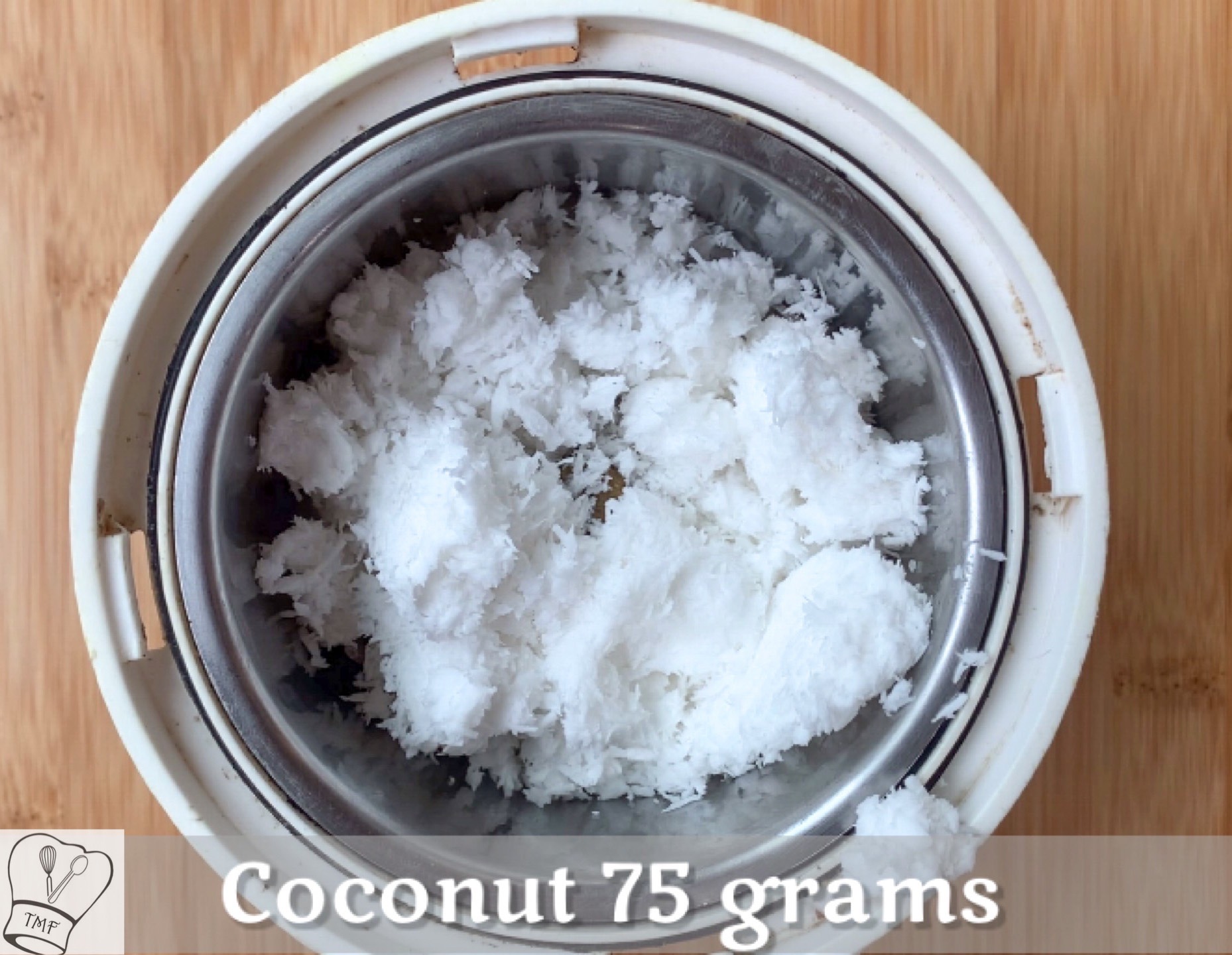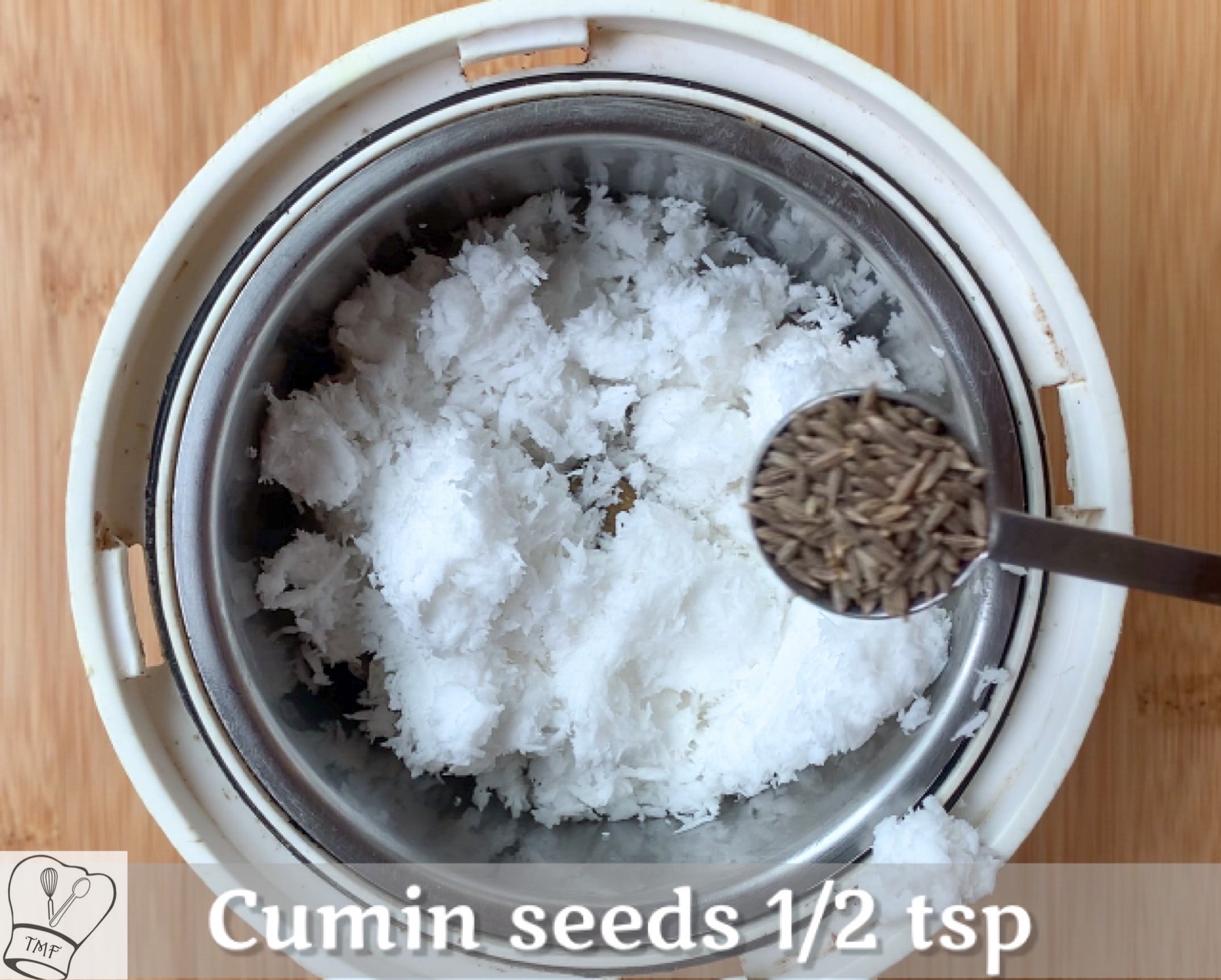 In a wide vessel add ground paste, thick curd, 3/4 cup of water, turmeric powder, salt and sugar
Mix well with a whisk or electric beater; till everything blends well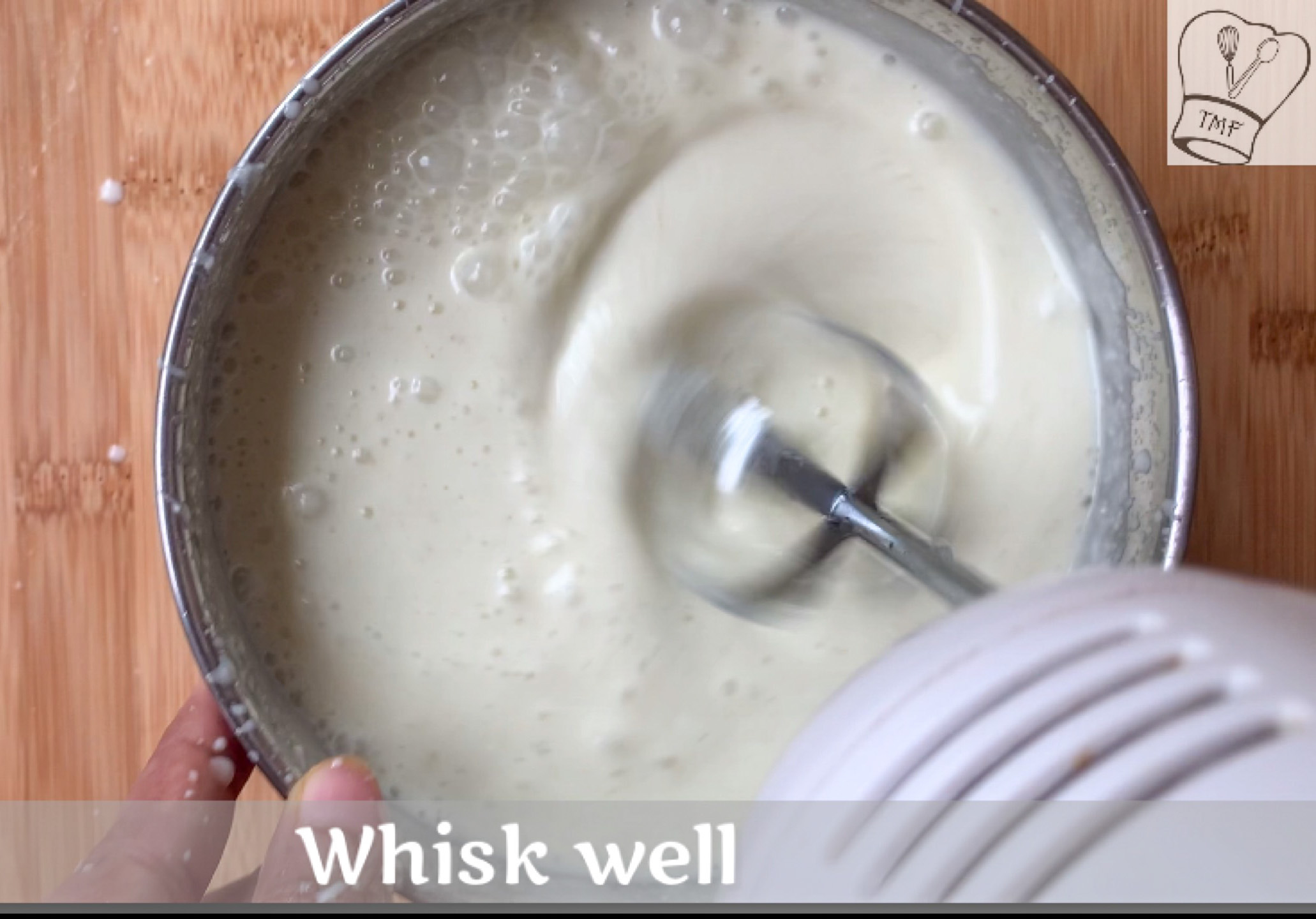 Meanwhile cooked mangoes might have cooled a bit
Add the curd mixture to cooked mangoes and turn on the stove in the lowest flame
Cook for 2-3 minutes in low flame and switch off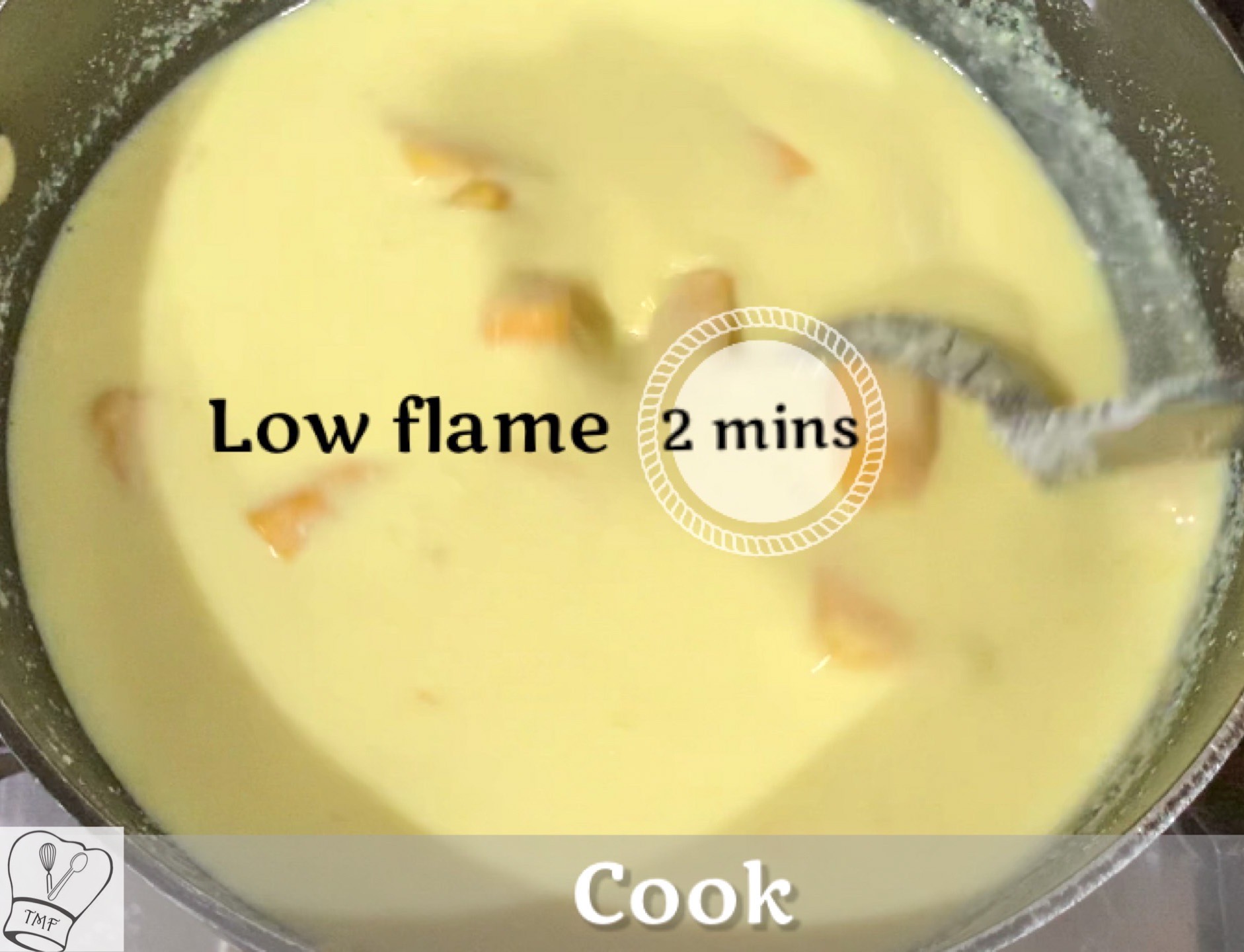 In a separate pan add oil and when the oil becomes hot add the ingredients under "To temper" and let it splutter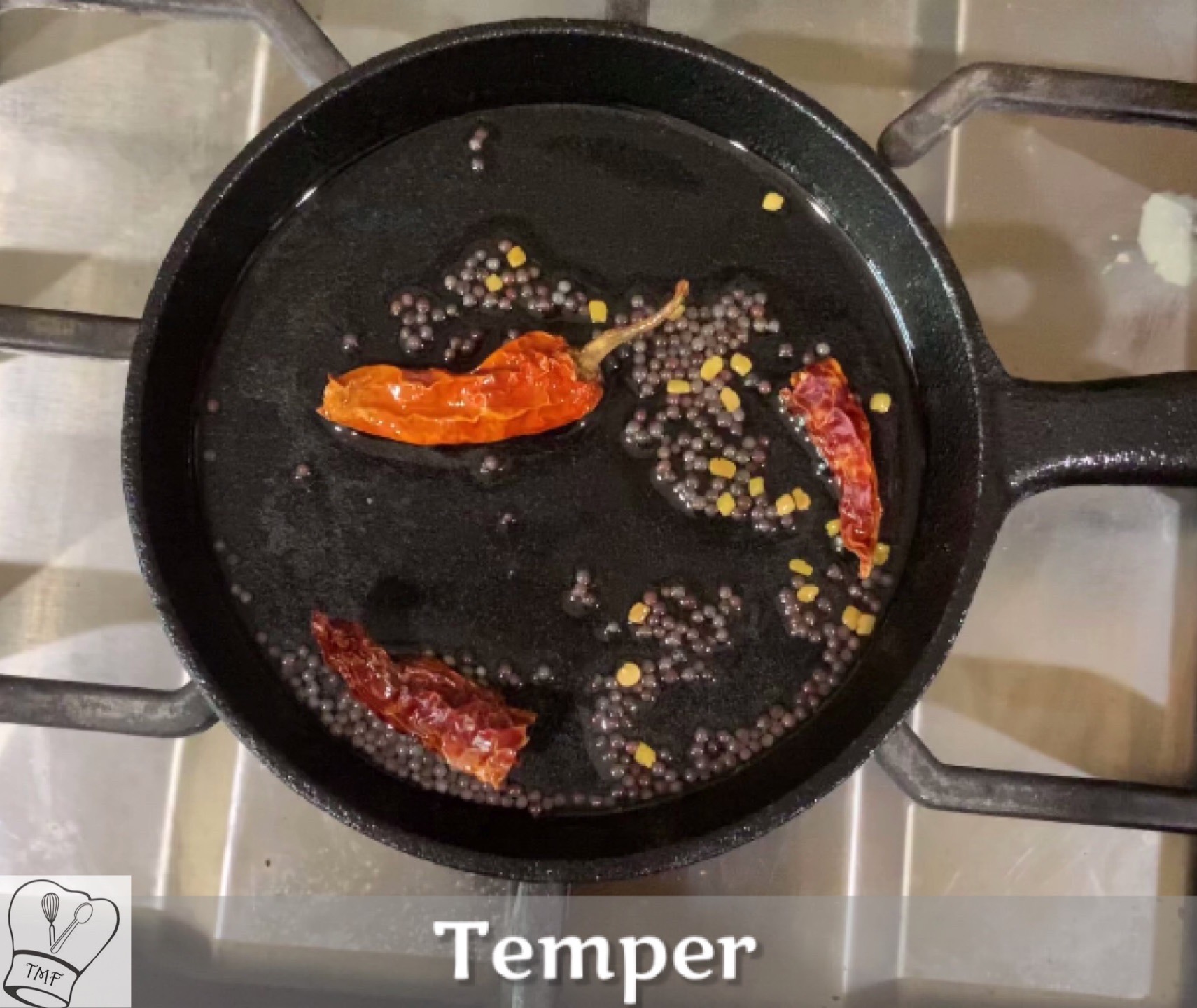 Add the seasoning to the kuzhambu and mix well. Serve with rice