Eggless Strawberry mousse | Strawberry fool | Strawberry cream | how to make strawberry mousse| Strawberry mousse without gelatin | fresh Strawberry recipe |easy dessert | Eggless strawberry desserts Check out the Eggless Strawberry mousse video and If you like the video pls SUBSCRIBE to my channel
Eggless Strawberry mousse is a rich and creamy 5- ingredients dessert. Preparation is super easy, it takes less than 10 minutes to make this delicious mousse. It is a tasty make-ahead party dessert.
Can I skip grinding strawberries?
If you prefer biting strawberry you can cook chopped strawberries and sugar; prepare strawberry compote. Cool then add to the mousse. My kids prefer a smooth texture hence I have grind strawberry
Can I skip the pudding mix?
if you prefer strawberry cream | strawberry fool you can skip pudding mix. for a smooth strawberry mousse texture, I would recommend pudding mix helps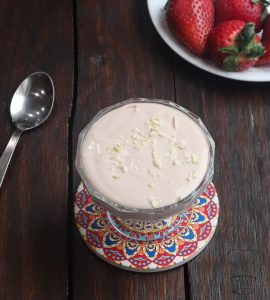 Any substitute for vanilla pudding mix?
You can use strawberry pudding mix or any pudding flavor that goes well with strawberry flavor. If you don't have pudding mix, use cornflour
Can I cook on the stovetop?
yes, cook till chocolate starts to melts. Avoid cooking for a long time
Can I skip refrigerating the strawberry mixture?
No, I would recommend refrigerating at least for 30 minutes. I would recommend using the chill strawberry mixture to whipped cream
Stiff or soft peaks?
Strawberry mousse or cream depends on the cream texture
Stiff peaks- mousse
Soft peaks - cream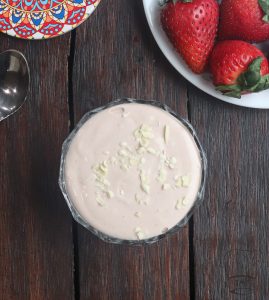 Ingredients
4

strawberries

2

tablespoon

sugar

1/4

cup

white chocolate chips

1

tablespoon

vanilla pudding mix

1/2

cup

heavy whipping cream

chilled
Instructions
Firstly add strawberries and sugar to a mixie jar and grind into a fine puree

Furthermore add pudding mix and grind again

Transfer the strawberry puree to a mixing bowl

Add white chocolate chips and microwave for 1 minute

Mix well till chocolate chips are melted and the mixture turns smooth

Bring to room temperature then refrigerate for 30 minutes

Add whipping cream to a wide mixing bowl and mix well till they turn so stiff peaks/ soft peaks based on your desired texture

Furthermore add chill strawberry mixture and mix well until everything is combined well

Refrigerate for 1 hour then serve
Video
Notes
You can use cornflour instead of pudding mix
If you have strawberry pudding mix you can use it for extra flavor
Always refrigerate the strawberry mixture before adding it to the cream
After adding the strawberry mixture to the cream mix well and refrigerate for 1 hour
You can add food color or beetroot juice to make it pink
Strawberry mousse or cream depends on the cream texture Stiff peaks- mousse Soft peaks - cream
Ingredients
4 strawberries
2 tablespoon sugar
1/4 cup white chocolate chips
1 tablespoon vanilla pudding mix
1/2 cup heavy whipping cream, chilled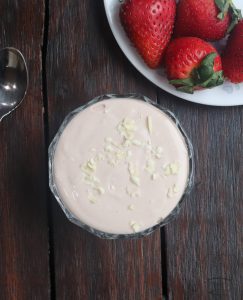 How to make Eggless Strawberry Mousse with step by step pictures
Firstly add strawberries and sugar to a mixie jar and grind into a fine puree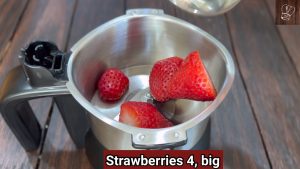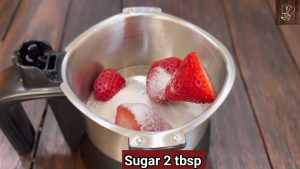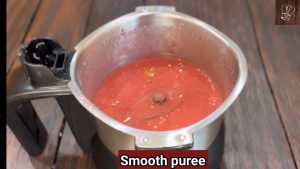 Furthermore add pudding mix and grind again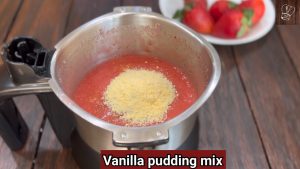 Transfer the strawberry puree to a mixing bowl
Add white chocolate chips and microwave for 1 minute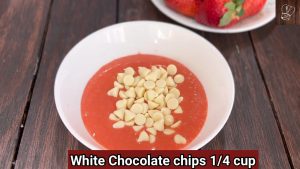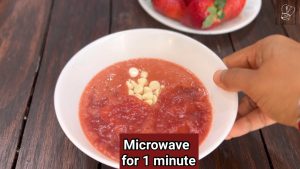 Mix well till chocolate chips are melted and the mixture turns smooth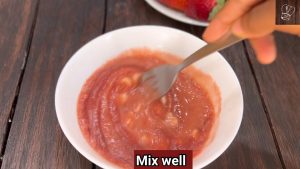 Bring to room temperature then refrigerate for 30 minutes
Add whipping cream to a wide mixing bowl and mix well till they turn so stiff peaks/ soft peaks based on your desired texture
Furthermore add chill strawberry mixture and mix well until everything is combined well
Refrigerate for 1 hour then serve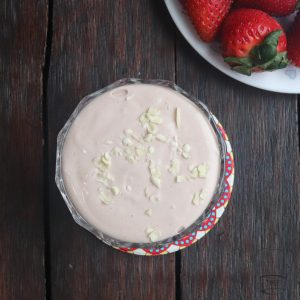 You can use cornflour instead of pudding mix
If you have strawberry pudding mix you can use it for extra flavor
Always refrigerate the strawberry mixture before adding it to the cream
Strawberry mousse or cream depends on the cream texture
Stiff peaks- mousse
Soft peaks - cream
After adding the strawberry mixture to the cream mix well and refrigerate for 1 hour
You can add food color or beetroot juice to make it pink