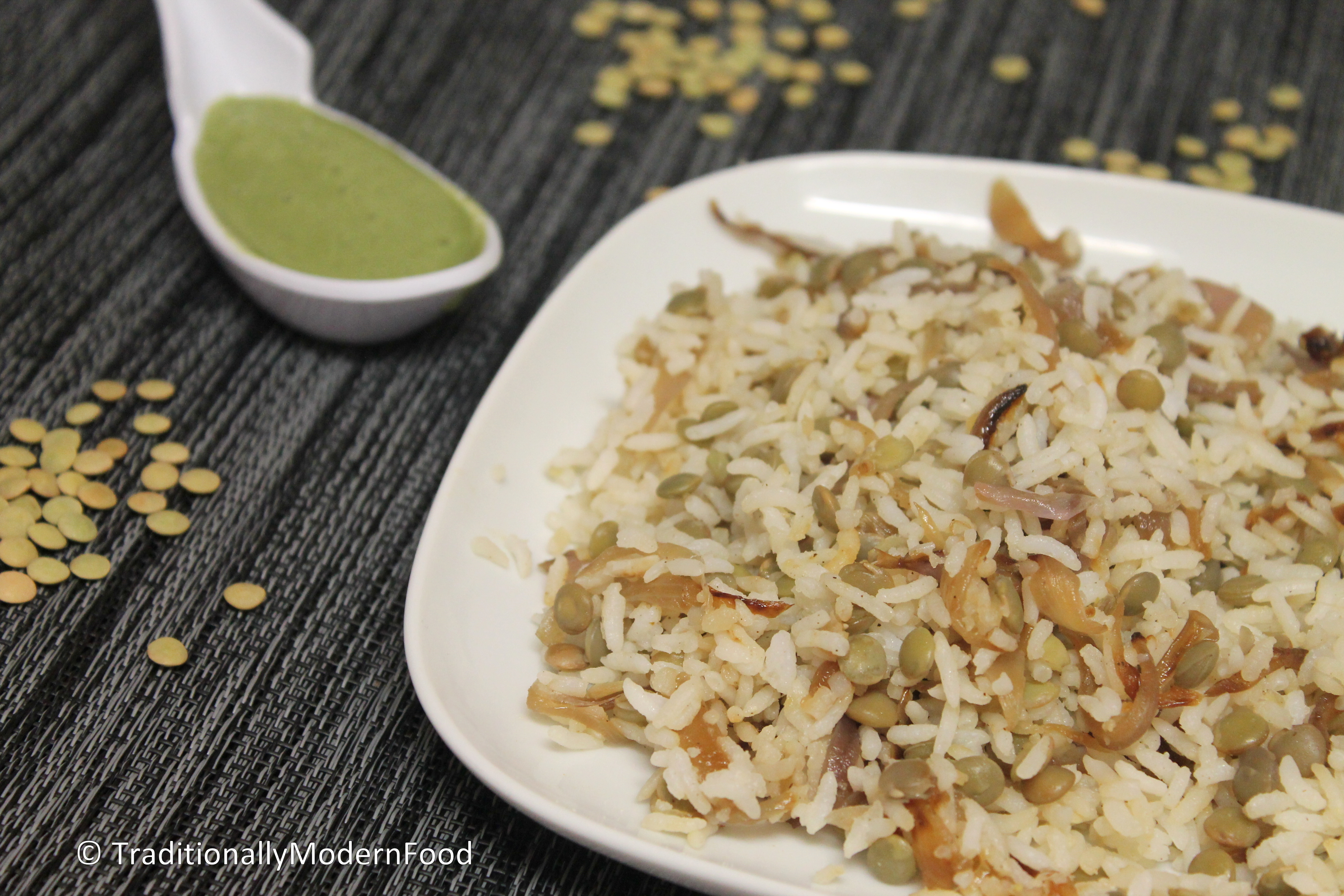 Green lentil rice makes a great protein rich variety rice for lunchbox. Caramalized onion gives nice flavor to green lentil rice.
Now a days my hubby started taking lunch to his office, my biggest worry is what to pack for him. Somehow variety rice is his first choice, well to be frank I am happy with it as it is easy to cook:-) Weekend is almost over, my confusion will start from now on. This week because of Christmas just three 3 days I should pack lunch, still my mind is wavering about his lunch.
Today I prepared Pongal for my son, while soaking moong Dal, I saw Green lentil in my kitchen pantry and remembered this Rice, tomorrow I am going to make this with brown rice.
I learnt this from my Co-sis, when we visited them during last year Chirtmas vacation she prepared this with spinach - mint raita. I loved it, without any fancy ingredient this such a protein rich one pot meal. My co- sis is a amazing cook as I mentioned in my previous post, I have learnt many recipes from her. Almost a year back I told her I tired this Green lentil rice and will post the recipe soon, well she know about my sluggishness I am sure she wouldn't be surprised after seeing green lentil rice post in 2015 dec
After returning from our trip, I tried her recipe but used white rice instead off brown rice. Well those days I had big obsession for brown rice, but now a days we stopped eating white rice in home. This green lentil Rice is perfect for kids lunch too, it has protein, mild sweetness from onion and less spicy.
other quick and healthy kids lunch box spl
Also try Green lentil sundal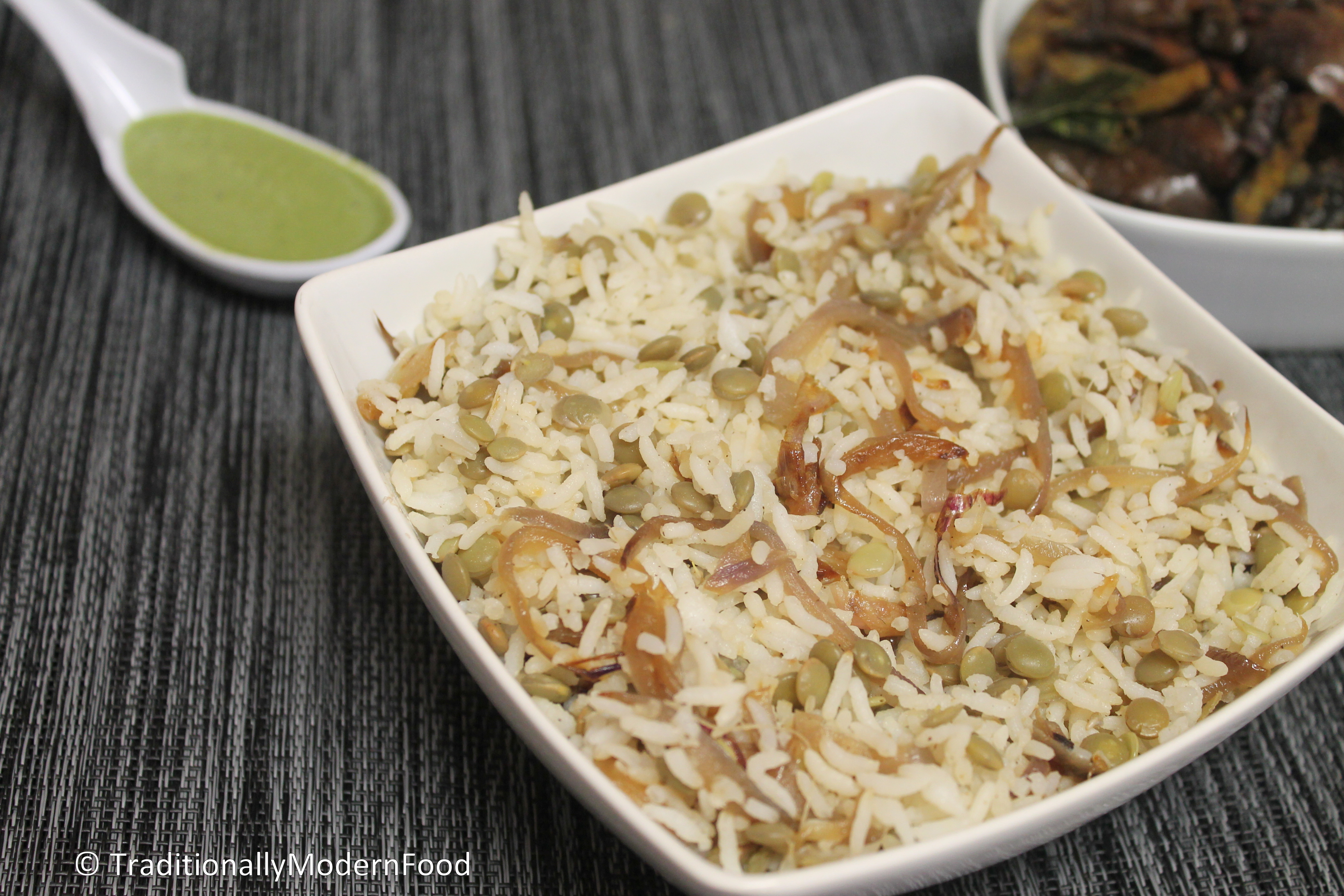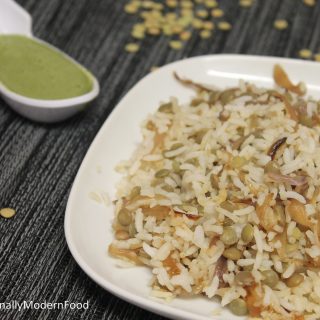 Green Lentil Rice
Protein Rice with green lentil, caramelized onions and mild seasoning. Perfect for lunch box.
Print
Pin
Comment
Ingredients
Cooked Rice - 2 cup

Green lentil - 1/2 cup + 1 tbsp

Onion - 1

big - thinly sliced

Sugar - 1/8 tsp

optional

Salt - as needed

Pepper- Cumin powder - as needed

I grind equal portion of Pepper and cumin without adding water

Coconut Oil/ghee - 1 tsp
Instructions
Soak green lentil in Luke warm water for 1 hours and strain it

Wash and Cook rice with 1:2 water, fluff it and keep aside in a wide pan

In pan on medium heat, boil 1 cup of water with little salt, once the water starts boiling add the green lentil, cook for 12-15 minutes or till the dal is soft, when pressed with fingers (that ensures the dal is cooked). Avoid mushing the Dal

Stir occasionally to prevent dal from sticking to the bottom of the pan. Switch off, wash it with cold water and strain the water and drizzle a drop of oil; mix gently and add to the pan containing rice

Add oil to a non stick or hard bottomed pan. When the oil is hot, add onions and saute till the onions turn translucent. Add a pinch of salt and sugar; cook till the onions are caramelized (Sugar is optional, with little more oil this can still be achieved, but I like little sugar in all dish to neutralize flavour and yes I can hear your question, its not sweet). Add it to the pan containing rice and green lentil

Add salt and pepper- cumin powder, mix well. Mild protein rich delicious rice is ready. Serve Lentil Rice with any gravy/raita
Notes
Basmati/ Brown Rice, quinoa,couscous, varagu arisi etc. can be used instead of regular white rice
Whole garam masala spices like cinnamon, cloves, bay leaves, star anise etc.can be used
Coriander powder, cumin powder, garam Masala can be added for extra flavoring
Amount of oil may varry while using iron skillet
Almonds/cashew can be added for extra flavour
Nutrition
Serving:
3
g
|
Calories:
303
kcal
|
Carbohydrates:
58
g
|
Protein:
12
g
|
Fat:
2
g
|
Polyunsaturated Fat:
2
g
|
Sodium:
55
mg
|
Fiber:
10
g
|
Sugar:
2
g
Ingredients:
Cooked Rice - 2 cup
Green lentil - 1/2 cup + 1 tbsp
Onion - 1, big - thinly sliced
Sugar - 1/8 teaspoon (optional)
Salt - as needed
Pepper- Cumin powder - as needed (I grind equal portion of Pepper and cumin without adding water)
Coconut Oil/ghee - 1 tsp
Method:
Soak green lentil in Luke warm water for 2 hours and strain it
Wash and Cook rice with 1:2 water, fluff it and keep aside in a wide pan
In pan on medium heat boil water (around 2 cups + 1/2 cup) with little salt, once the water starts boiling add the green lentil, cook for 12-15 minutes or t

ill the dal is soft, when pressed with fingers (that ensures the dal is cooked). Avoid mushing the Dal

Stir

occasionally to prevent dal from sticking to the bottom of the pan. Switch off, wash it with cold water and strain the water and drizzle a drop of oil; mix gently and add to the pan containing rice
Add oil to a non stick or hard bottomed pan. When the oil is hot, add onions and saute till the onions turn translucent. Add a pinch of salt and sugar; cook till the onions are caramelized (Sugar is optional, with little more oil this can still be achieved, but I like little sugar in all dish to neutralize flavour and yes I can hear your question, its not sweet). Add it to the pan containing rice and green lentil

Add salt and pepper powder, mix well. Mild protein rich delicious rice is ready. Serve Lentil Rice with any gravy/raita
Brown lentil can also used for the rice. Follow same procedure and use whole brown lentil instead of green lentil