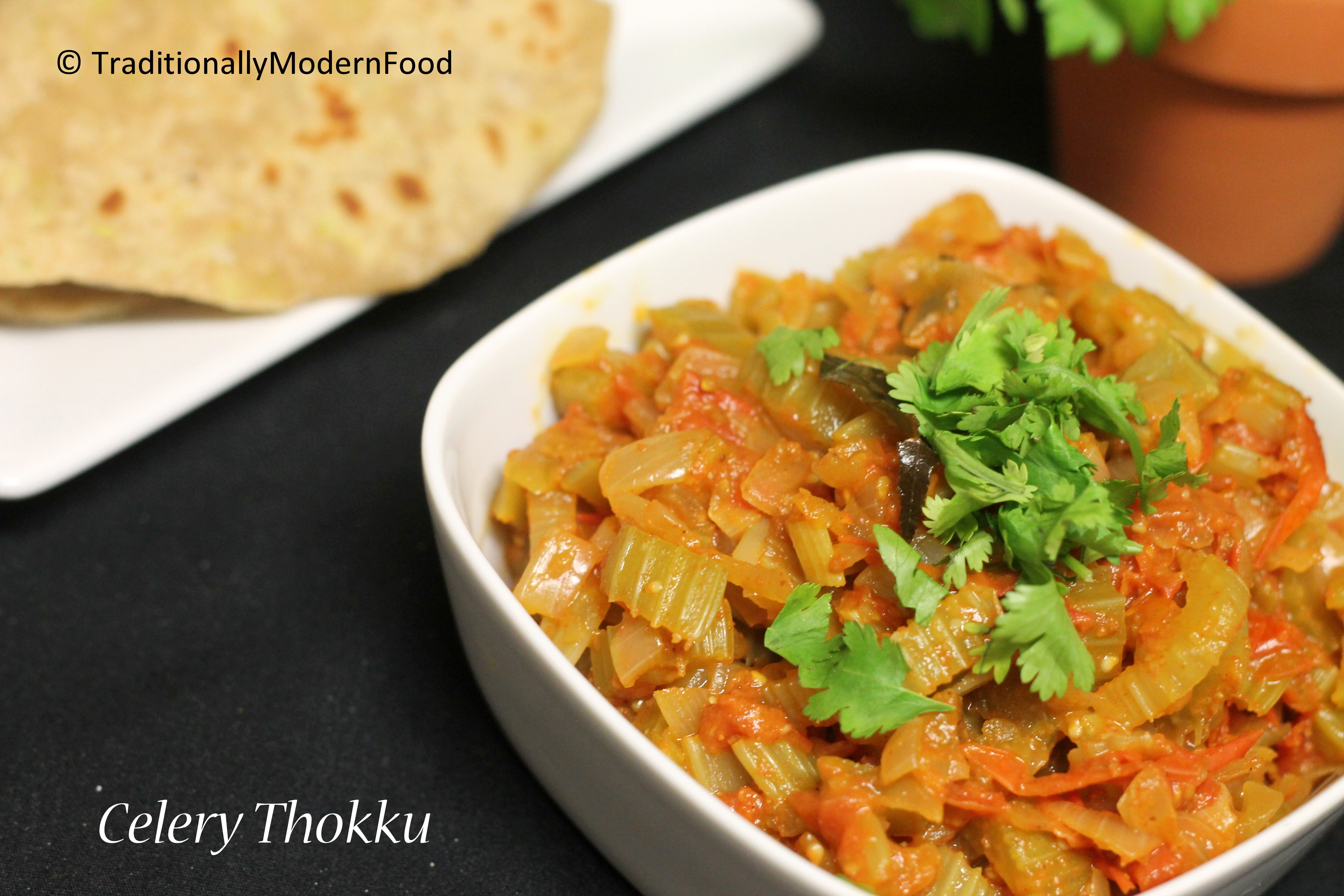 Celery thokku is a Onion -tomato based gravy with celery. Celery thokku is great twist to your regular side for roti.
Ever since my childhood days I had a big liking for onion- tomato thokku. It is my favorite side for idli,dosa, chapati, upma etc. It is great side by itself but addition of any veggies make it even more special.
In our home I always use celery in salad, soup and dip. Couple of months ago we went for a 4 day trip, before our travel I wanted to clear my fridge so tried to fit the vegetable in the dishes I cook. As we eat roti for dinner that day I planned to cook onion - tomato thokku. When tomatoes where cooking I opened the frigde to take coriander leaves that when I saw 2 celery stalk
One side of mind told me to quickly cut and add it to the curry other side said no trial and error with our side dish. I asked my husband as always I heard his usual reply, "Do whatever you want", seriously:-) OK let me take the risk, as I had some onion thokku in my fridge I thought that will definitely reduce me if it is a disaster.
Also try Pressure cooker Thakkali Vengayam Thokku and Poondu thokku
I did quick chopping and added the celery. As a student waiting for the result my heart was beating while serving the plate. He tasted the celery thokku and said hey what have added with a slight crunch thokku (celery thokku) taste different but I liked it. I told I prepared with celery, he told so you got a new recipe for your blog:-) yes celery thokku is approved.
If you are looking for other recipes with celery check out,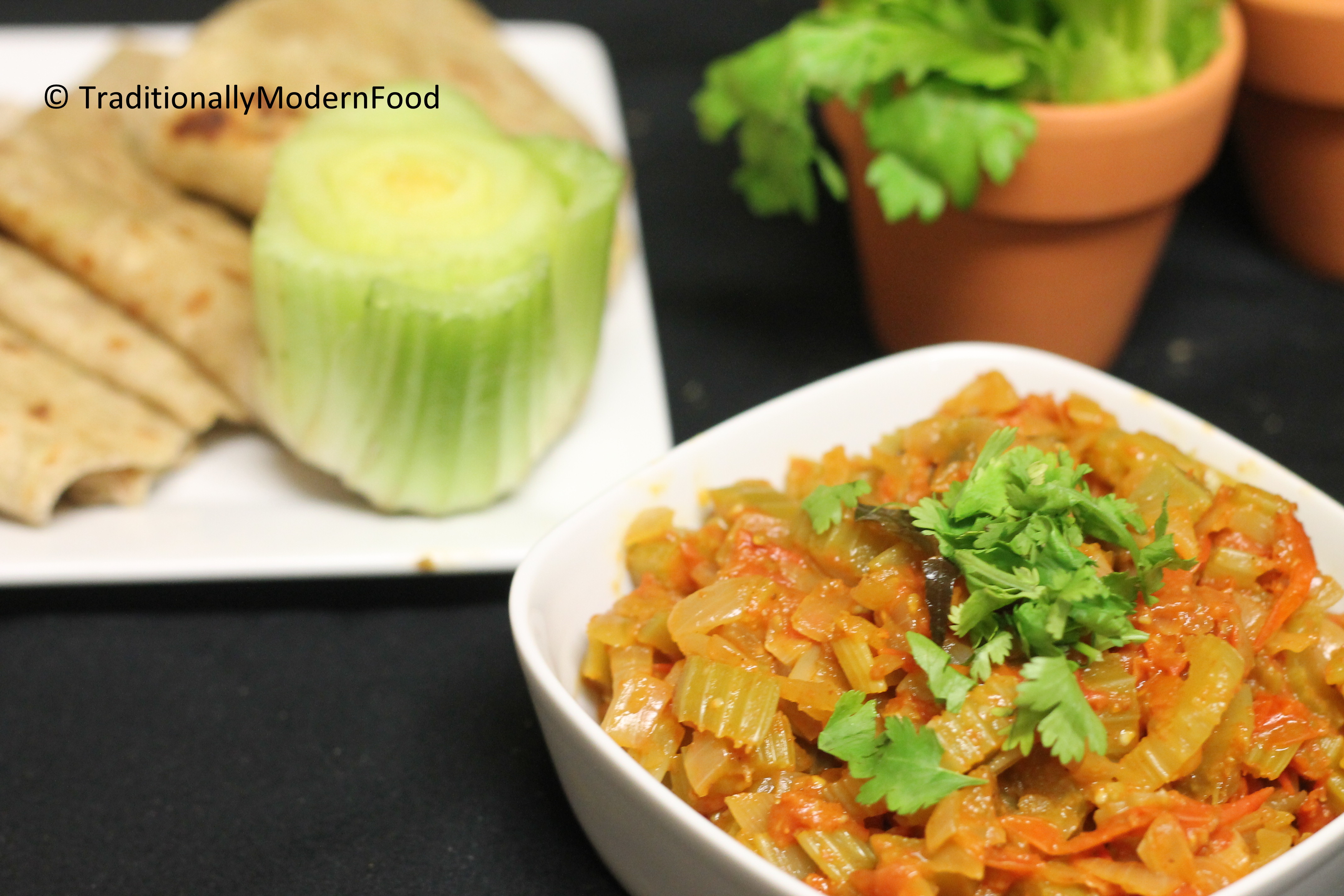 Ingredients
Celery - 8 stack/ stick

washed and cut into small pieces

Onion - 1 big size - finely chopped

Tomato - 2

Finely chopped

Green Chilli - 1

big -slit

Milk - 1 tbsp

Curry leaves - few

Ginger garlic paste - 1 tsp

Cumin powder - 1/2 tsp

Coriander powder - 1 tsp

Turmeric powder - a pinch

Garam masala powder - 1 tsp

Coriander leaves - few

chopped finely

Oil - 1/2 tbsp

Salt - as needed
Instructions
In a pan on medium heat, add oil and when the oil becomes hot,add curry leaves and cook for 10 - 15 seconds

Add onions, green chilli and little salt, sauté till onions are translucent. Add ginger garlic paste and cook till the raw smell goes off

Add tomatoes and little salt cook till 3/4 th done. Add garam masala, coriander powder, cumin powder and turmeric powder, allow it to cook for 3-5mins

Add the celery, little salt for cooking it and about 2 tablespoon of water cover and with a lid; cook till celery is cooked. Sprinkle water if required. Add 1 tablespoon of milk and cook for a minute, switch off. Tastes great with roti
Notes
Red chilli can be used instead of green. Chilli powder/ pav bhaji powder/channa Masala or any other powder can added along with other powder
Any type of celery can be used,I have used the green one
I have used salt in small amount during various process of cooking adjust the salt quantity accordingly
Equal amount of grape/cherry tomatoes can be used instead of regular tomatoes
3.5.3229
Ingredients:
Celery - 8 stack/ stick, washed and cut into small pieces
Onion - 1 big size - finely chopped
Tomato - 2, Finely chopped
Green Chilli - 1, big -slit
Milk - 1 tbsp
Curry leaves - few
Ginger garlic paste - 1 tsp
Cumin powder - 1/2 tsp
Coriander powder - 1 tsp
Turmeric powder - a pinch
Garam masala powder - 1 tsp
Coriander leaves - few (chopped finely)
Oil - 1/2 tbsp
Salt - as needed
Method:
In a pan on medium heat, add oil and when the oil becomes hot, Add jeera and curry leaves, let it crackle
Add onions, green chilli and little salt, sauté till onions are translucent. Add ginger garlic paste and cook till the taw smell goes off
Add tomatoes and little salt cook till 3/4 th done. Add garam masala, coriander powder, cumin powder and turmeric powder, allow it to cook for 3-5mins
Add the celery, little salt for coooking it and about 2 tablespoon of water cover and with a lid; cook till celery is cooked. Sprinkle water if required. Add 1 tablespoon of milk and cook for a minute, switch off. Tastes great with roti