Kovil Sakkarai pongal | Temple Style Sweet Pongal | Easy inipu Pongal | Chakkara Pongal | Pongal recipe | temple style Pongal | how to make chakkarai Pongal | sweet jaggery rice | instant pot Pongal recipe | Pongal in the pressure cooker recipe with step-by-step pictures and video recipe. Check out the Kovil Sakkarai Pongal recipe and If you like the video pls SUBSCRIBE to my channel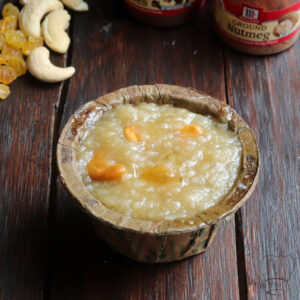 Temple Style Sweet Pongal is a popular traditional Indian sweet recipe prepared in temples with mainly three ingredients rice, ghee, and jaggery.
Why no moong dal for kovil sakkara pongal
Sweet Pongal is a traditional dish offered in most temples to god in the form of naivedyam as prasad or prasadam. considering the weather condition and shelf life of moong dal, moong dal is not added in many kovil sweet Pongal. It can also be prepared during Pongal festival or Makara Sankranti to celebrate the harvest
Madurai temple style sweet pongal
Unique ingredients and cooking style makes Inipu Pongal taste divine. pressure cooker sweet Pongal is so easy and flavorful. Perfect for the Pongal festival. This unique preparation is widely practiced in many Tamil Nadu temples.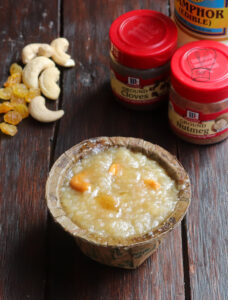 Inipu pongal
Sweet Pongal is also called as sakkarai pongal in Tamil, chakkara pongal | chakkera pongali in Telugu and sweet khichdi in konkani. Traditionally jaggery is a key sweetener for inipu kovil Pongal.
Should I cook rice?
Soaking rice is optional. cook rice till they turn mushy. I used sona masoori rice. you can use raw rice. Avoid basmati rice.
CAN I REDUCE JAGGERY?
Yes, adjust the jaggery according to your taste. You can also use Karupatti, sugar, or sugar candy instead of jaggery.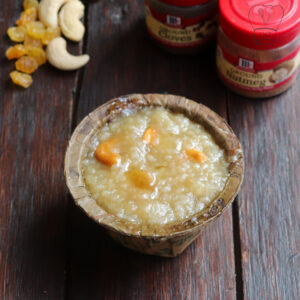 SHOULD I FILTER JAGGERY?
If jaggery has impurities prepare jaggery water, filter, and make Pongal.
DO I NEED THIS MUCH GHEE?
To get the authentic temple prasadam taste, you will have to use the amount of ghee mentioned in the recipe. Ghee enhances the flavor but adjusts according to your taste.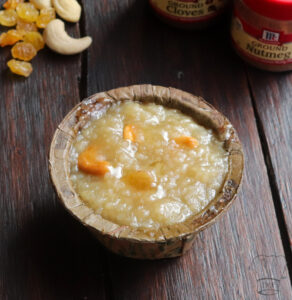 Instant pot temple style sweet Pongal
Cook in rice mode and follow the rest of the steps
WHERE I CAN GET EDIBLE CAMPHOR?
Edible camphor is available in most Indian stores. never use pooja camphor instead of edible camphor. Always use a very small piece. Never add excess Camphor.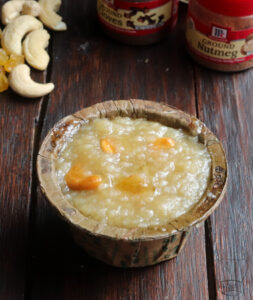 Ingredients
Saute dry fruits
1 tablespoon ghee
6 cashews
1/2 tablespoon raisins
Cook rice
1/3 cup rice
1+ 1/2 cup water
Jaggery water
1 cup jaggery
1/2 cup water
Sweet Pongal
pinch of salt
1/4 teaspoon cardamom powder
pinch of nutmeg powder
1/2 teaspoon sugar
pinch of salt
Pinch of clove powder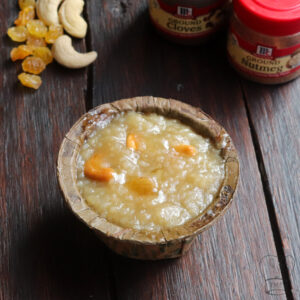 How to make Kovil Sakkarai Pongal with step-by-step pictures
Firstly wash the rice well and drain the water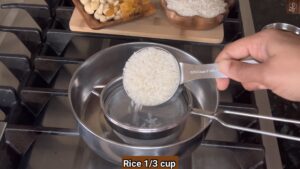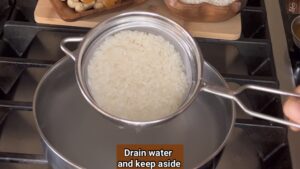 Add ghee to a pressure cooker and turn on the cooker on medium heat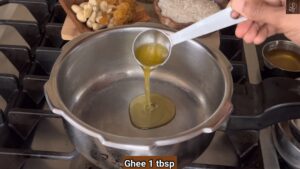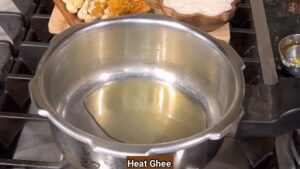 When ghee turns hot add cashew and saute till it starts to change color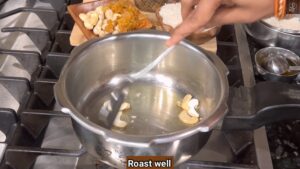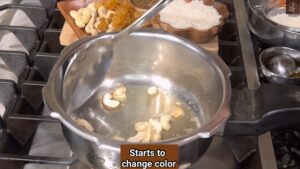 furthermore, add raisins and roast till they turn golden brown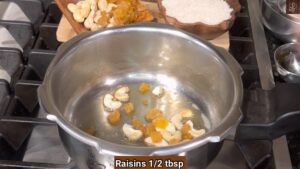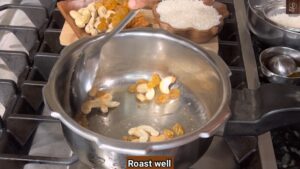 Turn off the stove and transfer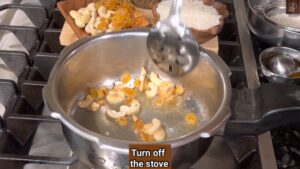 Add rice and give a quick mix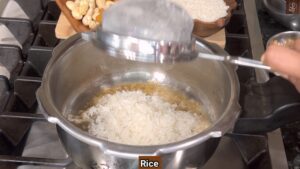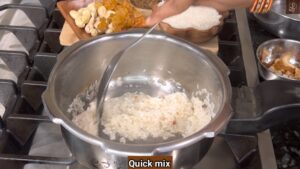 Furthermore, add water; mix well and make sure nothing is stuck to the cooker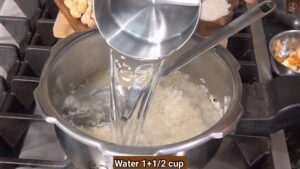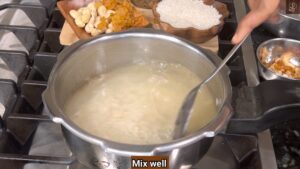 Optionally add small spoon to prevent water spill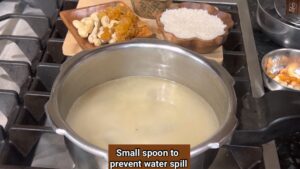 Cook for 6 whistles and do Natural Pressure Release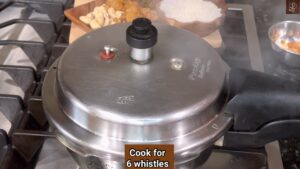 Remove spoon. Mix well and mash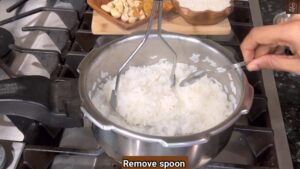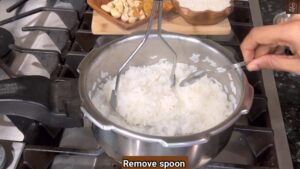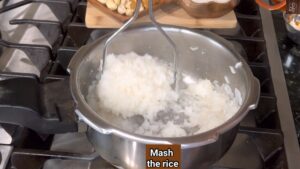 Furthermore, add 1/2 cup of water; mix well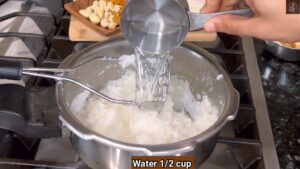 Add jaggery and hot water to a microwave-safe glass and microwave for 4 minutes or until jaggery is completely melted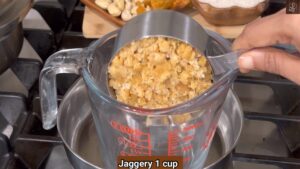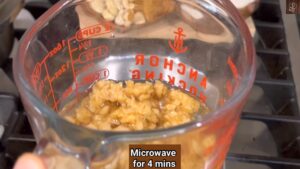 Filter and transfer to the cooker
Furthermore, add sugar and salt; mix well and cook for 10 minutes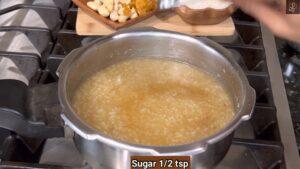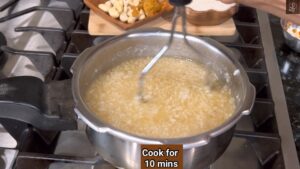 Add cardamom powder and mix well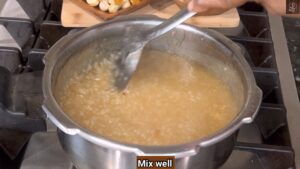 Furthermore add a pinch of nutmeg powder, a pinch of clove powder, and ghee; cook for 2 minutes or until Pongal comes together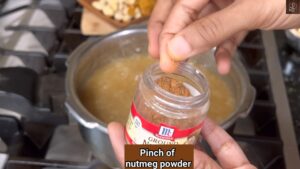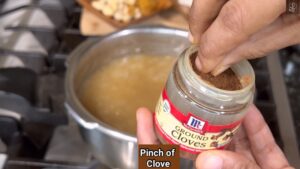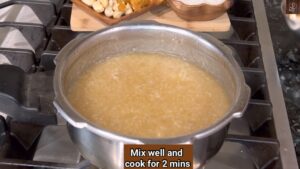 Pongal thickens overtime so cook accordingly

Add roasted dry fruits and turn off the stove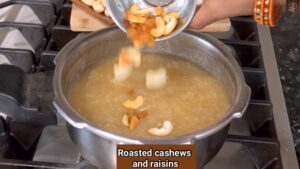 Finally, add a small piece of edible camphor and mix well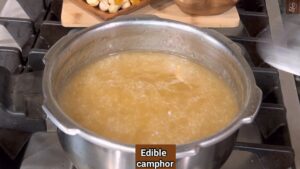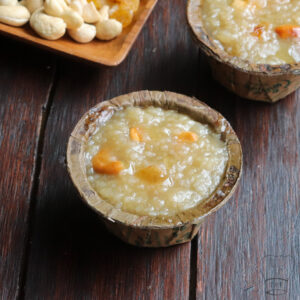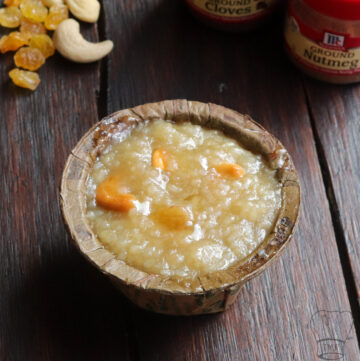 Ingredients
Saute dry fruits
1

tablespoon

ghee

6

cashews

1/2

tablespoon

raisins
Cook rice
1/3

cup

rice

1

+ 1/2 cup water
Jaggery water
1

cup

jaggery

1/2

cup

water
Sweet Pongal
pinch

of salt

1/4

teaspoon

cardamom powder

pinch

of nutmeg powder

1/2

teaspoon

sugar

pinch

of salt

Pinch

of clove powder
Instructions
Firstly wash the rice well and drain the water

Add ghee to a pressure cooker and turn on the cooker on medium heat

When ghee turns hot add cashew and saute till it starts to change color

furthermore, add raisins and roast till they turn golden brown

Turn off the stove and transfer

Add rice and give a quick mix

Furthermore, add water; mix well and make sure nothing is stuck to the cooker

Optionally add small spoon to prevent water spill

Cook for 6 whistles and do Natural Pressure Release

Remove spoon. Mix well and mash

Furthermore, add 1/2 cup of water; mix well

Add jaggery and  hot water to a microwave-safe glass and microwave for 4 minutes or until jaggery is completely melted

Filter and transfer to the cooker

Furthermore, add sugar and salt; mix well and cook for 10 minutes

Add cardamom powder and mix well

Furthermore add a pinch of nutmeg powder, a pinch of clove powder, and ghee; cook for 2 minutes or until Pongal comes together

Pongal thickens overtime so cook accordingly

Add roasted dry fruits and turn off the stove

Finally, add a small piece of edible camphor and mix well
Video