Puliyodharai premix, Puliyodarai powder, Puliyodarai podi, pulihora, Tamarind rice powder, Homemade Instant Puliyodharai Powder, Instant Puliyodharai Mix recipe ,How to make Instant Pulisadam using Instant Puliyodharai Powder recipe with step-by-step pictures and video recipe. Check out the Puliyodarai premix video recipe and If you like the video pls SUBSCRIBE to my channel Check out other podi varieties' video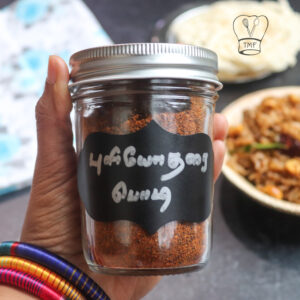 Why instant puliyodharai powder
Many times for weekday work/ school lunch we need some quick lunch options. if you make and keep tamarind rice powder, you can prepare a variety rice in less than 5 minutes. Premix powder stays good for months at room temperature.
MTR style puliyogare mix
In addition to the ingredients we use for Tamil Nadu-style pulikaichal, Karnataka-style puliyogare mix powder has additional unique ingredients. I love MTR puliyogare powder so I prepared podi similar to that.
THAW COCONUT THEN USE
You can use fresh or dry coconut. If you are using frozen coconut, thaw at room temperature then use. avoid adding the frozen coconut directly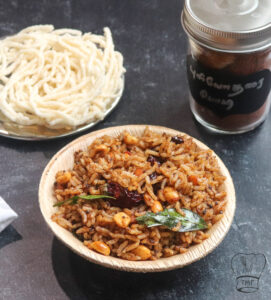 TIPS TO ROAST RED CHILLI
I would recommend roasting the red chilli along with other ingredients. Always roast the whole red chilli. if you remove the chilli cap, seeds might turn bitter while roasting. remove the cap just before grinding.
Tamarind - tips to note
always deseed and remove the fiber. Make sure the tamarind pieces are in smaller sizes. A big piece won't cook through.
Any other interesting recipes with pulihora powder?
Podi comes in handy for many recipes. you can make Puli Aval, Puli Upma, puli sevai, puli quinoa, etc.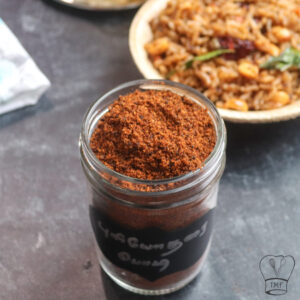 SHELF LIFE OF puliyodarai podi
Cool the podi completely then store it in an airtight container. You can store the premix at room temperature or in the fridge. Podi stays good for months. Roast the coconut golden brown for longer shelf life. Always use a dry and clean spoon for longer shelf life
WILL THE PODI TASTES SPICY?
I used Karnataka red chilli. it gives perfect spice and color to the Karnataka-style puliyogare powder. Adjust the red chillies according to your spice. My version of puliyotharai podi is not spicy. It is a kids-friendly spice.
PULSE THE PODI
I would recommend pulsing the podi a few times for the perfect grainy texture. Mix well after each pulse. after the podi turns to a coarse texture grind it to your desired texture.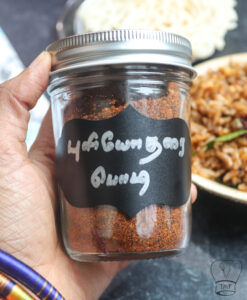 Ready to eat Puliyodharai podi
Ingredients
1 tablespoon urad dal
2 tablespoon chana dal
1/4 teaspoon fenugreek seeds
coriander seeds 1 tbsp
pinch of turmeric powder
1 teaspoon pepper
black sesame seeds 1 tbsp
1 teaspoon cumin seeds
coconut 1 tbsp
100 grams tamarind
1 tablespoon roasted peanuts
1/2 tablespoon required salt
1 teaspoon asafoetida
jaggery 1 tsp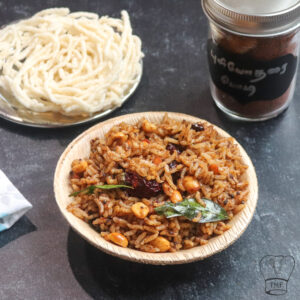 how to make puliyogare premix powder with step-by-step pictures
Turn on a wide heavy bottomed pan on low heat
When pan turns hot add urad dal, chan dal, coriander seeds, black sesame seeds, fenugreek seeds, red chilli; mix well and roast for 1 minute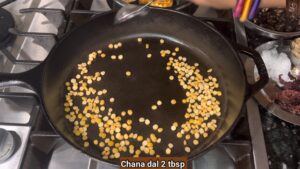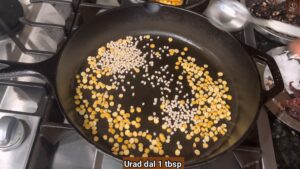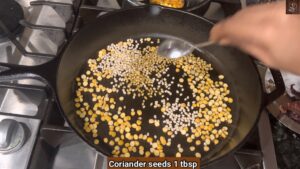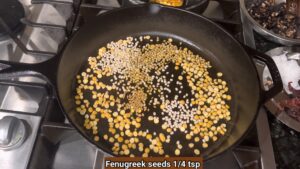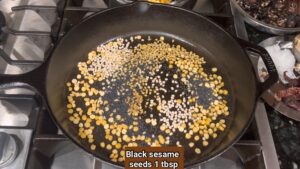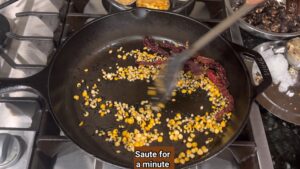 Furthermore add peanuts, pepper, and cumin seeds; mix well and roast till sesame seeds start to crackle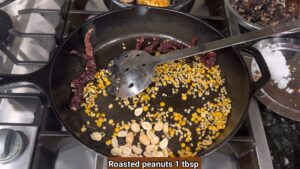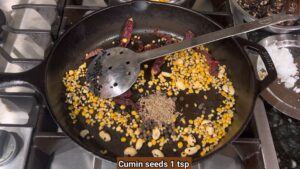 Add coconut; mix well and cook till dal starts to change color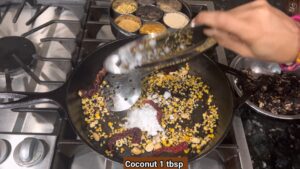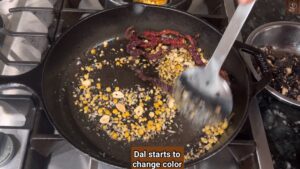 Gather the dal mixture on one side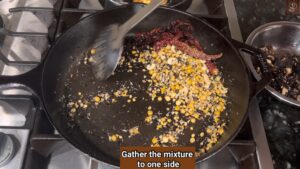 Add tamarind and saute both partitions separately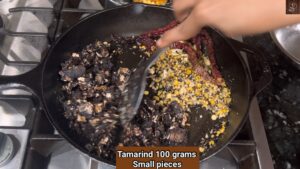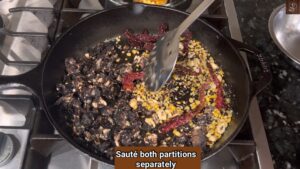 Roast till tamarind turns dry and moisture evaporates. Also, dal turns golden brown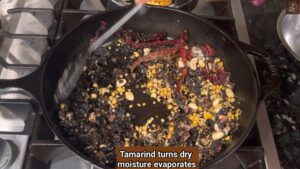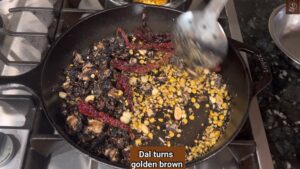 Combine everything and roast for 30 seconds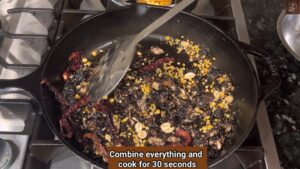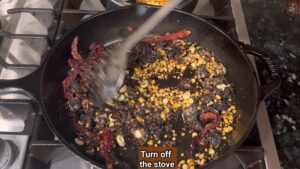 Furthermore, add asafoetida, salt, and a pinch of turmeric powder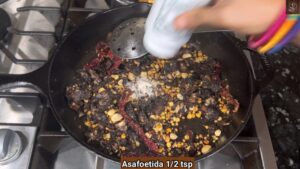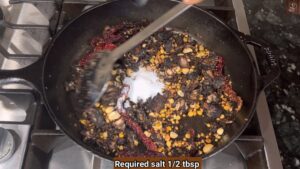 Mix well and cool for at least 25 minutes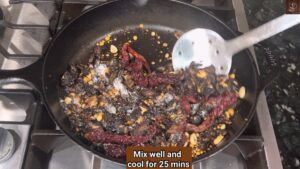 Transfer to a mixie jar
Furthermore, add jaggery and pulse. Mix well then repeat pulsing till it turns into a coarse mixture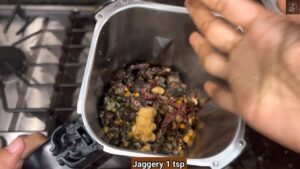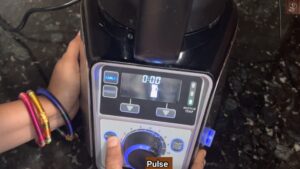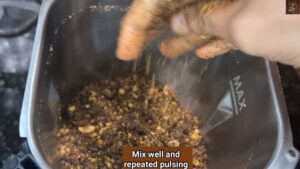 Finally, grind till you get to your desired texture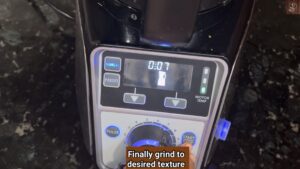 Transfer to a wide plate and cool completely
Store in an airtight container
Ingredients
1

tablespoon

urad dal

2

tablespoon

chana dal

1/4

teaspoon

fenugreek seeds

1

tablespoon

coriander seeds

pinch

of turmeric powder

1

teaspoon

pepper

1

tablespoon

black sesame seeds

1

teaspoon

cumin seeds

1

tablespoon

coconut

100

grams

tamarind

1

tablespoon

roasted peanuts

1/2

tablespoon

required salt

1

teaspoon

asafoetida

1

teaspoon

jaggery
Instructions
Turn on a wide heavy bottomed pan on low heat

When pan turns hot add urad dal, chan dal, coriander seeds, black sesame seeds, fenugreek seeds, red chilli; mix well and roast for 1 minute

Furthermore add peanuts, pepper, and cumin seeds; mix well and roast till sesame seeds start to crackle

Add coconut; mix well and cook till dal starts to change color

Gather the dal mixture on one side

Add tamarind and saute both partitions separately

Roast till tamarind turns dry and moisture evaporates. Also, dal turns golden brown

Combine everything and roast for 30 seconds

Turn off the stove

Furthermore, add asafoetida, salt, and a pinch of turmeric powder

Mix well and cool for at least 25 minutes

Transfer to a mixie jar

Furthermore, add jaggery and pulse. Mix well then repeat pulsing till it turns into a coarse mixture

Finally, grind till you get to your desired texture

Transfer to a wide plate and cool completely

Store in an airtight container
Video
Notes
You can use fresh or dry coconut. If you are using frozen coconut, thaw at room temperature then use. avoid adding the frozen coconut directly
I would recommend roasting the red chilli along with other ingredients. Always roast the whole red chilli. if you remove the chilli cap, seeds might turn bitter while roasting. remove the cap just before grinding
Instead of roasting all the ingredients in one pan, you can roast tamarind separately
Karnataka chilli gives  MTR flavor and color. If you are using other variety chilli adjust accordingly
Tamarind - tips to note
always deseed and remove the fiber
Make sure the tamarind pieces are in smaller sizes. A big piece won't cook through
Tamarind takes a longer time to cool so grind the podi atleast after 25 minutes
SHELF LIFE OF puliyodarai podi
While grinding the podi mix well in between
Cool the podi completely then store it in an airtight container
 You can store the premix at room temperature or in the fridge. Podi stays good for 1 month
Roast the coconut golden brown for longer shelf life
Always use a dry and clean spoon for longer shelf life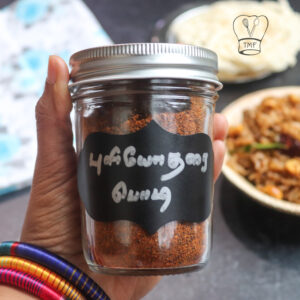 Instant Tamarind rice
Ingredients
3 cups Cooked rice
1/2 teaspoon sesame oil
1/4 cup puliyogare powder
1 tablespoon + 1 teaspoon sesame oil
1/4 teaspoon mustard seeds
1 tablespoon chana dal
curry leaves few
3 tablespoon roasted peanuts
1/2 teaspoon asafoetida
required salt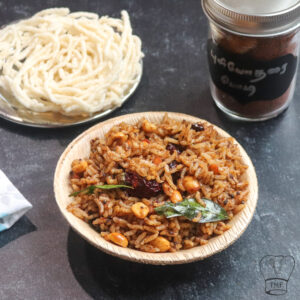 How to make MTR puliyogare with step-by-step pictures
Spread cooked rice on a wide plate
Add sesame rice and cool the rice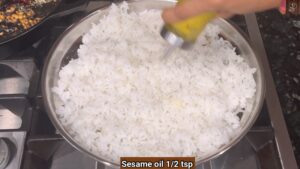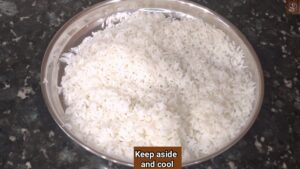 After the rice is completely cool, add premix powder; mix well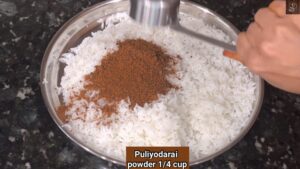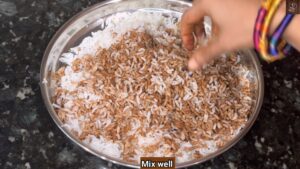 Add oil to a wide heavy bottomed pan and heat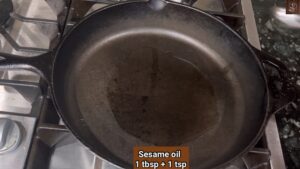 When the oil turns hot, add mustard seeds, chana dal, curry leaves, red chilli, and roasted peanuts; let them splutter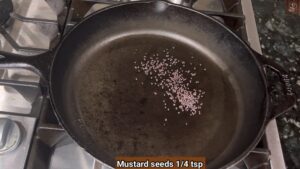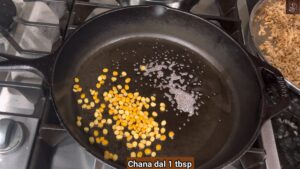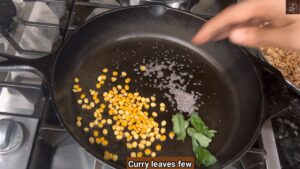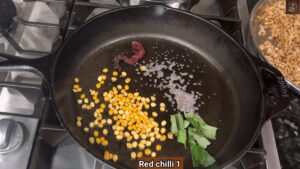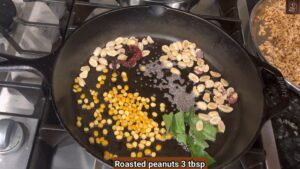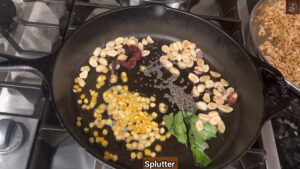 Turn down to low flame
Add asafoetida and mix well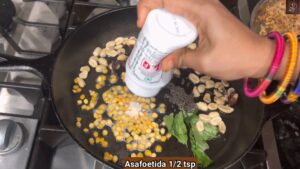 Furthermore, add rice; give a quick mix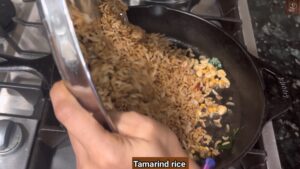 finally, add the required salt; mix well and turn off the stove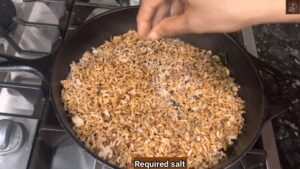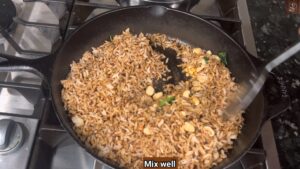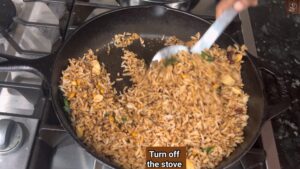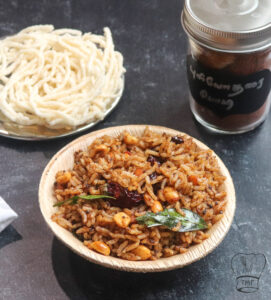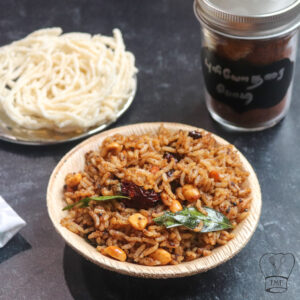 Ingredients
3

cups

Cooked rice

1/2

teaspoon

sesame oil

1/4

cup

puliyogare powder

1

tablespoon

+ 1 teaspoon sesame oil

1/4

teaspoon

mustard seeds

1

tablespoon

chana dal

curry leaves few

3

tablespoon

roasted peanuts

1/2

teaspoon

asafoetida

required salt
Instructions
Spread cooked rice on a wide plate

Add sesame rice and cool the rice

After the rice is completely cool, add premix powder; mix well

Add oil to a wide heavy bottomed pan and heat

When the oil turns hot, add mustard seeds, chana dal, curry leaves, red chilli, and roasted peanuts; let them splutter

Turn down to low flame

Add asafoetida and mix well

Furthermore,  add rice; give a quick mix

finally add required salt ; mix well and turn off the stove
Video
Notes
Adjust the puliyogare powder according to your taste
Always cool the rice then mix the podi
Cooking the podi rice on low flame for a few seconds gives the perfect texture and taste so don't skip it
Rice tastes better if you consume after few hours