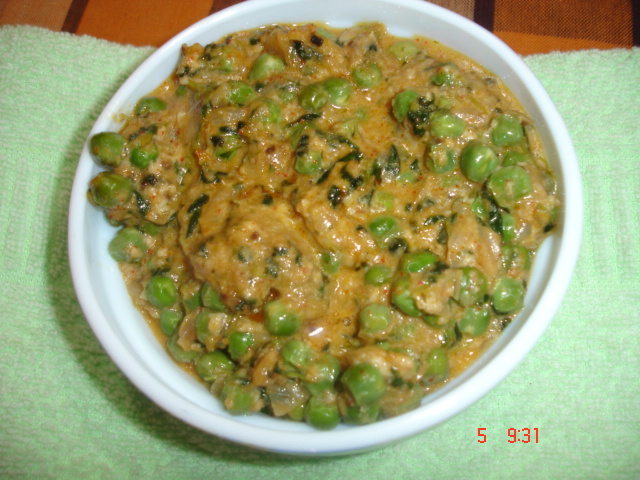 Methi malai matar is a rich and creamy malai with makes a flavorful side dish for roti, rice variety etc.
Having a guest is always exciting, today we have Jayashree from Evergreendishes. Blogging has given me many good friends around, Jayashree is one among them. She is very encouraging. Couple of months back she shared my Sweet Kozhukattai in her Ganesh Chaturthi Special recipe:-) I enjoy visiting her space and like her recipes.
I was delighted when Jayashree wanted to write a piece for me. She suggested few recipes as I have already posted it. I am glad when told she is writing Methi Malai gravy. Healthy, rich and tasty. Jayashree sent me the recipe two weeks ago, but I was little sick and couple of scheduled recipes delayed this yummyMethi Malai Matar. Without any further postpone over to Jayashree:-)
Hello, I am Jayashree from www.evergreendishes.com and glad to guest post on my dear friend Vidya's blog. Vidya is a good friend of mine who has many wonderful dishes on her blog and most of them are south indian. They are kind of cooking which I relish or cook more often at home. I recently saw a guest post on her blog and soon decided to write one. Thankyou Vidya, for showcasing my recipe here.
Today, I am presenting a North Indian dish. This cuisine is loved by one and all. The sabzis prepared are various kind , some with paneer, others with kofta while few others are assorted veggies. Here is one such side dish, Methi malai matar a popular dish found in most restaurants. This is aromatic, tasty and also rich in calories as it has a blend of cashewnuts and cream.
This is ideally served with roti or nan. But can be served with chapati or phulka too.
A few facts :
Methi or fenugreek leaves is rich in iron along with calcium and potassium. It helps in combating anemia. It helps to control the level of blood sugar. It also helps in the functions of kidney. It helps in reducing the blood cholesterol. It helps to throw the waste from the body.
It may be not known to many, but green peas are also considered as one of the healthiest food in the world. They are store house of Vitamin K, manganese and Vitamin B. It is rich in fibre and helps combat many diseases. It helps to prevent osteoporosis. It has properties of anti-aging, anti- inflammatory.
With so many benefits, do use these green veggies in your cooking. Fenugreek leaves is available in all seasons. Green peas are seasonal, but you can store them in the freezer. Now, without much ado, over to the recipe.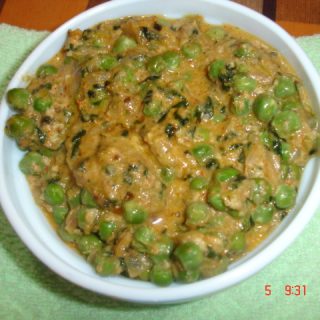 Methi Malai Matar
Healthy and yummy methi malai Matar gravy. Tastes great with roti/rice
Print
Pin
Comment
Ingredients
Methi leaves of 2 clusters

Green peas 1 bowl

100 grams

Onion 1

Fresh cream 1 cup

200ml

Cardamom 3

Cloves

3

Ginger ½ inch

Green chilly 1

Cashewnut 5

Milk ½ cup

Garam masala powder ½ tsp

Chilli powder ½ tsp

Oil 2tbsp

Salt to taste
Instructions
Cut onion into chunks.

Boil peas and keep aside.

Chop the methi leaves and wash it well. A little salt will help remove all the dirt from it.

Take two teaspoon of oil in a pan and add the cloves, cardamom and cashew. Saute and then put green chilly and onions to it. Let cook for sometime.

When cool, grind it to a paste.

Take oil in a pan, and sauté the paste on a low flame. Add methi leaves and sauté for sometime. The colour changes and the oil is seen at the sides, add salt, chilli powder and garam masala powder.

Put the fresh cream and mix well.

Add the boiled peas.

Finally, add milk and give a stir. Let boil for sometime.

Serve hot with roti or nan.
Notes
1. If you are using dry peas, you need to soak them overnight and cook them in a pressure cooker.
2. Tf you can use frozen peas, use the smaller variety, they are sweeter in taste.
3. If you are using home made cream, whip it well.
4. Adding all these ingredients is mandatory to get a good taste of the dish
5. Frozen Methi leaves can be used
Ingredients:
Methi leaves of 2 clusters
Green peas 1 bowl,100 grams
Onion 1
Fresh cream 1 cup,200ml
Cardamom 3
Cloves 3
Ginger ½ inch
Green chilly 1
Cashewnut 5
Milk ½ cup
Garam masala powder ½ tsp
Chilli powder ½ tsp
Oil 2tbsp
Salt to taste
Method :
Cut onion into chunks.

Boil peas and keep aside.
Chop the methi leaves and wash it well. A little salt will help remove all the dirt from it.
Take two teaspoon of oil in a pan and add the cloves, cardamom and cashew. Saute and then put green chilly and onions to it. Let cook for sometime.
When cool, grind it to a paste.
Take oil in a pan, and sauté the paste on a low flame. Add methi leaves and sauté for sometime. The colour changes and the oil is seen at the sides, add salt, chilli powder and garam masala powder.
Put the fresh cream and mix well.
Add the boiled peas.
Finally, add milk and give a stir. Let boil for sometime.
Serve hot with roti or naan