Mullangi Kuzhambu | Masala Kuzhambu | mullangi Masala Kuzhambu | Masala kulambu | Mullagi kara kuzhambu | Radish kulambu | Chettinad kuzhambu with step-by-step pictures and video recipe. Check out the mullangi Masala Kuzhambu and if you like the video pls SUBSCRIBE to my channel.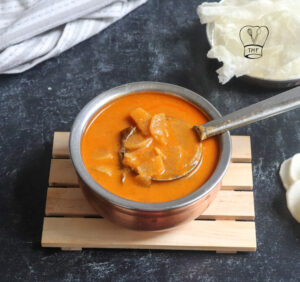 What kind of vegetables can I use?
I used mullagi and prepared Mullagi masala you can use any vegetables of your choice.
Oil for kuzhambu
I used sesame oil as it gives the best taste for tamarind-based kuzhambu.
Should I saute onion and garlic before adding radish
It is optional. Oil is hot when we add onion and garlic so a quick mix is enough.
Tamarind and tomatoes
I have used both tamarind and tomatoes for sourness. Adjust the quantity according to the tomato and tamarind variety you use.

Tips to note while grinding
Always grind into a smooth paste. If the coconut is not ground well, it might stick to the pressure cooker and get burnt.
Tips to note for pressure cooker kuzhambu
Always grind the mixture well
Cook on medium flame
Make sure no ingredients are stuck to the cooker
Add enough liquid to avoid a burnt layer
Instant pot kuzhambu
Cook for 4 minutes and do natural pressure release

Ingredients
Tamarind extract
8 grams tamarind
1 cup hot water
grind
1/4 cup cooncnut
1 tomato
1/2 teaspoon fennel seeds
required salt
1 teaspoon chilli powder
1/8 teaspoon turmeric powder
little water
Kuzhambu
small piece of cinnamon
curry leaves few
1 bay leaf
1/2 teaspoon fennel seeds
1 cup water
pinch of jaggery
15 small onions
3 garlic
70 grams radish
How to make Mullagi masala kuzhambu with step-by-step pictures
First, soak tamarind in water; extract juice
Grind coconut, tomato, fennel seeds, turmeric powder, chilli powder with little water into a smooth mixture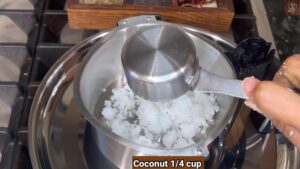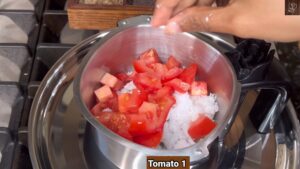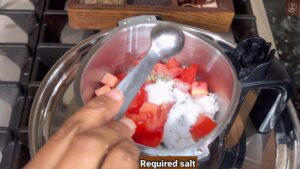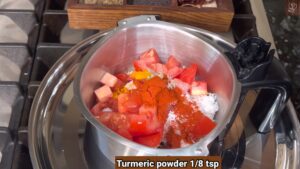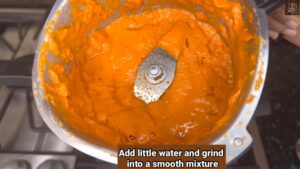 Add sesame oil to a cooker and heat
furthermore add bay leaf, cinnamon, fennel seeds, and curry leaves; splutter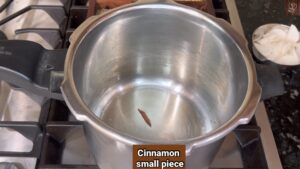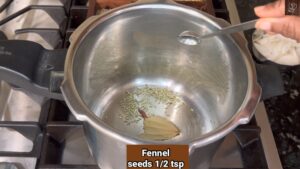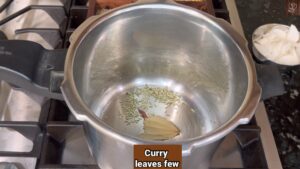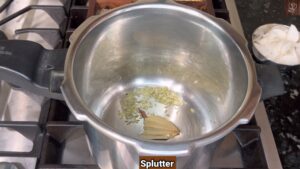 Add small onion and garlic; quickly mix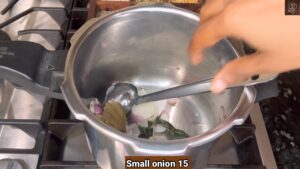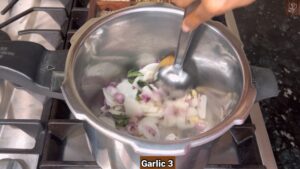 Furthermore, add radish; mix well for 2 minutes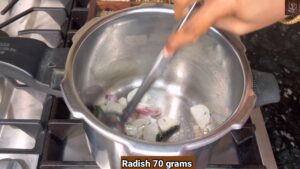 Add ground mixture, tamarind extract, water, and a pinch of jaggery; mix well and bring to boil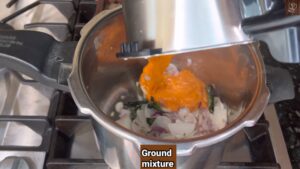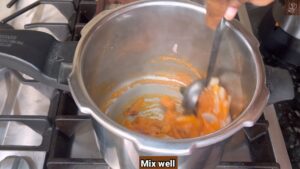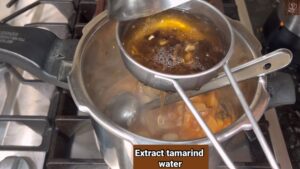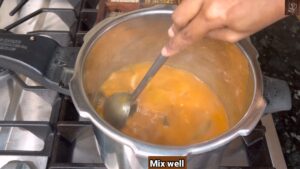 Pressure cook for 5 whistles; do natural pressure release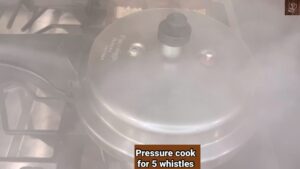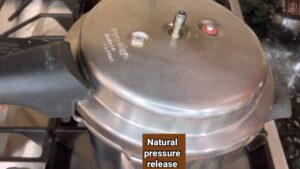 Mix well and boil well on medium flame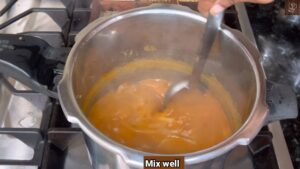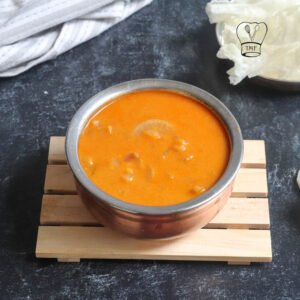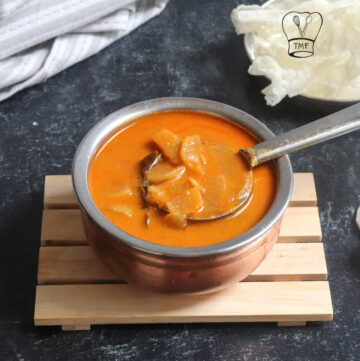 Ingredients
Tamarind extract
8

grams

tamarind

1

cup

hot water
grind
1/4

cup

cooncnut

1

tomato

1/2

teaspoon

fennel seeds

required salt

1

teaspoon

chilli powder

1/8

teaspoon

turmeric powder

little water
Kuzhambu
small piece of cinnamon

curry leaves few

1

bay leaf

1/2

teaspoon

fennel seeds

1

cup

water

pinch

of jaggery

15

small onions

3

garlic

70

grams

radish
Instructions
First, soak tamarind in water; extract juice

Grind coconut, tomato, fennel seeds, turmeric powder, chilli powder with little water into a smooth mixture

Add sesame oil to a cooker and heat

furthermore add bay leaf, cinnamon, fennel seeds, and curry leaves; splutter

Add small onion and garlic; quickly mix

Furthermore, add radish; mix well for 2 minutes

Add ground mixture, tamarind extract, water, and a pinch of jaggery; mix well and bring to boil

Pressure cook for 5 whistles; do natural pressure release

Mix well and boil well on medium flame
Video