Nellikai rasam recipe| Amla rasam | Indian gooseberry rice | nellika rasam | summer special | Amla recipe | tomato rasam recipe| thakkali rasam | tomato Charu | rasam recipe | south Indian rasam recipes |easy tomato saaru recipe detailed step by step photo and video recipe. Check out the Nellikai rasam video and if you like the video pls SUBSCRIBE to my channel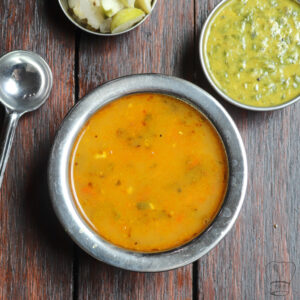 Quick and easy 10 minutes Rasam recipe. No dal, no Rasam powder for this instant nellika rasam
Jump to:
WHAT IS SPECIAL ABOUT NELLIKA
Nellikkai is rich in antioxidants, low in calories, high in fiber, immunity booster, controls blood sugar, and many more health benefits. Nellikai rasam is an easy, healthy, and tasty south Indian soup variety
WHY FROZEN GOOSEBERRY?
Here in the US, I don't often get fresh Amla hence I started using Frozen Amla. Frozen gooseberry still has all the nutrients.
SHOULD I THAW GOOSEBERRY?
Yes, always thaw the frozen gooseberry till they turn soft. Always discard the seed and fiber. This time I have used chopped descended amla.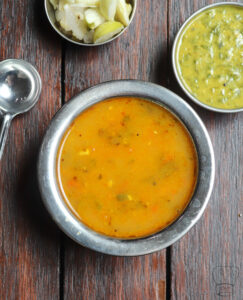 Oil and ghee for rasam?
Yes, you can use any variety of oil but I prefer using peanut oil. Adding ghee is optional but it enhances the rasam flavor.
CAN I INCREASE CHILLI?
Yes, adjust the chilli according to your taste.
INSTANT THAKKALI RASAM
Rasam is an Indian soup, it is not only a tasty rice accompaniment but also the best appetizer. Instant rasam is super easy to make, without many ingredients rasam can be prepared within 10 minutes. No dal, no rasam powder for this quick rasam.
DO I NEED THIS MANY TOMATOES?
Yes, the sourness of this rasam is mainly from gooseberry and tomatoes. Adjust the tomatoes according to the gooseberry you use.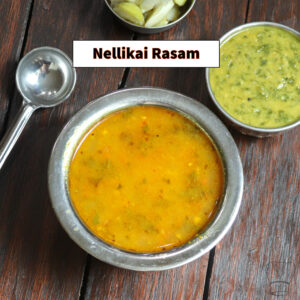 CAN I ADD DAL?
Yes you can add dal but in that case, increase the spice powders accordingly
CAN I SKIP GARLIC?
Yes, garlic is optional but it gives a nice flavor to the rasam. I prefer finely chopping garlic but you can also pulse and prepare rasam.
SHOULD I BOIL THE RASAM FOR A LONG TIME?
No, avoid boiling the rasam for a long time, always cook rasam till you see a frothy boil then turn off the stove
CAN I MAKE VEGAN tomato RASAM?
Yes, skip ghee and make rasam or you can also use vegan butter
For the Nellikai rasam video recipe
How to make homemade tamarind paste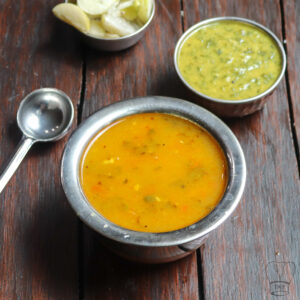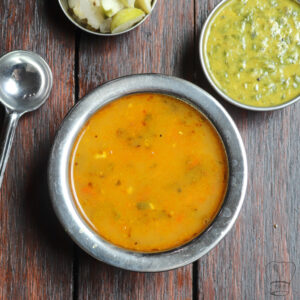 Ingredients
Grind
1/2

cup

nellikai

1

green chilli

1/2

tablespoon

ginger

1

tablespoon

water
Temper
1/2

tablespoon

peanut oil

1/4

teaspoon

mustard seeds

1

teaspoon

cumin seeds
Saute
2

finely chopped garlic

1/2

cup

tomato

1/4

teaspoon

turmeric powder

1

teaspoon

salt
Rasam
1

cup

+ 3/4 cup of water

Curry leaves few

coriander leaves few

Asafoetida 1/4 tsp

Pinch

of jaggery

freshly ground pepper

1

teaspoon

ghee
Instructions
If you are using frozen nellikai thaw them first

Grind gooseberry, ginger, green chilli, and water; keep aside

Add oil to a wide heavy-bottomed pan and heat

When oil turns hot add mustard seeds and cumin seeds; let them splutter

Add garlic and saute till they start to change color

Furthermore, add tomatoes and mix well

Add turmeric powder and salt; mix well and saute till tomatoes turn mushy

Furthermore, add the ground mixture and mix well

Add water and mix well

Furthermore, Add asafoetida, coriander, curry leaves, and jaggery; mix well and cook till they start to turn frothy

Add freshly ground pepper and ghee; mix well and bring rasam to a frothy boil

Turn off the stove and cover; keep aside for 5 mins
Video
Ingredients
Grind
1/2 cup nellikai
1 green chilli
1/2 tablespoon ginger
1 tablespoon water
Temper
1/2 tablespoon peanut oil
1/4 teaspoon mustard seeds
1 teaspoon cumin seeds
Saute
2 finely chopped garlic
1/2 cup tomato
1/4 teaspoon turmeric powder
1 teaspoon salt
Rasam
1 cup + 3/4 cup of water
Curry leaves few
coriander leaves few
Asafoetida 1/4 tsp
Pinch of jaggery
freshly ground pepper
1 teaspoon ghee
How to make Nellikai rasam with step-by-step pictures
If you are using frozen nellikai thaw them first
Grind gooseberry, ginger, green chilli, and water; keep aside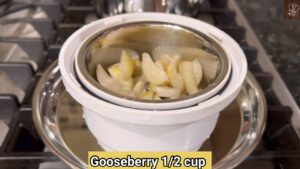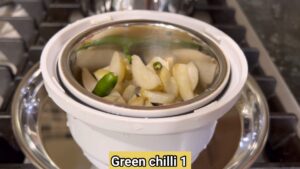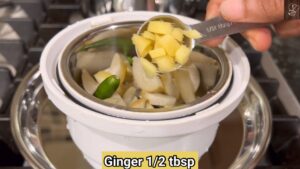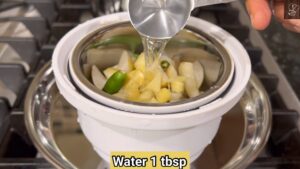 Add oil to a wide heavy-bottomed pan and heat
When oil turns hot add mustard seeds and cumin seeds; let them splutter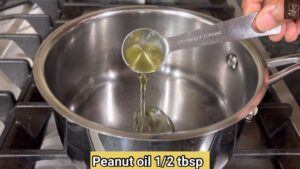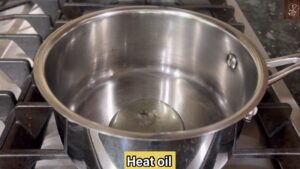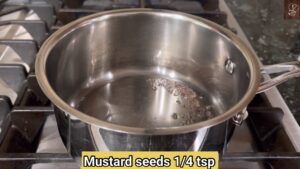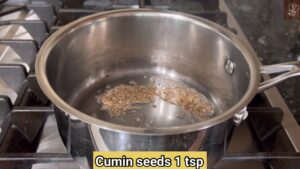 Add garlic and saute till they start to change color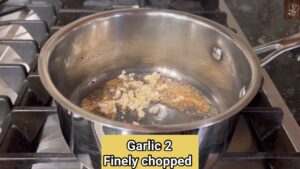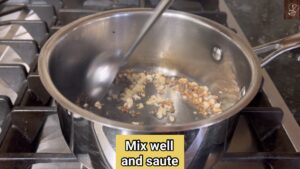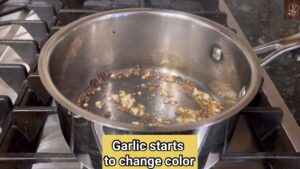 Furthermore, add tomatoes and mix well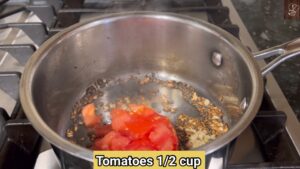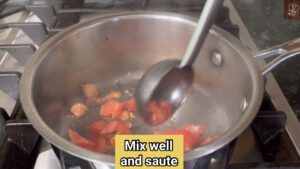 Add turmeric powder and salt; mix well and saute till tomatoes turn mushy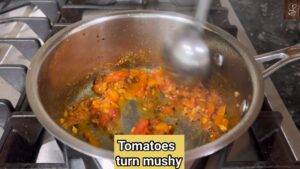 Furthermore, add the ground mixture and mix well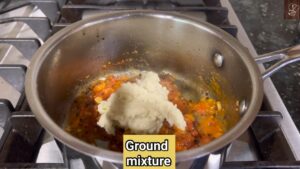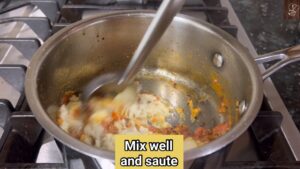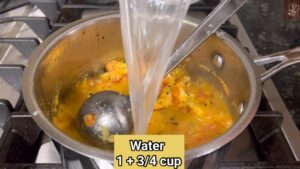 Furthermore, Add asafoetida, coriander, curry leaves, and jaggery; mix well and cook till they start to turn frothy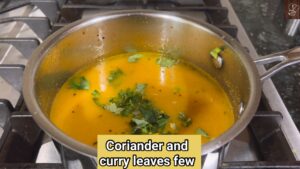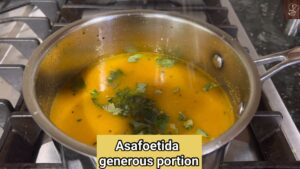 Add freshly ground pepper and ghee; mix well and bring rasam to a frothy boil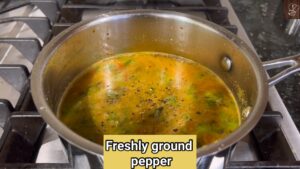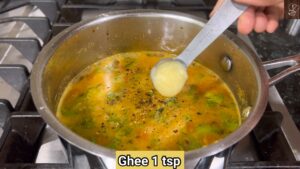 Turn off the stove and cover; keep aside for 5 mins