Tomato thokku | Thakkali thokku | pressure cooker thakkali thokku | pressure cooker tomato thokku | one pot tomato pickle | easy cooker thokku recipe | easy tomato thokku recipe | tomato pickle step by step pictures and video recipe. Check out the tomato thokku video and If you like the video pls SUBSCRIBE to my channel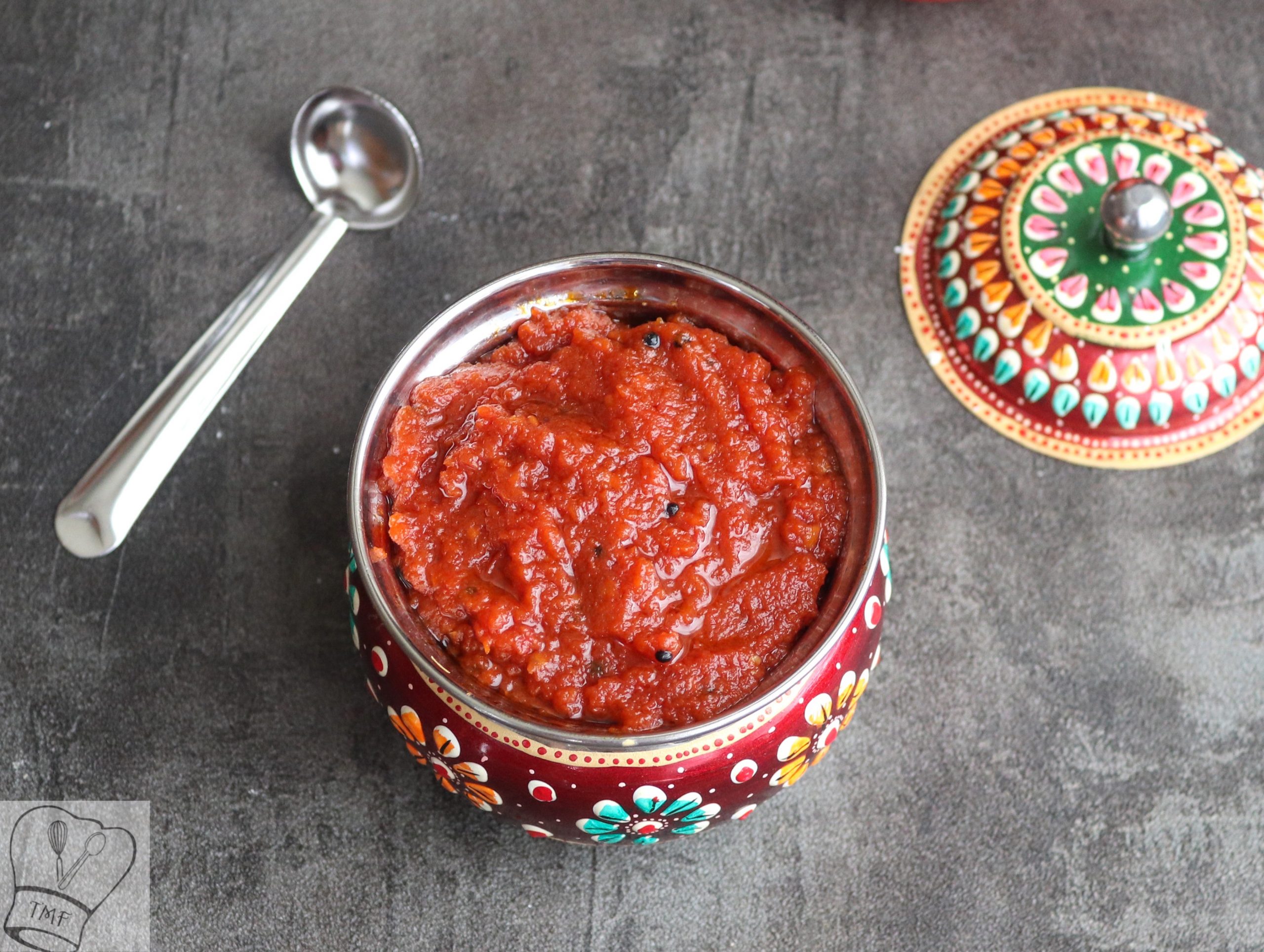 Thakkali Thokku is a traditional South Indian pickle/side dish prepared with tomatoes. Tomato thokku made using pressure cooker is super easy. Tomato pickles taste great with tiffin items like idli, dosa, uthappam, upma, chappati, etc. It tastes good for weeks. Tasty make-ahead pickle /side dish variety.
Tomatoes are a perfect combination of tanginess and mild sweetness. I can't imagine a grocery trip without buying tomatoes. Be it a gravy/chutney/soup/rice tomatoes always make the dish extra special.
Tomato thokku is one of my childhood favorites. Growing up I was not a big fan of pulikaichal. Next to mango pickle tomato pickle was my favorite. Those days I use to eat pickles almost every day. Irrespective of whatever rice accompaniment Amma makes. I always like mixing a little pickle with rice and having it for curd rice.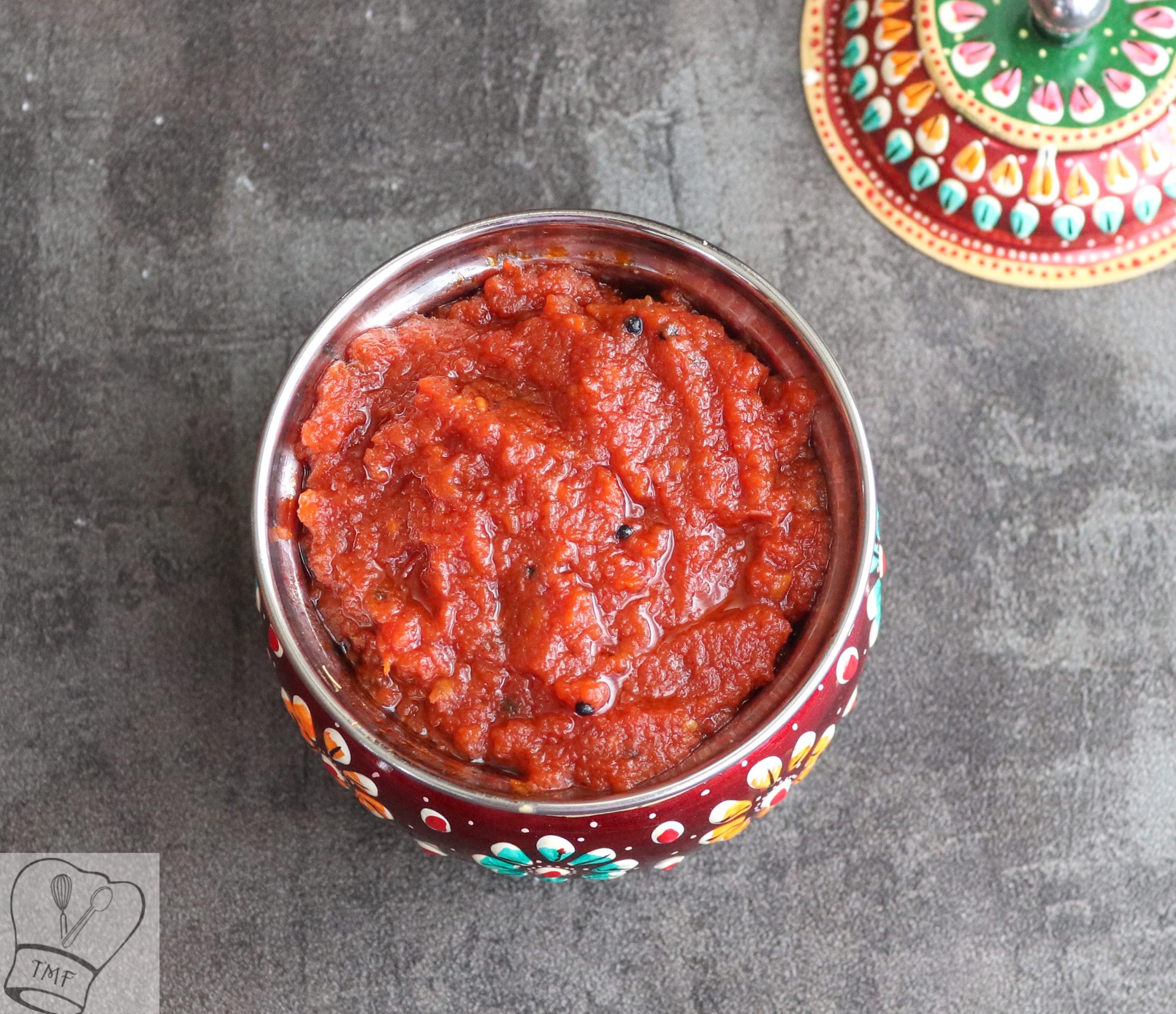 Before marriage, I have never tried preparing thakkali thokku. In Amma's absence, I try to cook something, but she always makes tomato thokku and pulikaichal before travel and keeps it in the fridge. A couple of years back I tried it for the first time.
Tomato pickle was the first pickle I ever tried. I was so worried about how it will taste, but We both finished the jar in no time. It is a bit time consuming but taste subsides the stirring effort. Recently I updated the pressure cooker version which makes it easy. Less time near the stove.
Also, check out tomato onion chutney and tomato kurma
Tomatoes can be chopped finely and made thokku or rough chop and grind. Both Aammas usually grind it so I follow the same procedure. I have heard from a friend that thokku can also be prepared but boiling the tomatoes in hot water, peel the skin; Cool, and grind. I am yet to try that method. Tomato thokku doesn't require lot of ingredients. Tomato thokku tastes great with dishes like Semiya Bagala bath or restaurant-style curd rice or tiffin varieties etc. It tastes amazing with plain rice as well!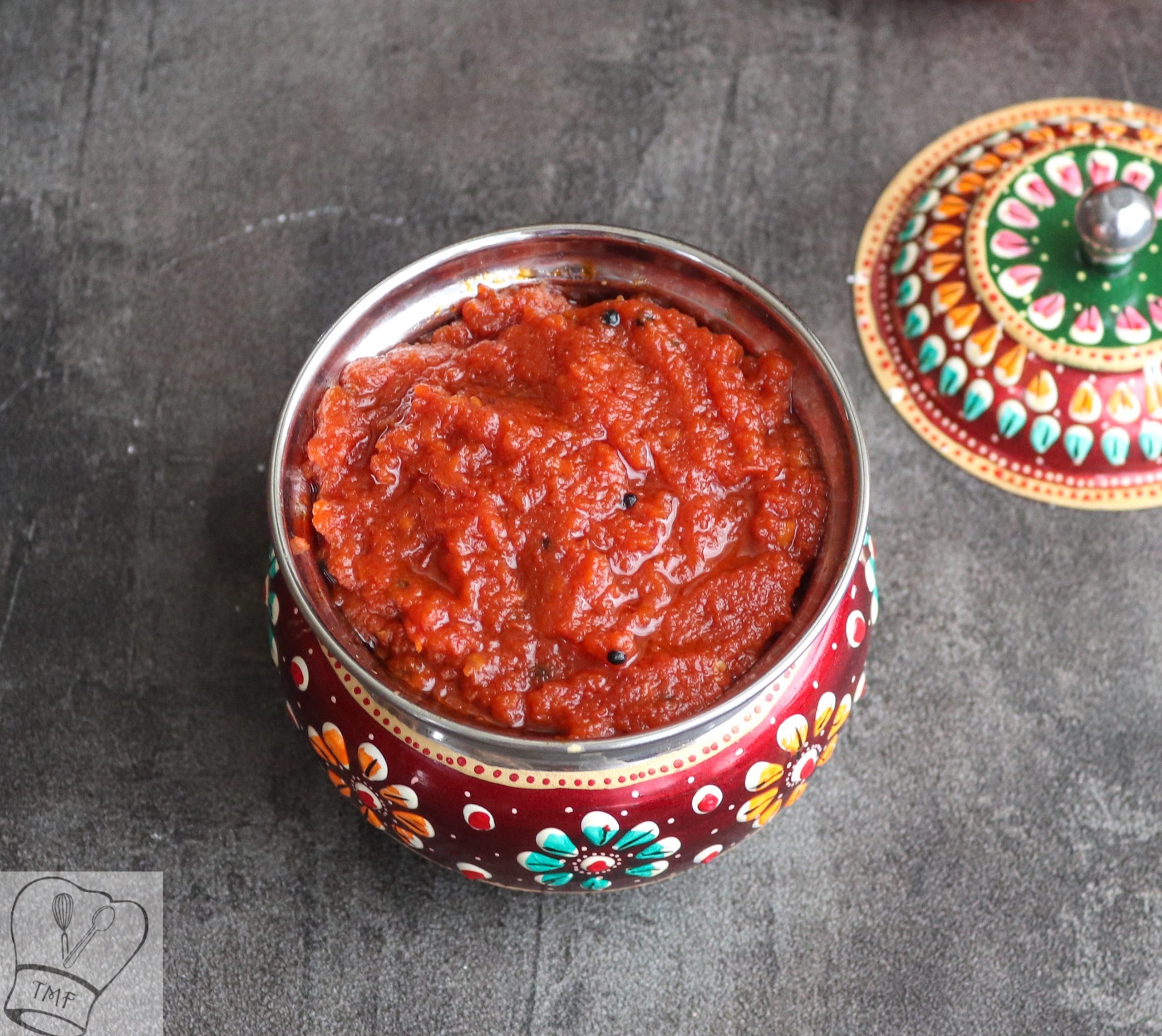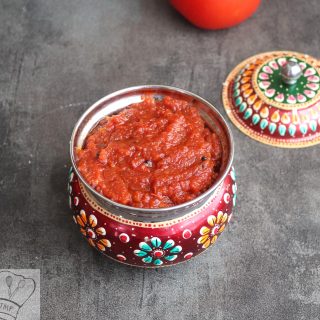 Thakkali Thokku (Tomato Pickle)
Thakkali Thokku is a traditional South Indian pickle prepared with tomatoes.
Print
Pin
Comment
Ingredients
Ripe tomatoes - 10 - 12

Red chilli powder – 1 tablespoon + 1/2 tsp

adjust according to your spice level

Sesame oil - 3 tablespoon

Mustard seeds - 1/4 tsp

Fenugreek seeds / powder - 1/4 tsp

Jaggery – 1 tablespoon heaped

Salt - as needed
Instructions
Put tomatoes in a blender and blend without adding water

Add oil to a wide pan (while boiling, tomatoes tend to spit spill outside). When oil is hot, add mustard seeds and fenugreek and let it splutter. Add tomato puree and sauté occasionally

When tomato puree reduces to half, add red chilli powder and salt

Keep stirring once in a while. Add jaggery after the raw smell of Chilli powder goes off

Cook till water evaporates completely and the tomatoes become thick
Pressure cooker method
In a wide mixing bowl add chopped tomatoes, salt, Chilli powder and pinch of turmeric powder

Grind them without adding water Add oil to the pressure cooker when oil is hot add mustard seeds and let it splutter

Add the blended purée and cook for about 1 minute till they start bubbling

Cook for 25 - 28 whistles for 25 minutes and let the pressure settle down

Open the cooker and mix well

Depending on the tomatoes variety it will be watery

When thokku comes to your desired consistency add fenugreek powder and mix well 

Switch off and let it cool down 

Store it in a airtight container
Video
Notes
Tamarind puree can be added, if you want it a bit tangy
Store the thokku in the fridge for longer shelf life. If you are going to finish in 1 or 2 days can keep it outside
Keep in an airtight container and use a dry spoon, for the thokku to stay longer
Brown sugar/ white sugar can be added instead of Jaggery
Mustard Seed powder and fenugreek powder can be added along with chilli powder

Thokku stays good for 2 weeks

Always use a pressure cooker which whistles properly
Be it a pan/pressure cooker choose one that is deep to prevent the thokku from spiling out
For instant pot version cook for 18 minutes and natural release. Cook to the desired consistency
Avoid boiling the tomato puree for the instant pot version. After tempering add ground tomato mix well, make sure nothing is stuck to the pan then pressure cook for 18 minutes
Thokku tastes the best next day
Let thokku cool completely before storing it
Thokku stays good for two weeks. for long shelf life add extra sesame oil
Depending on the variety of tomato you chose cooked thooku might be watery hence after pressure cooking cook accordingly
Ingredients:
Ripe tomatoes - 10 - 12
Red chilli powder – 1 tablespoon + 1/2 teaspoon (adjust according to your spice level)
Sesame oil - 3 tablespoon (Increase oil if you are going to store for more than one week)
Mustard seeds - 1/2 tsp
Fenugreek seeds - 1/4 teaspoon or fenugreek powder - pinch
Jaggery – 1 tablespoon heaped
Salt - as needed
How to make thakkali thokku stovetop:
Put tomatoes in a blender and blend without adding water
Add oil to a wide pan (while boiling, tomatoes tend to spit spill outside). When the oil is hot, add mustard seeds and fenugreek seeds and let it splutter. Add tomato puree and saute occasionally
When tomato puree reduces to half, add red chilli powder and salt

Keep stirring once in a while. Add jaggery after the raw smell of Chilli powder goes off
Cook till water evaporates completely and the tomatoes become thick
Pressure cooker thakkali thokku:
In a wide mixing bowl add chopped tomatoes, salt, Chilli powder and a pinch of turmeric powder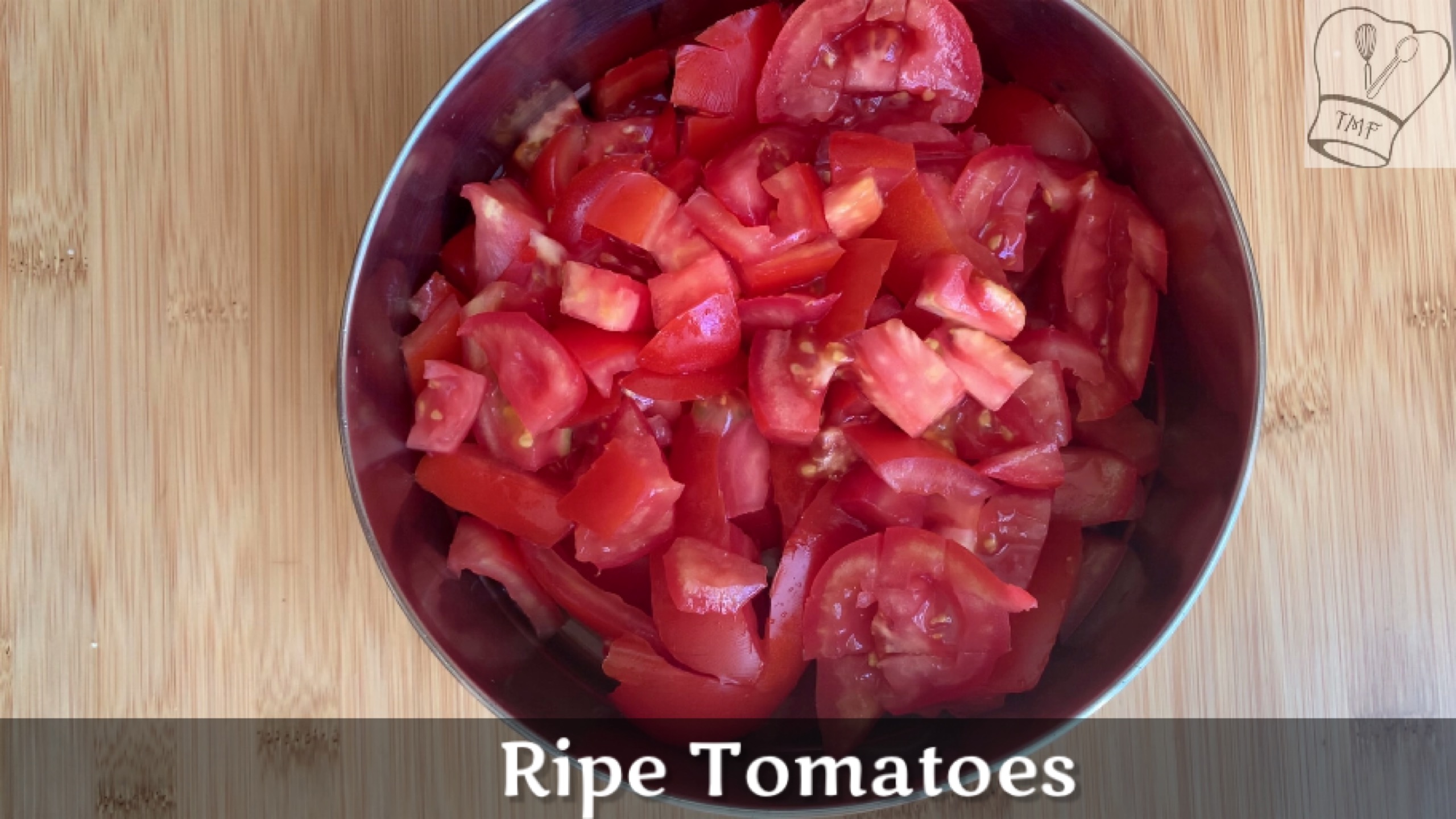 Grind them without adding water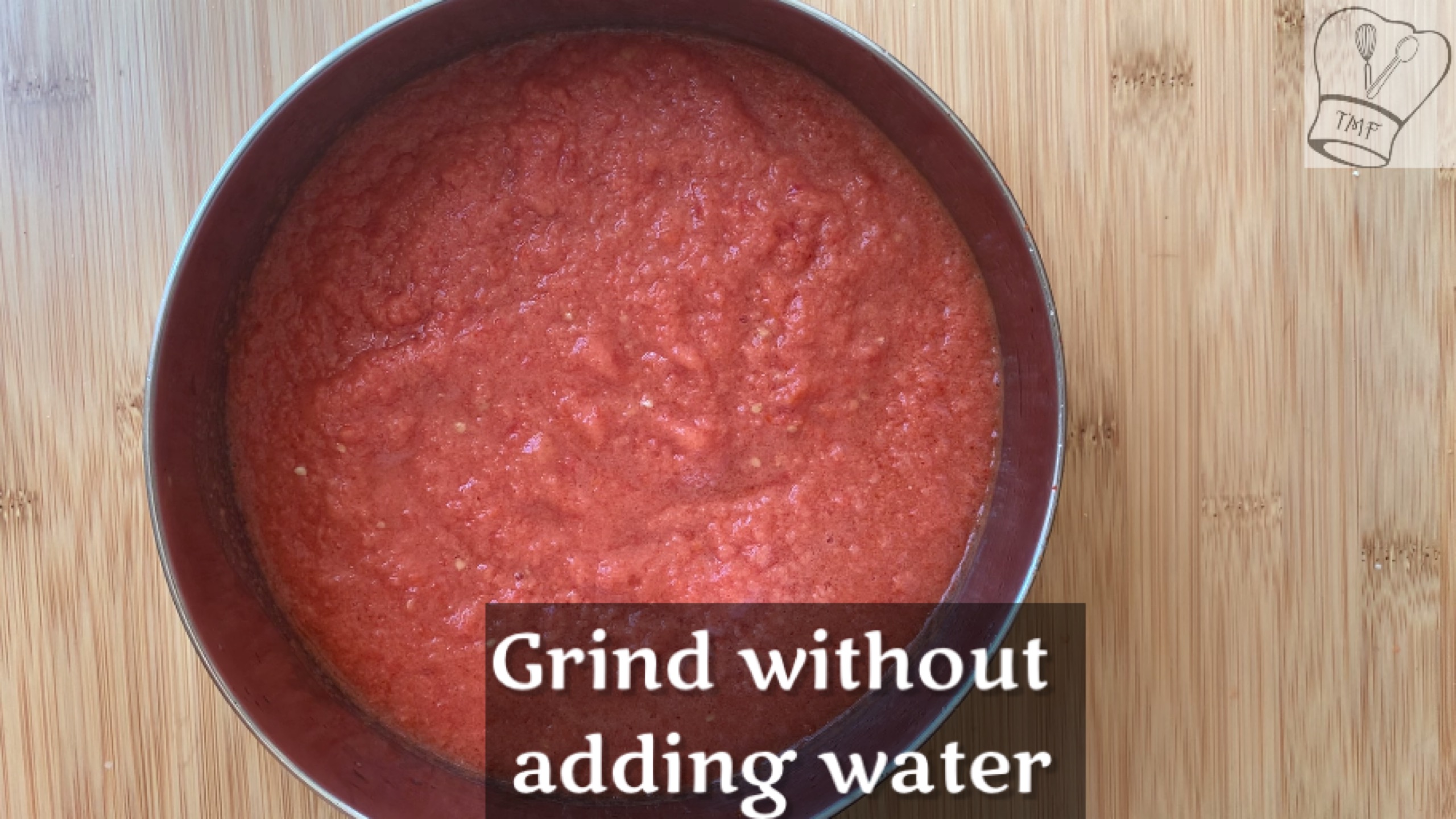 Add oil to the pressure cooker when oil is hot add mustard seeds and let it splutter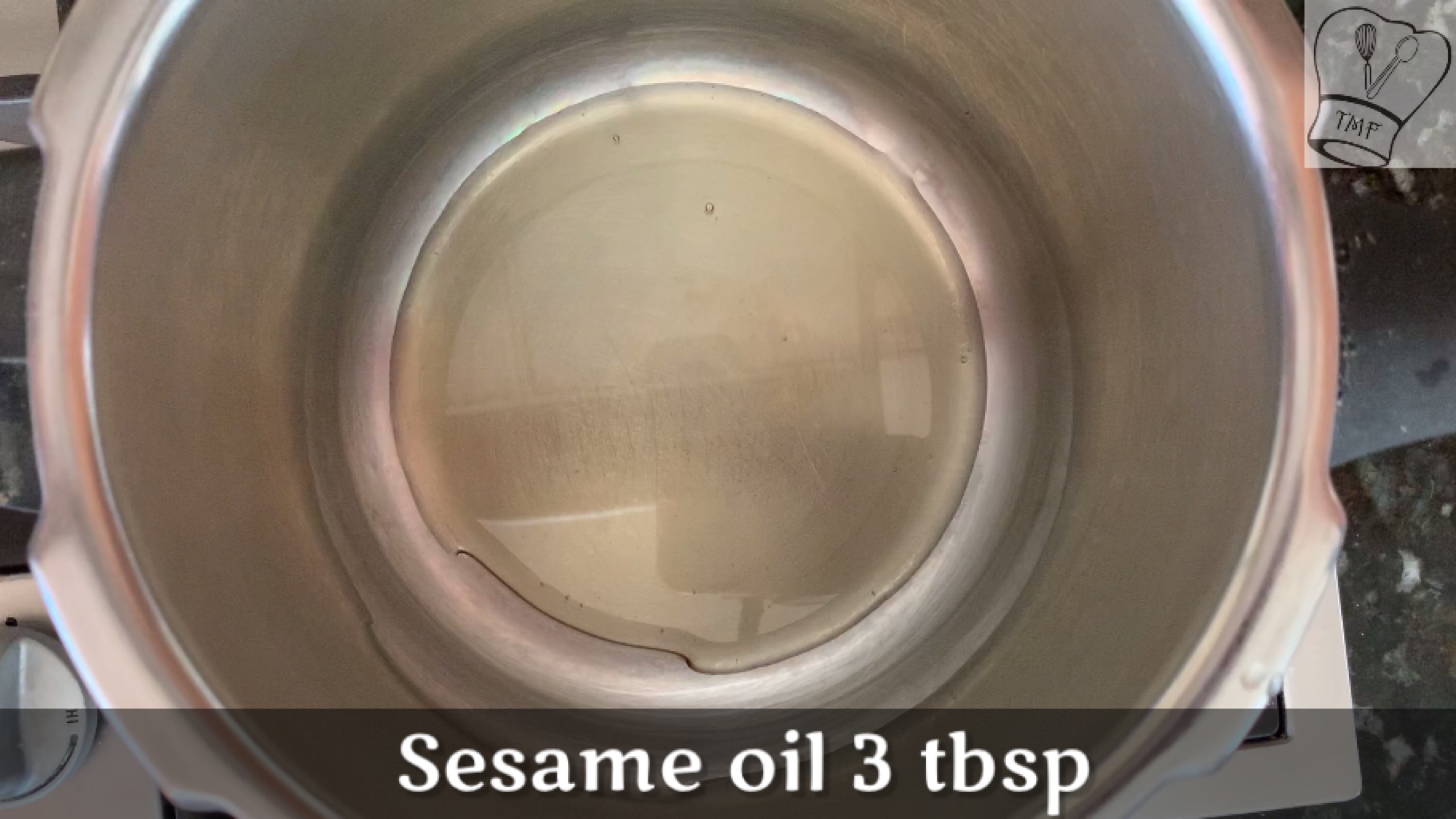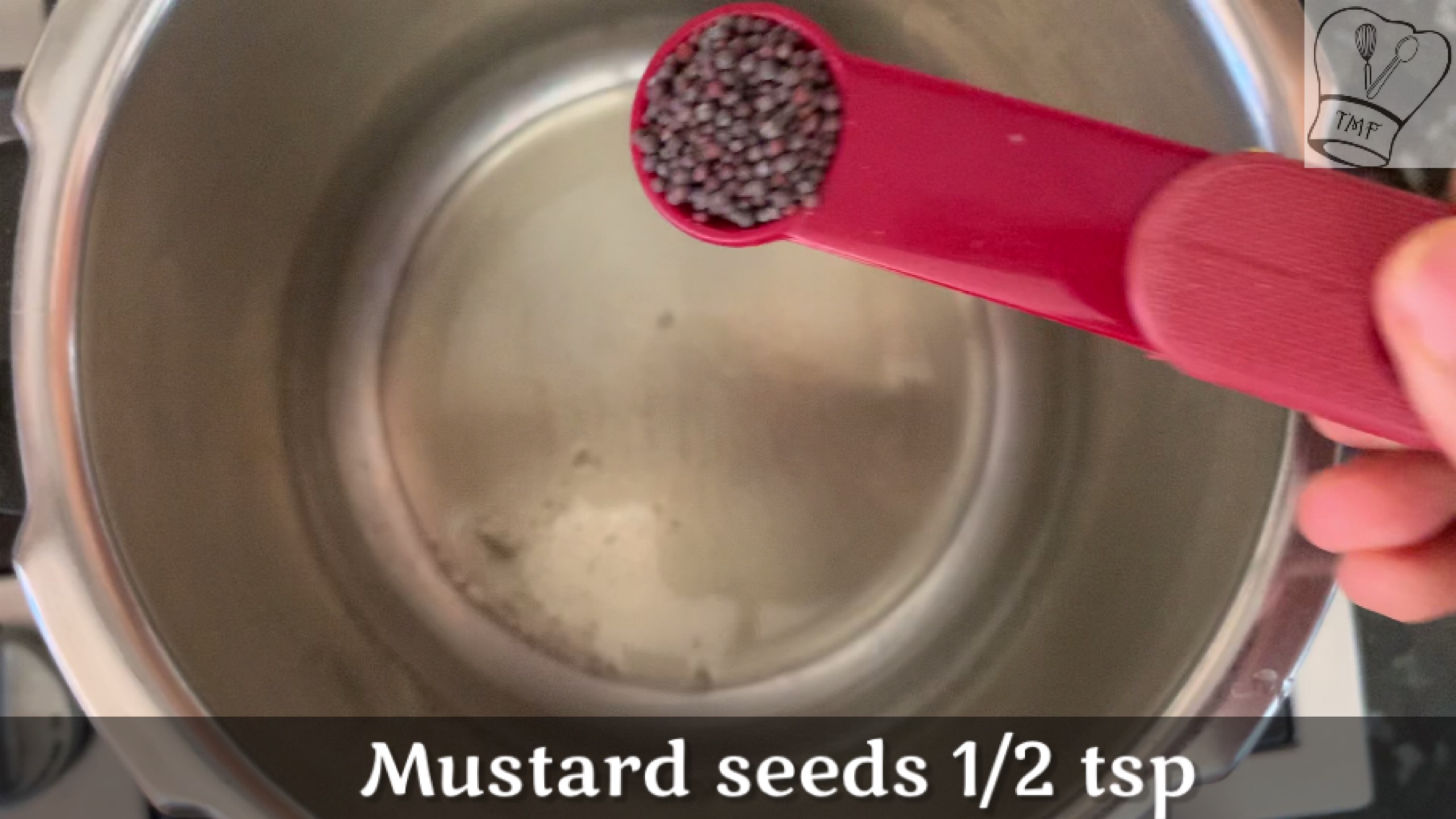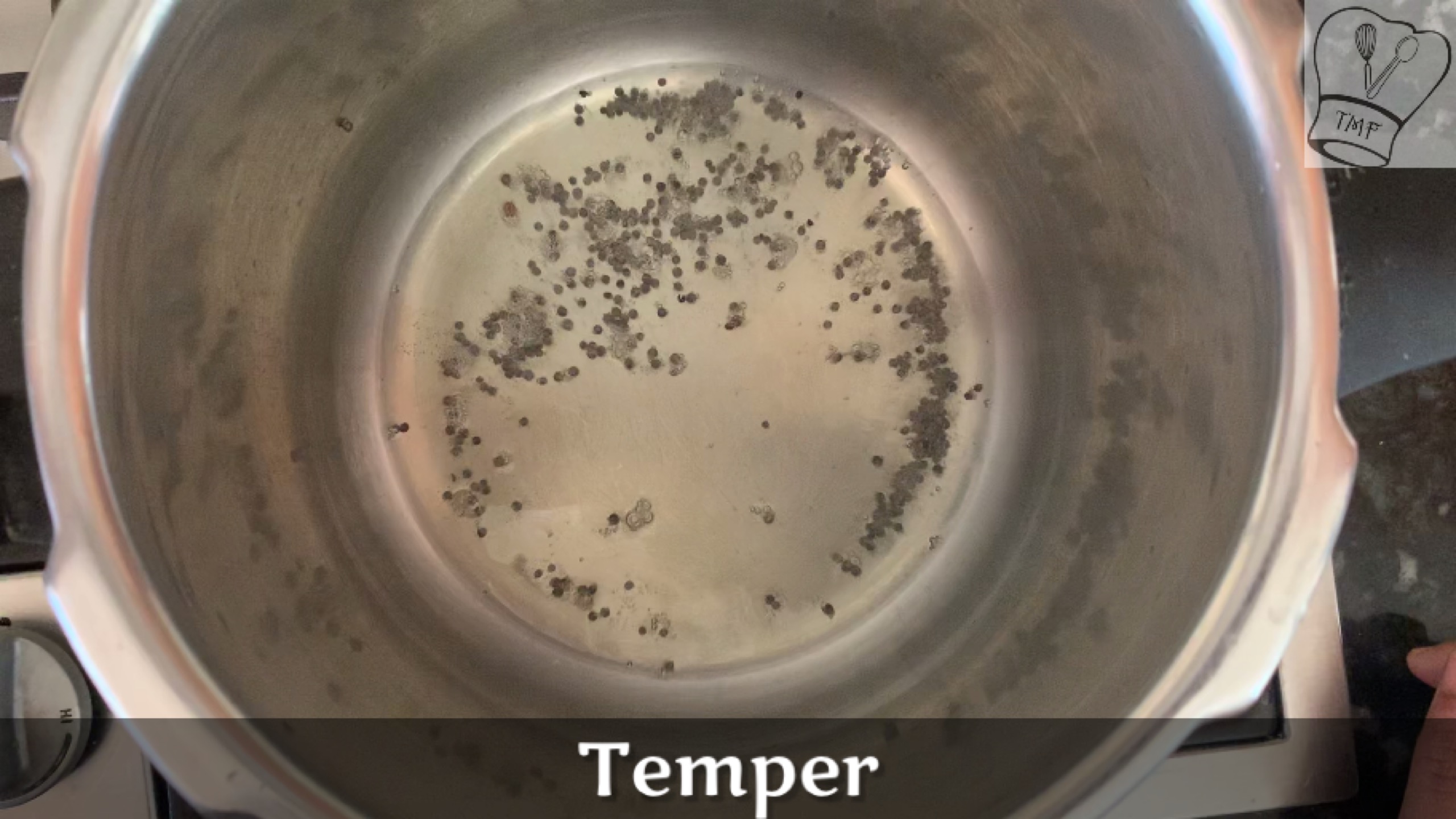 Add the blended purée and cook for about 1 minute till they start bubbling
Cook for 25-28 whistles for 25 minutes and let the pressure settle down
Open the cooker and mix well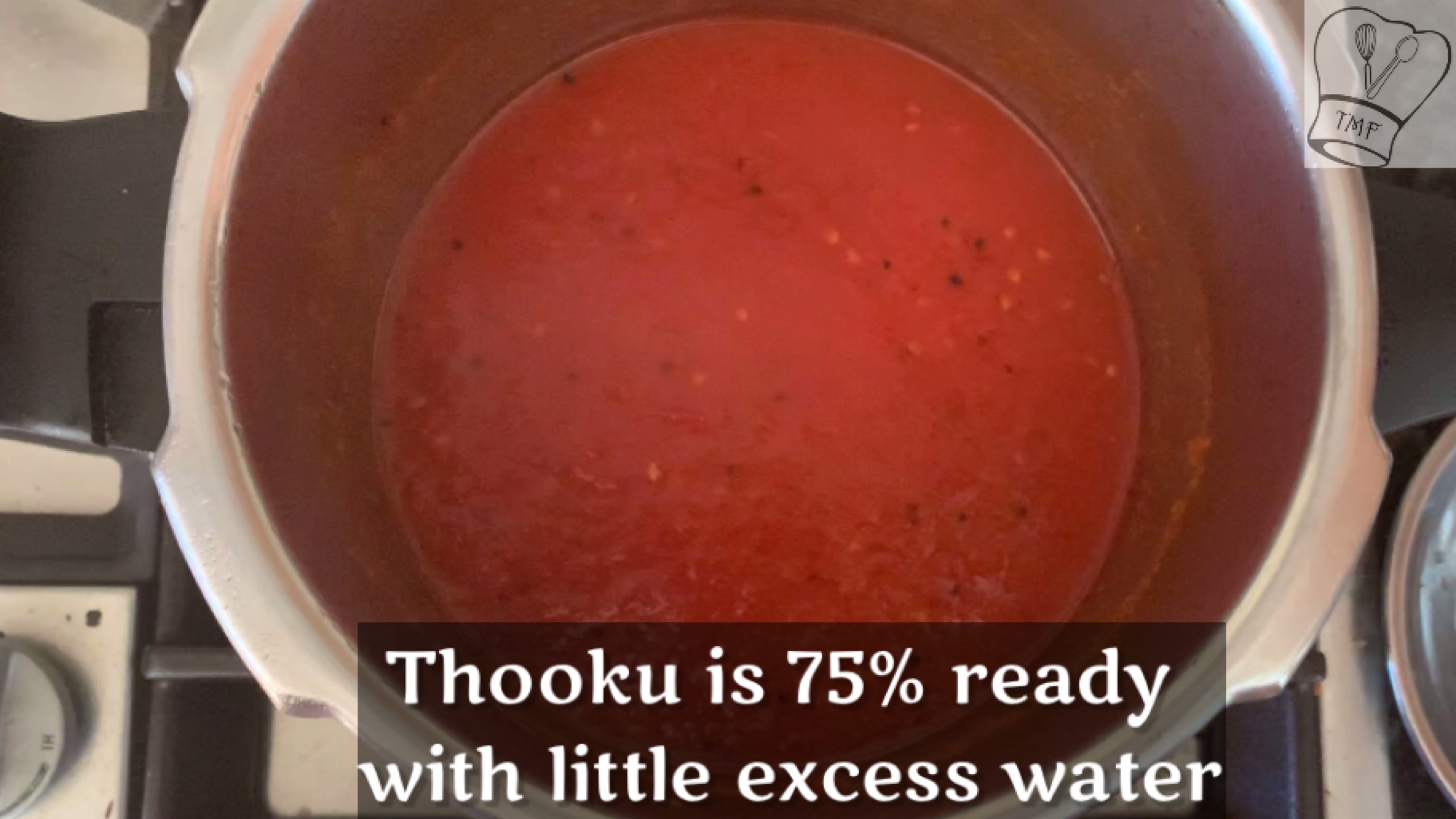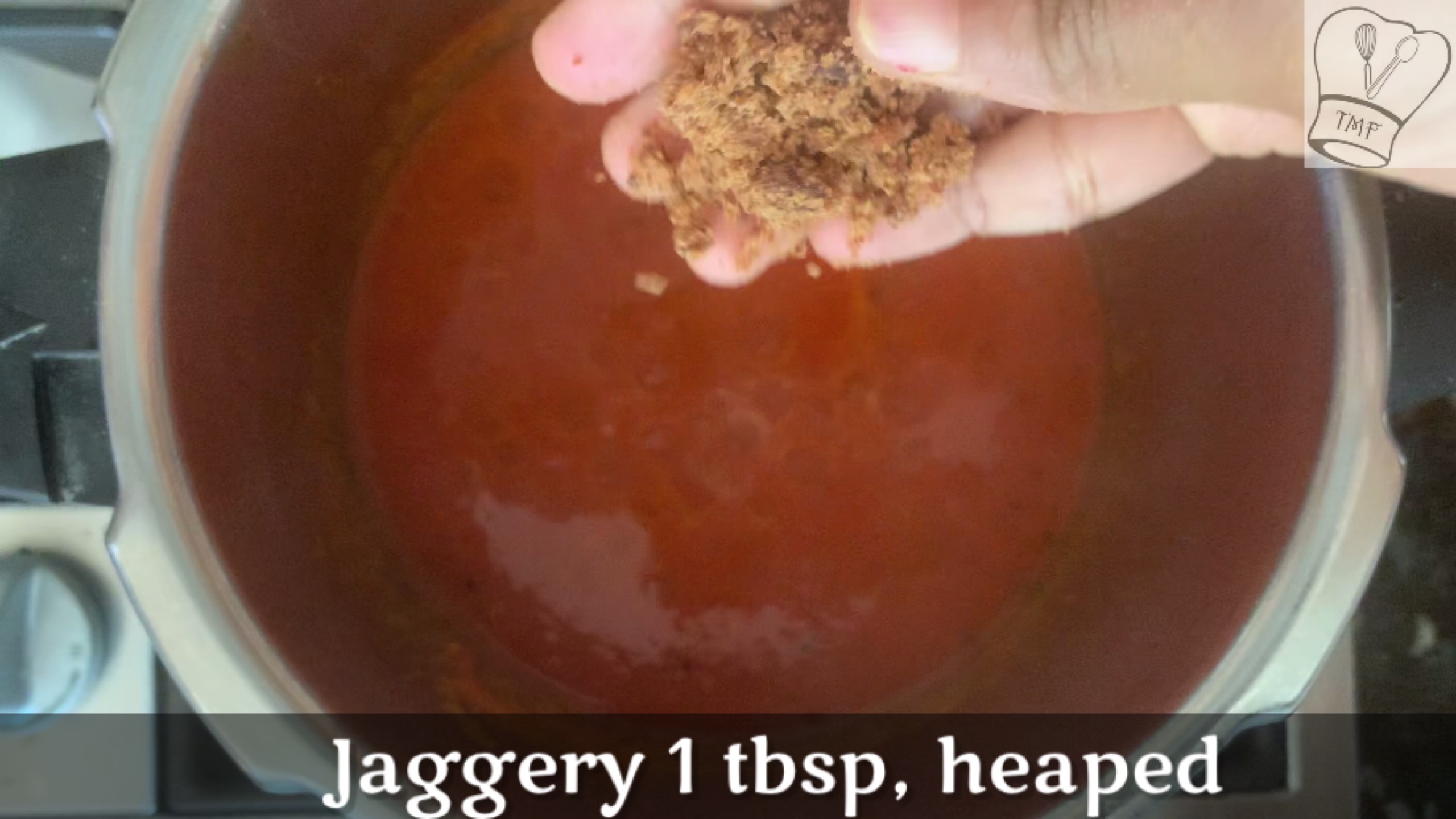 Depending on the tomatoes it will be watery
When thokku comes to your desired consistency add fenugreek powder and mix well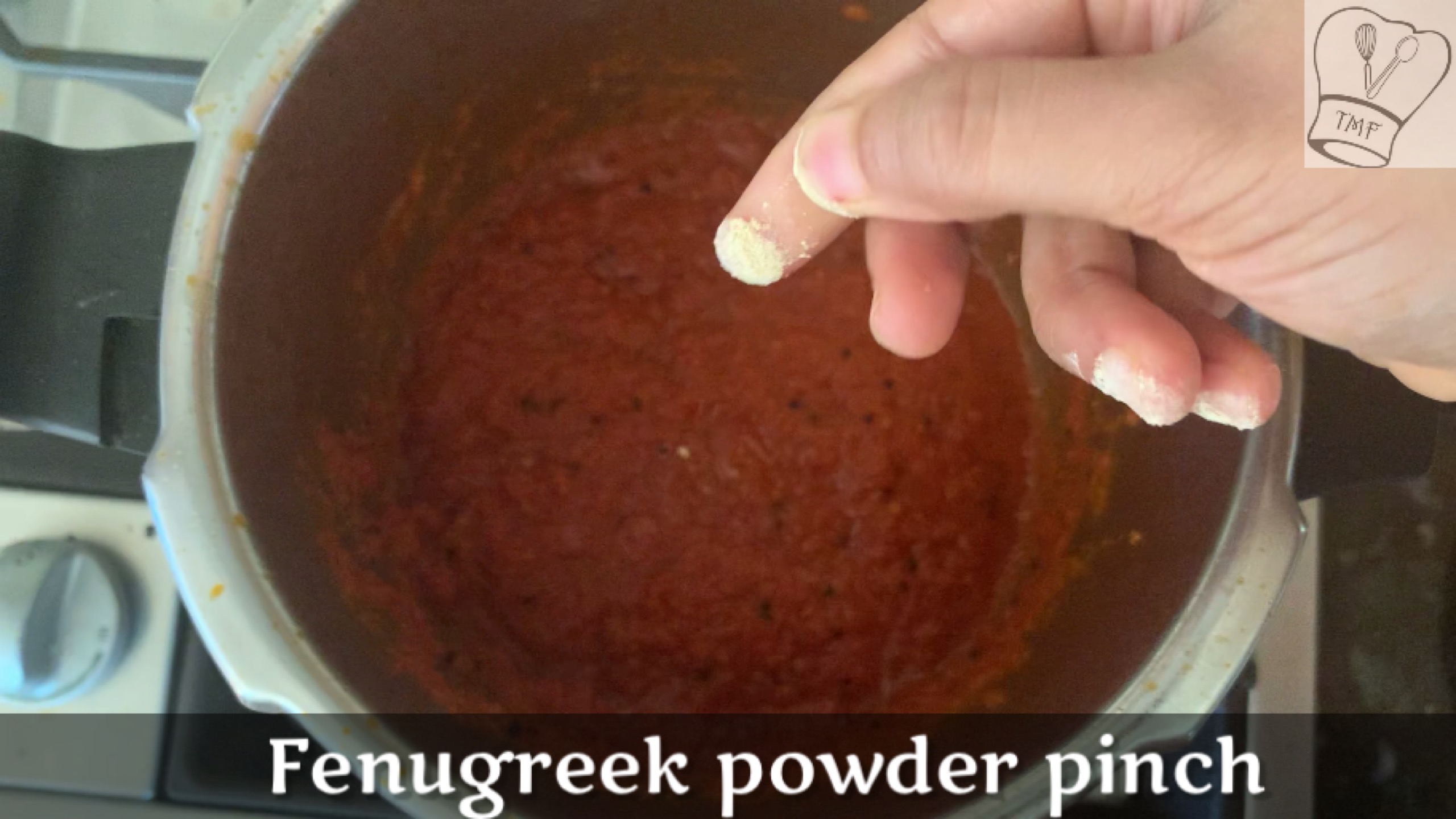 Switch off and let it cool down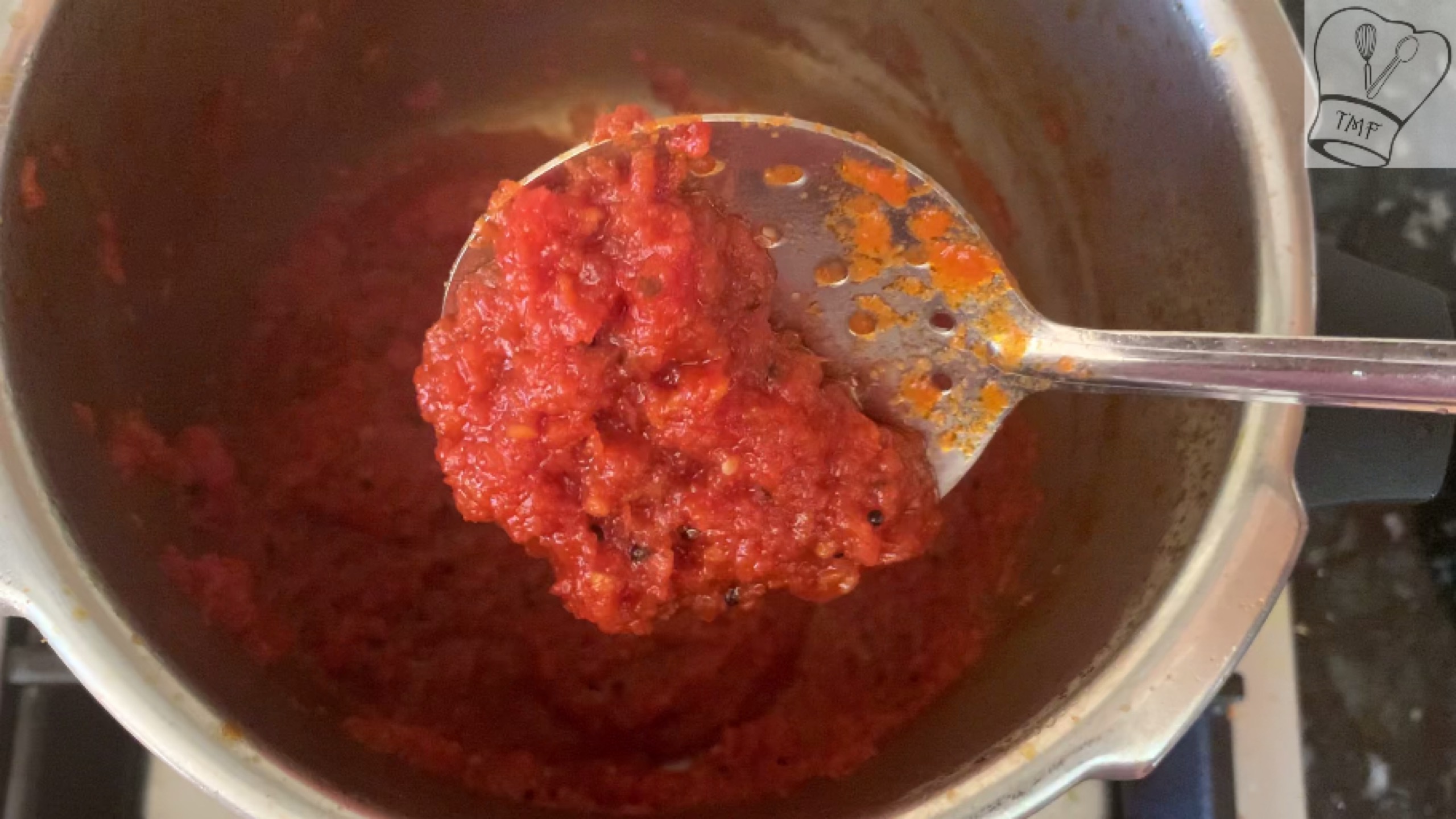 Store it in an airtight container
Thokku stays good for 2 weeks