Eggless fruit and nut cake is a tasty and healthy cake. Without any added sugar this is one helathy cake to try fir this holiday.
I have been exploring sweets without sugar. Oats and dates Burfi and nuts laddu are some of my favorites.
Few more months there for Christmas but I suddenly had a strong desire for fruit and nut cake. To make it bit healthy tried using wheat flour instead of all-purpose-flour.
I always like using nuts in my cooking. With walnuts peas walnut gravy, wheat laddu and Wheat and oats banana bread the nutty flavour, so thought of trying a cake with nuts and dry fruit. Recently have posted lot of Almond flour recipe
I have read that eggless Dry Fruit and Nut Cake tastes great when the ingredients are marinated in Alcohol for a day. I wanted to replace alcohol with a fruit juice, and remembered Eggless Mango cake, in which fruit pulp replaced eggs. This time, tried a cake by marinating the ingredients in orange Juice (that's what I had in the fridge, so used it). It came out well, no compromises in the sweetness!
Eggless Dry Fruit and Nut Cake
Preparation Time : 10 min | Marination Time : 10 hours | Cooking Time : 40 min
Recipe Category : Dessert/Baking
Ingredients
Whole wheat flour – 1 cup
Baking Powder – 1/2 tsp
Baking Soda – 1/2 tsp
Salt – 1 pinch
Cinnamon powder – 1/2 tsp
Cardamom Powder – 1/2 tsp
Orange juice – 3/4 cup
Mixed Dry Fruits and Nuts – 3/4 cup (I used chopped almonds, walnuts, cashews, cranberries, raisins and apricots)
Honey – 1/3 cup
Dates – 7
Butter – 1/4 cup
Vanilla extract – 1 tsp
Method
Soak dry fruits and nuts in 1/2 cup orange juice overnight
Preheat oven to 350 degree Fahrenheit. Line the cake tin with parchment paper and grease with butter/cooking spray
Soak dates in hot water for 10 minutes
Blend the dates by adding 2 tbsp of water (adjust if required)
In a mixing bowl, add dry ingredients and sieve it (To ensure even mixing). Add soaked dry fruits and nuts mix gently
Add honey, dates puree, remaining orange juice, butter and vanilla, Mix a gently until combined,Do not over mix
Pour this batter into the prepared cake tin and bake for about 35 to 40 minutes or until a toothpick inserted into the center of the cake comes out clean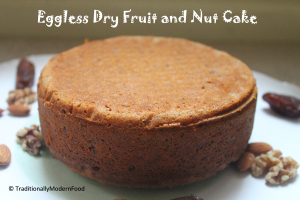 Ingredients
Whole wheat flour - 1 cup

Baking Powder - 1/2 tsp

Baking Soda - 1/2 tsp

Salt - 1 pinch

Cinnamon powder - 1/2 tsp

Cardamom Powder - 1/2 tsp

Orange juice - 3/4 cup

Mixed Dry Fruits and Nuts - 3/4 cup

I used chopped almonds, walnuts, cashews, cranberries, raisins and apricots

Honey - 1/3 cup

Dates - 7

Butter - 1/4 cup

Vanilla extract - 1 tsp

IMG_8655
Instructions
Soak dry fruits and nuts in 1/2 cup orange juice overnight

Preheat oven to 350 degree Fahrenheit. Line the cake tin with parchment paper and grease with butter/cooking spray

Soak dates in hot water for 10 minutes

Blend the dates by adding 2 tbsp of water (adjust if required)

In a mixing bowl, add dry ingredients and sieve it (To ensure even mixing). Add soaked dry fruits and nuts mix gently

Add honey, dates puree, remaining orange juice, butter and vanilla, Mix a gently until combined,Do not over mix

Pour this batter into the prepared cake tin and bake for about 35 to 40 minutes or until a toothpick inserted into the center of the cake comes out clean
My notes:
Dates Syrup can also be used instead of Dates Puree
Use nuts of your chioce
Any fruit juice can be used
Every oven differs keep an eye after 35 minutes
White/brown SugarSugar, jaggery can be used instead of honey
Any fruit juice can be used instead of orange juice
All purpose flour can also be used instead of wheat flour