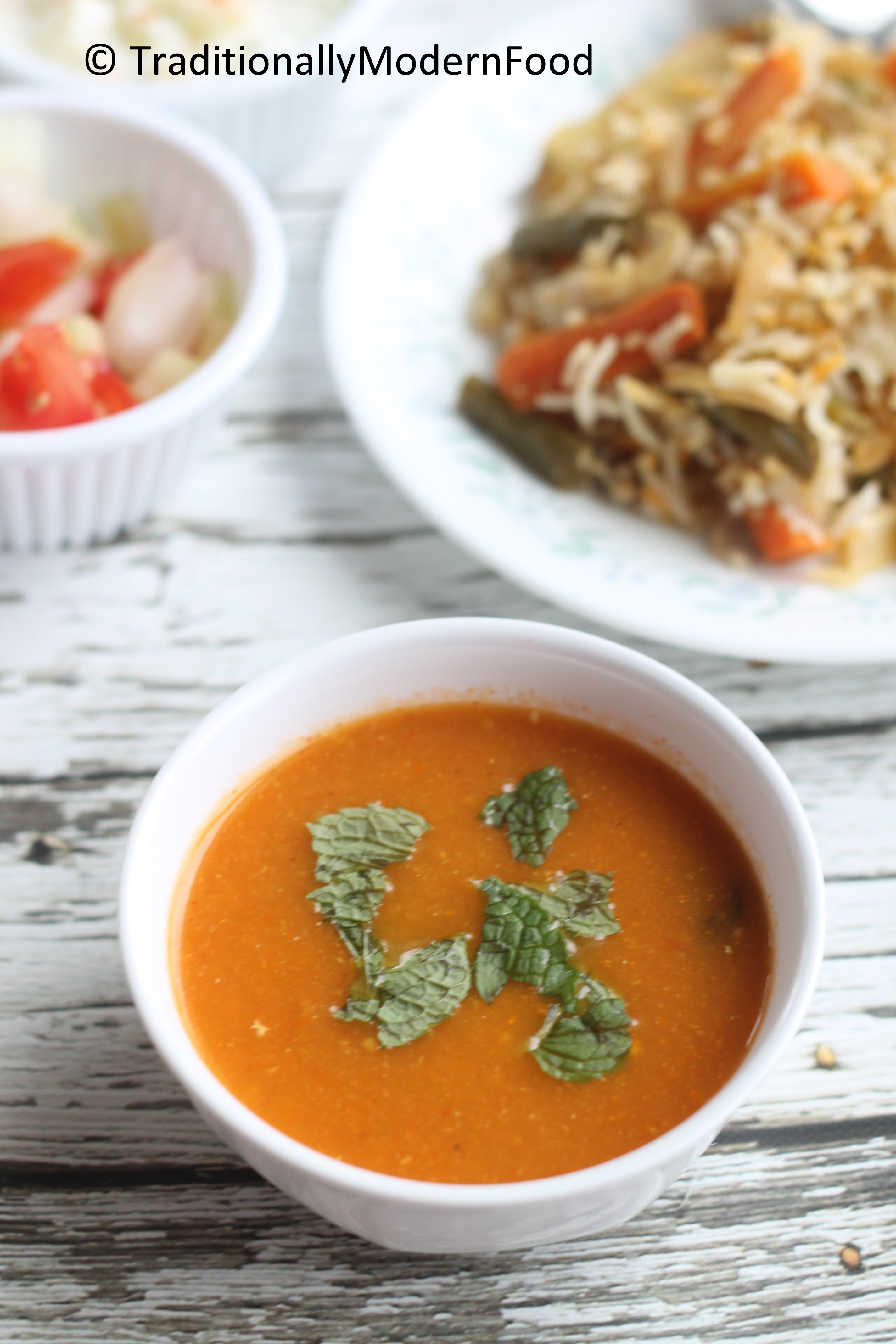 Plain Salna is a flavourful side dish prepared with tomato - onion based gravy. This simple tomato kurma without any veggies compliments the biryani well.
For me biryani and Bisi bele bath are always weekend specials. Two weeks back I prepared Biryani, Brinjal chops for lunch. I don't know whether the "Jurassic World" movie we saw that day complimented biryani or it is vice versa. We were having lunch for almost one hour slowly.
This Saturday I went to my kitchen for preparing sevai for breakfast. My hubby told me don't strain to prepare a light breakfast. I smiled and asked what he want for lunch. Well if Saturday morning calls for a mild breakfast, then it is a heavy lunch.
He asked me can you prepare veg Biryani, I said we had it recently. He said we can have it again today. I was looking through my fridge, I had all the vegetables but no mint. My hubby offered to go shopping for mint. I realized how badly he wanted biryani 🙂
This was our weekend lunch. Vegetable biryani, plain salna, and cucumber raita.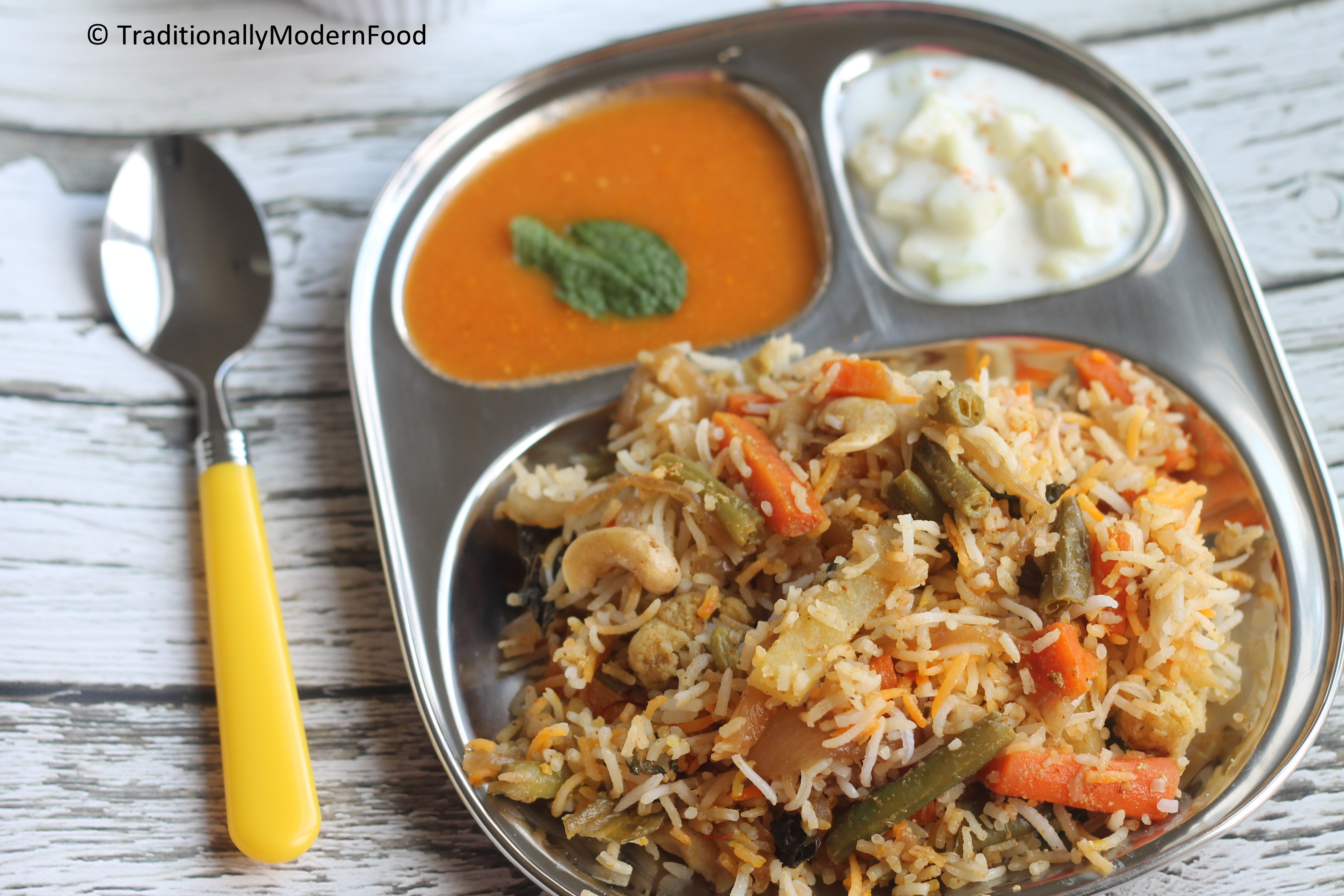 During our school days, Amma always prepares a variety of rice with mixed vegetables, On those days I don't know the difference between pulav, biryani, and fried rice. I randomly pick a name. Later on, I learned the difference. My neighbor Aunt taught my mother to prepare Brinjal chops, so my Amma always prepares it with raita for biryani.
I have tasted this Plain Salna in a restaurant. They served biryani with it and raita. Being a big fan of onion-tomato magic, I loved it. A few months ago our friend invited us for lunch. She prepared this for lunch. It tasted similar to the restaurant one and we all liked it. I got the recipe from her. She said there is a version with meat as well. Since we don't eat meat I learned her vegetarian version and here it is.
One specialty of this plain Salna is it doesn't require any fancy ingredients. If you are planning to make it as a side for biryani I am sure you will have all the ingredients.
It is not only a yummy side for biryani but goes well with roti, idli, dosa, etc. If you have veggies in stock or are feeling lazy to do chopping this is perfect. Yogurt and coconut add a special touch to this plain Salna.
The restaurant version of plain Salna is always spicy and with a lot of oil. I tried to make it less spicy and with less oil.
checkout Mixed Veg Kurma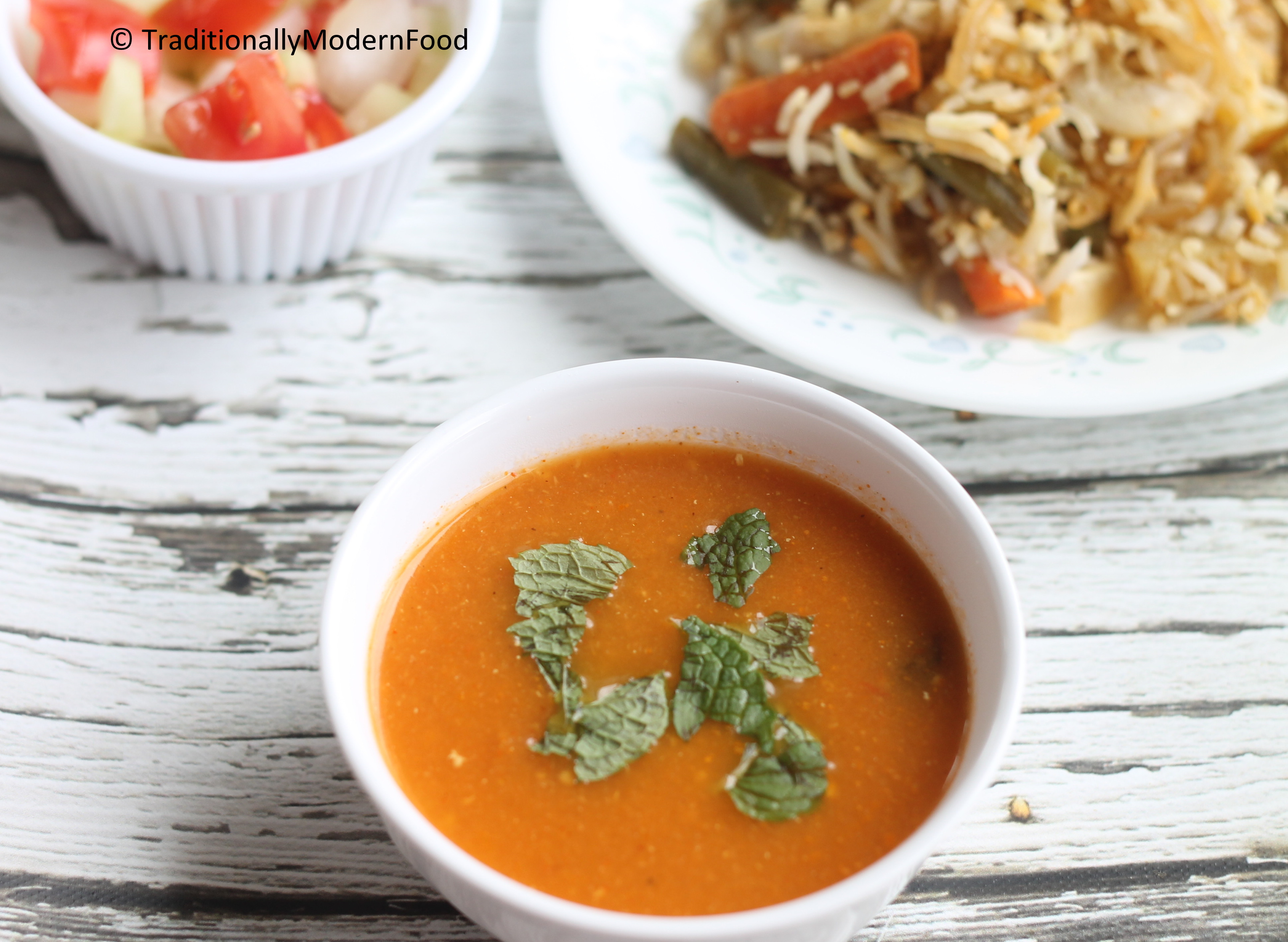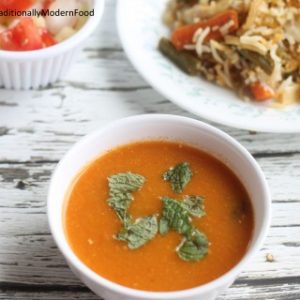 Shorba| Sherva| Tomato Kurma | Plain Salna
Flavorful tomato - onion based gravy. Tastes great with biryani. Coconut and curd creates a special taste for the gravy
Print
Pin
Comment
Ingredients
Onion - 1

big - roughly chopped

Tomatoes - 3

roughly chopped (I used Vine tomatoes)

Ginger - garlic paste - 1 tsp

Green chilli - 1

slit

Fresh/ frozen Coconut - 3 tablespoon + 1 tsp

Curd/Yogurt - 2 tbsp

Red chili powder - 1 tsp

Adjust according to spice level

Biryani Masala -1 tsp

Garam Masala - 1/2 tsp

Turmeric powder - pinch

Coriander powder - 1/2 tsp

Salt - as needed

Sugar - pinch

Oil - 1/2 tbsp

To Temper:

Bay leaf - 1

Cinnamon stick - 1/4 inch

Cardamom - 2

Star anise - 1

Mace - 1

Shahi jeera - 1/4 tsp

Mint - fistful

Oil - 1/2 tbsp
Instructions
Add oil to the pan once when the oil is hot add onion, ginger - garlic paste and green chilli; cook till the onion is translucent, stirring in-between

Add tomatoes and little salt; cook till the tomatoes are mushy

Add the coconut and cook for 2 minutes and switch off, Let it cool

Grind the Tomato onion mixture into fine paste

In the same pan on medium heat add oil is hot add the whole spices and cook for 30-40 seconds. Add mint and sauté for 30 seconds

Add the blend mixture, 2 cups of water, coriander powder, garam Masala, chili powder, biryani Masala and salt; cook for 5-6 minutes

Reduce the heat to low add curd and cook for 7-10 minutes or until the gravy reached the desired consistency. Serve hot with biryani/pulav
Ingredients:
Onion - 1, big - roughly chopped
Tomatoes - 3, roughly chopped (I used Vine tomatoes)
Ginger - garlic paste - 1 tsp
Green chilli - 1, slit
Fresh/ frozen Coconut - 3 tablespoon + 1 tsp
Curd/Yogurt - 2 tbsp
Red chili powder - 1 teaspoon (Adjust according to spice level)
Biryani Masala -1 tsp
Garam Masala - 1/2 tsp
Turmeric powder - pinch
Coriander powder - 1/2 tsp
Salt - as needed
Sugar - pinch
Oil - 1/2 tbsp
To Temper:
Bay leaf - 1
Cinnamon stick - 1/4 inch
Cardamom - 2
Star anise - 1
Mace - 1
Shahi jeera - 1/4 tsp
Mint - fistful
Oil - 1/2 tbsp
Method:
Add oil to the pan, once when the oil is hot add onion, a little salt, ginger - garlic paste, and green chilli; cook till the onion is translucent, stirring in-between
Add tomatoes and a little salt; cook till the tomatoes are mushy

Add the coconut and cook for 2 minutes and switch off, Let it cool. Grind the Tomato onion mixture into a fine paste

In the same pan on medium heat add oil is hot add the whole spices and cook for 30-40 seconds. Add mint and sauté for 30 seconds

Add the blended mixture, 2 cups of water, coriander powder, garam Masala, chili powder, biryani Masala, and salt; cook for 5-6 minutes

Reduce the heat to low add curd and cook for 7-10 minutes or until the gravy reached the desired consistency. Serve hot with biryani/pulav