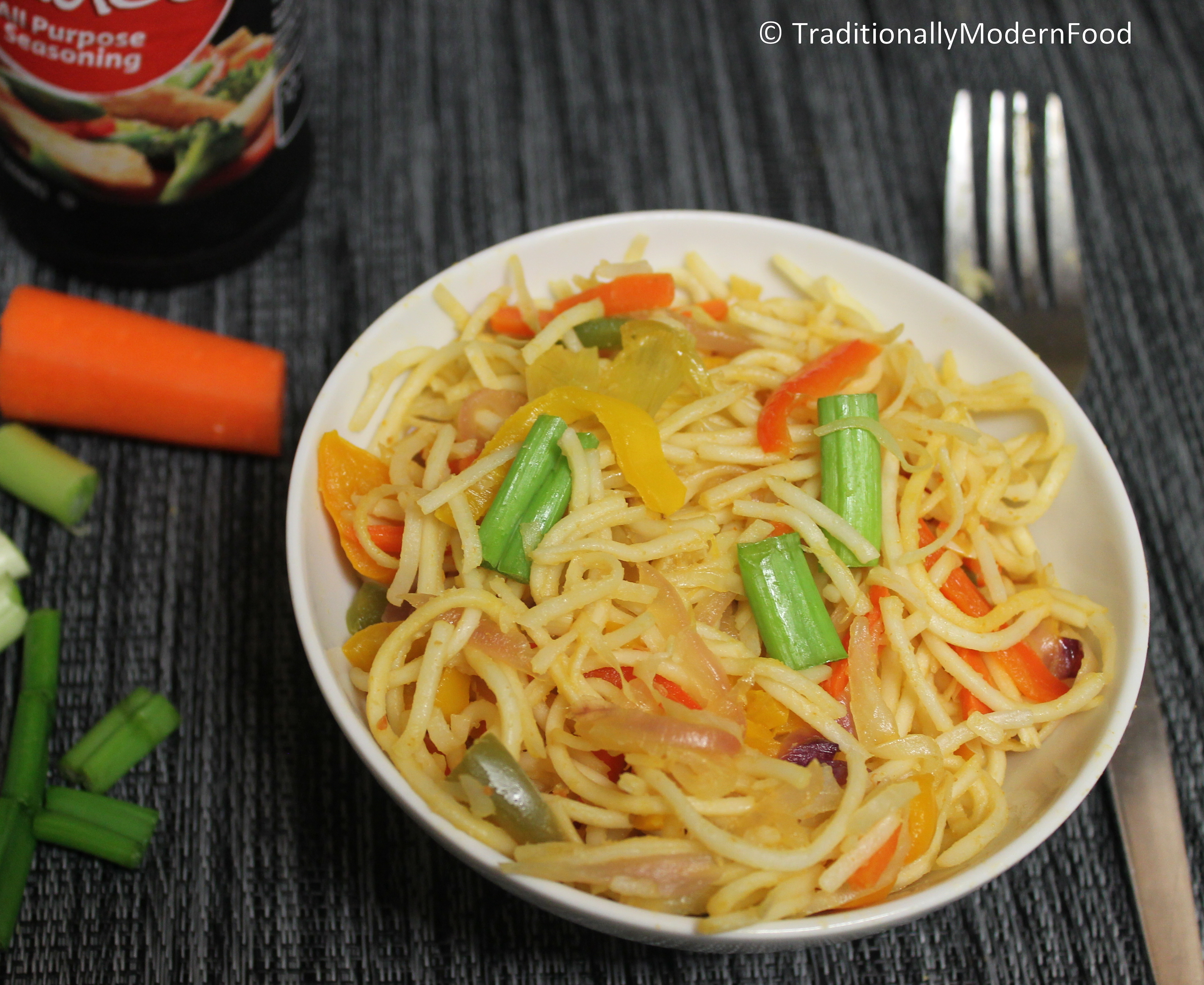 Veg Hakka Noodles with cruncy veggies and flavors from soy sauce, siracha and vinegar is super yum . Tasty Indo Chinese noodles.
Ever since my childhood days I have got a special fascination for Noodles. Those days maggi noodles was my favorite after-school snacks. With tomato ketchup the noodles vanishes in no time.
Whenever we visit to restaurant Indo - Chinese fried rice and veg Hakka Noodles are my favorites. My mother prepares a version of fried rice with soy sauce in her own style but noodles was not common at home.
Before marriage I never went for grocery shopping. My sister used to go for shopping but I am the lazy one. After travelling abroad initial few days I called my mom now and then for cooking and grocery doubts.
During those times, One day when I was in the Indian store I saw Hakka noodle pack. I haven't cooked before so I was in big dilemma whether to buy or not. I took one pack, saw instruction for cooking and a recipe.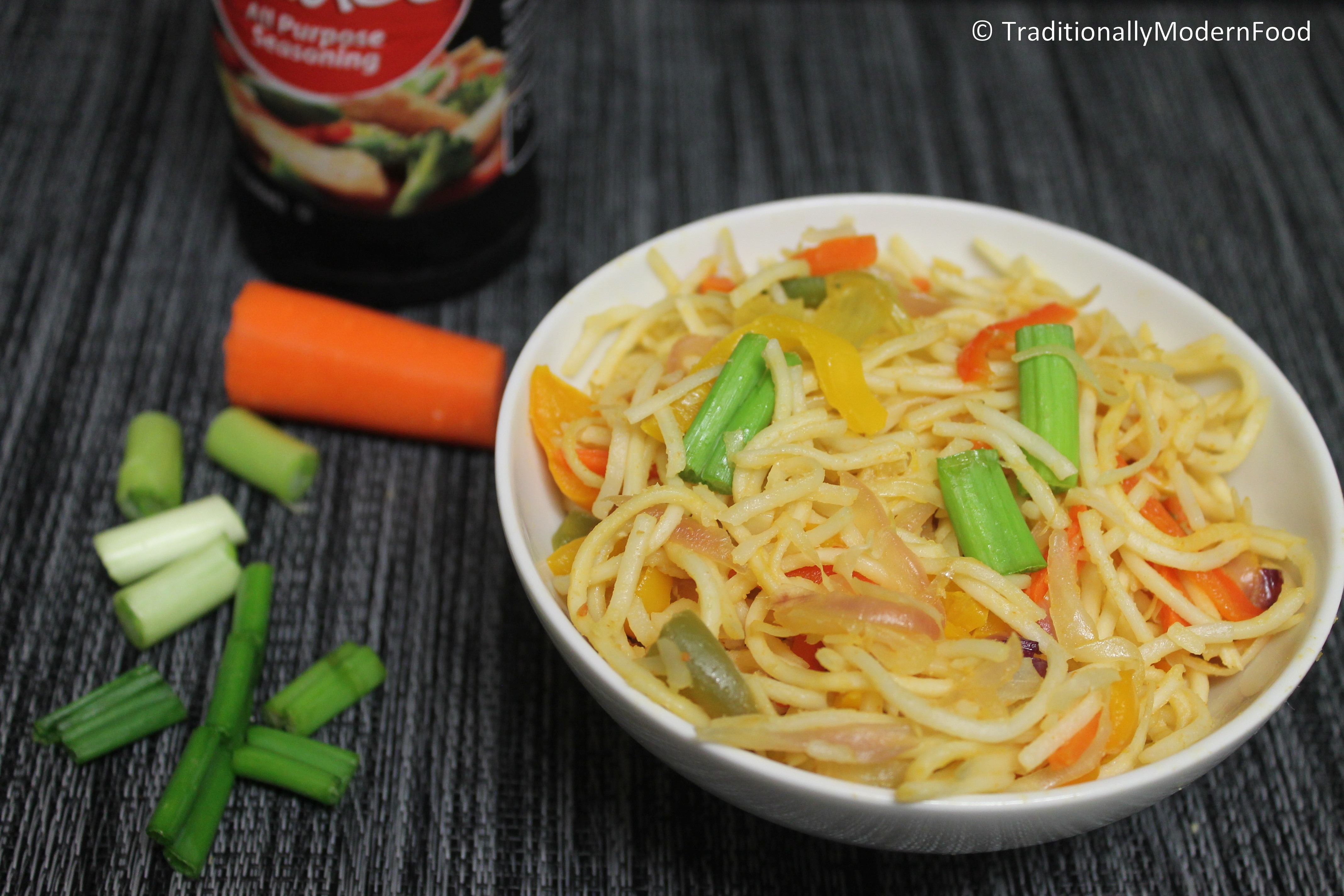 I decided to give it a shot and tried that recipe. We both liked it and started preparing it often, with a few variations in the recipe. In my broccoli stir fry, I like the flavour of marinated ginger and garlic in soy sauce, so tried it for Veg Hakka Noodles.
Sriracha gives a great spiciness and taste to the Veg Hakka Noodles. The crunchiness from vegetables compliments the taste
Weekend is coming. Prepare this quick 15 minutes Veg hakka noodles and enjoy.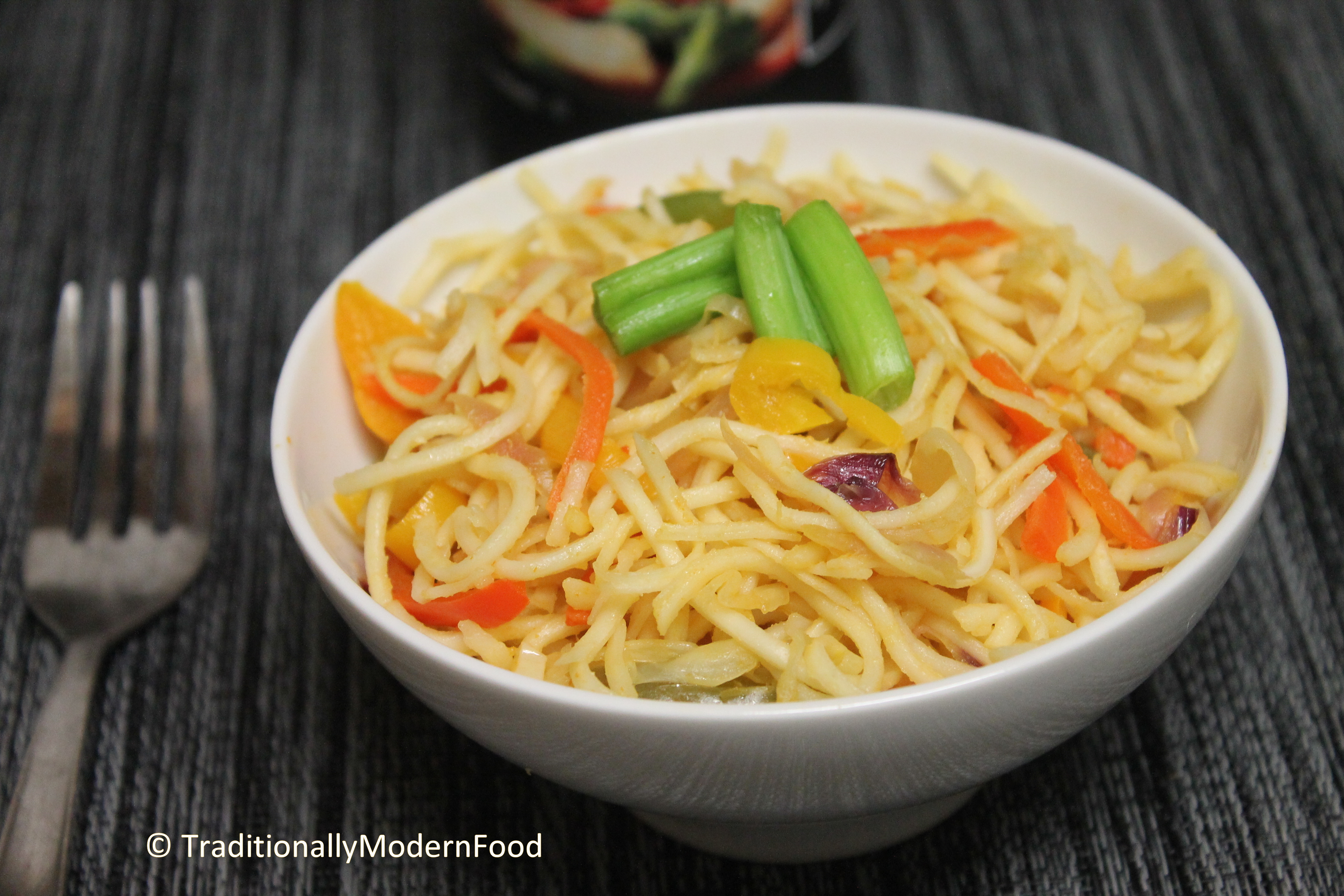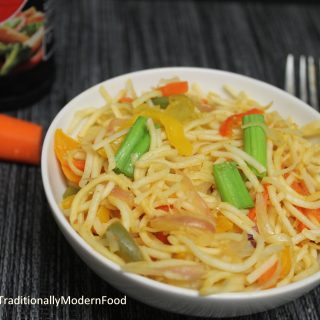 Veg Hakka Noodles
Crunchy vegetables with flavours from soy sauce, siracha and vinegar makes this vegetable Hakka noddles super yum . perfect for lunch/dinner. Tasty Indo-Chinese special.
Print
Pin
Comment
Ingredients
Hakka Noodles -1 pack

Carrot - 2

medium - cut it into thin strips (julienne)

Cabbage - 1/2 cup thinly sliced

Spring onion - 5

Bell pepper - 3/4 cup

thinly sliced (I uses green, red and yellow)

Garlic - 2 tbsp

finely chopped

Onion - 1 medium

thinely chopped

Ginger - 1 tsp

finely chopped

Oil - 3 tbsp

Soya sauce -1 tbsp

Siracha/ Red Chilli sauce - 1/2 tablespoon + 1/4 tsp

Adjust according to your spice level

Vinegar -1/2 tsp

Salt - as needed
Instructions
Soak the ginger and garlic in soy sauce and keep aside

Boil enough water and add little salt. Once when the water starts boiling add noodles cook till it's done. Drain the water and wash the noodles with ice cold water and strain it

Spread the noodles in cooking tray/ wide plate and add a tablespoon of oil. Toss the noodles well to coat the oil without breaking it

Add oil to the pan and once when the oil is hot add the onions and sauté till the onion are translucent

Add carrot and little salt sauté for 2-3 minutes

Add colored capsicum, cabbage and spring onion; stir fry for 3-4 minutes till the veggies are Crunchy without overcooking

Add the soy sauce, vinegar, remaining salt and siracha; cook for a minute

Add the cooked Hakka noodles mix gently and a tong or a ladle; cook for minute. Adjust the seasoning and switch off. Garnish with spring onion greens
Notes
1. Beans can be added with other veggies. Cut the beans into thin stripes, add them after onion
2. Ginger and garlic can be sautéd with onion and soy sauce can be added in the end
3. A teaspoon of tomato ketchup can be added with red chilli sauce for extra color and taste
4. Rice vinegar can be used instead of plain vinegar
5.Cook the noodles in high flame, sauté contoniously for even cooking
6. Adjust the soy sauce and chili sauce according to your taste
Ingredients:
Hakka Noodles -1 pack
Carrot - 2, medium - cut it into thin strips (julienne)
Cabbage - 1/2 cup thinly sliced
Spring onion - 5
Bell pepper - 3/4 cup , thinly sliced (I uses green, red and yellow)
Garlic - 2 tbsp, finely chopped
Onion - 1 medium, thinely chopped
Ginger - 1 tsp, finely chopped
Oil - 3 tbsp
Soya sauce -1 tbsp
Siracha/ Red Chilli sauce - 1/2 tablespoon + 1/4 teaspoon (Adjust according to your spice level)
Vinegar -1/2 tsp
Salt - as needed
Method:
Soak ginger and garlic in soy sauce and keep aside

Boil enough water and add little salt. Once when the water starts boiling add noodles cook till it's done. Drain the water and wash the noodles with ice cold water and strain it

Spread the noodles in cooking tray/ wide plate and add a tablespoon of oil. Toss the noodles well to coat the oil without breaking it

Add oil to the pan and once when the oil is hot add the onions and sauté till the onion are translucent

Add carrot and little salt sauté for 2-3 minutes
Add colored capsicum, cabbage and spring onion; stir fry for 3-4 minutes till the veggies are Crunchy without overcooking
Add the soy sauce, vinegar, remaining salt and siracha; cook for a minute

Add the cooked Hakka noodles mix gently and a tong or a ladle; cook for minute. Adjust the seasoning and switch off. Garnish with spring onion greens