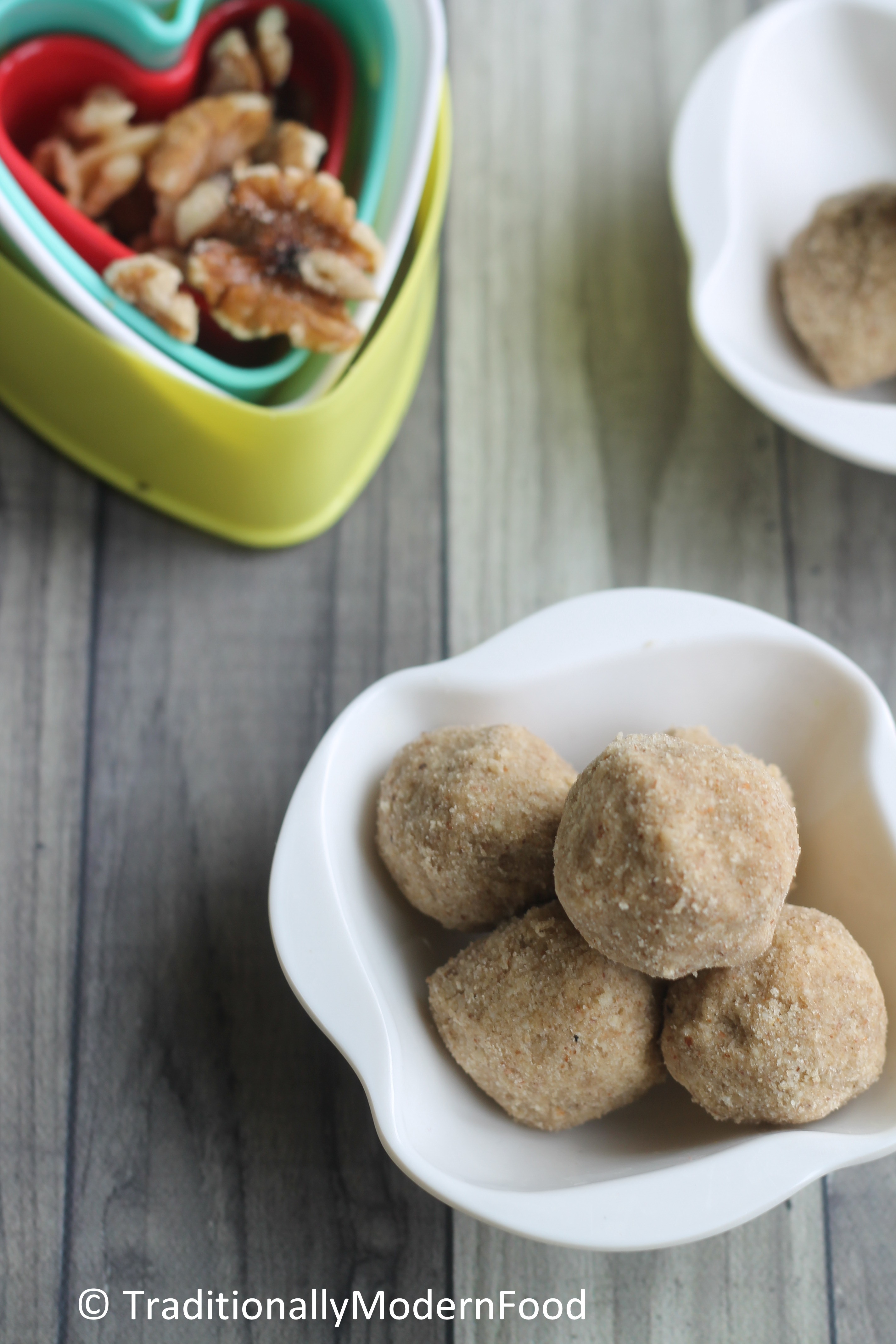 Atta ladoo loaded with nuts is super healthy. Perfect tasty and yummy bite for kids and Adults. This 10 minute wheat laddu laddu is a winner, if you are looking for super quick sweets.
In our home even small hhappy occasions we prepare sweet to celebrate, and Laddu plays a key role many times. Many parts of India prepare different kinds of laddus. Wheat Laddu is also called as Gothumai mavvu laddu, atta ka (ke) Laddu, churma laddu, Pita undo, ganva guli, chirmund. Sorry if I might have missed any language-specific name.
My son started going to school few weeks ago and my blogging journey started taking lot of pauses these days. Some days I leisurely enjoy my free time doing random stuff, but most of the days winter is playing Hide and Seek with me. My little hero caught cold and the cycle continues among the three of us in our home.I am eagerly waiting for Spring, to see some sun and to say bye bye to rain.
Almost all the time my mom cooks what me and my sister likes, those days I ask her when will she prepare something for herself. She says I am happy to cook your favorite food, and I enjoy cooking and eating it. Now a days I am doing It:-)
This atta Ladoo is my son's favorite. He can skip his meals and have these laddu all day.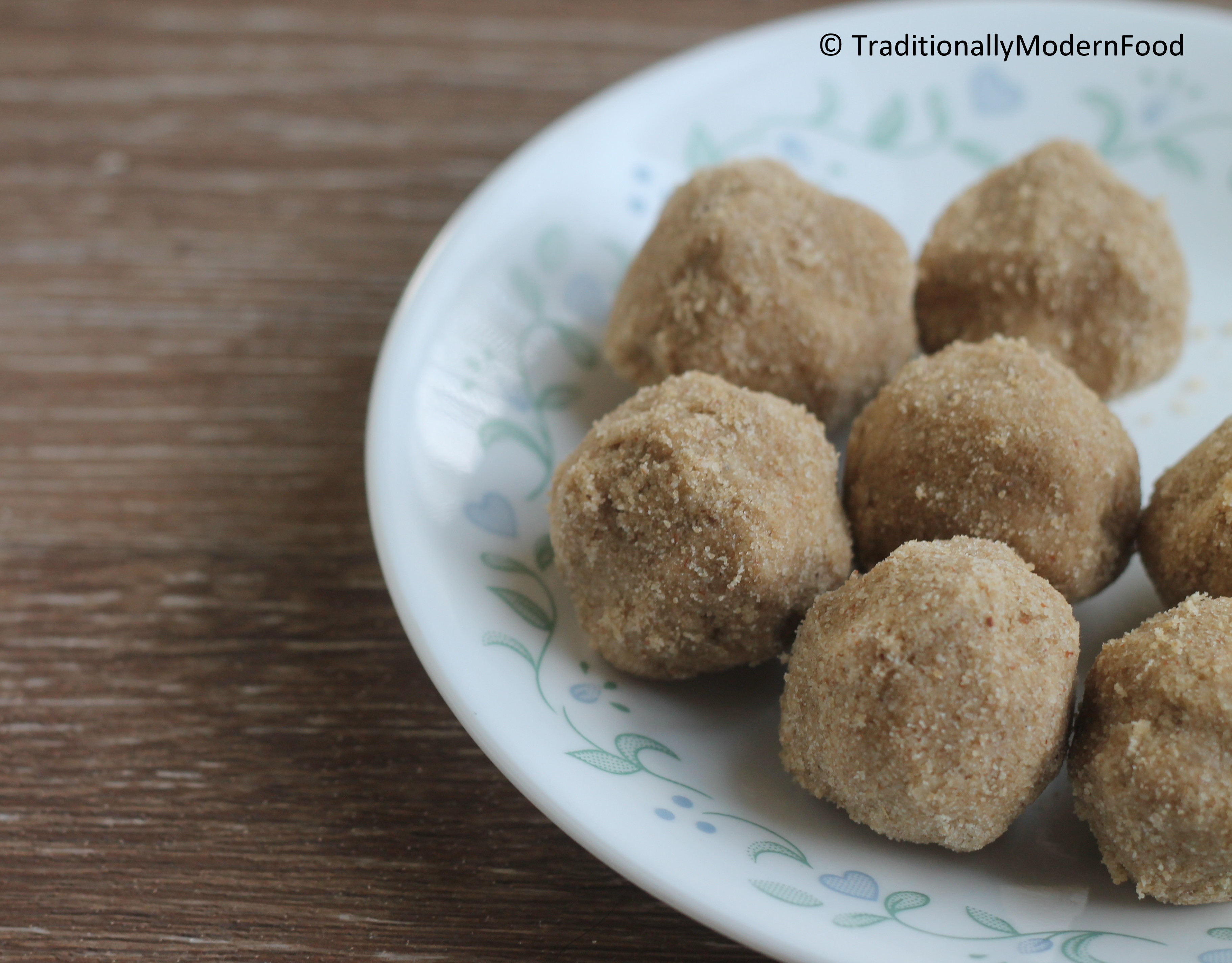 Couple of months ago my friend Prepared Rava urundai and gave a box full of laddu to us. When we where talking in her home she gave one for my son to taste. He kept the plate on one side, and started messing the Atta ladoo and that place. Well that's the usual scene but to my surprise this time few pieces were going inside his mouth.
It was such a treat for my eyes, there are days when I longed to see him enjoy something like that. He said "innum oru laddu venum (One more Laddu)". Every mother's dream is to hear this. Nothing can give happiness when kids enjoy something and ask for more.
I started preparing Gothumai urundai frequently. When it come to his snacks I always love to add some healthy elements into it. Maladu with roasted channa Dal is my favorite ever since childhood days. I do that for my son as well.
Doctors says it is good to include nuts in kids diet. If I give nuts my son he either says big no or gets it and hides it somewhere. I try to grind nuts and add it in food. Without his knowledge he can eat it. Among all the way I sneak, this Atta ladoo works everytime. I also make Almond flour Laddu to make eat almonds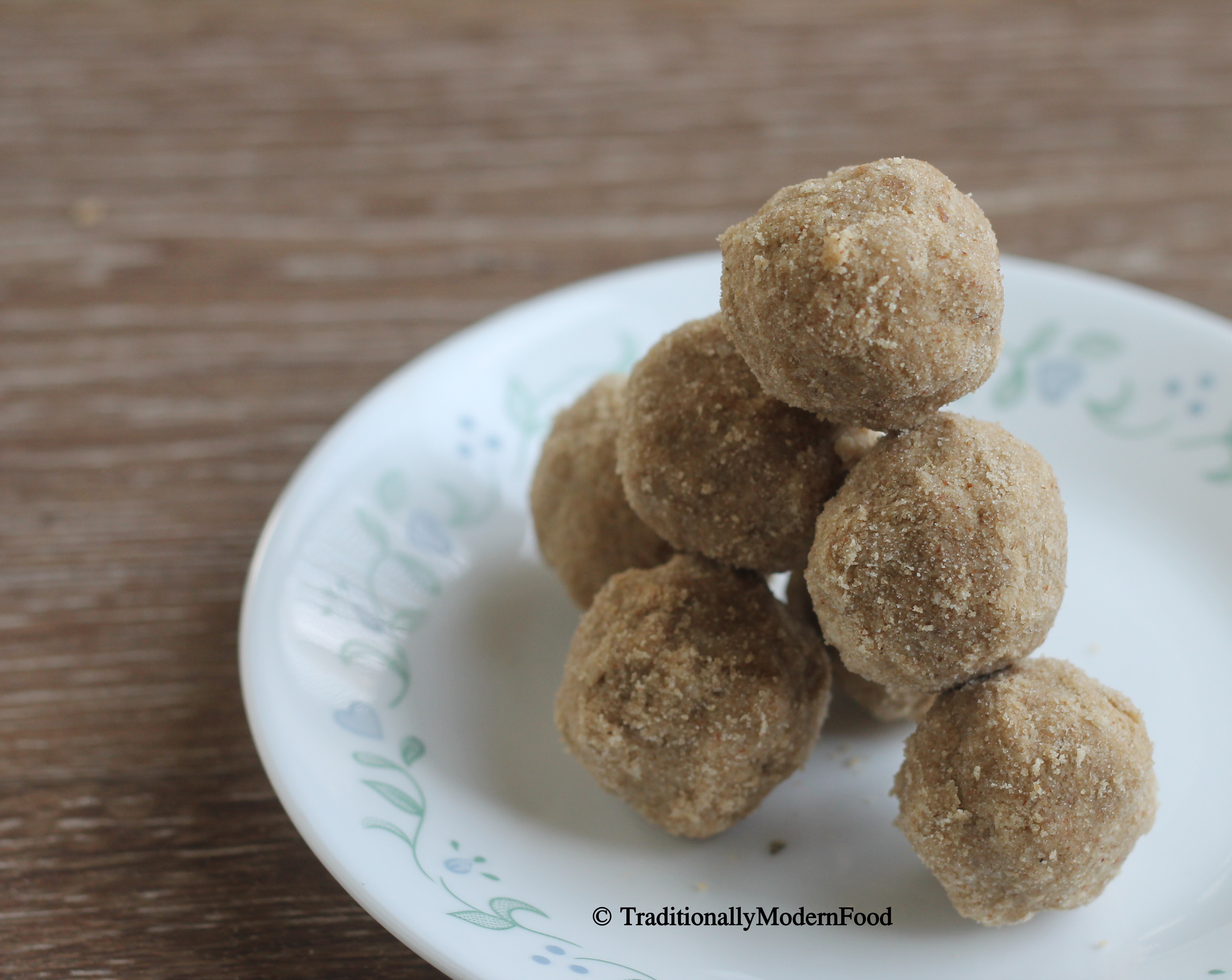 Dry fruit and Nut Laddo is my saver for many days. There are days he say no for breakfast so I started adding some wheat flour into the laddu mixture. I wont say wheat flour laddu is replacement for a meal but it is a great filling mild sweet with some healthy touch.
In our home I try to avoid white sugar so I have added brown sugar for sweetness. I won't say it is a gulit free snacks but I believe anything brown is less harmful and so it is.
I always make small balls for him so that he can hold and eat it by himself. The butter in this Laddu makes it extra flavourful. Healthy recipes can be winner many a times and these Laddu definitely proves it. Gothumai Urundai can also be made with ghee residue like nei kasandu Urundai
One more plus for this Atta ladoo is it is super quick. Wheat flour laddu can be prepared within 10 minutes.
Unlike other Laddu you need not make it with hot ghee and harm your hands . This laddu can be prepared without turning your hands red or no need of gloves. You can also encourage the little one to do this Laddu.
Checkout other Laddu recipes in TMF,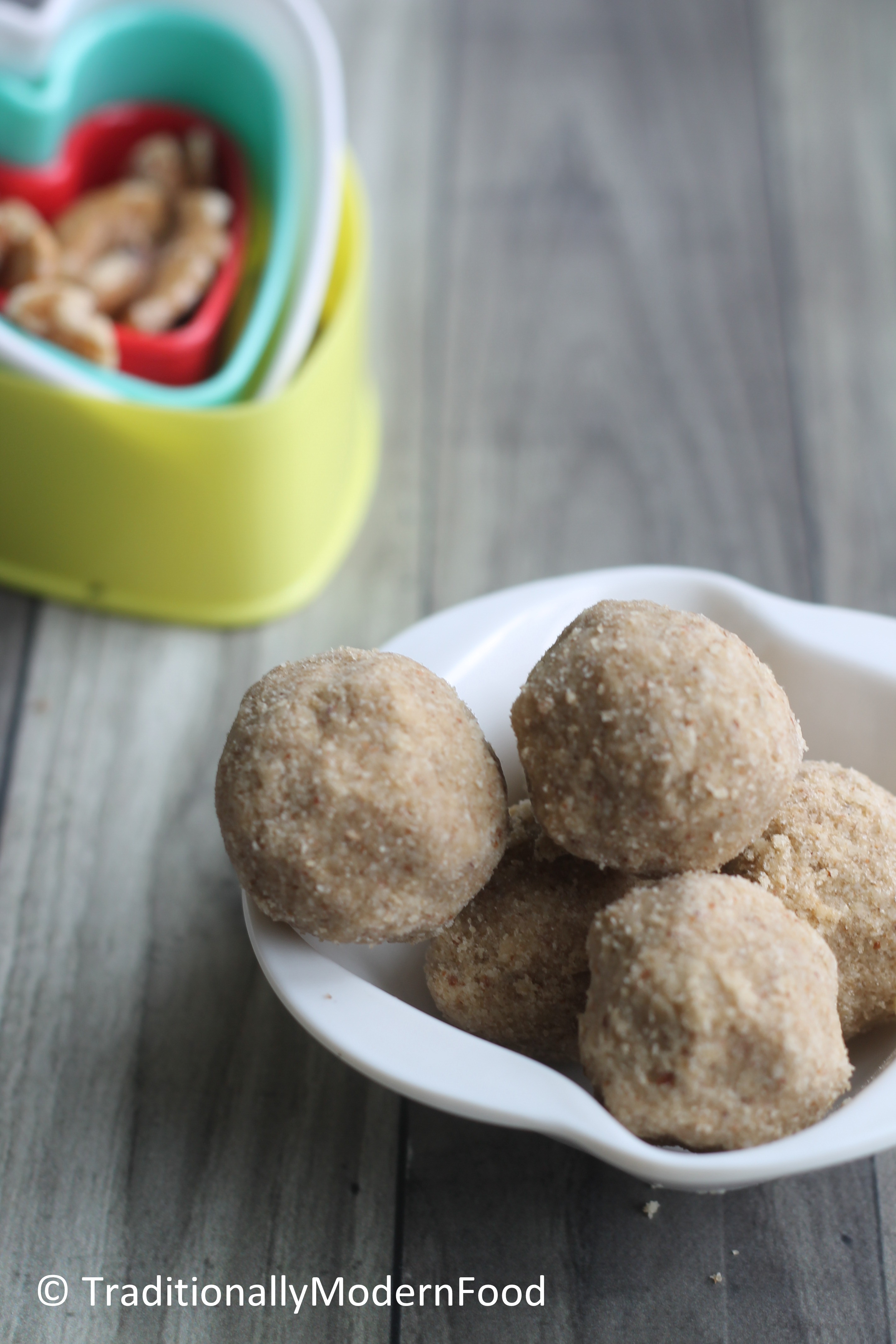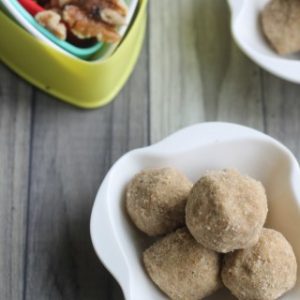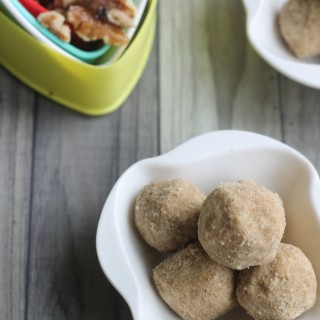 Wheat Laddu with Nuts
Healthy and yummy Ladoo with wheat flour, nuts and brown sugar. This quick Ladoo can be prepared within 10 minutes
Print
Pin
Comment
Ingredients
Wheat Flour - 1/2 Cup

Nuts - 1/2 cup

I used almonds and walnuts

Brown sugar/white sugar/powdered jageeet/palm sugar - 3/4 cup + 1 tbsp

Adjust according to your sweetness

Butter - 4 tablespoon + 1 tsp

Cardamom powder - 1/8 tsp

Salt - a pinch
Instructions
Dry Roast walnut and almonds in low flame for 2-3 minutes or until the raw smells goes. Transfer the content into a plate and let it cool down

In the same pan on medium heat melt the butter. Add the wheat flour and sauté till the raw smells goes off

Grind the nuts into fine powder and add it to the wheat flour

Pulse the brown sugar and add it to the wheat flour and nut. Add cardamom powder and salt; Mix well and transfer Into a wide plate

When it is cool enough to handle take a small portion of the mixture and make Ladoo of your desired size
Notes
I have used Almonds and walnuts instead cashew, pecan, pine nuts etc. Can also be used
Nuts can be avoided. Ladoo can also be prepared with whole wheat flour
Almond extract can be added for extra flavour
Any variety of sugar can be used instead of brown sugar. Pulse it before adding
Laddo stays good in room temperature for a weeek if kept in a airtight container
Ingredients:
Wheat Flour - 1/2 Cup
Nuts - 1/2 cup (I used almonds and walnuts)
Brown sugar/white sugar/powdered jaggery /palm sugar - 3/4 cup + 1 tablespoon ( Adjust according to your sweetness)
Ghee / Butter - 4 tablespoon + 1 tsp
Cardamom powder - 1/8 tsp
Salt - a pinch
Method:
Dry Roast walnut and

almonds

in low flame for 2-3 minutes or until the raw smells goes. Transfer the content into a plate and let it cool down

In the same pan on medium heat melt the butter. Add the wheat flour and sauté till the raw smells goes off

Grind the nuts into fine powder and add it to the wheat flour

Pulse the brown sugar and add it to the wheat flour and nut. Mix well and transfer Into a wide plate