Oats laddu | Quinoa laddu | oata quinoa laddu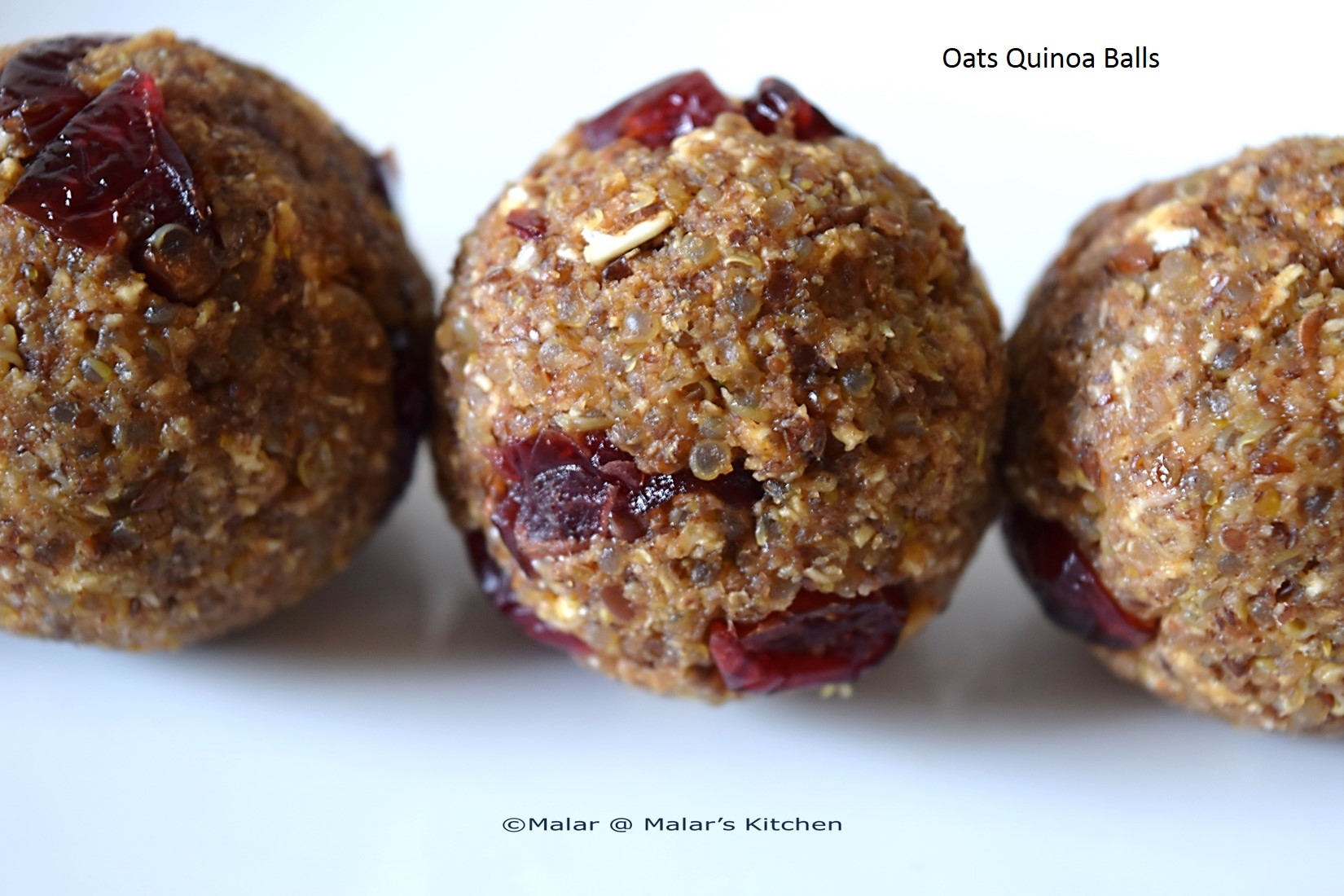 Oats quinoa ball - Day 2 of my guest post series and today its from Malar, neither my blog nor my immediate family needs intro for her. WordPress gave us intro and initially we started talking through comments, but within no time it has changed to a stage where almost every week we started talking over the phone and most of the days during our one hour talk (may be more if my son didn't wake up during his nap) we seldom talks about blog. As Malar mentioned below during our initial days we both decided to do guest post in each other's space, but taking advantage of our friendship kept postponing, finally "March" has become a auspicious month for both of us to write a post for each other (oh yes, can see my post in Malar's page in sometime). I can continue writing about Malar and her space but its time to handover to Malar:-)
Over to Malar,
Hi I am Malar , so excited to do a guest post for Vidya's Traditionally Modern Food, a fabulous blog. My blog is Malar's Kitchen. You can find various Indian recipes along with few other cuisine recipes. I have a lot of chettinad recipes too, if it might excite you.
Vidya and myself, we started following each other during our initials days of blogging, eventually we got along so well. From blogging she turned out to be a very good friend of mine. We chit chat a lot, just not blogging many personal stuffs too . It was long time back we decided that we should do guest post for each other and being friends, we took enough advantage of postponing 😉 Finally I am here with a guest post for her with Oats Quinoa Balls.
Hopping on to the recipe…..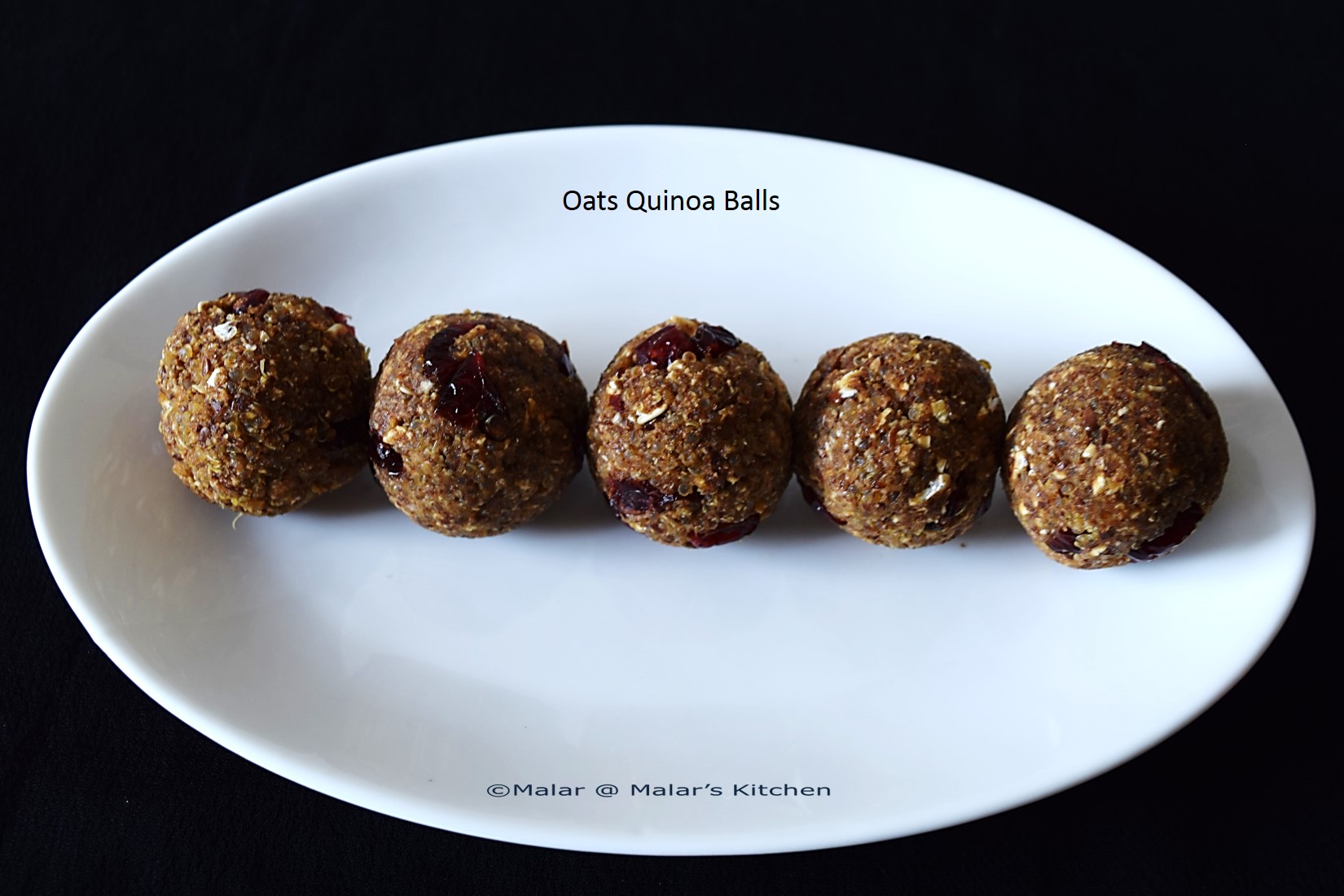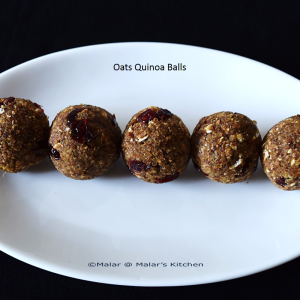 Ingredients
Oats – 1 cup

Quinoa – ¼ cup

Water – ¾ cup

Flax seeds – ¼ cup

Vanilla Extract – 1 teaspoon

Dry Fruits – 1/3 cup

I have used cranberries

Jaggery – ½ cup

Can be replaced by sugar
Instructions
Dry roast Oats for 3 to 4 mins, until nice aroma rises.

Dry roast flax seeds for 2 mins.

Now powder oats and flax seeds either together or separately.

Clean quinoa and cook with water in high for 6 mins, simmer for 12 mins.

Switch off when quinoa turns fluffy and soft.

Heat jaggery with just enough water to bring it to boiling state.

Now mix all of the together along with dry fruits and vanilla extract.

Form a nice dough. Make small balls out of it.

Healthy oats quinoa balls are ready. Place in an airtight container in fridge stay well up to 20 days.

You can add any sort of dry fruits, cashews, almonds, walnuts. I wanted to use up my cranberries , so I have used only this
Ingredients:
Oats – 1 cup
Quinoa – ¼ cup
Water – ¾ cup
Flax seeds – ¼ cup
Vanilla Extract – 1 teaspoon
Dry Fruits – 1/3 cup (I have used cranberries)
Jaggery – ½ cup (Can be replaced by sugar)
Method:
Dry roast Oats for 3 to 4 mins, until nice aroma rises.
Dry roast flax seeds for 2 mins.
Now powder oats and flax seeds either together or separately.
Clean quinoa and cook with water in high for 6 mins, simmer for 12 mins.
Switch off when quinoa turns fluffy and soft.
Heat jaggery with just enough water to bring it to boiling state.
Now mix all of the together along with dry fruits and vanilla extract.
Form a nice dough. Make small balls out of it.
Healthy oats quinoa balls are ready. Place in an airtight container in fridge stay well up to 20 days.
You can add any sort of dry fruits, cashews, almonds, walnuts. I wanted to use up my cranberries , so I have used only this