Palakottai Sambar , Jackfruit seed sambar , Palakottai kuzhambu , tamil nadu style pala kottai sambar , south indian jackfruit seeds sambhar , sambar with jack fruit seeds | coconut sambar, Arachu vitta sambar, Araithu vitta sambar, sambar with freshly ground spice, onion sambar, vengayam sambar, tamilbrahm sambar recipe with step-by-step pictures, and video recipe. Check out pala kottai sambar recipe and if you like the video pls SUBSCRIBE to my channel.
Palakottai sambhar
Palakottai sambar is a delicious South Indian dish made with tender jackfruit seeds, lentils, and an aromatic blend of spices. This hearty and flavorful sambar is a popular dish in many households and is known for its rich taste and health benefits. If you're a fan of sambar, then you must try this unique and tasty version that's packed with the goodness of jackfruit seeds
Jackfruit seeds' health benefits
Jackfruit seeds are often overlooked, but they are packed with health benefits.
good source of protein, fiber, and other essential nutrients such as iron, calcium, zinc, and phosphorus
Boosts Immunity
Aids Digestion
Promotes Heart Health
Helps Control Blood Sugar
Promotes Skin Health
Strengthens Bones
Aids in Weight Loss
Crush the seed well before cooking
Always crush the palakottai well and remove the outer white shell. You can cook the seeds with brown skin.
Always cook jackfruit seeds separately
Jackfruit seeds are dense and hard, and they require a longer cooking time compared to other vegetables. If you don't cook the jackfruit seeds separately, there's a chance they will remain undercooked and hard in the sambar. Adding turmeric powder and sesame oil helps with cooking and flavor, don't skip it
SHOULD I ALWAYS SOAK TOOR DAL?
No, it is optional but I feel soaking helps even cooking
Freshly ground sambar masala
Freshly ground sambar masala gives the best taste for the jack fruit kuzhambu. Ajwain helps with digestion so don't skip it. If you want to skip this step, grind sambar powder with coconut; prepare sambar
HOW MUCH WATER SHOULD I ADD WHILE COOKING DAL?
It depends on the dal you use. I generally use a 1:3 dal: water ratio. The number of whistles also depends on the dal you use.
WHAT VARIETY OF DAL SHOULD I USE FOR SAMBHAR.
For rice accompaniment sambar I generally use toor dal. For the tiffin variety, I sometimes use moong dal. Restaurants/hotels use a combination of toor dal and masoor dal
Sambar with tender jack fruit seeds serving suggestion
Pala kottai sambar is a versatile dish that can be enjoyed with a variety of accompaniments. Traditionally, it is served with steamed rice along with poriyal, varuval, kootu, vadam etc. it can also be served with dosa, idli, or chapati. The dish can be made with a variety of vegetables like drumstick, onion, brinjal, or pumpkin, depending on your preference.
SHOULD I ADD THE GHEE TEMPERING?
I generally use peanut/coconut oil for tempering. In our home, we prefer adding ghee while eating. You can use ghee according to your choice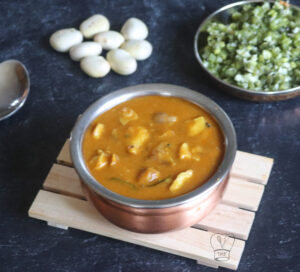 Ingredients
pressure cook dal
1/3 cup toor dal
1/4 teaspoon turmeric powder
Few drops of sesame oil
Pressure cook palakottai
12 palakottai | jackfruit seeds
1/2 cup water
Pinch of turmeric powder
Few drops of sesame oil
To roast and grind
1/4 teaspoon oil
1 tablespoon coriander seeds
1/2 teaspoon fenugreek seeds
1 teaspoon toor dal
1/4 teaspoon pepper
1 teaspoon chana dal
1/4 teaspoon cumin seeds
1/8 teaspoon omam
4 red chilles
2 tablespoon coconut
Little water
Palakottai kuzhambu
1/2 tablespoon peanut oil
10 small onions
1/2 teaspoon mustard seeds
1 cup + 1/3 cup tamarind water
Required salt
Coriander and curry leaves
Water as required
Pinch of jaggery
How to make Palakottai sambar with step-by-step pictures
Pressure cook dal and palakottai
First, wash and soak dal for 30 minutes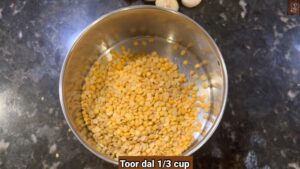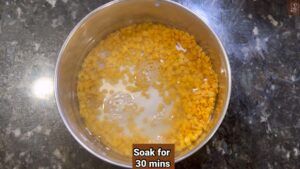 Crush Jackfruit seeds and discard the white outer skin. Crush again to your desired size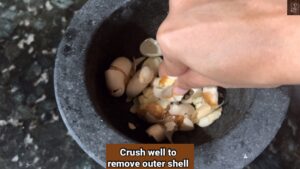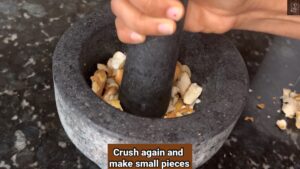 Add turmeric powder and sesame oil to the soaked dal; place in the cooker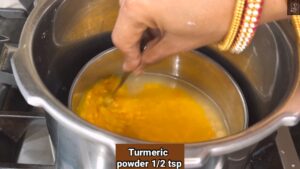 Cover with a lid
Place a separator on top
Add jackfruit seeds, water, turmeric powder, and sesame oil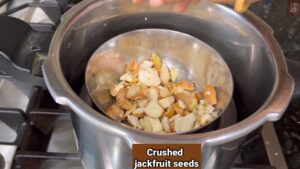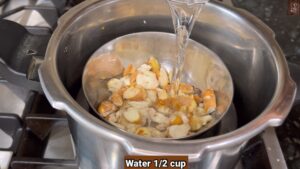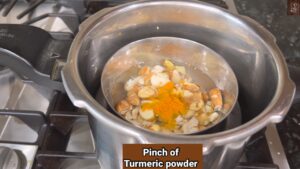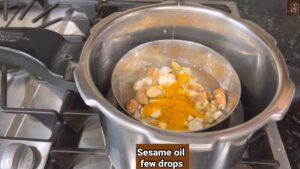 Cover with a lid
Pressure cook for 6 whistles and simmer for 1 minute; do natural pressure release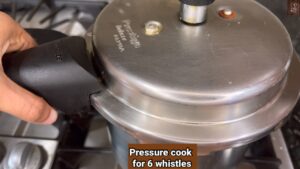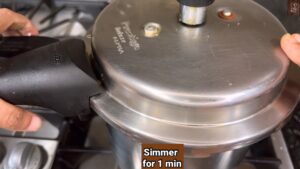 Roast and grind
Add oil to the pan and heat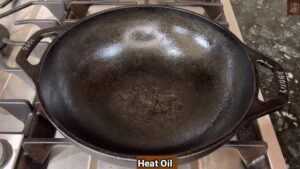 Furthermore, add coriander seeds, toor dal, chana dal, fenugreek seeds, pepper, cumin seeds, ajwain seeds, and red chilli; mix well and saute for 30 seconds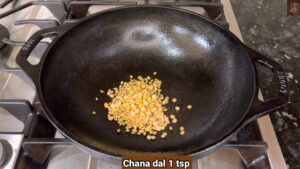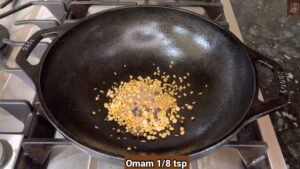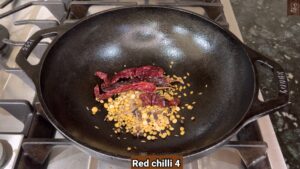 Add small onion and mix well; saute till they turn aromatic and golden brown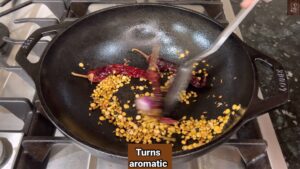 Finally, add coconut; mix well and turn off the stove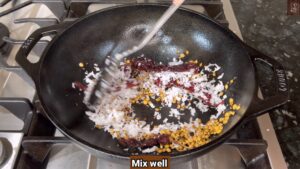 Transfer and cool completely
Remove the red chilli cap
Add little water and grind
Pala kottai sambar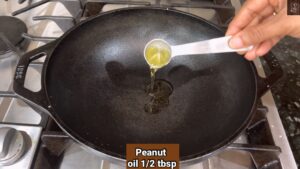 Furthermore, add mustard seeds and splutter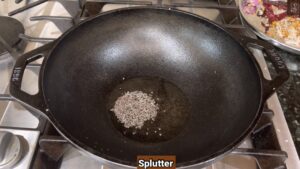 Add small onion; saute till the onion turns translucent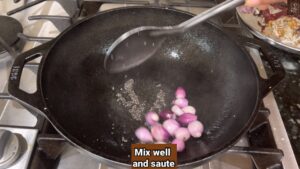 Furthermore, add tamarind water and the required salt; boil for 6 minutes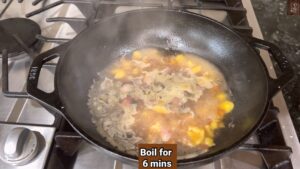 Add ground mixture, and water and boil for 5 minutes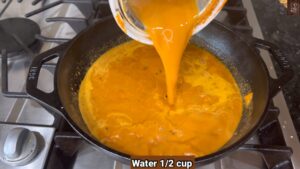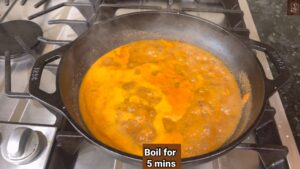 Furthermore, add cooked dal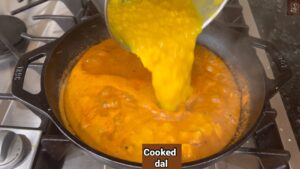 Add water, coriander, curry leaves, jaggery, and asafoetida; mix well and boil for 6 minutes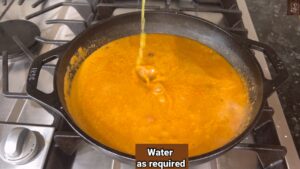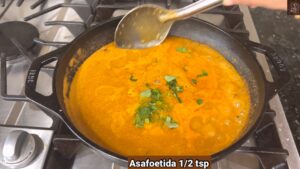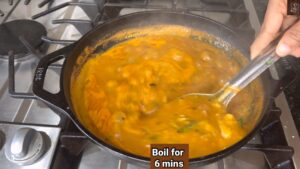 Ingredients
pressure cook dal
1/3

cup

toor dal

1/4

teaspoon

turmeric powder

Few drops of sesame oil
Pressure cook palakottai
12

palakottai | jackfruit seeds

1/2

cup

water

Pinch

of turmeric powder

Few drops of sesame oil
To roast and grind
1/4

teaspoon

oil

1

tablespoon

coriander seeds

1/2

teaspoon

fenugreek seeds

1

teaspoon

toor dal

1/4

teaspoon

pepper

1

teaspoon

chana dal

1/4

teaspoon

cumin seeds

1/8

teaspoon

omam

4

red chilles

2

tablespoon

coconut

Little water
Palakottai kuzhambu
1/2

tablespoon

peanut oil

10

small onions

1/2

teaspoon

mustard seeds

1

cup

+ 1/3 cup tamarind water

Required salt

Coriander and curry leaves

Water as required

Pinch

of jaggery
Instructions
Pressure cook dal and palakottai

First, wash and soak dal for 30 minutes

Crush Jackfruit seeds and discard the white outer skin. Crush again to your desired size

Add turmeric powder and sesame oil to the soaked dal; place in the cooker

Cover with a lid

Place a separator on top

Add jackfruit seeds, water, turmeric powder, and sesame oil

Cover with a lid

Pressure cook for 6 whistles and simmer for 1 minute; do natural pressure release

Roast and grind

Add oil to the pan and heat

Furthermore, add coriander seeds, toor dal, chana dal, fenugreek seeds, pepper, cumin seeds, ajwain seeds, and red chilli; mix well and saute for 30 seconds

Add small onion and mix well; saute till they turn aromatic and golden brown

Finally, add coconut; mix well and turn off the stove

Transfer and cool completely

Remove the red chilli cap

Add little water and grind

Pala kottai sambar

Add oil and heat

Furthermore, add mustard seeds and splutter

Add small onion; saute till the onion turns translucent

Furthermore, add tamarind water and the required salt; boil for 6 minutes

Add ground mixture, and water and boil for 5 minutes

Furthermore, add cooked dal

Add water, coriander, curry leaves, jaggery, and asafoetida; mix well and boil for 6 minutes
Video