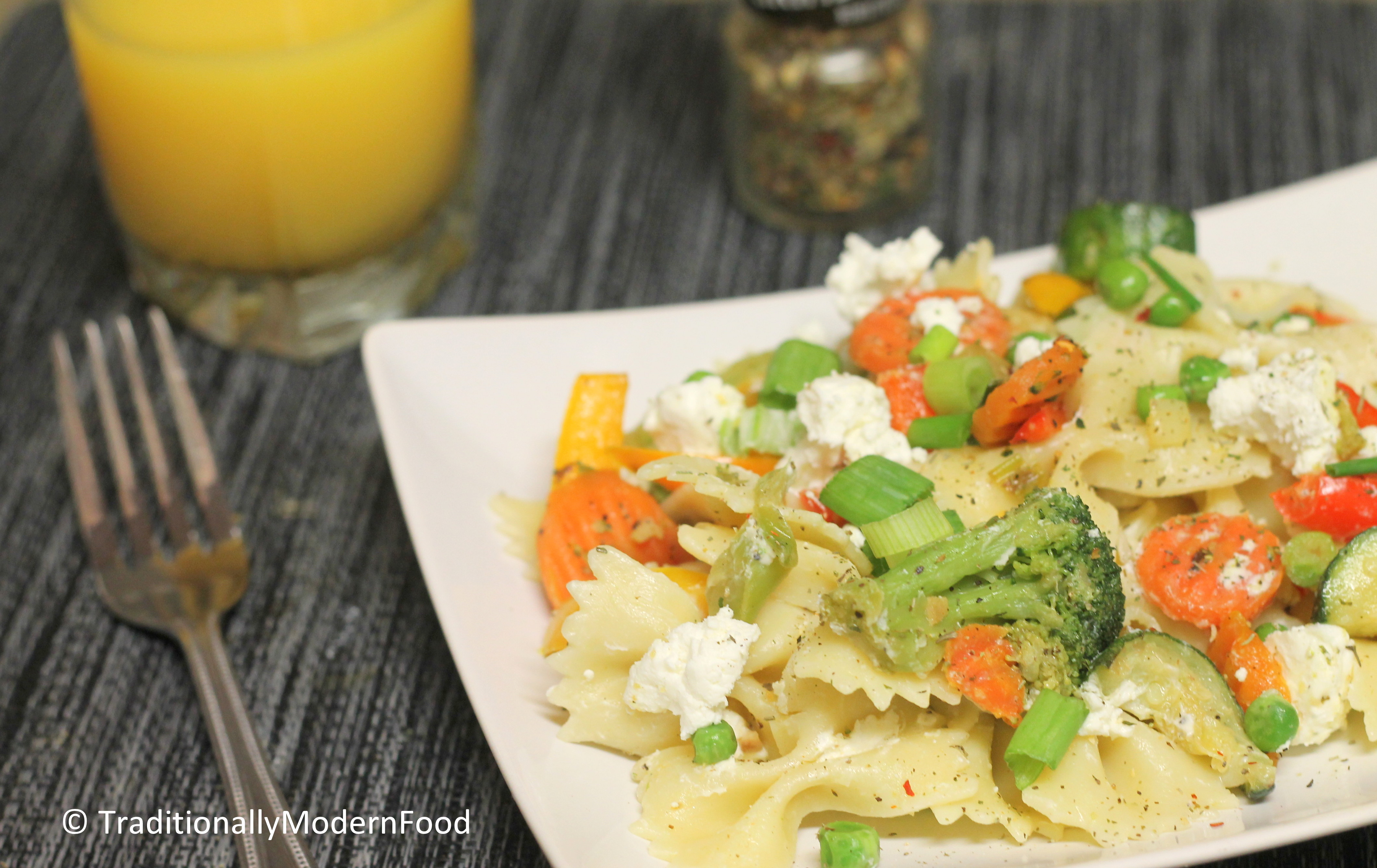 Pasta Primavera is made without pasta sauce. This pasta salad with goest cheese and saluted vegetables make a filling meal.
Last Friday we shifted to a new place and since then, things have been crazy. I was expecting a huge setback while moving from my little champ, but to our surprise he was manageable 🙂 While unpacking after seeing the cardboard boxes sir got excited and was jumping from one to another. Still in the process of setting up the things, but wanted to take a break and say hi to my lovely readers.
For me pasta is a celebration dish, be it birthday or anniversary, somehow Italian restaurant is the first choice for my Hubby. For us pasta is a guilty pleasure, rich cream sauce and nice portion of cheese makes it rich and of course heavy.
Whether at home or in restaurants both hubby and I always go for a pasta with creamy sauce. To break the routine I wanted to try a pasta without sauce. I have seen few versions of Pasta primavera, I opted for this version as its is simple and yum.
Pasta Primavera is freshly cooked pasta with vegetables (Wiki helped me finding the meaning). Crunch in vegetables together with perfectly cooked pasta and Italian seasoning make wonders even without a sauce.
I prepared this Pasta Primavera for lunch when we were in bentonville, those days hubby used to come for lunch. He asked me what you cooked for lunch, I told pasta primavera and I was very doubtful whether he will like this saucelesss version. He tasted and told me he don't know what is primavera, but this is a great pasta salad according to him, and asked me to do it regularly. I was so glad that I can make his favorite cusine with less fat. It's a great colorful healthy treat for kids
I have somehow over come the addiction for sauce but couldn't skip cheese completely. For me cheese and pasta are like sun and day, but I have tried a version without cheese for hubby, and he loved it.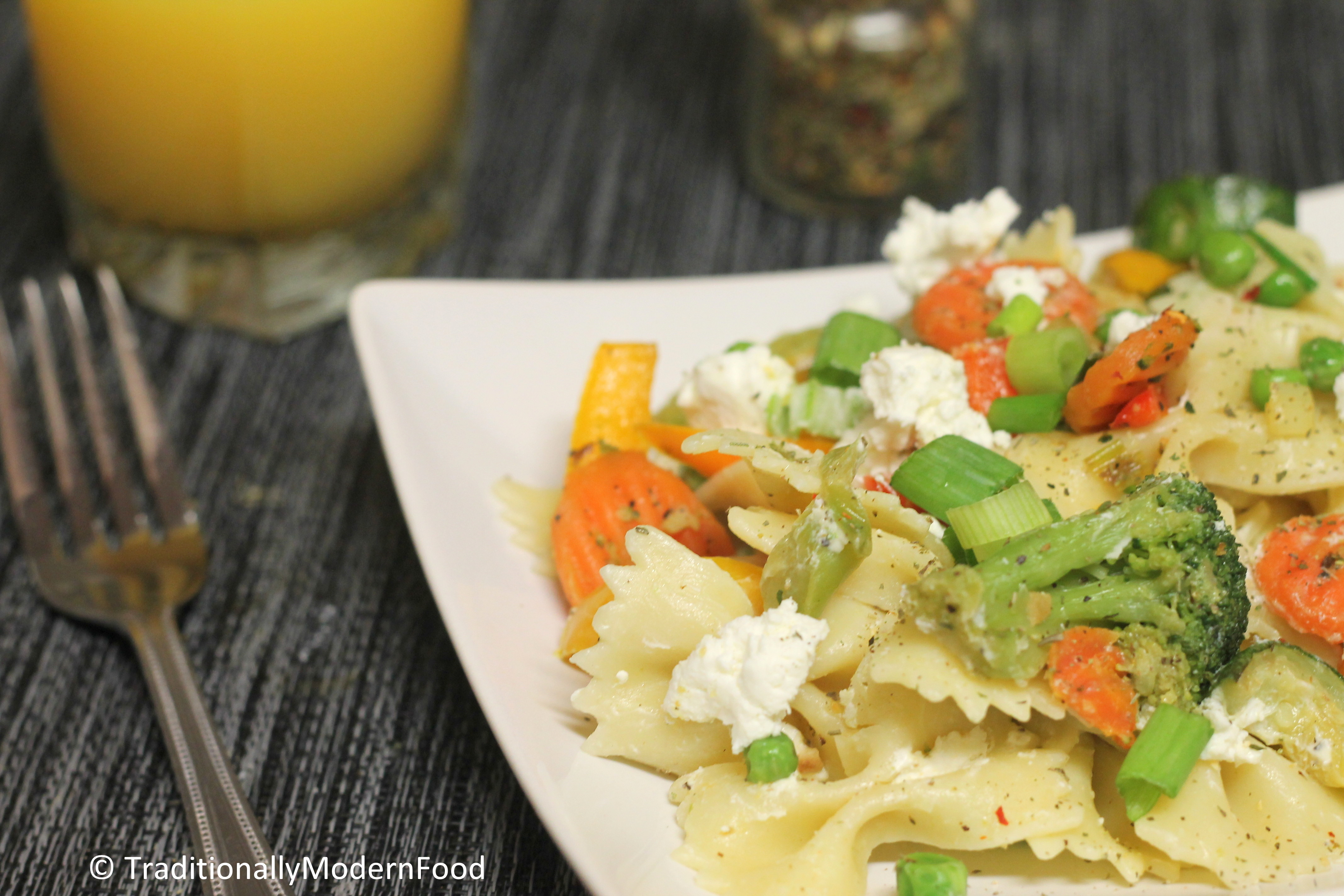 Ingredients:
Bowtie pasta - 7 oz
Goat cheese - 1/4 cup, crumbled
Carrot - 2, medium, peeled And cut
Zucchini - 1, medium, cut into 1/2 inch thickness
Broccoli - 1, small - cut into florets
Sweet mini pepper - 6, sliced (I used Red, yellow and orange colors
Peas( fresh/frozen) - 1/4 tbsp
Scallion/Spring Onion/Green onion - 3 strings
Garlic - 1 big clove, peeled and minced
Olive oil - 1 tbsp
Salt - as needed
Italian seasoning - 1 teaspoon (I used Italian seasoning)
Ground black pepper - as needed (According to your spice level)
Water - as needed
Method:
In a large Saucepan, add water and salt, and let the water come to a boil. Add pasta to boiling water and cook pasta as per the instruction given on the package and drain the pasta in a colander. Drizzle little oil to the pasta and mix well to prevent pasta from dring out
In a pan add oil and when oil becomes hot add garlic and white part of scallions (spring onion) sauté till its golden brown. Add carrots broccoli, little salt and sauté for 2-3 minutes
Add remaining vegetables and salt, sauté till the veggeis are fork tender. Add green part of scallions; mix well and switch off

Transfer 1/4 th quantity of pasta in a wide bowl and add 1/4th quanity of veggie mixture add seasoning and pepper powder. Continue layering in the similar way for the remaining portion

Mix it gently with a ladle/tong. Add goat cheese and give a final mix without mashing the cheese. Colorful and tasty pasta is ready:-)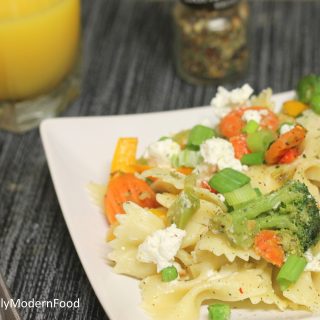 Pasta Primavera / Pasta Salad
Quick pasta salad can be prepared within 15 minutes. Without any sauce this is a great make ahead food for parties
Print
Pin
Comment
Ingredients
Bowtie pasta - 7 oz

Goat cheese - 1/4 cup

crumbled

Carrot - 2

medium, peeled And cut

Zucchini - 1

medium, cut into 1/2 inch thickness

Broccoli - 1

small - cut into florets

Sweet mini pepper - 6

sliced (I used Red, yellow and orange colors

Peas

fresh/frozen - 1/4 tbsp

Scallion/Spring Onion/Green onion - 3 strings

Garlic - 1 big clove

peeled and minced

Olive oil - 1 tbsp

Salt - as needed

Italian seasoning - 1 tsp

I used Italian seasoning

Ground black pepper - as needed

According to your spice level

Water - as needed
Instructions
Add remaining vegetables and salt, sauté till the veggeis are fork tender. Add green part of scallions; mix well and switch off

Transfer 1/4 th quantity of pasta in a wide bowl and add 1/4th quanity of veggie mixture add seasoning and pepper powder. Continue layering in the similar way for the remaining portion

Mix it gently with a ladle/tong. Add goat cheese and give a final mix without mashing the cheese. Colorful and tasty pasta is ready:-)
Notes
My Notes
1. Orgeno, basil and other italian seasoning can be used separetly. Italian seasoning I used had all that, so I didn't add separately
2. Any regular/whole wheat pasta such as Penne, rotini, Fettuccini etc. can be used
3. I pan cooked the veggies, altervatively vegetables can be oven cooked. Preheat the oven to 400 degree F and veggies can be cooked for 15 - 20 minutes, turning in between
4. Parmesan cheese can be used instead of goat cheese, as we dont eat parmesan i used goat cheese
5. White sauce can be prepared and added to the dish while layering. For milk, all- purpose-flour sauce refer White sauce pasta. For heavy cream version refer Mac and Cheese
6. Eggplant, corn, spinach, cabbage etc can also be added
7. Regular onion can also be used instead of spring onion