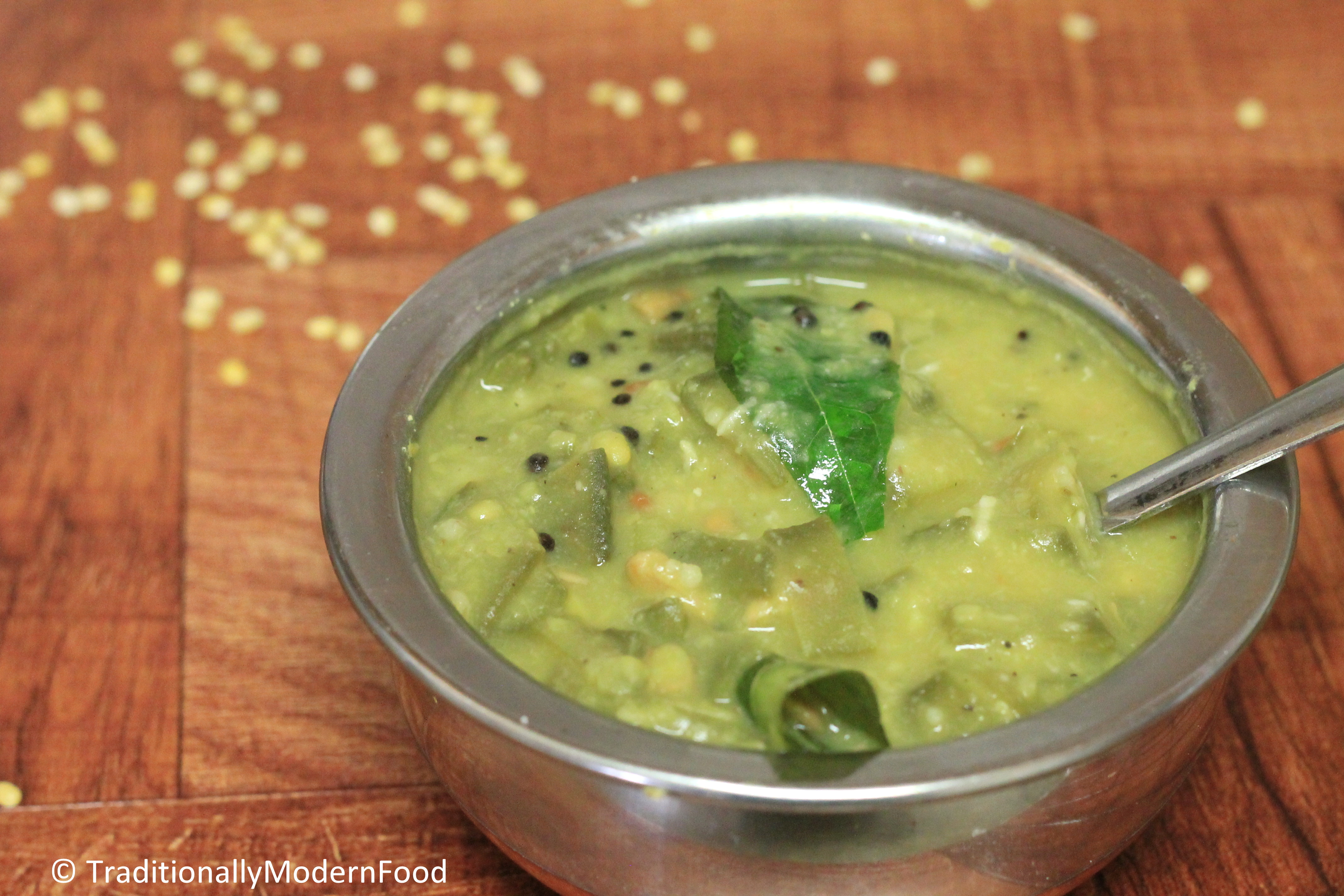 Poricha kootu | Avarakkai Poricha kootu | Poricha kootu | Broadbeans kootu is prepared with broad beans and moong dal. It can be mixed with rice or used as a side dish.
As rice is our staple food, cooking Rice Accompaniment is my biggest confusion. There are some busy days (well lazy days;-)) when I feel like cooking a simple dish. During such time, Poricha Kootu is one default item, which comes to my mind.
Unlike Sambar, thaala kuzhambu, paruppu urundai Kuzhambu, Ennai Kathirikai Kuzhambu etc. Avarakkai Poricha Kootu doesn't involve various intermediate steps. Poricha Kootu is all about Cooking some vegetable with dal, boiling it, and adding seasoning.
One more thing I love about kottu is, that it's a great one-pot dish. Usually, it is served as a side dish, but in our home, we also like to mix avarakkai Poricha kottu with rice and a dollop of ghee. For mixing with rice I prepare the poricha Kootu in a pourable consistency and add the water according to the way serve it.
Other kootu varieties in TMF,
kottu is a type of kottu prepared with dal and veggies. For spice and flavor, a few ingredients are dry roasted and ground, hence it got the name "Poricha (Poritha) kootu.
If you like Avarakkai Poricha kootu try Instant pot Poricha kuzhambu
Also Try Avarakkai Thengai curry with Channa Dal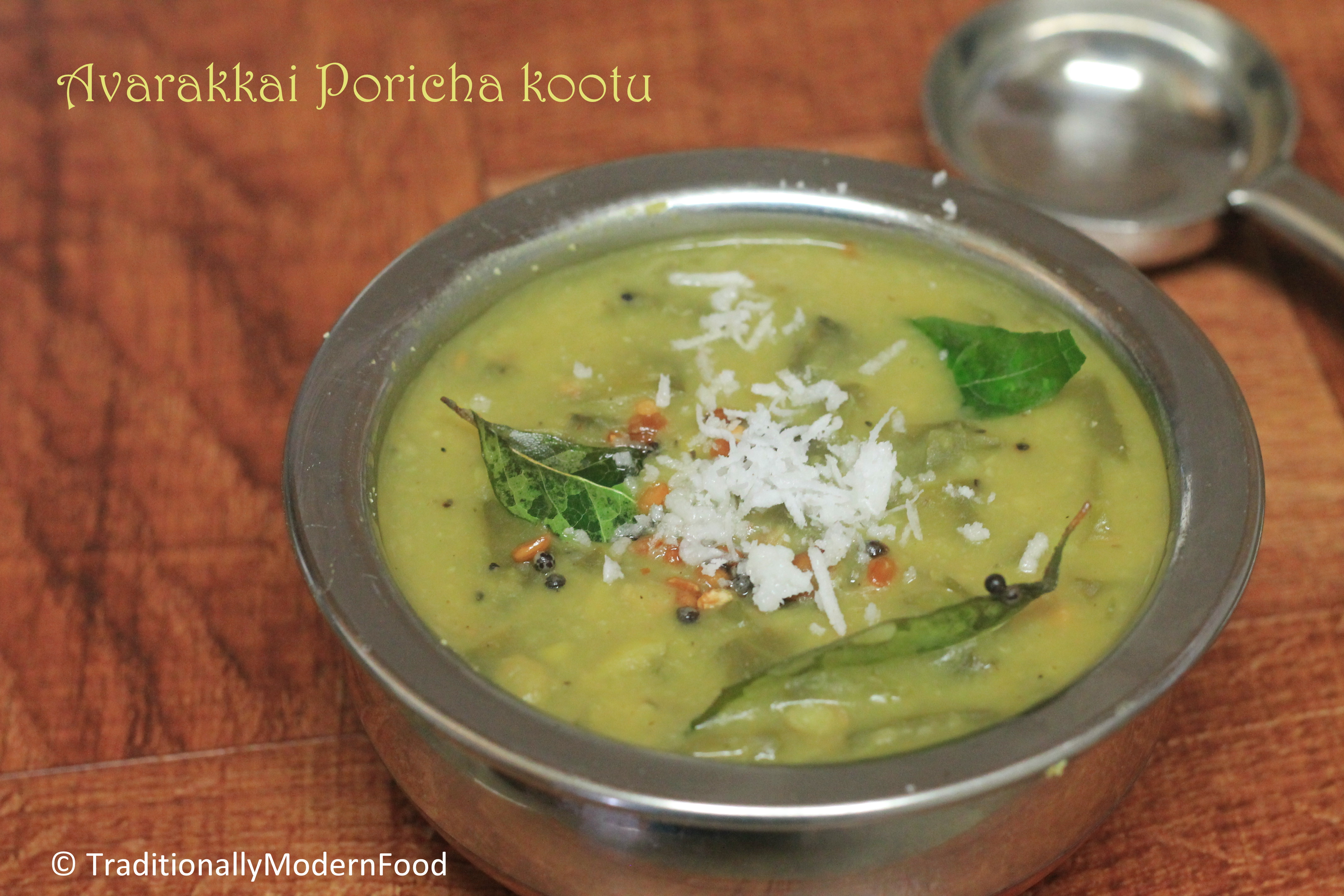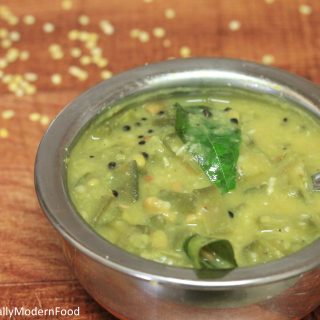 Avarakkai Poricha Kootu / Broadbeans Moong dal Gravy
Kootu is a gravy prepared with dal and vegetable. It can be mixed with rice or taken as a side dish
Print
Pin
Comment
Ingredients
Avarakkai - 2 cups

trimmed and cut

Moong Dal/ Payatham Paruppu - 1/2 cup

Tumeric Powder - 1/8 tsp

Asofetida - generous pinch

Salt - as needed

To grind:

Coconut - 3 tbsp

Urad Dal - 1 tsp

Pepper - 1/2 tsp

Red Chilli - 1

Adjust according to your spice level

Cumin seeds - 1/8 tsp

To temper:

Coconut oil - 1 tsp

Mustard seeds - 1/8 tsp

Urad Dal - 1/4 tsp

Curry leaves - few
Instructions
Add Avarakkai and moong Dal with 1 cup water and keep it in pressure cooker; cook for 2 whistles

Add the cooked avarakkai - moong, turmeric powder, asofetida, salt, required water (Add according to the consistency you desire the kottu) and let it boil

Dry roast urad Dal, pepper, red chilli, cumin seeds till they are golden brown , add coconut and quickly stir. Switch and let it cool

Add the ground mixture to the kootu and cook for 3-4 minutes in medium - low flame

In a small pan add oil and when it becomes hot add the ingredients under "to temper" and let it splutter
Notes
Poricha kuzhambu can be prepared with Toor dal instead of moong Dal
 Carrot, beans, potato, pumpkin, drumstick, capsicum, etc. can be added for poricha kootu
 Turmeric powder can be added while cooking Dal and avarakkai
I generally soak dal in hot water for 20 minutes
Ingredient:
Avarakkai - 2 cups, trimmed and cut
Moong Dal/ Payatham Paruppu - 1/2 cup
Turmeric Powder - 1/8 tsp
Asofetida - generous pinch
Salt - as needed
To grind:
Coconut - 3 tbsp
Urad Dal - 1 tsp
Pepper - 1/2 tsp
Red Chilli - 1 (Adjust according to your spice level)
Cumin seeds - 1/8 tsp
To temper:
Coconut oil - 1 tsp
Mustard seeds - 1/8 tsp
Urad Dal - 1/4 tsp
Curry leaves - few
Method:
Add Avarakkai and moong Dal with 1 cup of water and keep it in the pressure cooker; cook for 2 whistles
Add the cooked avarakkai - moong, turmeric powder, asafoetida, salt, and required water (Add according to the consistency you desire the kottu) and let it boil

Dry roast urad Dal, pepper, red chilli, and cumin seeds till they are golden brown, add coconut and quickly stir. Switch and let it cool
Add the ground mixture to the kootu and cook for 3-4 minutes in medium-low flame

In a small pan add oil and when it becomes hot add the ingredients under "to temper" and let it splutter