Peerkangai Kootu | Ridge Gourd Kootu recipe with detailed step by step photo and video recipe. Check out the Peerkangai kootu video and if you like the video pls SUBSCRIBE to my channel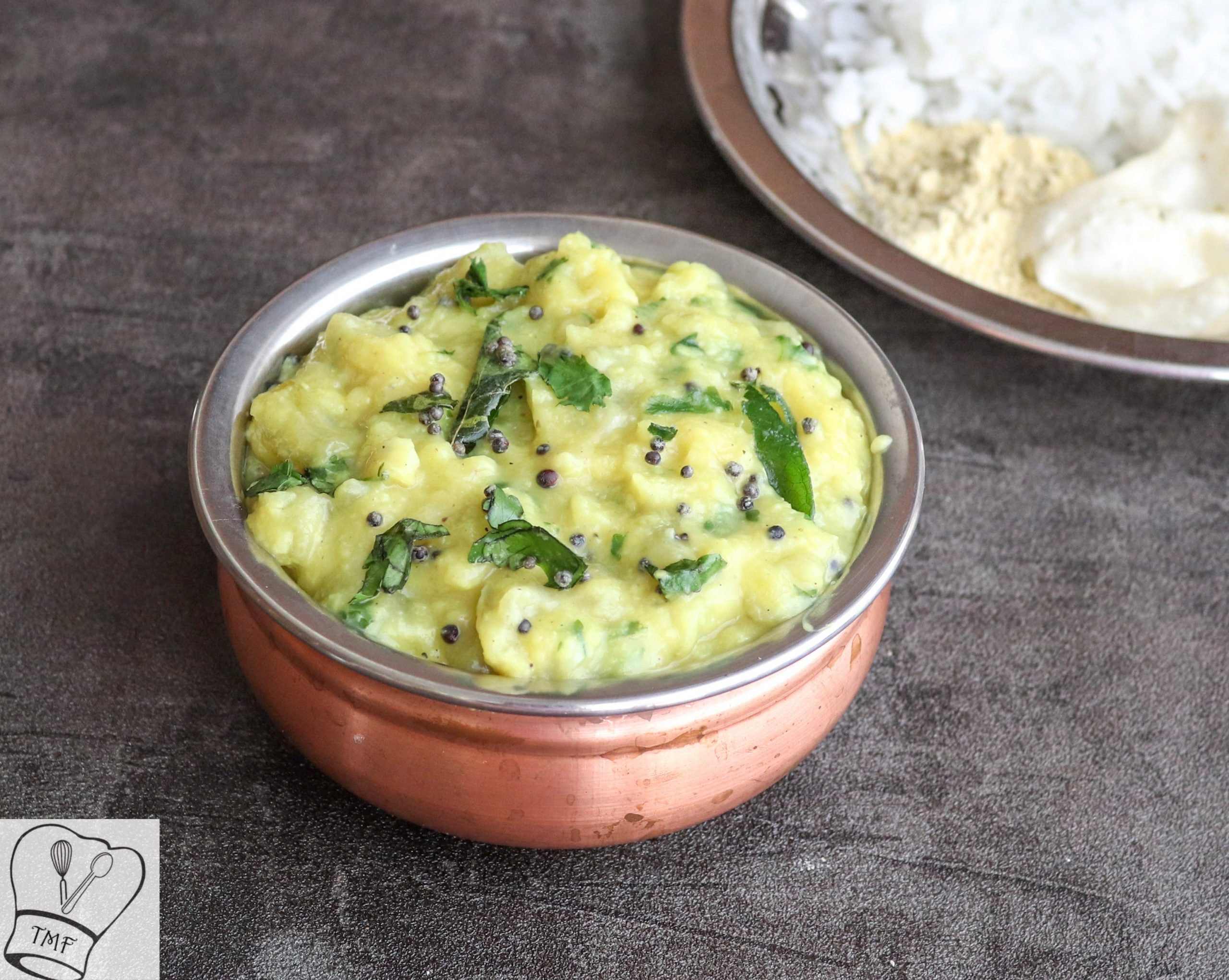 Ridge Gourd dal | Peerkangai Kootu recipe - pathiya samayal recipe, postpartum recipe, toddler-friendly recipe. Healthy and tasty ridge gourd kootu | stew | curry | gravy | dal a tasty South Indian kootu varieties. Traditional Tamil brahmin - Iyer style kootu variety without onion and garlic.
Why ridge gourd?
Ridge gourd is low in saturated fat, cholesterol, and calories that aids in weight loss. It is also very rich in dietary fiber and enriched with all the vital elements. Ridge gourd is easy to digest and it is a great diabetic-friendly vegetable.
This healthy vegetable is used in many Indian cuisines. Ridge gourd | Chinese okra | sponge gourd is called as peerkangai in Tamil, beerakaya in Telugu,Peechinga In Malayalam, hirekayi in Kannada and turai in Hindi.
Why pathiya samayal?
Pathiya Samayal is a term we use it for the well-balanced diet that we follow for lactating moms for better digestion and to prevent colic in babies. Though pathiya samayal is widely prepared for new moms it is also made when someone is sick or has some digestion problem. Moong dal is widely prepared for patients recovering from jaundice.
Why Pathiya Kootu?
As I mentioned in my payatham Paruppu podi recipe moong dal is one ingredient that is often used in postpartum recipes. Mild pathiya kootu with moong dal tastes great with podi varieties such as Paruppu podi, karveppilai podi, Dhaniya podi. Also, kootu is a great side for Kuzhambu varieties such as marundhu Kuzhambu, Poondu Kuzhambu, and karveppilai Kuzhambu.
Kootu recipe collection in TMF
How to make a perfect Peerkangai pathiya kootu
No red Chilli/ green chili for pathiya kootu

Pathiya kootu is always prepared with pepper spice

Postpartum kootu is tempered with ghee

No coconut for pathiya kootu

Less spicy and prepared with minimal

Use moong dal for kootu. Avoid channa dal/ Toor Dal

If Kootu is watery add rice flour or urad dal flour to thickness. Avoid roasted gram or besan flour or maida

Other pathiya kootu variations?
Today I have prepared kootu with ridge gourd. Instead bottle gourd, Snake gourd, broad beans, fresh small Brinjal, drumstick kootu can also be prepared. Avoid cabbage, pumpkin, Brussel sprouts, potatoes, sweet potato as they are gassy vegetables.
When it comes to the spice mix. Pepper- cumin powder is one most commonly used. If you prefer some variation use little urad dal for consistency and taste like Poricha kootu but avoid coconut
Never forgot to try a piece of vegetable before cooking
Just like snake gourd /cucumber, some ridge gourd tends to be bitter and it is always recommended to try a small piece first before making kootu. Bitter ones need to avoid so it is better to taste.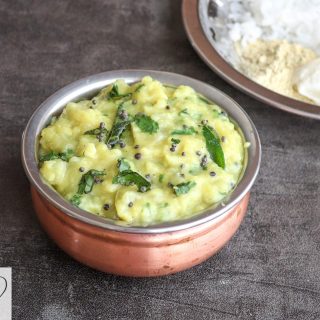 Ingredients
Ridge gourd - 1

peeled and diced

Moong dal - 1/4 cup

Ghee - 1 tsp

Water - 3/4 cup

Mustard seeds - 1/2 tsp

Cumin - pepper powder - 1/2 teaspoon heaped

Turmeric powder - 1/8 tap

Hing - Generous pinch

Curry leaves - few

Coriander leaves - few
Instructions
In a separator soak moong dal for 20 minutes in 3/4 cup hot water

Add turmeric water and close with a lid

In another separator add the chopped ridge gourd and salt (no need to add water); close with a lid

Take a cooker and  add some water and place the dal at the bottom; cover with a lid

Add the vegetables at the top and cook for 3 whistles; let the pressure release naturally

In a pan add ghee and when ghee is hot add mustard seeds and let it splutter

Add curry leaves and saute till it turns crispy

After sauteing curry leaves add cooked dal, vegetable, salt, pepper-cumin powder, and coriander leaves and mix well

Based on the desired kootu consistency add water if necessary and boil for 2-3 minutes

Add hing and switch off
Video
Notes
Pathiya kootu can also be prepared with bottle gourd, snake gourd, avarakkai, fresh brinjal, fresh drumstick
Dal and vegetables can also be cooked in the instant pot. Use bean mode and cook like pumpkin erissery
Adjust the pepper -cumin according to taste. I combine an equal amount of pepper and cumin and ground them into powder. It stays good for weeks and always comes handy
Hing helps in digestion so use it generously
Curry leaves and coriander leaves are optional for pathiya samayal. Skip it if unavailable
Dal in kootu makes kootu to perfect consistency. If you think kootu is watery combine 1/4 teaspoon of rice flour or urad flour with kootu water and cook like white pumpkin kootu
Avoid other thickening agents like roasted gram and besan flour for pathiya samayal
Never forgot to try a piece of ridge gourd before cooking
Using a peeler and peel the ridge gourd skin. If the skin is tender it can be used for making thogayal like chayote thogayal
Ridge gourd I used was big to adjust the dal according to the vegetable though excess moong dal is perfectly fine for pathiya samayal
For nonpostpartum Peerkangai kootu
Use coconut oil for tempering and make it vegan
Skip hing and make it gluten-free
Use coconut for kootu
Green chili or red Chilli can be used for spice
Besan flour can be used for thickening
Ingredients:
Ridge gourd - 1, peeled and diced
Moong dal - 1/4 cup
Ghee - 1 tsp
Water - 3/4 cup
Mustard seeds - 1/2 tsp
Cumin - pepper powder - 1/2 teaspoon heaped
Turmeric powder - 1/8 tap
Hing - Generous pinch
Curry leaves - few
Coriander leaves - few
How to peerkangai kootu with step by step pictures: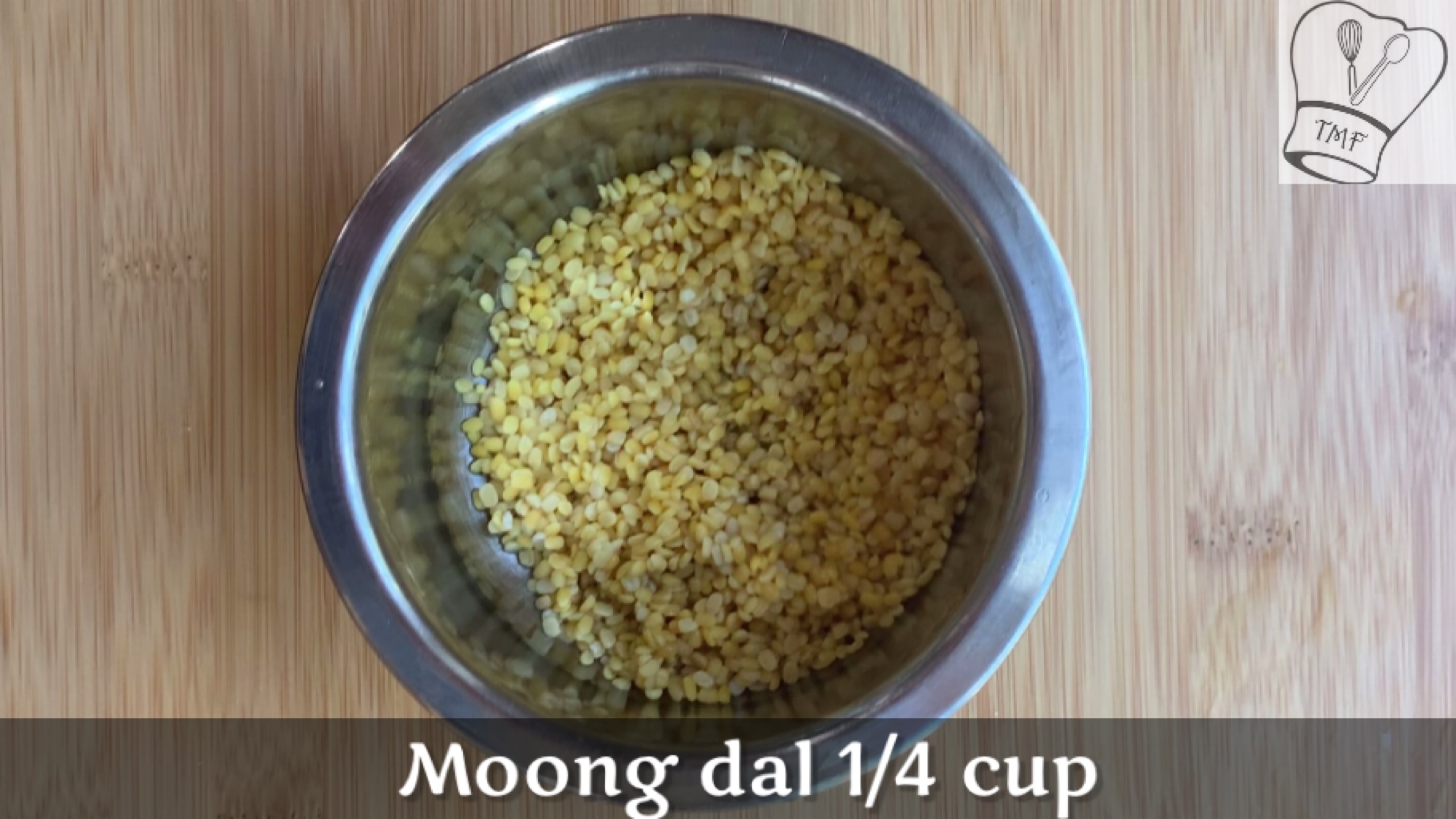 In a separator soak moong dal for 20 minutes in 3/4 cup hot water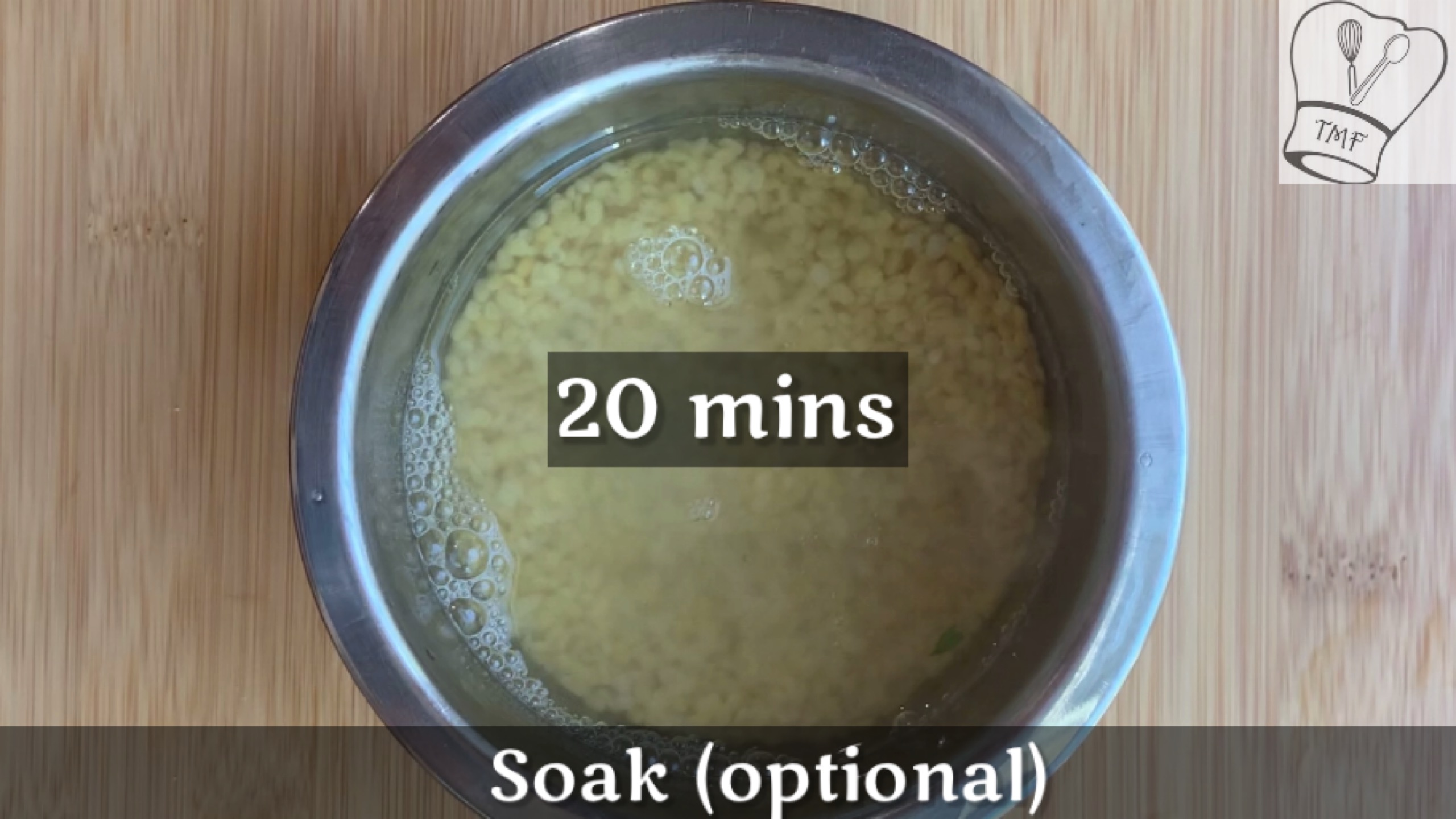 Add turmeric water and close with a lid
In another separator add the chopped ridge gourd and salt (no need to add water); close with a lid
Take a cooker and add some water and place the dal at the bottom; cover with a lid

Add the vegetables at the top and c

ook for 3 whistles; let the pressure release naturally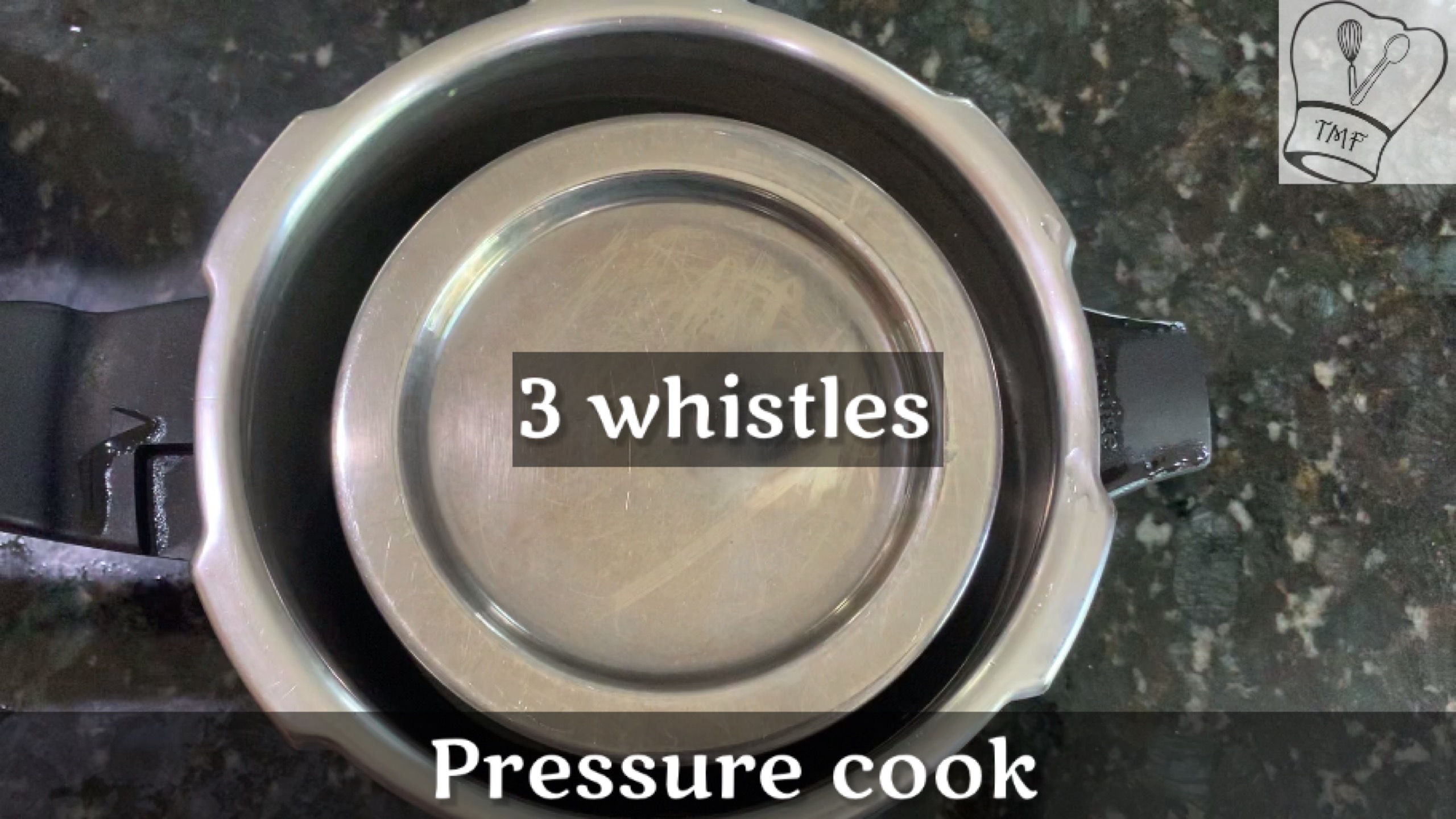 In a pan add ghee and when ghee is hot add mustard seeds and let it splutter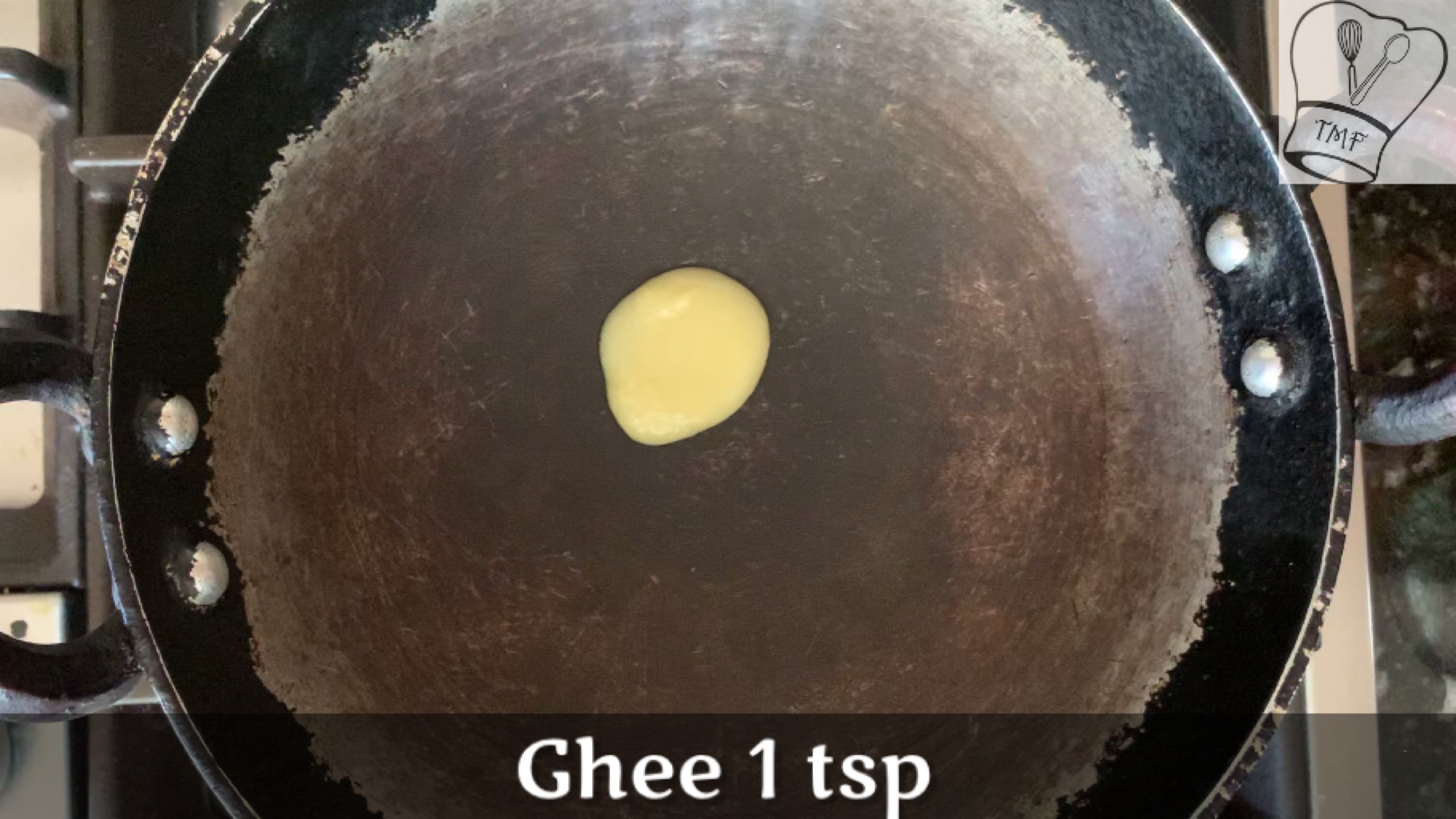 Add curry leaves and saute till it turns crispy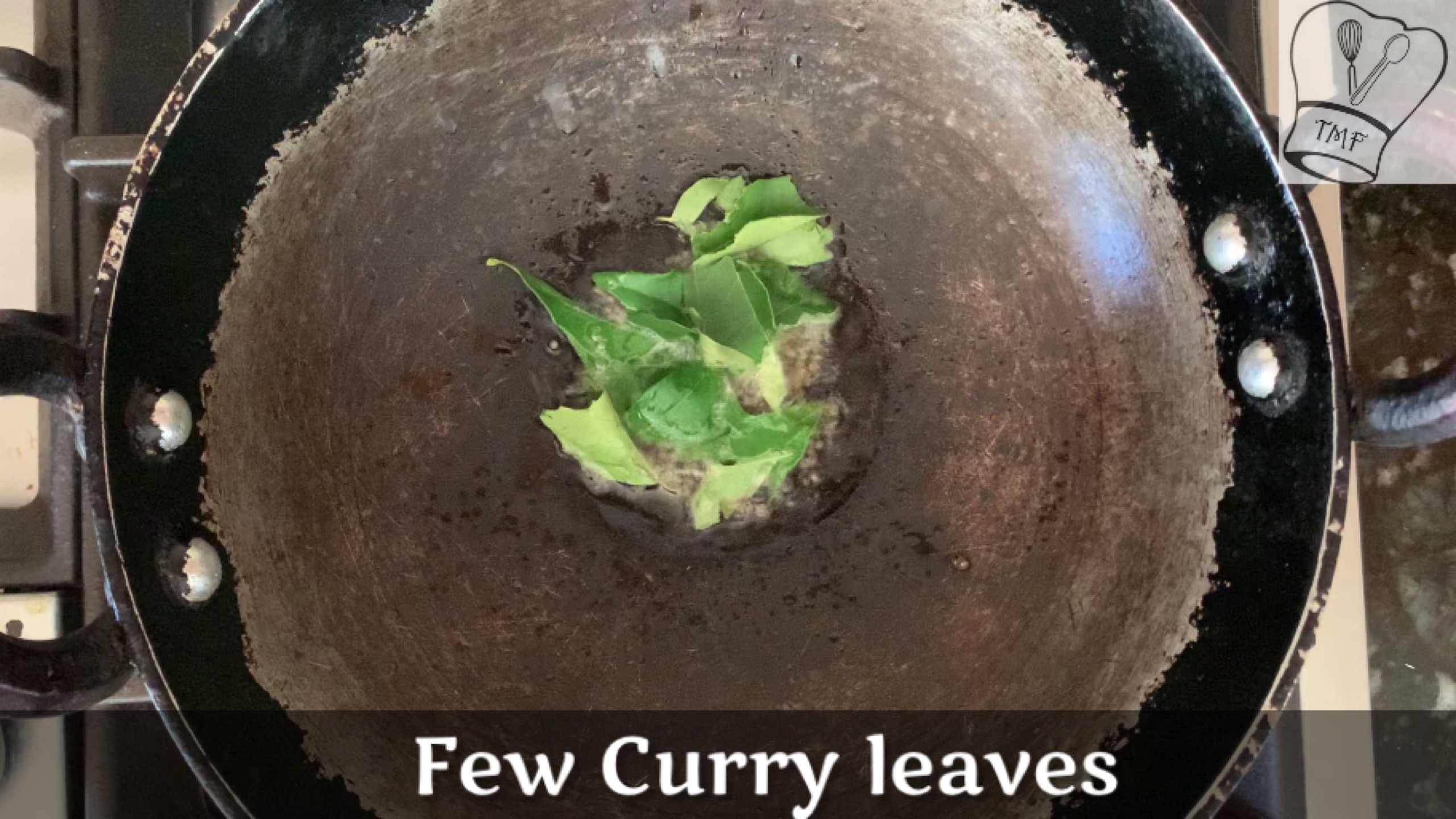 After a few saute cooked dal, vegetable, salt, pepper-cumin powder, and coriander leaves and mix well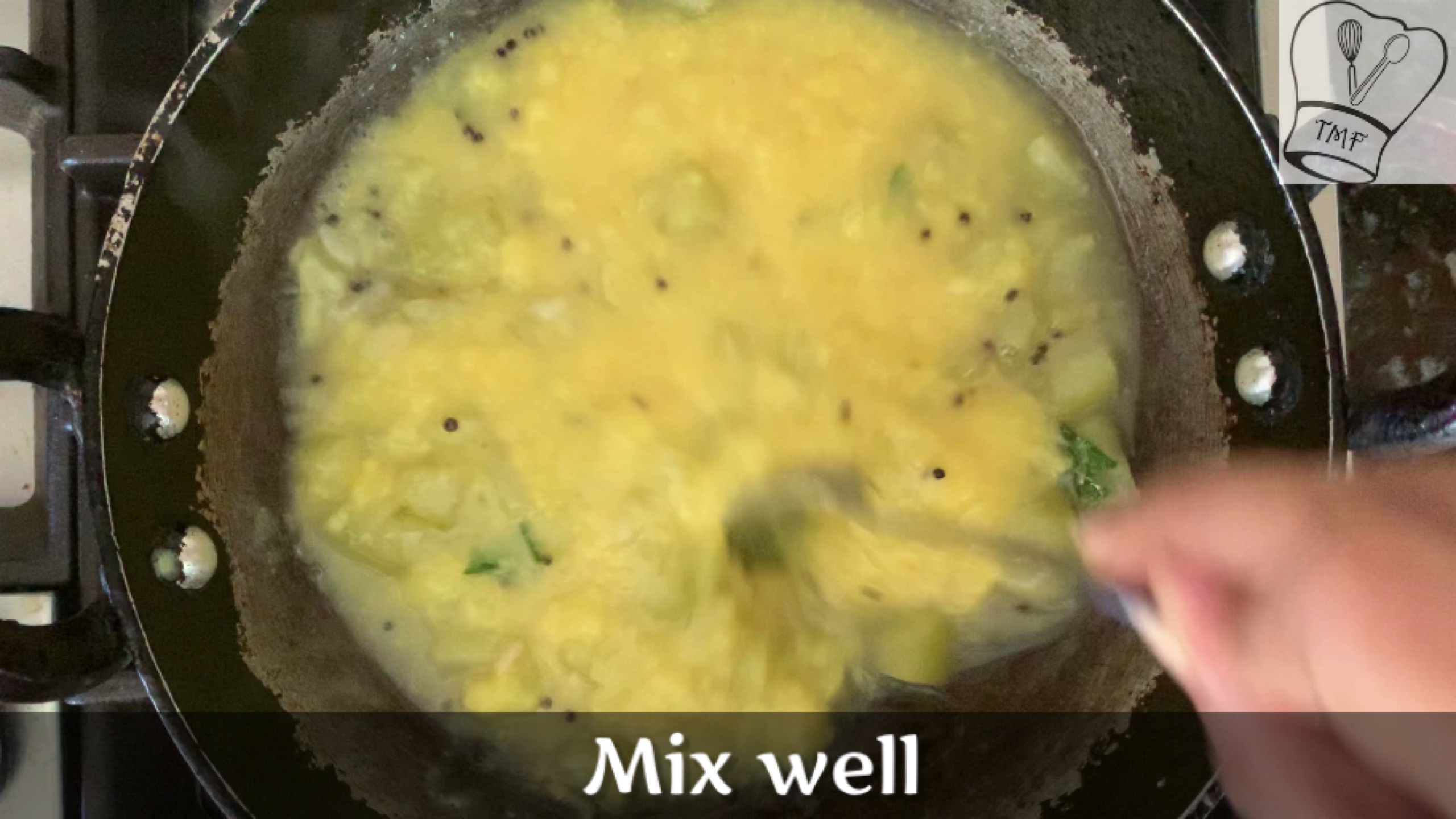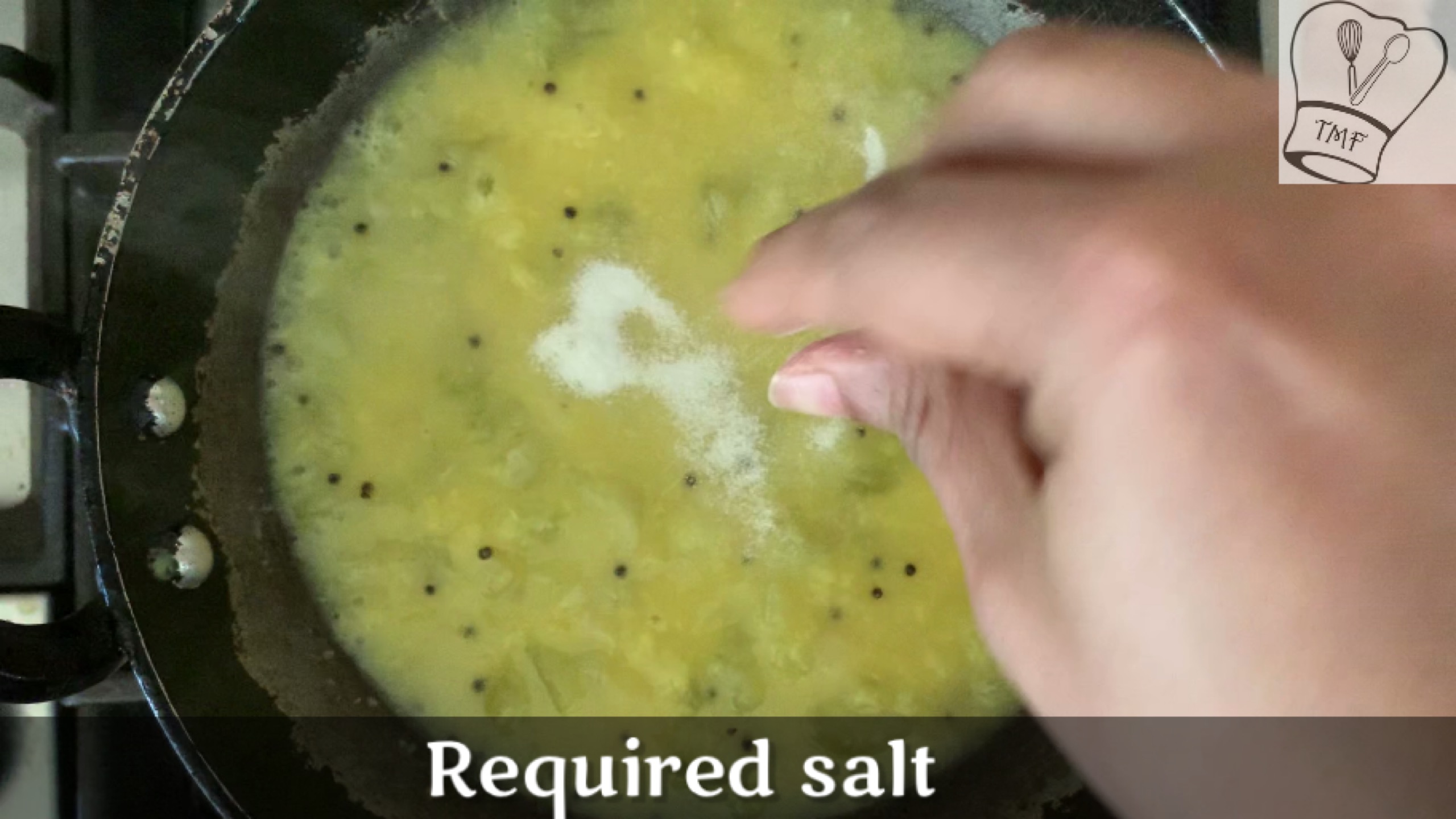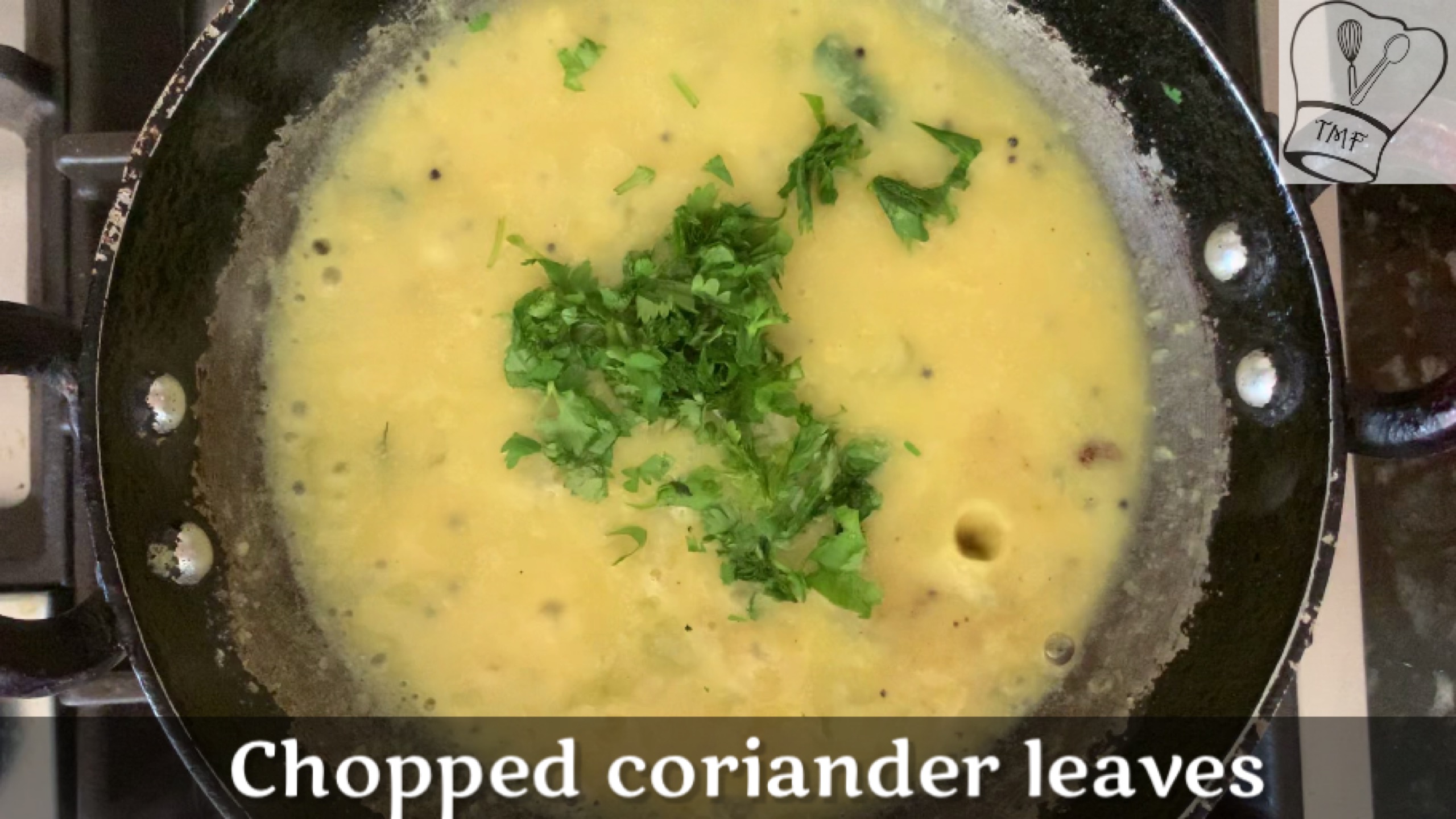 Based on the desired kootu consistency add water if necessary and boil for 2-3 minutes