Maa vilakku | Maavilakku maavu recipe | Rice flour Lamp recipe | dessert dishes Indian | Indian sweet | Indian sweet treats | instant Indian sweets | Indian dessert recipes | Indian dessert recipes easy | festival sweets | Diwali sweet recipe | Deepavali sweets | South Indians sweet recipe | traditional indian sweets | North Indian sweet | best indian sweets with detailed step-by-step photos and video recipe. Check out the Maavilakku video recipe and if you like the video pls SUBSCRIBE to my channel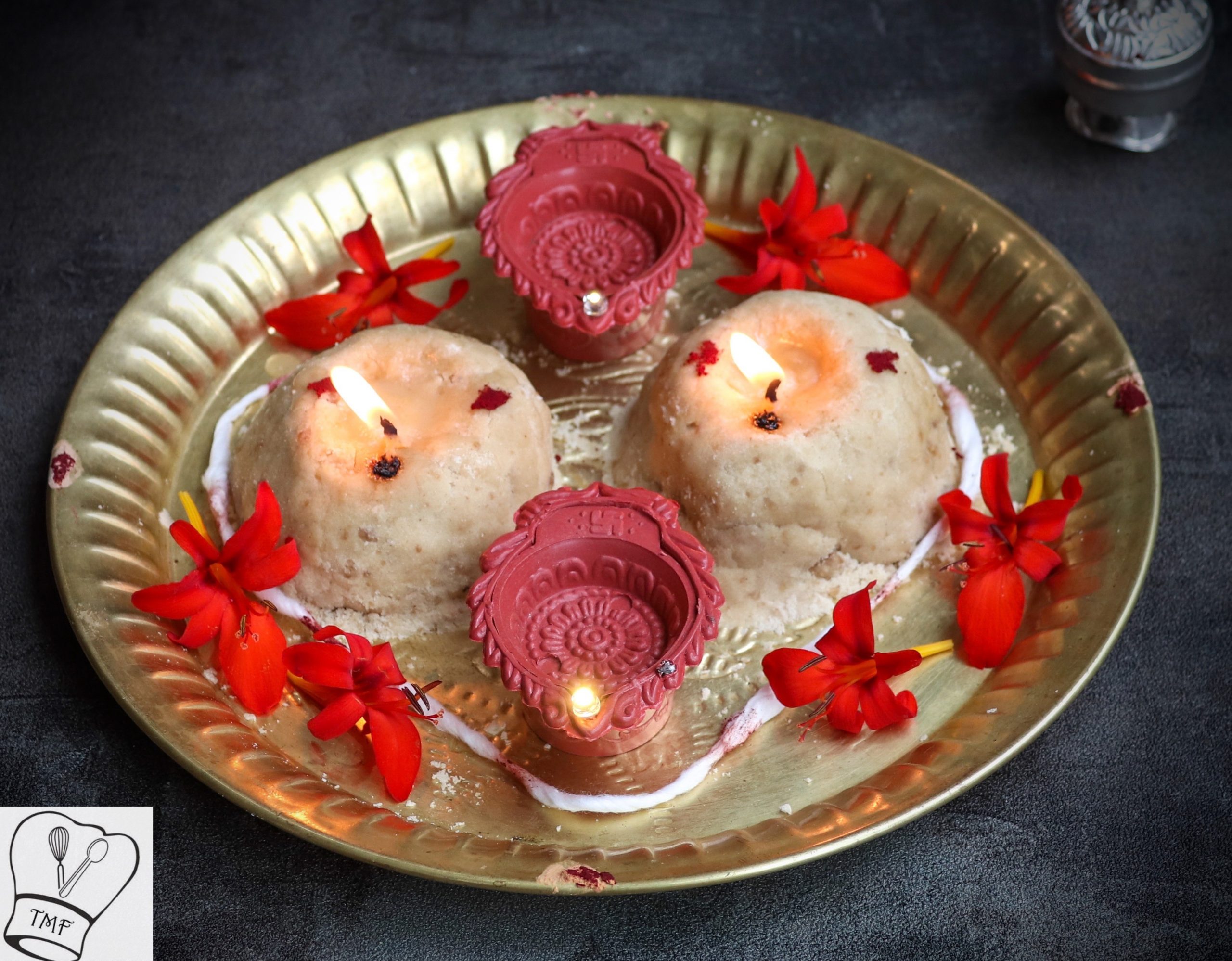 Maa vilakku | Maavilaku maavu recipe | Rice flour Lamp is a traditional South Indian offering /neivedyam / prasadam prepared with rice flour, country sugar / powdered jaggery and ghee.
When do we make Maavilaku?
Maavilakku (Rice flour lamp) is prepared during many special & auspicious occasions. In Tamil tradition, Maa vilakku is widely prepared during Aadi month (preferably first or third velli (Friday)) for Amman, in purattasi month Maa vilakku is prepared on Sani (Saturday) for Perumal. We also make it on Thai velli (Friday). I heard from friends that it is also prepared during karthigai deepam.
Can I use store-bought rice flour?
Traditionally homemade rice flour is prepared for maa vilakku, but fine-textured store-bought rice flour can be used. We generally grind damp rice to make flour but store brought rice flour will be dry so you will need extra ghee for making maavilakku. Also pulse the store-bought rice flour 1/2 twice with powdered jaggery for easy binding. Avoid grinding, as it will make the flour lumpy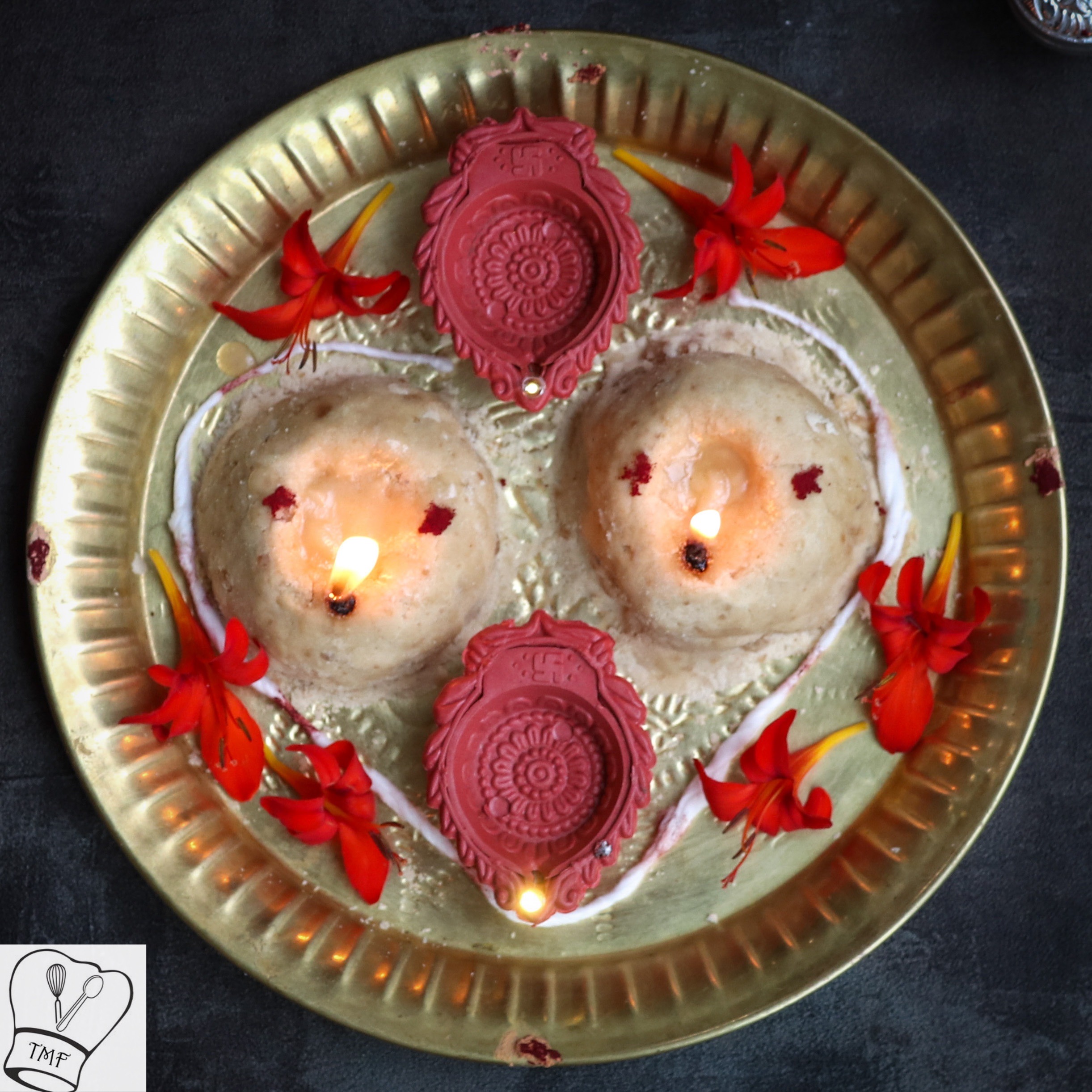 During my childhood days the fact that Amma makes edible lamp always amazed me. I will be all excited to sit next to her and watch Amma make the dough with a dent in the middle to pour ghee and place wick. Though it is an edible vilakku (lamp) we apply kumkum and place flowers near it when we offer it to god.
Since maavilakku tradition is not followed in my husband's family I have never made Maa vilakku. This year when Amma came to visit us I asked her to get some country sugar from India to make Maa vilakku, and made it for Aadi velli.
How to store maavilakku?
Maavilakku stays good for many days at room temperature, so no need to keep it in the fridge or freezer.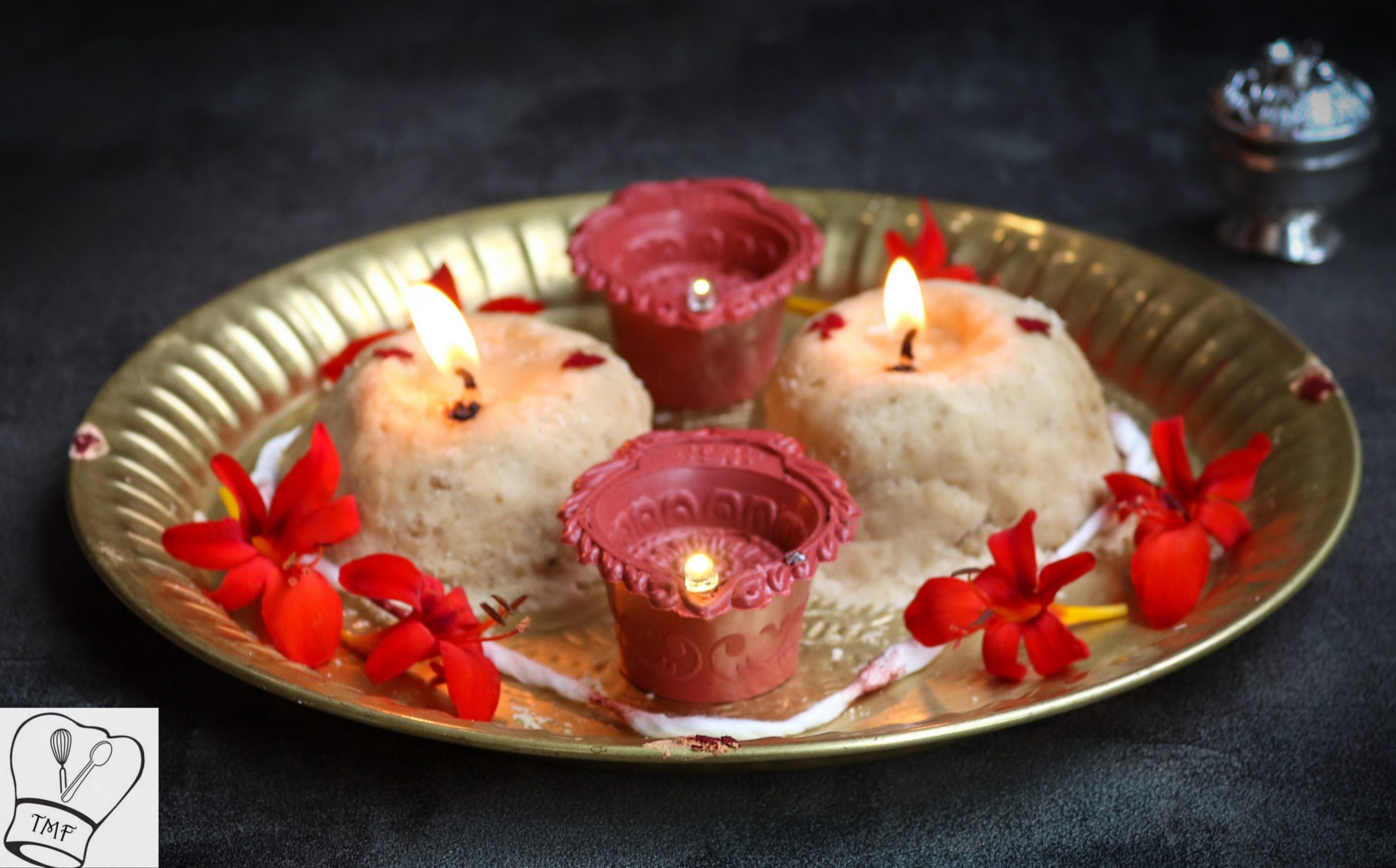 Follow Traditionally modern food Instagram page for daily meals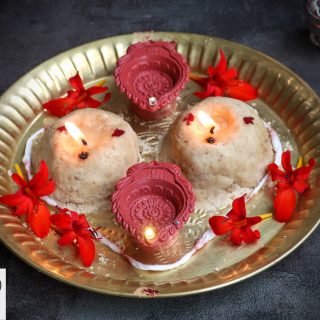 Ingredients
Raw rice / Sona masoori rice - 1/2 cup

Water - 3/4 cup

to soak

Country sugar or powdered jaggery - 3/4 cup

adjust according to the flour- refers notes

Cardamom powder - 1/4 tsp

Ghee - to knead the lamp

3 teaspoon approx
Instructions
Rinse the raw rice well (few times)

Soak the rice for at least one hour

After an hour drain the water and discard (using a colander if needed)

Spread the rice with hands and slightly tilt and keep colander to discard the excess water

Spread the rice on a towel and let it dry for 12 - 15 minutes. Excess water will be dried but  If you take the rice in your hand, slight moisture (dampness can be felt in hands)

Grind it immediately in a mixie for a smooth rice flour

Place a parchment paper or a wide plate and sieve the rice for a smooth rice flour

If you get lumps crush it with hands  and grind the lumps and sieve again

Transfer the smooth rice flour into a maavilakku plate

Add country sugar and mix well

Mix well the moisture in the country sugar helps for kneading

Add cardamom powder and mix well

After the  mass of flour holds shape add little ghee and mix well

If you want the maa vilakku to hold shape after storing use unmelted ghee but if you prefer powdered maavu use melted ghee

I added around 3 teaspoon of melted ghee and kneaded

Split into two equal portion and roll into a ball or lamp shape

Make a small dent at the top for lighting the lamp

Add ghee in the dent and keep panju thiri

We make a garland by combing panju thiri and keep kumkum in between and place it around the maavilakku

Maavilakku is ready for deepam / pooja
Video
Notes
Always make two maavilakku as vilakku is prepared in pair
Sona masoori rice requires slightly more jaggery compared to raw rice. Always add jaggery according to the flour
Adjust country sugar/jaggery powder according to the rice flour. Typically we require equal amount or slightly more
Mix rice flour and country sugar well. The key to finding if you have added the right amount of country sugar is when you try to hold the mixture you should able to hold together
Try to make maavilakku immediately after grinding rice flour. Rice flour dried for a longer time might turn lumpy
Rice flour - jaggery can be pulsed once for easy mixing but avoid grinding
If you are using store-bought rice flour don't miss pulsing it once /twice with jaggery flour as it will be extremely dry
Amount of ghee depends on the flour and your desired maavilakku texture
I have heard from friends that honey can be used for making maa vilakku but as we never did it at home I am not sure about it
Traditionally maa vilakku offering is done with rice flour I am not sure about millet, quinoa or any other flour usage
We prefer melted ghee for maavu. With unmelted ghee, we get a texture like a Urundai which is not done in our home
Ingredients:
Raw rice / Sona masoori rice - 1/2 cup
Water - 3/4 cup (to soak)
Country sugar or powdered jaggery - 3/4 cup (adjust according to the flour- refers notes)
Cardamom powder - 1/4 tsp
Ghee- to knead the lamp (3 teaspoon approx)
How to make Maa vilakku recipe with step by step pictures:
Rinse the raw rice well for few times
Soak the rice for at least one hour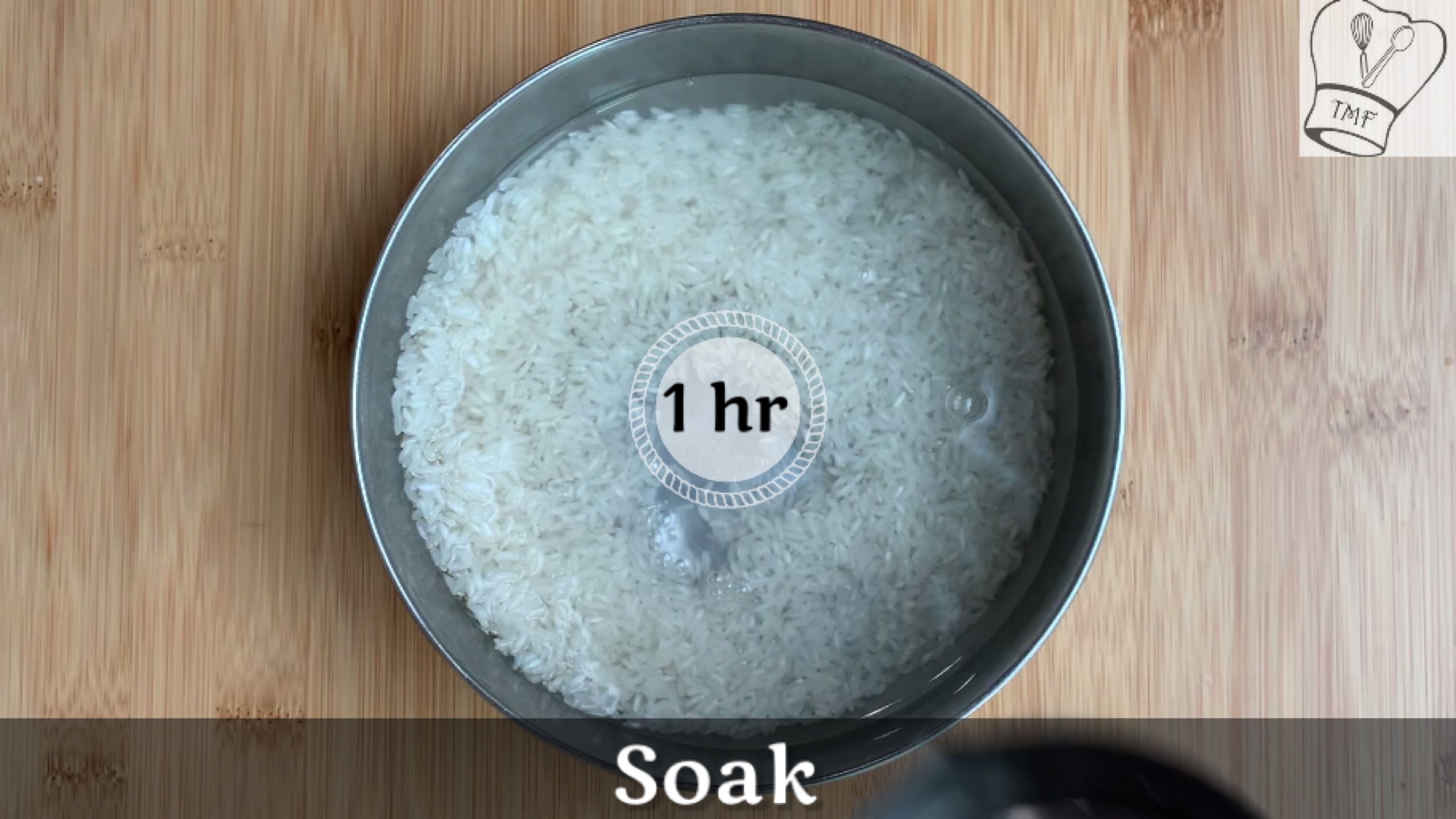 A

fter an hour using a colander, drain the water and discard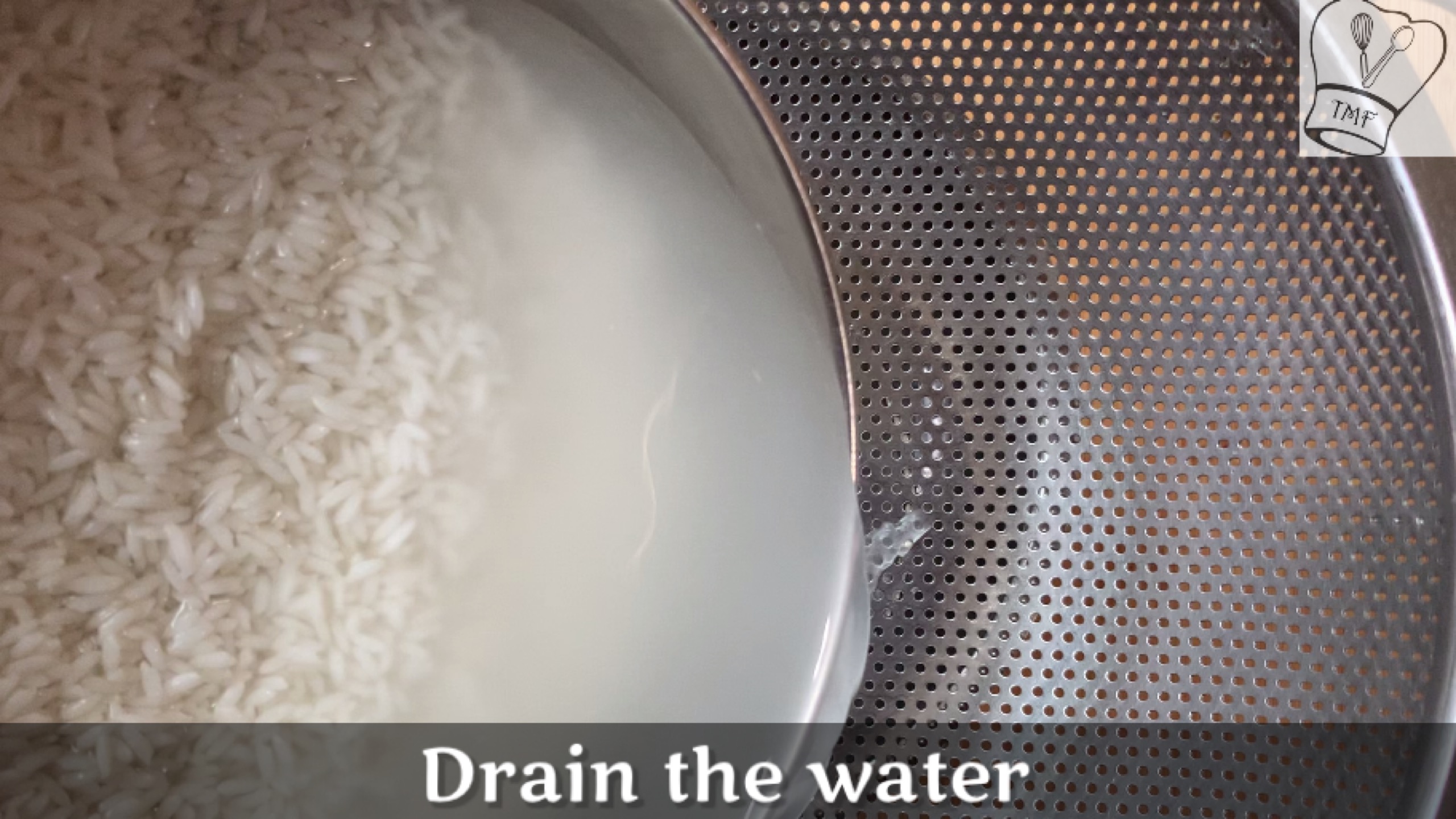 Spread the rice with hands and slightly tilt and keep colander to discard the excess water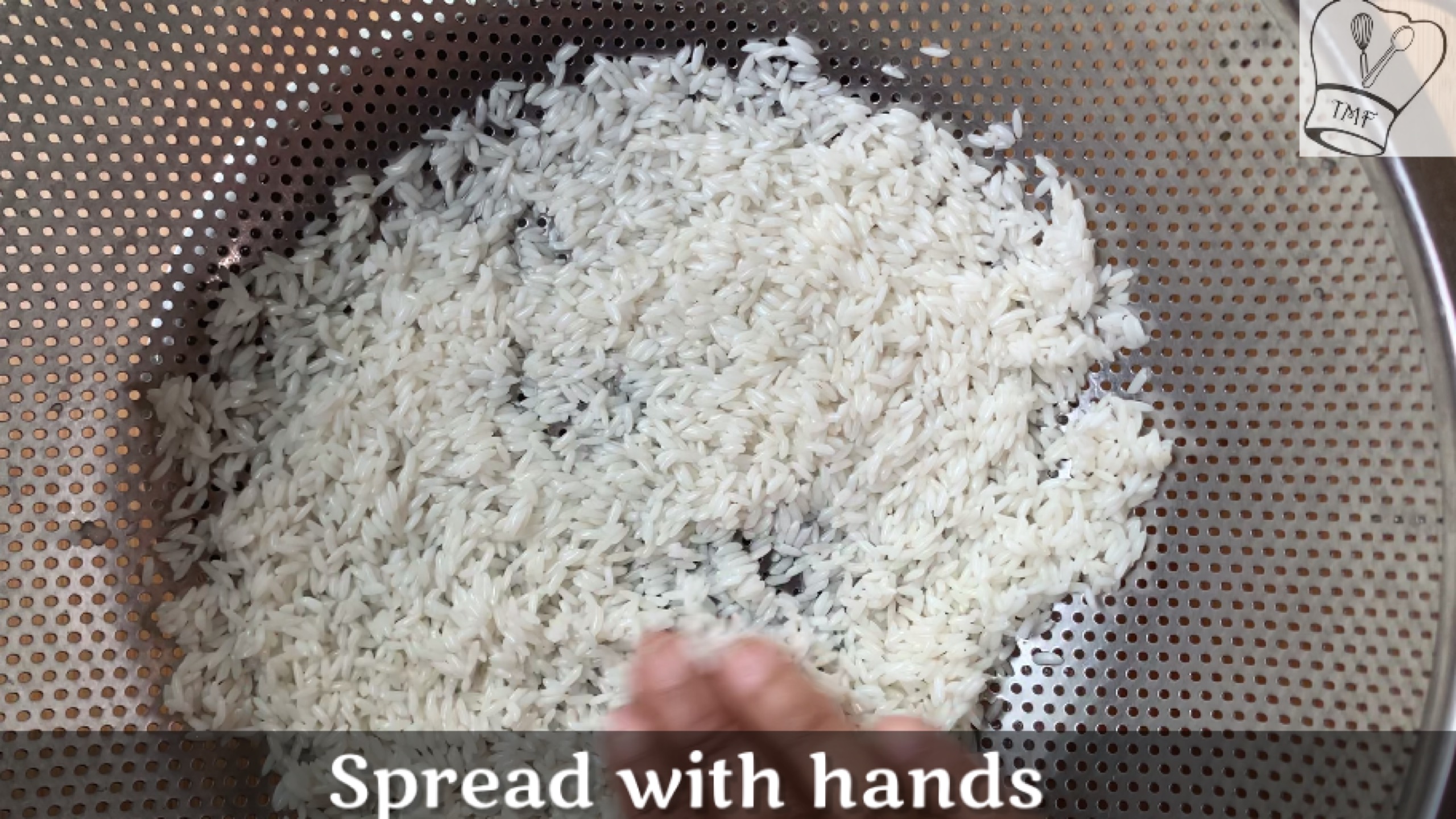 Spread the rice on a towel and let it dry for 12 - 15 minutes. Excess water will be dried but

If you take the rice in your hand, slight moisture (dampness can be felt in hands)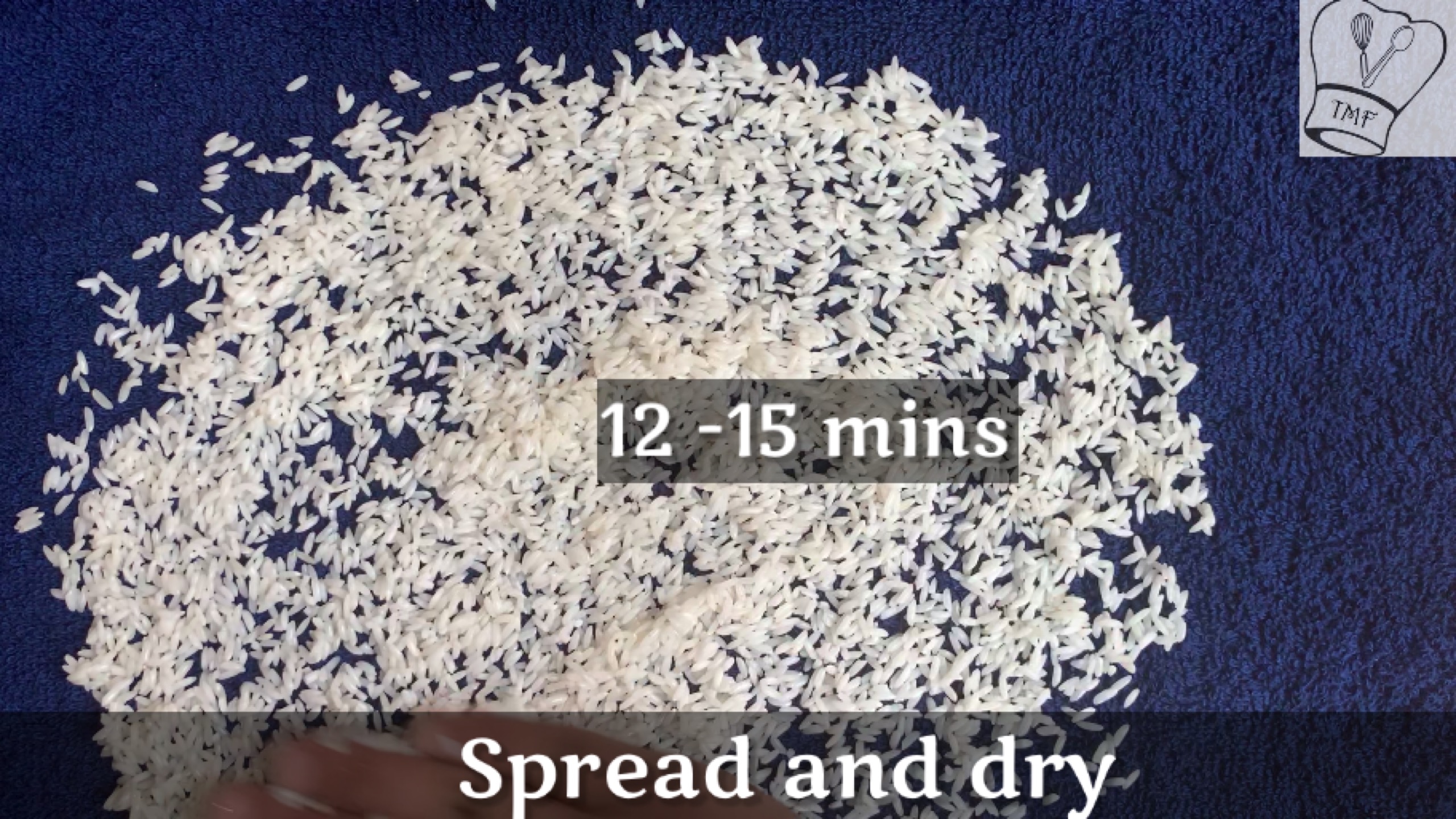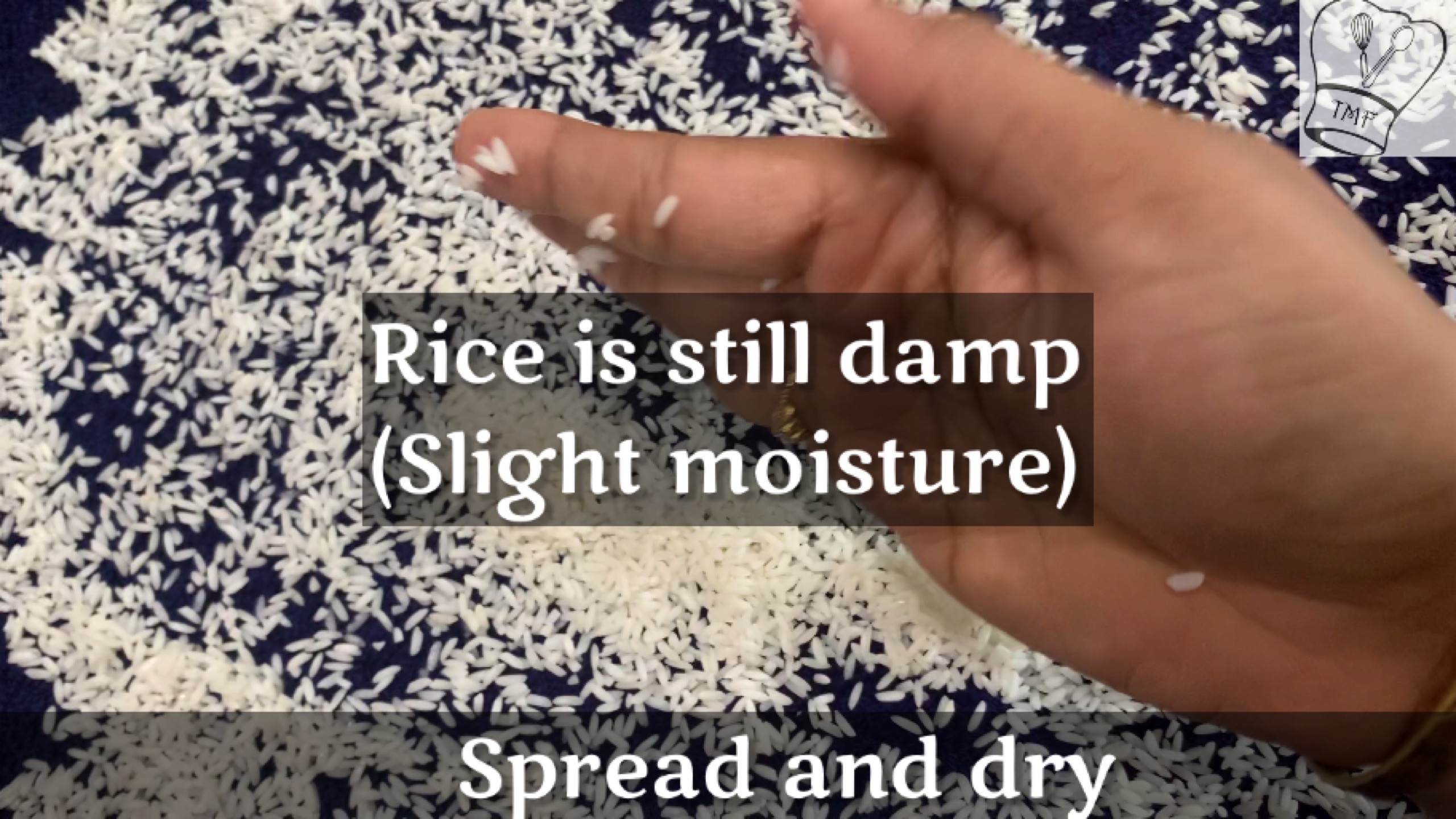 Grind it immediately in a mixie for a smooth rice flour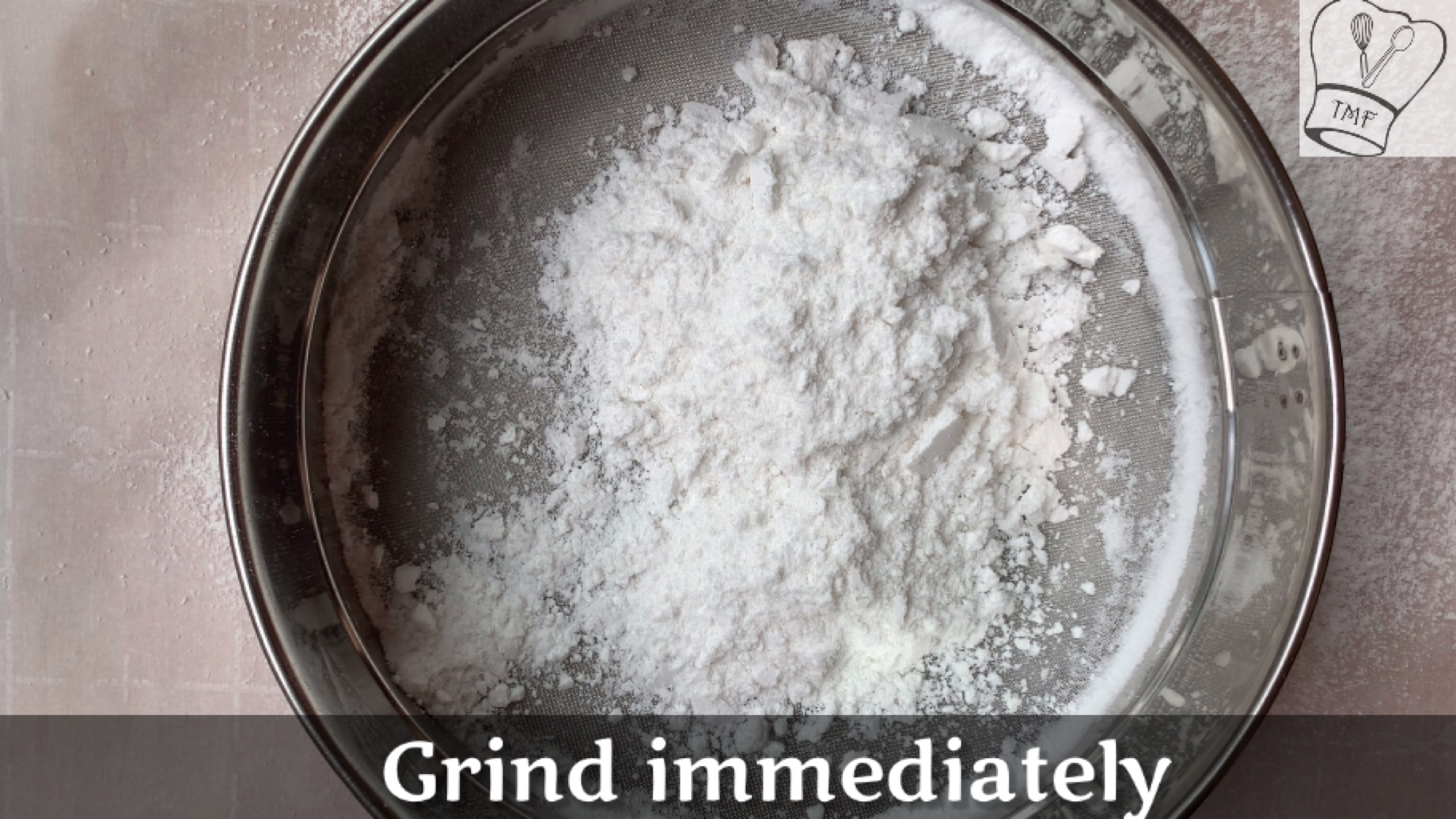 Place a parchment paper or a wide plate and sieve the rice for a smooth rice flour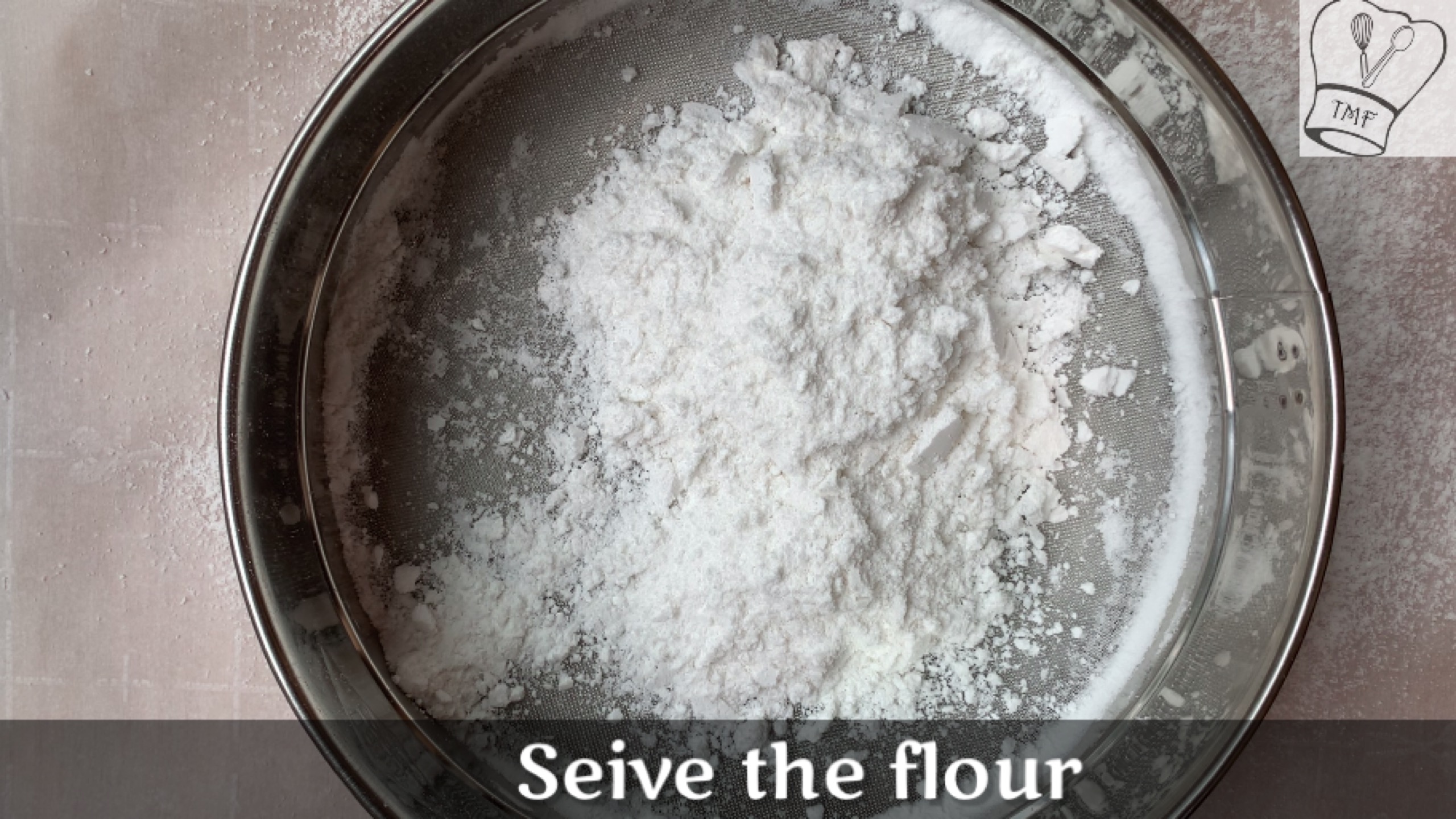 If you get lumps crush it with hands and grind the lumps and sieve again

Transfer the smooth rice flour into a maavilakku

plate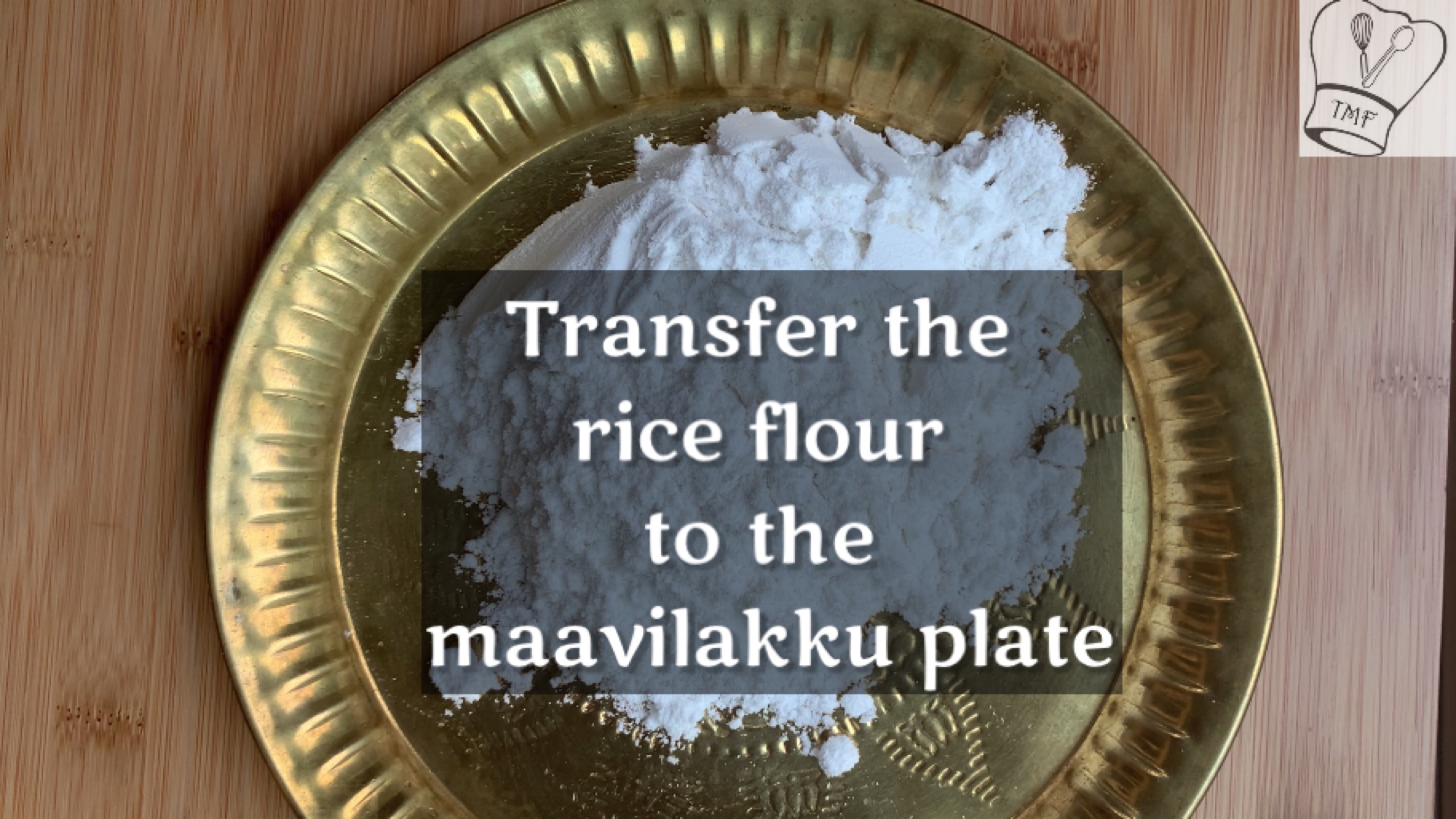 Add country sugar and mix well
Mix well the moisture in the country sugar helps for kneading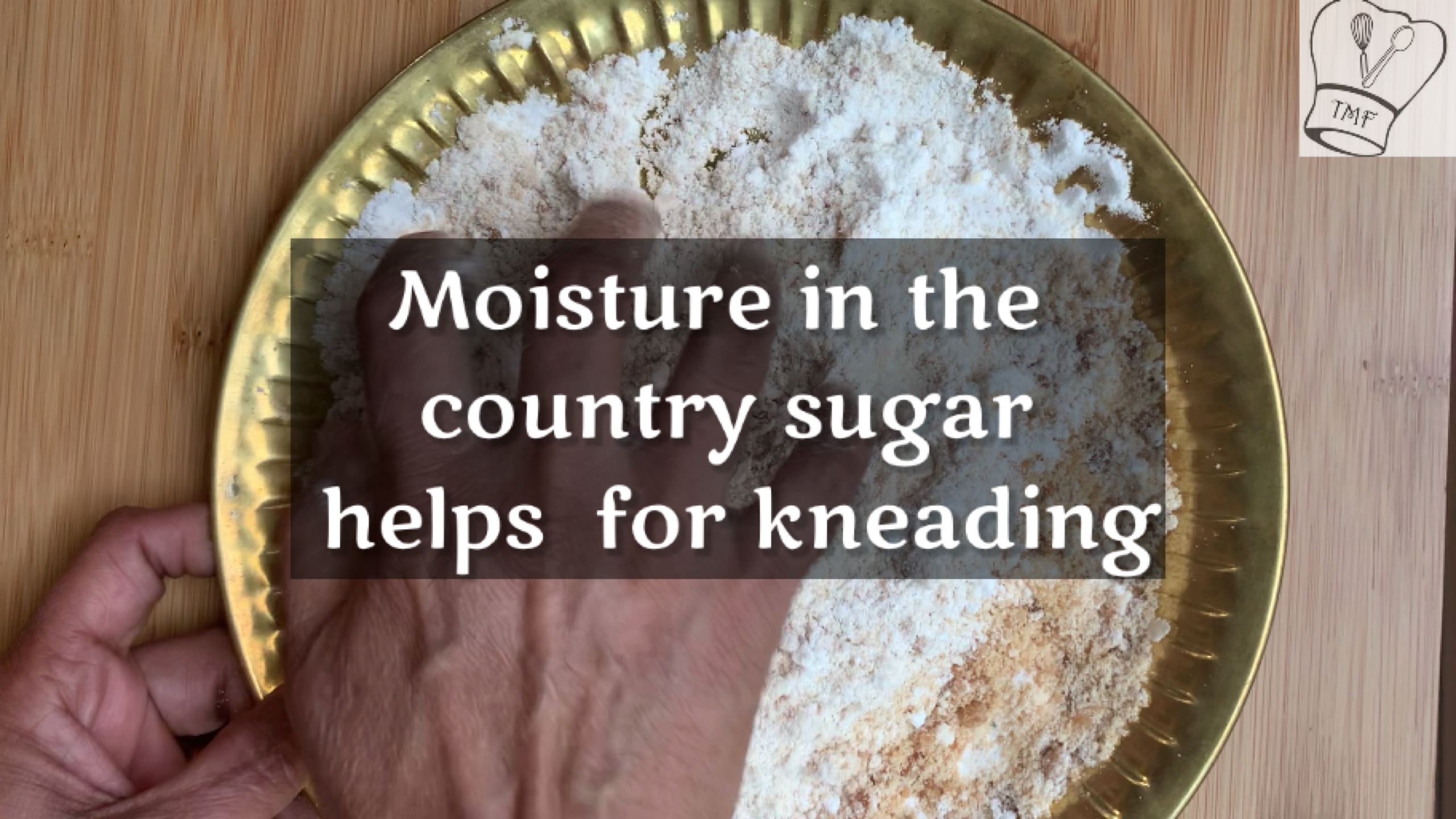 Add cardamom powder and mix well
After the mass of flour holds shape add little ghee and mix well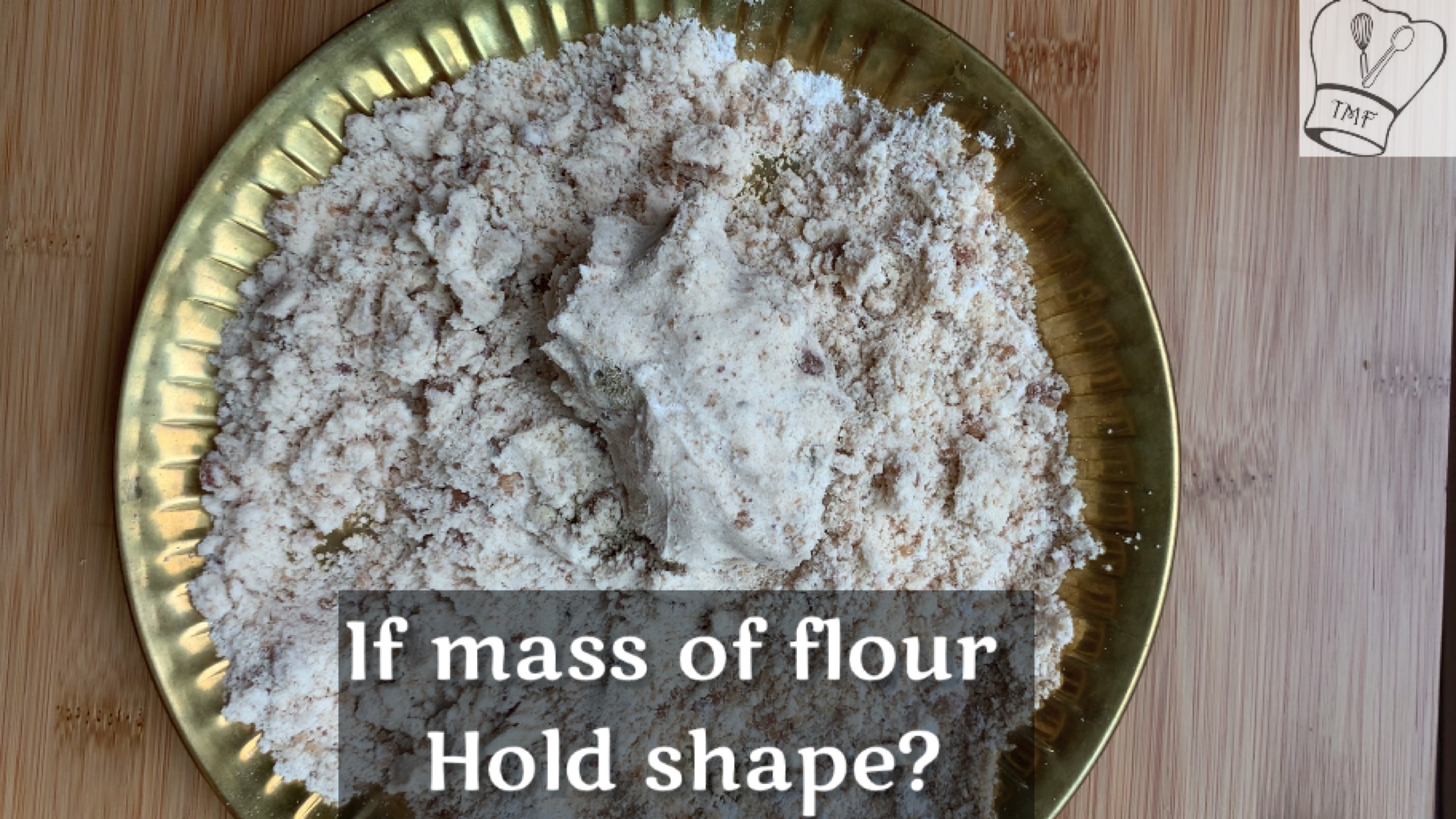 If you want the maa vilakku to hold shape after storing use unmelted ghee but if you prefer powdered maavu use melted ghee
I added around 3 teaspoon of melted ghee and kneaded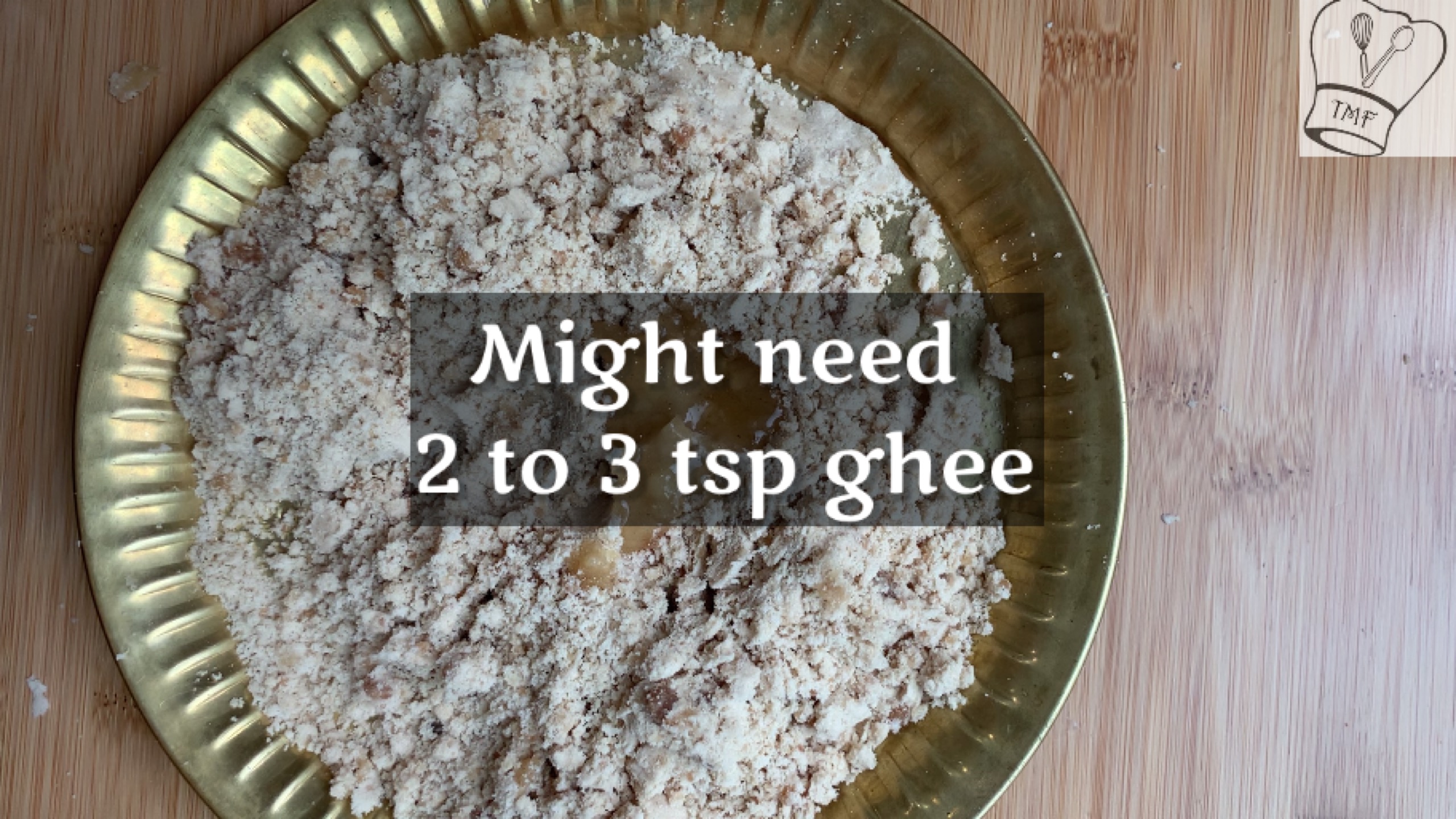 Split into two equal portion and roll into a ball or lamp shape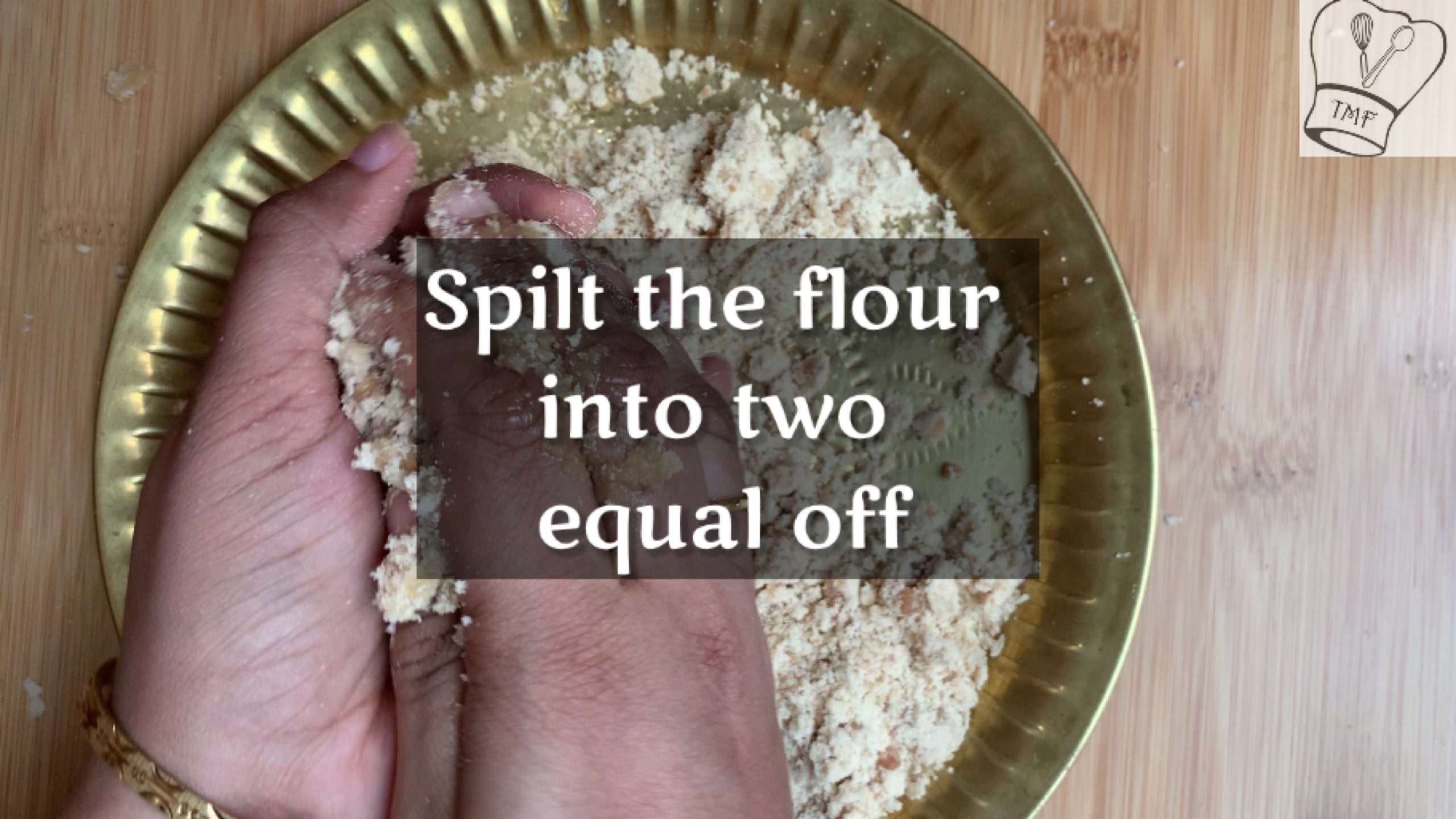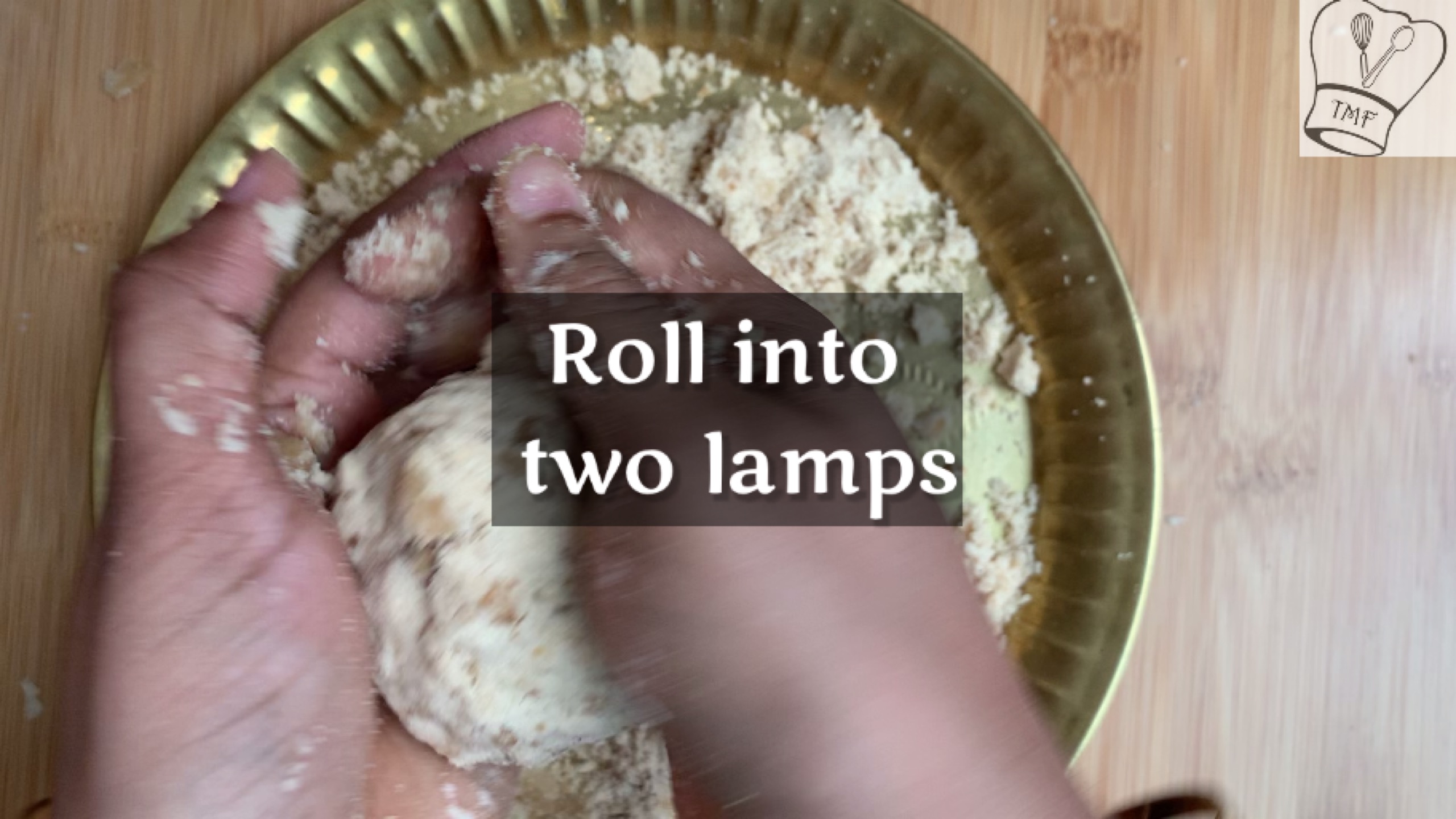 Make a small dent at the top for lighting the lamp
Add ghee in the dent and keep panju thiri
We make a garland by combing panju thiri and keep kumkum in between and place it around the maavilakku
Maavilakku is ready for deepam / pooja