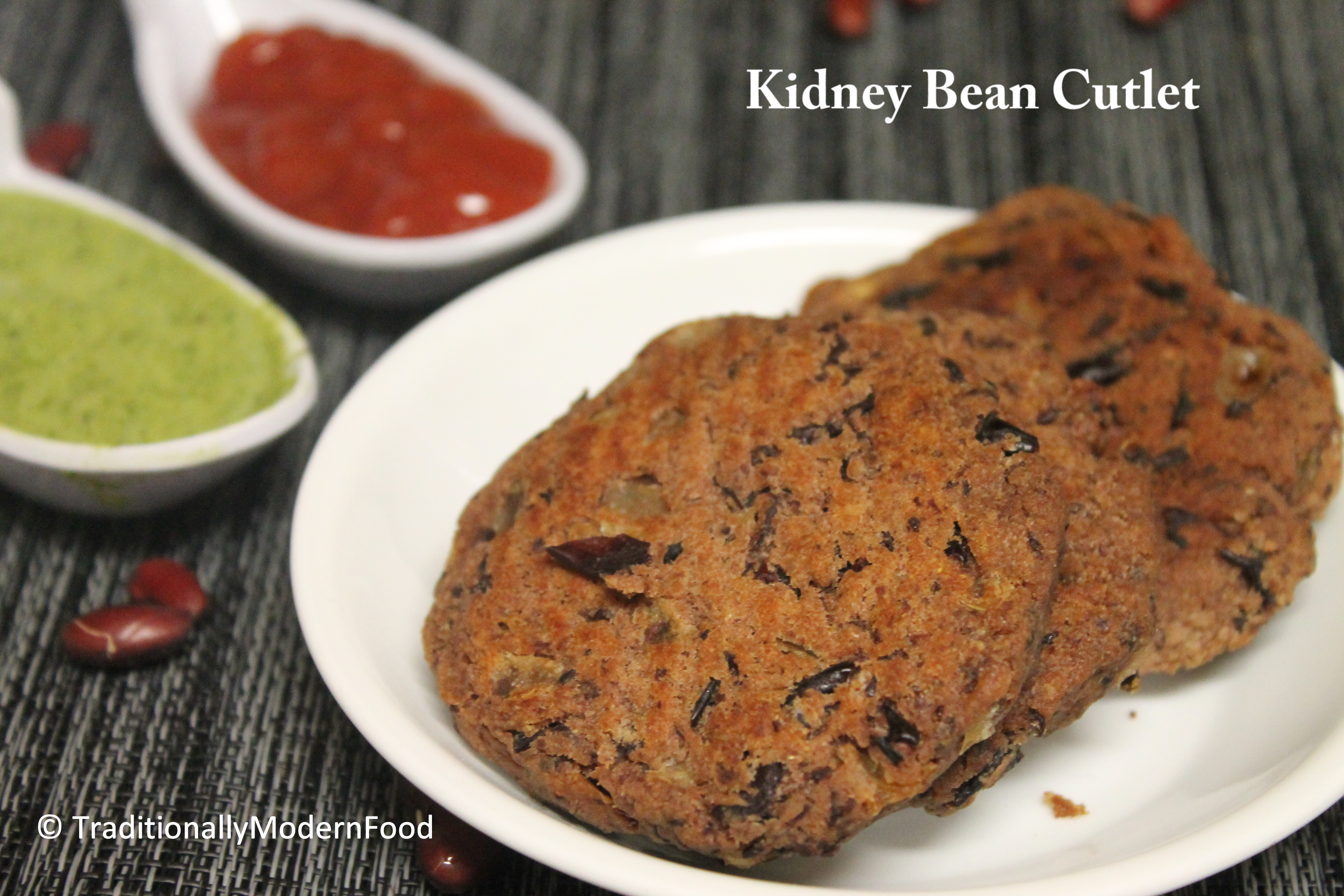 Baked rajma cutlet is prepared with Rajma (kidney beans). Protein-rich healthy and tasty snacks. It is a great after-school snack for kids. Every time we visit our pediatrician he tells us to give protein for Vishvak. I try to add Lentil in an almost everyday meal in some way. Nowadays he has become very playful while eating after a few initial Spoon he starts running around and getting bored. He likes food like
panniyaram
,
bread
, cutlet, fries which he can hold and eat. Their are days when even
Ven Pongal
goes to the panniyaram pan and result in "Pongal panniyaram". This Rajma cutlet is one such experiment to give him beans, which become a big hit at home. Not only him even we like it. I took pictures and even gave this recipe for " Snegedhi " magazine but somehow I forgot to post it. Usually, cutlets are prepared with maida(all-purpose flour) but since it's for my son I tried whole wheat for binding. I always prepare a batch of shallow cooked patties for my son (kids need some fat content, personal preference) and bake a batch for us. I gave one baked rajma cutlet to my hubby for taste. He tasted and told me it's great(ok pass:-):-)). But reminds me of Vadai. Maybe I referred to my
baked Paruppu Vadai
a lot. Adjust the thickness according to your taste buds. The name doesn't matter whether it's a Vadai/Cutlet/Patties, at the end of the day it is a protein-rich bite for the toddler. It's raining these days make a batch of delicious and healthy baked rajma cutlet and enjoy the rainy day with it and a hot cup of coffee/tea for evening snacks. My friend pinged me and suggested adding servings in the post. I realized how I missed it these days. Good to have friends who suggest things for shaping up your hobby. Thanks to her:-) Hope I make it practice in all my posts..
Kids friendly after school snacks
Cutlet recipe collection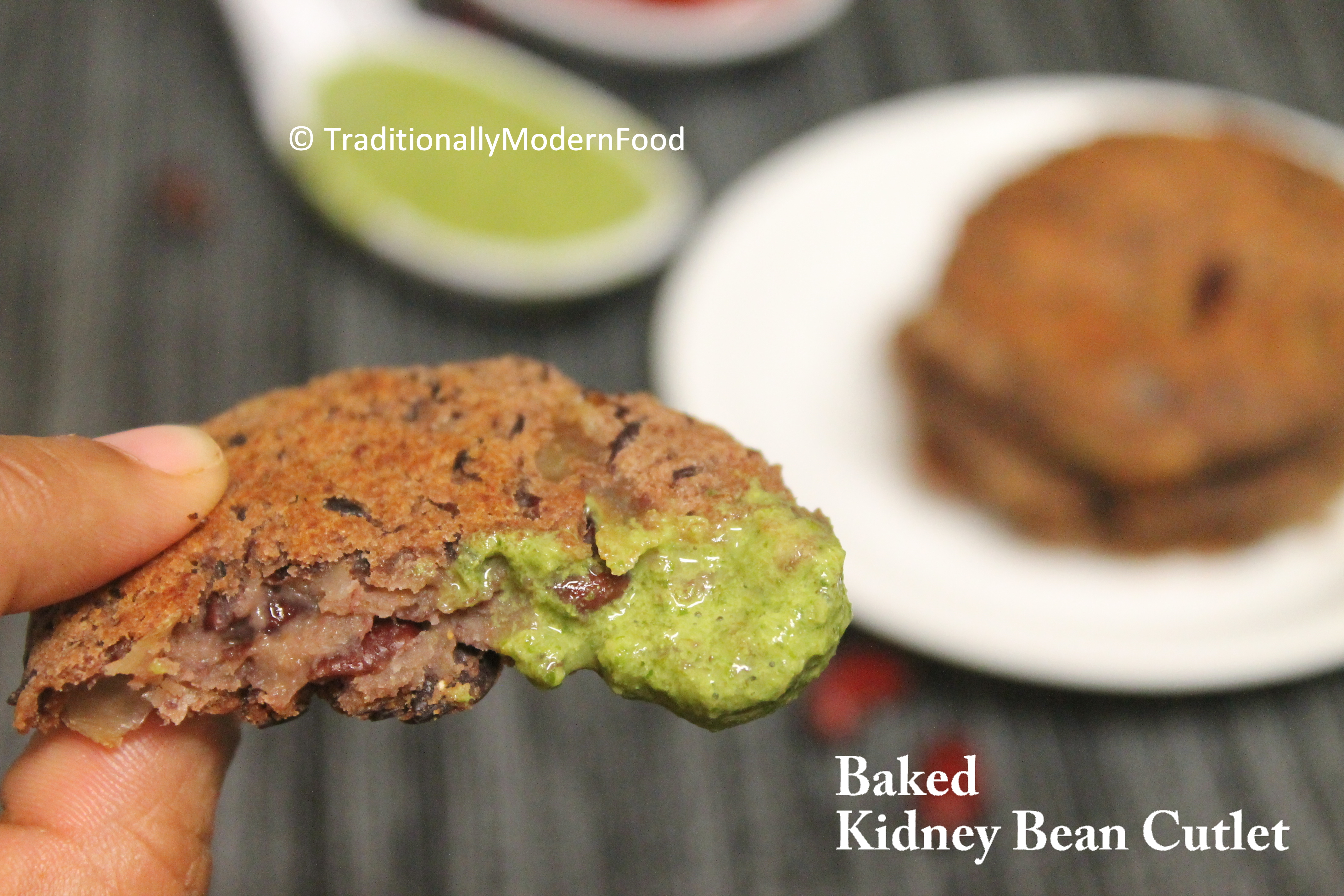 Other vadai recipes in TMF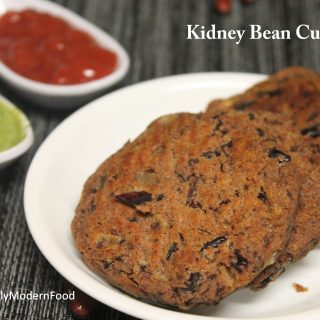 Baked Rajma Cutlet / Baked Kidney beans Patty
protein rich snacks prepared with kidney beans. Great way to make kids eat beans.
Print
Pin
Comment
Ingredients
Cooked Kidney Beans/ Rajma - 1 cup + 3/4 cup

Onion - 1

big - finely chopped

Whole Wheat - 3 tbsp

Maida - 3 tbsp

Pav bhaji Masala/ Chilli powder - 1 teaspoon + 1/4 tsp

Adjust according to your spice level

Garam Masala - 1/2 tsp

Coriander Powder - 1/2 tsp

Cumin Powder - 1/4 tsp

Breadcrumbs - little for binding

Ginger - Garlic paste - 1 tsp

Asofetida - generous pinch

Salt - as needed

Oil - 1 teaspoon + to Grease
Instructions
Wash and Soak Rajma in hot water for 4-5 hours. Drain and pressure cook it for 2 whistles with little salt and water

After the pressure is released strain it without extra water. Add kidney beans ( I had 2 cups of cooked bean used 1 cup + 3/4 cup for cutlet and remaining bean for gravy) in a wide vessel mash it with a potato masher/ pulse once into a coarse mixture (avoid over-grinding)

Add oil to the pan, once the oil becomes hot add onion, ginger garlic paste, and sauté till the onions become translucent

Add Turmeric Powder, Cumin Powder, coriander powder, pav bhaji Powder, and salt (for Masala); cook for 2-3 minutes on low flame. Switch off transfer to the vessel containing rajma. Add maida and Wheat flour and mix well

Add little breadCrumbs for binding

Preheat the oven to 400 degrees Fahrenheit. Take the baking tray and line a parchment oil and grease it with oil

Take small portions of the mixture, and flatten them using your palm (I made it thinner)
Baked Cutlet:
Place them in the greased tray and brush  the top portion of each cutlet with little oil to avoid drying out and of course for the crispy finish

Bake the vadai for 8 - 12 min, till they have browned the underside (adjust time according to your oven). Carefully flip them and bake again for another 8 - 12 minutes. Remove and serve immediately. Serve with chutney/ ketchup and enjoy them as such or in Bread/ bun (burger)/Roti/tortilla
Shallow Fry Cutlet:
add little oil to the pan and after the oil becomes hot add a cutlet and cook till it's golden brown on both sides, flipping in between. serve hot with ketch/pudina chutney
Notes
Tin/can kidney beans (14 oz) can also be used instead of dried once
Black bean, limo beans, pinto beans, chickpea, or other beans can be used
Flour measurement may vary depending upon the water content in kidney beans. Try to strain it well for less flour
I used a combination of wheat and maida. Instead, maida  can be replaced with wheat flour Or vice versa but the texture is best with maida
Onion and ginger - garlic paste can be avoided
Shredded Carrot, zucchini, cabbage can be sautéd with onion
For cutlets texture- shallow fry
For vadai- bake
ingredients
Cooked Kidney Beans/ Rajma - 1 cup + 3/4 cup Onion - 1, big - finely chopped Whole Wheat - 3 tbsp Maida - 3 tbsp Pav bhaji Masala/ Chilli powder - 1 teaspoon + 1/4 teaspoon (Adjust according to your spice level) Garam Masala - 1/2 tsp Coriander Powder - 1/2 tsp Cumin Powder - 1/4 tsp Breadcrumbs - little for binding Ginger - Garlic paste - 1 tsp Asofetida - generous pinch Salt - as needed Oil - 1 teaspoon + to Grease
How to make Rajma vadai with step by step pictures
:
Wash and Soak Rajma in hot water for 4-5 hours. Drain and pressure cook it for 2 whistles with little salt and water
After the pressure is released strain it without extra water. Add kidney beans ( I had 2 cups of cooked bean used 1 cup + 3/4 cup for cutlet and remaining bean for gravy) in a wide vessel mash it with a potato masher/ pulse once into a coarse mixture (avoid over-grinding)
Add oil to the pan, once the oil becomes hot add onion, ginger garlic paste, and sauté till the onions become translucent
Add Turmeric Powder, Cumin Powder, coriander powder, pav bhaji Powder, and salt (for Masala); cook for 2-3 minutes on low flame. Switch off transfer to the vessel containing rajma. Add maida and Wheat flour and mix well

Add little breadCrumbs for binding
Preheat the oven to 400 degrees Fahrenheit. Take the baking tray and line a parchment oil and grease it with oil
Take small portions of the mixture, and flatten them using your palm (I made it thinner)
Baked Cutlet:
Place them in the greased tray and brush the top portion of each cutlet with little oil to avoid drying out and of course for the crispy finish
Bake the vadai for 8 - 12 min, till they have browned the underside (adjust time according to your oven). Carefully flip them and bake again for another 8 - 12 minutes. Remove and serve immediately. Serve with chutney/ ketchup and enjoy them as such or in Bread/ bun (burger)/Roti/tortilla
Shallow Fry Cutlet:
Add little oil to the pan and after the oil becomes hot add a cutlet and cook till it's golden brown on both sides, flipping in between. serve hot with ketch/pudina chutney