Medu vada recipe | Instant rice vada | rice flour vadai | Vada recipe | vadai recipe | Ulundu vadai | medhu vadai | crispy soft medhu vada with step by step pictures and video recipe. Check out the Medu Vada recipe in English and Medu vada recipe in Tamil. If you like the video pls SUBSCRIBE to my channel.
VADAI RECIPE
Vadai is one of the popular traditional south Indian snacks. It's also served as an appetizer. Vadai occupies a special place in breakfast combo and special occasion meals. It is also prepared during festivals for naivedyam
What is Meda Vada?
"Medu" is a Kannada word for "Soft" and "Vada" is "crispy fritters". perfectly crispy outside, soft and fluffy inside - defines a perfect vadai
What kind of rice flour should I use?
Always use fine rice flour. You can also use idiyappam flour for instant vada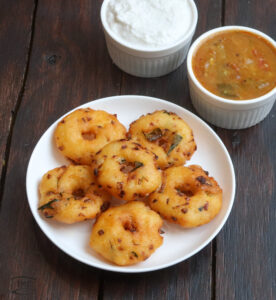 How much water should I add?
I generally add thick curd + water for vadai Batter. the total amount of liquid is twice the rice flour. Adjust the water according to rice flour you use
Nonstick dough - key for perfect vadai
Always cook the vadai dough in low- medium flame and keep mixing for a lump-free smooth dough. Cook till the dough turns nonsticky
How to fix the sticky dough
Sprinkle little rice flour. Mix well and cook till the dough turns nonsticky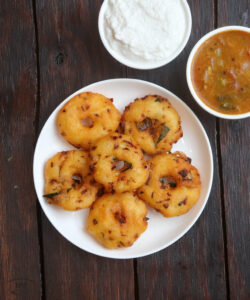 How to fix if the dough has cracks?
Sprinkle little water and cook till the dough turns nonsticky
HOW TO FIX A SLIGHTLY WATERY BATTER?
Add little rice flour to the batter and make Vadai. You can also use little Rava instead of rice flour
WHY VADAI IS CRISPY ON THE OUTSIDE BUT UNCOOKED INSIDE?
Always Fry Vadai in medium flame. Medhu vada fried on hot oil might turn brown soon but won't cook through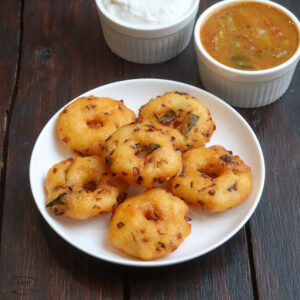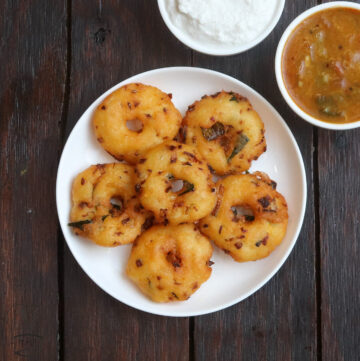 Ingredients
1

cup

rice flour

1

cup

+ 1/2 cup water

1/2

cup

thick curd

Required salt
Add ons
3/4

cup

finely chopped onions

1

+ 1/2 tablespoon finely chopped ginger

1

teaspoon

Asafoetida

Few curry leaves

2

green chilli

finely chopped

1

tablespoon

red chilli flakes
Instructions
Firstly add rice flour, water, salt, and curd to a wide vessel; mix well till you get Lump free smooth batter

Add oil to a wide heavy-bottomed pan and pour rice flour slurry

Turn on the stove in low- medium flame and keep mixing for a lump-free smooth dough

Thickens well and dough comes together

Without touching the pan it turns to a whole mass

Check if the dough is at the right consistency, Nonstick when touched with wet hands

Vadai dough is ready; turn off the stove

Transfer to a plate and cover with a damp cloth

Warm enough to roll? Grease with little oil and mix well; If the dough has any lumps, break it

Add onion, ginger, asafoetida, curry leaves, green chilli, and dried red chilli flakes; mix well

Grease your hands with little oil and pinch a portion of the dough

Roll and flatten. Make a hole in the center

Heat oil and fry vadai in batches

Avoid flipping immediately. Give time to fry

Flip and fry both sides golden brown

Drain oil in the oil filter and serve hot vadai
Video
Notes
Shape vada according to your desired size
Add extra spice and seasoning to the vadai dough else vada will taste bland
Ingredients
1 cup rice flour
1 cup + 1/2 cup water
1/2 cup thick curd
Required salt
Vada dough
1 tablespoon Coconut oil
Add ons
3/4 cup finely chopped onions
1 + 1/2 tablespoon finely chopped ginger
1 teaspoon Asafoetida
Few curry leaves
2 green chilli, finely chopped
1 tablespoon red chilli flakes
How to instant medu vada with step by step pictures
Firstly add rice flour, water, salt, and curd to a wide vessel; mix well till you get Lump free

smooth batter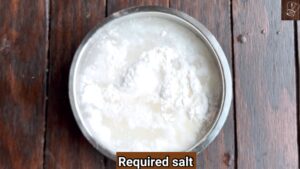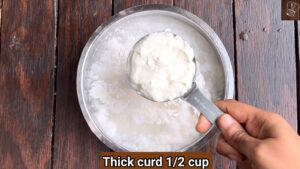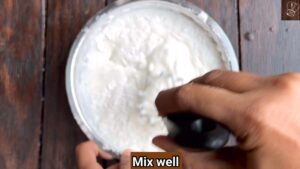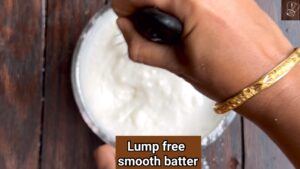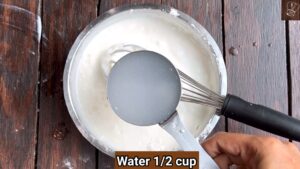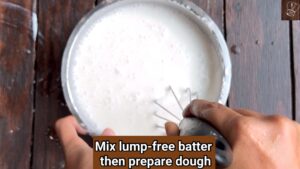 Add oil to a wide heavy-bottomed pan and pour rice flour slurry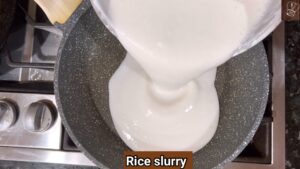 Turn on the stove in low- medium flame and keep mixing for a lump-free smooth dough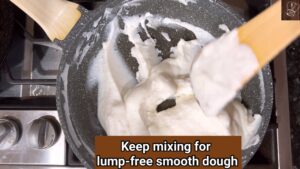 Thickens well and dough comes together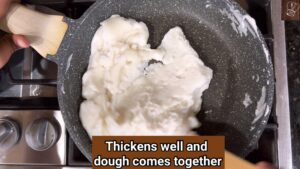 Without touching the pan it turns to a whole mass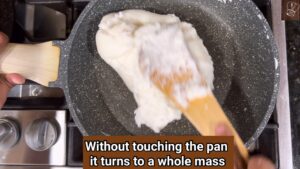 Check if the dough is at the right consistency, Nonstick when touched with wet hands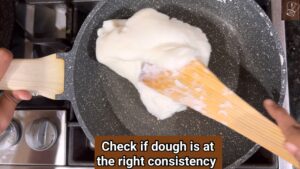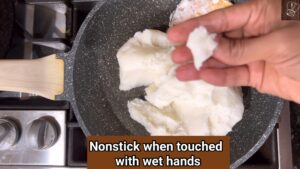 Vadai dough is ready; turn off the stove
Transfer to a plate and cover with a damp cloth
Warm enough to roll? Grease with little oil and mix well; If the dough has any lumps, break it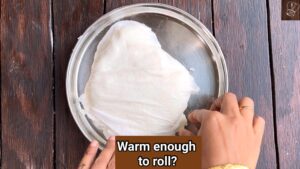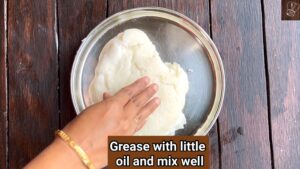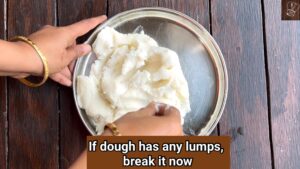 Add onion, ginger, asafoetida, curry leaves, green chilli, and dried red chilli flakes; mix well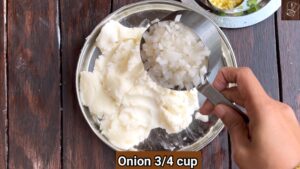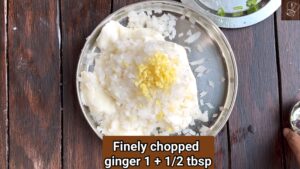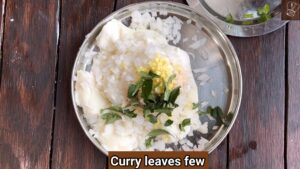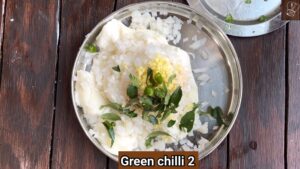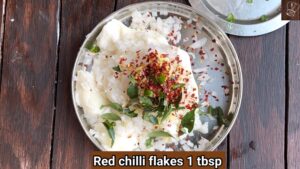 Grease your hands with little oil and pinch a portion of the dough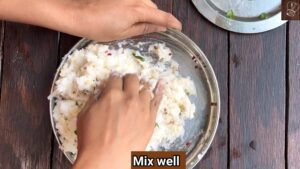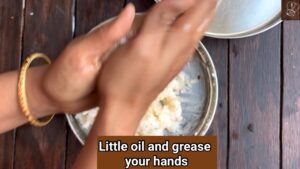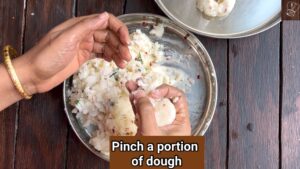 Roll and flatten. Make a hole in the center
Heat oil and fry vadai in batches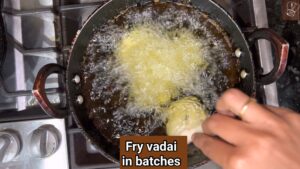 Avoid flipping immediately. Give time to fry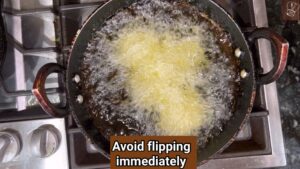 Flip and fry both sides golden brown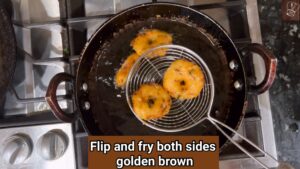 Drain oil in the oil filter and serve hot vadai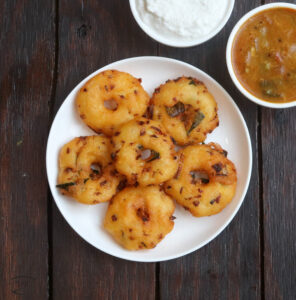 Notes
Shape vada according to your desired size
Add extra spice and seasoning to the vadai dough else vada will taste bland