Pistachio cake | Eggless Pista cake | Eggless Pista milk cake | Best Milk cake | fusion cake | Eggless pistachio cake | RosePista cake | Indian pista cake | Best Eggless Cake | Pista rose cake | indian style pista cake with step by step pictures and video recipe. Check out the Best Eggless Pista cake. If you like the video pls SUBSCRIBE to my channel. Other Cake recipes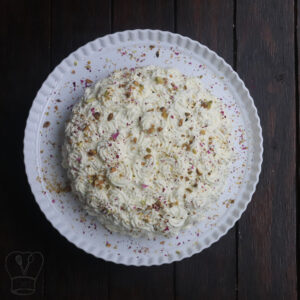 Eggless sponge pista cake soaked in rose - pistachio syrup, frosted with vanilla whipped cream frosting, topped with crushed dried rose and pista
CAN I USE WHEAT FLOUR INSTEAD OF ALL-PURPOSE/FLOUR?
For a light and soft cake, all-purpose flour is preferred. Using wheat flour might result in dense cake. If you prefer to use wheat flour choose fine ground flour and add an extra 2 or 3 tablespoon of milk. Also, add extra sugar syrup to moist the cake
CAN I USE BUTTER INSTEAD OF OIL?
Yes, oil can be substituted with melted unsalted butter but as I told you in my other cake recipes oil makes the moist cake. I would recommend flavorless oil
HOW CAN I ADOPT THE RECIPE FOR OTHER CAKE PANS?
I have used a 7-inch cake pan. You can use the same proportion and split it into two 6 inch pans. Double the recipe for 9-inch pista rose cake
HOW LONG SHOULD I MICROWAVE Milk?
I have microwaved for 2 minutes but time might vary based on your microwave oven setting. Microwave milk turns hot.
CAN I BOIL MILK ON THE STOVETOP?
Yes, you can cook milk just till it turns warm avoid boiling hot milk.
Can I use milk from the fridge?
hot milk helps to raise the cake and make it spongy so I would recommend it. Avoid using milk directly from the fridge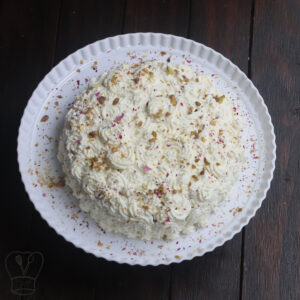 CAN I BAKE IN THE PAN?
Yes place a stand and preheat the pan for 10 minutes on medium flame. Place the cake pan on top, cover with a lid and cook for 30-40 minutes on low flame
What kind of pistachio should I use?
I used lightly salted pistachio and that worked perfect for the cake. You can use unsalted pistachio too
Why should I grind all the dry ingredients?
If you grind pista alone it might turn oily but grinding pista with other ingredients helps for the perfect texture.
Can I skip food color?
Yes, food color is optional. you can skip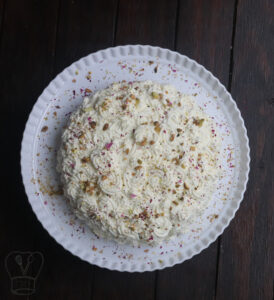 Other cake recipes in TMF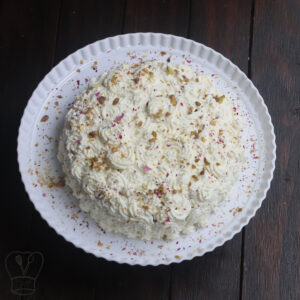 Ingredients
Cake dry ingredients:
1

cup

all-purpose flour

3

tablespoon

milk powder

1/4

roasted pistachio

1

teaspoon

baking powder

1/4

teaspoon

baking soda
Cake wet ingredients:
1

cup

milk

1/8

teaspoon

kewra water

1/2

cup

Sugar

1/2

cup

flavorless oil
Sugar syrup:
1/4

cup

sugar

1/4

cup

hot water

1/8

teaspoon

kewra water

2

teaspoon

chopped roasted pistachio
Frosting
1

cup

heavy cream

1/3

cup

powdered sugar

1

tablespoon

vanilla pudding mix
Topping
Crushed dried rose petals

Chopped roasted pistachio
Instructions
Eggless Pista cake
Firstly preheat the oven to 350 degrees Fahrenheit

Line a 7-inch cake pan with parchment paper and grease with butter spray. remove excess spray

Add all-purpose flour, milk powder, pistachio, baking powder, baking soda to a mixie jar; ground into a fine powder

Take milk in microwave-safe bowl and microwave for 2 minutes, keep it aside

Take sugar and oil in a separate bowl and mix well

Furthermore, pour the hot milk, kewra water, green food color into the oil-sugar bowl and mix well

Transfer the ground flour and mix gently. Avoid overmixing

If you see lumps, transfer to the mixie jar and pulse 1 or 2 times. Avoid high-speed grinding

Transfer the cake batter and tap the pan to remove the air bubble

Bake for 30-35 minutes until a toothpick inserted comes out clean

Cool the cake for 10 minutes then invert and unmold the cake. cool the cake completely
Prepare Rose pistachio syrup
Add pista, sugar, and hot water; microwave for 2 minutes

Furthermore, add kewra water and mix well. cool at room temperature then refrigerate till you use
After cake and syrup are cool
Prick holes all in around the cake

Add sugar syrup in batches. use a spoon to gently press the pistachios

Finish the entire syrup and set aside the cake for 30 minutes
Vanilla whipping cream frosting
Whisk the cream till you see white peaks

Add vanilla pudding mix and powdered sugar; mix well
Finish the cake
Frost the cake

Top with crushed dried rose and finely chopped pistachio
Video
Notes
The amount of frosting differs based on the way you frost the cake

Always use roasted pistachio as it won't ooze out oil while grinding

If preferred you can make two-layer .add a layer of frosting in between layers

The same measurement can be baked in two 6 inch cake pan

You can double the ingredient measurement for a 9-inch cake

instant vanilla pudding mix Is optional but it helps for frosting texture and taste

I preferred piping my frosting so added pudding mix. You can skip if you prefer simple frosting

Always use chill heavy cream for whipping. Avoid room temperature heavy whipping cream

Add frosting only after the sugar syrup

 

is well soaked on the cake

You can prepare cake in a loaf pan

The frosting is optional. You can skip still cake tastes yum
Ingredients
Cake dry ingredients:
1 cup all-purpose flour
3 tablespoon milk powder
1/4 roasted pistachio
1 teaspoon baking powder
1/4 teaspoon baking soda
Cake wet ingredients:
1 cup milk
1/8 teaspoon kewra water
1/2 cup Sugar
1/2 cup flavorless oil
Sugar syrup:
1/4 cup sugar
1/4 cup hot water
1/8 teaspoon kewra water
2 teaspoon chopped roasted pistachio
Frosting
1 cup heavy cream
1/3 cup powdered sugar
1 tablespoon vanilla pudding mix
Topping
Crushed dried rose Chopped roasted pistachio
How to make an Eggless Pistachio cake recipe with step by step pictures:
Eggless Pista cake
Firstly preheat the oven to 350 degrees Fahrenheit

Line a 7-inch cake pan with parchment paper and grease with butter spray. remove excess spray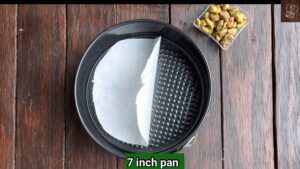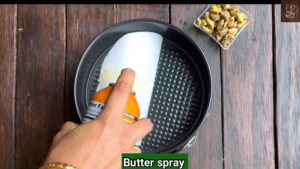 Add all-purpose flour, milk powder, pistachio, baking powder, baking soda to a mixie jar; ground into a fine powder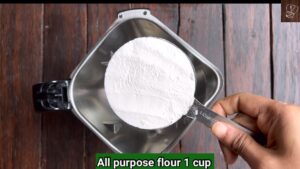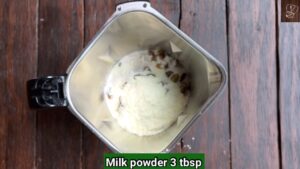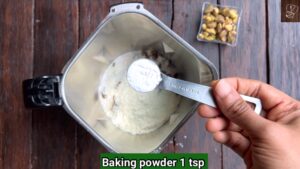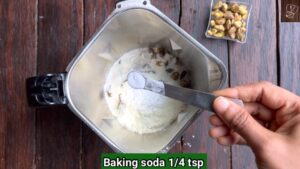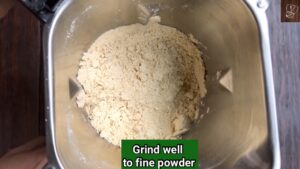 Take milk in microwave-safe bowl and microwave for 2 minutes, keep it aside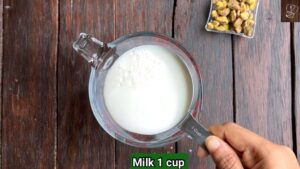 Take sugar and oil in a separate bowl and mix well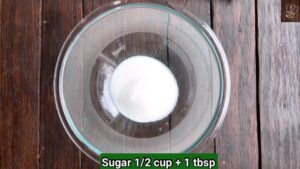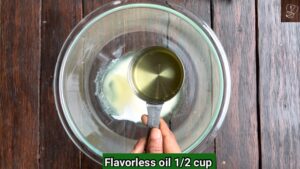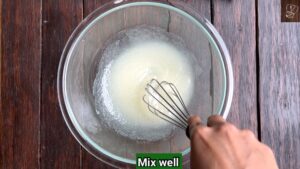 Furthermore, pour the hot milk, kewra water, green food color into the oil-sugar bowl and mix well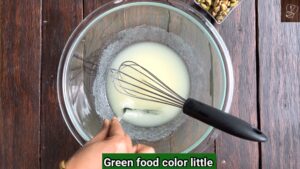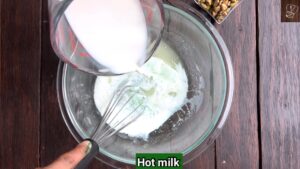 Transfer the ground flour and mix gently. Avoid overmixing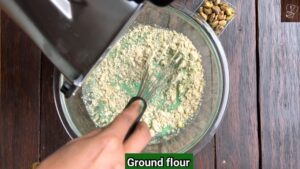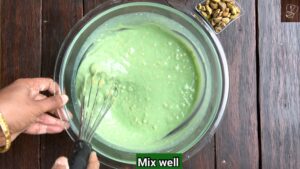 If you see lumps, transfer to the mixie jar and pulse 1 or 2 times. Avoid high-speed grinding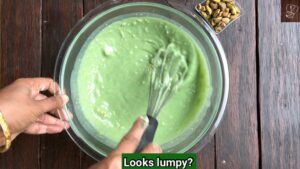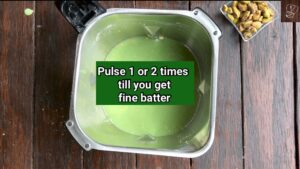 Transfer the cake batter and tap the pan to remove the air bubble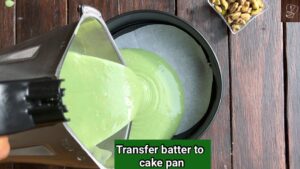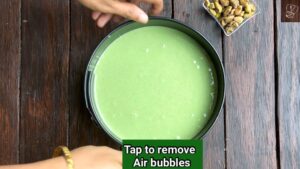 Bake for 30-35 minutes until a toothpick inserted comes out clean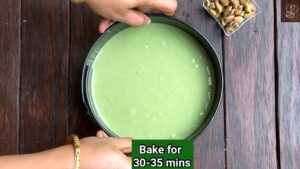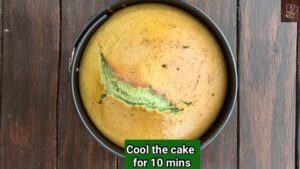 Cool the cake for 10 minutes then invert and unmold the cake. cool the cake completely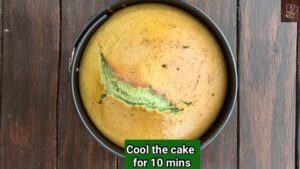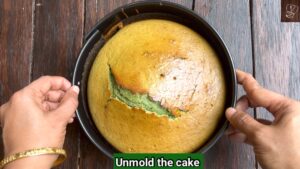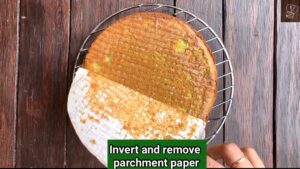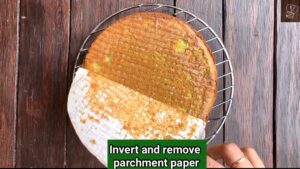 Prepare Rose pistachio syrup
Add pista, sugar, and hot water; microwave for 2 minutes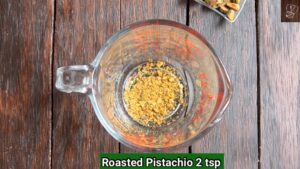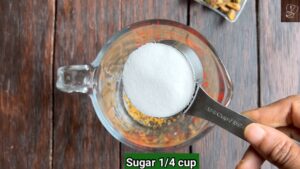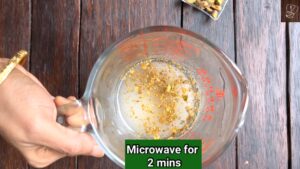 Furthermore, add kewra water and mix well. cool at room temperature then refrigerate till you use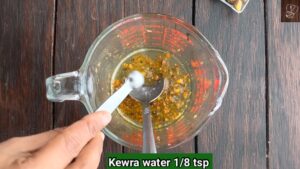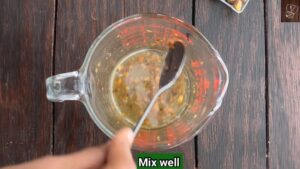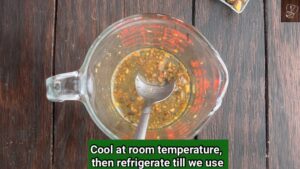 After cake and syrup are cool
Prick holes all in around the cake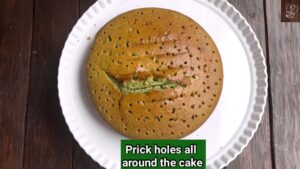 Add sugar syrup in batches. use a spoon to gently press the pistachios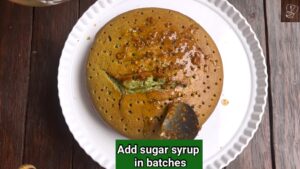 Finish the entire syrup and set aside the cake for 30 minutes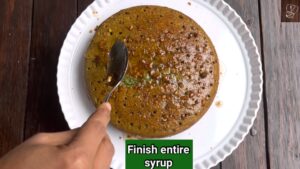 Vanilla whipping cream frosting
Whisk the cream till you see white peaks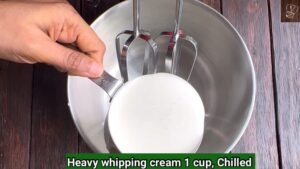 Add vanilla pudding mix and powdered sugar; mix well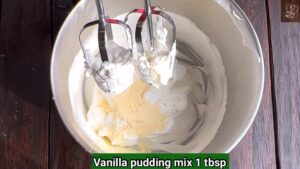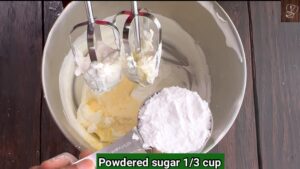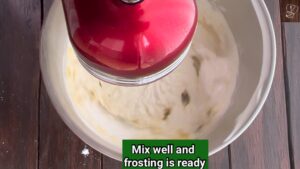 Finish the cake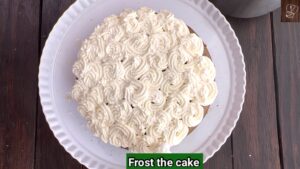 Top with crushed dried rose and finely chopped pistachio