Sabudana vada | Sago vada | Javvarisi vadai with step-by-step pictures and video recipes. Check out the Sabudana vada recipe in Tamil and Sabudana Vada recipe in english. If you like the video pls SUBSCRIBE to my channel.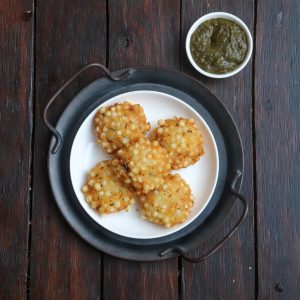 Sabudana vada | Sago vada | Javvarisi vadai is a tasty popular Maharashtrian and North Indian fried tea time snack prepared with sabudana (tapioca pearls) roasted peanuts and boiled potatoes. It is also common fasting food for Indian Hindus in the north. Gluten-free vegan vada is popular street food too.
Why sabudana during fasting
Sago is loaded with carbs and glucose that makes the dishes prepared from Sabudana filling during fasting. sabudana dishes are often prepared during Ekadashi & Navratri. khichdi, kheer, and vada are some of the popular sabudana based Recipes
Why colander for washing sago?
I recommend colander as it drains the water well and also you can wash sago for 2-3 times without wasting them
Tips for perfect soaking
Soaking sabudana to the right texture helps for the best sabudana vada. Soaking time might vary based on the variety of sago. I generally soak for 5-6 hours. Always soak till sago turns soft press. If Sabudana is not soaked well they might burst in oil so make sure they are not hard to press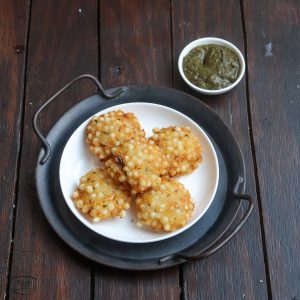 Avoid overcooked potatoes
Overcooked mushy potatoes might absorb extra oil and also affect vada texture. You can cook potatoes in a pressure cooker/instant pot or stovetop. I prefer microwave cooking as it is an easy way to avoid overcooking. Soggy potatoes often break up the sabudana vada while frying due to excess moisture. Avoid adding hot potatoes as that might turn the vadai dough soggy
Crushed peanuts
Peanuts give amazing flavor to the vada and also help for the biding. You can powder it but I prefer coarse pulse as it gives a good crunchy texture and also helps for mixing
How to fix if sago disintegrates in oil
?
Sometimes due to various factors, javvarisi vadai might disintegrate in oil. In that case, I would recommend 1-2 teaspoon of rice flour. It helps to absorb the extra moisture and helps vadai to hold its shape.
Optimal Temperature of the oil
Always make sure the oil is at the right temperature. fry on medium flame. The low flame will make the sago vadai oily. Sometimes low flame might even disintegrate vada. high flame might brown quickly
Make-ahead preparation for a party
Soak sabudana in advance. Drain and refrigerate till you mix. It stays good for around 3 days in the fridge

Coarse pulse the peanuts. It stays good for a week
Boil potatoes till they are fork-tender. Cool and peel potatoes. It stays good for one day
Shaping the vadai
Always grease your hands with oil as it helps to get non-sticky vadai dough. It also helps to stick the sabudana from breaking

I recommend placing them on a plate and resting for 5 minutes to hold the shape
Avoid too thick or too thin sabudana vadai. Thin vada breaks in hot oil. Thick vadai might not cook inside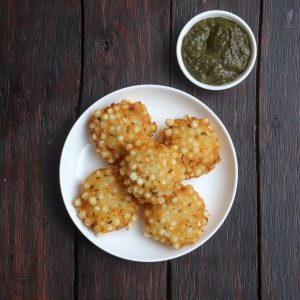 Other vadai recipes in TMF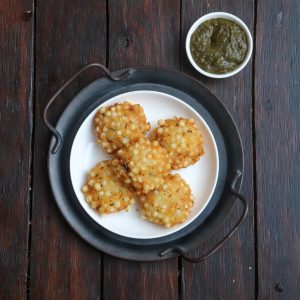 Ingredients
Soak Sabudana
1/2

cup

sabudana

1/2

cup

water
Cook potatoes
6

baby potatoes or 2 big potatoes

Enough water

Little salt
Coarse pulse
1/4

cup

peanuts

1

teaspoon

cumin seeds
Vadai dough
2

green chilli deseeded

1

teaspoon

lemon juice

adjust according to your taste

1/4

teaspoon

ginger powder

Pinch

of sugar

Required salt

Coriander leaves
Instructions
Soak sabudana
First, add 1/2 cup of sabudana to a colander. Run cold water and wash 2-3 times

Transfer them to a wide vessel and add 1/2 cup of water

Cover and soak for 5-6 hours till sago turns soft press

Check if sago is soaked properly

try pressing the sabudana pearls between thumb and index finger; if you are about to soft press (easy mash) then sago are properly soaked

If it has a hard center soak for additional time

Place the soaked sabudana in a colander and drain the water completely
Cook potatoes
Add roughly chopped potatoes, water, and salt in a glass container; cover and microwave for around 5 minutes till potatoes turn fork tender

Transfer to a colander and cool

Peel the potatoes and let them cool completely
Pulse peanuts
Add peanuts and cumin seeds to a mixie jar; pulse them to a coarse mixture. Avoid grinding
Vadai dough
Transfer the cool potatoes to a wide mixing plate

Add the drained sabudana

Furthermore, add coarse peanuts and mix well

Add green chilli, salt, lemon juice, sugar, ginger powder, and coriander leaves; mix well. Mash a few potatoes for easy binding

After mixing the vadai mixture well grease your hands with oil

Take some portion of the mixture in your hands and shape them into flat round vada. avoid too thick or too thin vadai

Repeat and rest all the vadai ready for frying
vada mixture test
Heat oil for deep frying in a Kadai/ pan

After resting the vadai mixture for at least 5 minutes

Fry vada on medium flame

Always test by adding one at a time. If the vada mixture disintegrates fully then the mixture needs binding. Add rice flour ( 1 - 2 tsp) mix well

shape vadai. Rest and fry

If one or two Pearls disintegrate then grease hand with oil press the next batch well before frying
Fry vada
If the javvarisi vadai is not disintegrating in oil gently drop the vadai and fry

Avoid crowding also maintain optimal oil temperature avoid too high or too low

When one side Turns golden, then flip the vada. avoid flipping before, as they might break

Turn over a couple of times to fry the sabudana vada evenly. Fry until they are crisp and golden brown

Remove them with a slotted ladle. Place on kitchen paper towels to absorb excess oil. Fry the remaining batches

Serve sabudana vada hot
Video
Notes
Any leftover dough mixture stays well in the fridge for 1 to 2 days

 Wide vessel helps for proper soaking

Always strain the water in sabudana well, else it might disintegrate in oil

Cool potatoes first and then add to the sabudana else it might make the vada mixture soggy

You can roast peanuts but I prefer using pre-roasted peanuts
Wide vessel helps for proper soaking
Ingredients
Soak Sabudana
1/2 cup sabudana
1/2 cup water
Cook potatoes
6 baby potatoes or 2 big potatoes
Enough water
Little salt
Coarse pulse
1/4 cup peanuts
1 teaspoon cumin seeds
Vadai dough
2 green chilli deseeded
1 teaspoon lemon juice (adjust according to your taste)
1/4 teaspoon ginger powder
Pinch of sugar
Required salt
Coriander leaves
To fry
Oil
How to make sabudana vadai with step by step pictures
Soak sabudana
First, add 1/2 cup of sabudana to a colander. Run cold water and wash 2-3 times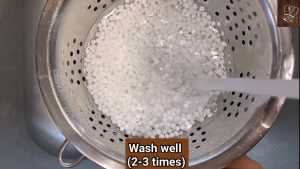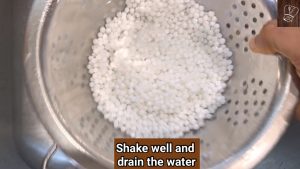 Transfer them to a wide vessel and add 1/2 cup of water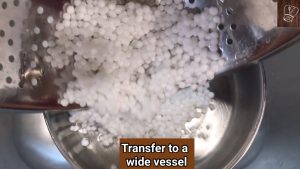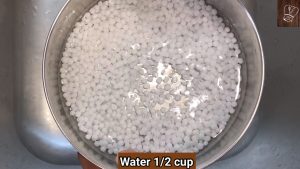 Cover and soak for 5-6 hours till sago turns soft press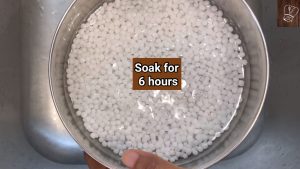 Check if sago is

soaked properly
try pressing the

sabudana pearls between thumb and index finger; if you are about to soft press (easy mash) then sago are properly soaked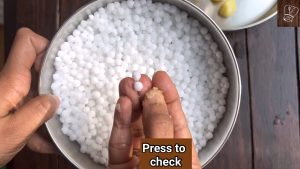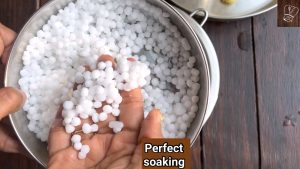 If it has a hard center soak for additional time

Place the soaked sabudana in a colander and drain the water completely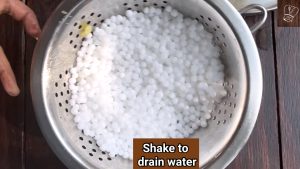 Cook potatoes
Add roughly chopped potatoes,

water, and salt in a glass container; cover and microwave for around 5 minutes till potatoes turn fork tender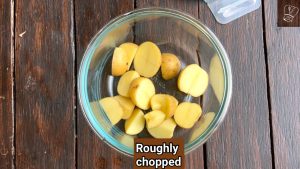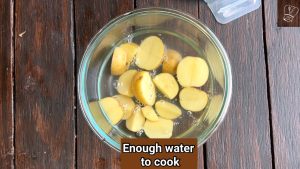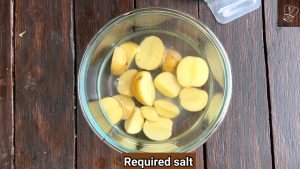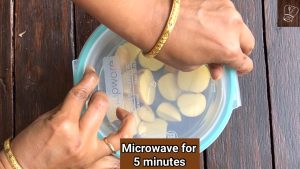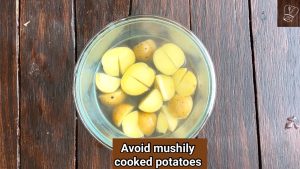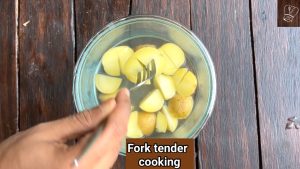 Transfer to a colander and cool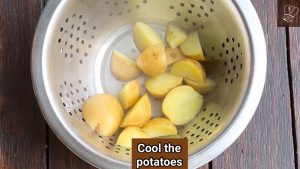 Peel the potatoes and let them cool completely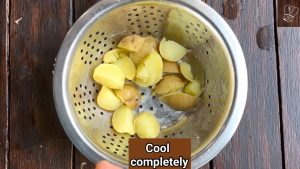 Pulse peanuts
Add peanuts and cumin seeds to a mixie jar; pulse them to a coarse mixture. Avoid grinding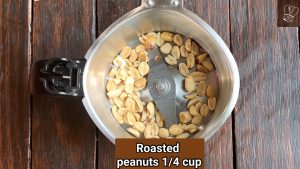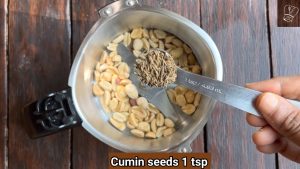 Vadai dough
Transfer the cool potatoes to a wide mixing plate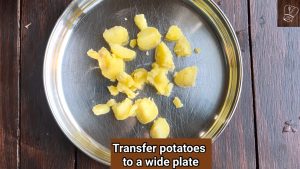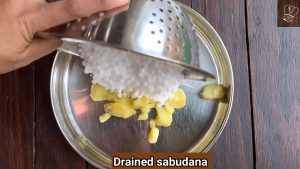 Furthermore, add coarse peanuts and mix well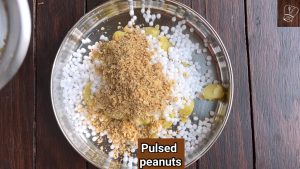 Add green chilli, salt, lemon juice, sugar, ginger powder, and coriander leaves; mix well. Mash a few potatoes for easy binding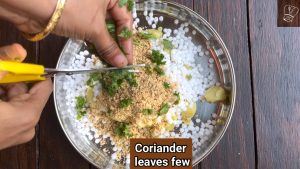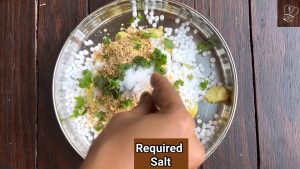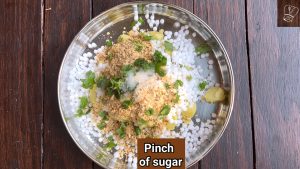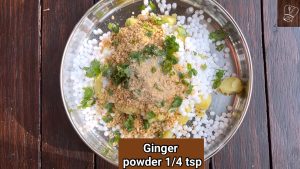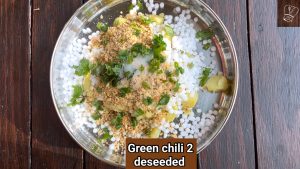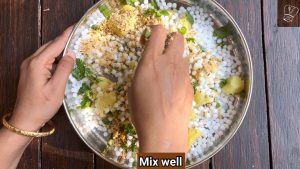 After mixing the vadai mixture well grease your hands with oil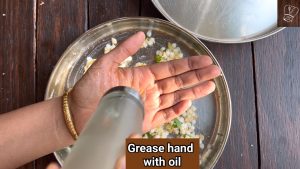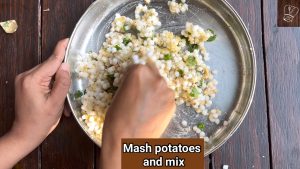 Take some portion of the mixture in your hands and shape them into flat round vada. avoid too thick or too thin vadai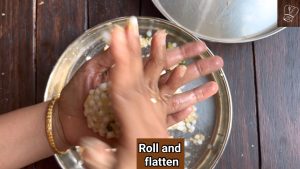 Repeat and rest all the vadai ready for frying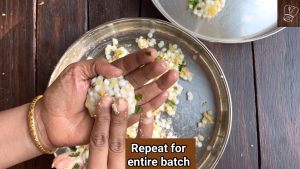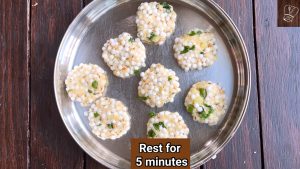 vada
mixture test
Heat oil for deep frying in a Kadai/ pan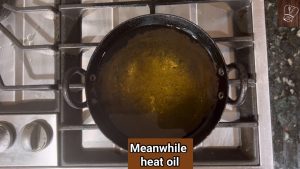 After resting the vadai mixture for at least 5 minutes

Fry vada on medium flame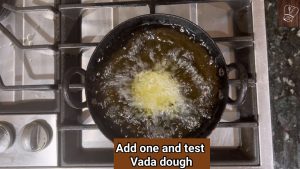 Always test by adding one at a time. If the vada mixture disintegrates fully then the mixture needs binding. Add rice flour ( 1 - 2 tsp) mix well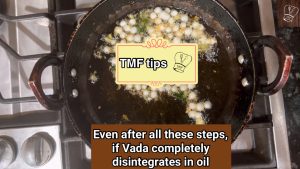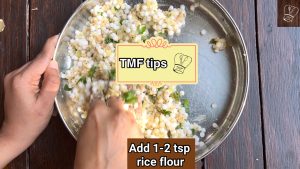 shape vadai. Rest and fry
If one or two Pearls disintegrate then grease hand with oil press the next batch well before frying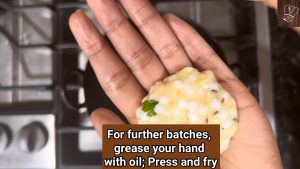 Fry vada
If the javvarisi vadai is not disintegrating in oil gently drop the vadai and fry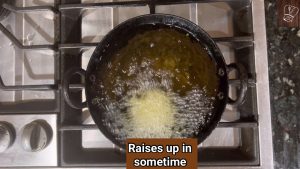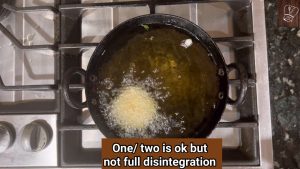 Avoid crowding always maintain optimal oil temperature avoid too high or too low
When one side Turns golden brown, then flip the vada. avoid flipping before, as they might break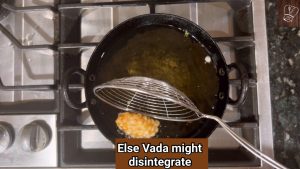 Turn over a couple of times to fry the sabudana vada evenly. Fry until they are crisp and golden brown

Remove them with a slotted ladle. Place on kitchen paper towels to absorb excess oil. Fry the remaining batches