How to keep curry leaves fresh for weeks, How to store curry leaves in the fridge for months, how to preserve Kadi Patta, how to store curry leaves, How to keep curry leaves fresh for a long time, How to store curry leaves fresh, no-fail solution to keep curry leaves fresh for weeks,best way to keep curry leaves fresh for weeks. Check out the How to keep curry leaves fresh video and If you like the video pls SUBSCRIBE to my channel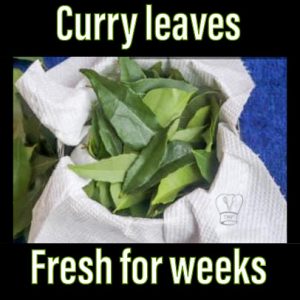 Curry leaves
Curry leaves are essential ingredients in the south Indian kitchen. It not only adds flavors but is very healthy too. Back in India after buying vegetables, vendors give them for free but for people living outside India, it has become a herb to be treasured and maintained. Preserving, storing curry leaves has become essential for us. In this post, I am sharing tips & tricks I follow to to store curry leaves for weeks
will this method work for storing them for months?
Keeping curry leaves in the fridge will help for weeks of freshness. If you are thinking to keep it longer you can sun dry them or microwave dry them. I have shared the procedure to dry curry leaves in the microwave
can I Store them with the stem?
for longer shelf life I would recommend removing the stem of curry leaves then doing this process.
Should I wash the leaves in hot water?
I generally wash curry leaves in cold running tap water. If you are concerned about the quality you can wash with warm water. Avoid washing with hot water.
can I skip drying the leaves?
No always make sure curry leaves are completely dry before storing them
Do I need to use stainless steel container?
I prefer using stainless containers but you can use plastic or glass containers too
Can I skip using a kitchen towel?
No, I would recommend a kitchen towel | paper napkin as it absorbs the moisture and helps leaves to say fresh for a longer time
How Long do curry leaves stay good in the fridge?
If maintained well they can stay fresh for weeks
Can I store mildly damaged leaves?
Chop off the damaged area and discard. Store the good portion separately and use it within 2 days.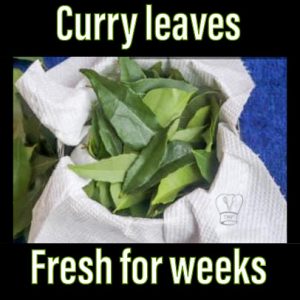 Instructions
Firstly remove the stem and place the curry leaves in a colander and wash well

Slightly tilt the colander and drain all the liquid

Discard the spoiled one. If you see some mildly damaged curry leaves, trim them and store them separately. Use them within 2 days

Separate the good fresh ones and spread them

Dry them till moisture evaporates. No need to sundry

Press them with a paper towel to make sure they are completely dry

Place kitchen towel on the storage container

Add a good batch of fresh Curry leaves and wrap the paper towel well to prevent moisture
Video
Ingredients
Curry leaves
How to keep curry leaves in fridge for weeks with step by step pictures
Firstly remove the stem and place the curry leaves in a colander and wash well
Slightly tilt the colander and drain all the liquid
Discard the spoiled one. If you see some mildly damaged curry leaves, trim them and store them separately. Use them within 2 days
Dry them till moisture evaporates. No need to sundry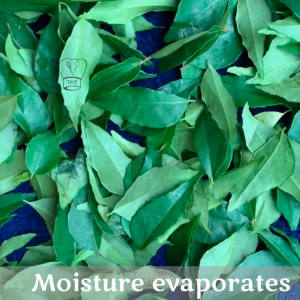 Press them with a paper towel to make sure they are completely dry
Place kitchen towel on the storage container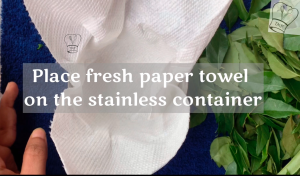 Add a good batch of fresh Curry leaves and wrap the paper towel well to prevent moisture