Moong sprouts pulao recipe, Green gram sprouts pulao, Mung bean sprouts pulao, pulao rice, easy pilaf recipe, kids lunch box recipe, pulao recipe, mixed fruits pulav, pulao recipe, pulav recipe, restaurant-style pulao recipe step by step pictures, and video recipe. Check out the Moong sprouts pulao video in tamil and Moong sprouts pulao video in english. If you like the video pls SUBSCRIBE to my channel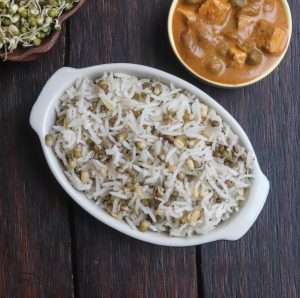 Moong sprouts pulao is an easy healthy kid-friendly protein-rich pulao recipe
How to make homemade sprouts
Homemade sprouts are easy to make and healthy without preservatives. I have shared a detailed recipe on the blog. Pls, refer to the Green gram sprouts written recipe.
Can I skip coconut milk?
Yes, you can skip coconut milk. To make kids-friendly pulao I make it less spicy. Coconut milk adds a nice flavor.
Why thin coconut milk?
Thick coconut milk might curdle. Be it homemade or store brought always dilute the coconut milk then prepare pulao
Will pulao be spicy?
I have used whole green chili hence pulao is not spicy. If you prefer spicy pulao chop green chillies and add
Can I add gram masala or other spice powder?
For moong bean sprouts pulav flavor I prefer to skip masala. You can add any masala of your choice
Why sprouts are not sauteed for a long time?
To retain the nutrients of sprouts avoid cooking for a long time. Always add them towards the end
What tastes best with mung bean sprouts pulav
Pulao is with subtle flavor so I would recommend spicy south Indian curry or north Indian curry for adults. You can also serve it with varuval for kids
How to make Instant pot Sprouts pulao?
Follow the rest of the recipe and cook for 4 minutes; do natural pressure release
How to make vegan pulao?
Use coconut oil instead of ghee or use vegan butter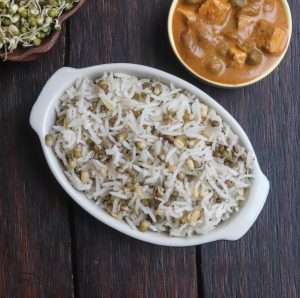 Ingredients
prepare coconut milk
2

tablespoon

thick coconut milk

1

cup

water
To temper
1

tablespoon

ghee

Small piece cinnamon

1

clove

1/4

teaspoon

fennel seeds

1

cardamom

1/4

teaspoon

poppy seeds

1/2

bay leaf
Pulao
1/4

cup

finely chopped onion

2

whole green chilli

1/2

teaspoon

ginger garlic paste

Required salt

3/4

cup

sprouts

1/4

teaspoon

sesame oil
Instructions
Firstly wash and soak basmati rice for 10 minutes

Add ghee to a pressure cooker and turn on the stove on medium flame

When ghee turns hot add ingredients under "to temper" and let them splutter

Add onion and mix well

Furthermore add green chilli, ginger-garlic paste, and saute till onion turns translucent

Add rice and saute for a minute

furthermore, add salt and mix well

Pour the prepared thin coconut milk; mix well and bring to boil

Add sprouts and mix gently

Finally, add sesame oil and cook for2 whistles

Do natural pressure release and mix gently

Transfer the rice and fluff the rice
Video
Notes
The time for soaking and the amount of water might slightly vary based on your basmati rice. Adjust accordingly
To retain the nutrients of sprouts I add them towards the end
For kids friendly spice I have used a whole green chilli; you can chop and add according to your preference
Use coconut oil instead of ghee or use vegan butter
Transferring the rice to a wide plate helps for perfectly fluffy rice
Instant pot Sprouts pulao
Follow the rest of the recipe and cook for 4 minutes; do natural pressure release

Ingredients
3/4 cup basmati rice
prepare coconut milk
2 tablespoon thick coconut milk
1 cup water
To temper
1 tablespoon ghee
Small piece cinnamon
1 clove
1/4 teaspoon fennel seeds
1 cardamom
1/4 teaspoon poppy seeds
1/2 bay leaf
Pulao
1/4 cup finely chopped onion
2 whole green chilli
1/2 teaspoon ginger garlic paste
Required salt
3/4 cup sprouts
1/4 teaspoon sesame oil
How to make sprouts pulao with step by steps pictures
Firstly wash and soak basmati rice for 10 minutes
Add ghee to a pressure cooker and turn on the stove on medium flame
When ghee turns hot add ingredients under "to temper" and let them splutter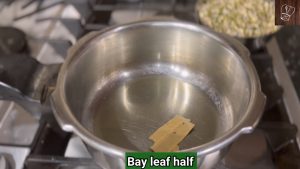 Furthermore add green chilli, ginger-garlic paste, and saute till onion turns translucent
Add rice and saute for a minute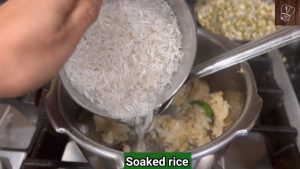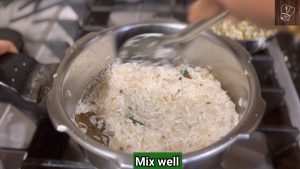 furthermore, add salt and mix well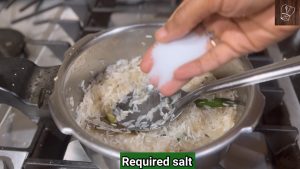 Pour the prepared thin coconut milk; mix well and bring to boil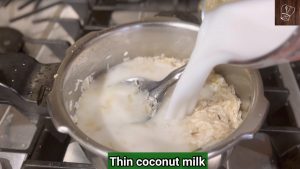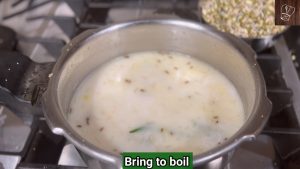 Add sprouts and mix gently
Finally, add sesame oil and cook for2 whistles
Do natural pressure release and mix gently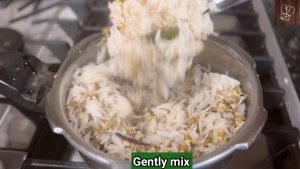 Transfer the rice and fluff the rice