BakedMasala vadai recipe | Baked Chana Baked dal vadai | Baked masal vada | Baked paruppu vadai |Baked dal vadai |

Baked

Parippu vadai | south Indian vada recipe | tea time snacks | crispy masal vada recipe | tea Kadai style | Aama vadai | Tamil Nadu style paruppu vadai | lentil fritters | masala paruppu vadai onion | crispy paruppu vadai | spicy lentil fritters
with step by step pictures and video recipe. Check out the
Masala vadai video

recipe

.
If you like the video pls
SUBSCRIBE to my channel

.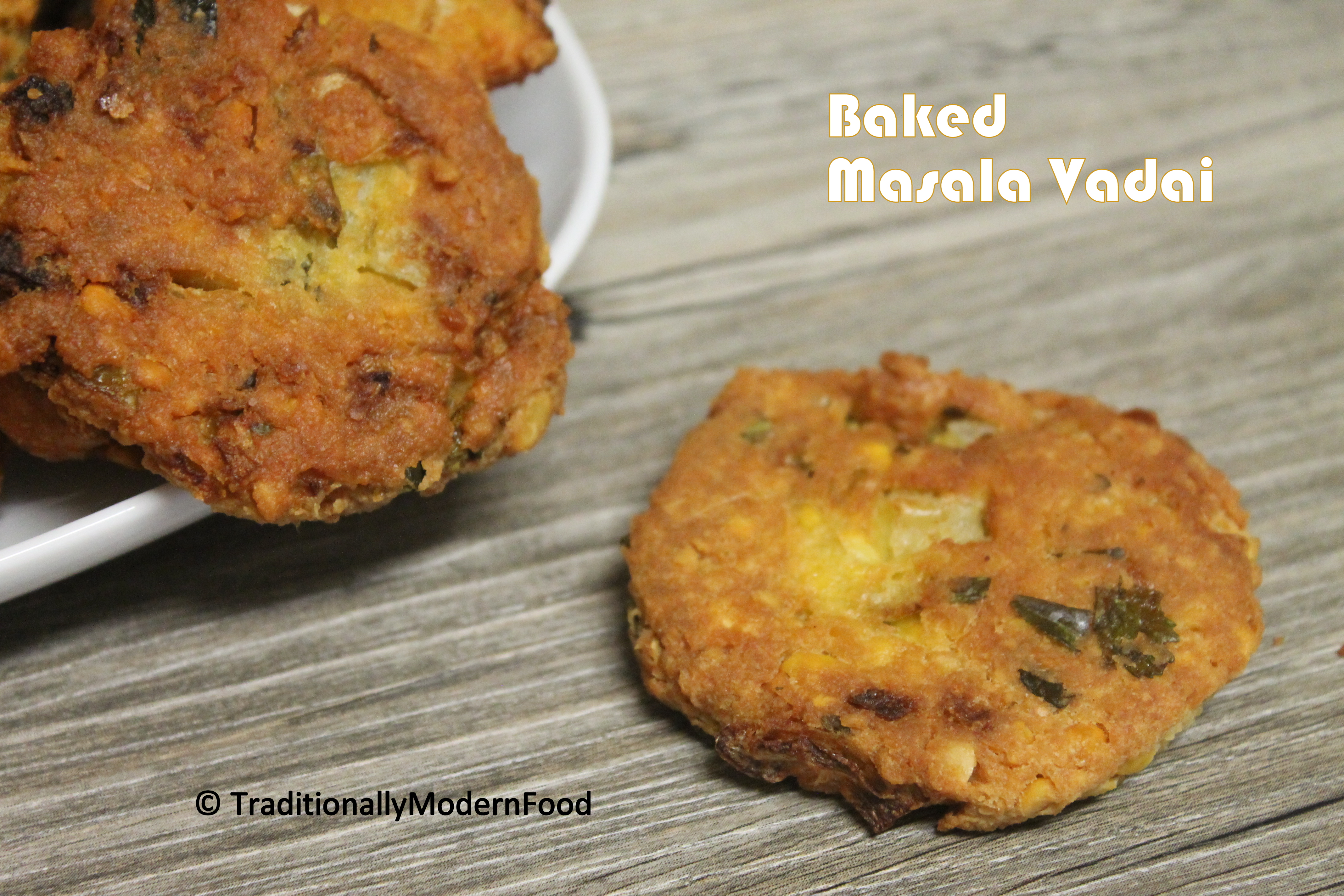 Baked masala vadai | Baked Paruppu vadai is a crispy guilt-free Indian snack. Masala vadai is a tasty snack for a rainy day. Baked masala vadai is a great after-school snack for kids.
When it comes to Vadai, Masala vadai is my all-time favorite. Usually, I deep fry them in oil, but my baking addiction these days told me to try a baked version. These days it's snowing here and on one such day, I was craving for Masala Vadai.
Soaked the dal and ground. Decided to try baked masala vadai but was a little worried about the texture, so instead of making the full batch took half of the batter and started baking it. Preheated the oven and took the baking tray and I realized I was out of parchment paper.
https://www.youtube.com/playlist?list=PL3zYDDQHDMSvHIbByqaaQGxUPu8JNXI6v
I thought is this sign telling me not to bake, but I greased the tray with extra oil (compare to my usual quantity) and baked masala vadai. Oh man, I didn't believe the taste. My husband didn't believe that it's baked, but after seeing the second batch from the oven he accepted:-)
It's snowing today as well and my mind has started thinking about snacks. I am sure I will end up cooking some snacks today but for time being this crispy baked Masala Vadai is for my lovely readers.
Off late I have been using my oven so frequently. Trying my favorite Indian snacks with a healthy baked version.
Other vadai recipes in TMF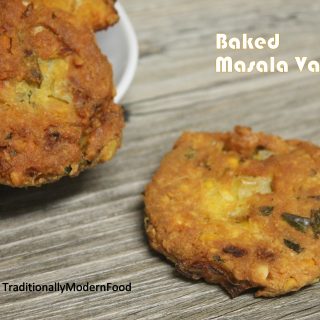 Ingredients
To grind:

1

cup

Chana Dal | kadalai paruppu

1

tablespoon

Rice flour

1

teaspoon

Fennel Seeds | Sombu

2

Red Chillies

4

pods Garlic

peeled

Ginger Small piece

Baking soda - a pinch

Sugar - a pinch

Salt - as needed

To mix:

1/2

cup

Onion finely chopped

Few Curry leaves

1

Green chilli

deseeded

to bake:

Oil - to grease
Instructions
Wash and soak channa dal for 2 to 3 hrs. Drain the water completely and keep aside. Grind together with other ingredients listed under "To grind" with 1 - 2 teaspoon of water into a coarse mixture (less water helps in crispy vadai texture. Avoid using too much water)

Transfer the mixture to the mixing bowl and add onions, curry leaves, coriander leaves and mix well

Preheat the oven to 400 degree Fahrenhait. Take the baking tray and brush the oil

Take small portions of the mixture, and flatten them using your palm (thinner vadai yields crispy vadai)

Place them in the greased tray and brush the top portion of each vadai with little oil to avoid drying out and of course for the crispy finish

Bake the vadai for 11 - 15 min, till they have browned the underside (adjust time according to your oven) . Carefully flip them and bake again for another 11 - 15 minutes. Remove and serve immediately. Serve with chutney/ ketchup. I generally love to finish them without any sides
Notes
The key for the perfect baked vadai is batter with less moisture (water) and greasing generously with oil/ spray
If the vadai is thick outer portion will cook fast and inner will remain uncooked, and baking for more time may lead to to rubbery vadai
Just like the fried ones - these are best served the minute they are made. If can't eat the vadai immediately, switch off the oven and keep the vadai tray back in the over till you eat. Make sure you keep the vadai back in oven after 10 minutes as the oven will still be hot
Though the crispness won't retain for hours together but for 30 - 45 minutes it works perfect. After that I haven't tried
Instead of rice flour rava can also be used
paruppu vadai can also be prepared in Paniyaram pan instead of baking
Ingredients:
To grind:
1 cup Chana Dal | kadalai paruppu
1 tablespoon Rice flour
1 teaspoon Fennel
Seeds | Sombu
2 Red Chillies 4 pods Garlic, peeled
Ginger Small piece
Baking soda - a pinch Sugar - a pinch Salt - as needed
To mix:
1/2 cup Onion finely chopped Few Curry leaves 1 Green chilli, deseeded
to bake:
Oil - to grease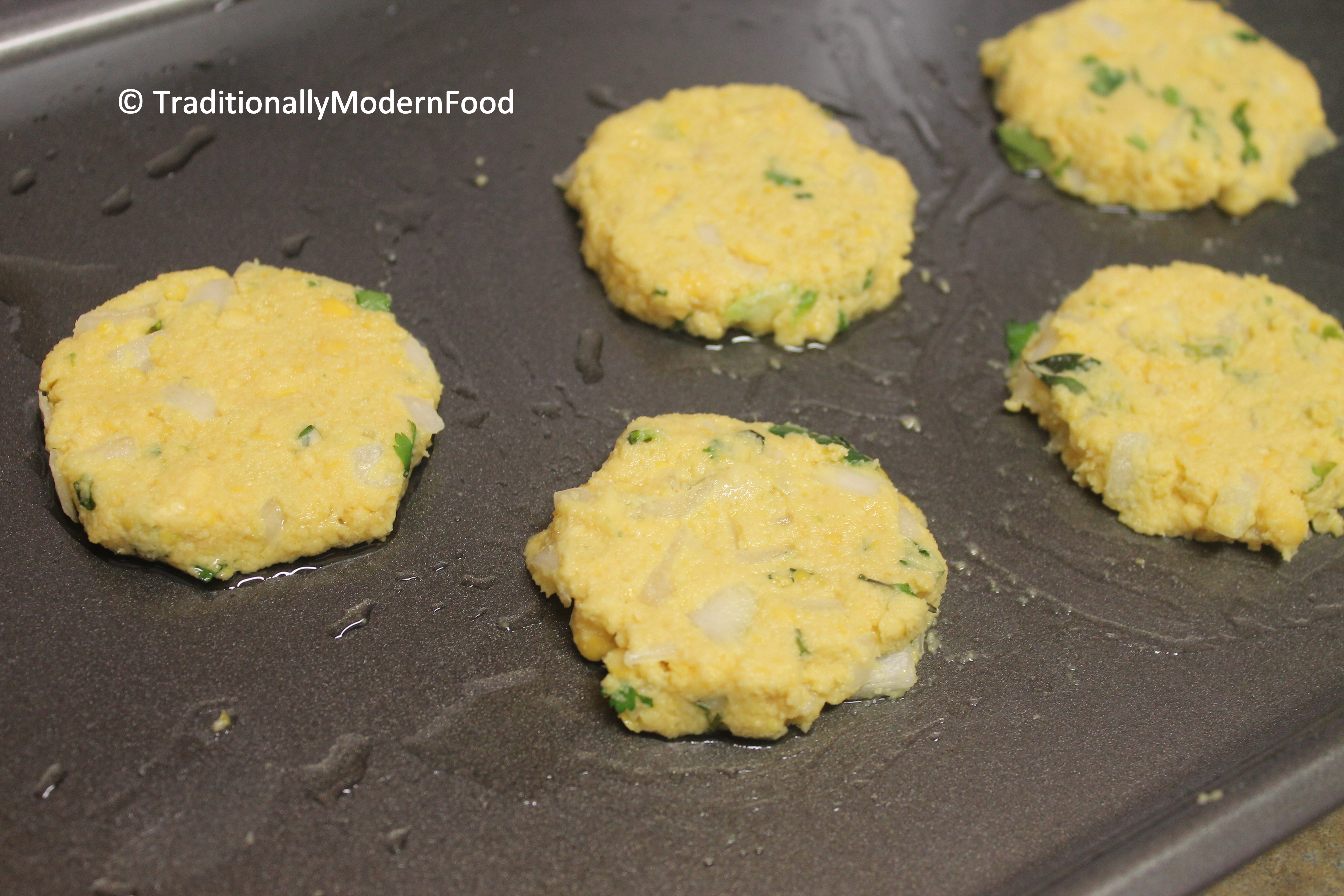 how to make baked masala vadai with step by step pictures:
Wash and soak channa dal for 2 to 3 hrs. Drain the water completely and keep it aside. Grind together with other ingredients listed under "To grind" avoid water. If require sprinkle very little water (less water helps in crispy vadai texture. Avoid using too much water)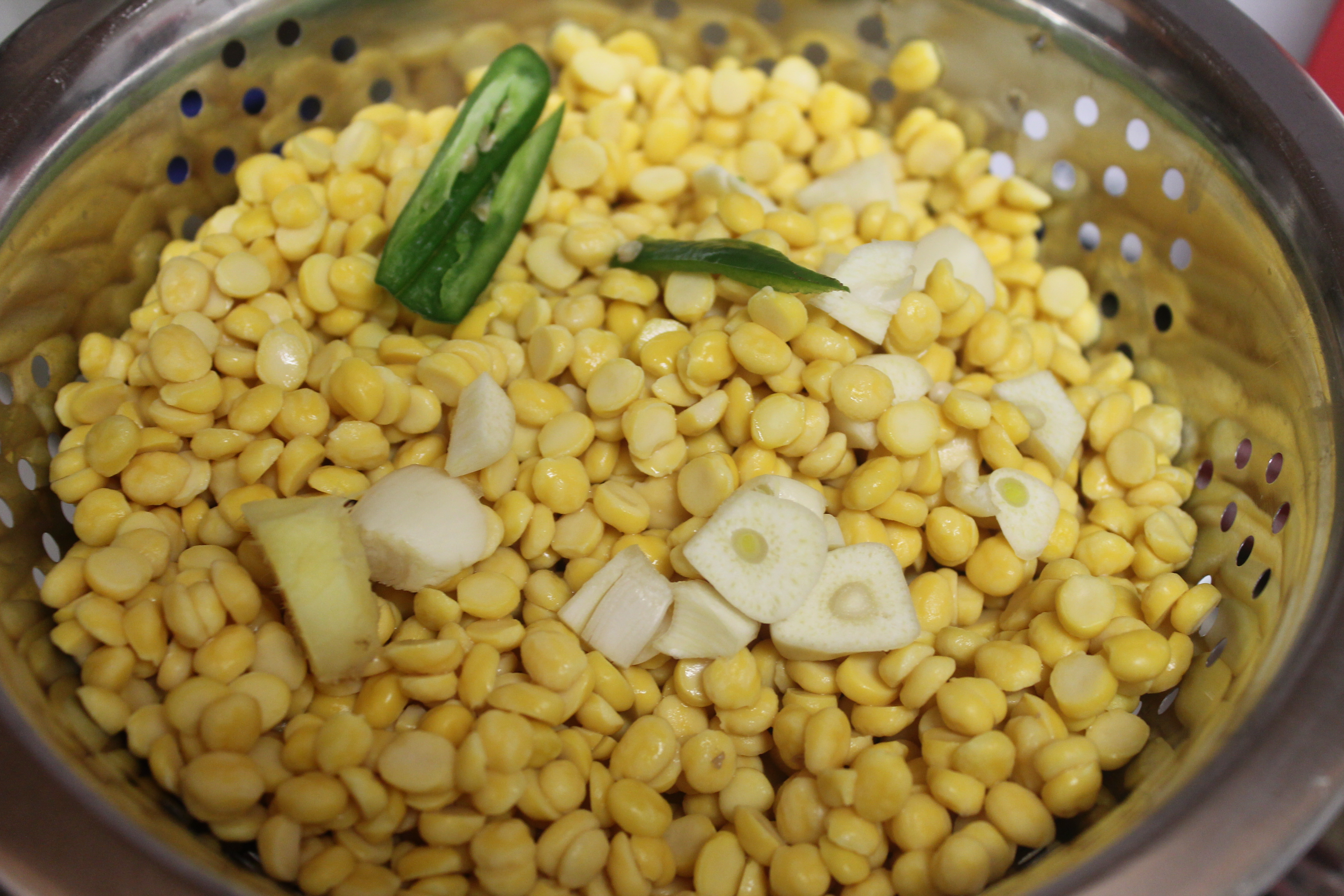 Transfer the mixture to the mixing bowl and add onions, curry leaves, green chilli, and mix well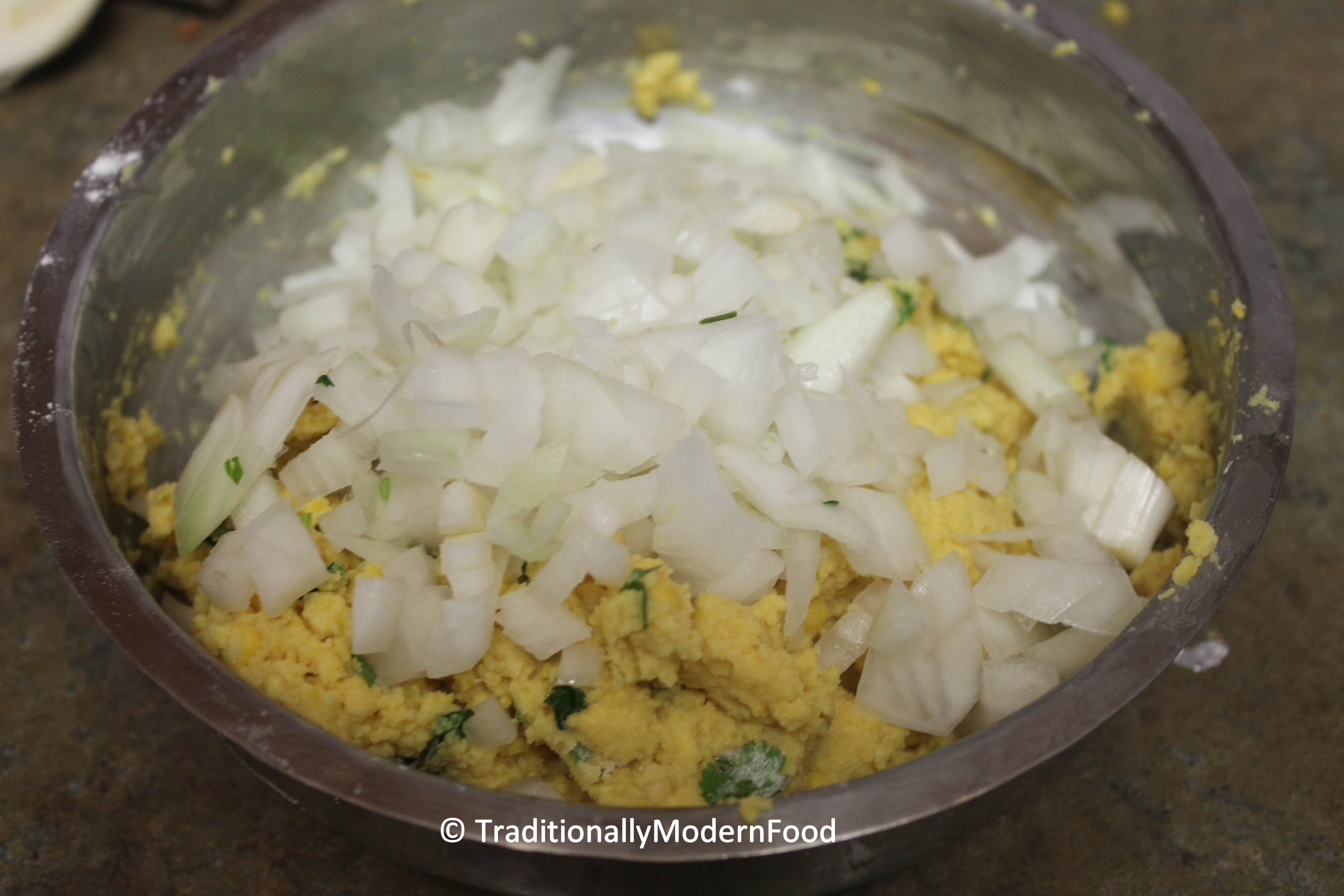 Preheat the oven to 400 degrees Fahrenheit. Take the baking tray and brush with oil generously
Take small portions of the mixture, and flatten them using your palm (thin vadai batter yields crispy vadai)
Place them in the greased tray and brush the top portion of each vadai with little oil to avoid drying out and of course for the crispy finish
Bake the vadai for 11 - 15 min, till they have browned the underside (adjust time according to your oven). Carefully flip them and bake again for another 11 - 15 minutes. Remove and serve immediately.

Serve with chutney/ ketchup. I generally love to finish baked masala vadai without any sides