Pavakkai Gojju, Pavakkai Kara Kuzhambu, Kara kulambu, Pavakkai kuzhambu, Kuzhambur with coconut, arachuvitta kara kuzhambu recipe with step-by-step pictures, and video recipe. Check out the Pavakkai pitlai recipe and if you like the video pls SUBSCRIBE to my channel.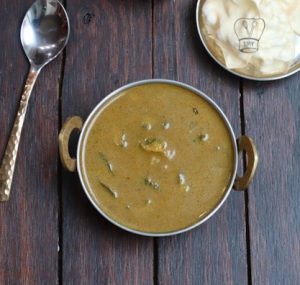 Pavakkai Gojju is a rice accompaniment prepared with bitter gourd is a rice accompaniment prepared with pavakkai, tamarind, and spice powder. Sesame seeds give a nice flavor to this Pavakkai Kara Kuzhambu. Pavakkai puli kuzhambu stays good for two days. It is also a nice side for upma.
When it comes to pavakkai, I am not an exception. Growing up, I Hated pavakkai. Even before tasting the dish, the mere thinking of bitterness stopped me from eating pavakkai-based dishes. Whenever I go grocery shopping with Amma, seeing pavakkai I would think my mom shouldn't buy it.
Pavakkai Pitlai is a common rice accompaniment prepared at home. As I mentioned in the Pitlai recipe, jaggery was a trigger for me to eat it so she use to make Pitlai often. Once when Amma was talking to my relative aunt she told her about my dislike for Pavakkai and her aunt suggested this kuzhambu.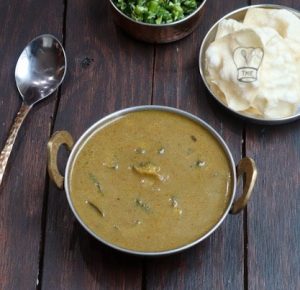 Next to sambhar, vetha kuzhambu/ Kara kuzhambu is one of my favorite rice accompaniments. I am addicted to the Hot rice with kuzhambu and a spoon of sesame oil combo. ThisPavakkai Gojju is tamarind based and that's is one reason I like it.
Healthy pavakkai takes a step back because of it is bitterness. Cooking it in tamarind water and turmeric powder, and also squeezing it well makes it less bitter. Also, jaggery added towards the end makes this kuzhambu tasty.
For very few Kara kuzhambu varieties I grind and add some ingredients for extra flavor.
Vendakkai Thengai Kara Kuzhambu, pavakkai gojju, and yellow pumpkin kuzhambu are my favorite among them. I love sesame seed flavor, Elu sadam is a frequent dish prepared at home. Sesame seeds give a nice flavor to this kuzhambu.
I have got one more reason to like this Pavakkai Gojju - coconut. Any recipe with coconut can't go wrong, this is yet another proof. Coconut and sesame seed paste gives a nice flavor to compliment Bitter gourd Kara Kuzhambu.
Pavakkai puli Kulambu can be prepared within 25 minutes and stays good for two days if refrigerated. It won't last more at our home so I don't know the actual shell life for this kuzhambu. Who is in for a traditional South Indian Kara Kuzhambu with pavakkai.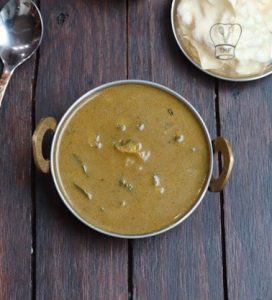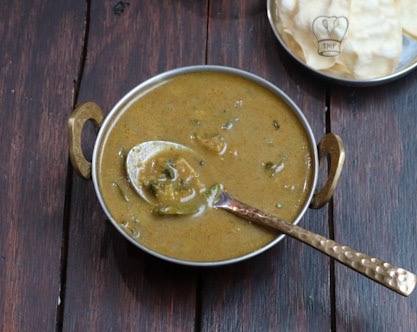 Pavakkai Gojju | Hagalakayi Gojju | Pavakkai Kara Kuzhambu | Bitter Gourd Tamarind Gravy
South Indian pull kuzhambu
Print
Pin
Comment
Ingredients
1

Pavakkai / Bitter gourd

big, deseeded and put into small pieces

pinch

of turmeric powder

little salt

3

+ 1/2 cup tamarind water

1/2

cup

water

1

tablespoon

+ 1 teaspoon Sambar powder/ chilli powder

1

tablespoon

Jaggery powder

asafoetida generous portion

2

Green chilli

Salt – to taste

1

teaspoon

sesame oil
To temper:
3

tablespoon

Sesame Oil

1/4

teaspoon

Mustard seeds

Fenugreek seed few

1/2

tablespoon

Chana dal

few Curry leaves
To grind:
1

teaspoon

+ 1/2 teaspoon Sesame seed

1/4

cup

Coconut
Instructions
Soak small lemon size tamarind and extract  3 cups + 1/2 cup of  tamarind water and keep aside

Add pavakkai, turmeric powder, and salt to cooker separator and pressure cook for 2 whistles

Dry roast sesame seeds till they pop, transfer to a plate, and cool

furthermore, add coconut and set it aside

After the sesame seed is cool grind it first then add coconut and little water; grind to a smooth paste

Transfer the cooked pavakkai to a colander and squeeze the bitter gourd cooked water

Add sesame oil to the heavy-bottomed pan. When oil is hot add ingredients under "to temper" and let them splutter

Add the cooked pavakkai and fry  for 4-5 minutes in low - medium flame until they turn brown

Furthermore, add  sambar powder and give quick saute

Add the tamarind water, salt and boil the kuzhambu for 15 minutes or until the raw smell goes off

furthermore add the ground paste, jaggery, and hing; boil for 5 mins

finally add sesame oil and boil for 5 minutes. Turn off the stove
Video
Notes
Pavakkai can also be directly cooked or microwave
White sesame seed can also be used instead of black
Coconut oil can be used instead of sesame oil
Boil the kuzhambu according to the consistency you desire and adjust the water accordingly
If you think Kulambu is watery in a small bowl add 1/4 teaspoon of rice flour and mix it with 2 tablespoon of water make a paste, add to kuzhambu and let it boil for 3-4 minutes
Ingredients:
1 Pavakkai / Bitter gourd, big, deseeded, and put into small pieces
pinch of turmeric powder
little salt
3 + 1/2 cup tamarind water
1/2 cup water
1 tablespoon + 1 teaspoon Sambar powder/ chilli powder
1 tablespoon Jaggery powder
asafoetida generous portion
2 green chilli
Salt – to taste
1 teaspoon sesame oil
To temper:
2 tablespoon + 1 teaspoon Sesame Oil
1/4 teaspoon Mustard seeds
Fenugreek seed few
1/2 tablespoon Chana dal
few Curry leaves
To grind:
1 teaspoon + 1/2 teaspoon Sesame seed
1/4 cup Coconut

How to make Pavakkai gojju with step by step pictures :
Soak small lemon size tamarind and extract 3 cups + 1/2 cup of tamarind water and keep aside
Add pavakkai, turmeric powder, and salt to cooker separator and pressure cook for 2 whistles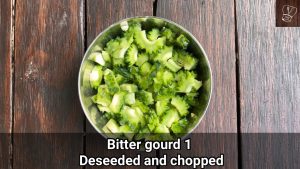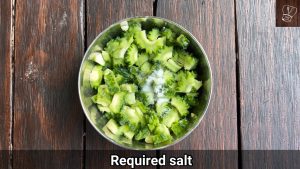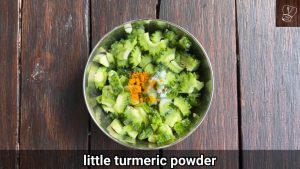 Dry roast sesame seeds till they pop, transfer to a plate, and cool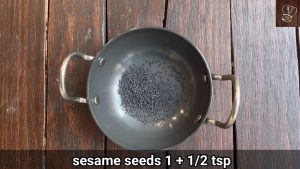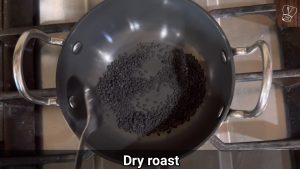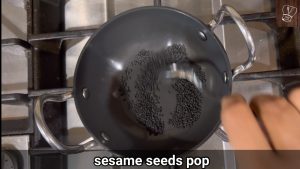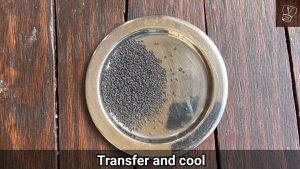 furthermore, add coconut and set it aside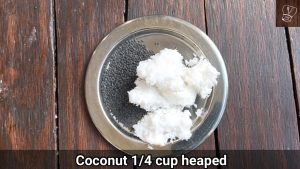 After the sesame seed is cool grind it first then add coconut and little water; grind to a smooth paste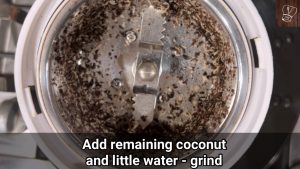 Transfer the cooked pavakkai to a colander and squeeze the bitter gourd and discard the cooked water
Add sesame oil to the heavy-bottomed pan. When oil is hot add ingredients under "to temper" and let them splutter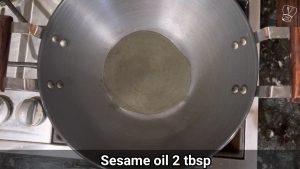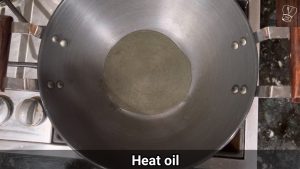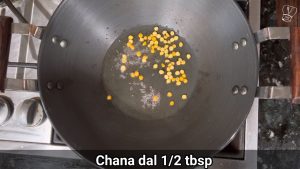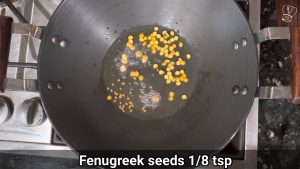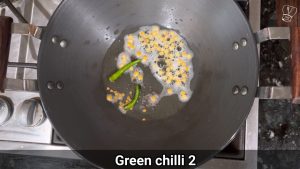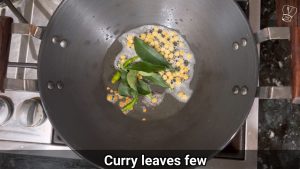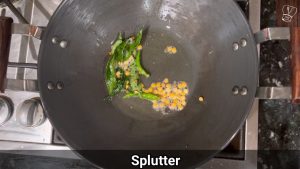 Add the cooked pavakkai and fry for 4-5 minutes in low - medium flame until they turn brown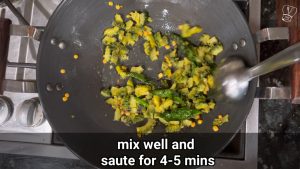 Furthermore, add sambar powder and give quick saute
Add the tamarind water, salt and boil the kuzhambu for 15 minutes or until the raw smell goes off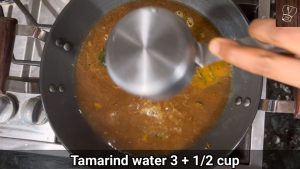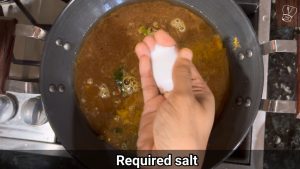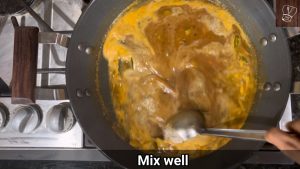 furthermore add the ground paste, jaggery, and hing; boil for 5 mins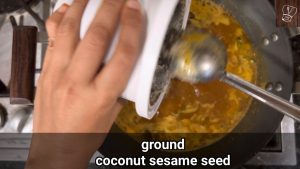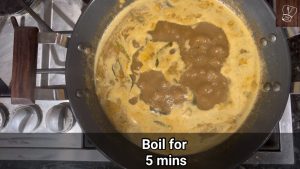 finally, add sesame oil and boil for 5 minutes. Turn off the stove