Peach Cobbler , Easy cobbler , best peach cobbler , how to make peach cobbler , southern peach cobbler, quick cobbler, old fashioned cobbler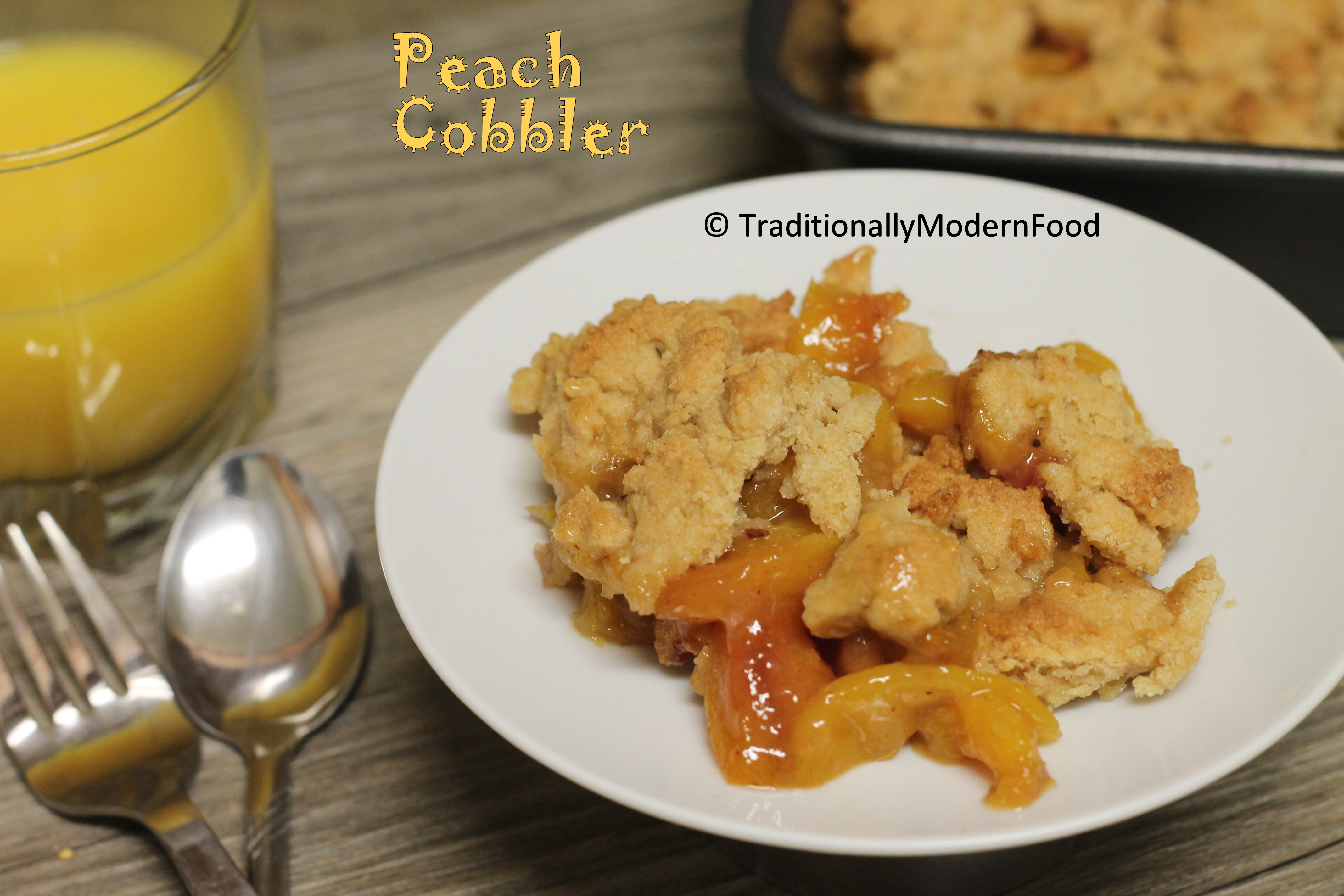 Peach Cobbler is a sweet dish prepared with fresh peaches topped with a delicious biscuit layer. For each bite, you taste a delicious biscuit layer with caramelized peaches. It is good for breakfast also a amazing dessert when served with a scoop of ice cream.
Last week my friend told me that they are planning to go for Peach picking, and invited us to join them. After coming to US I have never did fruit picking, I was so excited about it and told Jagadish.
They have son who is 3 months older to Vishvak so we thought kids will have fun picking the peaches and running around the farm. We can also taste some fresh peaches from the farm and buy it.
We went, and till date those were the sweetest peaches I had ever tasted. As fruit picking was new to me I thoroughly enjoyed it. But well more than me Vishvak had a awesome time there.
After seeing peaches he was telling "ball", we told its a fruit not ball, picked one washed it and gave it him. After seeing it closer he said "Apple". We tried to tell him it's peaches but even after coming home he couldn't accept them as peaches 🙂
The peaches we get in grocery stores are no way close to the taste when compared with one we picked. We almost finished all the peaches we picked and I realized why I didn't try any recipes with it.
Watching recorded shows in food network is influencing me a lot, I was thinking about Peach Cobbler. Recently I saw " Ree Drummond" making Peach Cobbler in "Pioneer women" show. Did few modifications to her recipes and here is my take on Peach Cobbler.
Check out other fruit based recipes,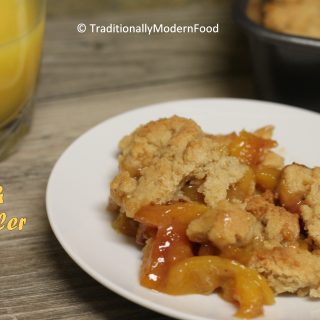 Ingredients
Fresh peaches - 5

peeled, pitted and sliced into thin wedges

Brown sugar - 1/4 cup

Adjust the sugar according to your Sweetness

Cornstarch - 1 tsp

Cinnamon - 1/8 tsp

Nutmeg - a pinch

Lemon juice - 1 tsp

Salt - pinch
Topping
Whole wheat flour - 3/4 cup

Brown sugar - 1/4 cup

Adjust the sugar according to your Sweetness

Baking powder - 1/2 tsp

Unsalted butter - 3 tablespoon + 1/2 tbsp

chilled and cubed

Salt - pinch

Boiling water - 2 tbsp
Instructions
Preheat oven to 425 degrees F and grease the baking tray with cooking spray/ melted butter

In a large bowl, add chopped peaches, brown sugar, cinnamon, nutmeg, lemon juice, and corn starch. Toss well for the even coating

Transfer the fruit mixture to a baking dish and bake in preheated oven for 5 minutes and remove peaches from oven

In a separate large bowl combine the wheat flour, brown sugar, baking powder, and salt; mix well

Add butter and gently blend it with fingertips, or a pastry blender ( I used my fingers) until mixture resembles coarse crumble

Add water to the mixture and mix well. Take small small portion of flour mixture and spread it over the fruit mixture

Bake until topping is golden, about 23 - 25 minutes. Serve warm/ cold
Notes
White sugar can be used instead of brown sugar
Frozen peaches can be used instead of fresh ones
Can sprinkle mix of sugar and cinnamon (3 tsp:1 tsp) over entire cobbler for extra flavour
Stays good for 2-3 days. Cover the baking tray with cling film or store it in air tight container after the cobbler comes to room temperature
Ingredients:
Fresh peaches - 5, peeled, pitted and sliced into thin wedges
Brown sugar - 1/4 cup(Adjust the sugar according to your Sweetness)
Cornstarch - 1 tsp
Cinnamon - 1/8 tsp
Nutmeg - a pinch
Lemon juice - 1 tsp
Salt - pinch
Topping
Whole wheat flour - 3/4 cup
Brown sugar - 1/4 cup(Adjust the sugar according to your Sweetness)
Baking powder - 1/2 tsp
Unsalted butter - 3 tablespoon + 1/2 tbsp, chilled and cubed
Salt - pinch
Boiling water - 2 tbsp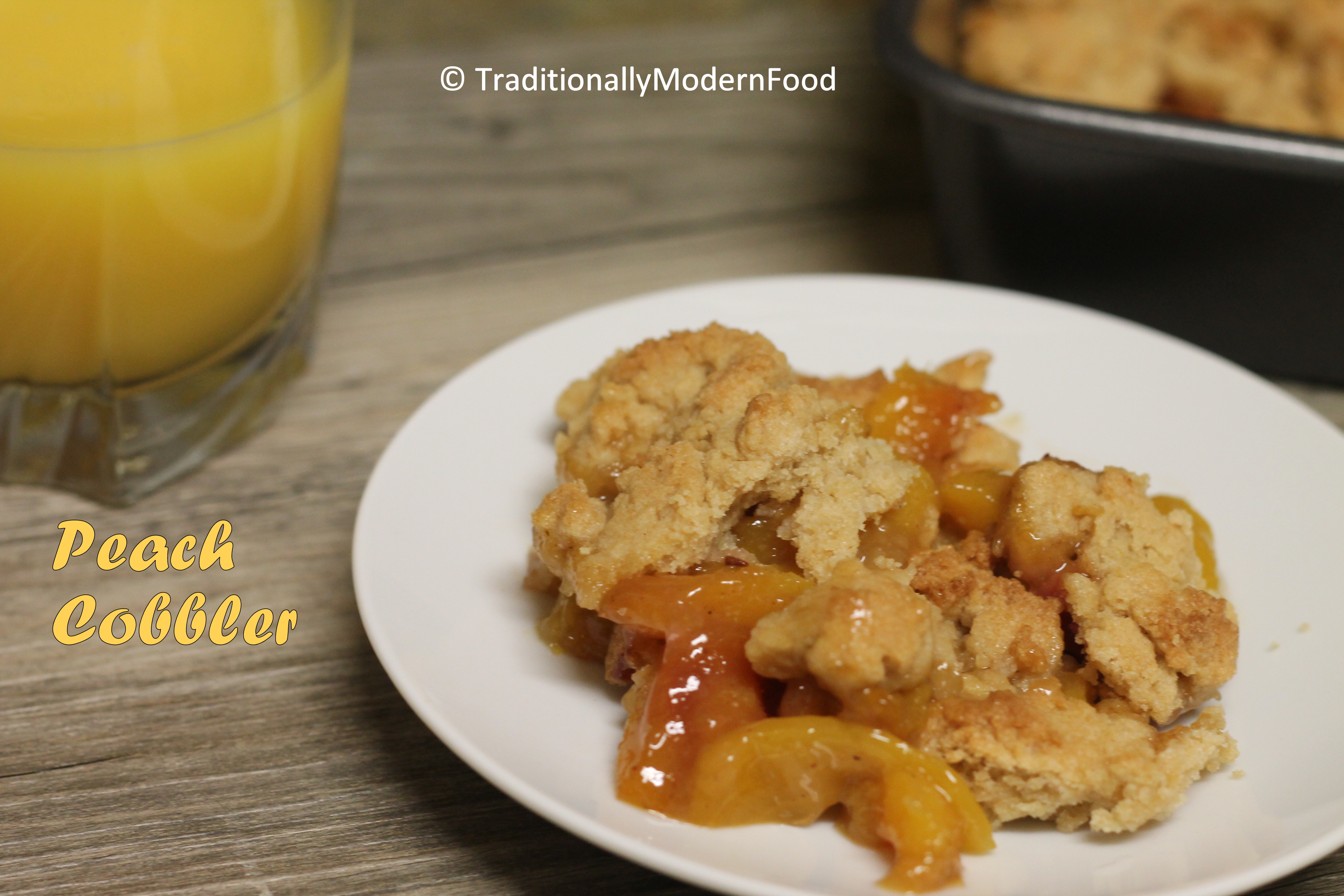 Method:
Preheat oven to 425 degrees F and grease the baking tray with cooking spray/ melted butter
In a large bowl, add chopped peaches, brown sugar, cinnamon, nutmeg, lemon juice, and corn starch. Toss well for the even coating

Transfer the fruit mixture to a baking dish and bake in preheated oven for 5 minutes and remove peaches from oven
In a separate large bowl combine the wheat flour, brown sugar, baking powder, and salt; mix well
Add butter and gently blend it with fingertips, or a pastry blender ( I used my fingers) until mixture resembles coarse crumble

Furthermore Add water to the mixture and mix well. Take small small portion of flour mixture and spread it over the fruit mixture
Bake until topping is golden, about 23 - 25 minutes. Serve warm/ cold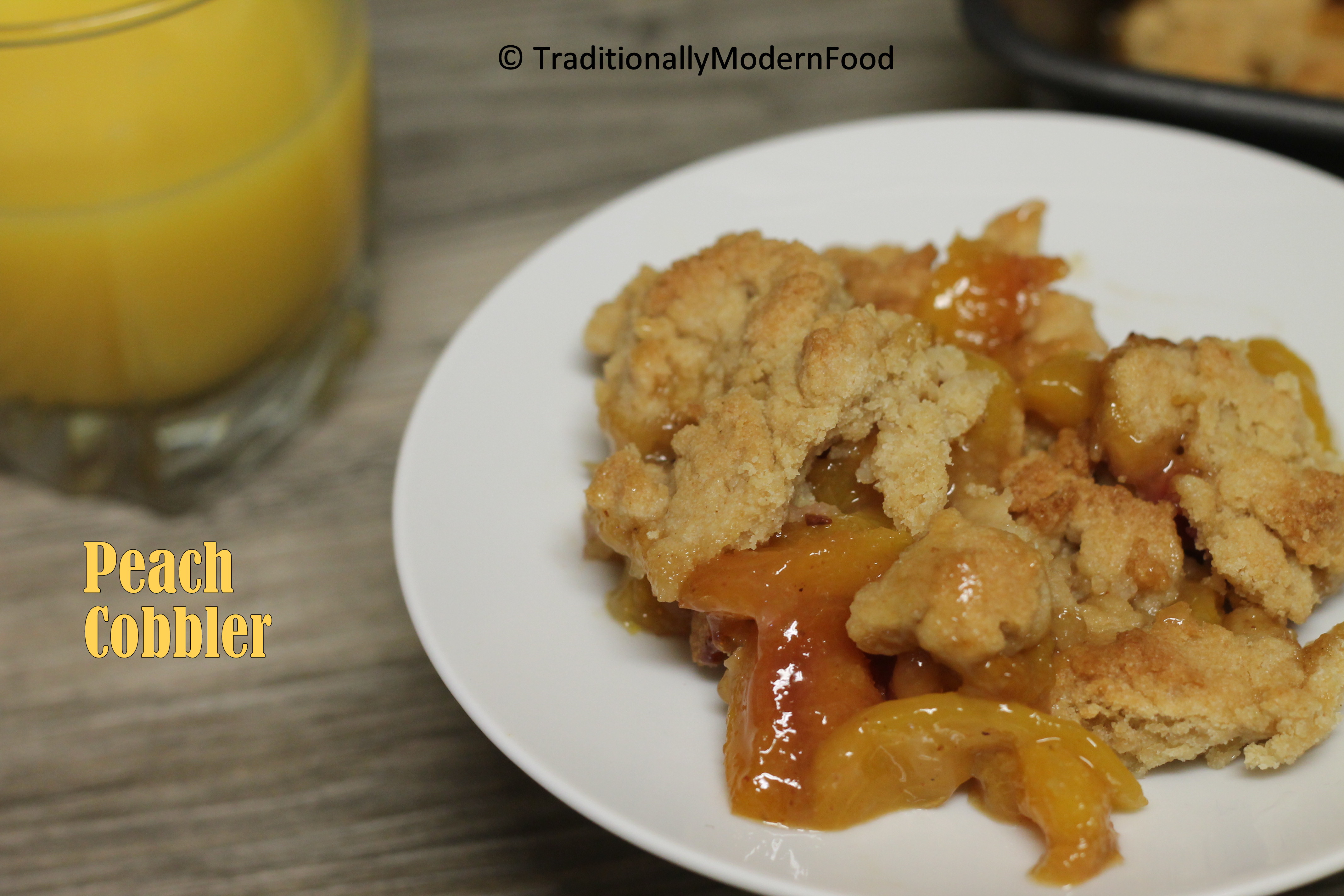 Pls. Follow TMF social media for recipes updates,