Onion thokku |chinna vengaya thokku | shallots thokku | onion oorugai | onion urugai | vengayam thokku | Chinna Vengaya Thokku | onion pickle | south Indian pickle recipe | grand sweets onion thokku | grand sweets style thokku with step-by-step pictures and video recipe. Check out the vengaya thokku recipe. If you like the video pls SUBSCRIBE to my channel.
Onion thokku | Chinna Vengaya Thokku | onion pickle | south Indian pickle recipe is prepared with small onion. picked variety thokku tastes great if mixed with white rice with a dollop of ghee. It also serves a great side for tiffin varieties and curd rice.
Why small onion for Thokku - South Indian pickle variety?
Small onion gives amazing flavor to the thokku so I would highly recommend that. I generally use pink small onion. Make sure the onion is completely dry.
Should I saute onion for a pickle?
Sauteed onion gets mild sweetness which gives amazing flavor to the thokku. If you pulse onion without you might have to cook for additional time to get rid of the raw smell. Tastes like Onion Thokku from Grand sweets.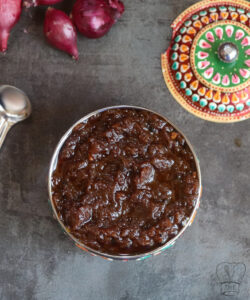 Pulse or grind small onion?
Always pulse or bring onion only after they are completely cool. I prefer pulsing as it gives perfect texture for the grand sweets onion thokku. You can even grind onions and prepare thokku. Avoid adding water while grinding
Can I add red chilli instead of chilli powder?
Yes, you can saute red chilli along with small onions; pulse and prepare vengaya oorugai. I would recommend regular chilli powder as it gives perfect color and spice for vengaya urugai.
Amount of oil
You can reduce the oil and prepare vengayam thokku but it might alter the onion pickle taste and texture. Thokku prepared with excess oil tastes best and stays for a longer time.
Shelf life of Small Onion pickle?
After the pickle is completely cool, store it in a glass/ pickle container. Always use a clean dry spoon. Pickle stays good for months in the fridge and up to one week at room temperature. Avoid plastic containers for storing pickles. pickle tastes best after a few hours. Onion oorugai prepared with less oil won't stay fresh for a long time.
How can I serve Vengayam oorugai?
In our home, we like onion pickles with curd rice, and curd semiya. It also goes well with Avocado paratha, paneer paratha, idli dosai tiffin varieties, and other breakfast/ dinner varieties.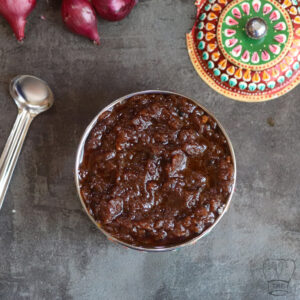 Ingredients
Saute onion
1/4

teaspoon

fenugreek seeds

2

tablespoon

sesame oil

1/4

teaspoon

mustard seeds

375

grams

Small Onions

5

grams

Tamarind
Thokku
4

tablespoon

sesame oil

1/2

teaspoon

mustard seeds

1/4

teaspoon

fenugreek seeds

1/2

tablespoon

+ extra chilli powder

Required salt

1/2

teaspoon

Asafoetida

1/2

tablespoon

jaggery
Instructions
Firstly add 2 tablespoon of oil and heat

When the oil turns hot add  mustard seeds, fenugreek and lets them splutter

Furthermore, add onion and saute well till onion turns translucent and slightly changes color

Add tamarind and mix well for 2 minutes on low flame

Cool completely then pulse without adding water

In the same pan add oil, when the oil becomes hot  add mustard seeds and fenugreek seeds; let it crackle

Turn down to low flame then add asafoetida and chilli powder; give a quick mix

Furthermore, add pulsed onion; mix well

Add oil and mix well

Furthermore, add jaggery and mix well

Add salt and mix well

If required  extra chilli powder and mix well

Cook for 3-4 mins till the  thokku  comes together  and the oil separates

Turn off the flame and cool completely
Video
Ingredients:
Saute onion
1/4 teaspoon fenugreek seeds
2 tablespoon sesame oil
1/4 teaspoon mustard seeds
375 grams Small Onions
5 grams Tamarind
Thokku
4 tablespoon sesame oil
1/2 teaspoon mustard seeds
1/4 teaspoon fenugreek seeds
1/2 tablespoon + extra chilli powder
Required salt
1/2 teaspoon Asafoetida
1/2 tablespoon jaggery
How to make onion thokku with step-by-step pictures:
Firstly add 2 tablespoon of oil and heat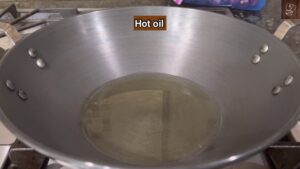 When the oil turns hot add mustard seeds, fenugreek and lets them splutter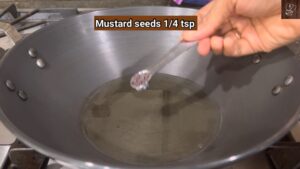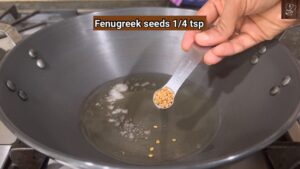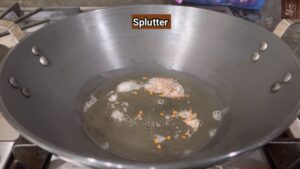 Furthermore, add onion and saute well till onion turns translucent and slightly changes color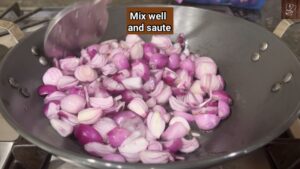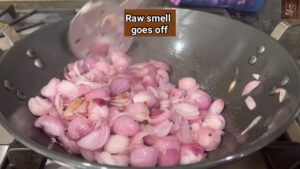 Add tamarind and mix well for 2 minutes on low flame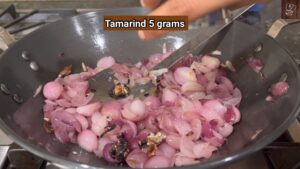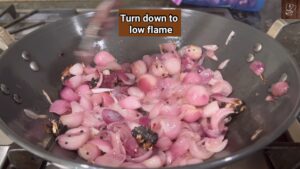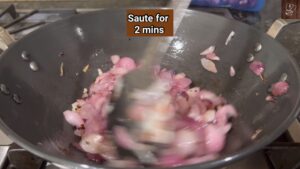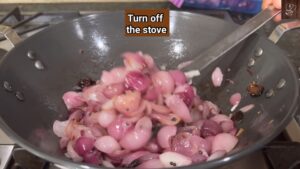 Cool completely then pulse without adding water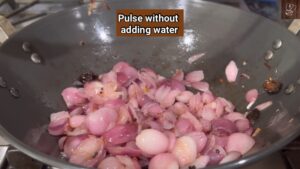 In the same pan add oil, when the oil becomes hot add mustard seeds and fenugreek seeds; let it crackle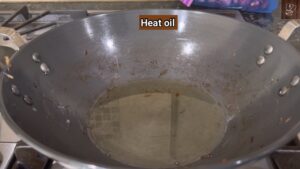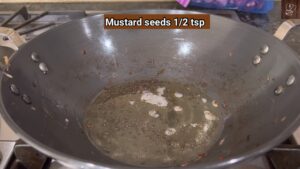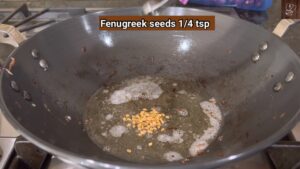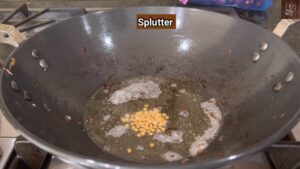 Turn down to low flame then add asafoetida and chilli powder; give a quick mix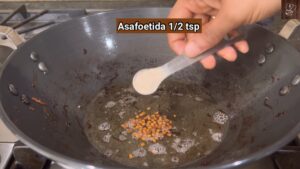 Furthermore, add pulsed onion; mix well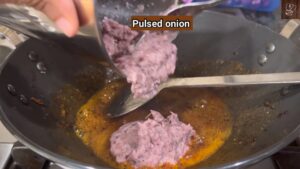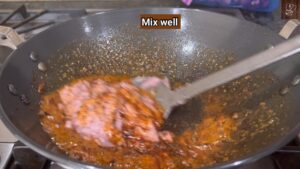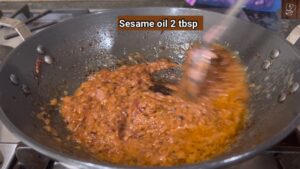 Furthermore, add jaggery and mix well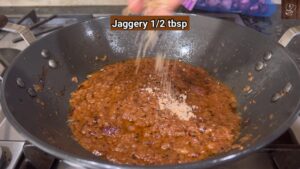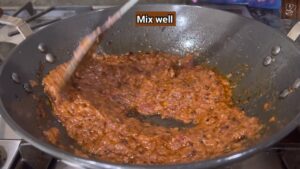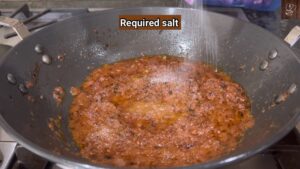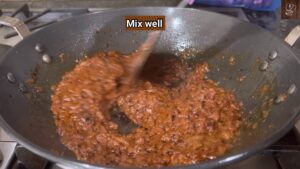 If required extra chilli powder and mix well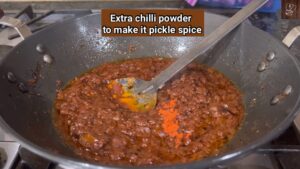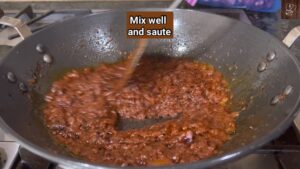 Cook for 3-4 mins till the thokku comes together and the oil separates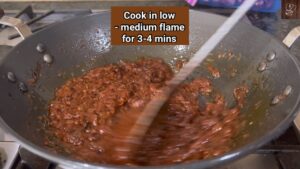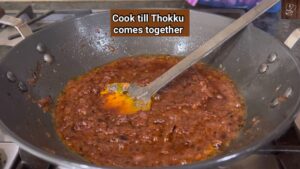 Turn off the flame and cool completely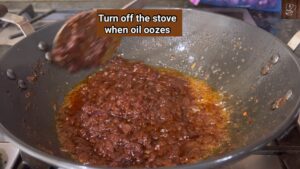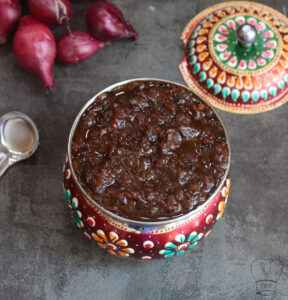 Pls. Follow TMF social media for recipes updates,