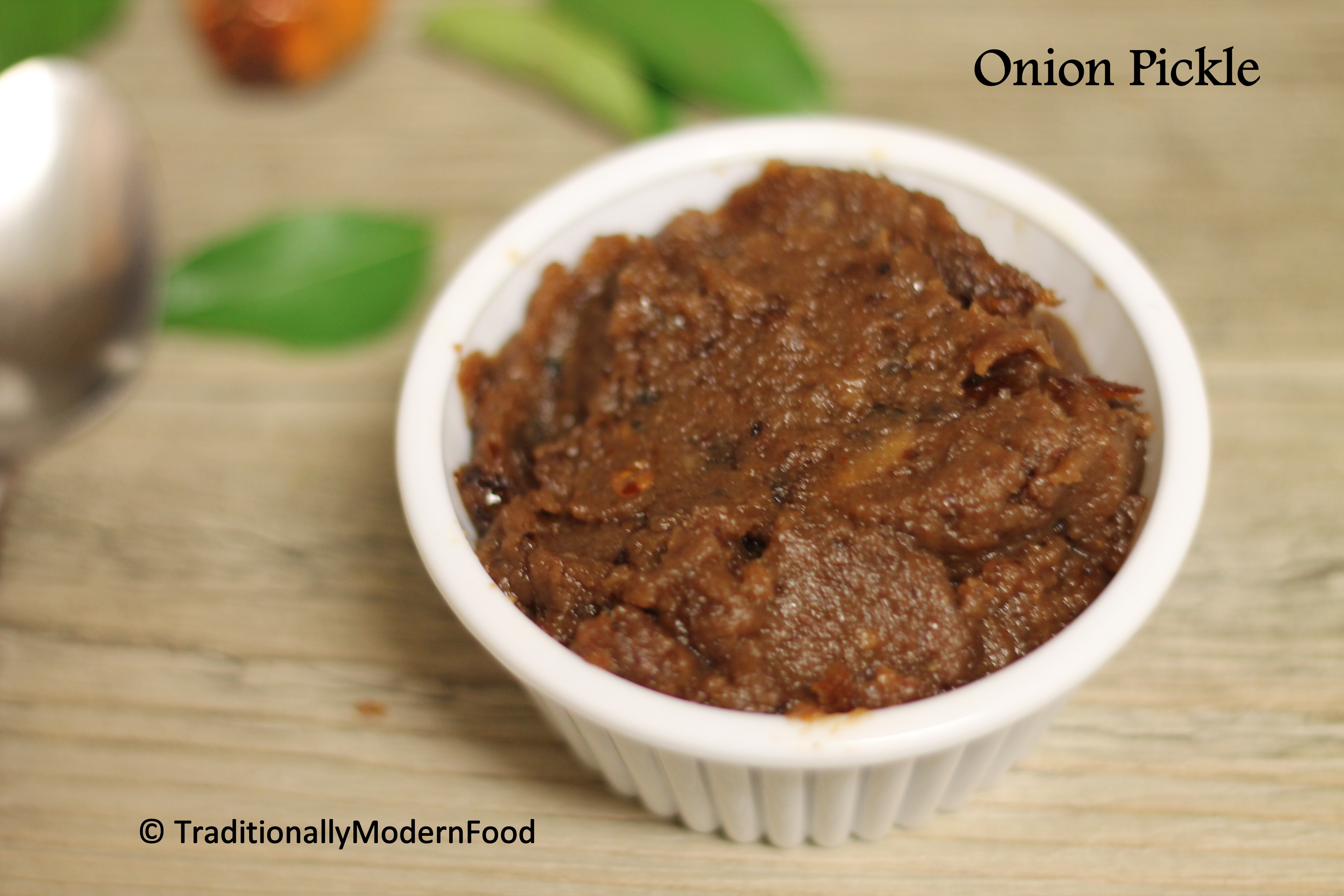 Onion thokku | Chinna Vengaya Thokku | onion pickle | south Indian pickle recipe is prepared with shallots/small onion. It's a pickle variety. Thokku tastes great if mixed with white rice with a dallop of ghee. Onion Thokku also serves a great side for tiffin varieties and curd rice.
When I went to India 3 months back,I wanted to prepare something which my husband can store and use for a few days. After moving to US this is my first trip to India, I discussed with some my friends for ideas and they suggested thokku, frozen pancakes, frozen paratha and frozen gravy, as they will stay good for a longtime.
My husband knows some basic cooking, so I prepared Thakkali Thokku, Onion Thokku, Pulikachal, frozen pancakes, frozen waffle.
I believe Onion can do magic in food, anything with Onion - I am in. I love all the food which contains onion. My sister is just my opposite. My Amma always cook separately for us. Till date she doesn't eat onion . Try to pick onion if she could find or just omit the dish.
When I was in school I tasted onion Thokku for the first time. We had lunch in my dad's friend house. Aunty made a amazing spread for curd rice she put some thokku. It was so tasty, My Amma enquired about it. Aunty said it's Onion Thokku from Grand sweets.
I enjoyed pickle a lot aunty put some thokku in a box for me. After coming home My Amma tried it. I started liking my Amma's version.
Thokku tastes so good like grands sweets onion thokku.
Shalllots gave nice flavour to the thokku. It's a easy pickle and stays good for 2 weeks (may be more but at our home when ever I prepare Onion pickle it will be over within a week:-)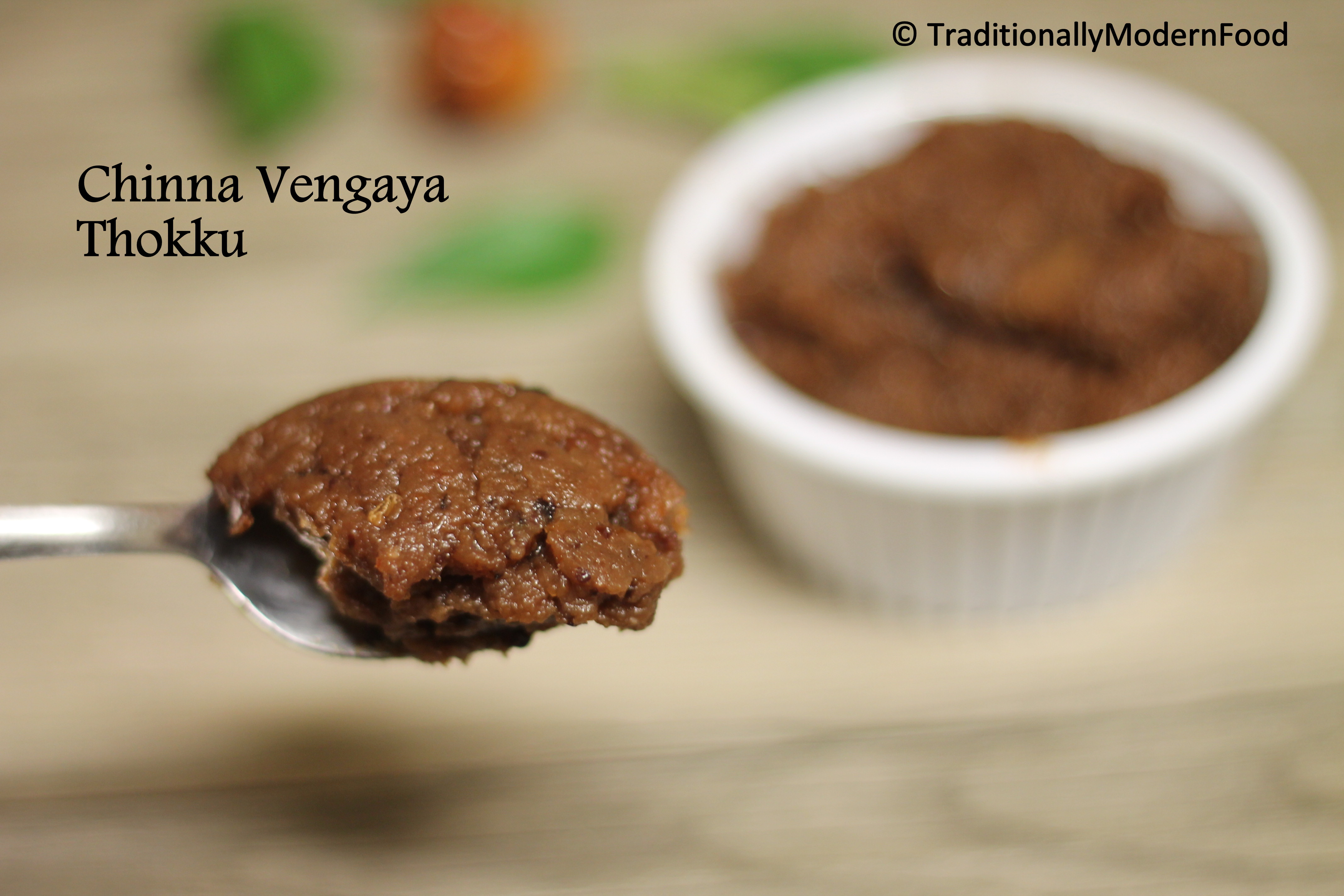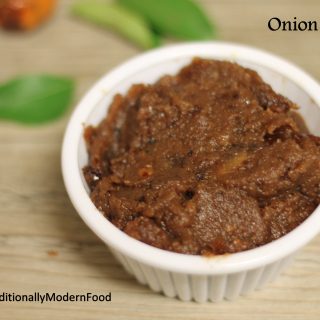 Ingredients
Small Onions

Shallots - 2 cups (Around 40)

Red Chilli - 8

Adjust according to your spiciness

Tamarind Extract - 1 tablespoon

Asafoetida - generous pinch

Turmeric powder - a pinch

Salt - As needed

Mustard seeds - 1/8 teaspoon

FenuGreek seeds - 1/8 teaspoon

To temper:

Sesame oil - 3 tablespoon + 1 teaspoon

Mustard seeds - 1/4 teaspoon
Instructions
Add 1 teaspoon of oil and saute Onion, mustard seeds, fenugreek, red Chilli and salt till onions turns translucent. Cool and grind the mixture into a paste without adding water

In a heavy bottomed pan add oil, once when the oil becomes hot add mustard seeds and asafoetida; let it crackle. Add the ground onion paste, tamarind extract and turmeric powder and cook in low flame

Cook till the onion paste reaches a thokku consistency and oil is separated. Stir occasionally. If it is dry add little oil in between.

Switch off the flame and allow this to cool
Ingredients:
Small Onions(Shallots) - 2 cups (Around 40)
Red Chilli - 8 (Adjust according to your spiciness)
Tamarind Extract - 1 tablespoon
Asafoetida - generous pinch
Turmeric powder - a pinch
Salt - As needed
Mustard seeds - 1/8 teaspoon
FenuGreek seeds - 1/8 teaspoon
To temper:
Sesame oil - 3 tablespoon + 1 teaspoon
Mustard seeds - 1/4 teaspoon

Method:
Add 1 teaspoon of oil and saute Onion, mustard seeds, fenugreek, red Chilli and salt till onions turns translucent. Cool and grind the mixture into a paste without adding water
In a heavy bottomed pan add oil, once when the oil becomes hot add mustard seeds and asafoetida; let it crackle. Add the ground onion paste, tamarind extract and turmeric powder and cook in low flame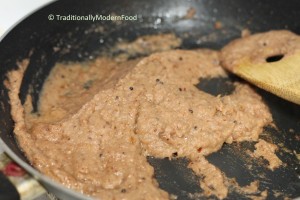 Cook till the onion paste reaches a thokku consistency and oil is separated. Stir occasionally. If it is dry add little oil in between.
Switch off the flame and allow this to cool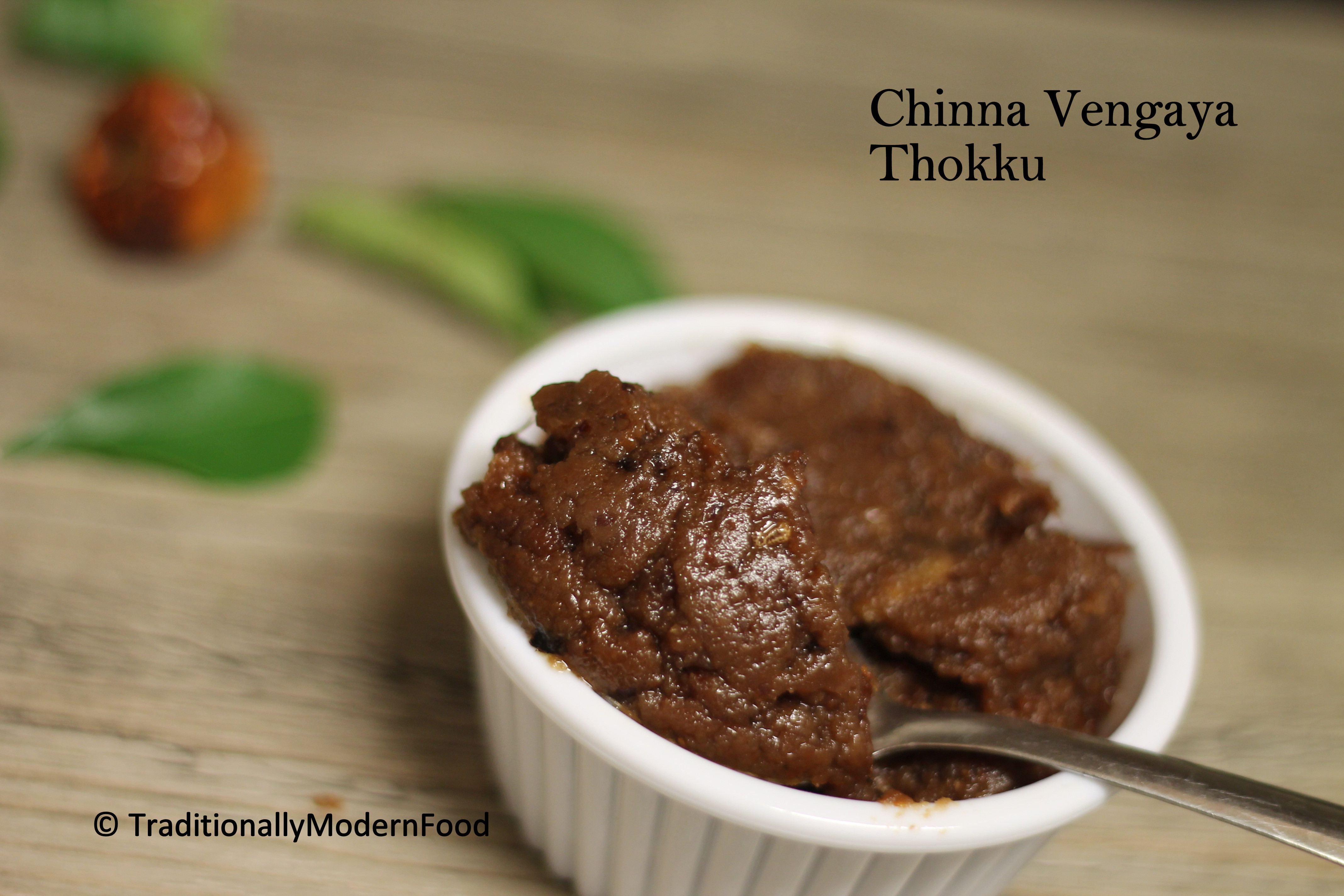 Pls. Follow TMF social media for recipes updates,