Paneer paratha recipe | paneer parantha | paneer ka paratha | how to make paneer parathas recipe | street food | paratha recipes | Punjabi paneer parantha recipe Check out the paneer paratha recipe and If you like the video pls SUBSCRIBE to my channe. Also checkout Paneer stuffed paratha video For easy breakfast combo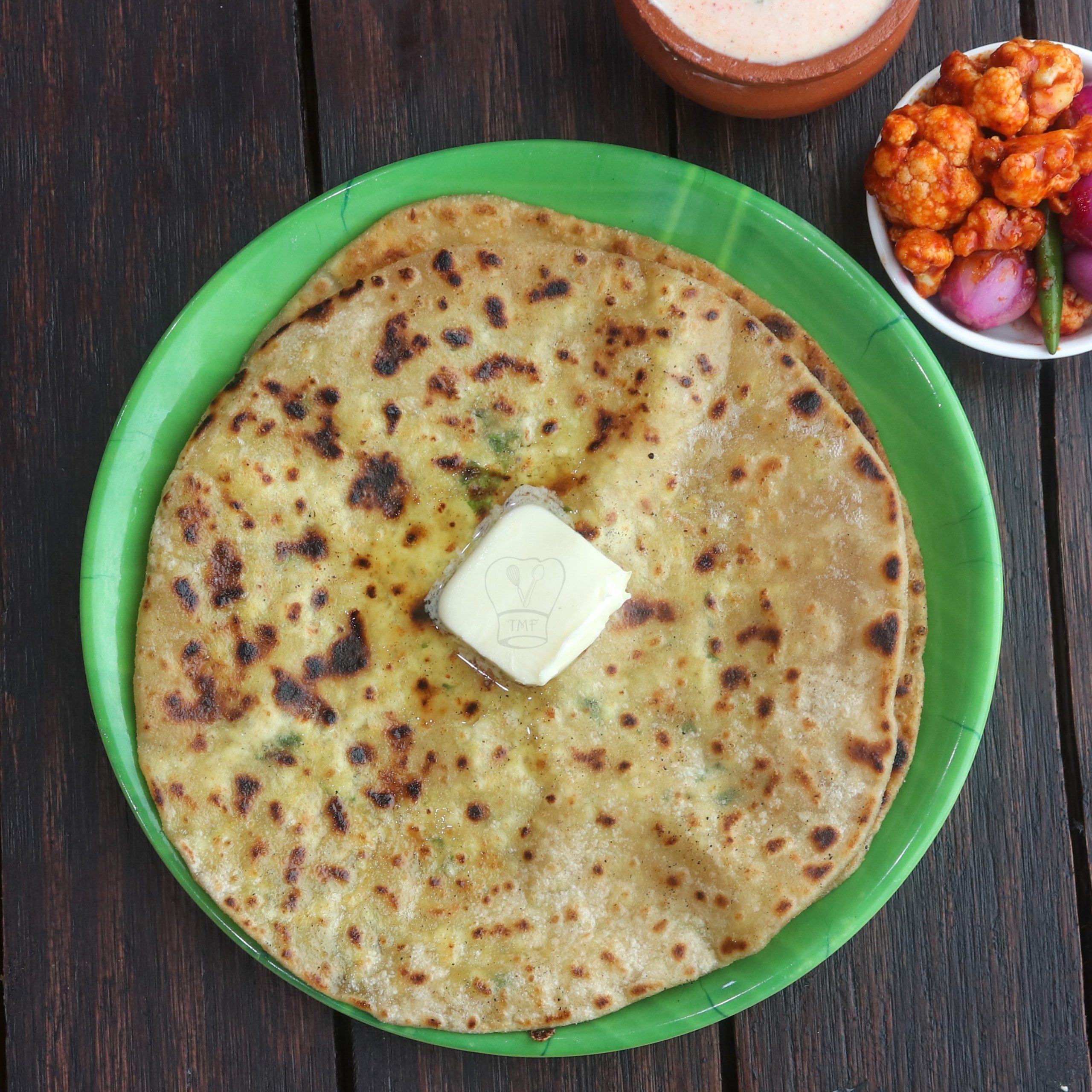 Paneer paratha is a popular Indian flatbread recipe stuffed with paneer | cottage cheese, and mild spice powder. It is a popular north Indian recipe serving for breakfast/ brunch/lunch/dinner.
Jump to:
Dhaba-style Punjabi paneer parathas
Thinking about paneer ka paratha, Dhaba style Punjabi paneer parantha is the first time that comes to my mind. The best way to serve paneer paratha according to me is Paneer parathas with butter, raita varieties, and pickled onion tastes best. Some prefer paneer parantha with chutney varieties and with a cup of hot tea. Restaurant-style Paneer stuffed paratha is super easy to make.
No, fail paneer paratha
Out of all the paratha recipes, paneer ka paratha, aloo paratha, gobi paratha are even popular in south India. With store-bought paneer, you can make the best easy paneer ka paratha recipe if you follow a few tips and tricks.
Why Indian Paneer Paratha
Paneer is a great protein-packed option for vegetarians. Kids spice paratha is suitable for toddlers' taste buds too. Parathas are a great delicious filling healthy option for all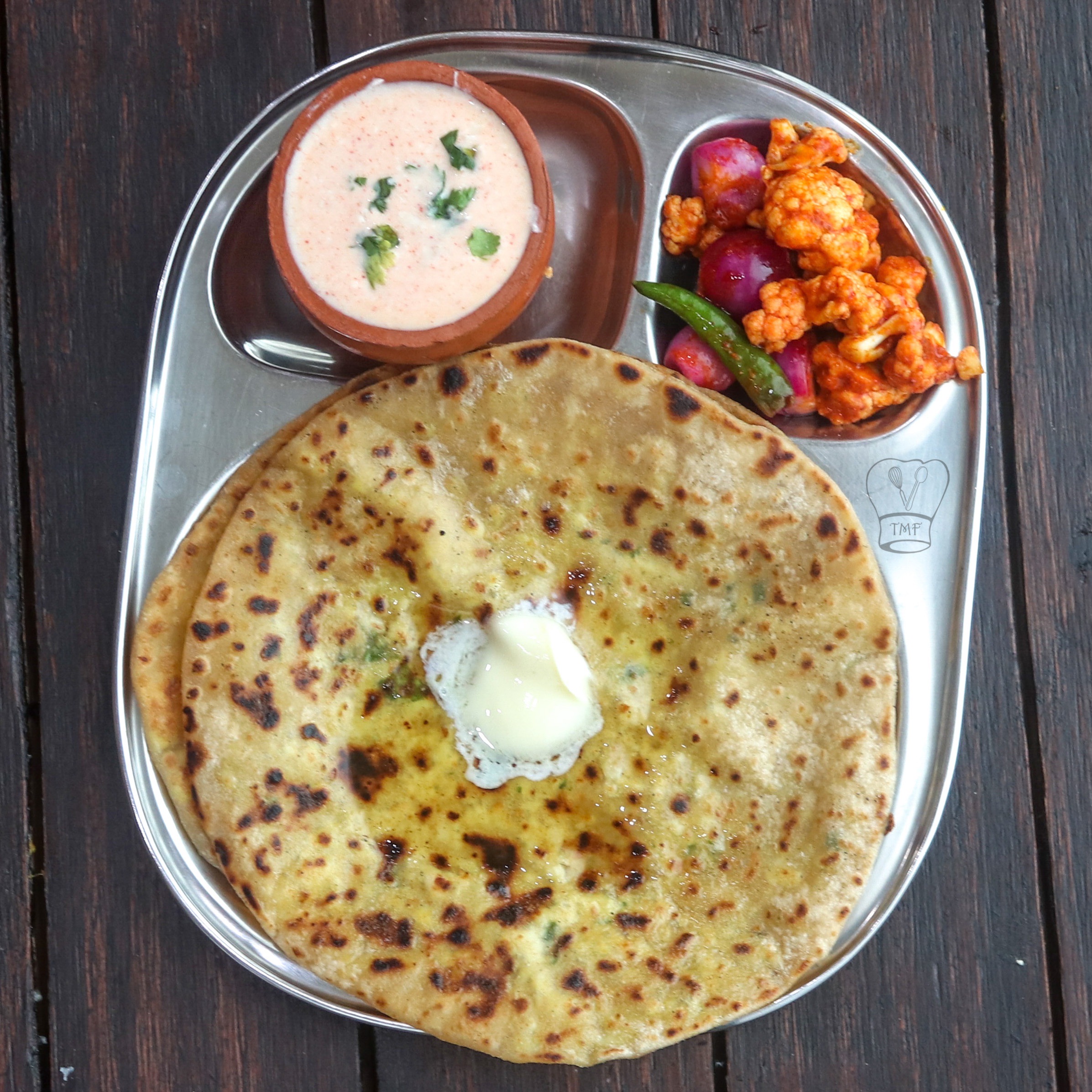 Tips to note for Paratha dough
firstly, prepare a moist dough for paratha. Paratha dough should be a non-sticky, soft dough, without any cracks. If you add less water dough might crack and it won't hold the stuffing. Pliable soft dough makes for the best paratha. Also, it is important to knead the dough well. The addition of ghee and oil gives a lot of difference in paneer stuffed paratha texture so don't skip it
Should I soak paneer for soft paratha?
Yes, it is very important to soak paneer in water if you are using store-bought paneer. Soaking them in water makes them light and soft. I generally prefer keeping them in water like tofu at least 24 hours before making paratha
Can I use the soaked paneer directly?
Before making paratha, wipe the soaked paneer once with a kitchen towel to remove the excess moisture then grate them for paratha. It is very important to remove the excess moisture else it might make the dough soggy and the filling might come out. If you think the moisture didn't go then cook the stuffing for a few minutes before making paratha

Why should I add ghee before placing the stuffing?
I prefer adding a layer of ghee before adding the stuffing. It helps evenly spread the stuffing and puffy tasty paratha.
Even stuffing - key for perfect paratha
After placing the stuffing seal the dough well. Keep the sealed portion at the bottom and start rolling the paratha. Apply gentle pressure and roll the paratha evenly. Avoid rolling Thick paratha as it won't taste good. Try to knead a thin paratha without stuffing coming out. Always roll out the paratha from the edges when you are rolling it.
Optimal heat for cooking paratha?
When you are cooking paratha, maintaining the heat from low - the medium is the key. Add ghee and cook the paratha. Press it gently with a spatula often so that it is evenly cooked.
Should I use ghee while making Paneer Stuffed Paratha?
No, you can use any cooking oil but ghee gives a nice aroma and make the paneer paratha super tasty.
Can I make the stuffing spicy?
It is totally according to your tastes. To make it suitable for my toddler tastebuds and also common cooking I gave kept it less spicy. You can add chilli powder, coriander powder, cumin powder, gram masala, etc.
For the Paneer ka paratha video recipe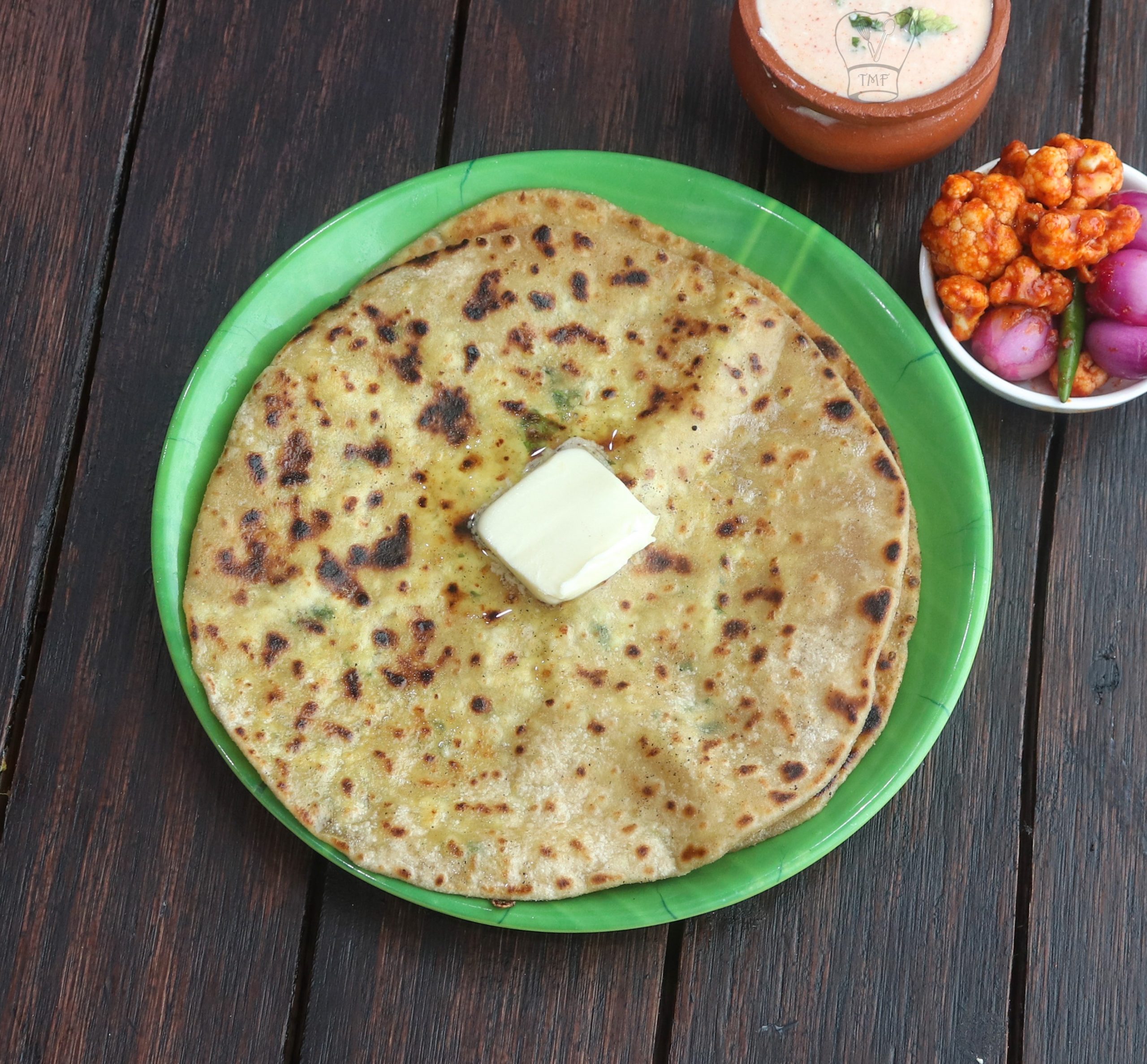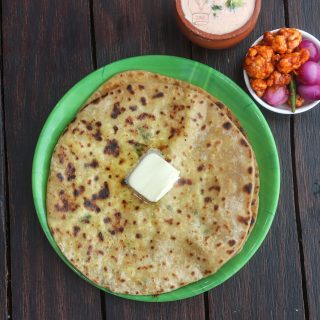 Ingredients
Chappathi dough
1

cup

wheat flour

1/2

tablespoon

ghee

Salt

1/2

cup

minus 1 tablespoon hot water

warm enough to knead
Paneer stuffing
150

grams

softened paneer

1/2

teaspoon

kitchen king masala

Required salt

Few coriander leaves
Instructions
paratha dough recipe:
firstly, in a large mixing bowl, take wheat flour, salt; mix well

Add ghee and mix well

Measure and take 1/2 cup of hot water

Add 3/4ths of the quantity and knead the dough

Sprinkle remaining hot water little by little till dough comes together

Grease your hands with little oil and knead the dough for 2-3 minutes until the dough turns pliable, soft, and nonsticky

Finally grease the dough with little oil and cover the dough with a moist kitchen towel and, rest for at least 1 hour
paneer for paratha:
Soak the paneer in water and refrigerate for at least 24 hours

Gently press the paneer with a kitchen towel to remove all the excess moisture. You can also squeeze once

Grate the paneer and set aside 150 grams for paratha
Paneer stuffing:
firstly, in a wide mixing bowl take grated paneer

Add kitchen king masala and salt, mix well until everything is combined

Finally, add coriander leaves and give a good mix

Gently knead the paneer and cover the vessel with a lid and set aside
Rolling paneer paratha:
After the resting time

Firstly, Knead the paneer once and make equal sized 5 balls, cover and set aside

Knead the dough once and make equal sized 5 balls, cover and set aside

Sprinkle little wheat flour on the chappathi rolling board and gently roll dough into a small disc

Add little ghee in the center and gently press it

Take a paneer ball and gently press it

Place them in the center and press gently

cover the dough around the stuffing and press the dough gently. Make sure the stuffing is not visible

Furthermore, sprinkle some flour and place the sealed part at the bottom

Gently roll the paratha to a Chappathi size giving even pressure around the paratha

Heat the chappathi tawa on medium flame and meanwhile repeat and roll the entire batch
Cook paratha:
After the tawa is hot enough add ghee and place the rolled paratha

Drizzle some ghee on the top and cook until paratha starts to puff up

Flip and cook another side

Gently press and cook golden brown on both sides and serve hot paneer parathas with raita or pickle or sauce
Video
Notes
Always knead a smooth and soft dough for the paneer paratha
It's very important to let the dough rest
If you are using store-bought paneer don't skip to soak the paneer. It helps for soft paneer stuffing
Try to make thin paratha also avoid overfilling the stuffing them. Press and roll the paneer evenly
Use generous ghee while cooking paratha for the best flavor and texture
Wait till the chappathi pan turns hot, then cook paratha. if the pan is not hot enough paratha might turn flaky
I made the paratha kids friendly, but you can adjust the spicy according to your preference
I have stuffed paneer and prepared paratha but you can also knead paneer while making dough (like avocado paratha) and prepare paratha
Ingredients:
Chappathi dough
1 cup wheat flour
1/2 tablespoon ghee
Salt
1/2 cup minus 1 tablespoon hot water (warm enough to knead)
Paneer stuffing
150 grams of softened paneer
1/2 teaspoon kitchen king masala
Required salt
Few coriander leaves
Prepare paratha
ghee/ oil (I used ghee)
How to make paneer parantha with step-by-step pictures
paratha dough recipe:
firstly, in a large mixing bowl, take wheat flour, and salt; mix well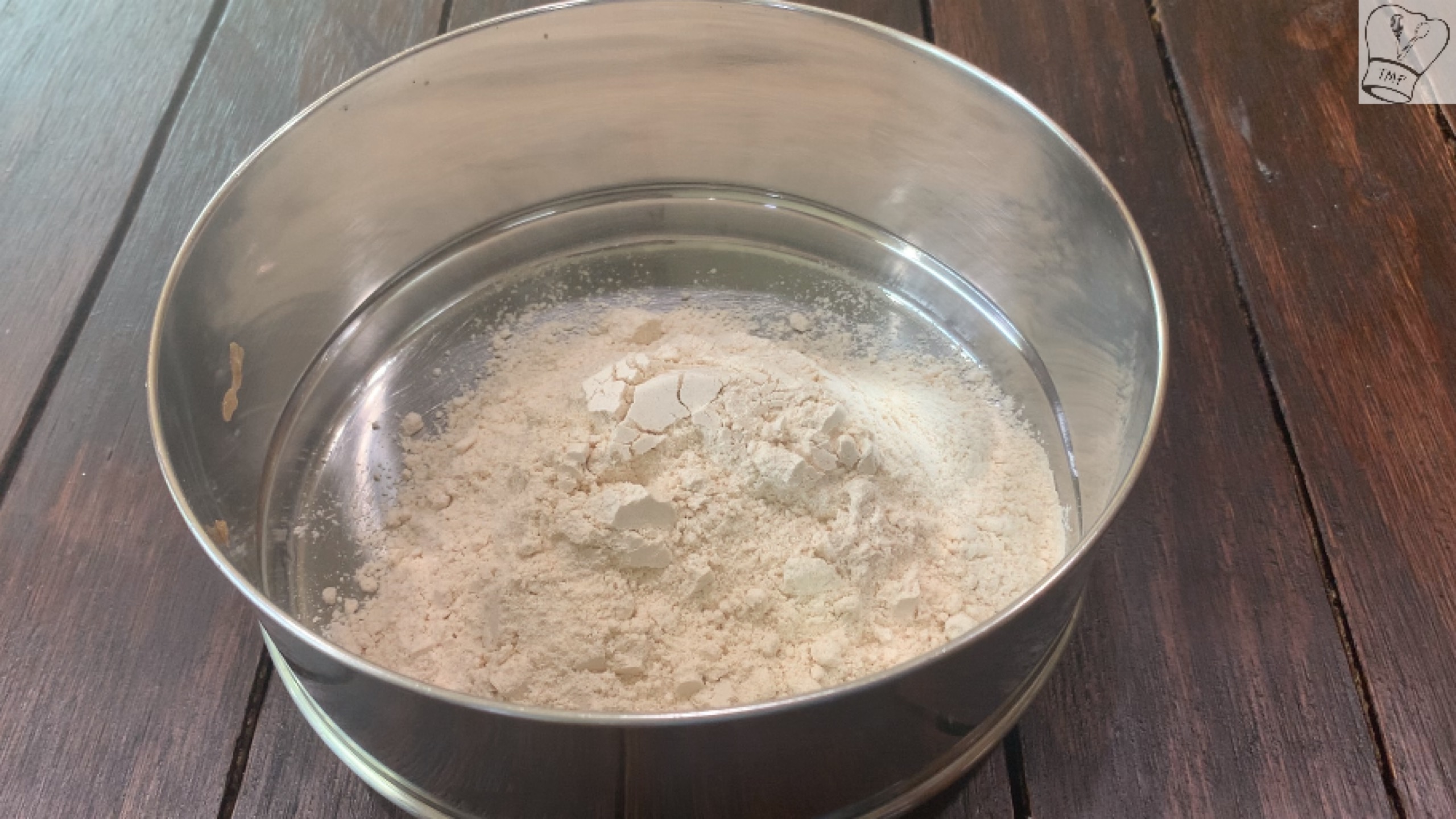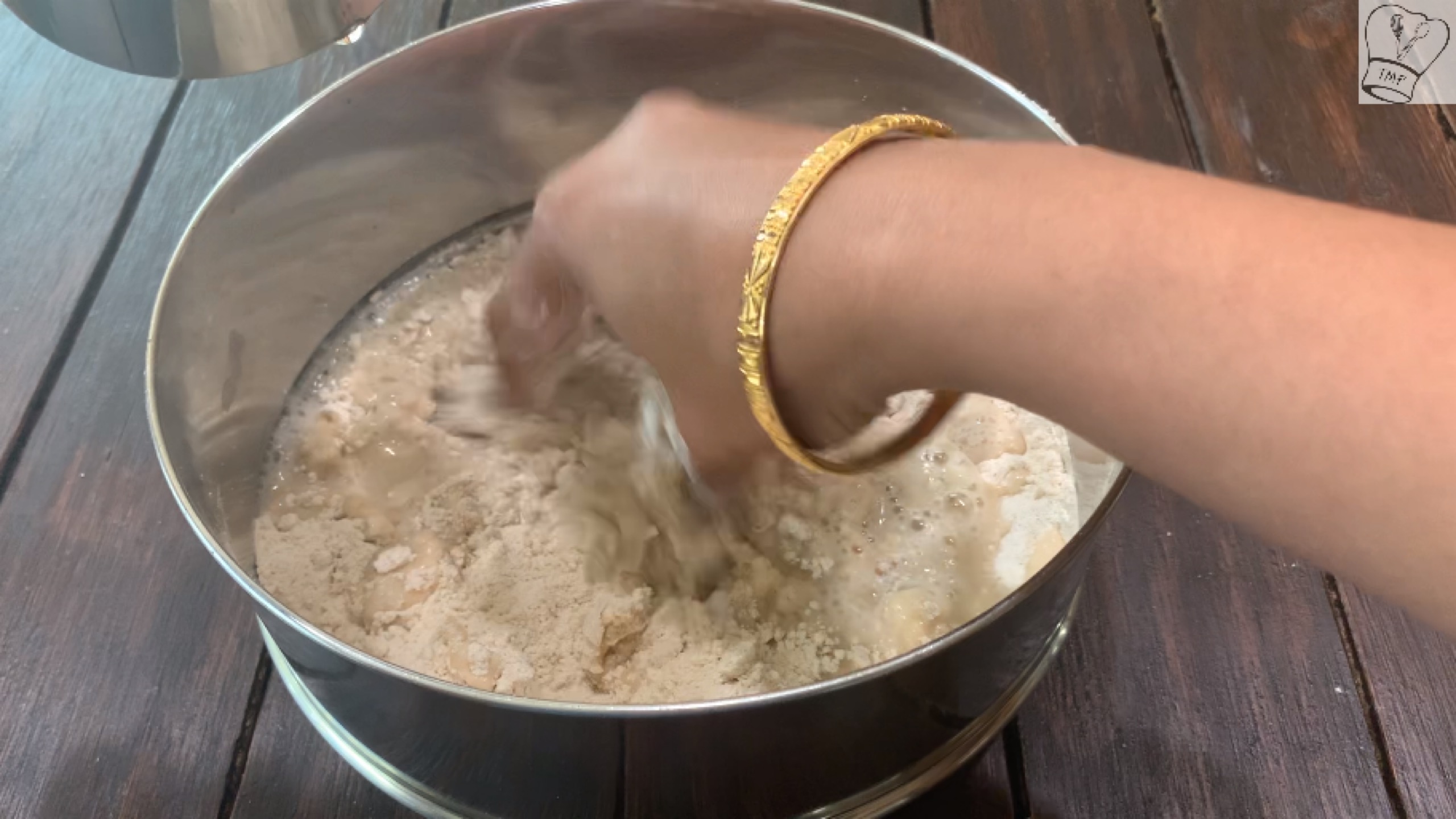 Measure and take 1/2 cup of hot water

Add 3/4ths of the quantity and knead the dough

Sprinkle remaining hot water little by little till the dough comes together

Grease your hands with little oil

and knead the dough for 2-3 minutes until the dough turns pliable, soft, and nonsticky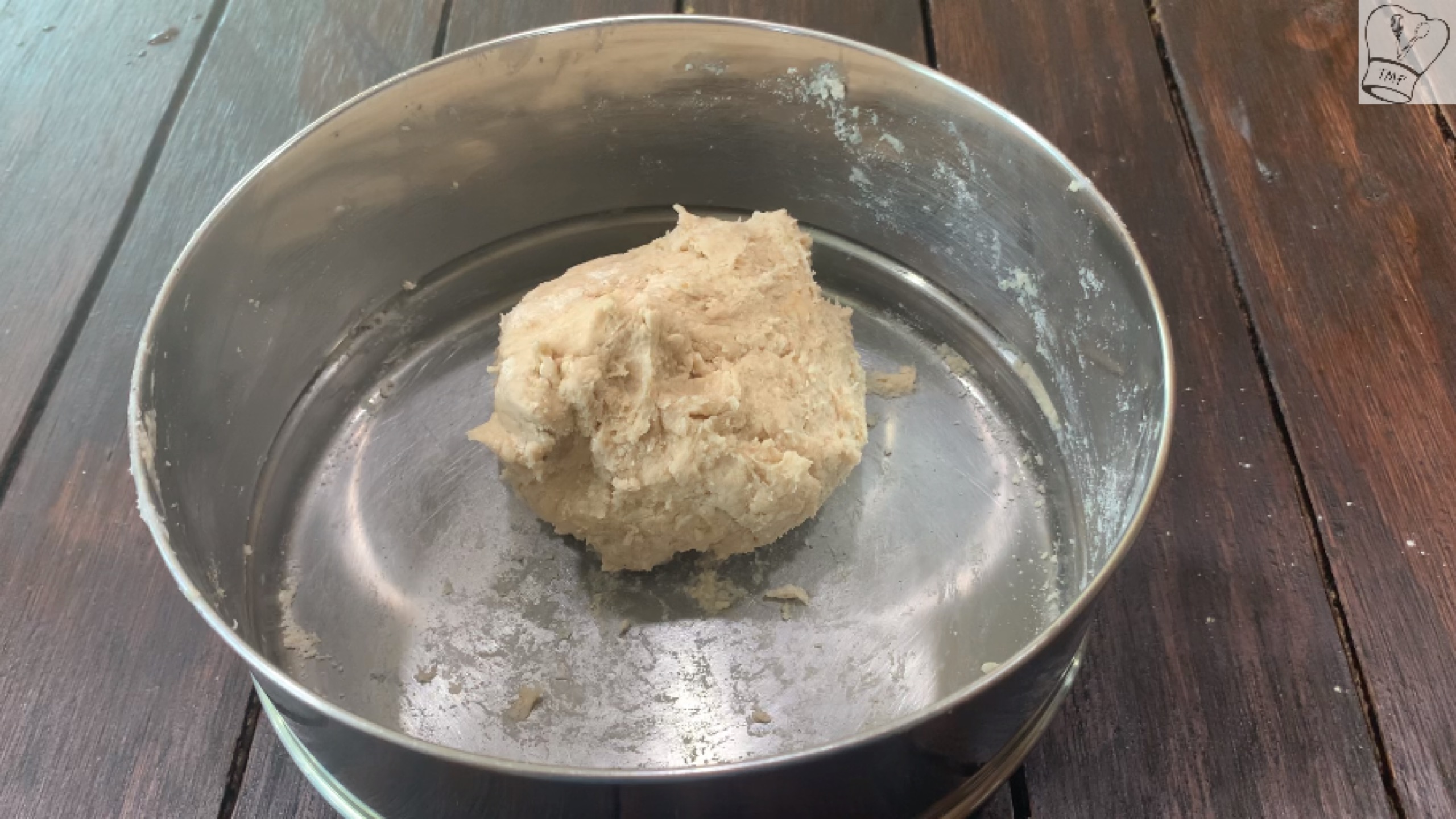 Finally grease the dough with little oil and cover the dough with a moist kitchen towel and, rest for at least 1 hour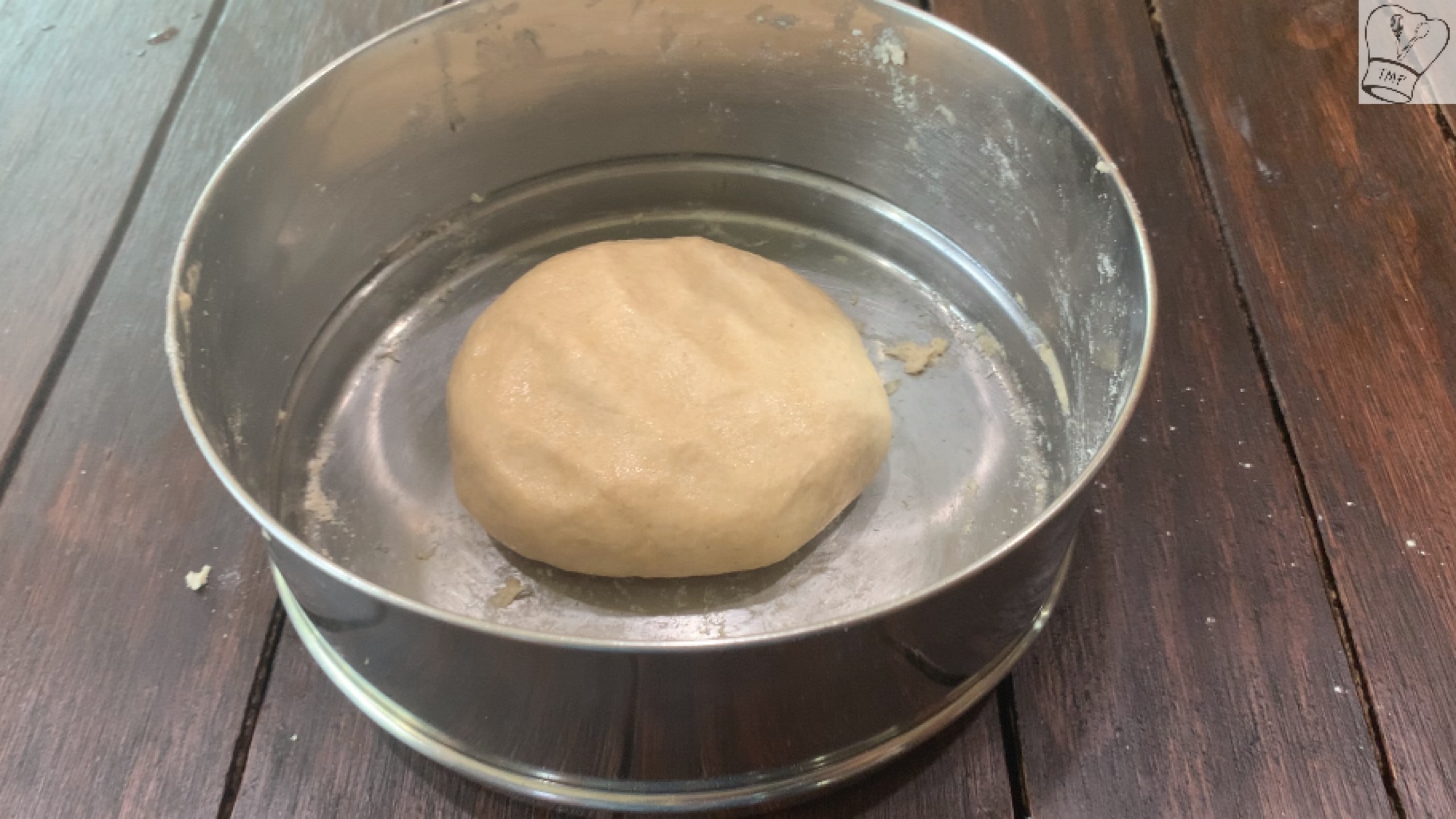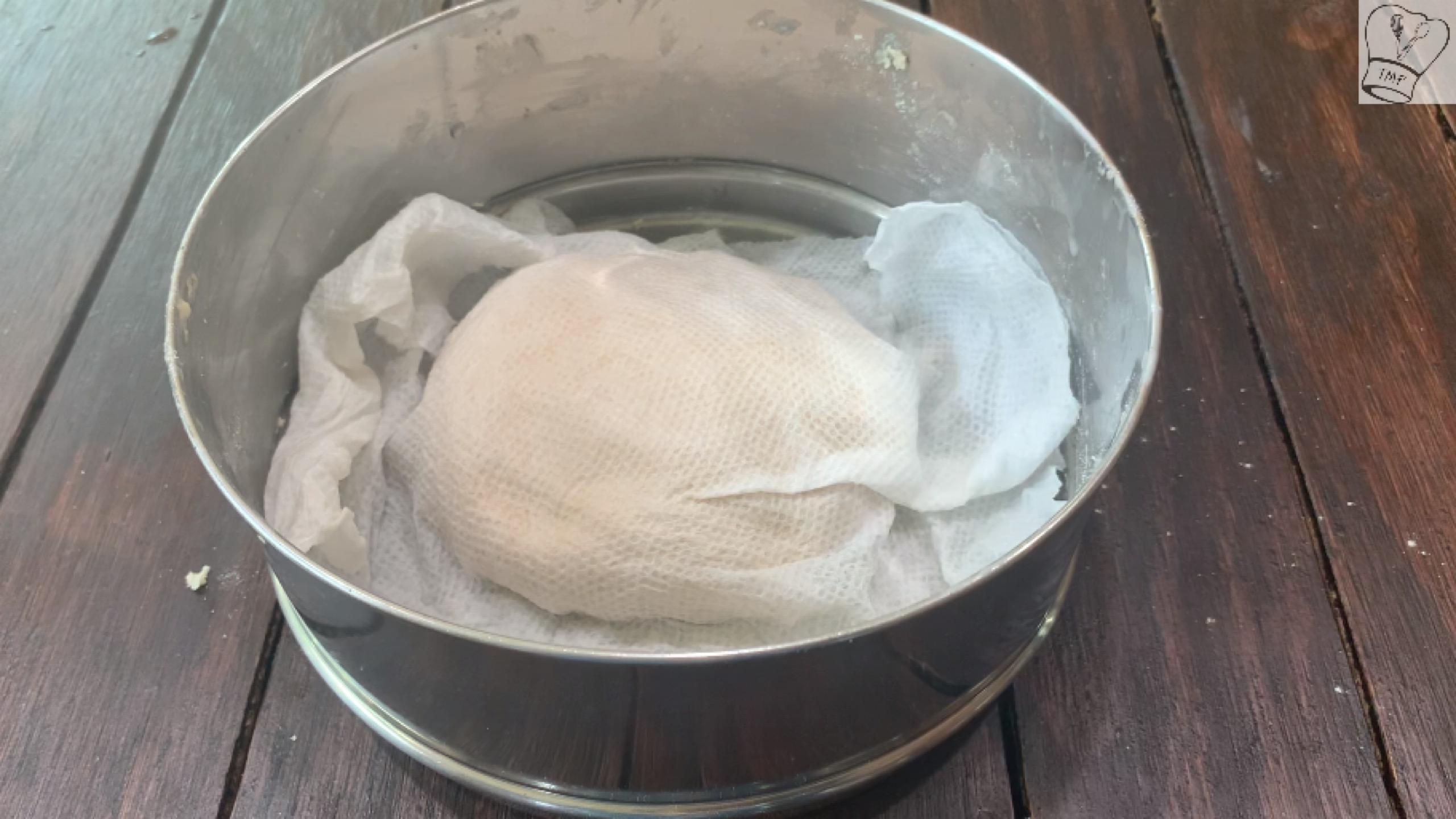 paneer for paratha
Soak the paneer in water and refrigerate for at least 24 hours
Gently press the paneer with a kitchen towel to remove all the excess moisture. You can also squeeze once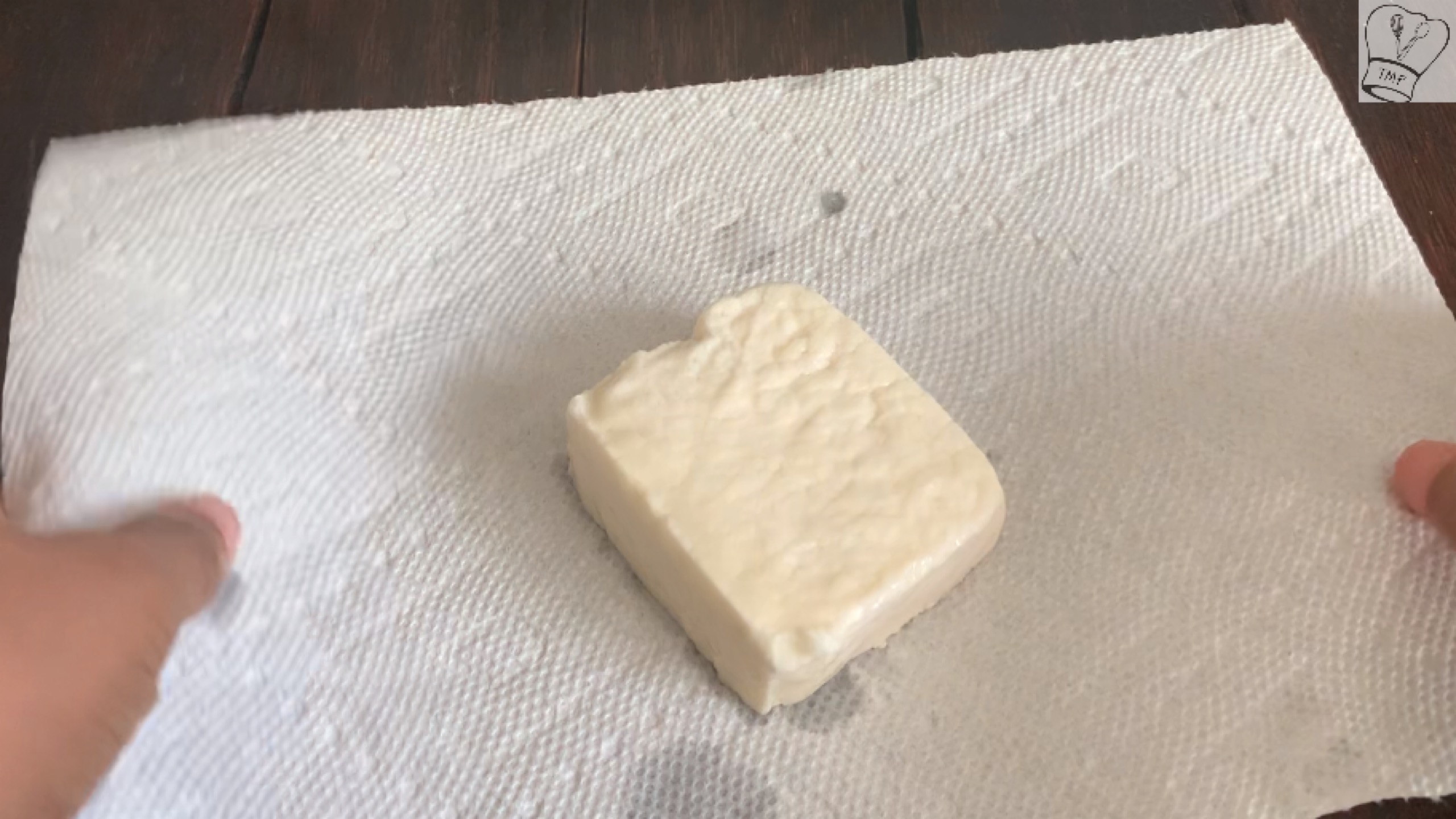 Grate the paneer and set aside 150 grams for paratha
Paneer stuffing
firstly, in a wide mixing bowl take grated paneer
Add kitchen king masala and salt, and mix well until everything is combined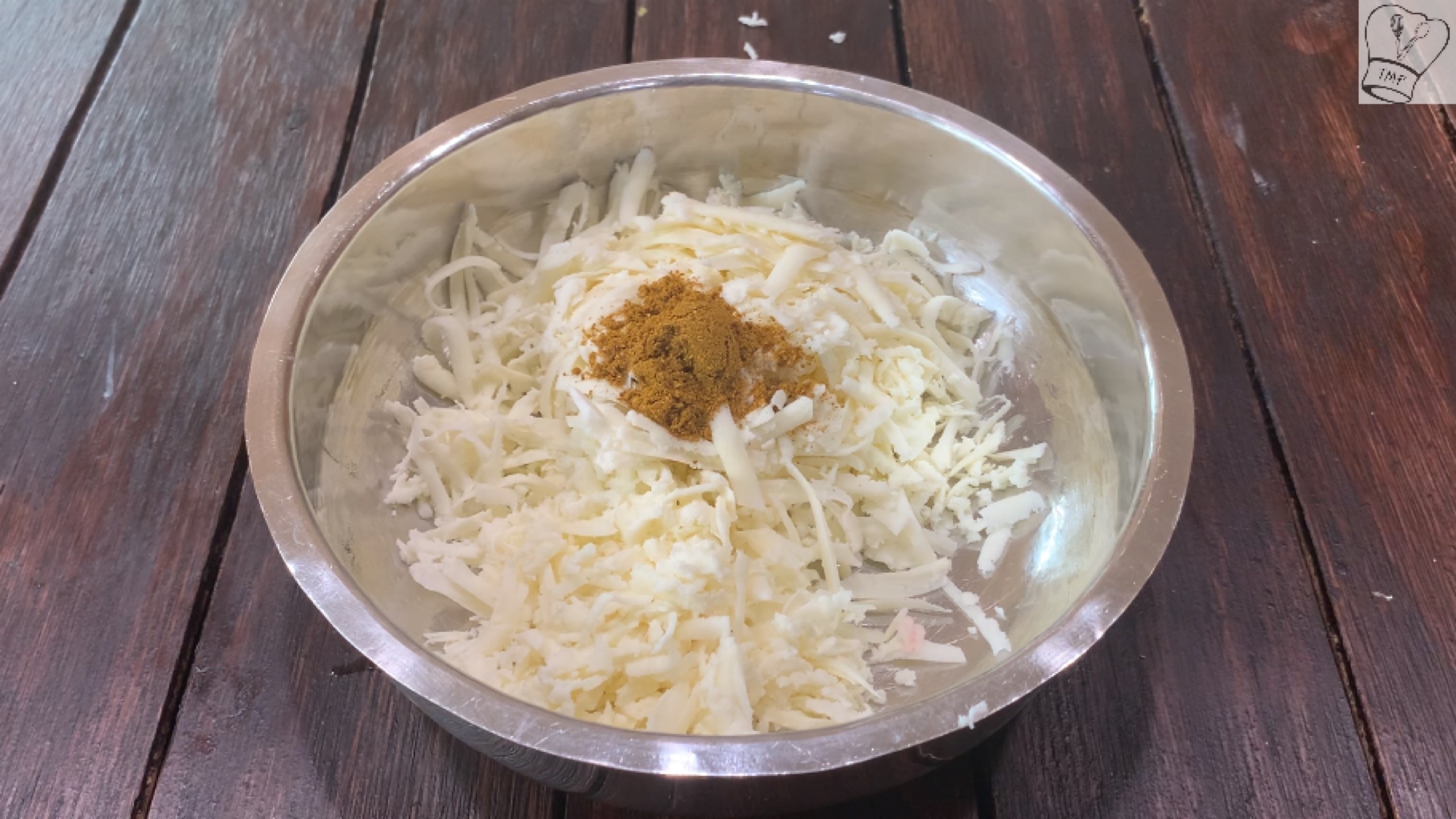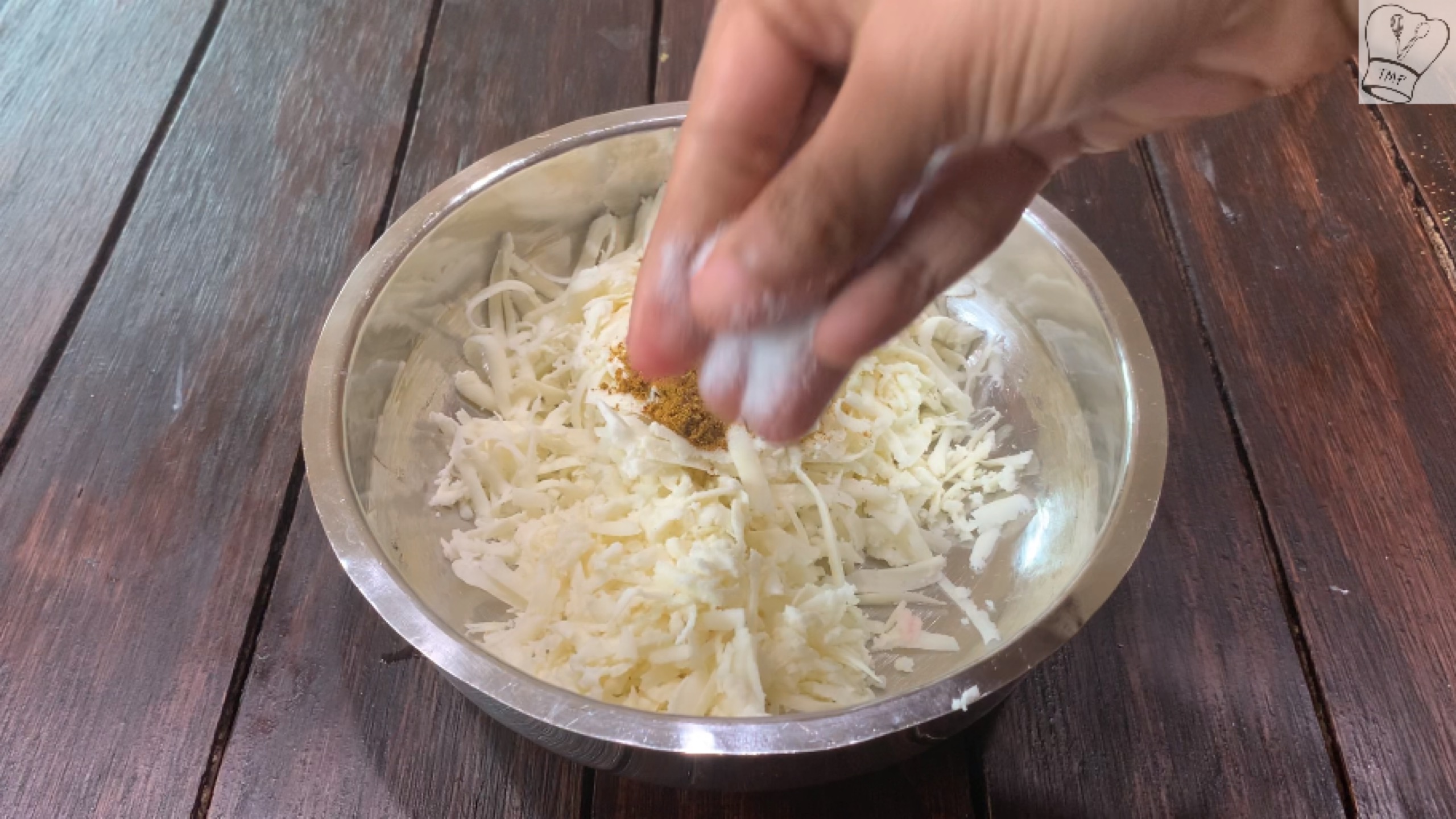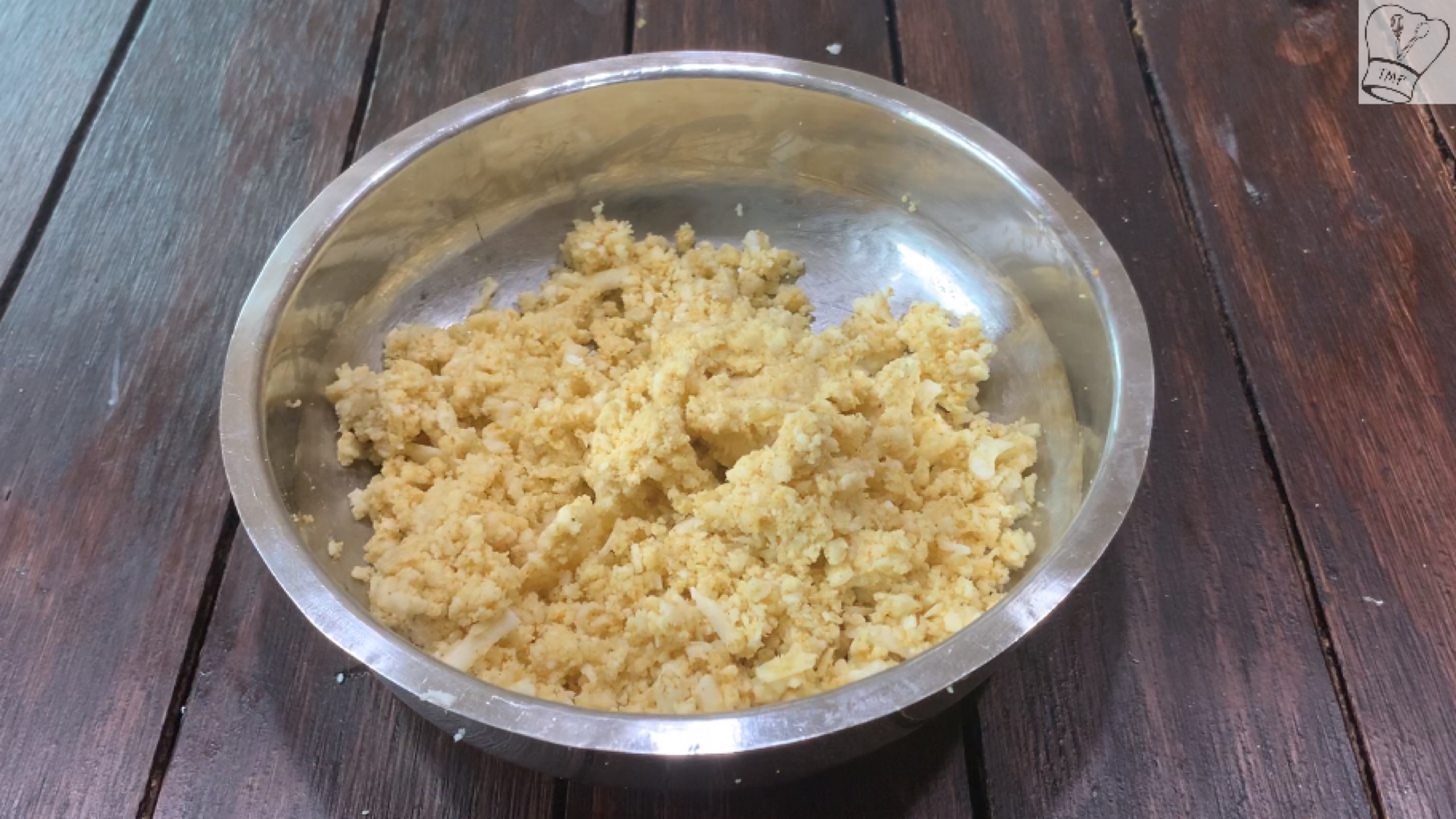 Finally, add coriander leaves and give a good mix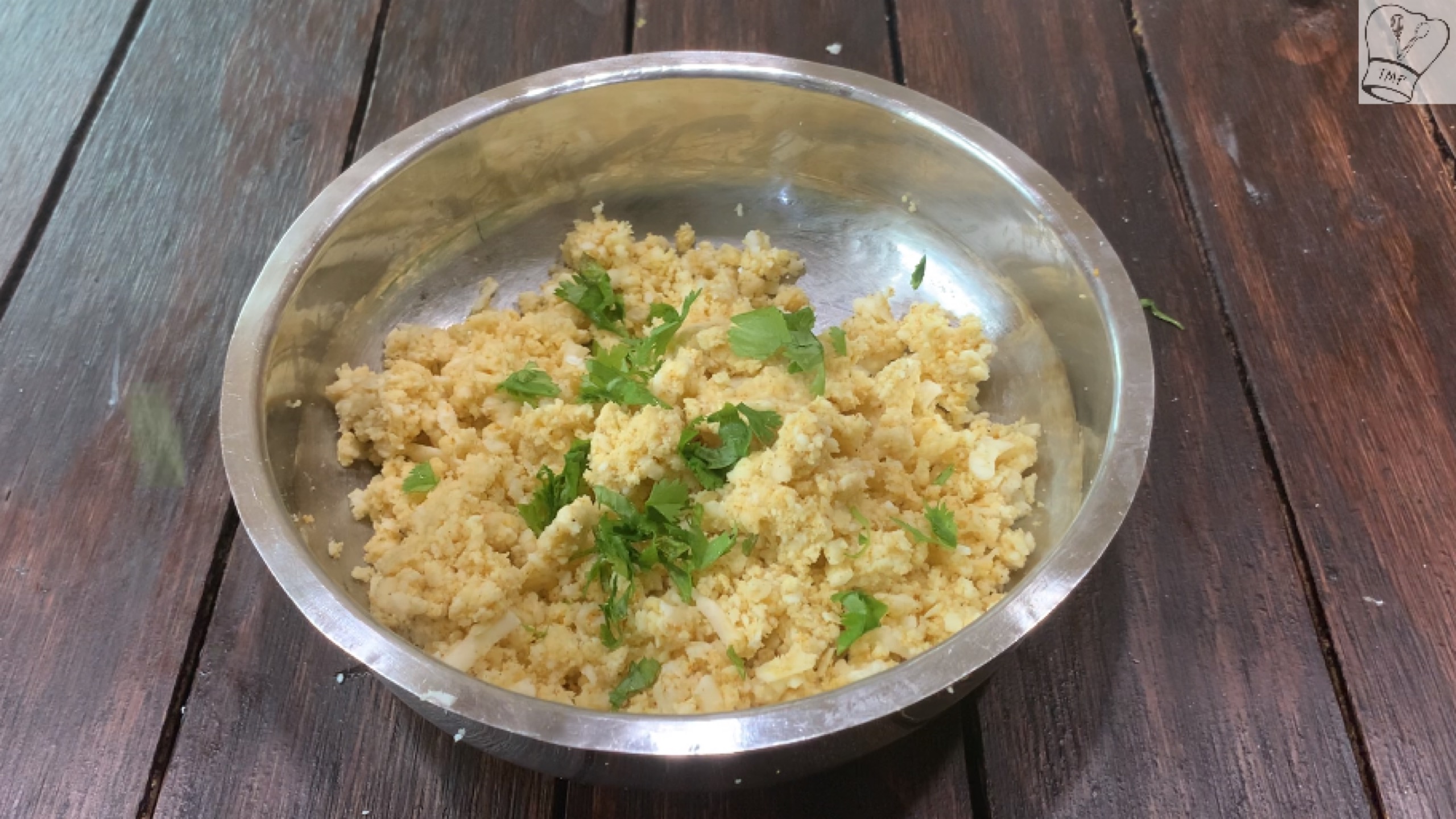 Gently knead the paneer and cover the vessel with a lid and set aside
Rolling paneer paratha:
After the resting time
Firstly, Knead the paneer once and make equal sized 5 balls, cover and set aside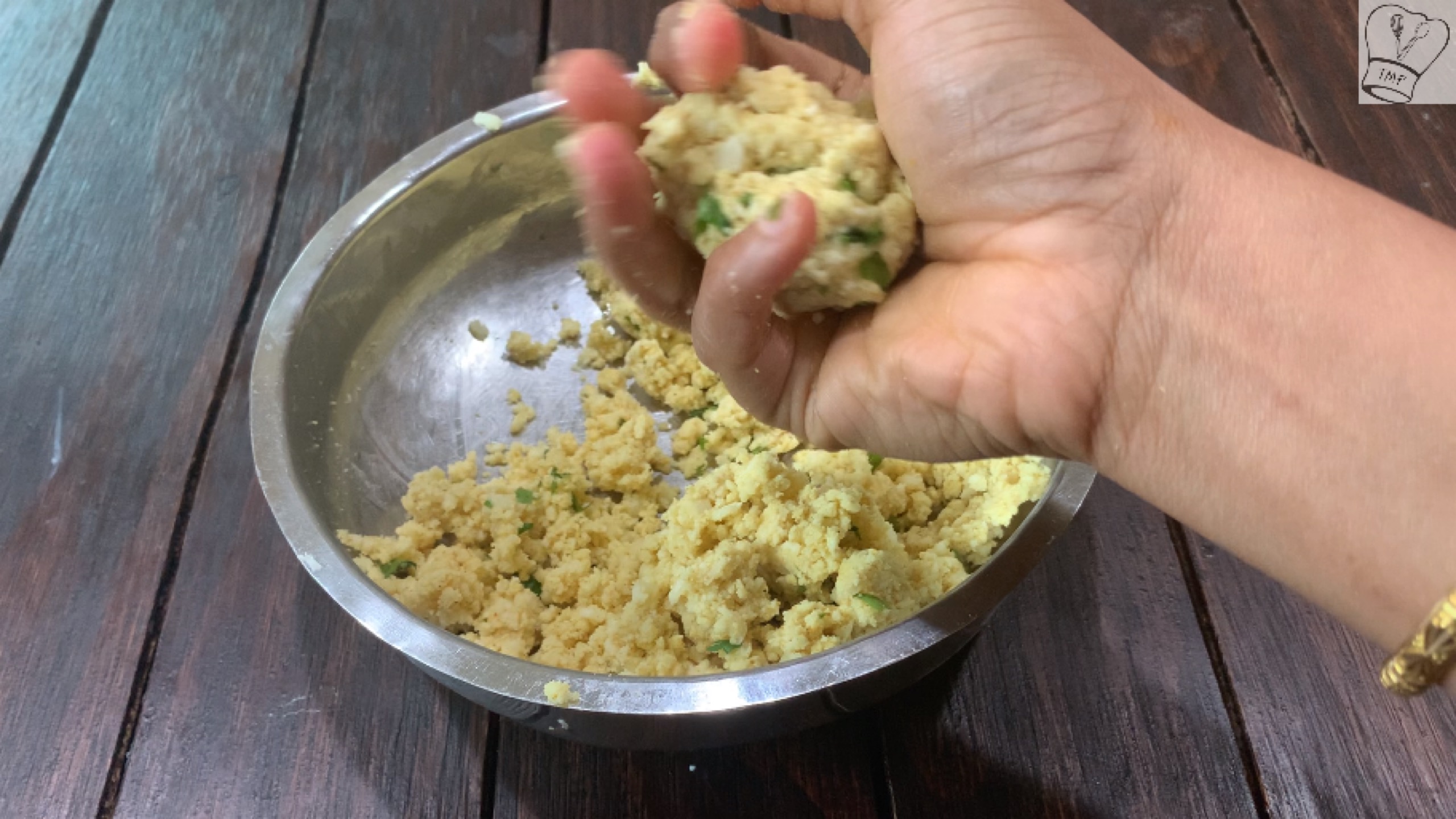 Knead the dough once and make equal-sized 5 balls, cover and set aside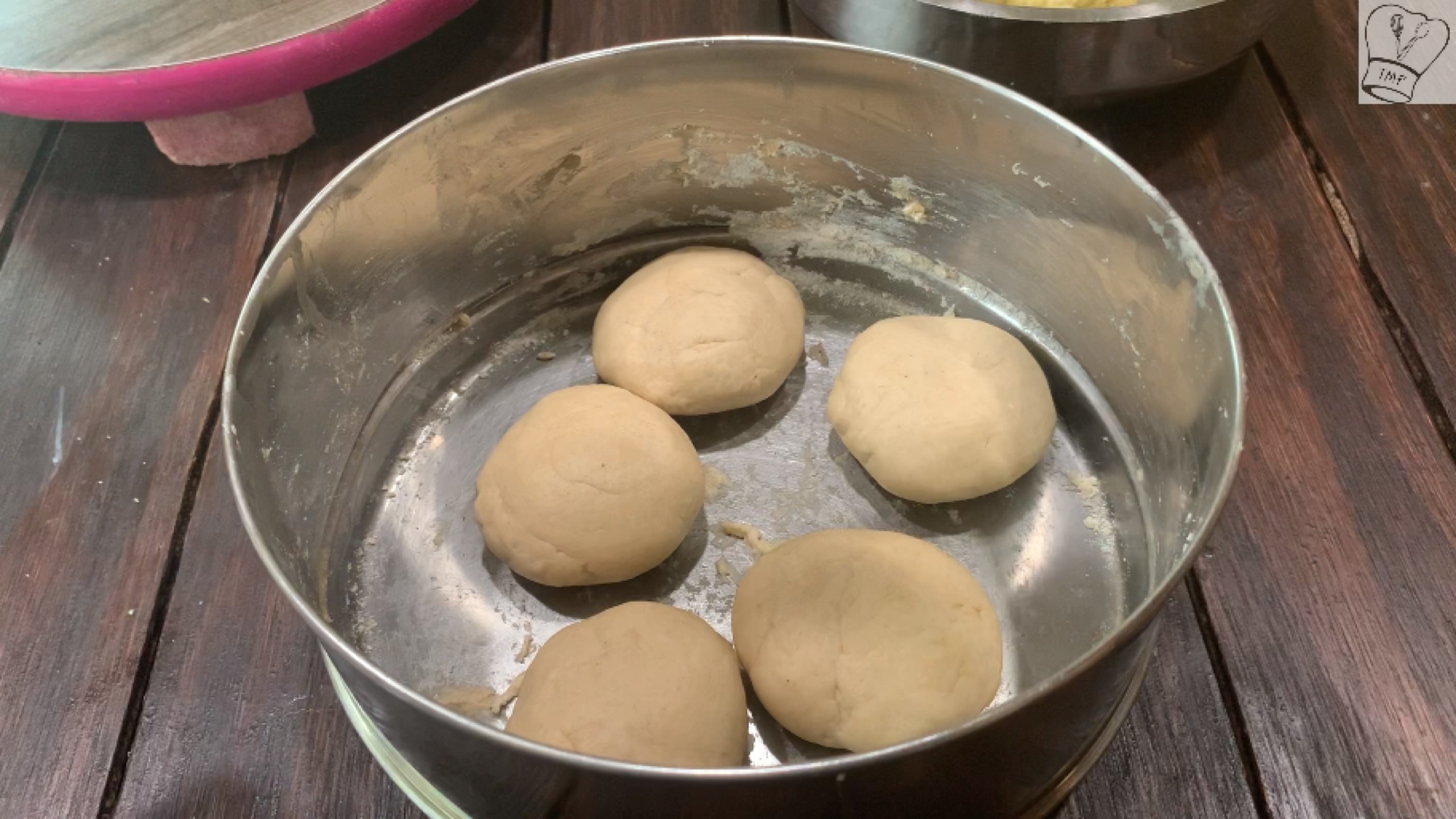 Sprinkle little wheat flour on

the chappathi rolling board and gently roll the dough into a small disc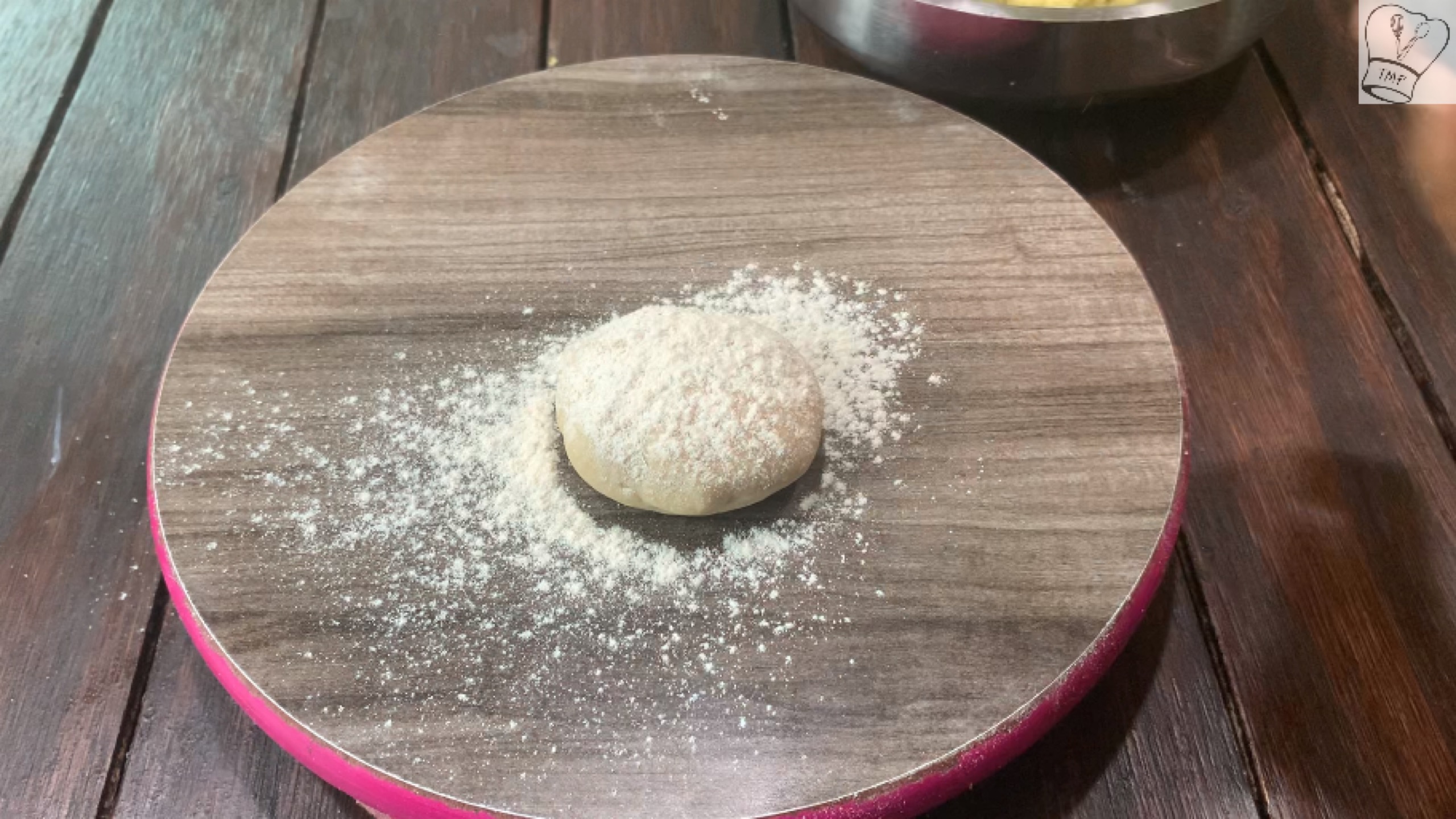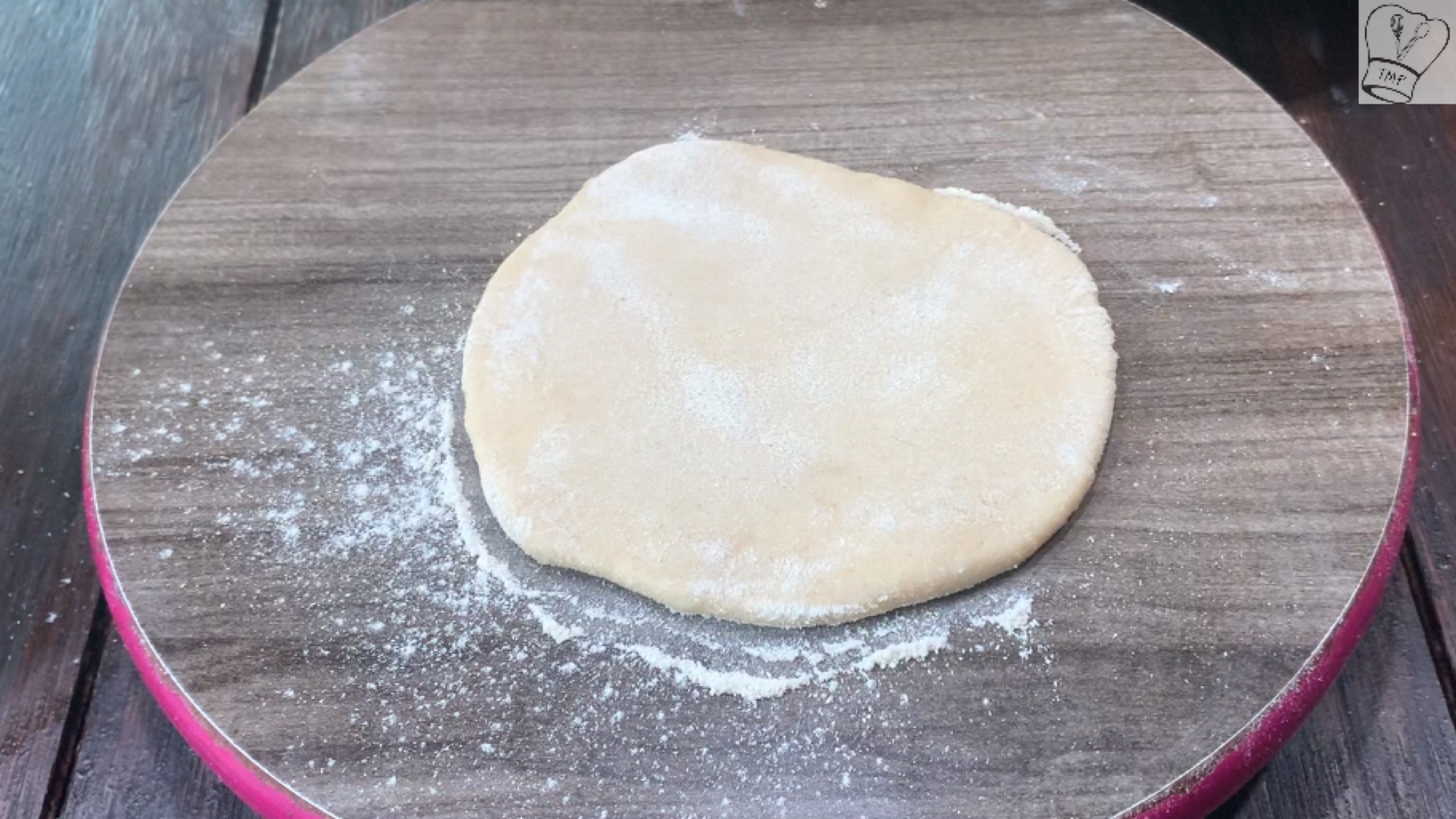 Add little ghee in the center and gently press it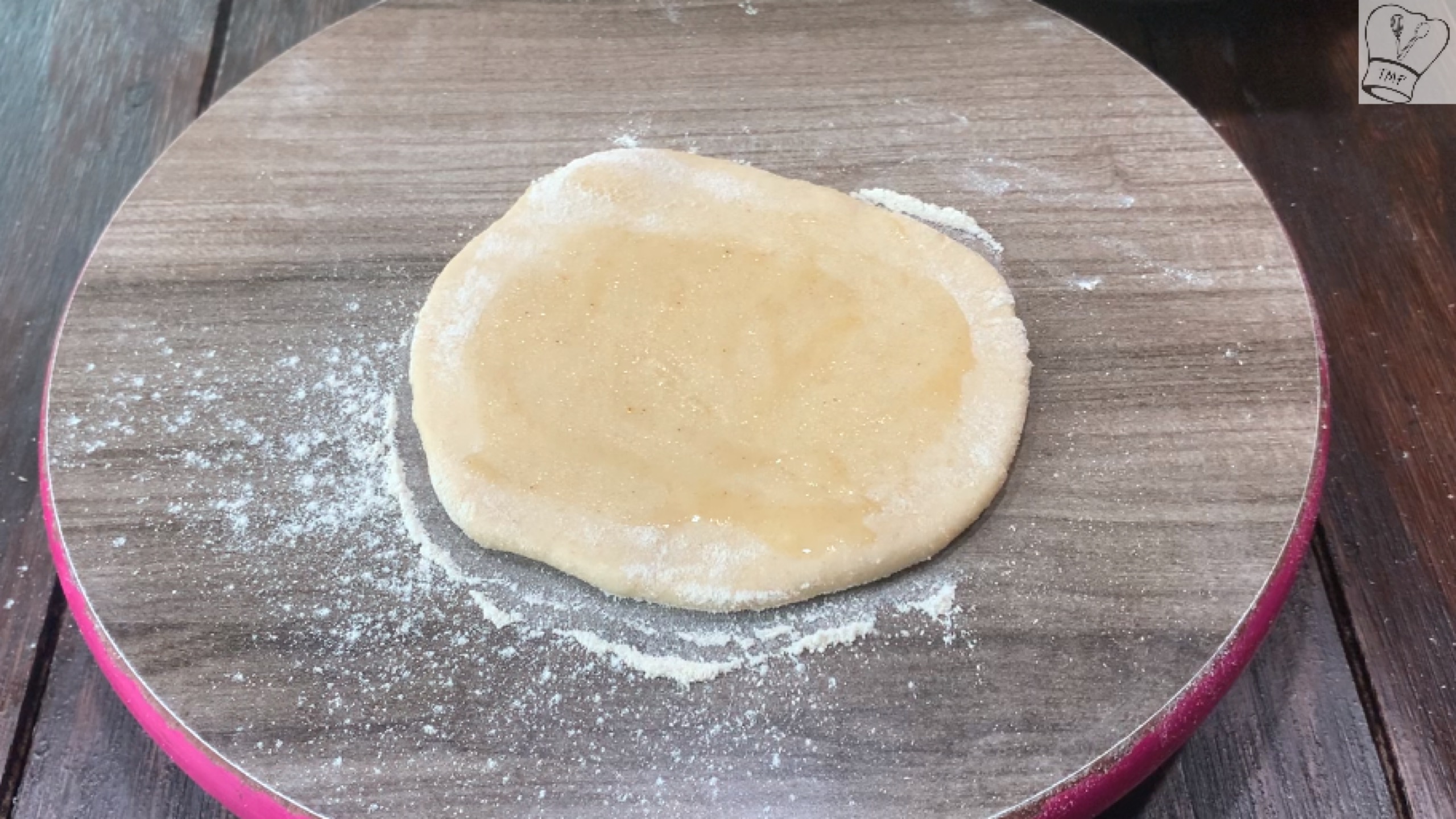 Take a paneer ball and gently press it

Place them in the center and press gently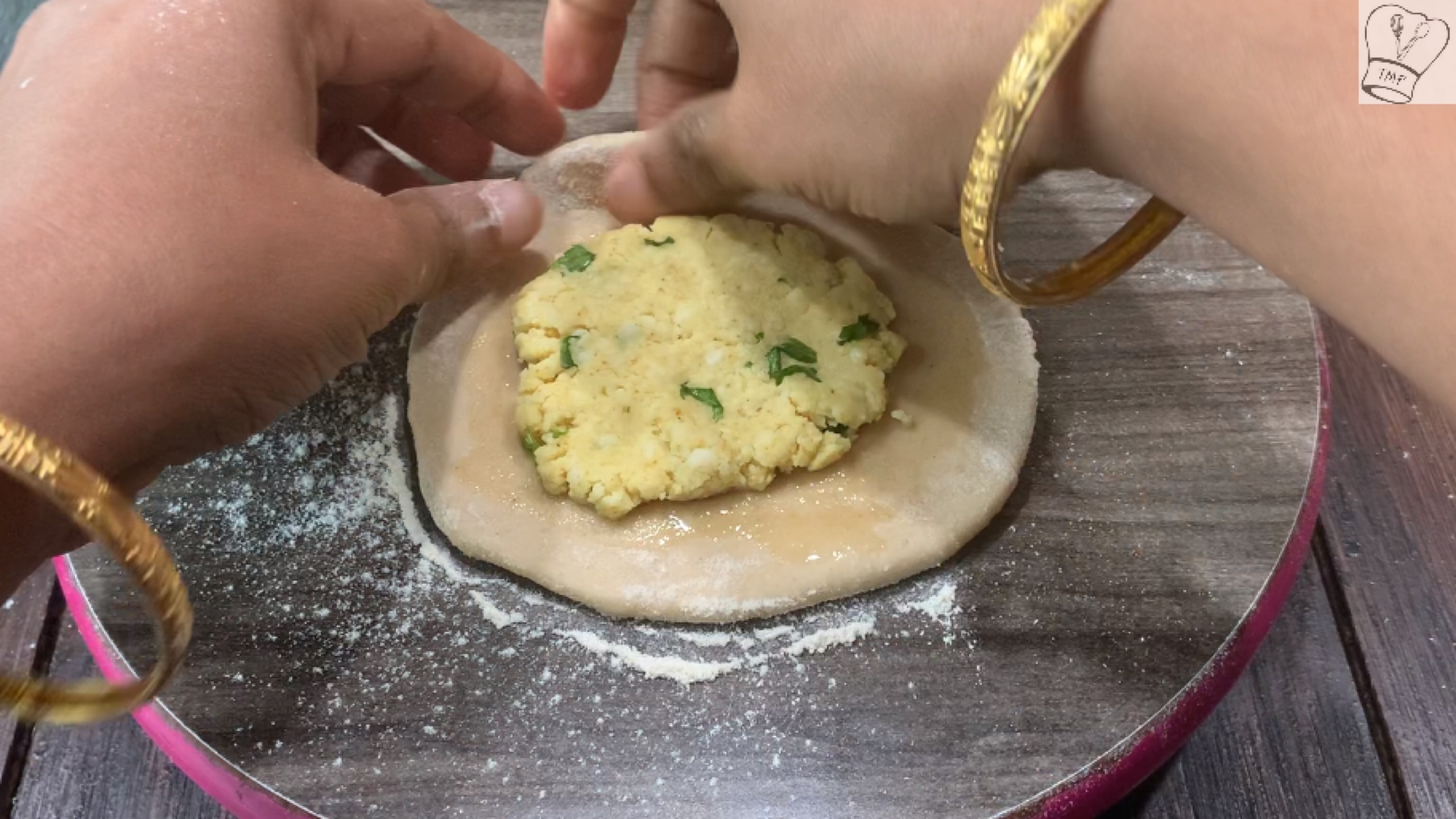 cover the dough around the stuffing and press the dough gently. Make sure the stuffing is not visible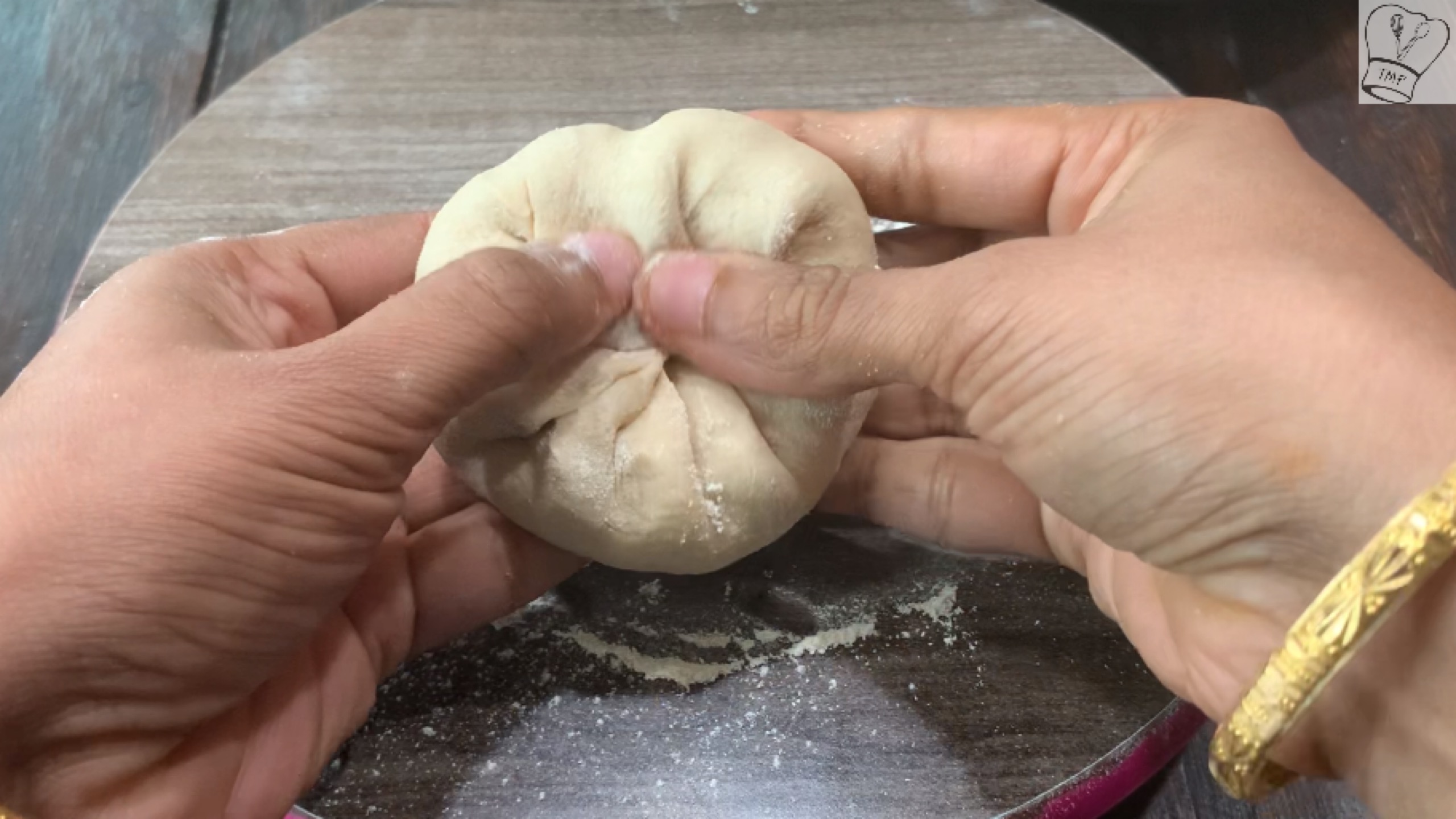 Furthermore, sprinkle some flour and place the sealed part at the bottom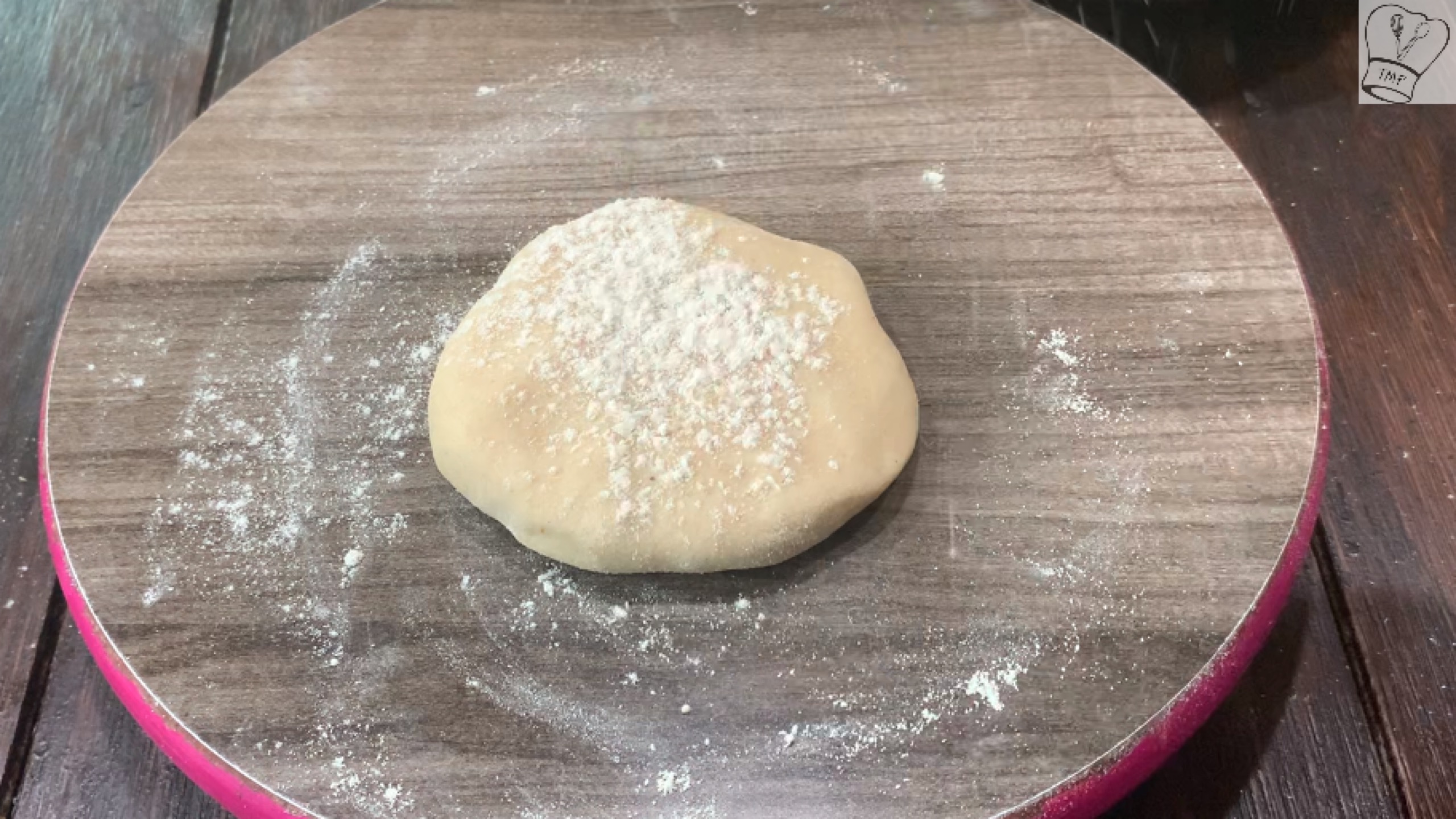 Gently roll the paratha to a Chappathi size giving even pressure around the paratha
Heat the chappathi tawa on medium flame and meanwhile repeat and roll the entire batch
Cook paratha
After the tawa is hot enough add ghee and place the rolled paratha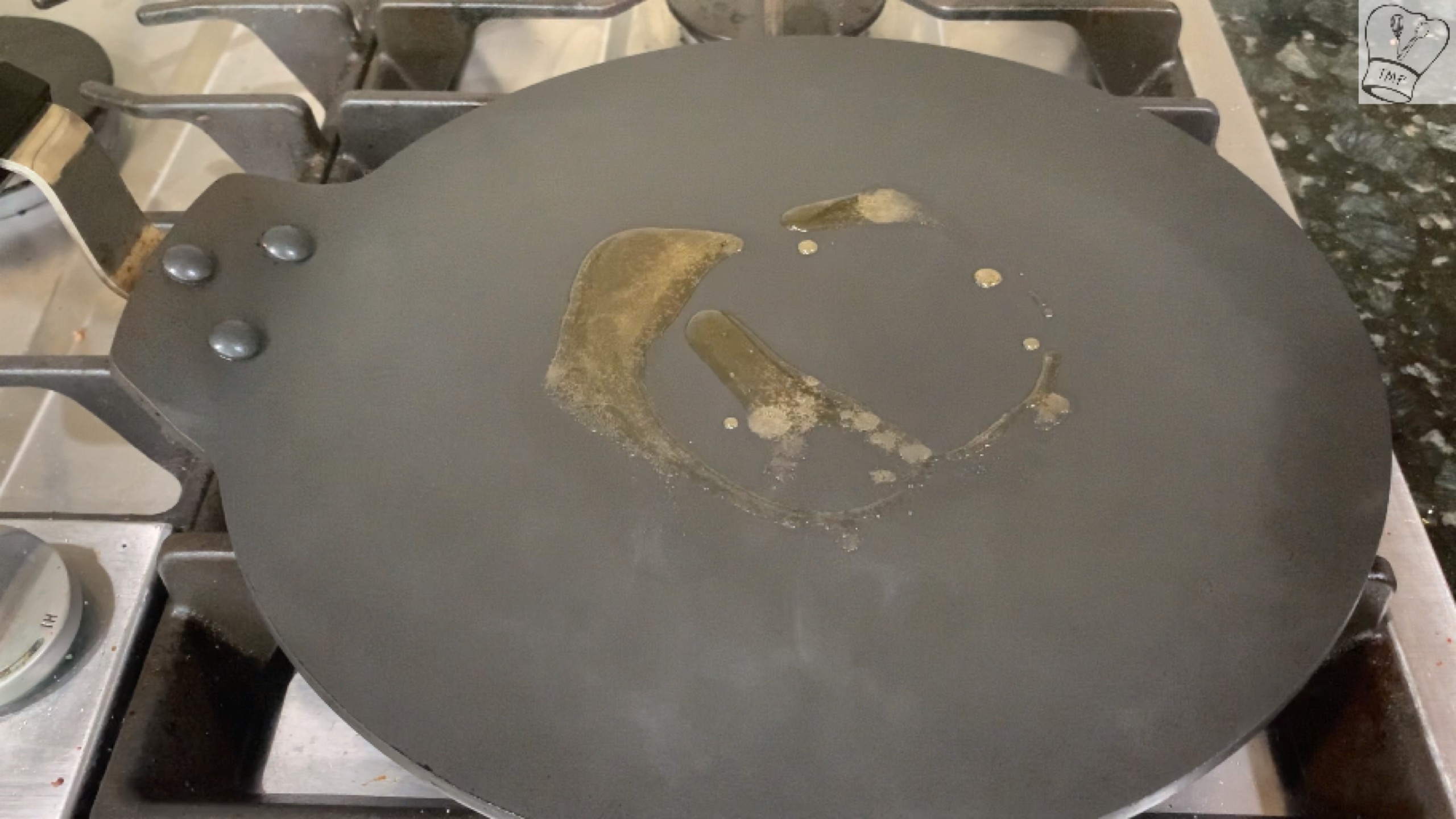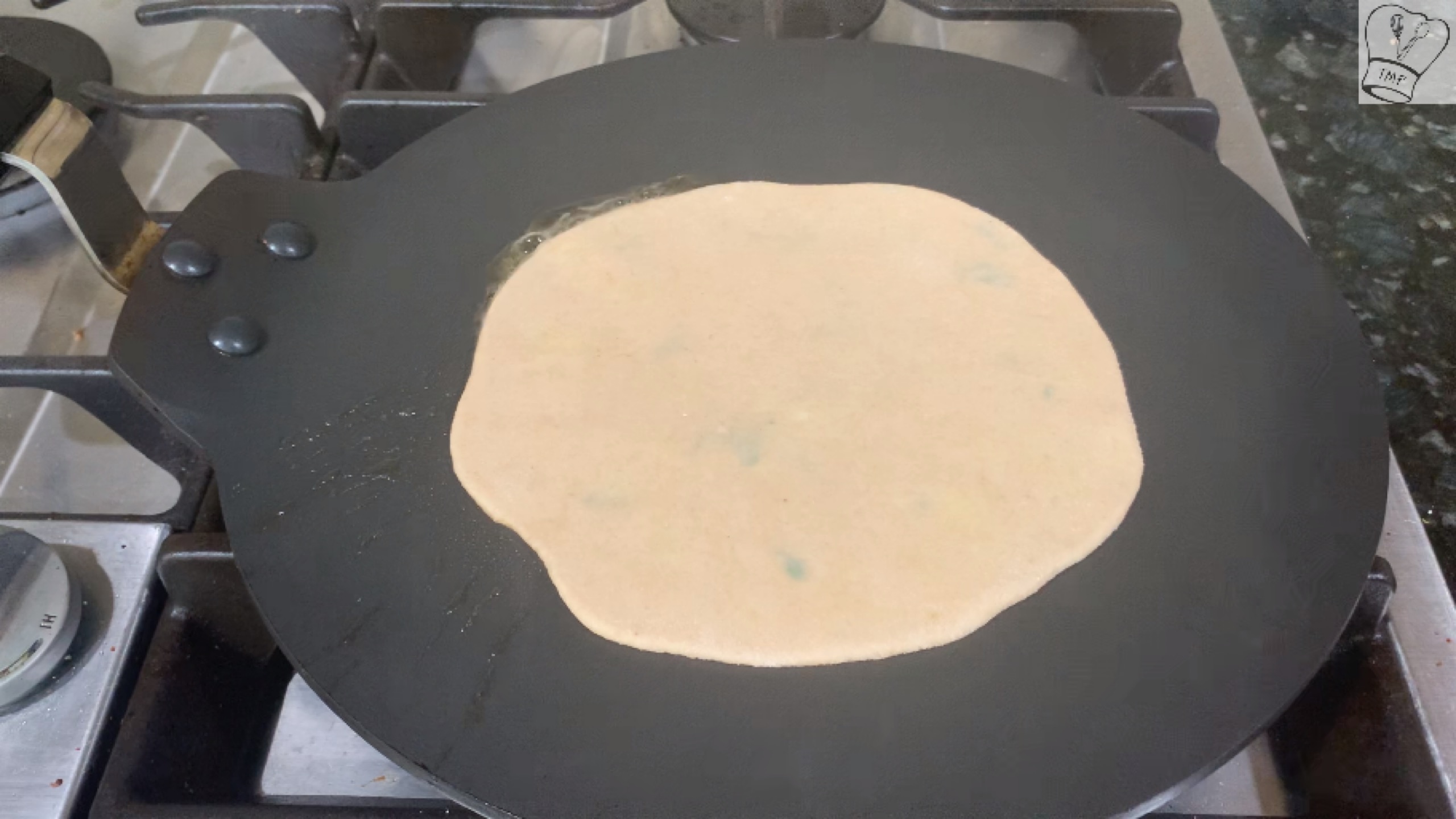 Drizzle some ghee on the top and cook until the paratha starts to puff up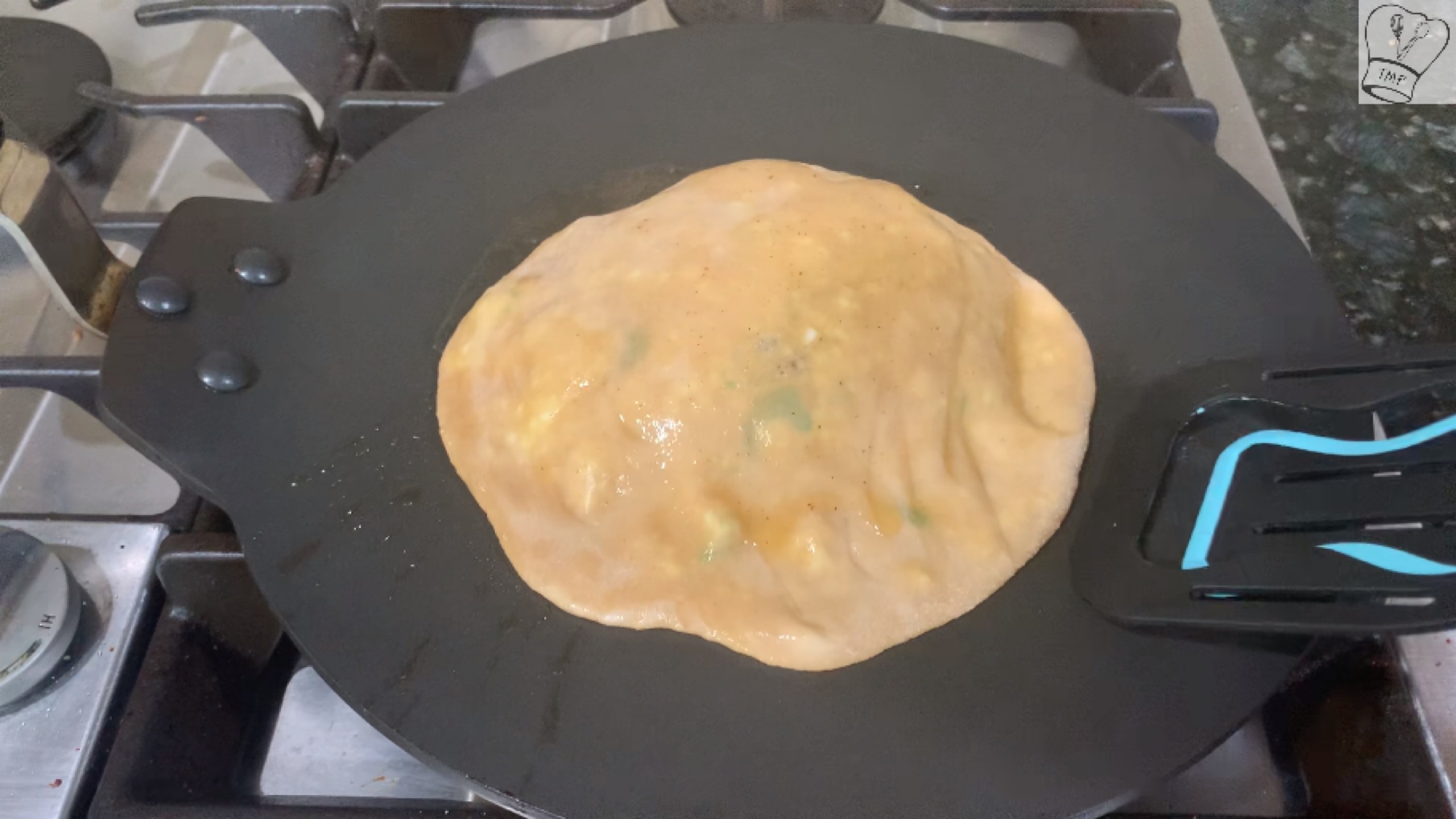 Flip and cook another side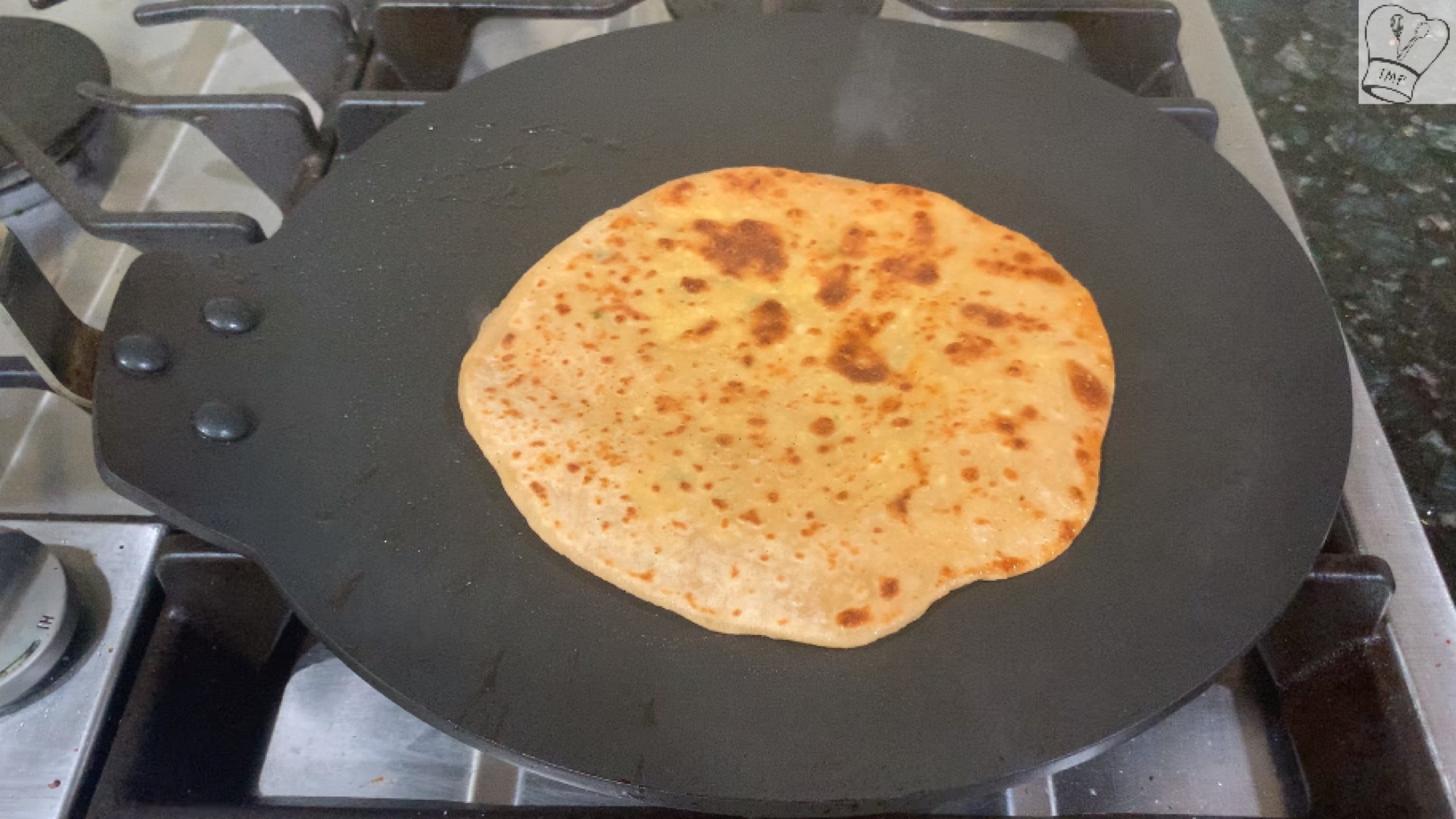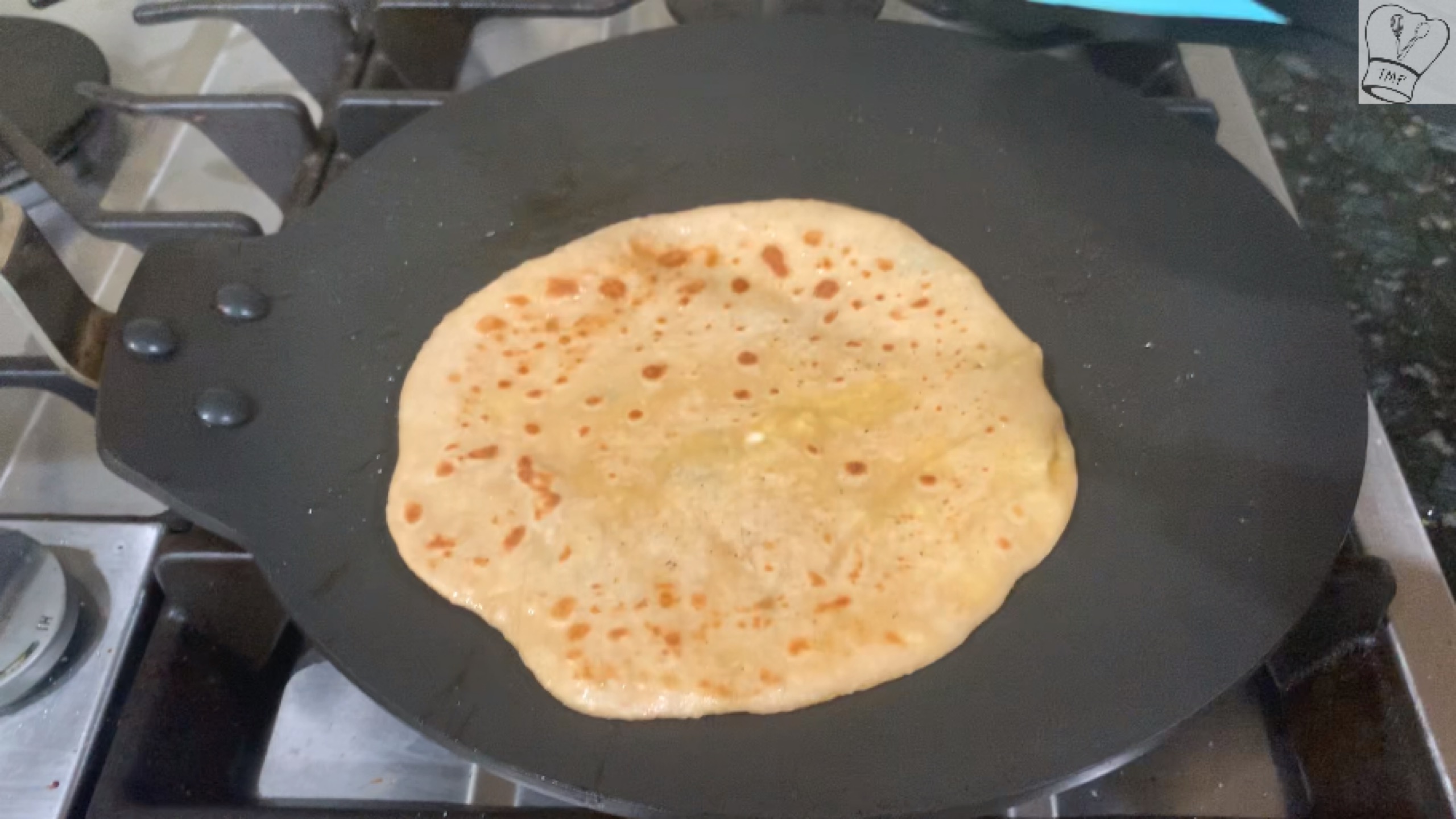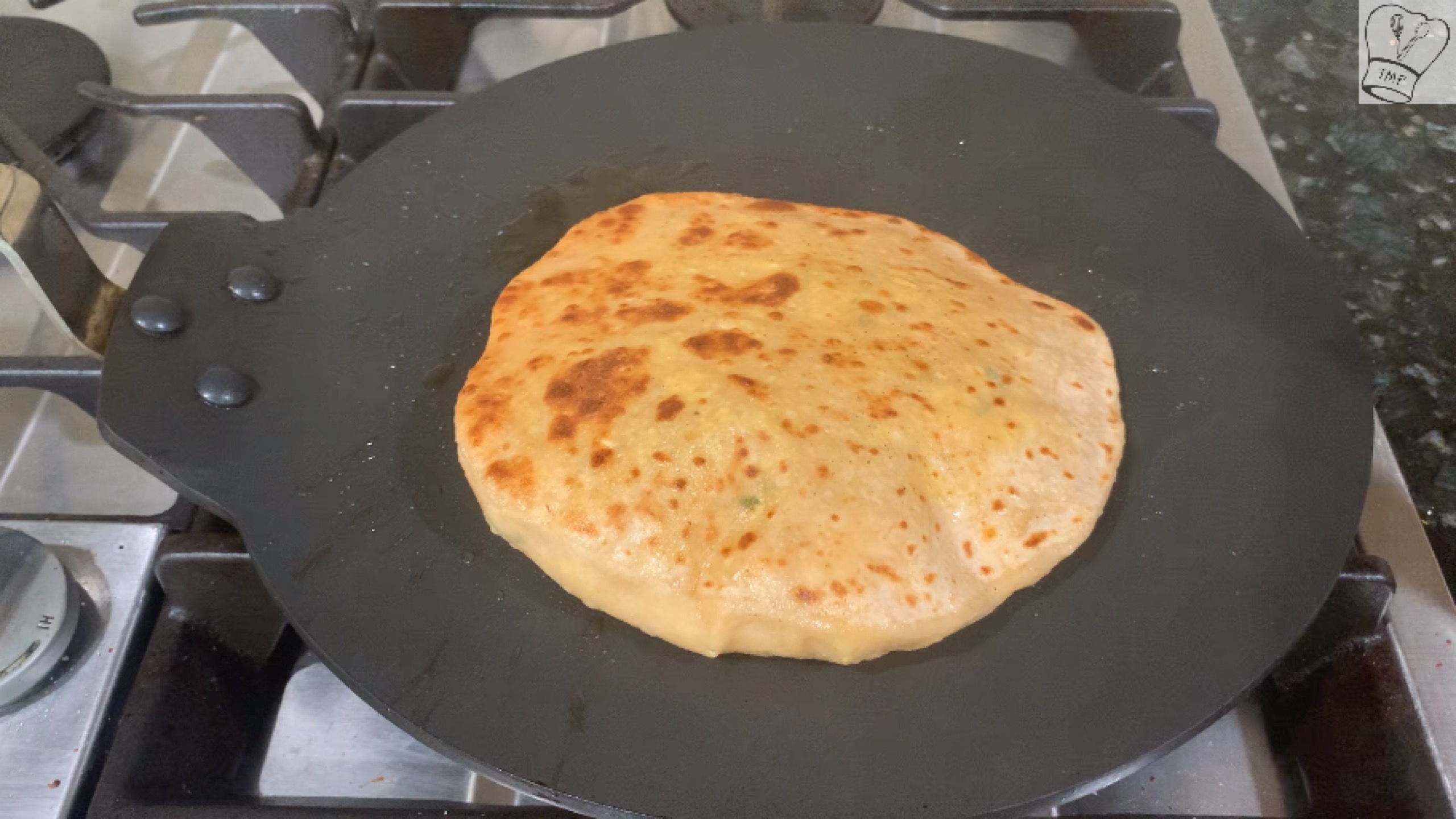 Gently press and cook golden brown on both sides and serve hot paneer parathas with raita or pickle or sauce