Paneer pulao | Shahi paneer pulao | paneer peas pulao | pulao rice | easy pilaf recipe | Paneer matar pulav kids lunch box recipe | pulao recipe | restaurant-style pulao recipe | lunch box recipe step by step pictures and video recipe. Check out the Paneer pulao video and If you like the video pls SUBSCRIBE to my channel
Rich and tasty one-pot paneer pulao are perfect for the lunchbox. It also makes a great entree for dinner parties.
HOW LONG SHOULD I SOAK RICE?
I generally soak rice for about 5 minutes. Adjust the soaking time according to the variety of rice you use
CAN I COOK Matar paneer PULAO IN THE PRESSURE COOKER?
Yes, for the pressure cooker version soak the rice for 10 minutes. Bring to boil and cook for 2 whistles and do natural pressure release.
CAN I COOK shahi PULAO IN OIL?
Yes, using Ghee is optional but it gives a good flavor to the pulav. You can use oil for cooking and add a few drops of ghee for aroma.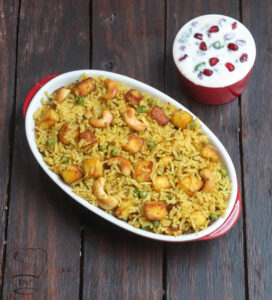 Can I skip sauteeing paneer?
I would recommend doing this step.
Can I cook pulao in water?
Cooking shahi paneer peas pulao in milk gives the best taste so I would recommend that
Alternate for shahi paneer masala?
You can use red chilli powder, kitchen king masala, and garam masala instead of shahi paneer pulao. Adjust the masala according to your spice.
Will the same milk to rice ratio work for another Instant pot size?
I used 5 quart IP if you are using a smaller size pan reduce the milk accordingly. The quantity of milk also depends on the rice variety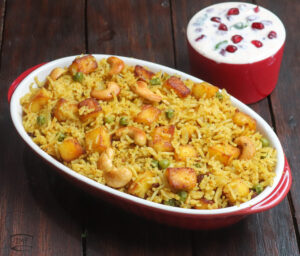 Ingredients
Saffron milk
1

+ 1/2 cup milk

Saffron few
Roast paneer
2

tablespoon

ghee

200

grams

paneer

Small piece of Cinnamon

2

cardamom

1/2

bay leaf

2

clove
Pulao
3/4

cup

onion

1

teaspoon

ginger garlic paste

2

green chilli

1/4

cup

peas

1/8

teaspoon

turmeric powder

Required salt

1

tablespoon

shahi paneer

1/4

teaspoon

sesame oil
Instructions
Wash and soak rice for 5 mins with enough water and keep aside

Add milk and saffron in a microwave-safe glass and cook for 2 minutes; keep side

Turn on IP in "saute" mode and add ghee

When the display shows "hot" add paneer and mixes well

Saute well till paneer turns golden brown; mix well in between for even roasting

Add bay leaf, cloves, cardamom, and cinnamon; mix well

Transfer the roasted paneer and whole spice to a vessel and keep aside

Add onion, ginger-garlic paste ; mix well

Furthermore, add green chilli and saute well till onion turns translucent

Add peas, turmeric powder, salt, and shahi paneer powder ; mix well and saute for one minute

Furthermore add rice, saffron milk; mix well and bring to boil

Make sure nothing is stuck to the pan

Add roasted paneer and whole spice; avoid mixing

Finally, add sesame oil and press "cancel"

Close the IP and cook in manual mode for 4 minutes. Do Natural pressure release

Gently open the lid and fluff the rice

Add ghee to a small pan and saute till cashew turn golden brown

Transfer to the pulao and easy shahi paneer pulao is ready
Video

Ingredients
Soak rice
1 cup Basmati rice
Saffron milk
1 + 1/2 cup milk
Saffron few
Roast paneer
2 tablespoon ghee
200 grams paneer
Small piece of Cinnamon
2 cardamom
1/2 bay leaf
2 clove
Pulao
3/4 cup onion
1 teaspoon ginger garlic paste
2 green chilli
1/4 cup peas
1/8 teaspoon turmeric powder
Required salt
1 tablespoon shahi paneer
1/4 teaspoon sesame oil
Add on
1 teaspoon ghee
8 cashews
how to make Paneer pulao with step by step pictures
Wash and soak rice for 5 mins with enough water and keep aside
Add milk and saffron in a microwave-safe glass and cook for 2 minutes; keep side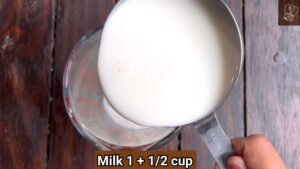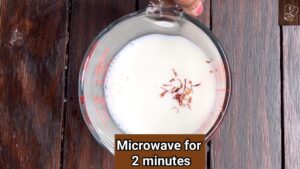 Turn on IP in "saute" mode and add ghee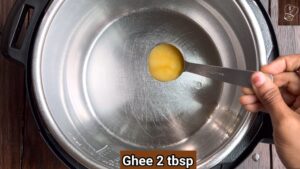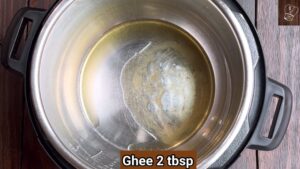 When the display shows "hot" add paneer and mixes well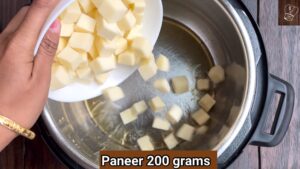 Saute well till paneer turns golden brown; mix well in between for even roasting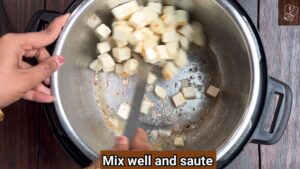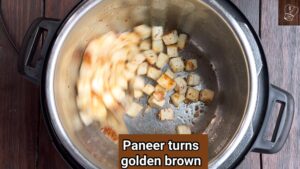 Add bay leaf, cloves, cardamom, and cinnamon; mix well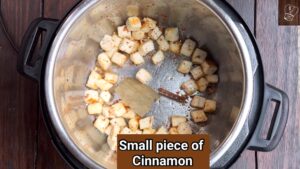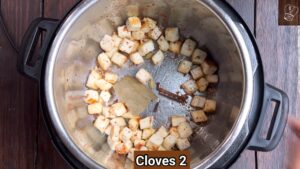 Transfer the roasted paneer and whole spice to a vessel and keep aside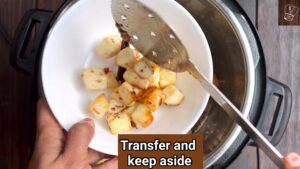 Add onion, ginger-garlic paste ; mix well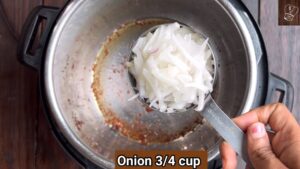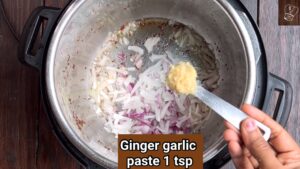 Furthermore, add green chilli and saute well till onion turns translucent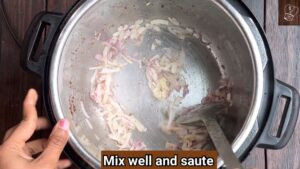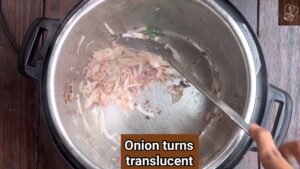 Add peas, turmeric powder, salt, and shahi paneer powder; mix well and saute for one minute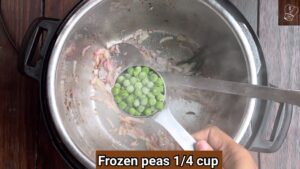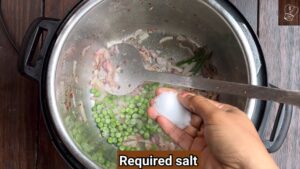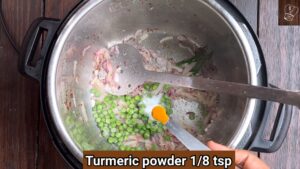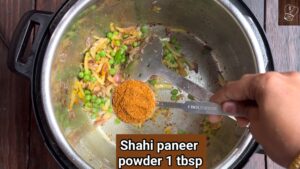 Furthermore add rice, saffron milk; mix well and bring to boil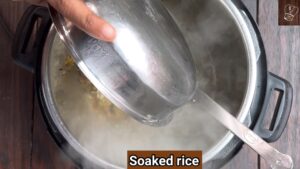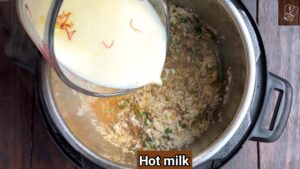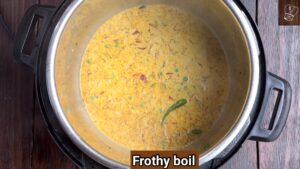 Make sure nothing is stuck to the pan

Add roasted paneer and whole spice; avoid mixing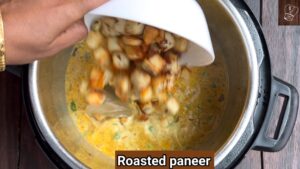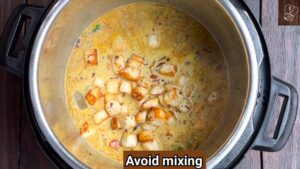 Finally, add sesame oil and press "cancel"
Close the IP and cook in manual mode for 4 minutes. Do Natural pressure release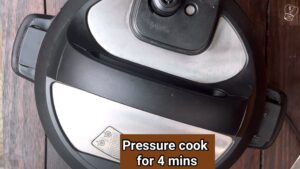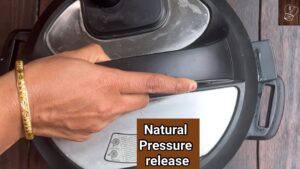 Gently open the lid and fluff the rice

Add ghee to a small pan and saute till cashew turn golden brown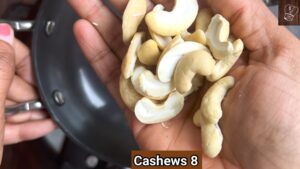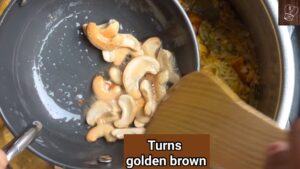 Transfer to the pulao and easy shahi paneer pulao is ready