Pesto Sandwich | Pesto grilled cheese sandwich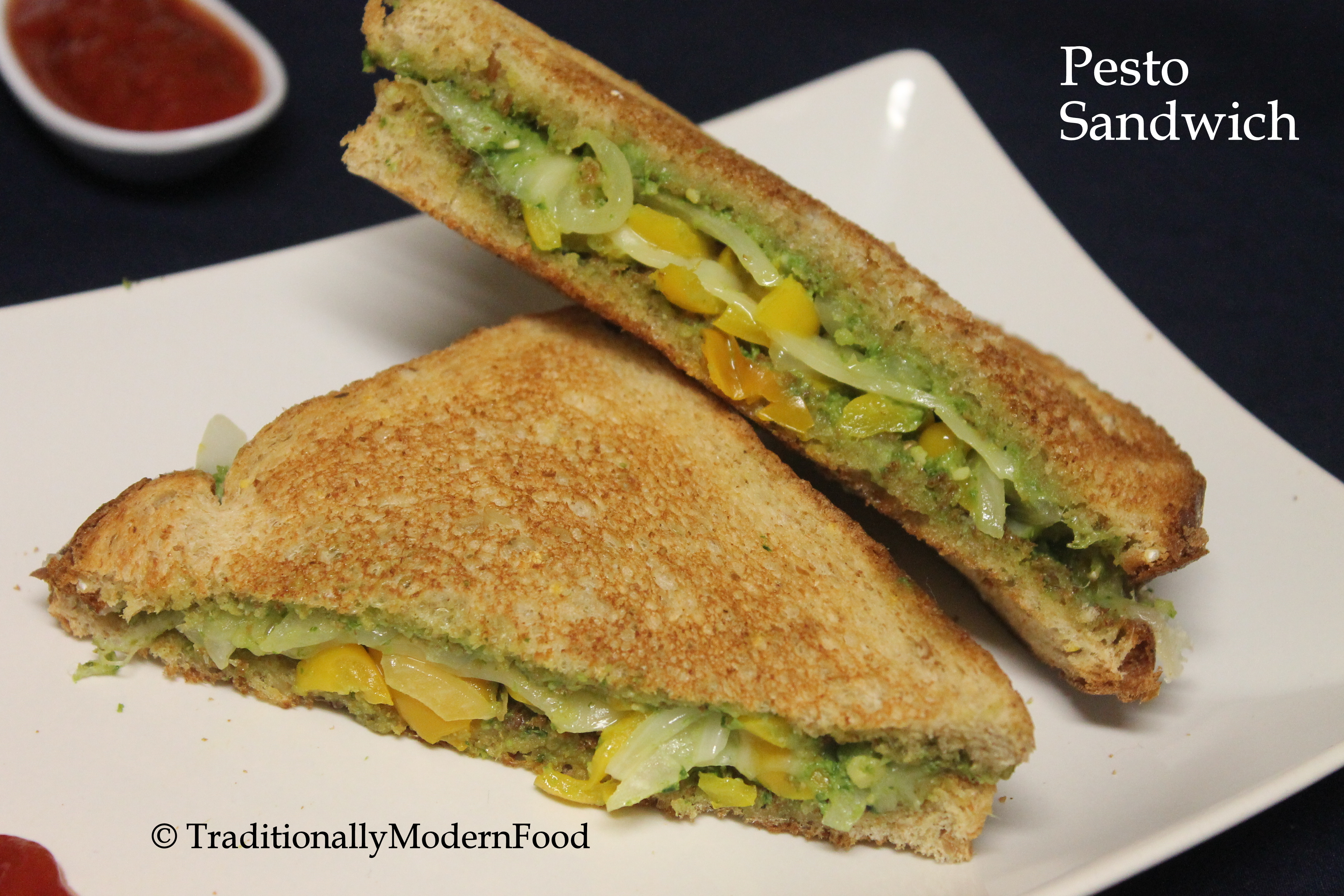 Pesto sandwich is a quick and easy breakfast recipe with some leftover pesto.
If you like pesto flavour this sandwich is for you. Sauted vegetables and pesto makes this sandwich yum yum. Whether it's Store brought/home made pesto this sandwich is a keeper recipe.
I am not a big fan cereal. Sandwich is my life saver during many busy mornings. When I run out of time or wake up late, I immediately reach out for a bread loaf. My sweet tooth craves for spreads like Nutella or cream cheese spread or jam.
It's good to have sweet spread but as I cannot have them frequently. I always think for option for filling. Most of the days I start digging into my fridge or pantry and whatever I see first I use it in the sandwich:-
I got this Pesto Sandwich idea from my co-sis. When we visited them, she prepared this for breakfast. I loved its taste and its a perfect way to finish off the leftover pesto after making pasta.
Sauted vegetables gave nice crunch to the pesto sandwich with a mild touch of sweetness from onion and sweet mini pepper. One good think about pesto sandwich is, it tastes yum even if you have the sandwich after a while. I am so addicted for this taste anytime I over eat and reduce my lunch.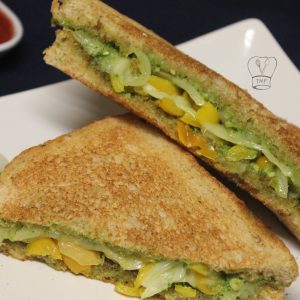 Ingredients
Bread - 4 slices

Pesto - 4 tbsp

Sweet peppers - 3

Onion - 3 tablespoon thinly sliced

Cheese - 2 tbsp

Salt and Pepper - to taste

Oil - 1 tsp
Instructions
Add oil to the pan, once the oil becomes hot add onions and sweet pepper; saute till they are cooked. Add salt and pepper, mix well and switch off

Spread the pesto on one side of all the bread slices. Add around 2 tablespoon of the sauted mixture over two slices and spread it

Sprinkle cheese over the vegggi mixture and cover each pesto coated slice with remaining two slices

Place it in a greased waffle/ sandwich maker and cook for 2 minutes or as per the sandwich maker's instructions. Serve it with ketchup
Notes
Can add peas, corn, tomato etc. to the stuffing mixture
Mixed color sweet peppers can to be used for a colorful sandwich
Sliced cheese can be used instead of grated cheese
Ingredients
Bread - 4 slices
Pesto - 4 tbsp
Sweet peppers - 3
Onion - 3 tablespoon thinly sliced
Cheese - 2 tbsp
Salt and Pepper - to taste
Oil - 1 tsp
How to make pesto sandwich with step by step pictures :
Add oil to the pan, once the oil becomes hot add onions and sweet pepper; saute till they are cooked. Add salt and pepper, mix well and switch off

Spread the pesto on one side of all the bread slices. Add around 2 tablespoon of the sauted mixture over two slices and spread it
Sprinkle cheese over the vegggi mixture and cover each pesto coated slice with remaining two slices
Place it in a greased waffle/ sandwich maker and cook for 2 minutes or as per the sandwich maker's instructions. Serve it with ketchup