Pomegranate raita, Anar ka raita, Anar raita recipe, how to make yogurt dip, raita Pomegranate, delicious raita, easy raita recipe, restaurant-style raita, Punjabi raita, yogurt dip, Raitha, dahi Pomegranate, Pomegranate pachadi, spiced yogurt raita, Indian restaurant Pomegranate raita, easy Pomegranate yogurt recipe with step-by-step pictures and video recipe. Check out the Pomegranate raita video recipe and if you like the video pls SUBSCRIBE to my channel.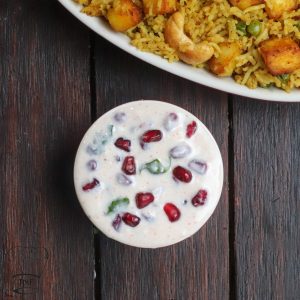 Pomegranate raita, Anar ka raita is a classic curd | yogurt | Dahi | thayir based dip recipe made with pomegranate and spice powders. No cook, 2 minutes Yogurt dip is commonly served as a side for pulao varieties, paratha, kichadi, etc.
WHAT IS SPECIAL ABOUT DAHI Pomegranate
Raita is super simple, easy to make. With minimal pantry spices, raita can be prepared within 2 minutes. Thick creamy curd is mixed with Pomegranate, blended with spices - best restaurant style Anar raita. Raitha is popular in many restaurants. If you want to make South Indian style Thayir pachadi, add the tempering and serve.
WHAT KIND OF CURD SHOULD I USE FOR Anar KA RAITA?
Always use fresh thick creamy thick curd for raita. I have used homemade curd, but you can also use sour cream or non-flavored yogurt for raita. Use thick, well-set curd or yogurt. If you have a watery curd, set aside the whey for buttermilk and separate the thick curd then prepare raita
CAN I USE SOUR CURD?
If the curd is slightly sour, skip chaat masala. Mild sour curd is fine but if the curd is sour use milk instead of water. Avoid extremely sour curd.
Can I skip milk?
Milk gives amazing flavor and texture to the raita so I would recommend it. Always use chill or room temperature milk. Avoid hot milk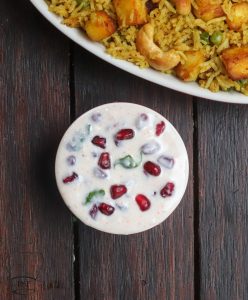 SHOULD I WHISK THE CURD?
Yes, it is very important to whisk the curd well. Before adding pomegranate make sure the curd is lump-free. If whey separates or curd is lumpy it will affect the raita texture
CAN I USE ROOM TEMPERATURE CURD?
For the best flavor, I would recommend using chill curd for raita. If you are planning to mix the spice ahead for raitha keep it fridge till you serve.
SHOULD I SERVE THE Anar KA raitha RIGHT AFTER PREPARING?
Pomegranate might turn raita pinkish so I prefer adding it just before serving. If you are planning to make the raita for the party. Whisk the curd well, mix the spices and keep it ready in the fridge. Just before serving add Pomegranate and mix made.
CAN I USE PEPPER POWDER INSTEAD OF Kashmiri CHILLI POWDER?
Yes, you can use any spice of your choice. If prepared you can also add a little coriander powder
CAN I SKIP BLACK SALT?
Black Salt | Kaala Namak gives a nice flavor to the raita so I used it and very little regular salt.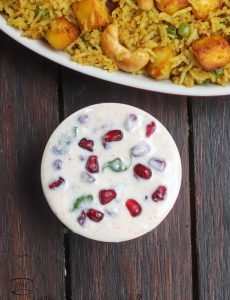 Other pachadi recipes in TMF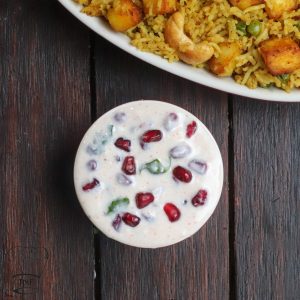 Ingredients
1

cup

yogurt

1/4

cup

milk

Required salt

1/8

teaspoon

chat masala

1/4

teaspoon

chilli powder

1/8

teaspoon

black salt

1

cup

pomegranate arils

1/8

teaspoon

cumin powder

Coriander leaves few
Instructions
Add all the ingredients except pomegranate and coriander leaves in a wide mixing bowl

Whisk everything well till you get lump free smooth mixture

Mix pomegranate and curd

Finally, sprinkle coriander leaves and serve
Video
Notes
Milk gives a nice flavor and texture to the raita but always use cold or room temperature milk. Avoid hot milk
Add any spice powder of your choice
Kashmiri chilli powder gives a nice color to raita. If you are using regular chilli adjust accordingly
Always use non-sour curd
consider black salt and chaat masala while adding salt
Add water according to your preferred raita texture
For extra spice, you can add greeen chilli
Ingredients
1 cup yogurt
1/4 cup milk
Required salt
1/8 teaspoon chat masala
1/4 teaspoon chilli powder
1/8 teaspoon black salt
1 cup pomegranate arils
1/8 teaspoon cumin powder
Coriander leaves few
How to make pomegranate raita with step by step pictures
Add all the ingredients except pomegranate and coriander leaves in a wide mixing bowl
Whisk everything well till you get lump free smooth mixture
Finally, sprinkle coriander leaves and serve