Raw Mango Sambar, Manga Sambar, mangai sambar, mango recipe, raw mango recipes, Sambar, sambhar, Sambhar recipe, Sambar without coconut, south Indian sambar recipe, vegetable sambar recipe with step-by-step pictures and video recipe. Check out the Raw Mango Sambar recipe. If you like the video pls SUBSCRIBE to my channel.
Manga sambar is a traditional South Indian-style rice accompaniment prepared with raw mango, mixed vegetables, lentils, and specially prepared spice powder. The detailed recipe with tips and tricks makes it a great beginner-friendly recipe for South Indian cuisine meals.
WHAT IS SAMBAR?
Sambar is one of the most popular traditional South Indian dishes. A good amount of protein, and vegetables, blended with flavorful sambhar powder - makes it not only healthy & nutritious but also tastes delicious.
WHAT TASTES BEST WITH SAMBHAR?
Sambhar plays a key role in South Indian cuisine. Sambhar goes well with tiffin varieties like idli, dosa, uthappam, etc. It also tastes great with rice, without sambhar their no special thali/ festive/ wedding lunch / Indian lunch combo
SHOULD I ALWAYS SOAK TOOR DAL?
No, it is optional but I feel soaking helps even cooking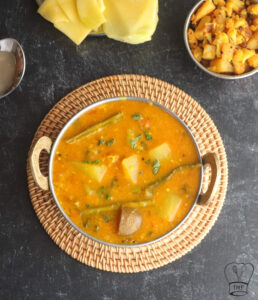 HOW MUCH WATER SHOULD I ADD WHILE COOKING DAL?
It depends on the dal you use. I generally use a 1:3 dal: water ratio. The number of whistles also depends on the dal you use.
WHAT VARIETY OF DAL SHOULD I USE FOR SAMBHAR.
For rice accompaniment sambar I generally use toor dal. For the tiffin variety, I sometimes use moong dal. Restaurants/hotels use a combination of toor dal and masoor dal
HOW MUCH SAMBAR POWDER SHOULD I USE?
I prefer using homemade sambhar powder for my sambhar. The amount of sambhar powder might slightly vary based on your spice level. If you want to make it spicy add extra Sambar powder/ Chilli powder. If you are increasing sambhar powder, you might have to proportional increase tamarind accordingly.
SHOULD I ADD THE GHEE TEMPERING?
I generally use coconut oil for tempering and use little ghee while serving. You can use ghee according to your choice
WHAT SHOULD BE THE CONSISTENCY OF THE SAMBHAR?
Some like thin mangai sambar while others prefer it thick. Adjust water according to your preferred texture.
USE additional VEGETABLES OF CHOICE
You can use potato, yellow pumpkin, or any other additional vegetables of your choice.
CAN I INCREASE TAMARIND AND REDUCE TOMATO?
Tomato sourness goes well with mango flavor so I prefer adding more tomato and less tamarind. If you are increasing tamarind adjust tomatoes accordingly.
CAN I USE ANY OTHER OIL?
Yes, you can use the oil of your choice but peanut oil gives the best flavor.
SHOULD I ADD THE GHEE TEMPERING?
I generally use peanut/coconut oil for tempering. In our home, we prefer adding ghee while eating. You can use ghee according to your choice
BEST SIDE DISH FOR manga SAMBAR
Poriyal or varuval or chips or vadam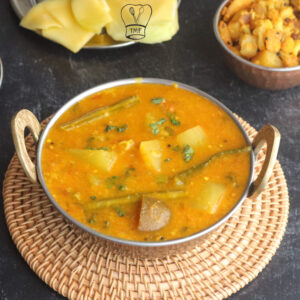 ingredients
to pressure cook
1/2 cup toor dal
1+1/2 cup water
1/2 teaspoon turmeric powder
1/4 teaspoon sesame oil
to temper
1 tablespoon peanut oil
1/2 teaspoon mustard seeds
1/4 teaspoon fenugreek seeds
raw mango sambhar
1 raw mango
2 brinjal
1 drumstick
1/2 + 1 cup tomato
1 cup onion
2 green chilli
1 tablespoon + 1 tsp sambar powder
curry leaves few
coriander leaves few
water as required
tamarind water around 1/4 cup
jaggery
how to make raw mango sambar with step-by-step pictures
first, wash and soak the dal in hot water for 30 minutes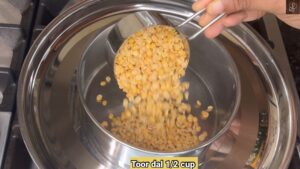 Add turmeric powder and sesame oil; pressure cook for 5 whistles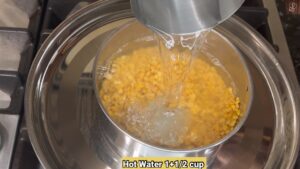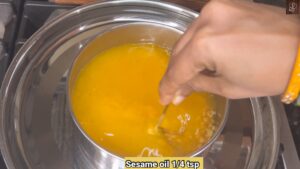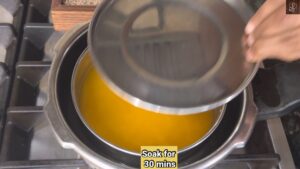 Do natural pressure release and mash the dal
Add oil to a wide pan and heat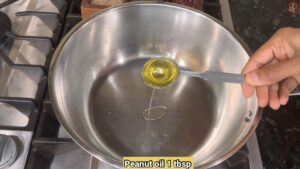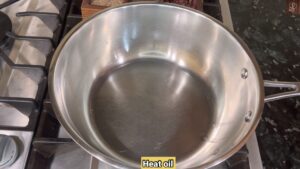 Furthermore, add mustard seeds and fenugreek seeds; splutter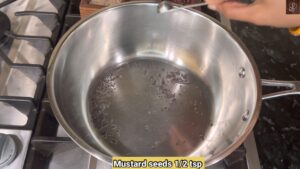 Add onion, green chilli, and curry leaves; saute till they turn translucent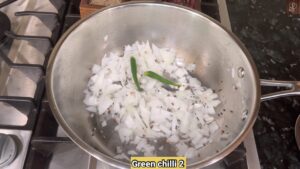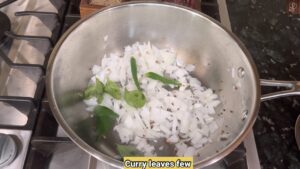 Furthermore, add tomatoes and turn till they turn mushy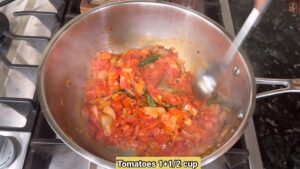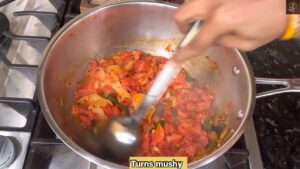 Add drumstick, brinjal, and mango; mix well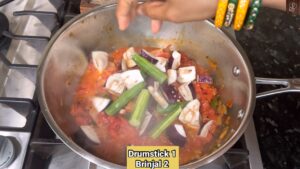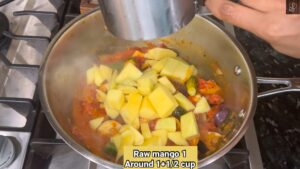 Furthermore, add turmeric powder and the required salt; mix well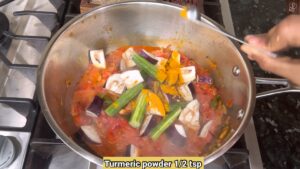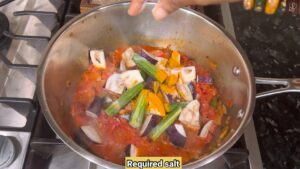 Add water; cover, and cook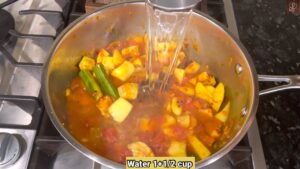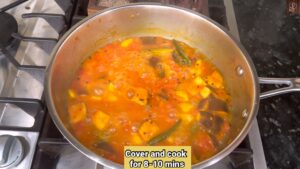 Furthermore, Add sambar powder, dal, tamarind water, and water; mix well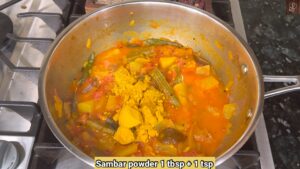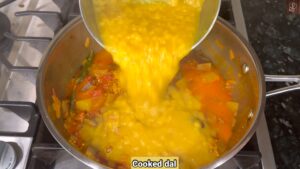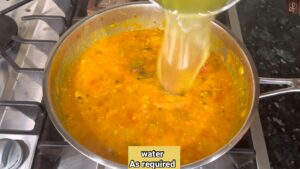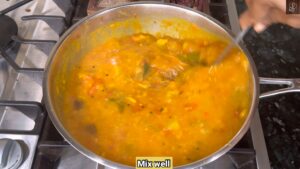 finally add coriander leaves and cook for 5 minutes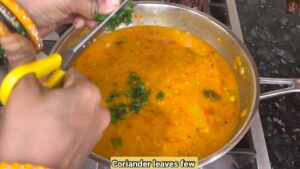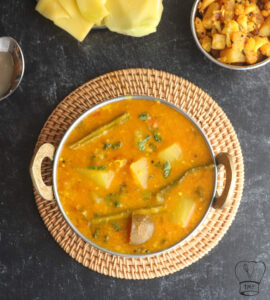 Ingredients
to pressure cook
1/2

cup

toor dal

1

+1/2 cup water

1/2

teaspoon

turmeric powder

1/4

teaspoon

sesame oil
to temper
1

tablespoon

peanut oil

1/2

teaspoon

mustard seeds

1/4

teaspoon

fenugreek seeds
raw mango sambhar
1

raw mango

2

brinjal

1

drumstick

1/2

+ 1 cup tomato

1

cup

onion

2

green chilli

1

tablespoon

+ 1 teaspoon sambar powder

curry leaves few

coriander leaves few

water as required

tamarind water around 1/4 cup

jaggery
Instructions
first, wash and soak the dal in hot water for 30 minutes

Add turmeric powder and sesame oil; pressure cook for 5 whistles

Do natural pressure release and mash the dal

Add oil to a wide pan and heat

Furthermore, add mustard seeds and fenugreek seeds; splutter

Add onion,  green chilli, and curry leaves; saute till they turn translucent

Furthermore, add tomatoes and turn till they turn mushy
Video