Saffron Rice | Zafrani pulao | Milk pulao | Zarda pulao | Sweet pulao | Dry fruits pulao | quick and easy fruits pulav recipe, saffron pulao, milk pulao, pulao rice, easy pilaf recipe, kids lunch box recipe, pulao recipe, mixed fruits pulav, pulao recipe, pulav recipe, restaurant-style pulao recipe step by step pictures and video recipe. Check out the Saffron Rice video and If you like the video pls SUBSCRIBE to my channel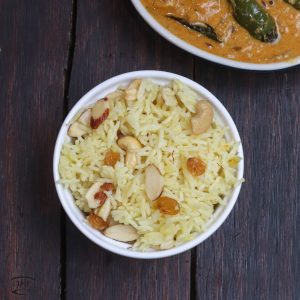 Saffron Rice | Zafrani pulao | Milk pulao | Zarda pulao |Kashmiri pulav | Dry fruits pulao | is a rich and exotic kids-friendly milk-based pulao prepared with nuts and raisins No onion, no garlic pilaf is easy to make. Perfect for a dinner party
HOW LONG SHOULD I SOAK RICE?
I generally soak rice for about 5 minutes. Adjust the soaking time according to the variety of rice you use.
CAN I COOK zafrani PULAO IN THE PRESSURE COOKER?
Yes, for the pressure cooker version soak the rice for 15 minutes. cook for 2 whistles and do natural pressure release.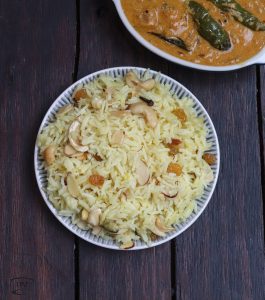 CAN I COOK SAFFRON PULAO IN OIL?
Yes, using Ghee is optional but it gives a good flavor to the pulav. You can use oil for cooking and add a few drops of ghee for aroma. you can also use Vegan butter for vegan Zarda pulao
Will, it tastes sweet?
Though we add raisins pulao won't taste sweet. For a sweet tooth, you can add little sugar.
Can I add onion/ garlic?
Yes, you can saute and add onion/garlic.
Can I add coconut?
Yes, can saute coconut/ dry coconut and prepare Zafrani pulao.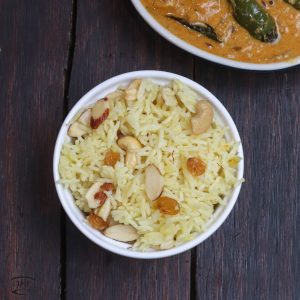 Ingredients
Saffron milk
1

cup

milk

Few strands of saffron
Saute
10

cashews

2

tablespoon

sliced almond

2

tablespoon

of raisins
Temper
1

bay leaf

Cinnamon small piece

2

cardamom

2

cloves

Salt
Zarda pulao
1/4

cup

water

Pinch

of turmeric powder

1/4

teaspoon

sesame oil
Instructions
Wash and soak rice with enough water and keep aside

Add milk and saffron in a microwave-safe glass and cook for 2 minutes; keep side

Turn on IP in "saute" mode and add ghee

When the display shows "hot" add cashews and sliced almonds; quick saute

Add raisins and saute till nuts turn golden brown

Press "cancel" and transfer the sauteed Raisins and nuts to a vessel

Add bay leaf, cloves, cardamom, cinnamon; mix well

Furthermore add rice, saffron milk, water, salt, a pinch of turmeric powder; mix well and bring to boil

Add sesame oil and make sure nothing is stuck to the pan

Close the IP and cook in manual mode for 4 minutes. Do Natural pressure release

Gently open the lid and fluff the rice

Add sauteed raisins and nuts and mix gently
Video
Notes
You can add  Dry fruits of your choice
Instead of using whole spices, you can also use garam masala
If you are planning to cook rice in the pressure cooker or direct pan adjust water accordingly
You can add little sugar for sweetness
Roasted onion can be added for additional flavor
Vegetables  of choice can be added
Avoid adding more turmeric powder as it might alter pulao taste
You can add Green chilli according to your taste
Ingredients
Soak rice
3/4 cup Basmati rice
Saffron milk
1 cup milk
Few strands of saffron
Saute
10 cashews
2 tablespoon sliced almond
2 tablespoon of raisins
Temper
1 bay leaf
Cinnamon small piece
2 cardamom
2 cloves
Salt
Zarda pulao
1/4 cup water
Pinch of turmeric powder
1/4 teaspoon sesame oil
How to make Saffron rice with step by step pictures
Wash and soak rice with enough water and keep aside
Add milk and saffron in a microwave-safe glass and cook for 2 minutes; keep side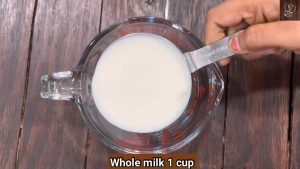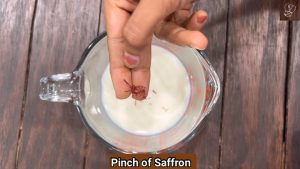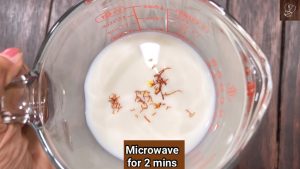 Turn on IP in "saute" mode and add ghee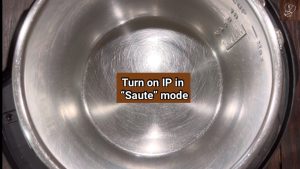 When the display shows "hot" add cashews and sliced almonds; quick saute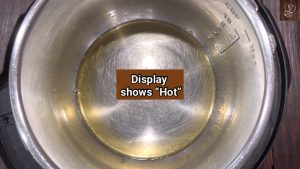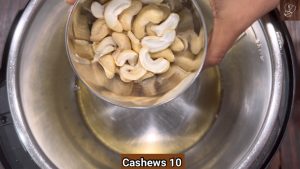 Add raisins and saute till nuts turn golden brown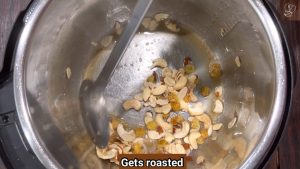 Press "cancel" and transfer the sauteed Raisins and nuts to a vessel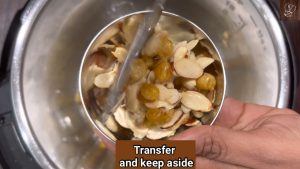 Add bay leaf, cloves, cardamom, cinnamon; mix well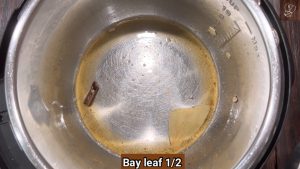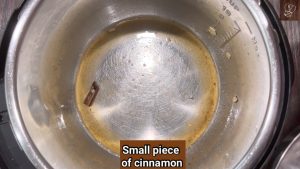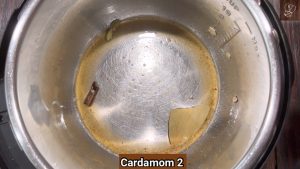 Furthermore add rice, saffron milk, water, salt, a pinch of turmeric powder; mix well and bring to boil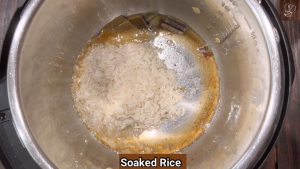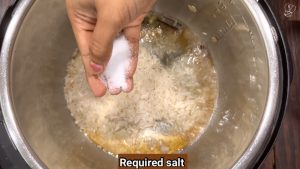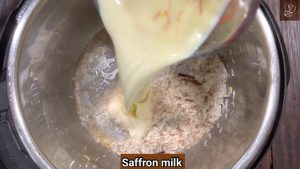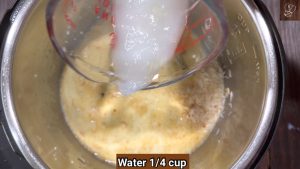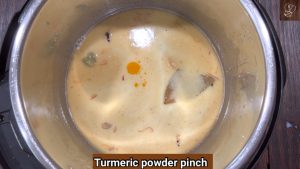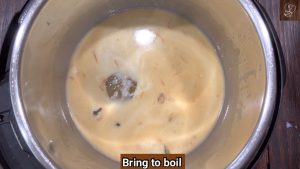 Add sesame oil and make sure nothing is stuck to the pan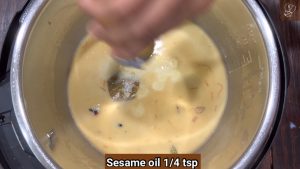 Close the IP and cook in manual mode for 4 minutes. Do Natural pressure release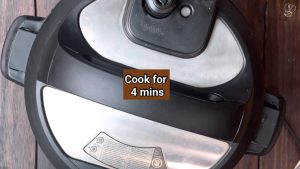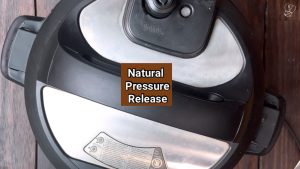 Gently open the lid and fluff the rice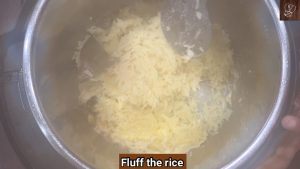 Add sauteed raisins and nuts and mix gently