Sundal podi recipe, curry powder, sundal masala powder, sundal powder, kara sundal podi, spicy south indian lentil mix for navaratri , sundal spice, khaara sundal podi, spice powder for sundal, varuthu aracha podi with step by step pictures and video recipe. Check out the sundal powder recipe. If you like the video pls SUBSCRIBE to my channel.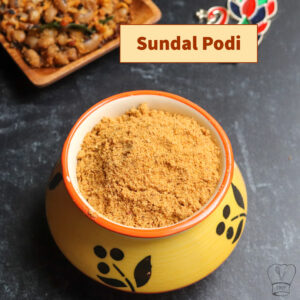 Sundal Podi is a flavorful spice powder widely used for traditional south Indian sundal varieties. podi stays good for weeks. Easy homemade sundal powder with pantry ingredients.
WHAT IS SPECIAL ABOUT sundal

PODI?
Podi is a south Indian condiment. A few spoons of podi make Sundal extra flavorful.
Should I ROAST ALL THE INGREDIENTS one by one?
No, but follow the roasting steps as mentioned else some ingredients might get burnt.
Can I skip oil?
Yes, oil is optional but it makes the podi extra flavorful so I would highly recommend sesame oil.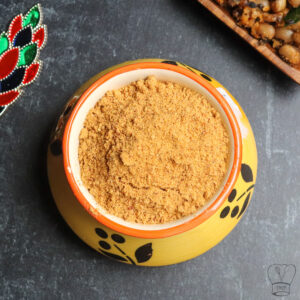 ROAST till GOLDEN BROWN
Always roast the ingredients in low- medium flame and keep mixing for even roasting. Golden brown roasting makes the podi flavorful and also helps for longer shelf life.
TIPS TO ROAST RED CHILLI
I would recommend roasting the red chilli along with dal. Always roast the whole red chilli. if you crush the chilli, the seeds might turn bitter while roasting.
SHOULD I COOL THE SPICES BEFORE GRINDING?
Yes, it is very important to cool all the roasted ingredients before grinding. It is always recommended to cool the roasted curry podi ingredients on a wide plate so that moisture from steam is not trapped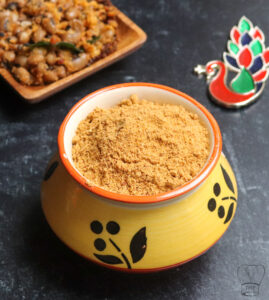 Grind or pulse
Always pulse the spice powder for sundal. Never grind into a fine powder. Pulsing gives the best texture to the podi.
CAN I pulse ALL THE INGREDIENTS TOGETHER?
Pulse all the ingredients except salt to a coarse mixture then add salt
SHELF LIFE OF sundal

masala PODI
Always cool the podi then store in an airtight container with a lid. You can store the podi at room temperature or in the fridge. Podi stays good for around 3 weeks. Always use a dry and clean spoon for longer shelf life.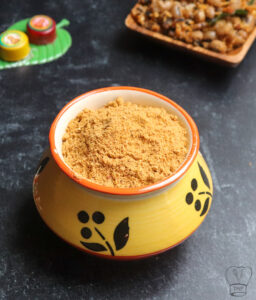 Ingredients
1/2 teaspoon sesame oil
1/4 cup chana dal
2 tablespoon urad dal
1/4 cup coriander seeds
8 red chilli
1 tablespoon sesame seeds
1/8 teaspoon fenugreek seeds
1/2 teaspoon pepper
1 teaspoon cumin seeds
1/2 tablespoon asafoetida
1 teaspoon ginger powder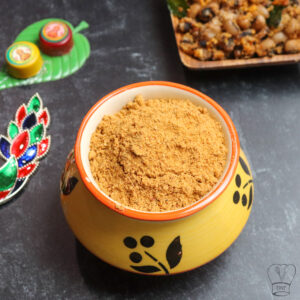 How to sundal podi with step-by-step pictures
Firstly add oil and turn on the stove to low- medium flame
When oil turns hot add coriander seeds, urad dal, and chana dal, and mix well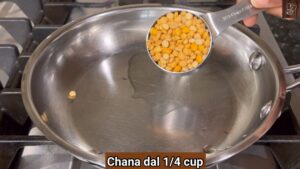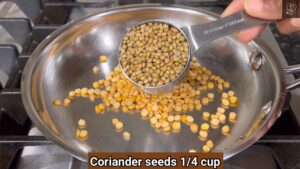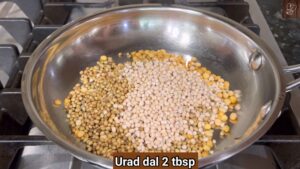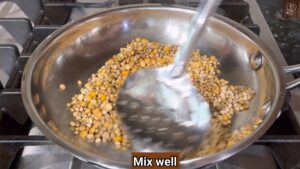 Furthermore, add red chilli and mix well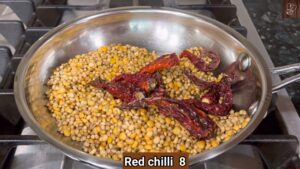 Add fenugreek seeds, sesame seeds and pepper mix well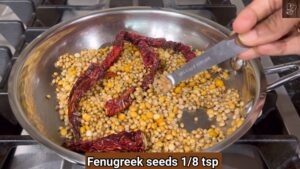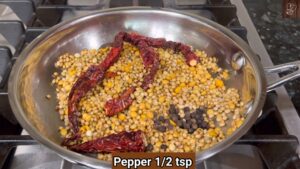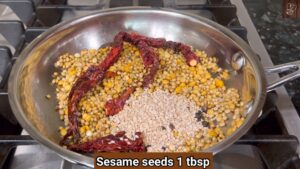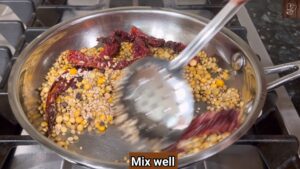 Make a dent at the center and furthermore add cumin seeds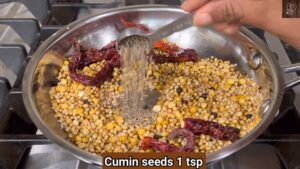 Mix well and roast till they change color and turn aromatic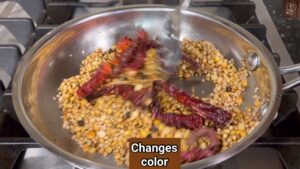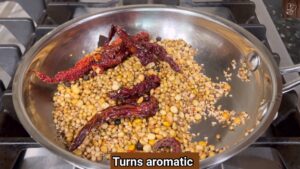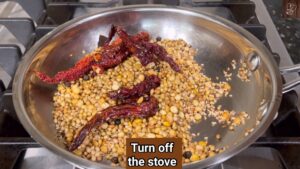 Add asafoetida and ginger powder; mix well and cool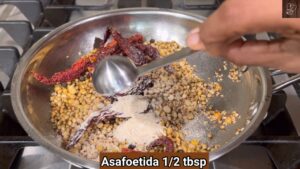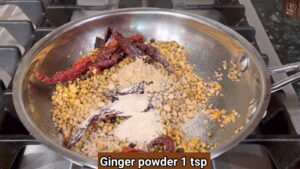 Transfer the ingredients to the mixie jar; pulse multiple times till you get a coarse mixture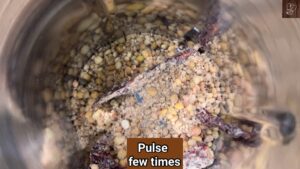 finally, add salt and pulse again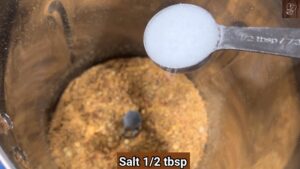 cool completely then store the sundal masala powder in an airtight container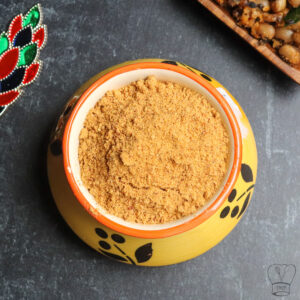 Ingredients
1/2

teaspoon

sesame oil

1/4

cup

chana dal

2

tablespoon

urad dal

1/4

cup

coriander seeds

8

red chilli

1

tablespoon

sesame seeds

1/8

teaspoon

fenugreek seeds

1/2

teaspoon

pepper

1

teaspoon

cumin seeds

1/2

tablespoon

asafoetida

1

teaspoon

ginger powder
Instructions
Firstly add oil and turn on the stove to low- medium flame

When oil turns hot add coriander seeds, urad dal, and chana dal, and mix well

Furthermore, add red chilli and mix well

Add fenugreek seeds, sesame seeds and pepper mix well

Make a dent at the center and furthermore add cumin seeds

Mix well and roast till they change color and turn aromatic

Turn off the stove

Add asafoetida and ginger powder; mix well and cool

Transfer the ingredients to the mixie jar; pulse multiple times till you get a coarse mixture

finally, add salt and pulse again

cool completely then store the sundal masala powder in an airtight container
Video