Easy and tasty three-ingredient Tea Kadai Thengai Biscuit | Coconut Macaroon | Coconut Biscuit with step by step pictures and video recipe. Bakery style Coconut Biscuit recipe is so simple. Check out the Thengai biscuit video and If you like the video pls SUBSCRIBE to my channel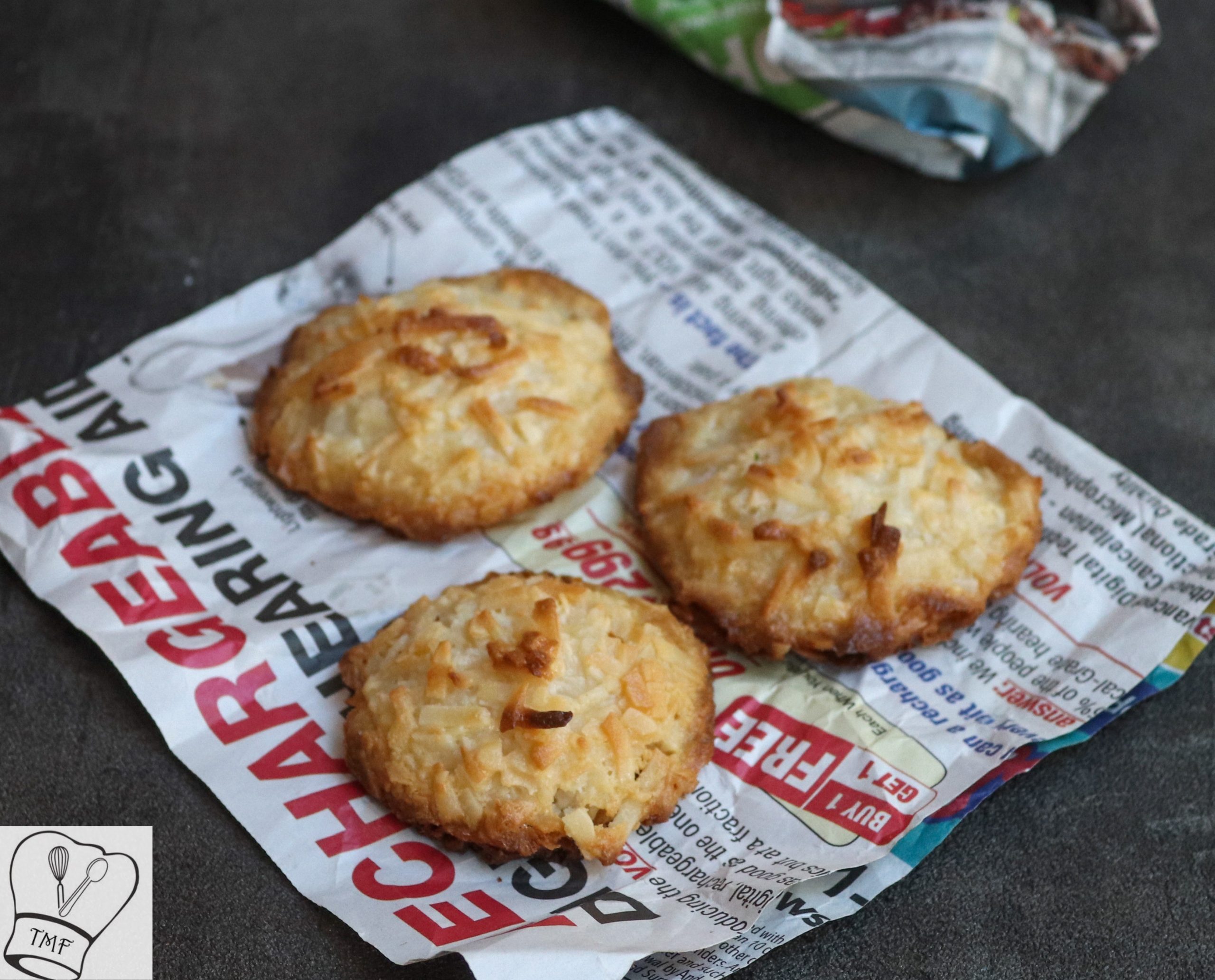 Tea Kadai Thengai Biscuit | Coconut Macaroon | Coconut Biscuit with step by step pictures and video recipe. Coconut biscuit is so addictive and can be prepared within 20 minutes. It is a tasty bake for Christmas cookies, get together, kids snacks box/lunch box.
During my childhood days, thengai biscuit from our nearest bakery was my favorite. Every time I go to Iyengar bakery veg puff, thengai biscuit, butter biscuit, masala toast are my favorites.
One day when we went for a road trip we stopped in a tea Kadai for tea. They have kept them in a large glass jar and I saw the shop seller wrapping them in Newspaper. Shop keeper Anna said thengai biscuit is a tasty side to be munched with hot tea. After coming to the US I realized coconut biscuit is widely popular as coconut macaroons here in the US.
Thengai biscuit made with only 2 main ingredients. It is such an easy tasty cookie recipe that has eggs, baking powder/ soda, butter or ghee. Without any preprocessing coconut, macaroons can be made easily. Cookies taste so yummy😍 It is soft inside and chewy with a nutty coconut flavor.
What kind of coconuts to be used for the Thengai biscuit?
For this recipe, I have used unsweetened dry coconut flakes. Coconut flakes I used were lengthy so I just crushed it with hands and used it. With Sweetened coconut / desiccated coconut you can get a perfect texture cookie but it is going to be extremely sweet. Regular / frozen coconuts can be used but dry roast it in low flame for 3-4 minutes till the moisture evaporates. Also, it should not turn brown.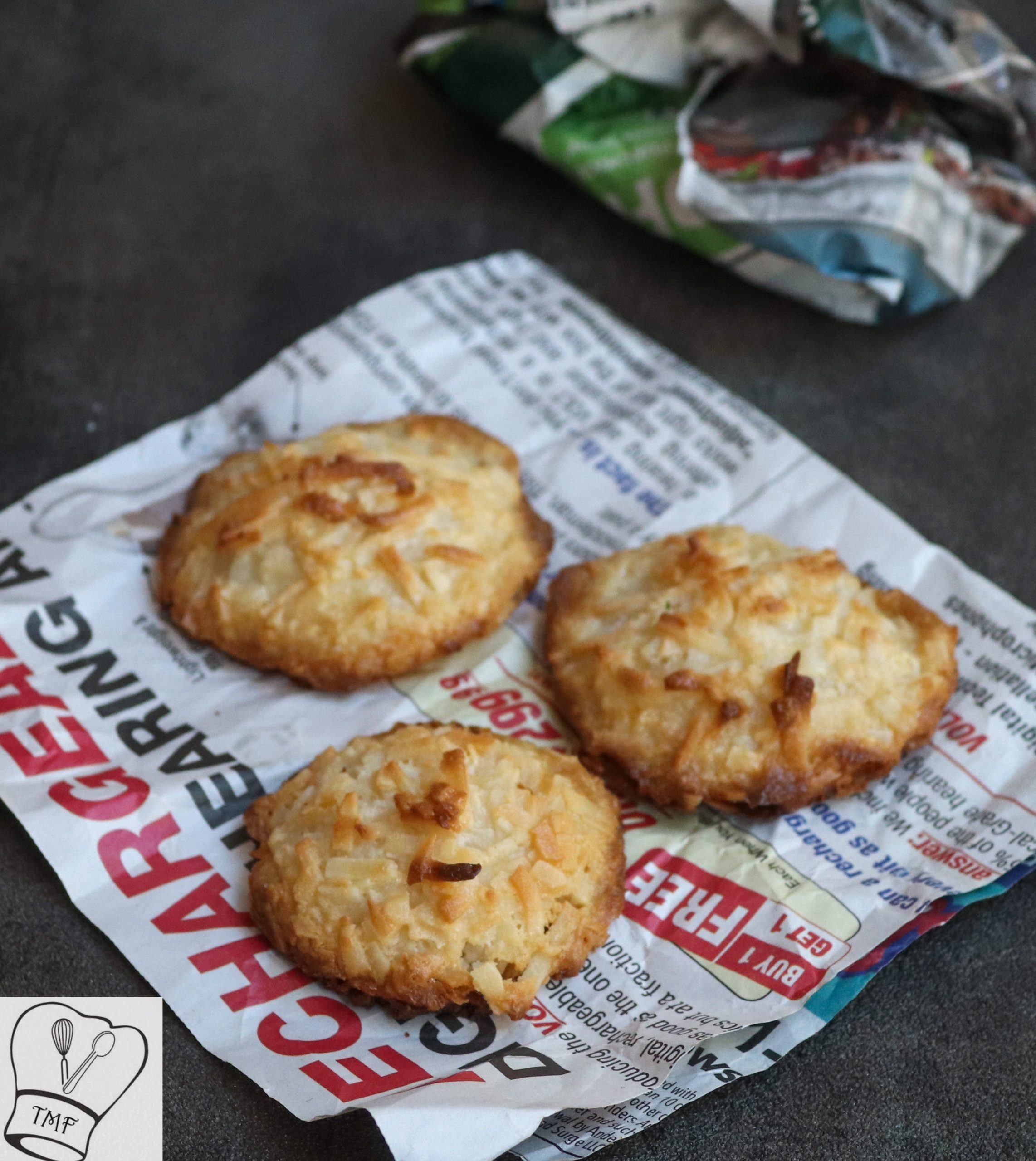 I have tried the same recipe with dry coconut and roasted coconut and both taste good. Store brought coconut was not at all compromise in taste.
Other cookie recipes in TMF,
All-purpose flour is optional for the thengai biscuit. I have made the cookie without the flour with just 2 ingredients but sometimes depending on the coconut, it might be needed. Coconut macaroon dough will be slightly gooey compared to other cookie dough. If you feel it is extremely sticky add little flour else skip it.
Condensed milk is my favorite ingredients, in this coconut cookie recipe it acts has a great substitute for eggless/ egg-free version.
condensed milk-based sweets/ desserts
Thengai biscuit Vs Coconut macaroons
The same set of ingredients works for both thengai biscuit and coconut macaroons. For thengai biscuit follow the same below mentioned proportion but if you are planning to make firm coconut macaroons either reduce the condensed milk to ( 6.9 tbsp) or increase the coconut by 1/4 to 1/3. The key is for coconut macaroons the dough should hold after scooping but for the thengai biscuit, it won't.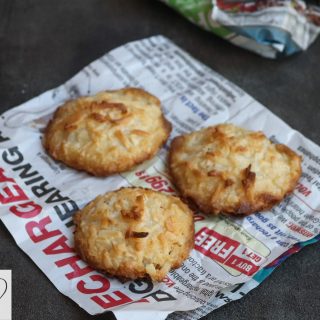 Ingredients
Unsweetned coconut - 1 +1/2 cup

120 g

Condensed milk - 1/2 cup

165 g

Cardamom powder - 1/4 tsp
Instructions
Preheat the oven to 350 degrees Fahrenheit

Line the baking tray with parchment paper and use baking spray or gently grease with butter/ ghee

In a wide mixing bowl add condensed milk and mix well with a spoon or an electric mixer. Mix well for a minute till condensed milk turns like a free following sauce

Add coconut and cardamom powder; mix well till everything is well combined

If required add all-purpose flour and mix well

I used 1 tablespoon measuring spoon to scoop a small portion of the dough. Level the dough and remove the extra dough

Place it on the parchment paper and Leave 2-inch gap in-between the dough

Bake for 12 - 15 minutes till the cookie edges turn to brown. Cookies look soft after pulling from the over but the turns good after cooling down for sometime
Video
Notes
Sweetened coconut / desiccated coconut can be used but Cookies with turn extremely sweet
If the dough looks watery add a teaspoon of extra all-purpose flour
Regular / frozen coconuts can be used but dry roast it in low flame for 3-4 minutes till the moisture evaporates and without changing color
Reduce condensed milk quantity for a firm coconut macaroons or add extra coconut for macaroons
Vanilla extract can be used instead of cardamom powder
Biscuit looks soft after pulling out from the oven but it turns fine after few minutes
I tried making the cookies in stove top, it tasted good but the texture didn't come exactly like baked version . Add 1 tablespoon extra maida and mix the dough well. Place a parchment paper on a pan and grease it with butter /ghee/butter spray. Place the cookie and cover the pan . Turn on the stove in the lowest flame . Cook for around 15 minutes till it browns around the edge
Ingredients:
Unsweetned coconut - 1 +1/2 cup (120 g)
Condensed milk - 1/2 cup (165 g)
Cardamom powder - 1/4 tsp
How to make thengai biscuit with step by step pictures
Preheat the oven to 350 degrees Fahrenheit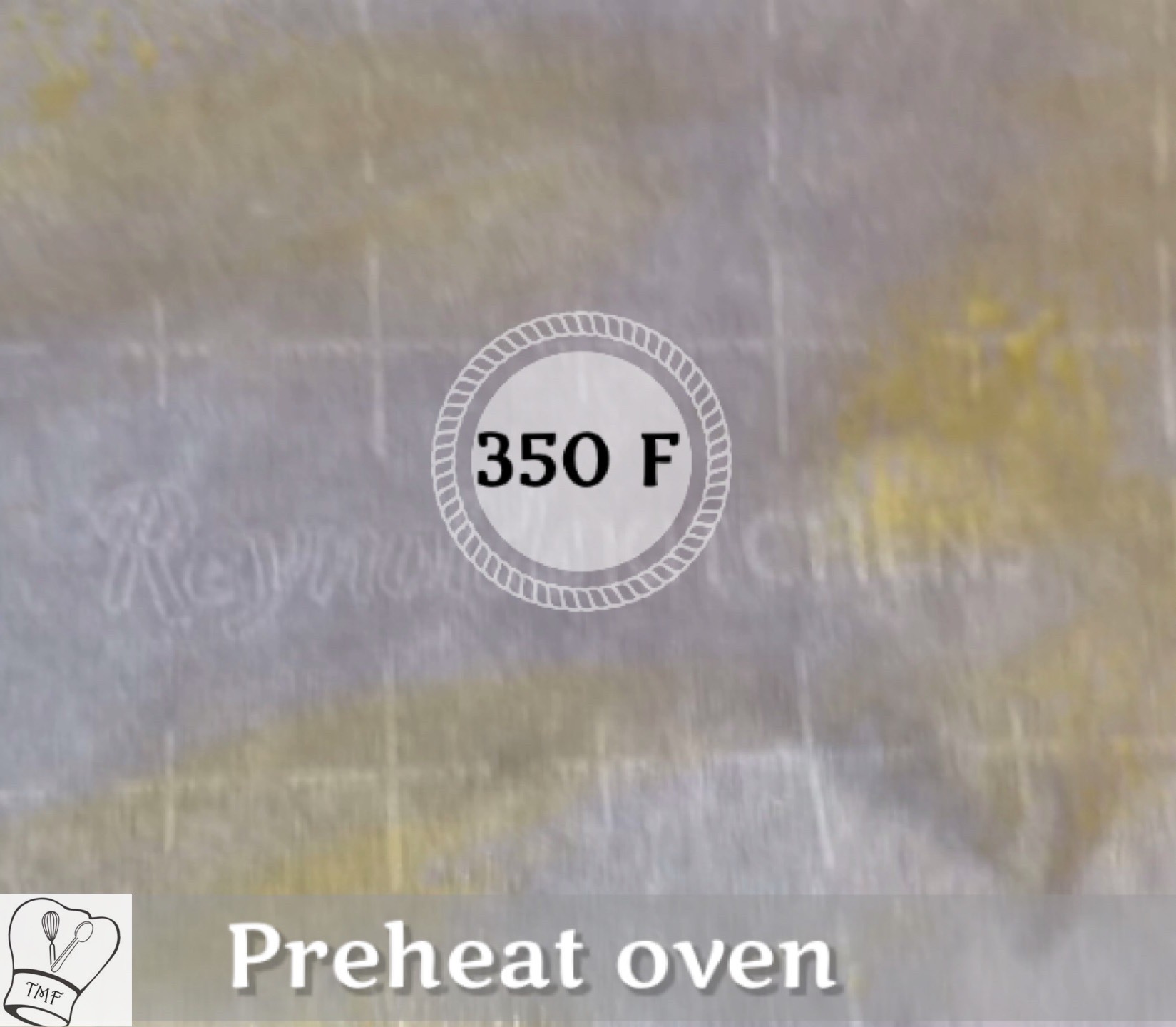 Line the baking tray with parchment paper and use baking spray or gently grease with butter/ ghee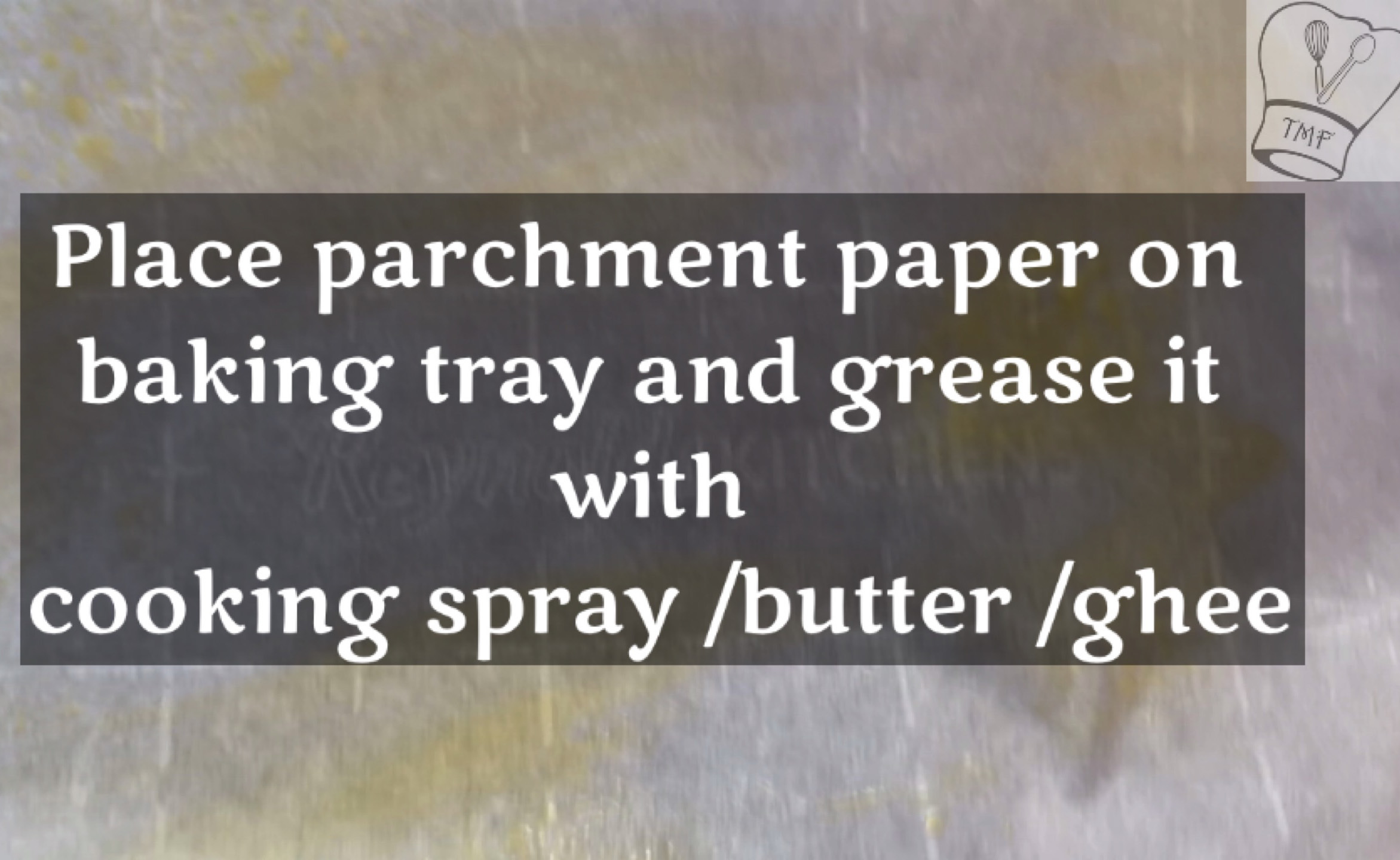 In a wide mixing bowl add condensed milk and mix well with a spoon or an electric mixer. Mix well for a minute till condensed milk turns like a free following sauce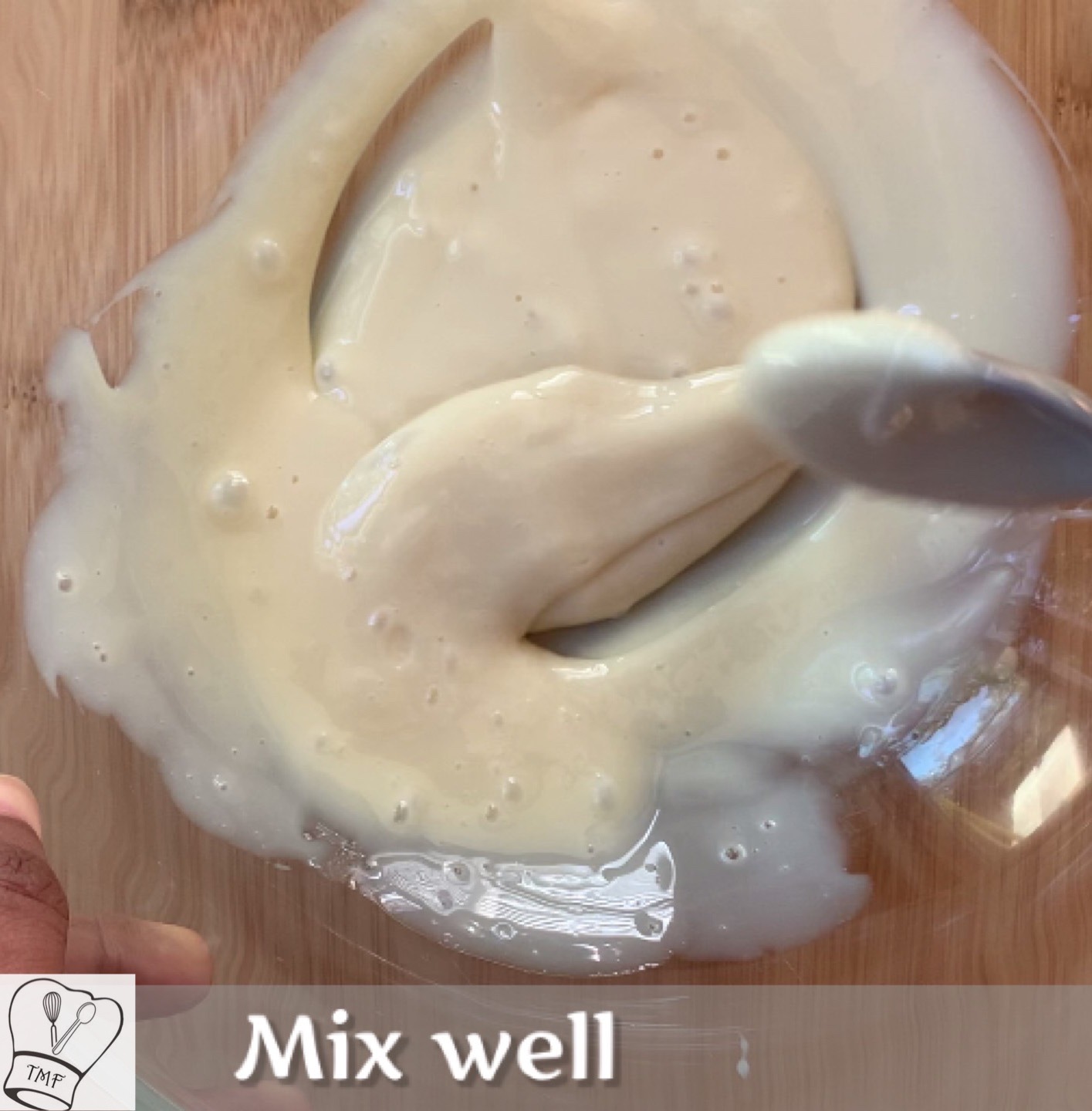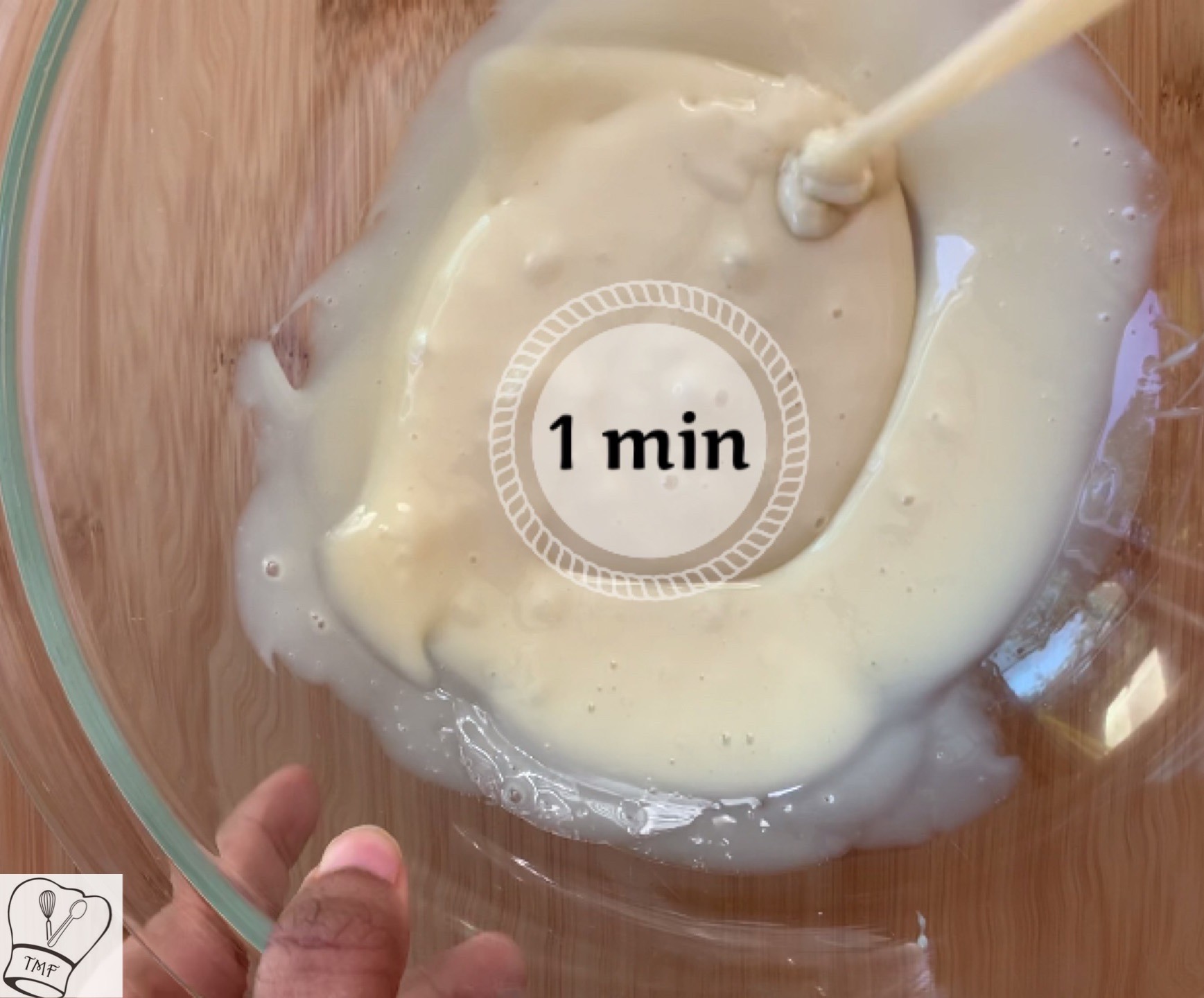 Add coconut and cardamom powder; mix well till everything is well combined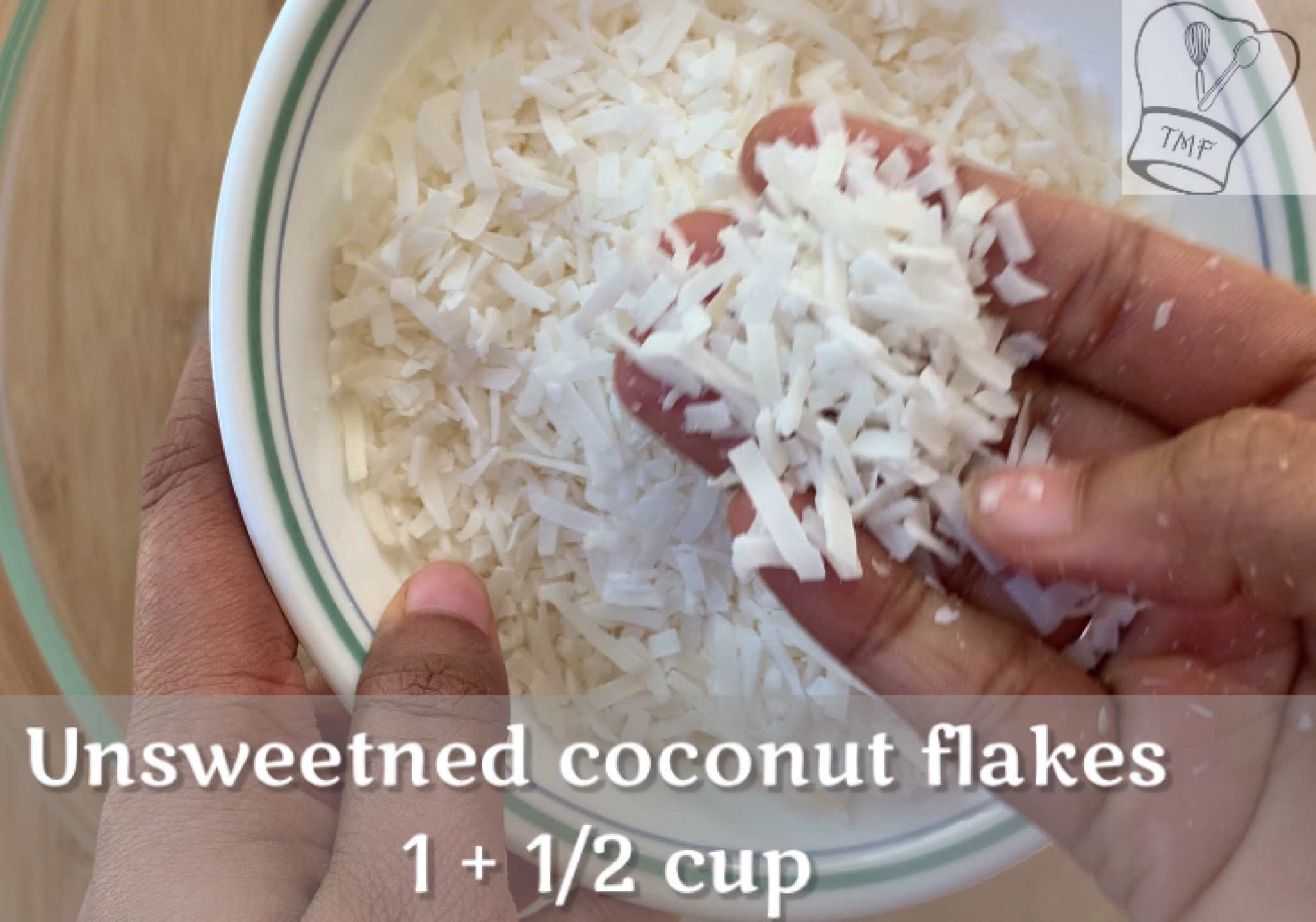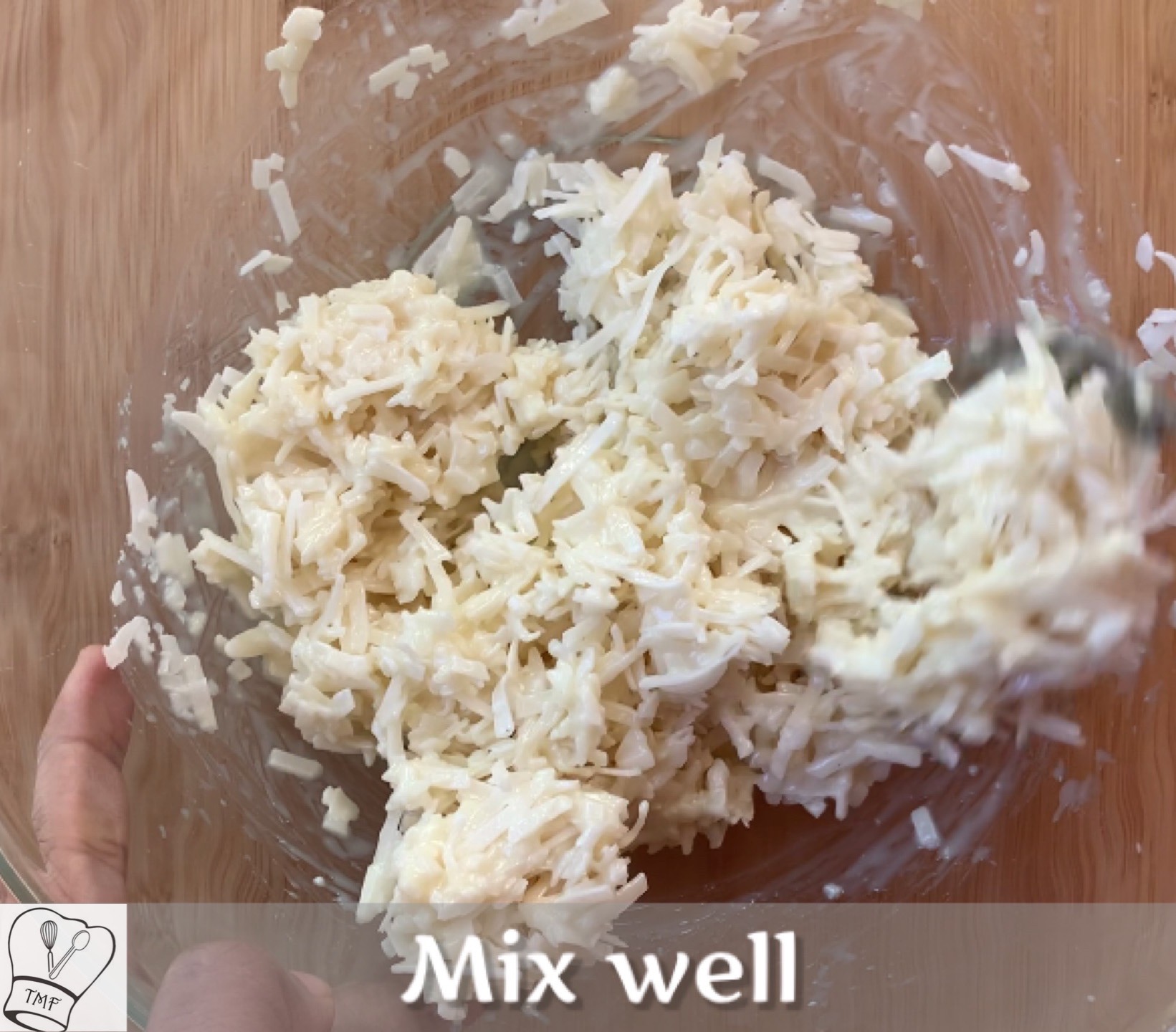 Add all-purpose flour and mix well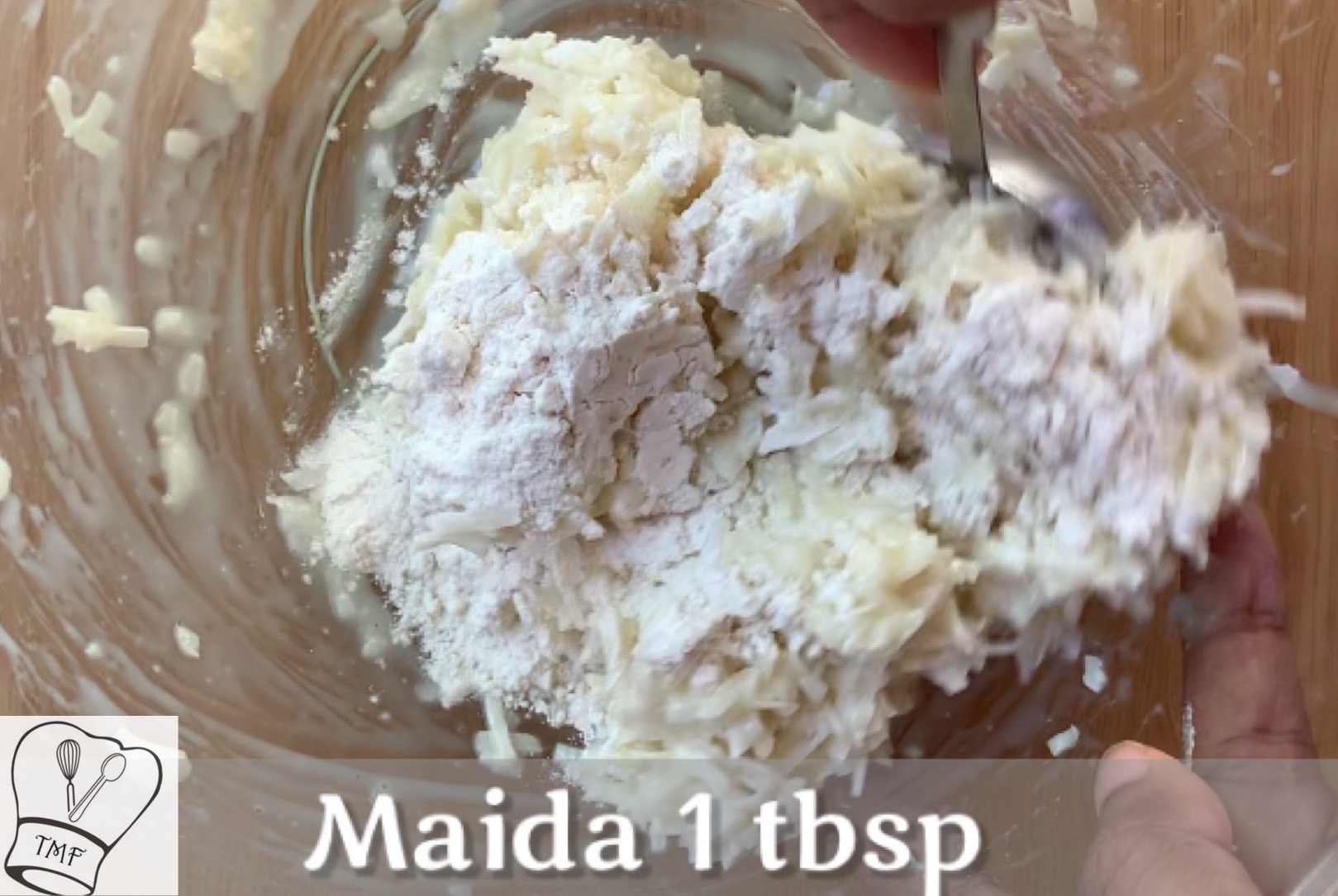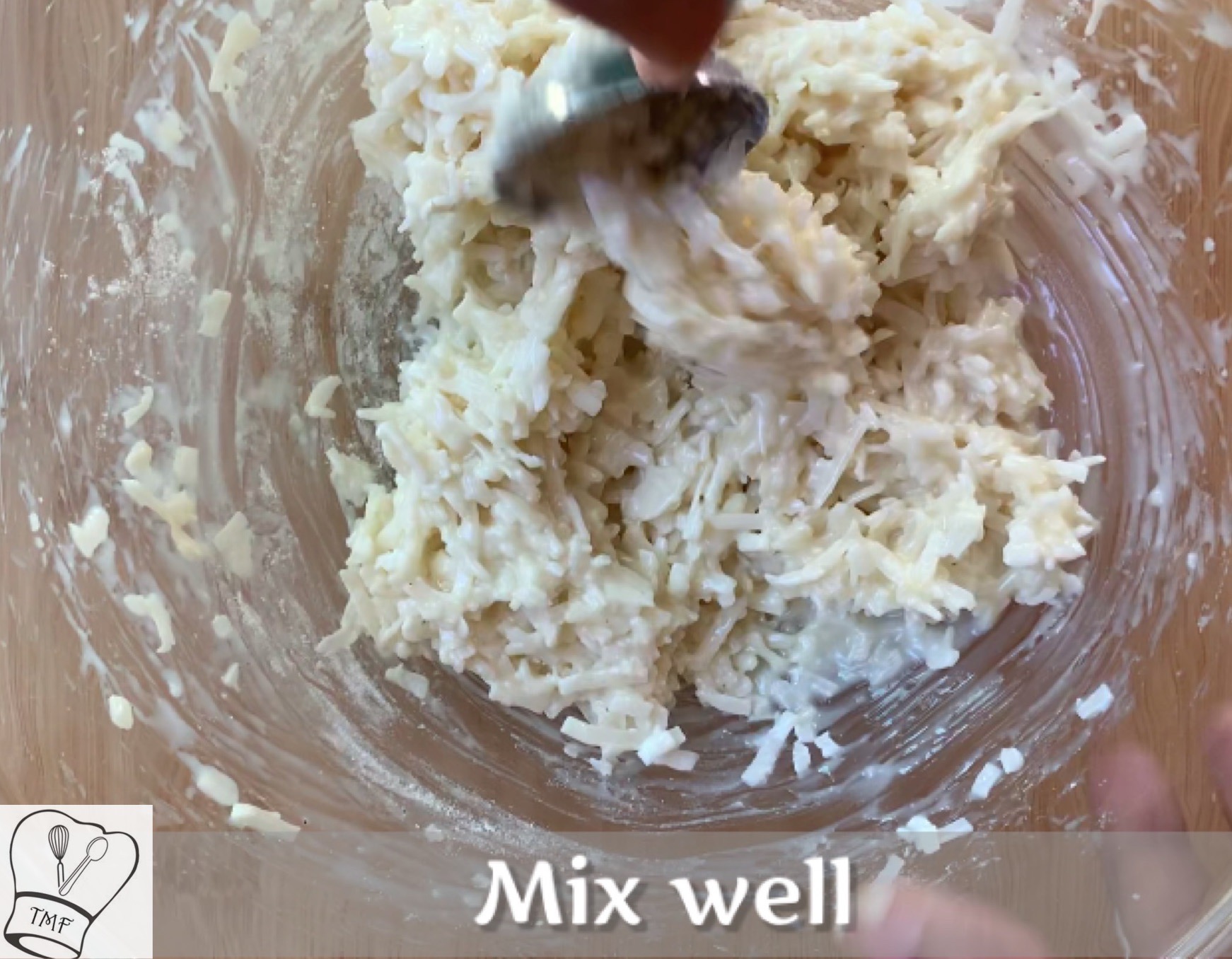 I used 1 tablespoon measuring spoon to scoop a small portion of the dough. Level the dough and remove the extra dough
Place it on the parchment paper and Leave 2-inch gap in-between the dough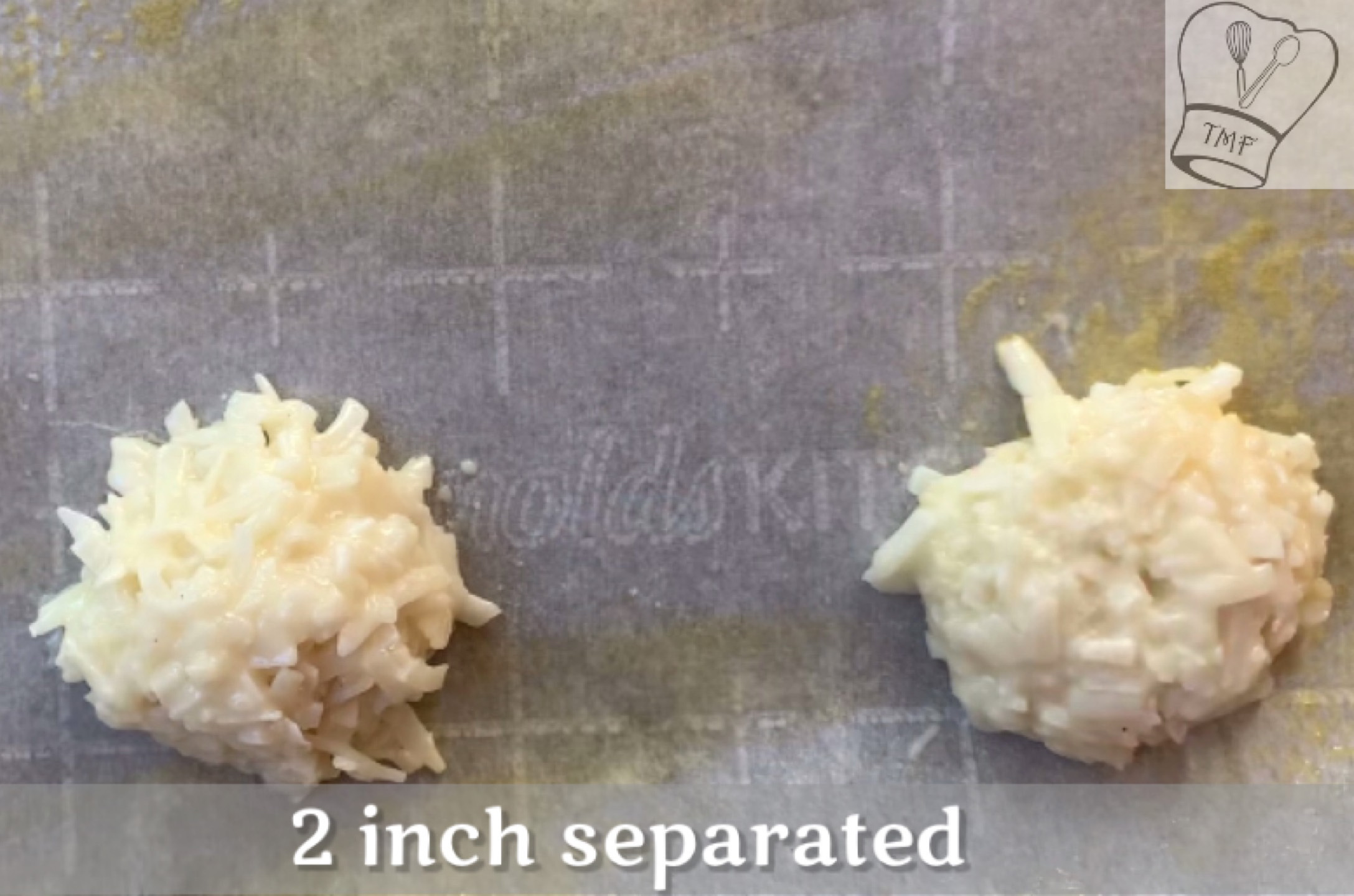 Bake for 12 - 15 minutes till the cookie edges turn to brown. Cookies look soft after pulling from the over but the turns good after cooling down for sometime