Thinai Payasam | Foxtail Millet Payasam | Foxtail Millet kheer | millet pudding | millet recipe | millet payasam with palm sugar | foxtail millet vermicelli payasam | foxtail millet kheer | payasam recipe | kheer variety | think semiya payasam | Indian dessert | Indian sweet recipe with step by step pictures and video recipe. Check out the Foxtail Millet Payasam video. If you like the video pls SUBSCRIBE to my channel.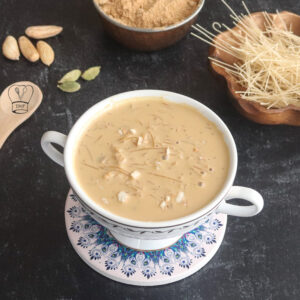 Use nuts of choice
I have used white almonds. You can use any variety of nuts according to your choice.
Should I roast millet vermicelli?
Yes, it gives perfect texture for the payasam. It also turns the payasam aromatic.
CAN I COOK millet vermicelli IN WATER?
Yes, you can cook millet in water and add milk. To make millet kheer rich and delicious I personally prefer cooking in milk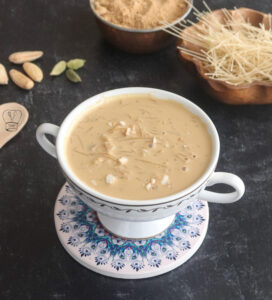 CAN I USE regular sugar?
Yes, you can use any variety of sweeter of your choice. If you are using jaggery or palm sugar make sure it is without impurities else milk might curdle.
Will payasam curdle if we cook after adding palm sugar?
The palm sugar I used was without any impurities so I added it directly. If you are doubtful, filter then add.
CAN I USE ROOM TEMPERATURE MILK FOR millet kheer?
It is preferred to use hot milk while making payasam as it helps for faster cooking.
Amount of milk
It depends on the way you prefer payasam. My measurement yields rich, thick creamy payasam. If you prefer liquid millet vermicelli kheer adjust milk/water accordingly.
Can I skip evaporated milk?
Evaporated milk makes the payasam extra delicious. If you don't have it, boil 4 cups of milk till reduce to 1/3 quantity and add it to the payasam.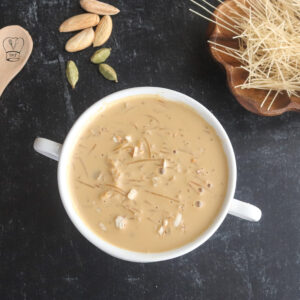 Ingredients
Cook millet vermicelli
1/4 cup foxtail millet | thinai
1 cup of milk
Payasam
1/2 tablespoon ghee
4 almonds
1 cup of hot milk
1/2 cup palm sugar
1 can of evaporated milk
Pinch of salt
1 Cardamom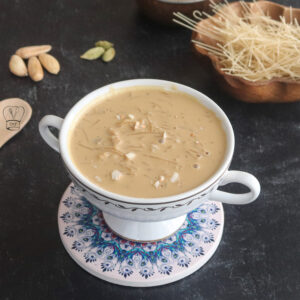 How to make Thinai Payasam with step-by-step pictures
Preparation
Break millet vermicelli into small pieces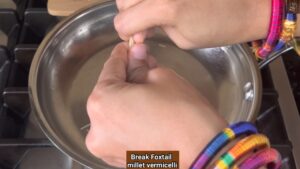 Crush the cardamom and keep it aside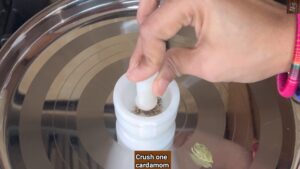 To roast
First, Add ghee to a wide heavy bottomed pan and heat on medium flame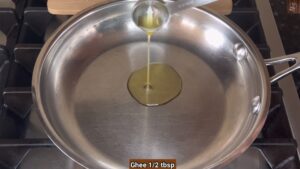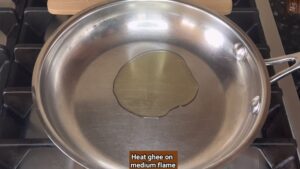 Add almonds and saute for 30 seconds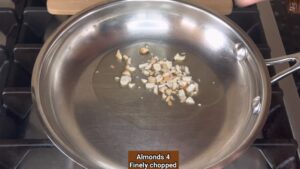 Furthermore, add millet vermicelli; mix well and the roast turns aromatic and slightly changes color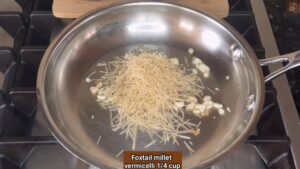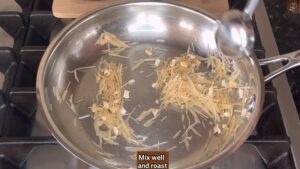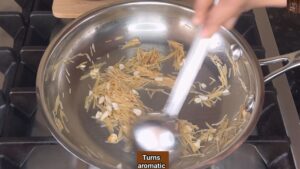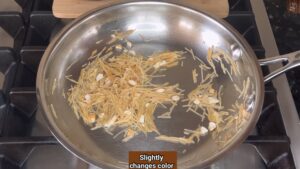 Add milk; mix well and boil for 5 minutes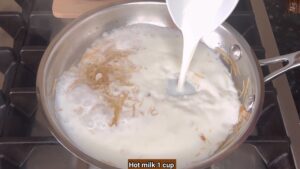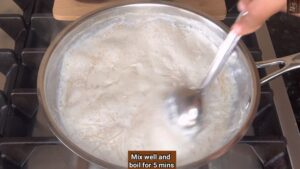 Furthermore, add palm sugar; mix well and cook for 1+ 1/2 minute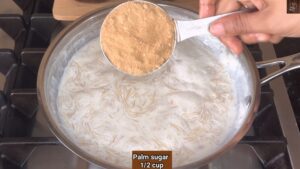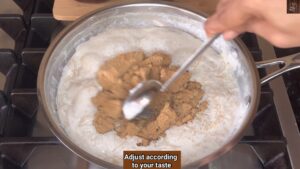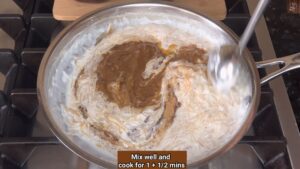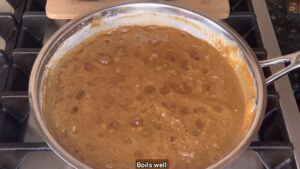 Add evaporated milk and mix well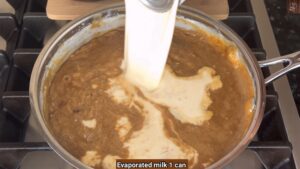 Furthermore, add cardamom powder and a pinch of salt; mix well and cook for 3 minutes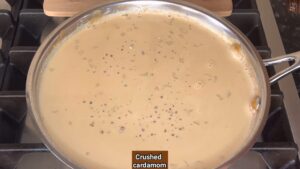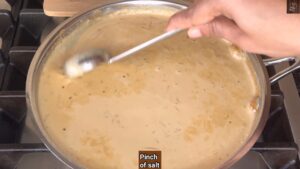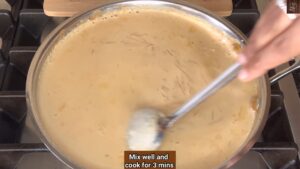 Turn off the stove and serve warm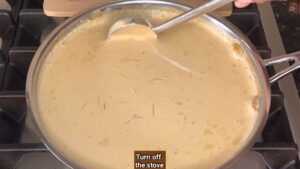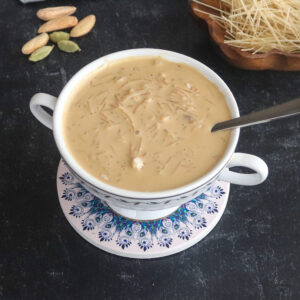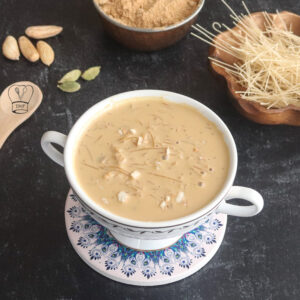 Ingredients
Cook millet vermicelli
1/4

cup

foxtail millet | thinai

1

cup

of milk
Payasam
1/2

tablespoon

ghee

4

almonds

1

cup

of hot milk

1/2

cup

palm sugar

1

can of evaporated milk

Pinch

of salt

1

Cardamom
Instructions
Preparation
Break millet vermicelli into small pieces

Crush the cardamom and keep it aside
To roast
First, Add ghee to a wide heavy bottomed pan and heat on medium flame

Add almonds and saute for 30 seconds

Furthermore, add millet vermicelli; mix well and the roast turns aromatic and slightly changes color
Payasam
Add milk; mix well and boil for 5 minutes

Furthermore, add palm sugar; mix well and cook for 1+ 1/2 minute

Add evaporated milk and mix well

Furthermore, add cardamom powder and a pinch of salt; mix well and cook for 3 minutes

Turn off the stove and serve warm
Video
Notes
I have used white almonds. You can use any variety of nuts according to your choice
Always roast millet vermicelli, which gives the perfect texture for the payasam. It also turns the payasam aromatic
you can cook millet in water and add milk. To make millet kheer rich and delicious I personally prefer cooking in milk
use any variety of sweeter of your choice. If you are using jaggery or palm sugar make sure it is without impurities else milk might curdle
The palm sugar I used was without any impurities so I added it directly. If you are doubtful, filter then add
It is preferred to use hot milk while making payasam as it helps for faster cooking
the amount of milk depends on the way you prefer payasam. My measurement yields rich, thick creamy payasam. If you prefer liquid millet vermicelli kheer adjust milk/water accordingly
Evaporated milk makes the payasam extra delicious. If you don't have it, boil 4 cups of milk till reduce to 1/3 quantity and add it to the payasam