Palmier cookies | French cookies | little heart biscuit | easy dessert recipe | classic French dessert | how to make Palmier | cinnamon Palmier| puff pastry French Palmier cookies | 3 ingredients puff pastry cookies with step-by-step pictures and video recipe. Check out the Palmier french cookies video. If you like the video pls SUBSCRIBE to my channel.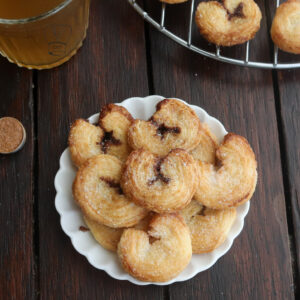 Palmier cookies | little heart biscuit
One of my best childhood memory is enjoying little heart biscuits. Eggless puff pastry French palmier cookies are flaky, buttery, airy, and crunchy. easy to make 3 ingredients cookies are perfect make-ahead treats for kids' birthday parties.
Puff pastry cookies
I used pre-cut frozen puff pastry sheets. It just takes Less than 10 minutes of preparation. Perfect for valentines day, Christmas, Easter, and birthday party treats. You can also serve it as a side for high tea.
Should I roll and flatten?
Yes always roll and flatten, After baking the layers of this pastry separate and they turn out very light and crispy. bite-sized sweet snack looks similar to Elephant ears, heart, or palm leaf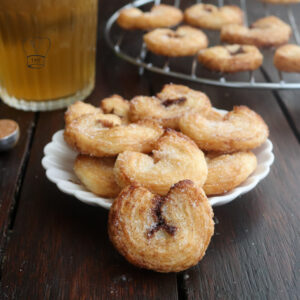 Melted ghee or melted butter
Always use melted ghee or butter for the best flavor. It also helps to keep the sugar layer intact.
Should I freeze after rolling?
It is optional you can cut immediately but I prefer to freeze then cut as it will be easy to cut.
Cinnamon palmier
Adjust the cinnamon powder according to your taste.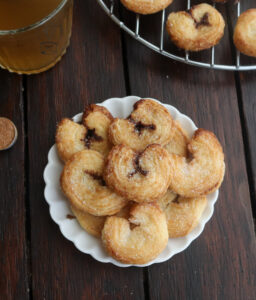 Ingredients
2 Pre-cut puff pastry sheets
Sugar palmier
1 tablespoon melted ghee
1 tablespoon sugar + extra to sprinkle
Cinnamon palmier
1 teaspoon cinnamon
2 teaspoon sugar
1 tablespoon melted ghee
How to make French palmier cookies with step-by-step pictures
Preparation
First, thaw puff pastry sheets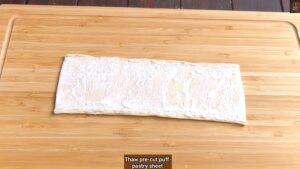 Preheat the oven to 400˚F. Place parchment paper on a baking tray; keep it aside

Place the thawed sheet on a wooden board. Roll and flatten the sheet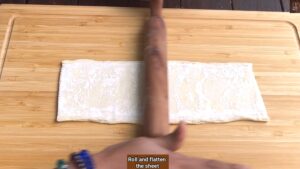 Brush melted ghee and sprinkle sugar
Palmier cookies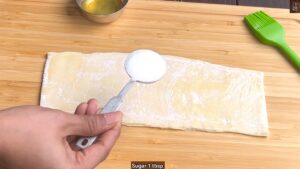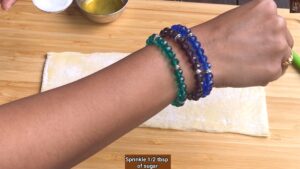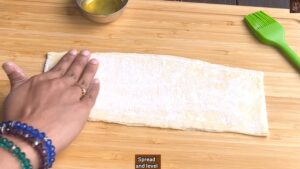 Roll each side of the puff pastry sheet inward to meet the middle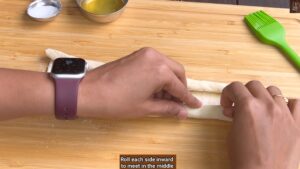 Press to keep

them intact. Brush melted ghee
Freeze till they turn firm
Cinnamon palmier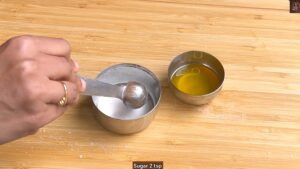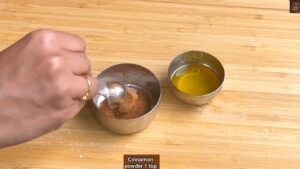 Brush melted ghee and sprinkle cinnamon sugar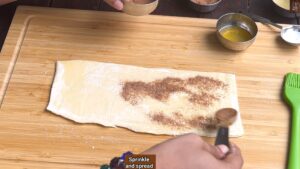 Roll each side of the puff pastry sheet inward to meet the middle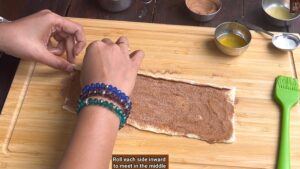 Press to keep

them intact. Brush melted ghee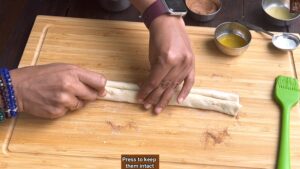 Freeze and bake
Freeze till they turn firm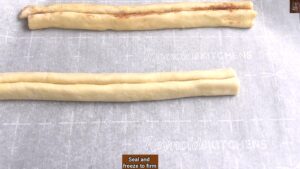 Using a sharp knife, cut each roll into 1/2-inch thick slices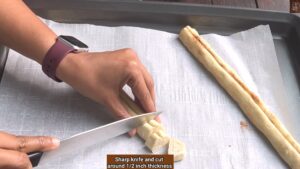 Arrange on the baking sheet
Brush melted ghee and sprinkle the remaining sugar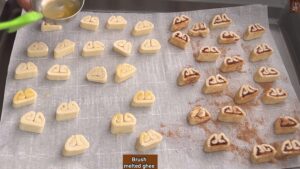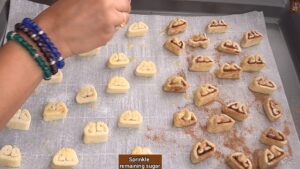 Bake for 10-11 minutes. Turn off the oven
Sprinkle sugar. Keep in the hot oven for at least 5 minutes or till you serve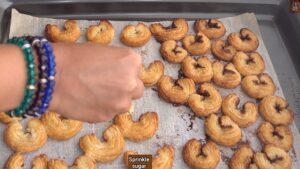 If you are planning to store. Cool at room temperature then stores in an airtight container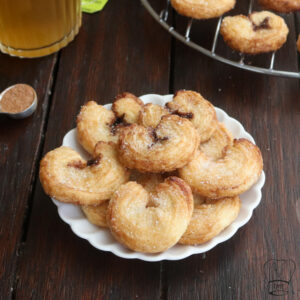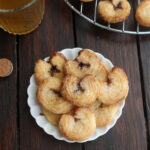 Print Recipe
Palmier cookies
3 ingredients french cookies
Ingredients
2

Pre-cut puff pastry sheets
Sugar palmier
1

tablespoon

melted ghee

1

tablespoon

sugar + extra to sprinkle
Cinnamon palmier
1

teaspoon

cinnamon

2

teaspoon

sugar

1

tablespoon

melted ghee
Instructions
Preparation
First, thaw puff pastry sheets

Preheat the oven to 400˚F. Place parchment paper on a baking tray; keep it aside

Place the thawed sheet on a wooden board. Roll and flatten the sheet

Brush melted ghee and sprinkle sugar
Palmier cookies
Roll each side of the puff pastry sheet inward to meet the middle

Press to keep them intact. Brush melted ghee

Freeze till they turn firm
Cinnamon palmier
Mix cinnamon and sugar

Brush melted ghee and sprinkle cinnamon sugar

Roll each side of the puff pastry sheet inward to meet the middle

Press to keep them intact. Brush melted ghee

Freeze and bake

Freeze till they turn firm

Using a sharp knife, cut each roll into 1/2-inch thick slices

Arrange on the baking sheet

Brush melted ghee and sprinkle the remaining sugar

Bake for 10-11 minutes. Turn off the oven

Sprinkle sugar. Keep in the hot oven for at least 5 minutes or till you serve

If you are planning to store. Cool at room temperature then stores in an airtight container
Video