Pavakkai thokku | bitter gourd thokku | bitter gourd masala | karela curry | bitter gourd curry | hagalakayi gojju | bitter gourd gojju | pagarkai thokku | grand sweets thokku | bitter gourd pickle | south Indian kuzhambu recipe with step-by-step pictures and video recipe. Check out the pavakkai thokku recipe. If you like the video pls SUBSCRIBE to my channel.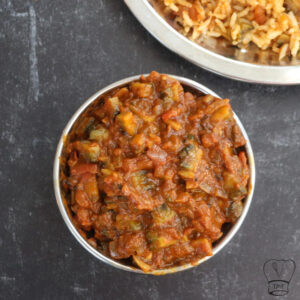 Can I skip pressure-cooking bitter gourd?
Yes, it is optional but I prefer doing this as it saves time.
Can I make it
without
onion and garlic thokku
Yes but garlic and onion give an amazing taste to the thokku so I would recommend that
Can I reduce tomatoes?
If you are planning to store thokku for a long time reduce tomatoes and increase tamarind.
Can I skip tomatoes?
Yes, I like the soreness from tomatoes hence I have used them. If you are skipping tomatoes adjust the tamarind accordingly. Pulikaichal, puli aval, instant puli sadam are some of my tamarind-based dishes
How to serve pavakka thokku?
You can serve it as a rice accompaniment. It also tastes good as a side for curd rice and tiffin varieties
Can I use store-bought tamarind paste?
For this recipe, I have used homemade tamarind paste. Instead, you can soak small lemon-sized tamarind, extract tamarind water and prepare kuzhambu. If you are using store-bought tamarind paste, adjust the quantity according to its soreness. If you are soaking tamarind, add extra water and boil till the raw smell goes off
The shelf life of puli kuzhambu
puli based Kuzhambu variety generally stays good for Up to 1 week in the fridge
What should be the consistency of the kuzhambu?
In our home, we prefer thick pavakkai kulambu. You can adjust the water according to your desired consistency. Kuzhambu generally thickens over time but if you think kuzhambu is runny make a slurry with kuzhambu and rice flour and add it to the kuzhambu .
Kuzhambu varieties without tamarind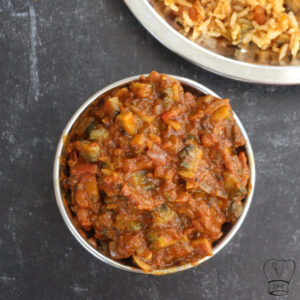 Ingredients:
Pressure cook
1 bitter gourd
Pinch of turmeric powder
Required salt
Kuzhambu
1 tablespoon + 1/2 teaspoon sesame oil
1/4 teaspoon mustard seeds
fenugreek seeds few
1/2 teaspoon cumin seeds
Curry leaves few
1 green chilli
6 big Garlic, thinly sliced
1 onion, finely chopped
2 tomatoes, chopped
1/2 tbsp sambar powder
2 tablespoon tamarind paste, homemade
1 + 1/4 cup of water
1/8 teaspoon turmeric powder
Required salt
jaggery little
How to make pavakkai thokku with step-by-step pictures
First pressure-cook bitter gourd, turmeric powder, and salt for 3 whistles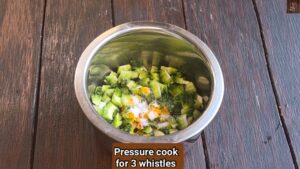 add 1 tablespoon of sesame oil and when the oil is hot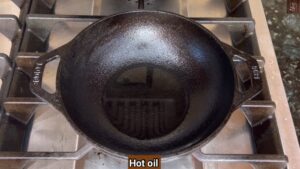 Furthermore, Add mustard seeds, fenugreek seeds, and cumin seeds; saute and let them splutter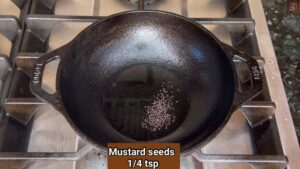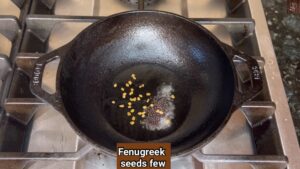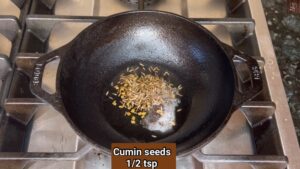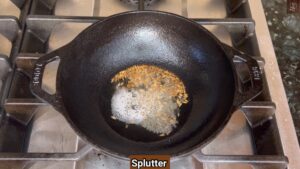 add curry leaves and green chilli; mix well and roast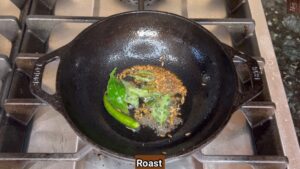 Furthermore, Add garlic and saute for 15 seconds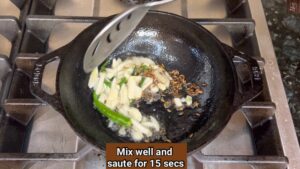 add

chopped

onions and sauté till onions turn translucent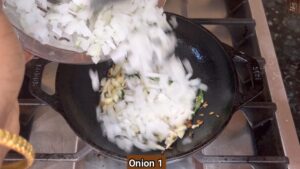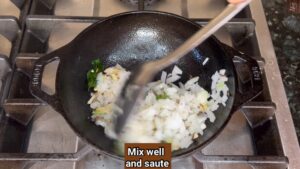 Furthermore, Add cooked pavakkai; saute for 3 minutes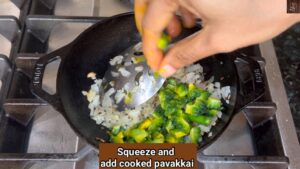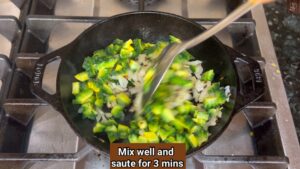 add tomatoes and give a quick mix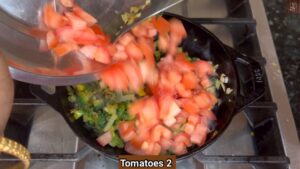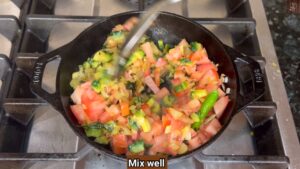 Furthermore, add salt and turmeric powder; mix well and saute till tomatoes turn mushy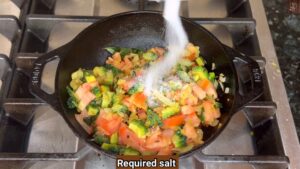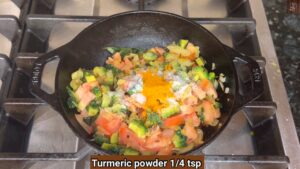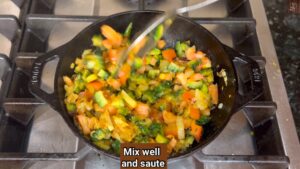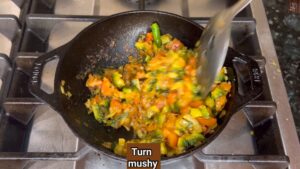 Add sambar powder, and saute for two minutes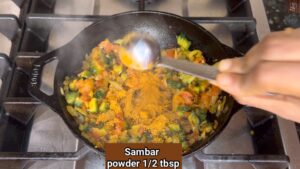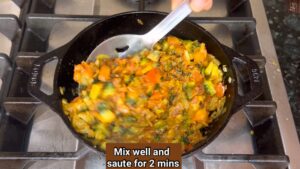 Furthermore, Add tamarind paste and give a quick mix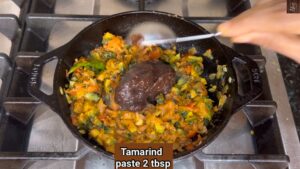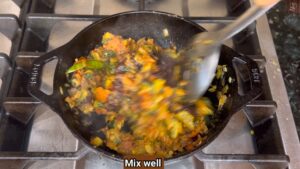 add water and boil for 10 minutes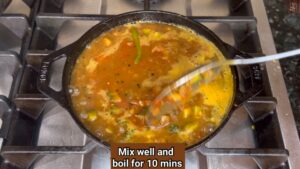 Finally, add jaggery and sesame oil; cook till thokku comes to your desired thickness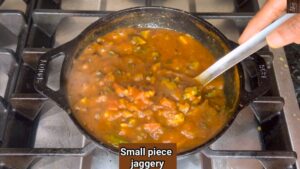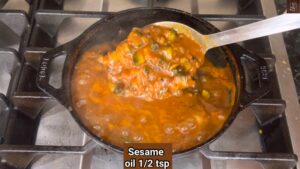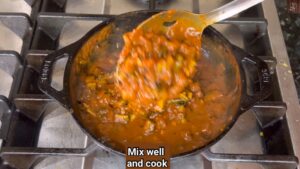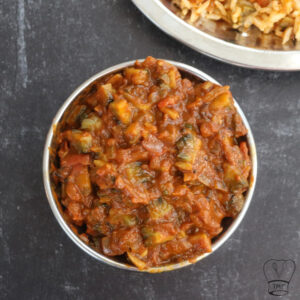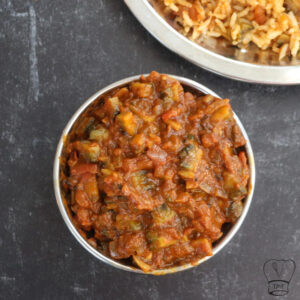 Ingredients
Pressure cook
1

bitter gourd

Pinch

of turmeric powder

Required salt
Kuzhambu
1

tablespoon

+ 1/2 teaspoon sesame oil

1/4

teaspoon

mustard seeds

fenugreek seeds few

1/2

teaspoon

cumin seeds

Curry leaves few

1

green chilli

6

big Garlic

thinly sliced

1

onion

finely chopped

2

tomatoes

chopped

1/2

tablespoon

sambar powder

2

tablespoon

tamarind paste

homemade

1

+ 1/4 cup of water

1/8

teaspoon

turmeric powder

Required salt

jaggery little
Instructions
First pressure-cook bitter gourd, turmeric powder, and salt for 3 whistles

add 1 tablespoon of sesame oil and when the oil is hot

Furthermore, Add mustard seeds, fenugreek seeds, and cumin seeds; saute and let them splutter

add curry leaves and green chilli; mix well and roast

Furthermore, Add garlic and saute for 15 seconds

add chopped onions and sauté till onions turn translucent

Furthermore, Add cooked pavakkai; saute for 3 minutes

add tomatoes  and give a quick mix

Furthermore, add salt and turmeric powder; mix well and saute till tomatoes turn mushy

Add sambar powder, and saute for two minutes

Furthermore, Add tamarind paste and give a quick mix

add water and boil for 10 minutes

Finally, add jaggery and sesame oil;  cook till thokku comes to your desired thickness
Video