Vazhakkai Chips recipe | Raw banana chips | homemade plantain chips | raw banana chips | Easy vazhakkai chips recipe homemade green plantain chips recipe Check out the Vazhakkai Chips recipe and If you like the video pls SUBSCRIBE to my channel.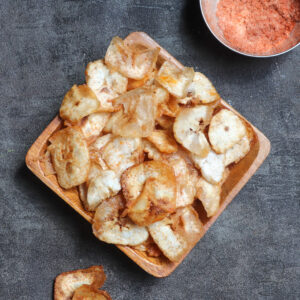 Easy and crispy homemade raw banana chips. Perfect make-ahead snacks
Prepare raw banana
Always wash the raw banana well before cutting
Trim the top and bottom portion
Peel the skin completely. make sure the green part is completely removed
Use a right slicer and slice them in equal size
Always place the sliced raw banana in a kitchen towel to remove moisture
If you are making a larger batch slice one, fry then slice other
Oil temperature
Oil temperature places a crucial role .always heat oil in medium flame and fry the chips in low - medium flame
Tips for frying Vazhakka chips
Fry only after the moisture goes off
Add vazhakkai in batches
avoid crowding and overlapping as it might turn the chips soggy
Flip and fry
Fry still froth and sshhh sound subsides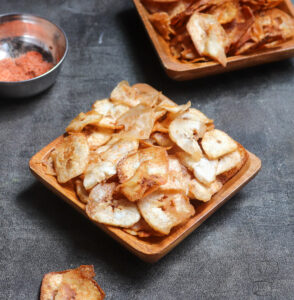 Tips for Salt + water
Adding salt water to hot oil helps for perfect seasoning of chips
Make sure salt and water are well mixed
After adding salt water, the oil turns frothy so be careful
Spicy valakkai chips
I prefer using Kashmiri chilli powder as it gives a nice color to the chips. Adding asafoetida helps for digestion so I mix them and add them to the chips. Add spice powder right after frying (when it is hot)
Cool then store
After frying the chips cool then store them in an airtight container else chips might turn soggy.
Yellow Raw banana chips
Add a little turmeric powder to the salt + water for bakery-style yellow banana chips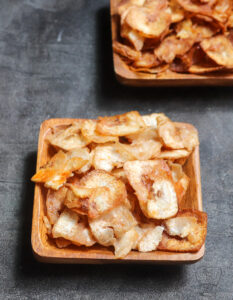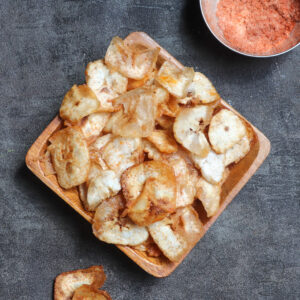 Ingredients
Raw banana 2

peel and thinly sliced

Salt 1 tsp

water 1 tsp

Oil to fry

Optional

Kashmiri chilli powder 1 tsp

asafoetida
Instructions
Firstly heat oil

Mix salt and water; keep aside

Wash the raw banana, and trim the edges. Peel the skin using a peeler. Make sure you remove the green skin completely

Use slicer and slick thin and equal size pieces

Place them in a kitchen towel and let the moisture evaporates

Check if the oil is at the right temperature then add raw banana in batches

Fry in low - medium flame

Avoid overlapping

Flip and fry till shhh sounds and froth subside

Drain  the oil and place it in a colander
Salt Vazhakkai chips
Sprinkle Asafoetida and give a quick mix

cool then store in an airtight container
Spicy Vazhakkai chips
Mix Kashmiri chilli powder and asafoetida

Add it according to your taste

cool then store in an airtight container
Baked Vazhakai chips
Preheat the oven to 400 degrees Fahrenheit

In a bowl, combine plantain, 1 tablespoon of oil, chilli powder, and salt

Take a baking tray and place parchment paper. Grease with a cooking spray and spread the plantains

Bake for 15 to 20 minutes, turning the plantain slices after about 8 minutes
Video
Notes
Prepare raw banana
Always wash the raw banana well before cutting
Trim the top and bottom portion
Peel the skin completely. make sure the green part is completely removed
Use a right slicer and slice them in equal size
Always place the sliced raw banana in a kitchen towel to remove moisture
If you are making a larger batch slice one, fry then slice other
Tips for Salt +water
Adding salt water to hot oil helps for perfect seasoning of chips
Make sure salt and water are well mixed
After adding salt water, the oil turns frothy so be careful
Add a little turmeric powder to the saltwater for bakery-style yellow banana chips
Tips for frying Vazhakka chips
Always heat oil in medium flame and fry the chips in  low - medium flame
Fry only after the moisture goes off
Add vazhakkai in batches
avoid crowding and overlapping as it  might turn the chips soggy
Flip and fry 
Fry still froth and sshhh sound subsides
Add spice powder right after frying (when chips are hot)
After frying the chips cool then store them in an airtight container else chips might turn soggy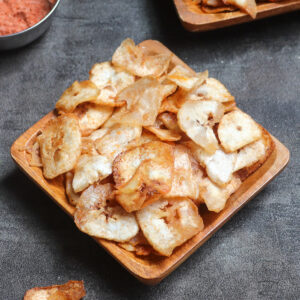 Ingredients:
Raw banana 2, peel and thinly sliced
Salt 1 tsp
water 1 tsp
Oil to fry
Spicy chips
Kashmiri chilli powder 1 tsp
asafoetida

How to make vazhakkai chips with step by step pictures
Prepare raw banana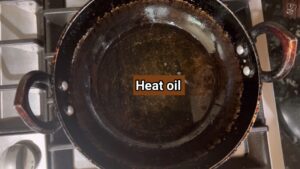 Mix salt and water; keep aside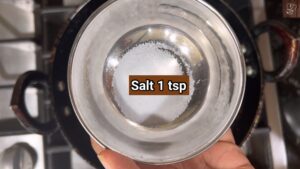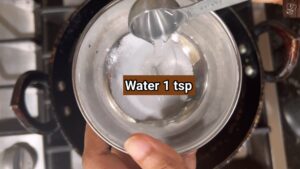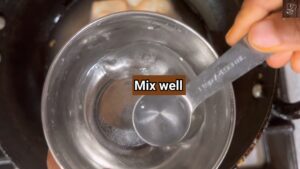 Wash the raw banana, and trim the edges. Peel the skin using a peeler. Make sure you remove the green skin completely
Use a slicer and slice them thin and in equal size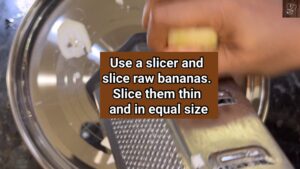 Spread them in a kitchen towel and let the moisture evaporates. Avoid overlapping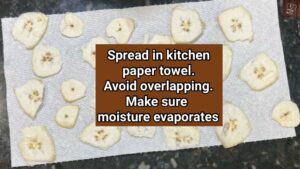 Fry chips
Check if the oil is at the right temperature then add raw banana in batches
Fry in low - medium flame
Avoid overlapping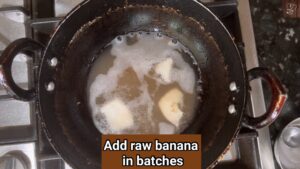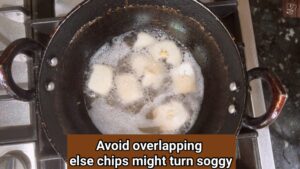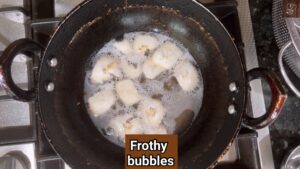 Flip and fry till shhh sounds and froth subside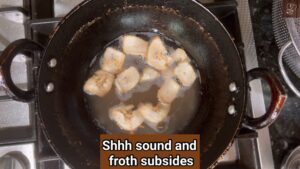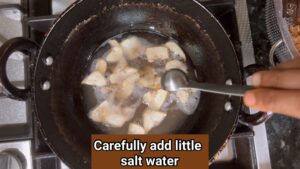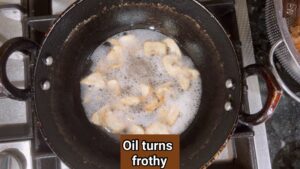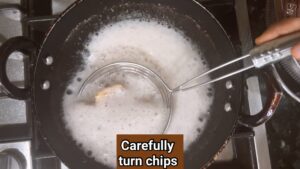 Drain the oil and place it in a colander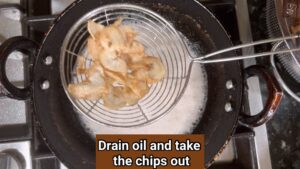 Salt Vazhakkai chips
Sprinkle Asafoetida and give a quick mix
cool then store in an airtight container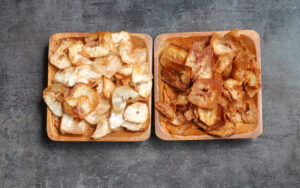 Spicy Vazhakkai chips
Mix Kashmiri chilli powder and asafoetida
Add it according to your taste
cool then store in an airtight container
Baked chips
Preheat the oven to 400 degrees Fahrenheit
Follow all the steps mentioned in "prepare raw banana"
In a bowl, combine plantain, 2 tablespoon of oil, chilli powder, asafoetida, and salt; mix gently
Take a baking tray and place parchment paper. Grease with a cooking spray and spread the plantains
Bake for 15 to 20 minutes, turning the raw banana after about 8 minutes